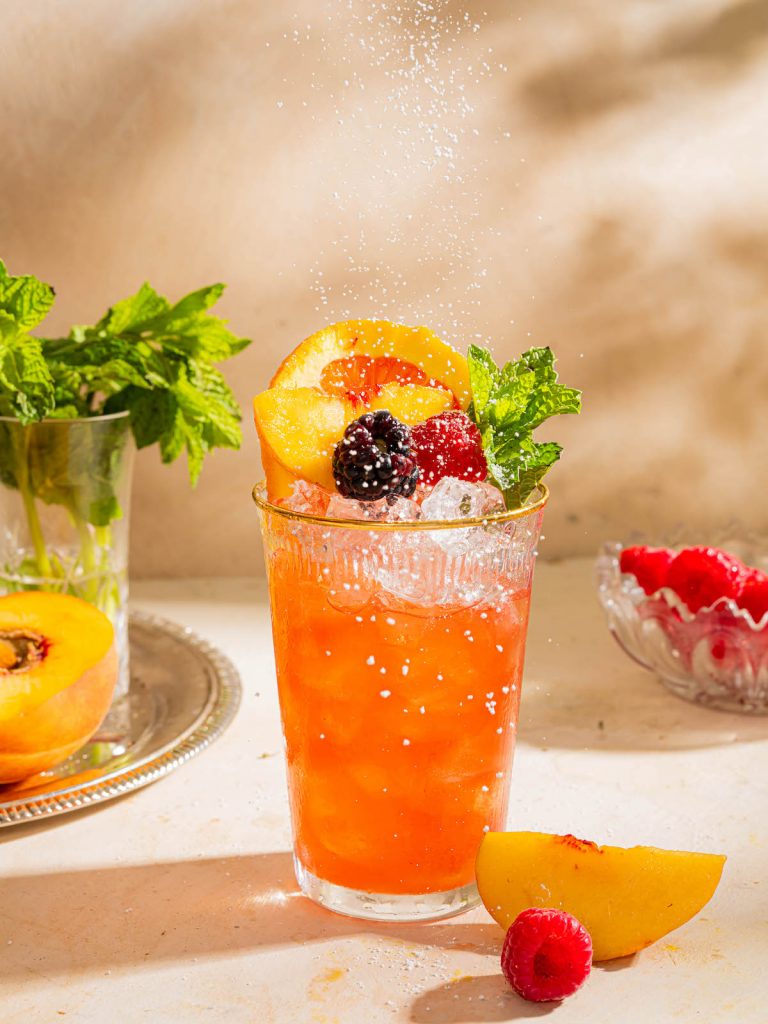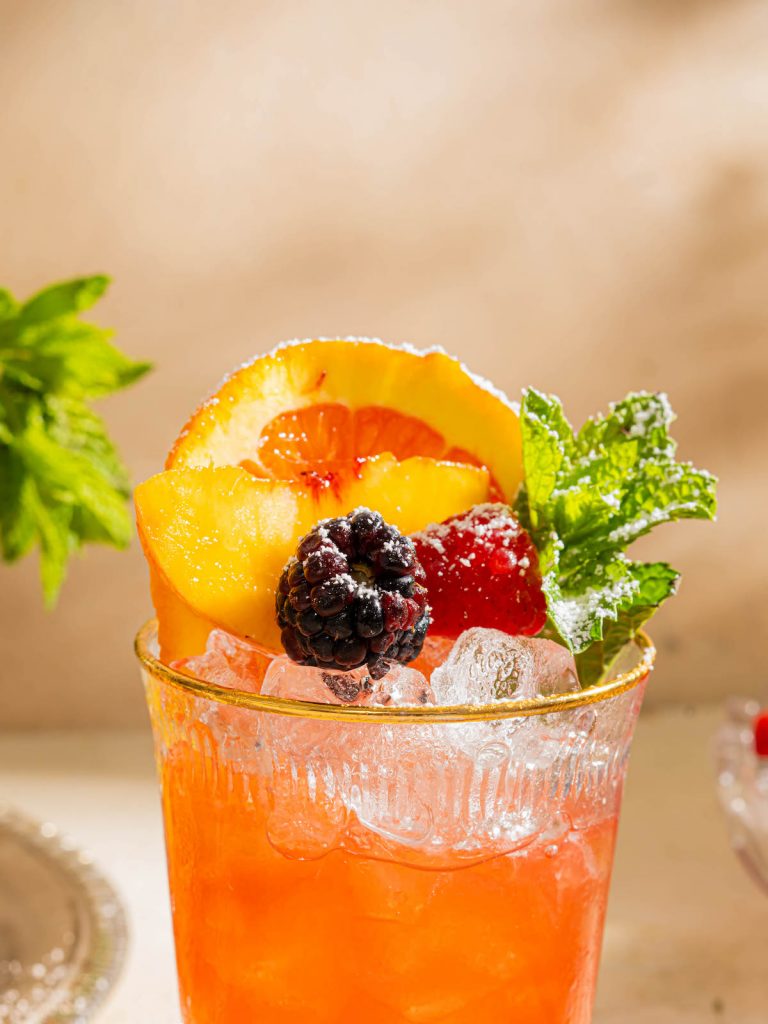 With the rise of craft cocktails and returning to classic cocktails for inspiration in modern times it's a wonder why one of the easiest and most popular cocktails of the 1800's has not seen a roaring resurgence. In fact the cocktail was perhaps the most sipped spirited drink of the time whose craze catapulted straws and crushed ice into popularity around the world. Let's make the Sherry Cobbler!
Cobbler Cocktails
A cobbler cocktail is a shaken drink usually made with sherry or fortified wine -but can be made with other spirits -sweetener and seasonal fruit served over crushed ice and topped with a generously garnished glass of fruit, mint and powdered sugar. The sherry cobbler combined many modern marvels of the time in one glass. Sherry imported from Spain via English traders, sugar from the Caribbean (using slave labor to harvest sugar cane), ice harvested from lakes and shipped in insulated trucks and boats, topped with a newly invited device to drink it all up with. It was a symbol of an era.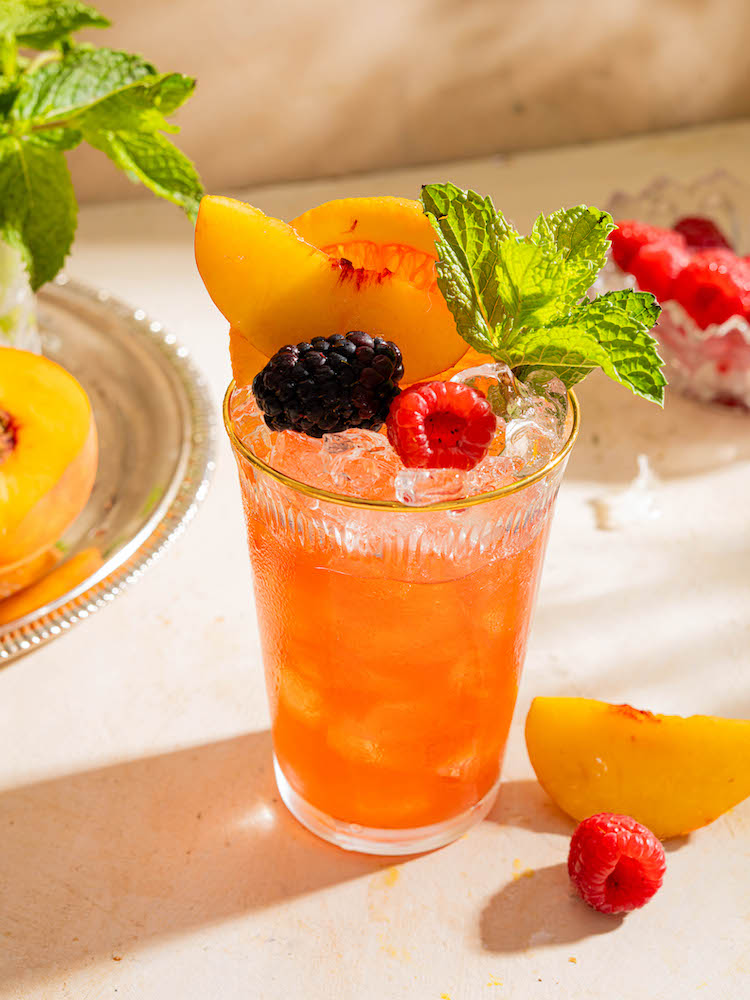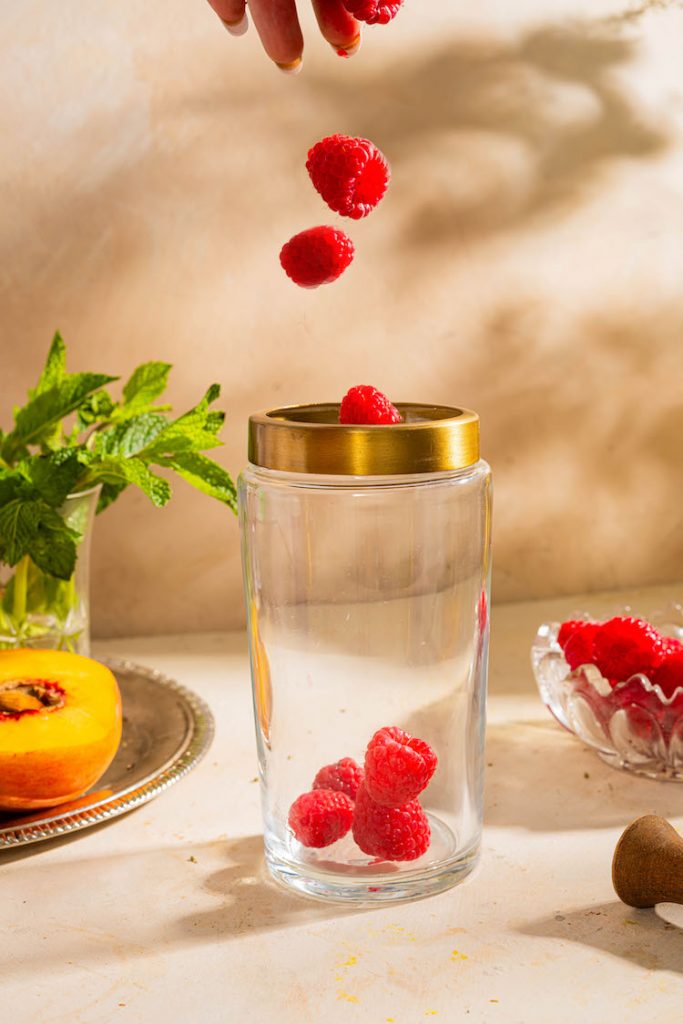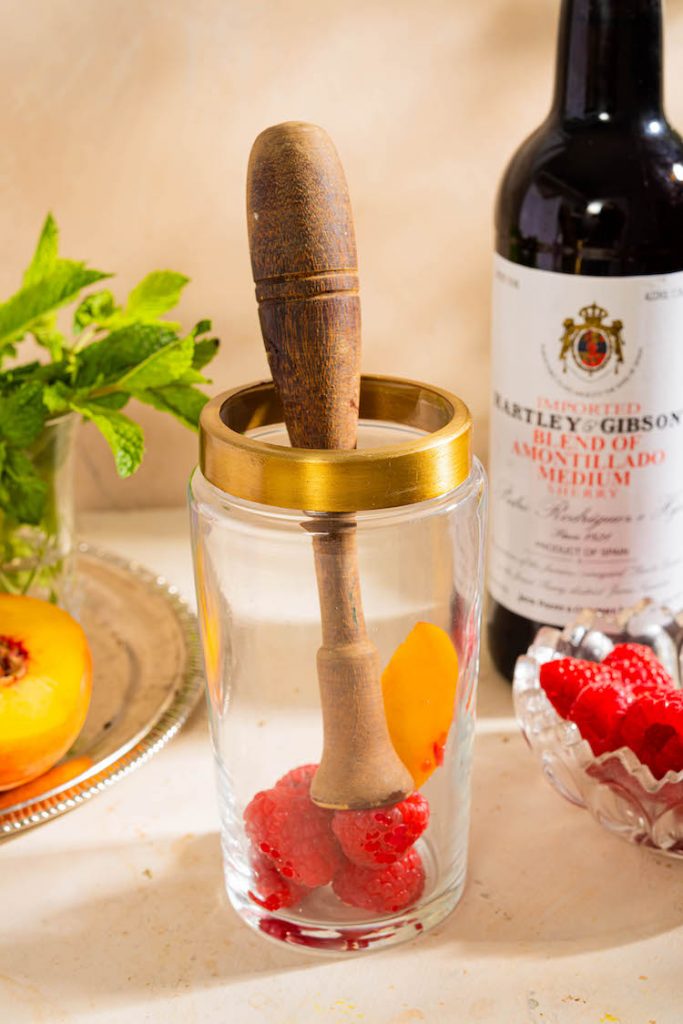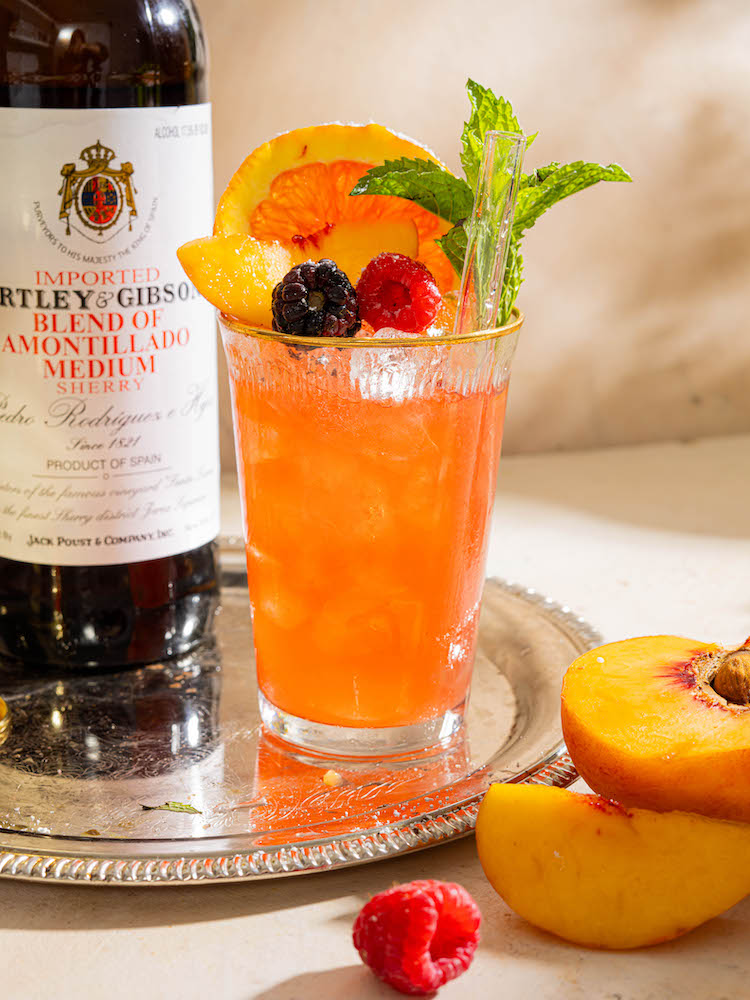 What's in a Sherry Cobbler
Sherry– sherry is a fortified wine made in Spain. My got-to sherry for the Cobbler is an Amontillado. It is a medium sherry that has time to oxidize giving it some nutty flavors. Manzanilla will be lighter with some salinity as it's aged the town Sanlúcar de Barrameda which is located by the sea. If you like sweet drinks, try swapping in PX sherry. You can also play around with using madeira, Rainwater, or other fortified wines instead of sherry.
Sweetener– I like to use Demerara sugar for a deeper flavor that compliments the sherry. Brown sugar, turbinado and white sugar can also be used. But you can also use honey and agave syrup
citrus– orange or lemon add some acidity to the drink.
muddled seasonal fruit– muddled fruit adds flavor and sweetness. swap in seasonal fruits for different cobblers all year long. Swape in bright berries and peaches in the summer, jammy plums and figs in fall and crisp apples and pears in winter.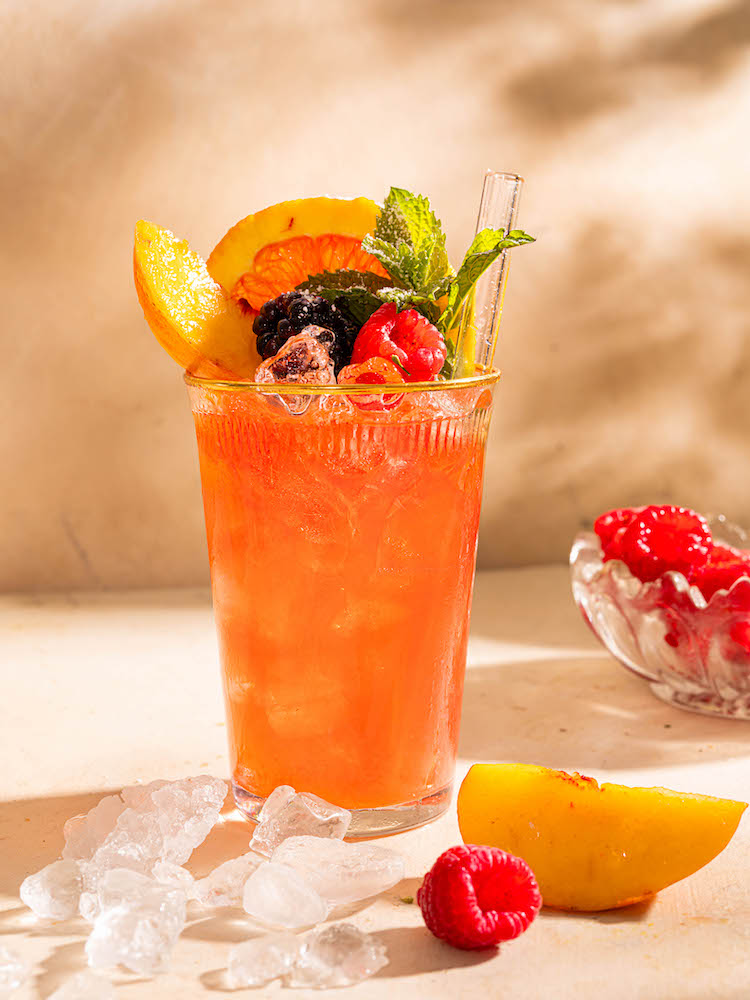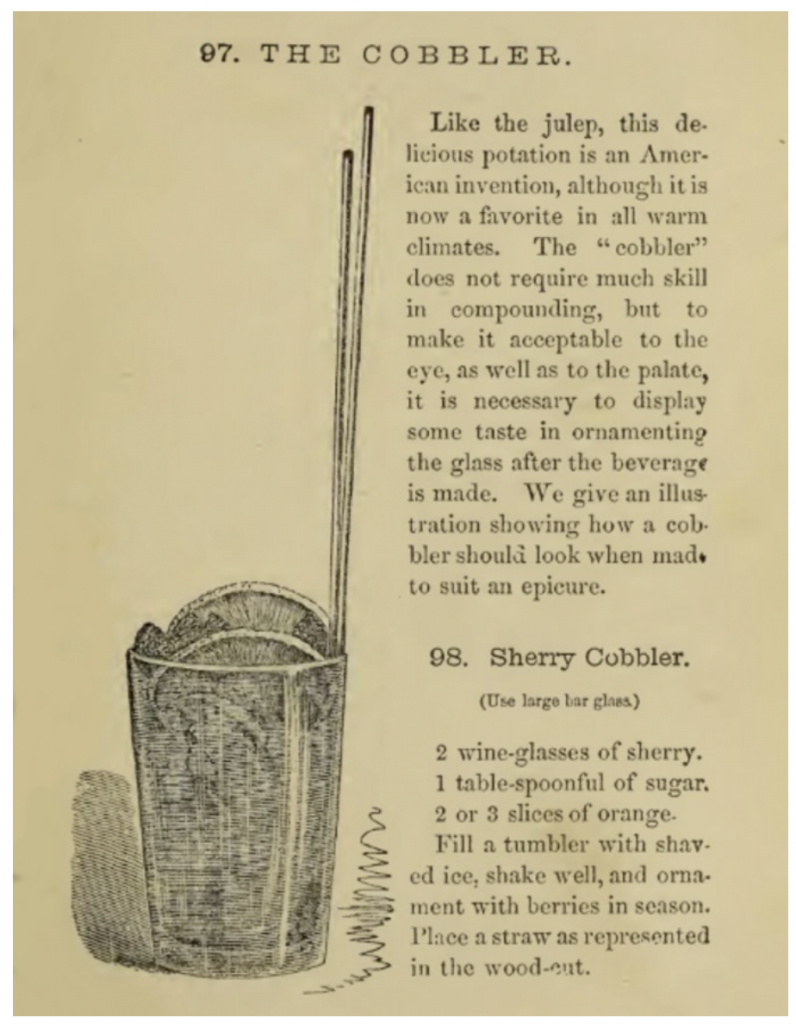 From the Bar Tender's Guide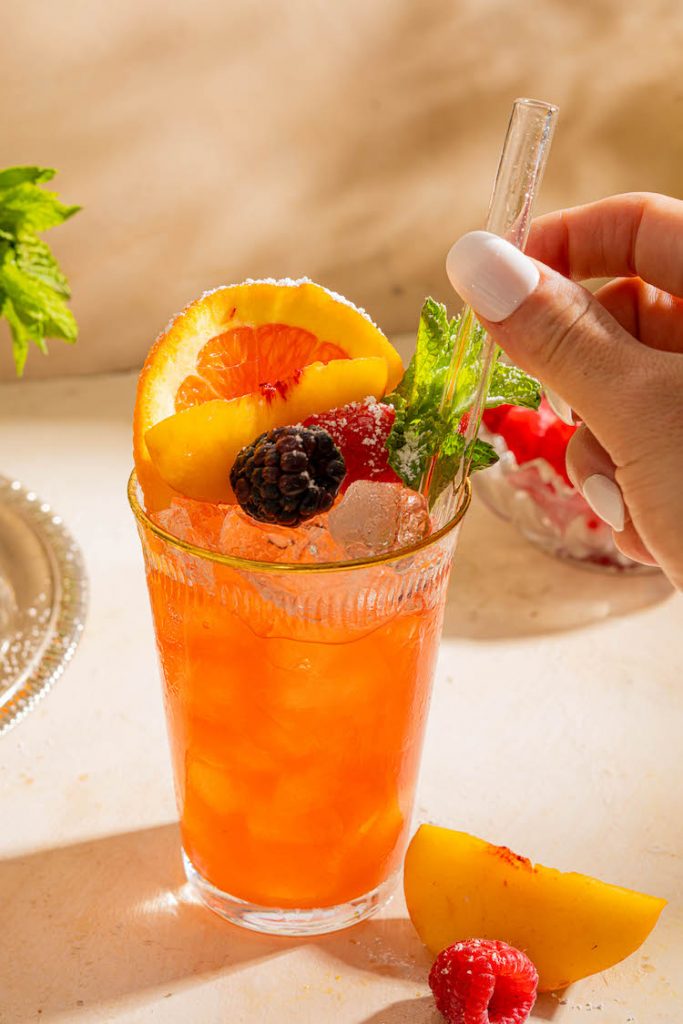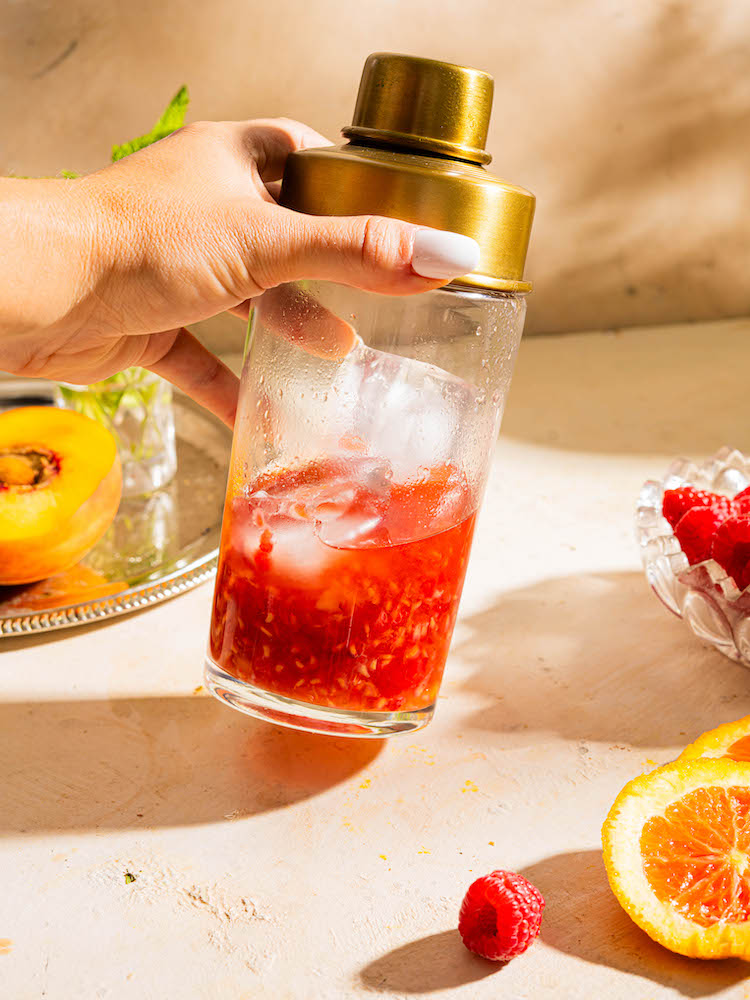 The Connection between Cobblers, Straws, and Crushed Ice
The need for a straw to enjoy the cobbler is paramount, unless you want a lap full of chilly ice and fruit. The straw was invented around the same time as the Sherry Cobbler came into existence and was a naturally pairing to imbibe. The straw was initially made from actual straw such as rye or pasta vs the paper or metal versions we are familiar with today. As the word of this icy beverage reached far flung locations, along with it came the popularity of the mechanism with which to drink it.
The connection of the Cobbler to ices popularity is not as crystal clear, but it's referenced often as the reason people clamored to have ice from lakes shipped to different cities around the world. Ice was described by Mark Twain as "jewelry, none but the rich could wear it." A modern wonder of the time, people wanted to taste the pleasures of sucking up a frosty, fruity cocktail though a straw. Something we simply may not give a second thought to today as we order iced coffees to go to sip on the way to work or enjoying a frozen cocktail over happy hour with friends. Ice harvesting and become industrialized in the years prior to the cobblers invention, but crushing it and mixing it into a cocktail caused quiet a stir.
Literature of then time is peppered with references to the sherry cobbler. Charles Dickens toured the US in 1842, later writing The Life and Adventures of Martin Chuzzlewit which showcased a slice of life in the country at the time.
A cocktail shaker also gets its name from the cobbler cocktail and cobbled ice. The cobbler shaker is a 3 piece cocktail shaker contains a base for muddling and shaking, a built in strainer in the middle, topped with a small lid. Although I tend to avoid the cobbler shaker and prefer other cocktail shakers like the tin on tin Boston shaker over it. The middle section and lid can tend to get stuck after shaking as the metal parts expand. This leaves your cocktail sitting on ice longer in the shaker as you work to get them apart making your drink more diluted.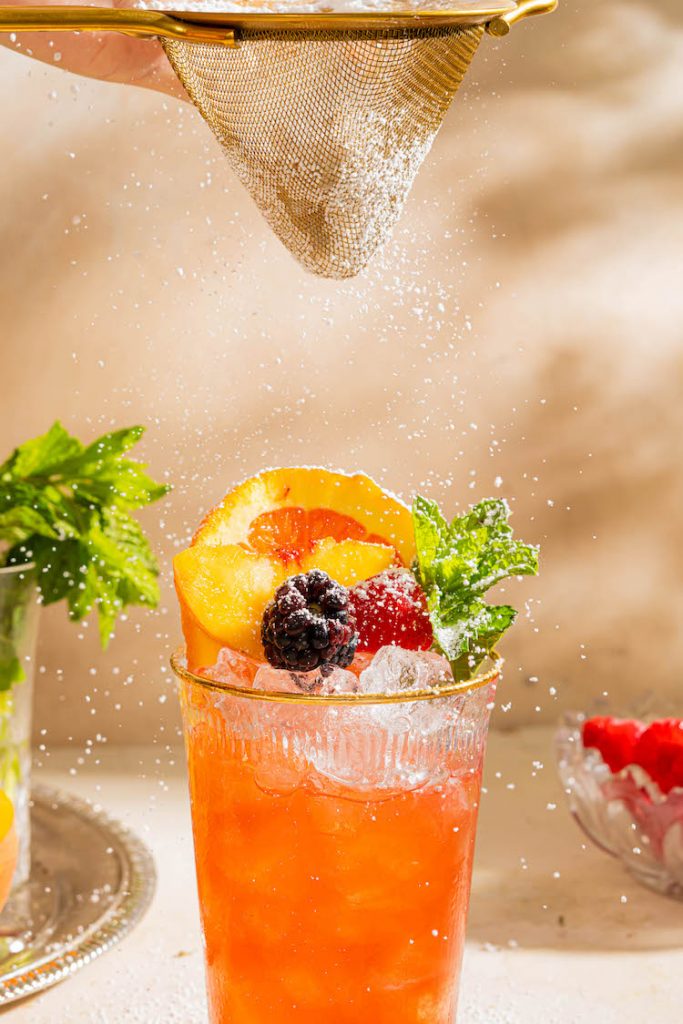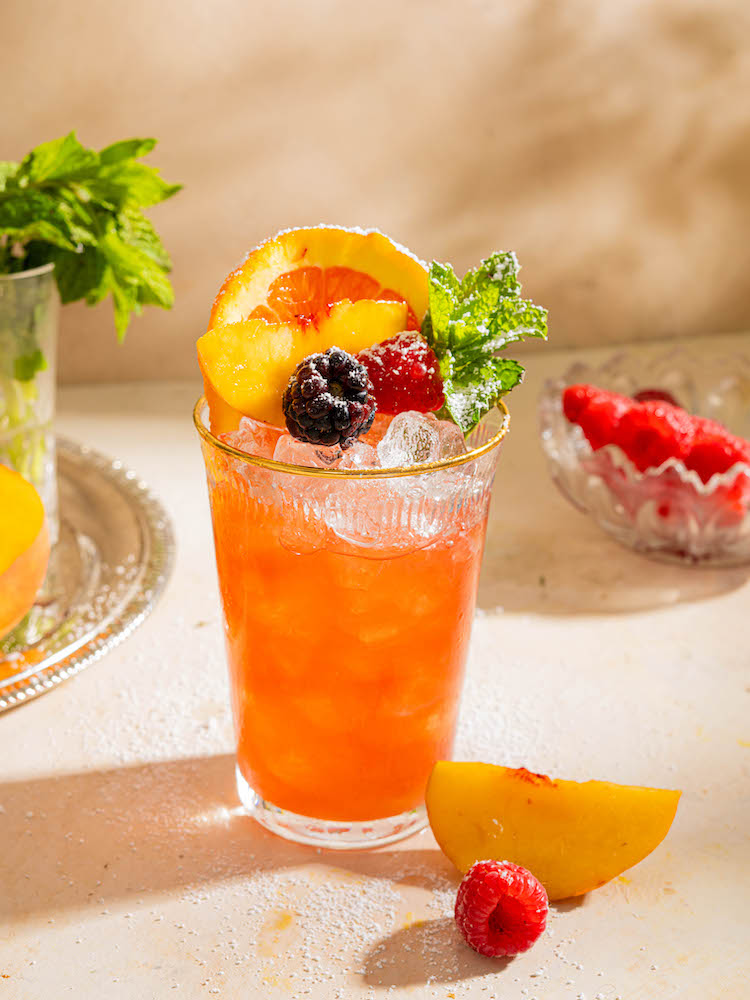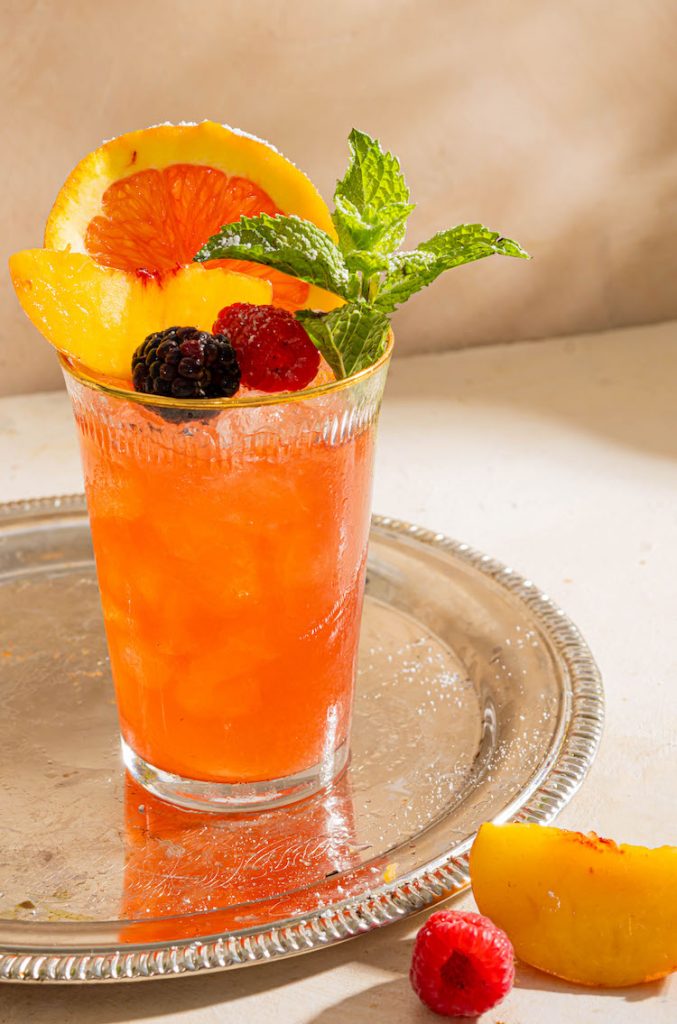 The Sherry Cobbler- the perfect year round cocktail
The Sherry Cobbler is the perfect summer cocktail. Cooling crushed ice, topped with the best of summer produce, and low abv sherry make this cocktail extremely crushable. But the Sherry Cobbler should not just be limited to the hotter months, this cocktail is adaptable for any time of year. Simply swap out seasonal fruit like figs and plums to create a different flavor profile to sip in fall or apples and pears dusted with baking spices for winter.
Like this recipe? Try these other Cobblers & Crushed ice cocktails!
Print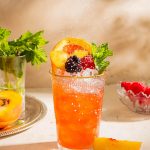 Sherry Cobbler
Author:

Prep Time:

5 minutes

Total Time:

5 minutes

Yield:

1

1

x

Category:

low abv
---
Description
Sherry Cobbler is a refreshing, low abv cocktail for summer using the best seasonal fruit. It's also a classic cocktail that made crushed ice and straws popular!
---
3 1/2 oz

sherry- I used Amontillado

1/2 oz

Demerara syrup- you can use brown sugar or white sugar simple syrup as well

1

slice orange

1/4 cup

seasonal fruit – such as berries, peaches and melons
garnish: 1 orange slice, berries peaches or other seasonal fruit, mint sprig
powdered sugar, optional
---
Instructions
Add all fruit to the shaker and muddle– Use a muddler or back of a large spoon to break up the fruit and release the juices.
Pour in sherry and sweetener
Add ice and shake– As this is going over crushed ice, a quick 5-10 second shake to chill is all you need.
Add crushed ice to the glass
Pour cocktail in the glass and top with more ice.
Garnish with fruit slices first into the glass. Top with berries, figs or other small fruit. Smack mint on the glass to release the delicious oils.
Sprinkle with Powdered sugar-optional
---
Keywords: low abv, summer cocktail, crushed ice, classic cocktails, sherry, fruit, seasonal, berry, peaches, stone fruit, mint

References
Diffords Guide – Sherry Cobbler