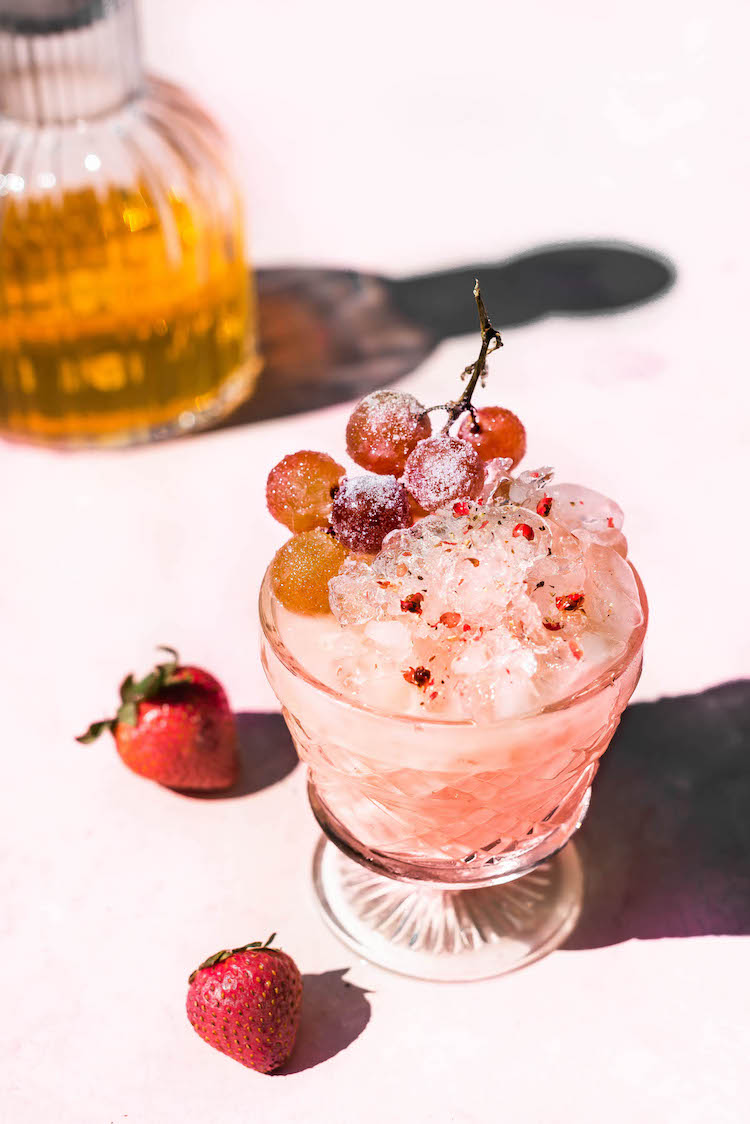 It's harvest season! Plump grapes are being turned from ruby red juice into liquid gold: wine! And in some cases, that juice is produced into silky brandy. This cocktail features fresh grapes muddled along side grape derived Cognac and succulent strawberries for a fruit forward, but complex drink. Greek yogurt is added into the mix which gives the drink a great viscosity and tartness from lactic acid that is separate from the puckering effect from citrus. Muddle up this Vineyard Crush to usher in the turning leaves and cool temperatures as summer fades into fall.
V I N E Y A R D  C R U S H
glass: rocks glass
tools: shaker, Hawthorne strainer, fine mesh strainer
2 1/4 oz Cognac, I used H by Hine Cognacs

5 small red grapes ⠀⠀⠀⠀⠀⠀⠀⠀⠀⠀⠀⠀

4 small strawberries ⠀⠀⠀⠀⠀⠀⠀⠀⠀⠀⠀⠀

3/4 oz simple syrup ⠀⠀⠀⠀⠀⠀⠀⠀⠀⠀⠀⠀

1/2 oz lemon juice ⠀⠀⠀⠀⠀⠀⠀⠀⠀⠀⠀⠀

1 tbsp Greek yogurt ⠀⠀⠀⠀⠀⠀⠀⠀⠀⠀⠀⠀

Garnish: dash black pepper, pink peppercorns, sugared grapes⠀
Directions for Vineyard Crush⠀
Muddle fruit. Add Cognac, syrup, lemon & yogurt. Shake with ice. Double strain over crushed ice. Top with fresh cracked black pepper, pink peppercorns & sugars grapes.