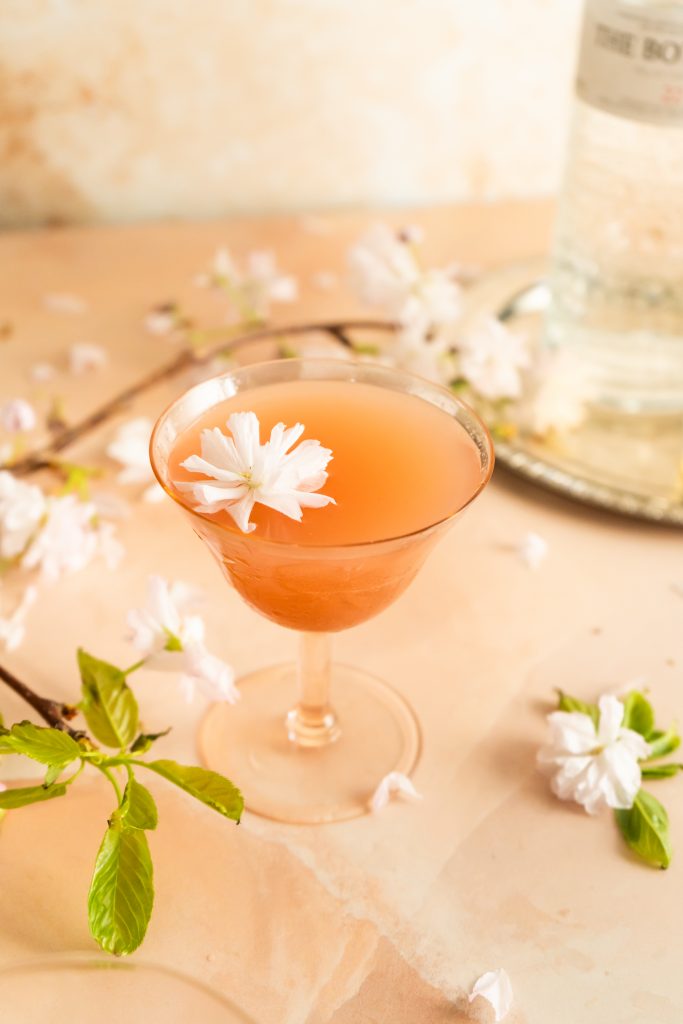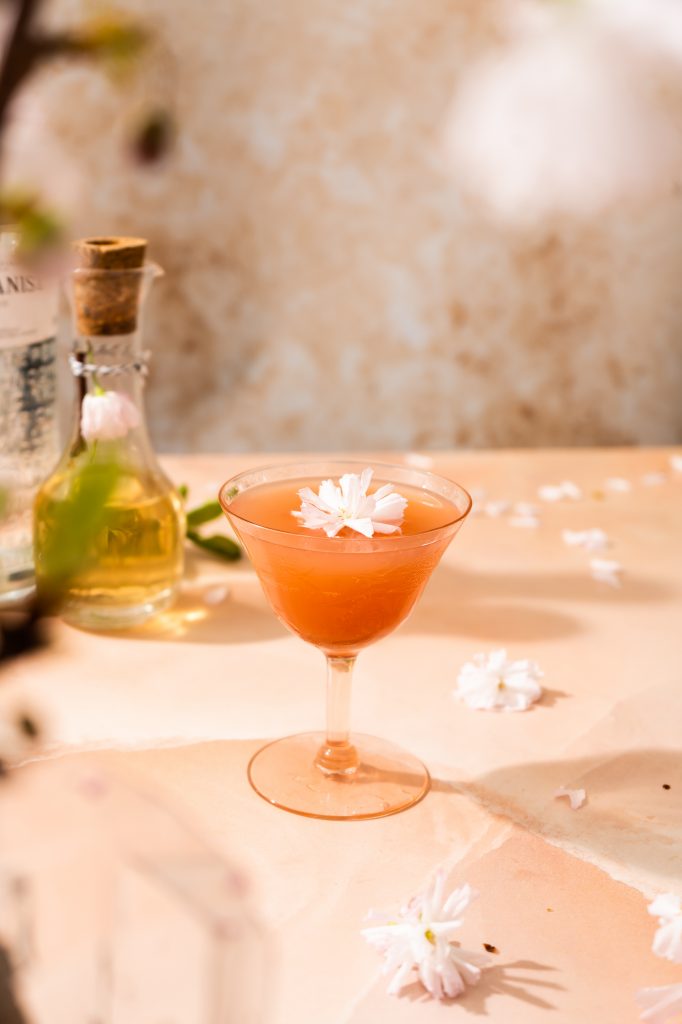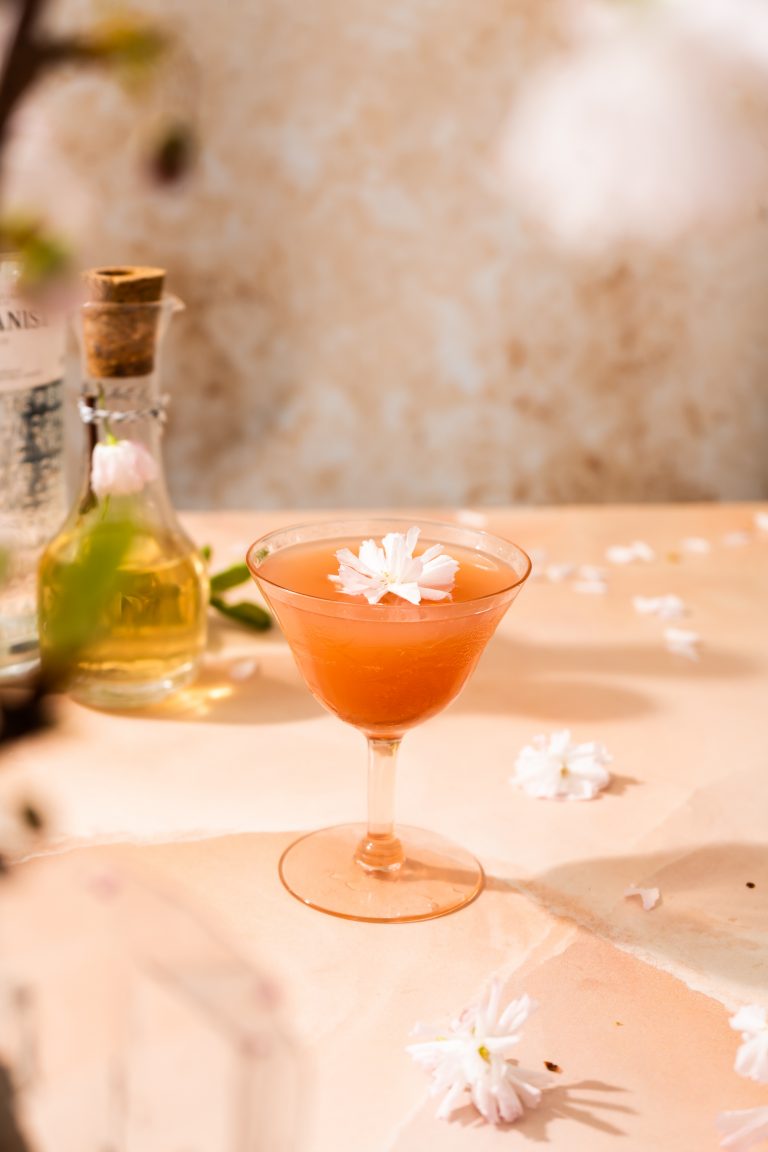 Cherry blossoms always usher in spring in a flurry of fluffy pink and white blooms! These blooms are not only beautiful to look at, but also a great addition to your cocktail. This Cherry Blossom cocktail is made for spring sipping. It's a sour that is bright and jammy with subtle floral notes and warming vanilla. It combines cherry jam, gin, lemon and vanilla infused vermouth & delicate cherry blossoms.
I made a variation of this Cherry Blossom cocktail for Design*Sponge years ago. Since then the blog has shut down and I wanted to be sure the recipe lives on and featuring it here. I updated the specs (my palate has become more dry) and added a vermouth infusion with cherry blossoms.
The vanilla cherry blossom vermouth is a great addition to spring cocktails. It uses bianco vermouth which is made with white grapes like dry vermouth, but has more added sugar so it's sweeter like a sweet vermouth. I like to mix a touch of bianco vermouth into Martinis to give it a bit more body (I highly recommend trying your Martini this way!) so I always have some on hand and like to blend into infusions. I have also combined the infused vermouth with gin, Luxardo cherry, and orange bitters for a lower ABV martini variation that is like sipping under a cherry tree.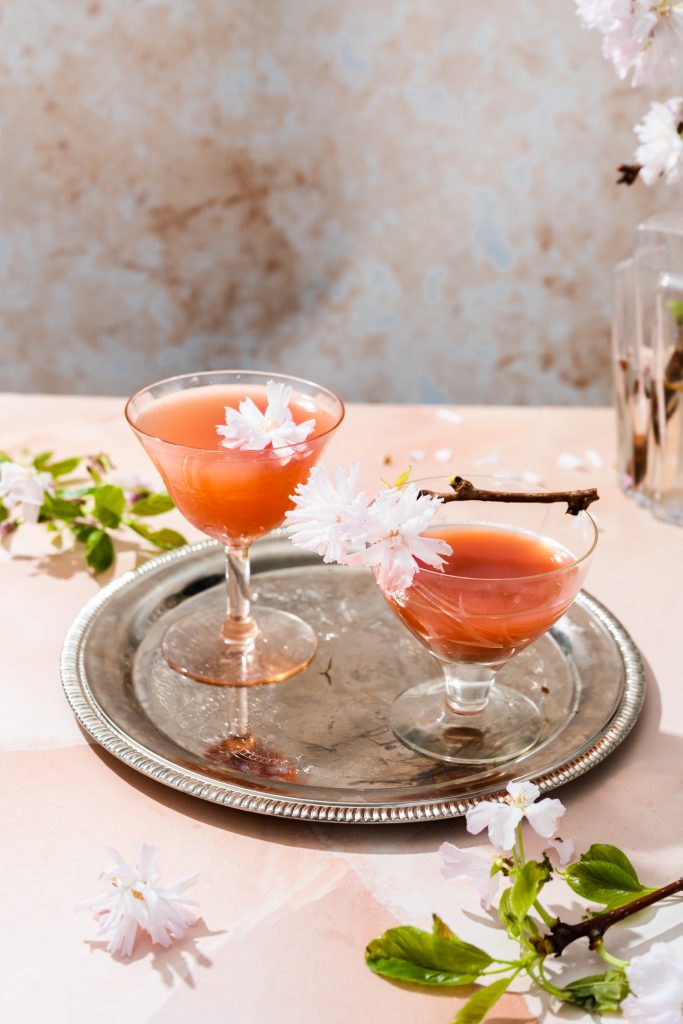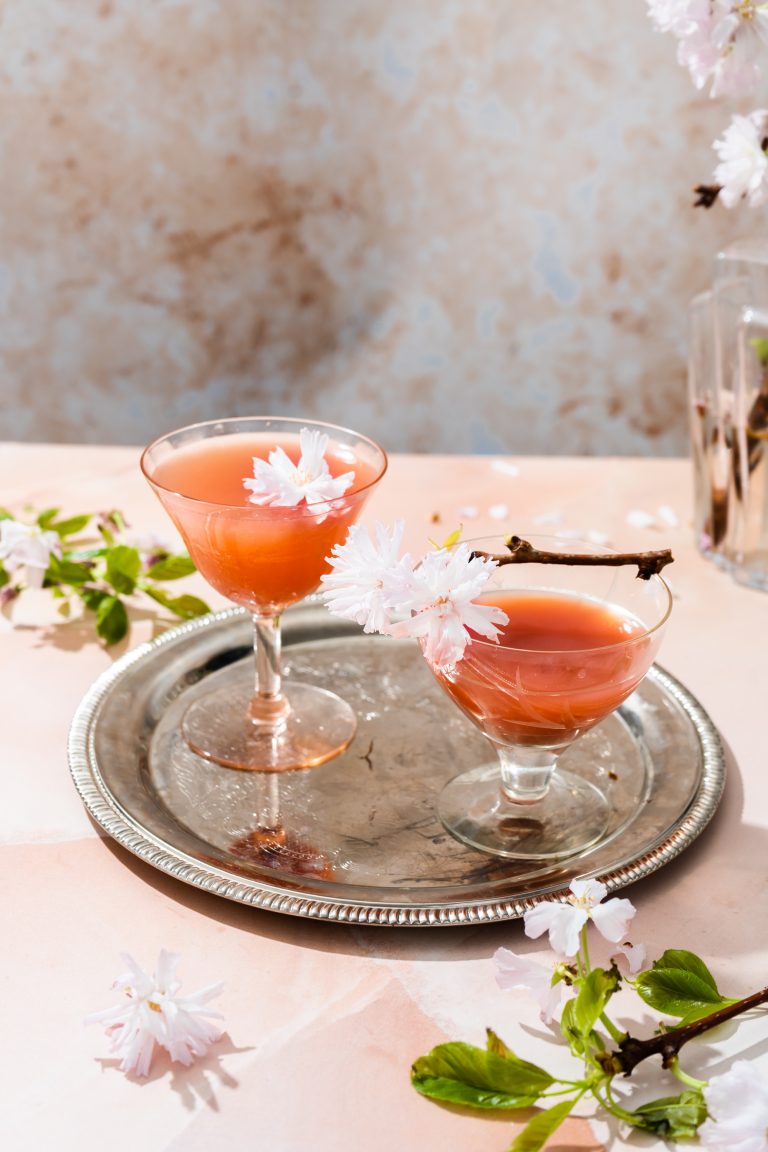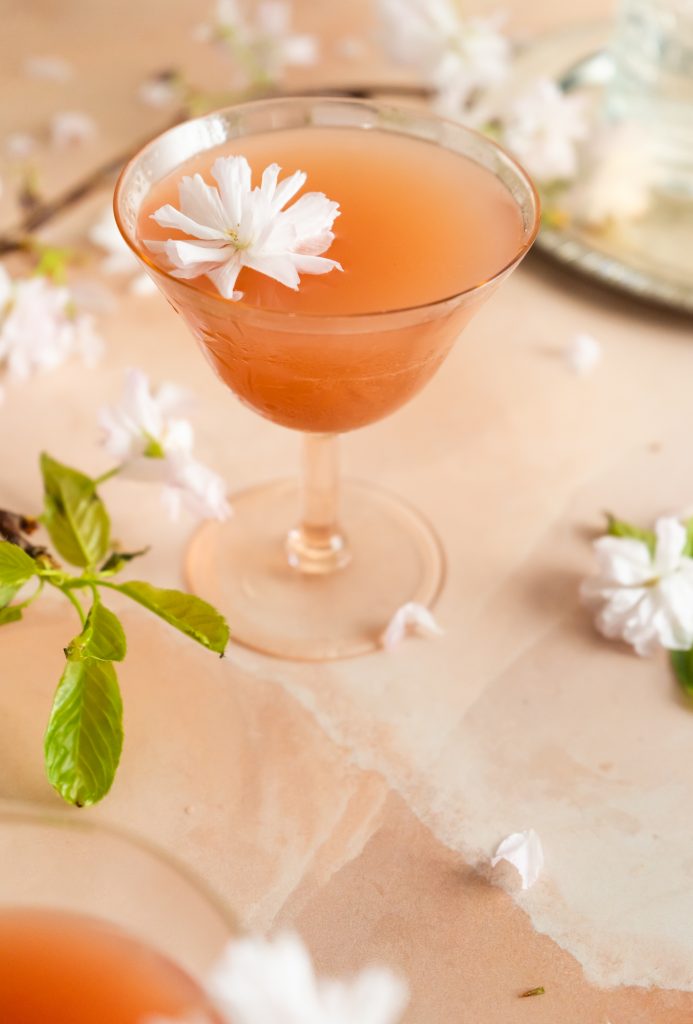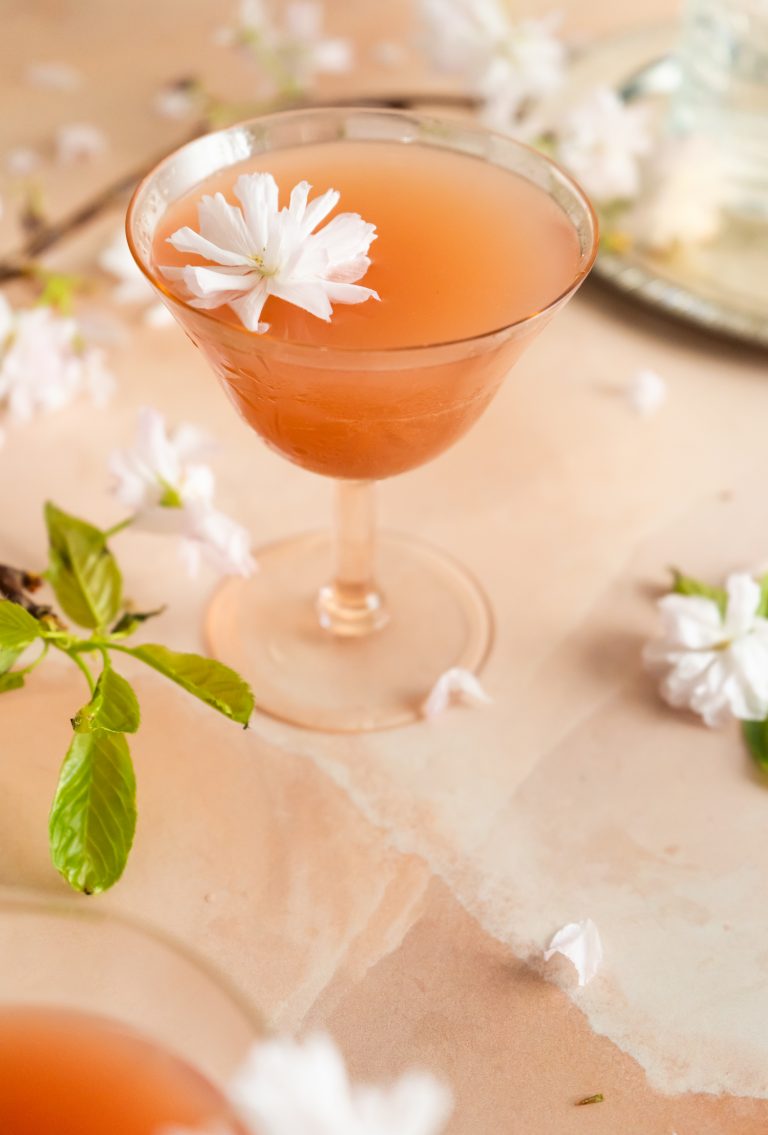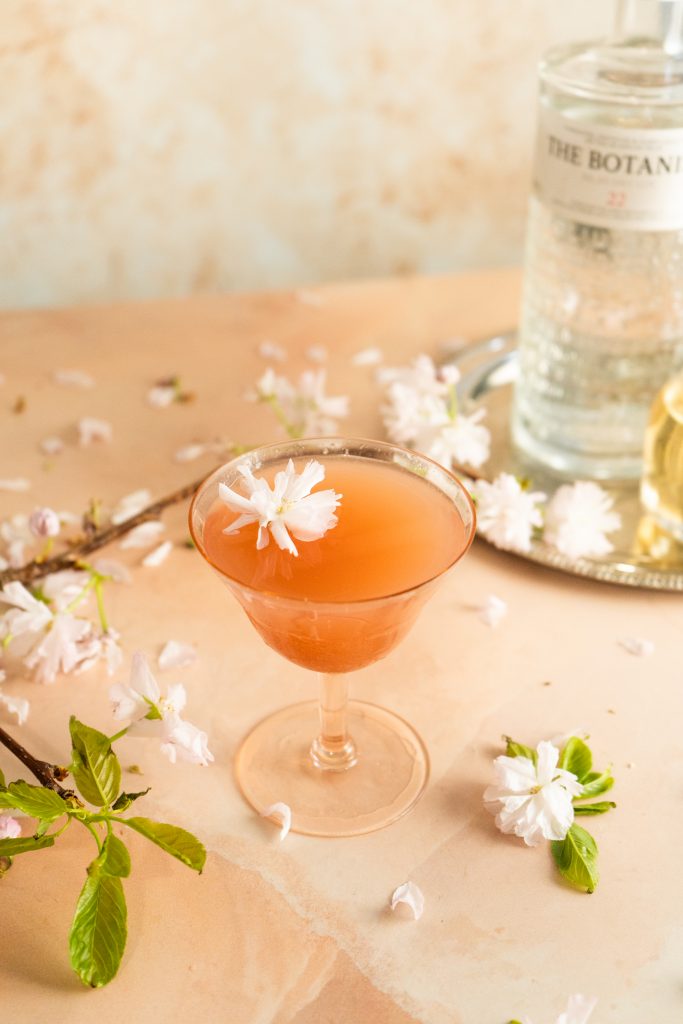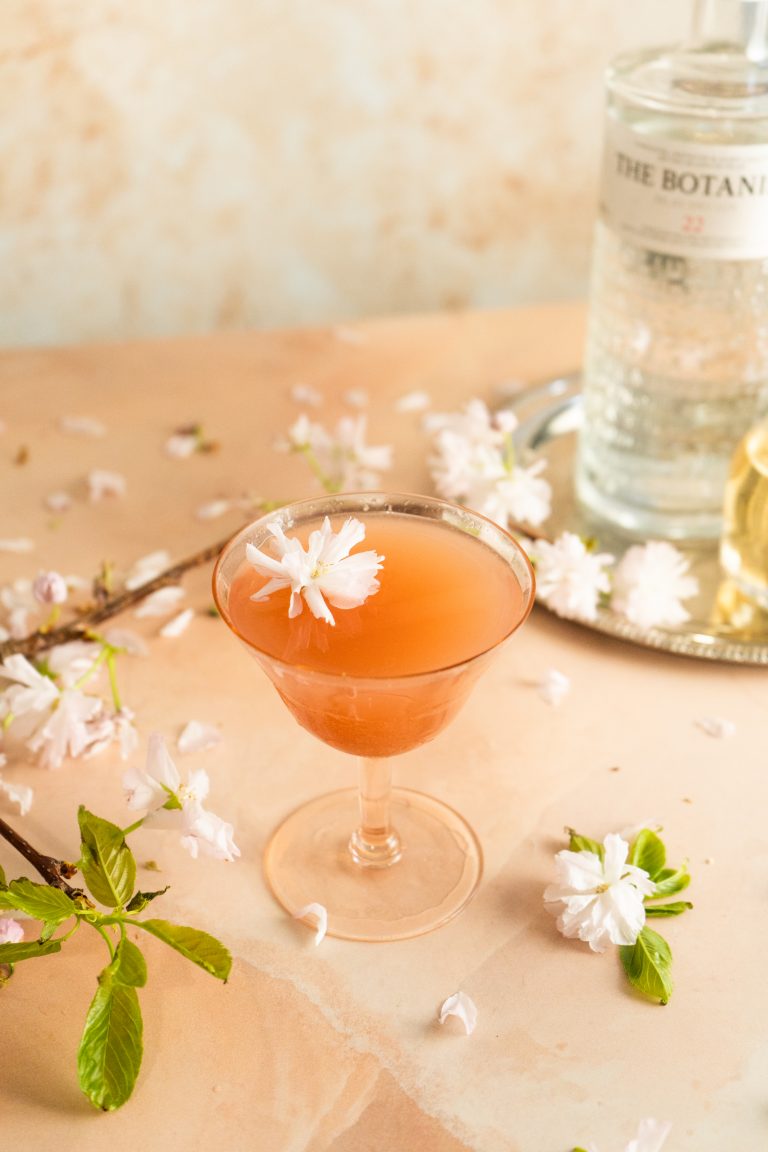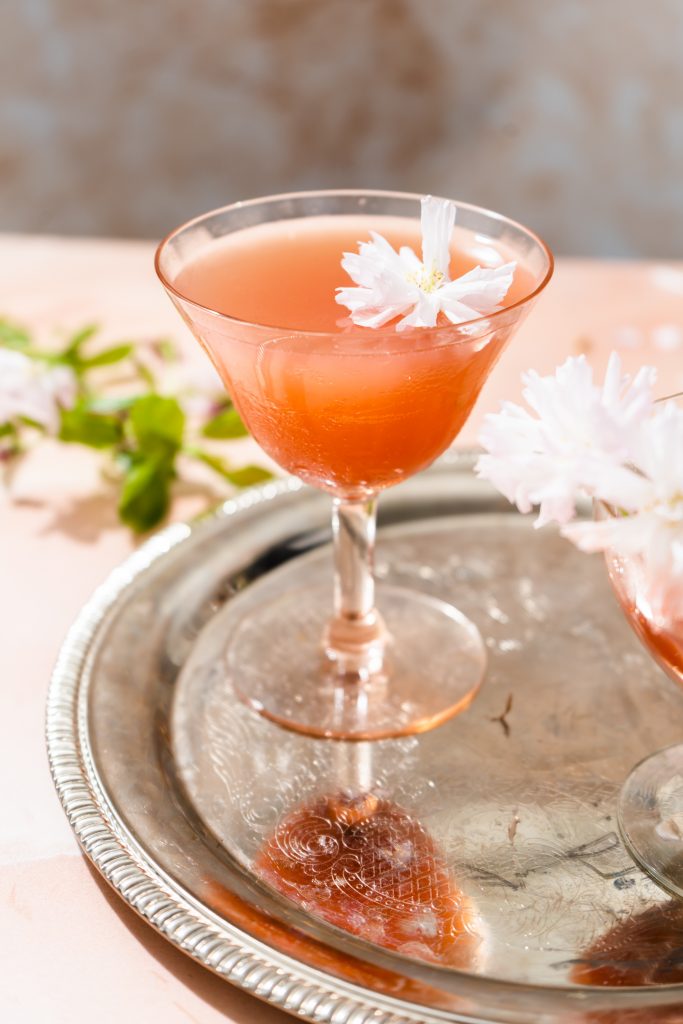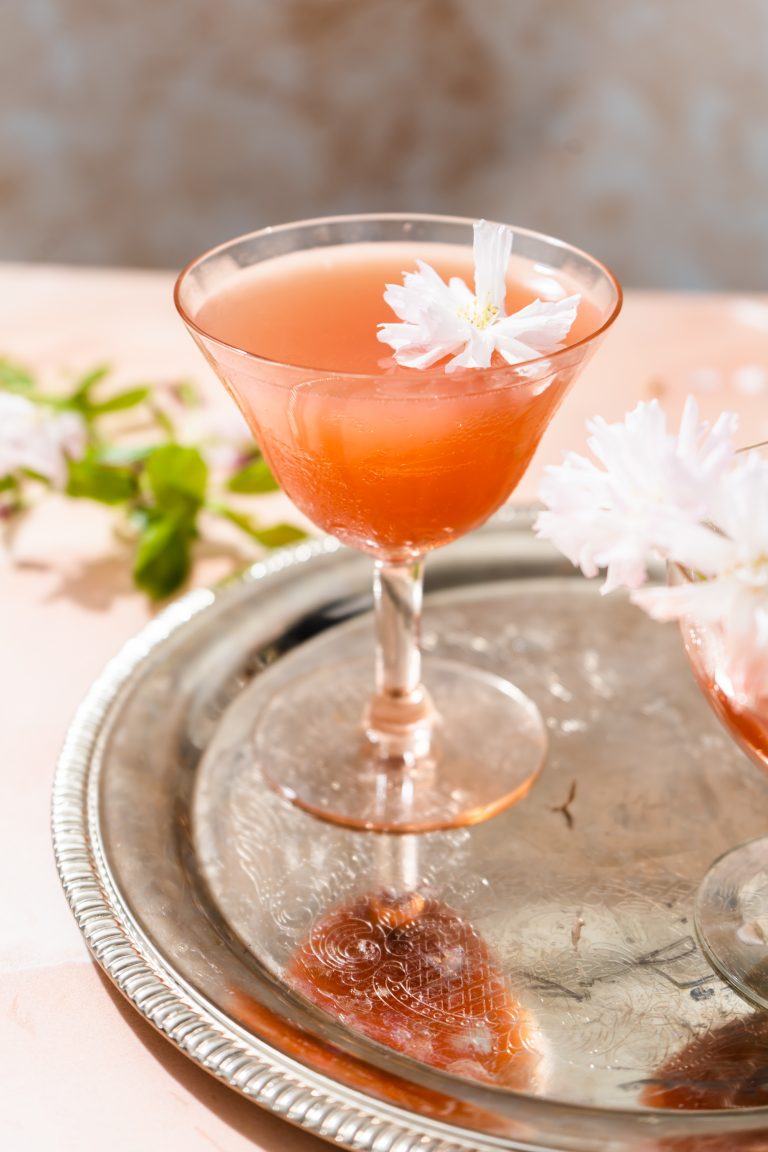 Fresh cherry blossoms can be hard to come by and I'm fortunate to have access to a lot of ingredients in Northern California, so I have substitutions listed in the recipe for you that that can be ordered online or found at some grocery stores. Roses are the easiest substitute here, but pickled preserved sakura (a.k.a. cherry blossoms) are a common way they incorporate cherry blossoms in culinary treats in Japan so you may be able to find some online this time of year. During the Cherry Blossom season in Japan and in Japanese communities in the US and abroad, there are many celebrations and festivals to welcome the new season and beauty of the cherry trees in bloom. They host hanami gatherings and picnics with friend and family to admire the cherry blossoms that book for a short period of time (hanami translating to "to look" at "flowers.")
Not all cherry trees will bear fruit, but they still offer a beautiful show of fluffy pink and white blooms this time of year. If you can find some in your area they are real sight to see and eat. The blooms can be used for teas, desserts and infusions like the vanilla cherry blossom vermouth in this cocktail. Happy cherry blossom season!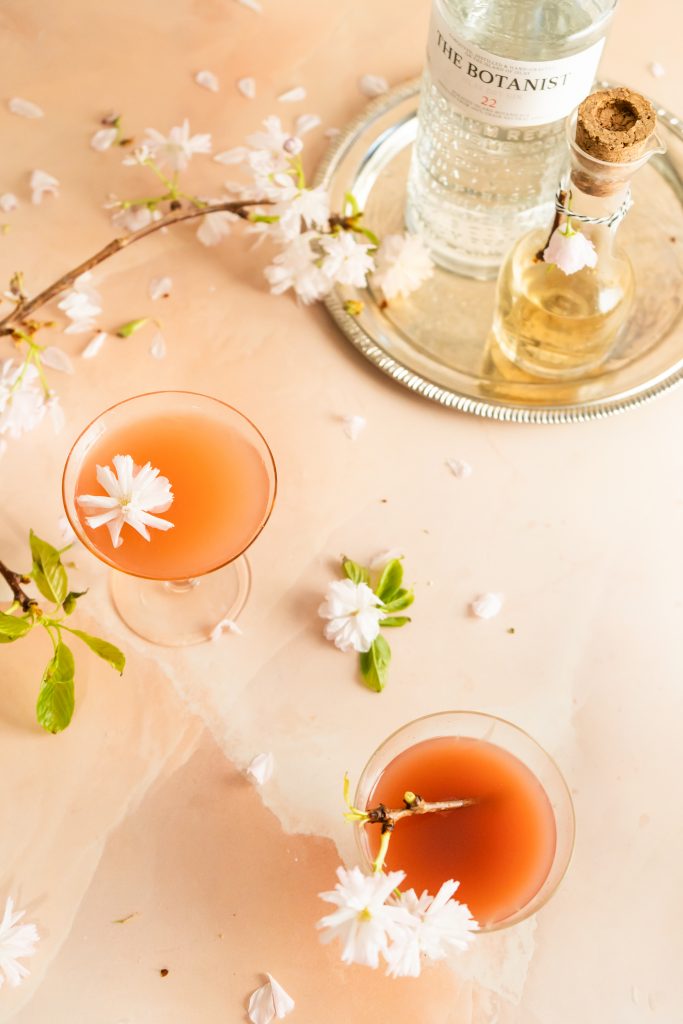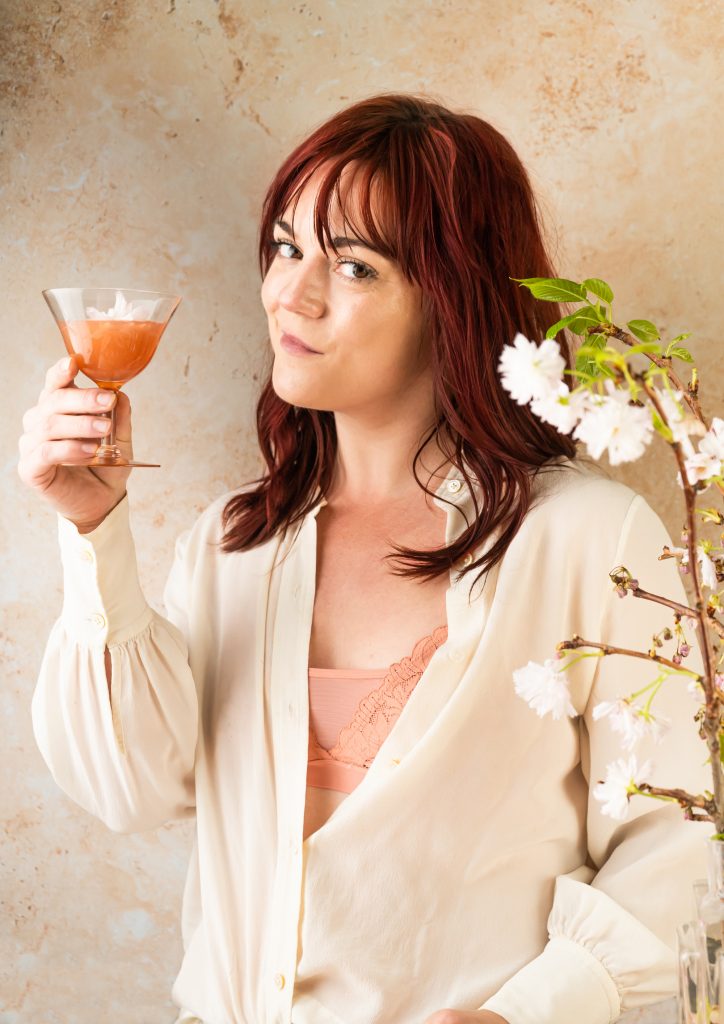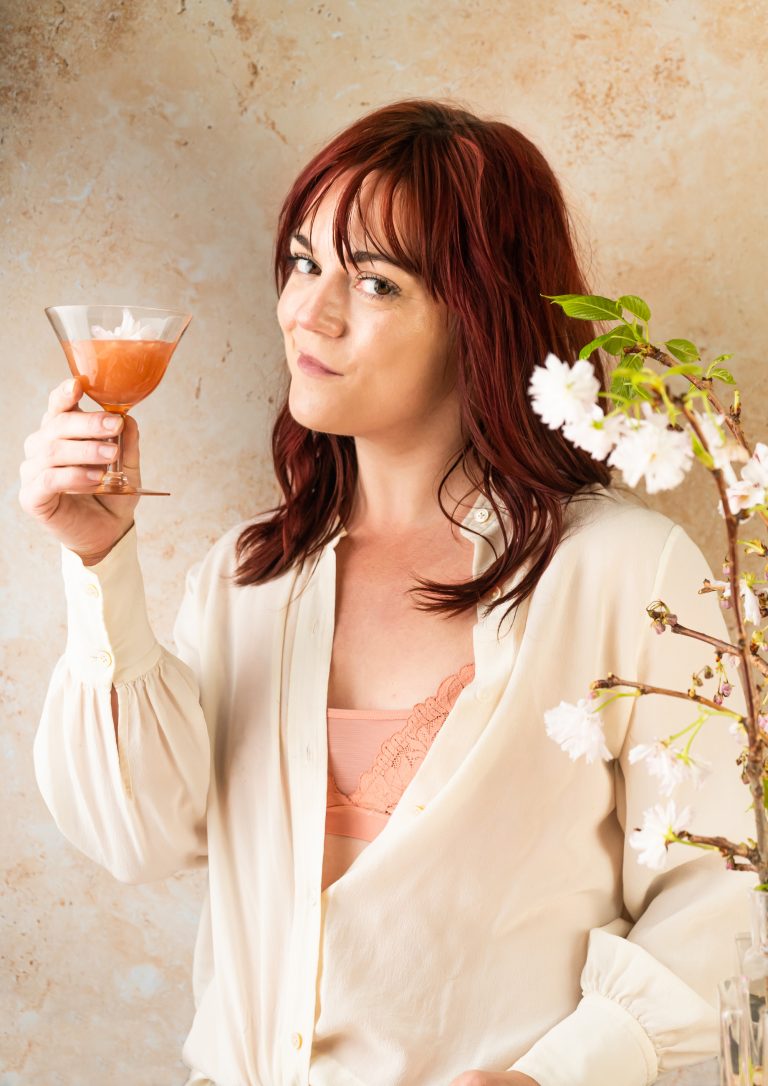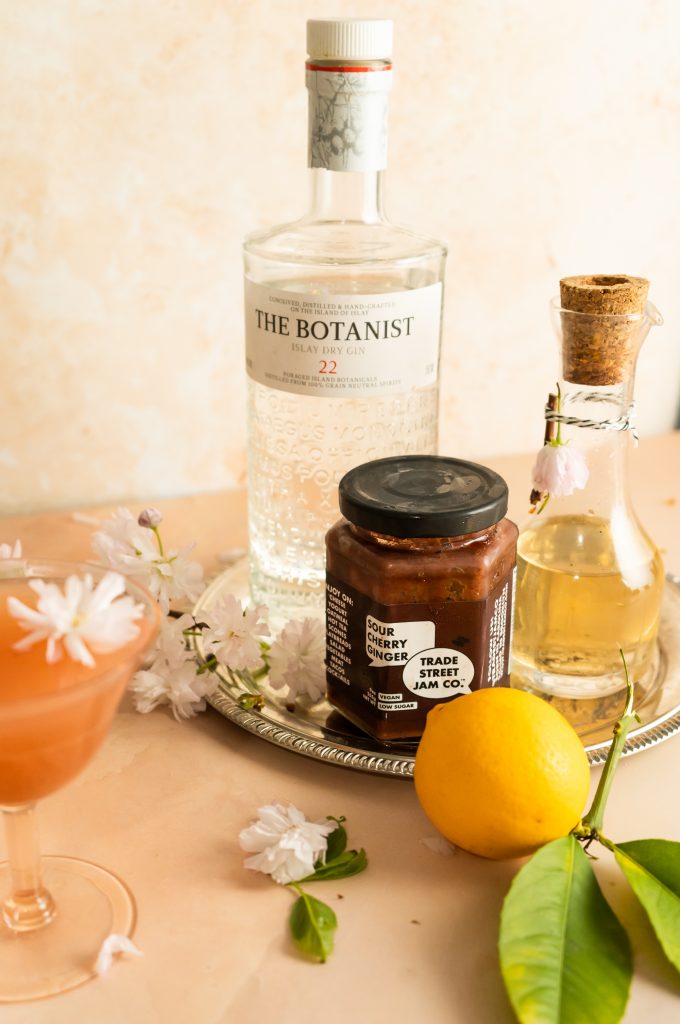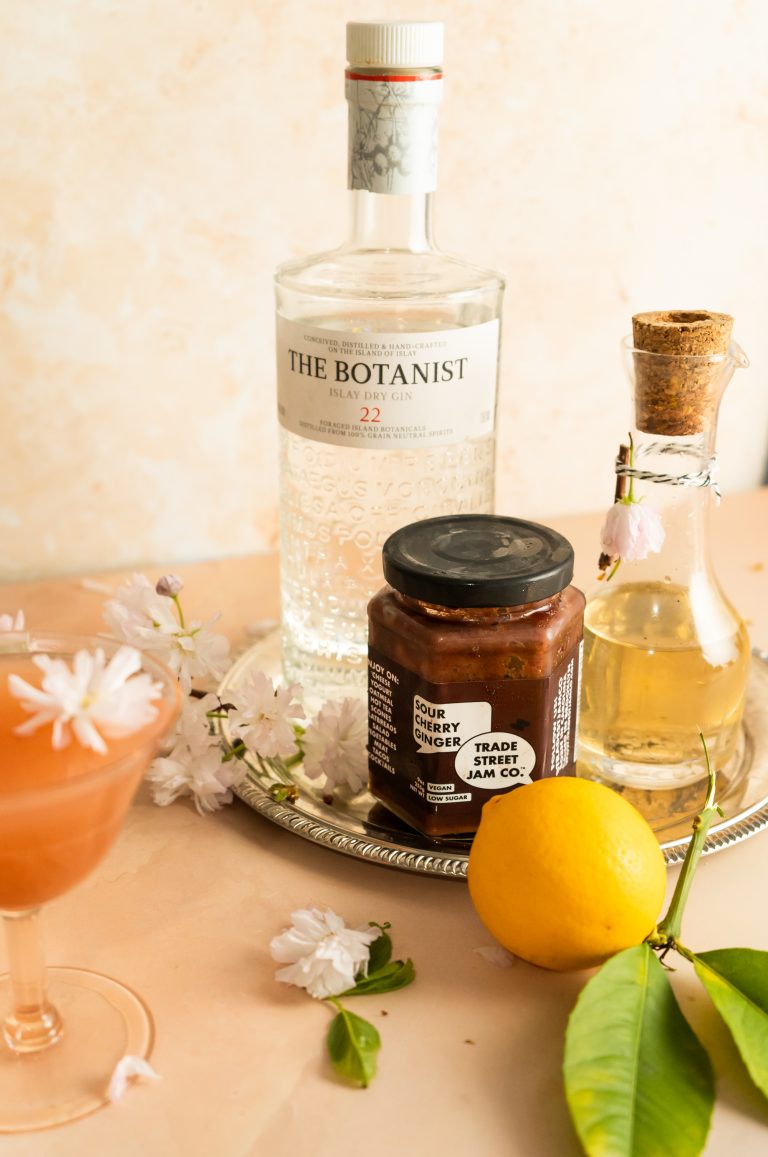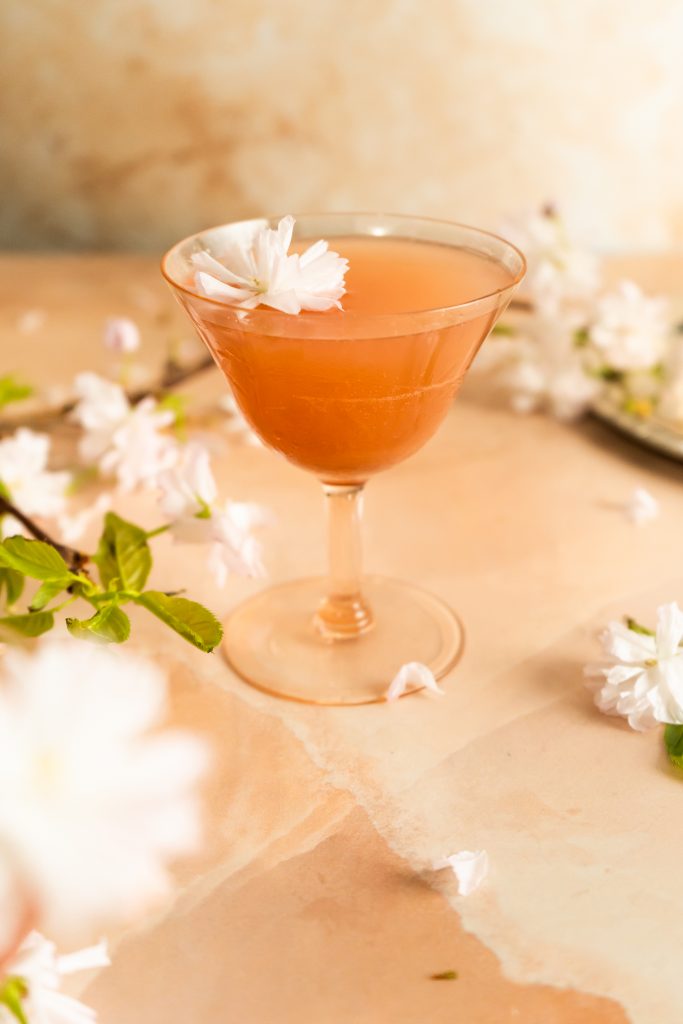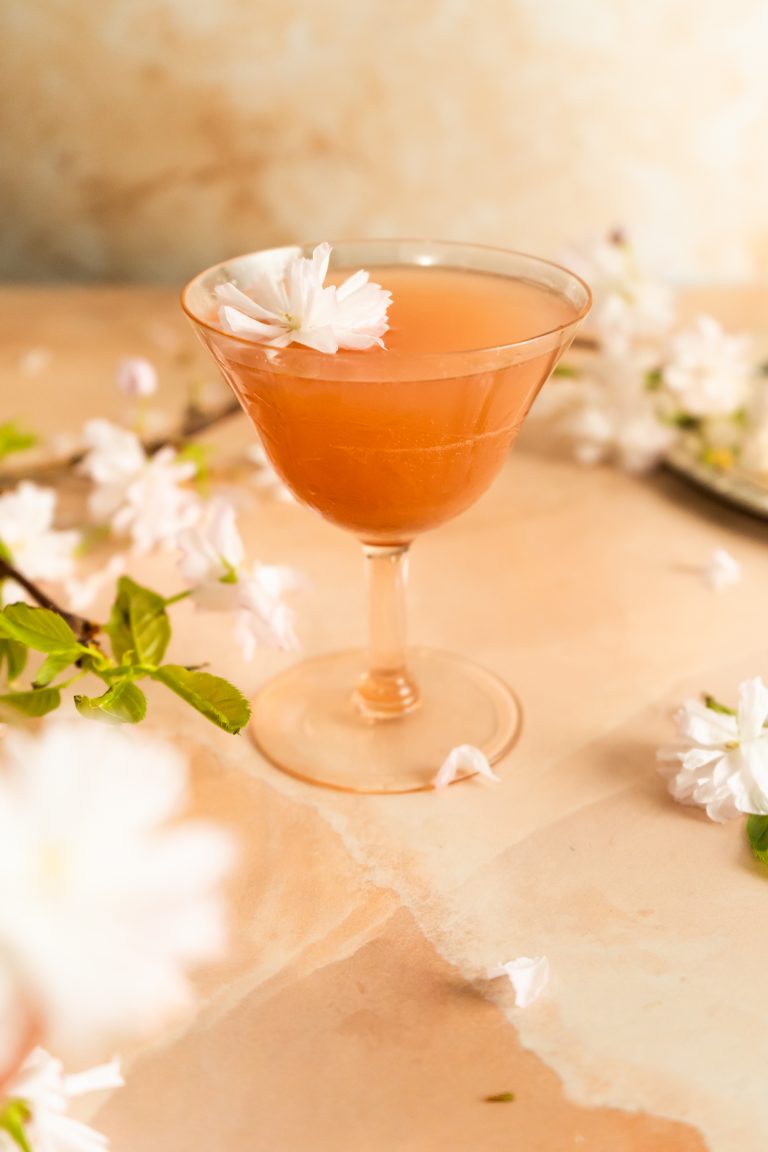 Print
---
1 1/2 oz

gin – I used The Botanist

1/2 oz

vanilla cherry blossom vermouth, recipe below or use plain bianco vermouth

1/2 oz

lemon juice

1 tbsp

cherry jam- I used Trade Street Jam Co.
---
Instructions
Make vermouth 1 day ahead
Add gin, jam, vermouth, and lemon juice into a shaker and shake with ice
Double strain into a coupe. Garnish with edible flower such as cherry blossom or rose
---
Notes
Cherry Blossom vermouth
1 cup bianco vermouth
1/2 cup cherry blossoms OR 1-2 tbsp presrved cherry blossoms OR 2 tbsps dried rose buds
1/2 vanilla bean
Pour vermouth into a sealable container. Cut vanilla bean in half length wise. Add to the vermouth. Add flowers of choice to the vermouth. Let infuse 24-48 hours. Strain out solids and store in the fridge for up to a month.
Keywords: cherry blossom, vermouth, jam, cocktail, spring