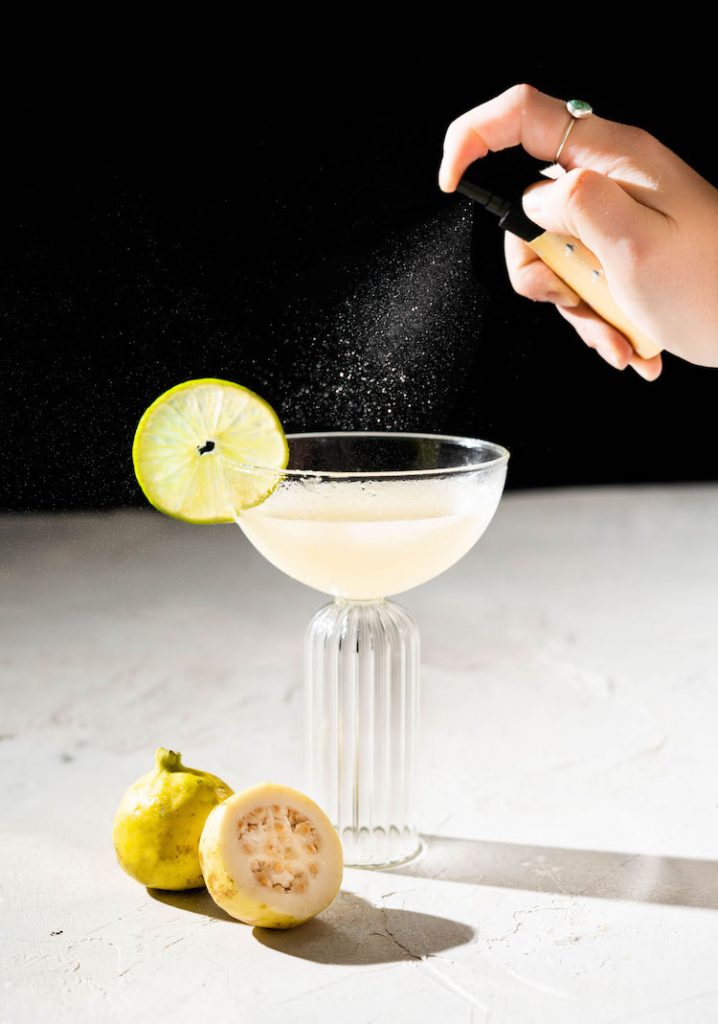 DAIQUIRI
The Daiquiri is the perfect cocktail. A careful balance of ingredients and technique that produce a sweet, tart, and bright cocktail that is happily gulped in a few sips, leaving you wanting more. If it's doing it's job, it should anyway. A Daiquiri is an anytime drink. It's not boastful or pretentious and with attention, is easy-peasy to make. Equally as easy to drink, the Daiquiri has a storied past steeped in history that is interwoven with that of rum's in the early days of cross-Atlantic travel, slave trade, and the resulting agriculture advances.
Although the classic Daiquiri needs no change, and trust me I could drink just Daiquiris for the rest of my life and be happy, I found myself recently wanting to add some tropical flavors into the mix. We had a particularly dreary few months here in Northern California, so I was craving a tropical vacation, if only in my glass. With this, I sought out some tropical fruit outside of the typical pineapple. I found some fresh guava at my local market and knew it was the perfect addition to mix into a Daiquiri along with coconut.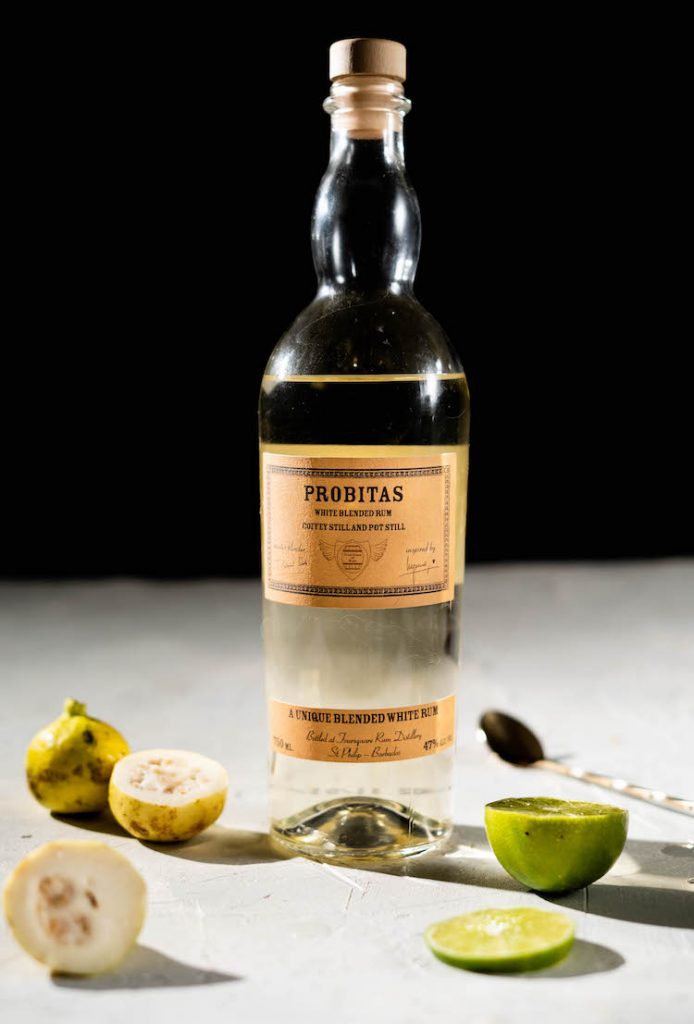 Coconut Fat Washing
The Guava Coconut Daiquiri gets it's oasis touch not just from fresh fruit, but from creamy coconut oil. The rum, in this case Probitas Rum, is mixed with liquid coconut oil in a process called fat-washing. Fat-washing is when a fat source such as olive oil, butter, and of course the infamous bacon fat (used in the Benton Old Fashioned that introduced the method into the cocktail world) is infused in a solvent like spirits After infusing, adding the container into the frdige will solidify the fat making it easy to strain out the slids, leaving behind a lightly infused spirit that imparts not only an umami flavor, but gives the liquid a bit more weight to the spirit for a rounder mouth feel.
Oooooh my is the Coconut fat-washed Probitas rum is delicious. The rum love child between two amazing rum houses, Hampden Estate and Four Square Distillery, Probitas rum is a bottle I find myself reaching for over-and-over for mixing in my Daiquiris. The funk from the pot still used at Hampden mingles harmoniously with the refined, frutier notes from the column still. The tropical, earthy flavors of coconut oil pairs so well with the Probitas Rum. I have a found memory of the smell of suntan lotion (it was a thrill to be lathered in it knowing splashing in the ocean and building sand castles were not far behind) and the first whiff of this coconut fat washed rum brought those memories flooding back faster than high-tide desimating said sand castles. For good measure and to add a whisper of snappy herbal flavors, I spritzed some Green Chartreuse with an atomizer over the glass. This is an optional "garnish", but I would highly recommend adding the spritz. The Guava Coconut Daiquiri is what I went to be sipping to chase away the winter blues and to welcome much warmer weather on the horizon.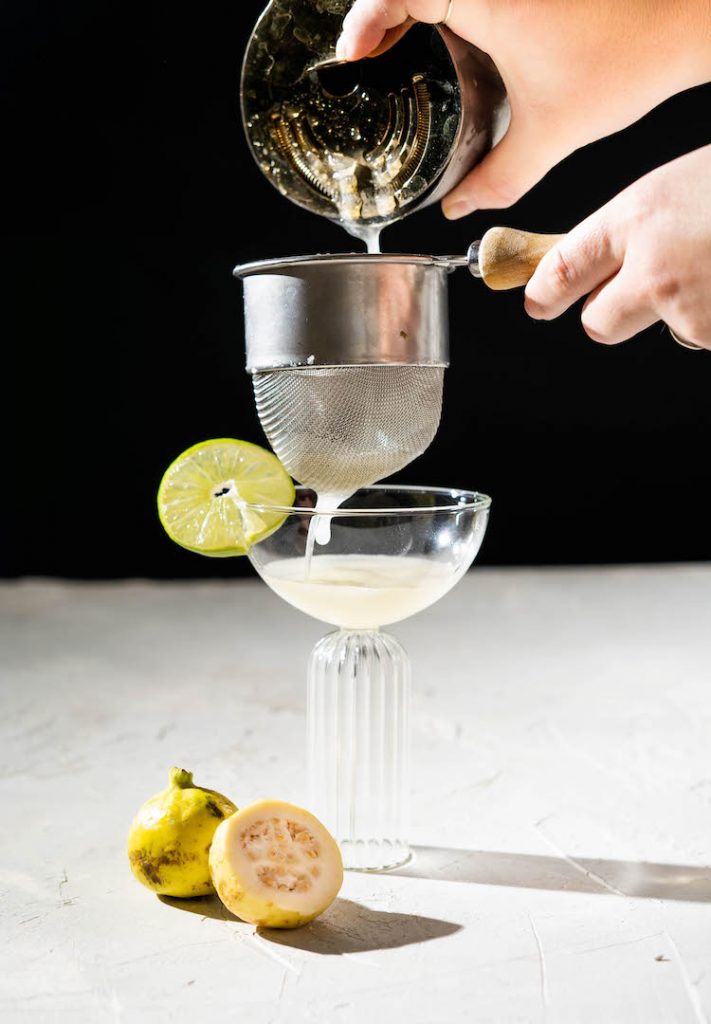 Print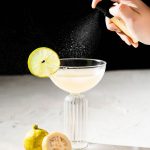 Guava Coconut Daiquiri
Prep Time:

12 hours

Cook Time:

3 minutes

Total Time:

12 hours 3 minutes

Yield:

1

1

x
---
glass: coupe
tools: shaker, jigger, muddler or spoon, hawthorn strainer, fine mesh strainer, atomizer (optional)

1 1/2 oz

coconut fat washed white rum, I used Probitas

1 oz

lime juice

1/2 oz

simple syrup

1

guava, about heaping 1bsp
spritz of green Chanteuse
garnish: lime wheel
---
Instructions
Scoop guava into a shaker. Muddle well.
Add the rest of the ingredients into the shaker and shake.
Double strain with a Hawthorne strainer and fine mesh strainer into a coupe.
Spritz with Green Chartreuse with atomizer * . Garnish with lime wheel.
COCONUT FAT-WASHED RUM
1 cup white rum, I used Probitas
1/8 cup coconut oil
Add liquid coconut oil* to a mason jar with rum. Stir and let infuse for 12 hours at room temperature. Add to the freezer to let the coconut oil layer separate. After 3 hours or when the coconut oil layer is solid, poke a hole through the coconut oil. Using a fine mesh stained, pour rum out of the jar through the hole. Store in the fridge for up to a 3-4 weeks.
---
Notes
If you do not have an atomizer, add a bit of the Green Chartreuse the glass and swirl around and dump before pouring in the cocktail, also called "washing " the glass.
If you are unable to find fresh guava fruit, use 1-2 tsp guava paste or jelly.
Heat coconut oil to make liquid if solid.