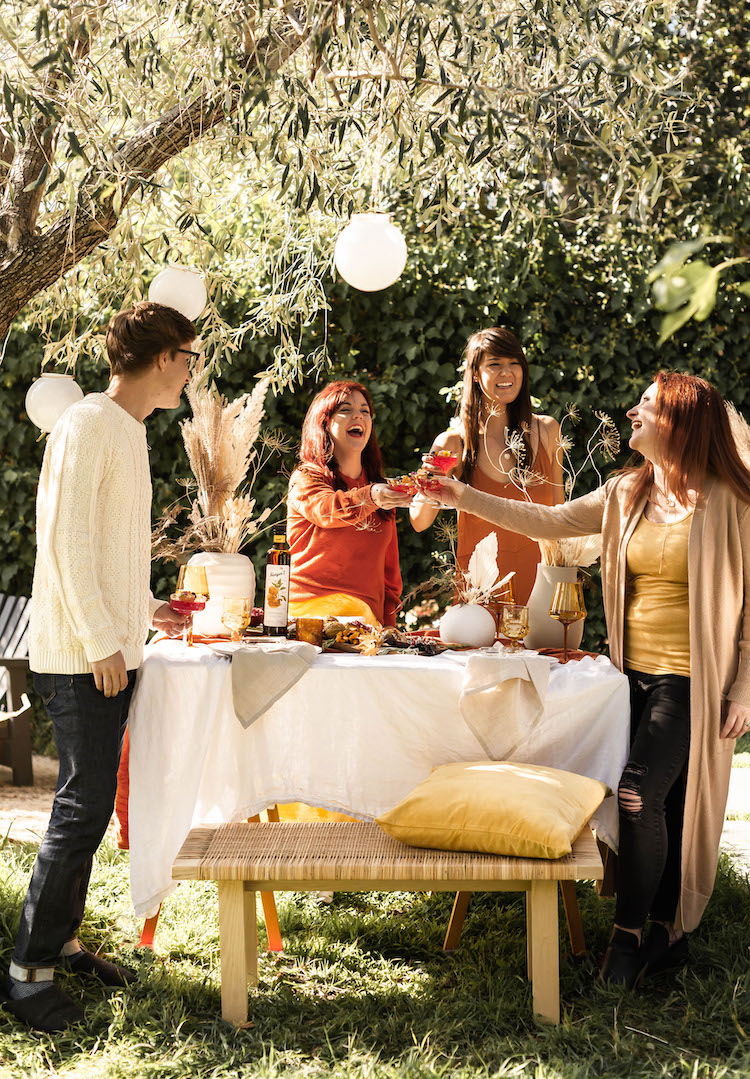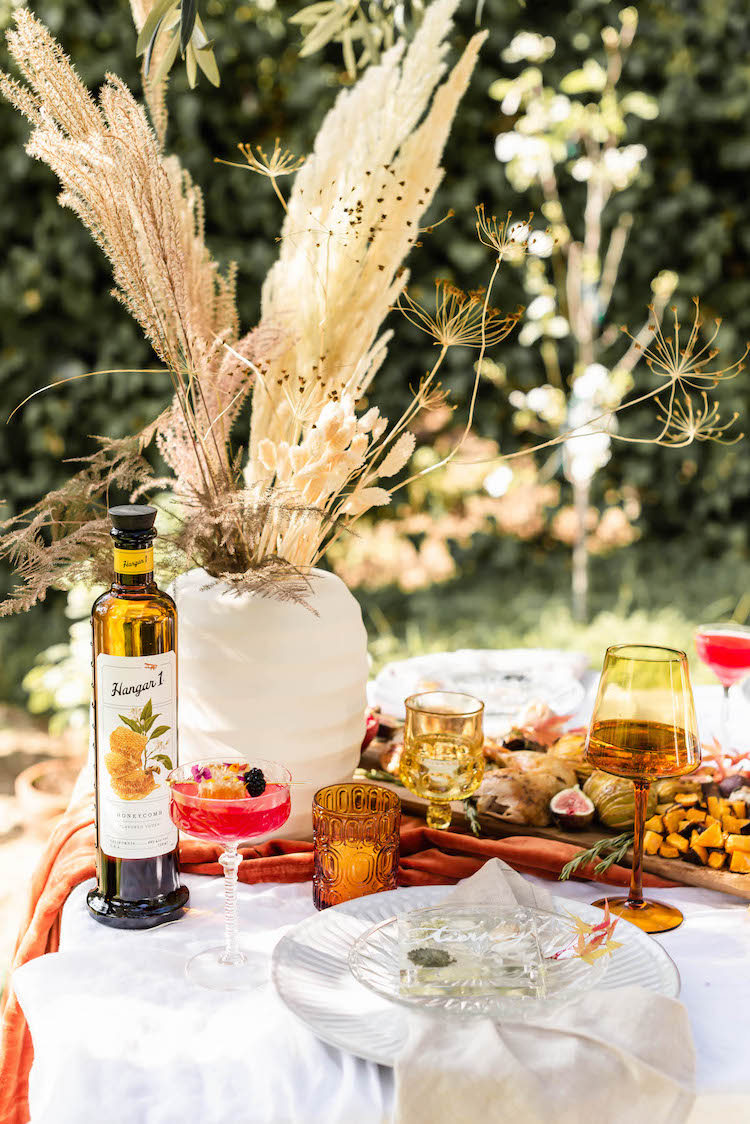 Labor Day may mark the official end of BBQ season, but don't let it deter you from keeping the party going outside! Fall is arguably the best time to host an al fresco fête. Crisp, cool air and amber, rust, and chartreuse leaves dancing through the air set the stage for the perfect party. These leaves also served as the chic palette that inspired an outdoor fall party I recently threw in my backyard! Rather than set a theme, I let the autumnal hues and textures guide the way while the jewel toned food and drinks took center stage. It was a great day filled with laughs, comfort food, and glasses brimming with the lip-smacking Harvest Honey Moon cocktail featuring Hangar 1 Honeycomb Vodka.
SERVING IT UP
Fall is ripe with opportunities for outdoor dinners and cocktail parties. Most people are settled down from travel over the summer, and life is at a slower pace before the hustle and bustle of the holiday season. Gathering over a great meal is the best way to catch up with all of your friends and family.
Aside from the company, the food and drinks are the stars of the show at any party. I tend to stick to unfussy dishes no mater the occasion. This time of year I particularly like to lean on elevated comfort food that is heavily focused on the abundance of fall's vibrant root veggies of fall. In this case, a simple chicken with roasted vegetables of all colors topped with succulent garnishes like pomegranate seeds and spices like za'atar.
With any outdoor feast, serving the meal can be a tricky. Food will have to move from the kitchen to the outdoor table seamlessly. I like to serve up hearty boards of roast chicken or meat and veggies. Like a grazing board, but for the main event. Arrange the food artfully along a sweeping board while spreading out the same type of food on either ends which allows guests to serve themselves all the dishes without having to move the platter. If space is limited place the meal on smaller boards for friends to pass family style.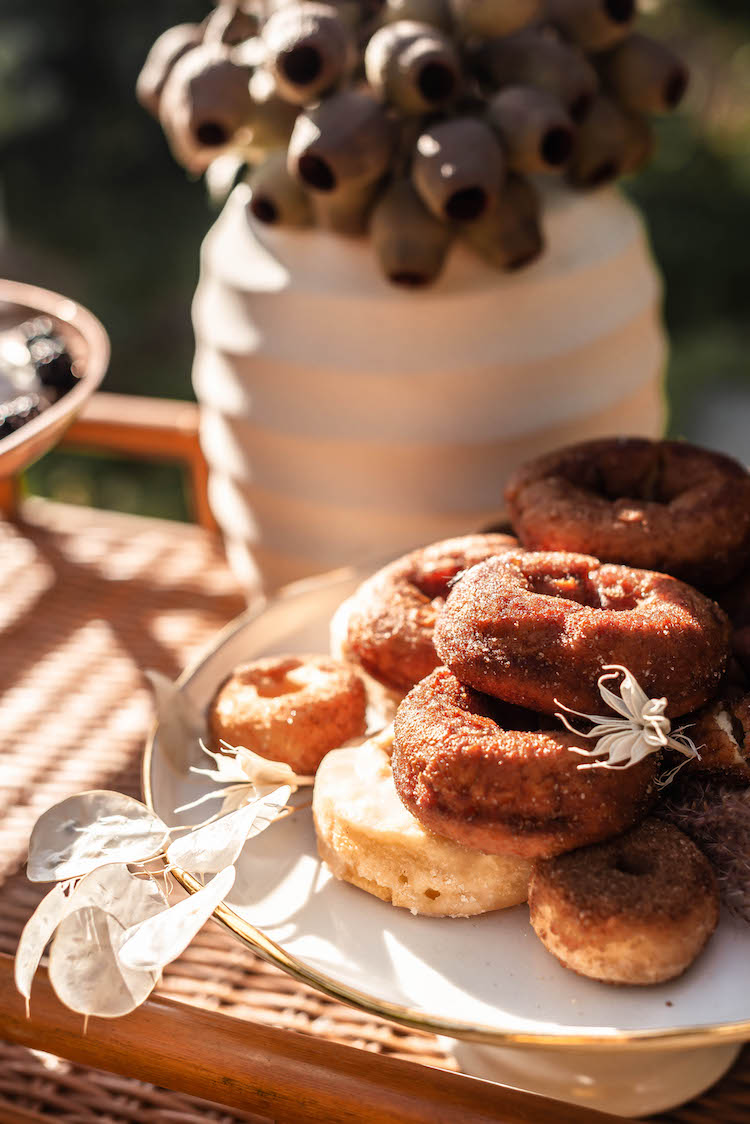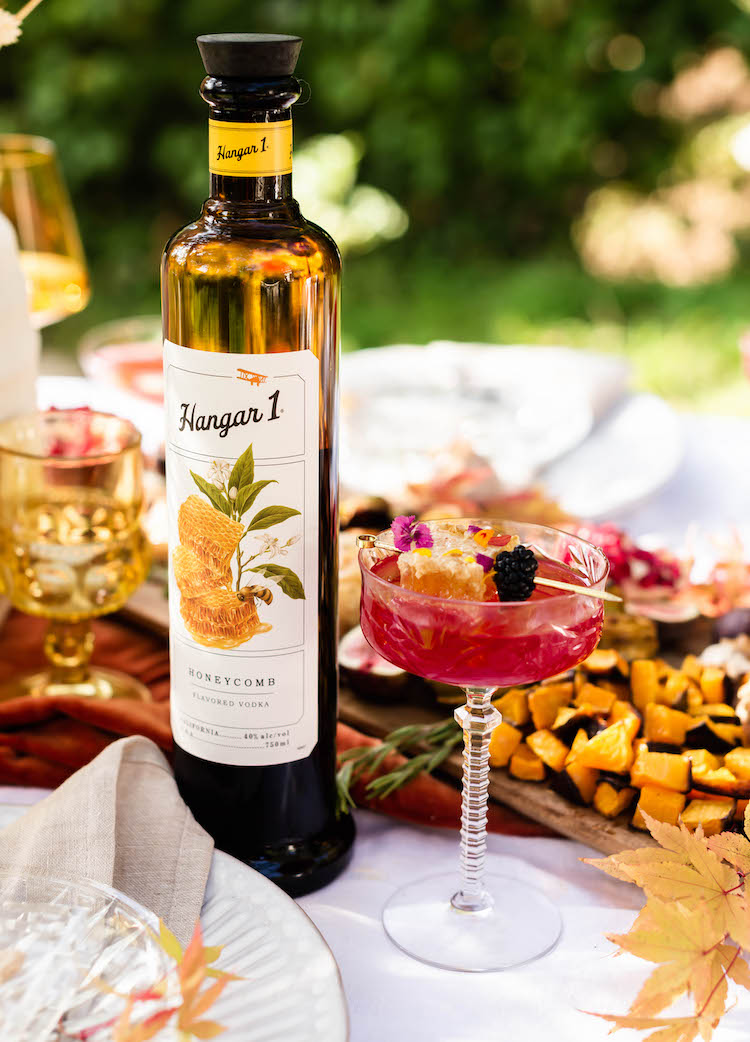 The menu I served up was simple and only required a bit of knife prep and roasting while the desserts require little to no skill (I got the cocktails on lock, but I am by NO means a baker!)
-za'atar & thyme roasted whole chicken
honey roasted brussels sprouts
roasted carrots with za'atar topped with goat cheese, tahini and pomegranate seeds
garlic and herb hasselback potatoes
roasted butternut squash
fresh figs, persimmons & pomegranates
apple cider donuts (store bought)
caramel apple & blackberry pavlova
cocktail: Harvest Honey Moon cocktail with Hangar 1 Honeycomb Vodka, recipe below
COCKTAILS ALL AROUND
The Harvest Honeymoon is a bright, acid driven cocktail that pairs well with hearty, richer foods. Blackberries and crisp apple mingle with nutty orgeat and tart lemon that all support the base spirit: Honeycomb Vodka from Hangar 1. The vodka is infused with the whole honeycomb, sourced from local Golden Harvest Bees, giving it a unique profile from any other honey spirit. I have been a fan of their Honeycomb Vodka for awhile, but it has only been available at the distillery as one of their Distiller's Exclusives bottles. Well we are all are in luck; it's exclusive no more! Hangar 1 Honeycomb Vodka is available for the first time outside of The Hangar 1 Distillery. It is launching nationwide so check your local liquor shop to pick up a bottle for holiday cocktails.
SETTING THE TABLE
The crinkling leaves underfoot inspired the centerpieces. Dried flora in neutral colors like palms, fronds, pampas grass, and fennel create wild, but sophisticated arrangements in textured ceramic vases (like this one and this one). Dried florals and grasses are easier to work with than fresh cut flower stems. Not only do they not require water and expert handling, but they can stick around on your kitchen table for long after the party.
I love the soft glow of a candle-lit meal, but gusts of wind can quickly extinguish the mood. I added tea lights to amber goblets and rocks glasses scattered around the table. Nestled in their glasses, they will keep twinkling all party long.
For the place setting, I used clear and white neutral plates and napkins to let the food and drinks standout. At each plate, I used clear picture frames and dried flowers from the arrangements tucked inside. I scrolled the names of my guests on the frames with a paint pen which serves as place cards and gifts for my friends to take home.
As the sun begins to dip in the afternoon, be prepared with lighting. I hung simple globes from the trees filled with flickering battery candles to illuminate the party. String lights are also great options to keep the party lit.
As the temperature drops in the evening, a blanket station will keep your guests comfy and cozy. Roll blankets up and place in a basket or repurpose a ladder to hang them just within reach of the party. Guests can grab a blanket or two if they find themselves needing a little extra warmth.
I am hoping these tips and tricks inspire you to host your own epic outdoor fall party!
HARVEST HONEY MOON cocktail
1 oz lemon juice
1/2 oz apple blackberry syrup (recipe below)
1/2 oz orgeat syrup
2 dashes aromatic bitters
garnish: honeycomb, blackberry, edible flowers
Add all liquid ingredients into a shaker with ice. Shake and strain into a coupe glass. Add honeycomb and blackberry to a skewer. Garnish honeycomb with edible flowers and add to glass.
APPLE BLACKBERRY SYRUP
1 cup sugar
3/4 cup apple juice
1 cup blackberries
Add sugar and juice to a sauce pan on high. Just before boiling, add the blackberries. Remove from heat and muddle. Let infuse for 2 hours. Strain out the solids and store in an airtight container in the fridge for up to 1 month.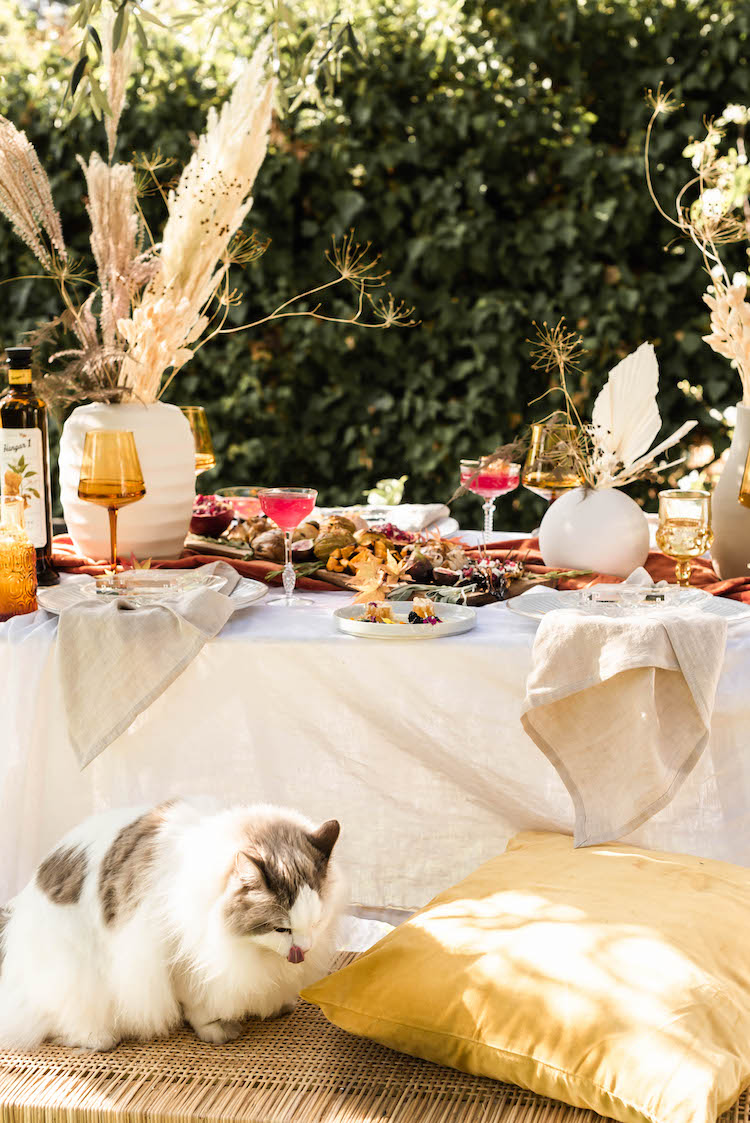 This post is sponsored by Hangar 1 Vodka. All opinions are my own. Thank you for reading and supporting the partnerships that keep the cocktails flowing on Craft + Cocktails!