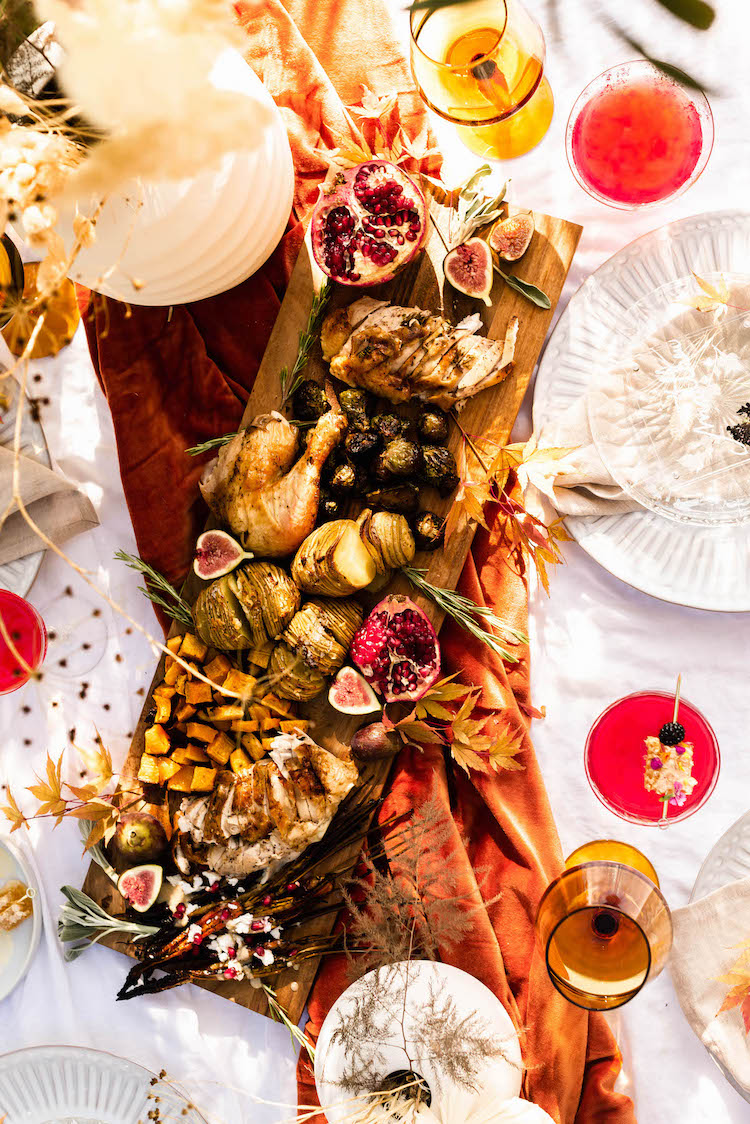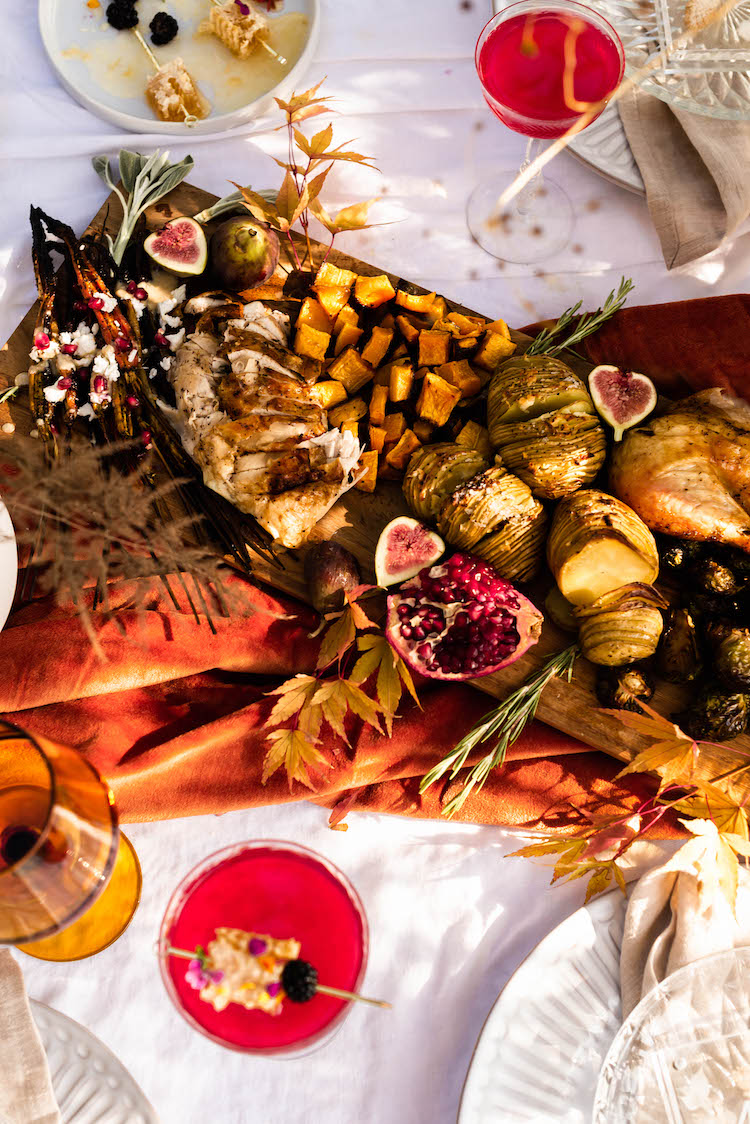 I  hosted an al fresco outdoor fall party with some of my closest friends and wanted a special meal that wowed, but wasn't too complicated. I am known to serve up a fancy cheese board at gatherings because they look so beautiful with the eclectic ingredients arranged harmoniously and SUPER easy. Although I can (and have!) eaten cheese as a meal, I wanted to jazz up my normal offerings and cook a full meal versus just a plethora of snacks. Enter the roast chicken and vegetable grazing board.
This board is an impressive and a unique way to serve up the main course and side dishes at a casual dinner or even for Thanksgiving. A succulent roast chicken paired with all your favorite vegetable sides and jewel like fruits  nestled next to each other, it's a feast for the eyes and belly.
MAKING YOUR BOARD
Figuring out how to arrange your spread is a fun, delicious puzzle for any board. I  pick the larger or circular ingredients on the board first and work around them. I spread the, out along the board to break up the larger pieces. In this case, I adD the sliced chicken and chicken thighs first. Because they are evenly distributed, everyone can reach a piece of chicken no matter where they sit at the table. Then I add the hasselback potatoes followed by the carrots. Next come the looser roasted veggies such as Brussels sprouts and roasted squash. Taking chopped fruit like figs and persimmons, I fill in the holes along the board. And finally for some aromatics and flourish, I tuck in fresh herbs like sage and rosemary sporadically. It created one beautiful spread that is worthy of being painted!
THE MENU
The menu for this particular roast chicken and vegetable grazing board is:
-za'atar & thyme roasted whole chicken, sliced
garlic and herb hasselback potatoes
roasted carrots with za'atar topped with goat cheese, tahini sauce and pomegranate seeds
honey roasted brussels sprouts
roasted butternut squash
fresh figs, persimmons & pomegranates
rosemary & sage for aromatics
Served up with the Harvest Honey Moon cocktail with Hangar 1 Honeycomb Vodka, this is a meal worth remembering! Are you inspired to whip up your own version of this roast chicken and vegetable grazing board for your next party or gathering?