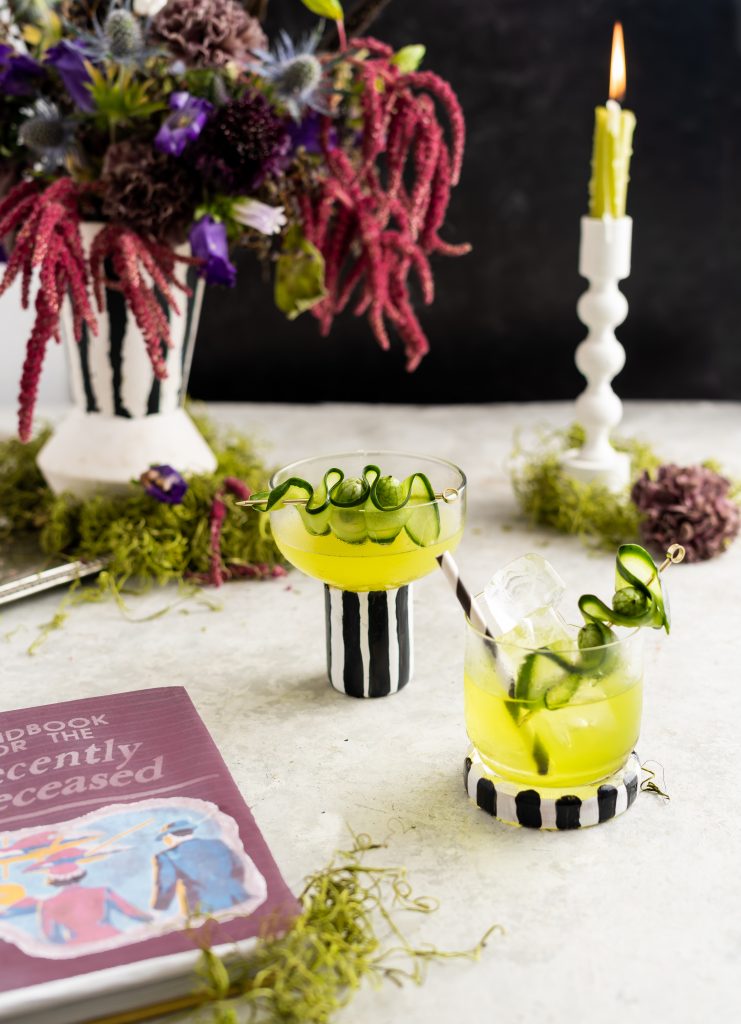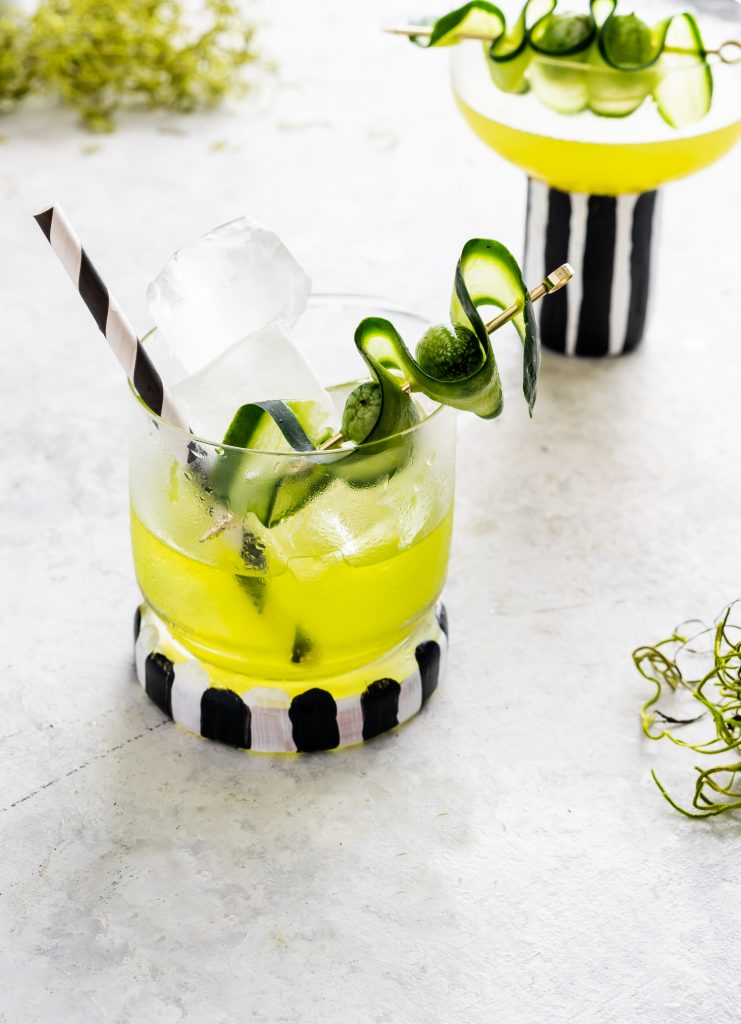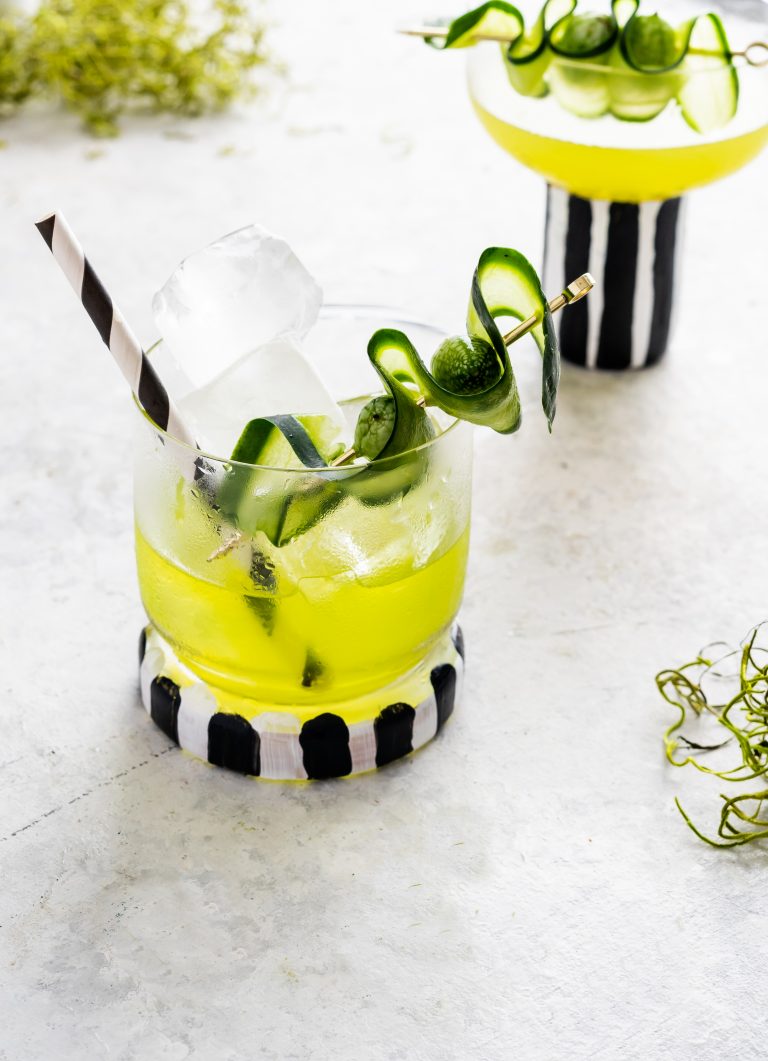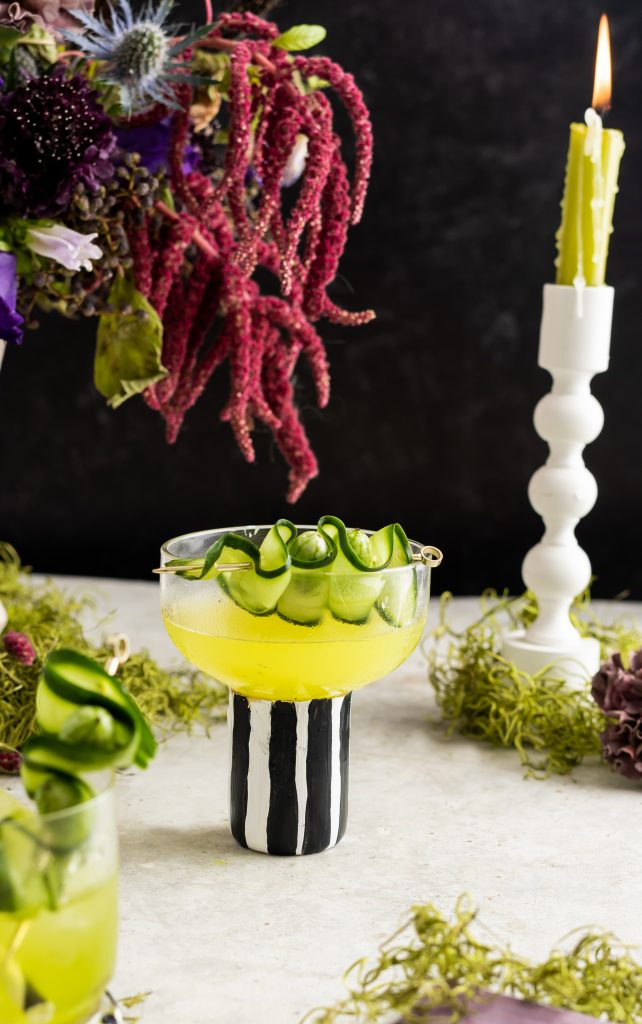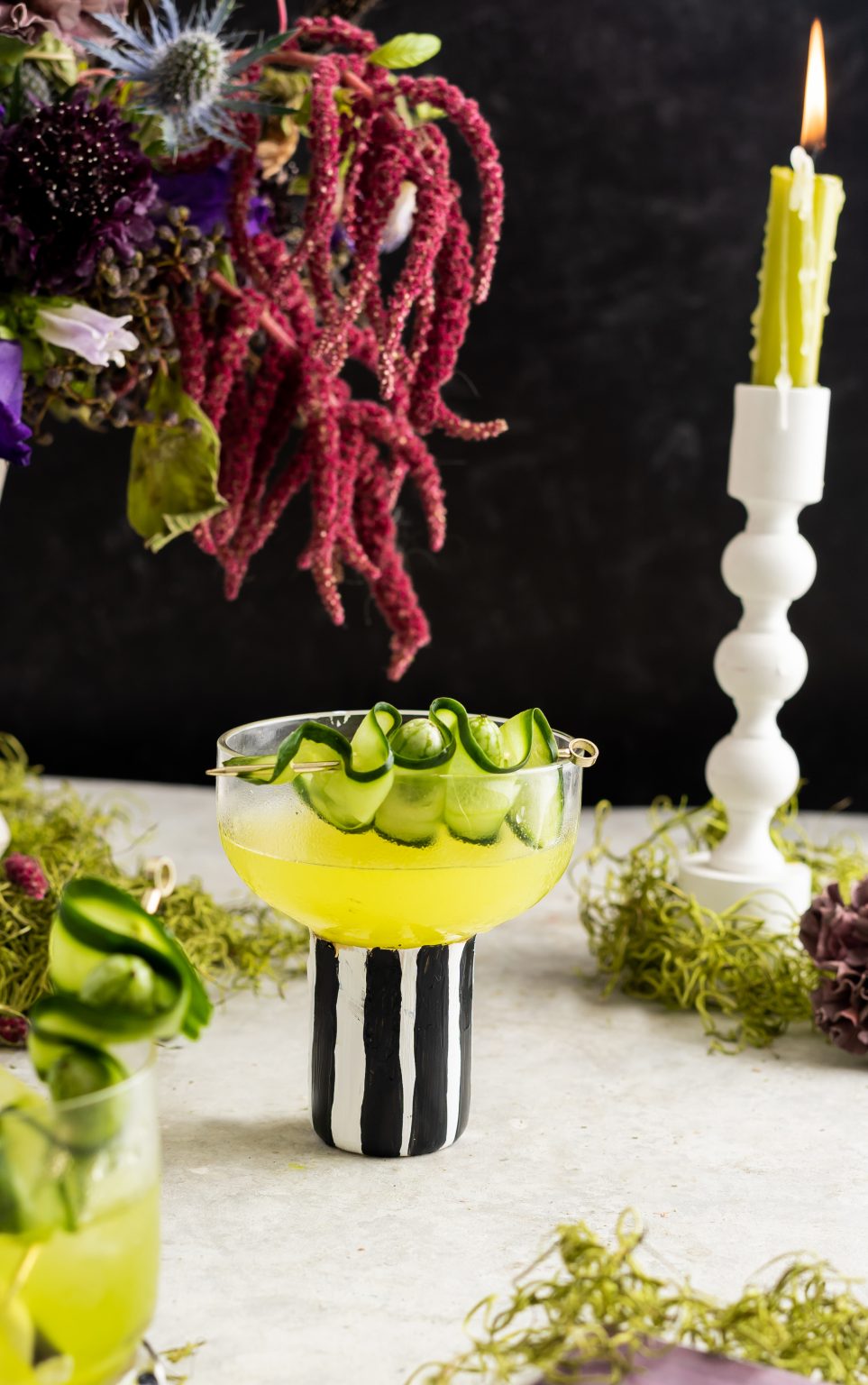 Beetlejuice, Beetlejuice, Beetlejuice! This extocooler green cocktail is balanced, herbal, and tart with a touch of melon from Midori. This Beetlejuice cocktail would be perfect for a Halloween party or spooky happy hour.
An eerie extocooler green drink that is just a little strange and unusual. Although most of the ingredients can be found in a liquor store and the produce aisle. The tiny cucucamelon garnish are a fun farmers market addition that look like creepy peppers inside the snake-like cucumber ribbon. Cucamelons are not necessary for the flavor of the drink, but give the drink a creepy look. I have seen these at other grocery stores before so keep an eye out or ask if your grocer can get some in for you!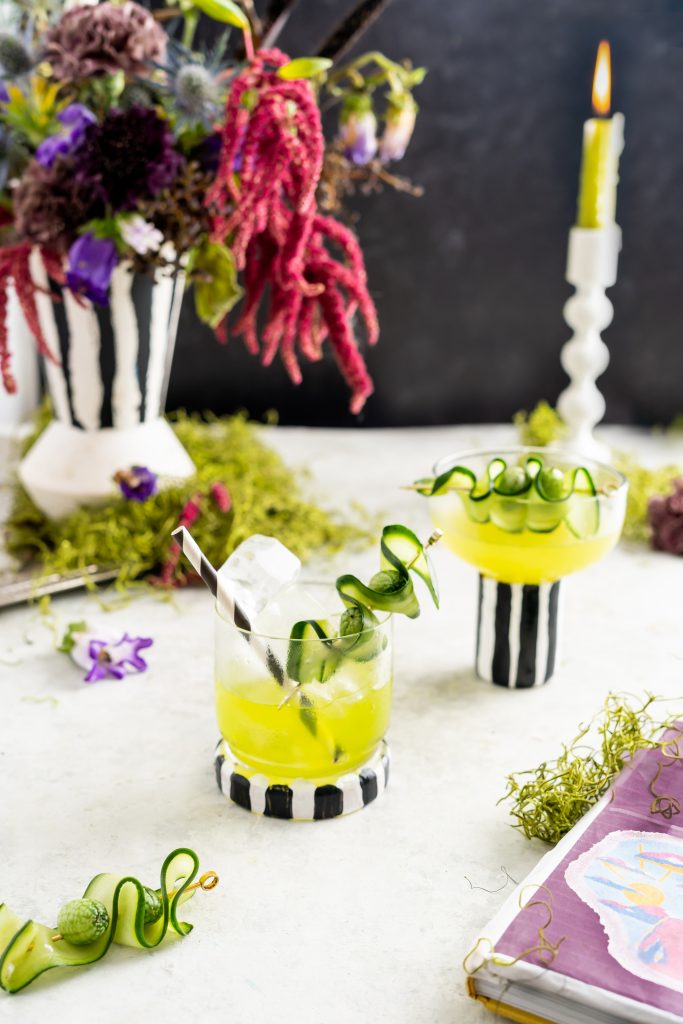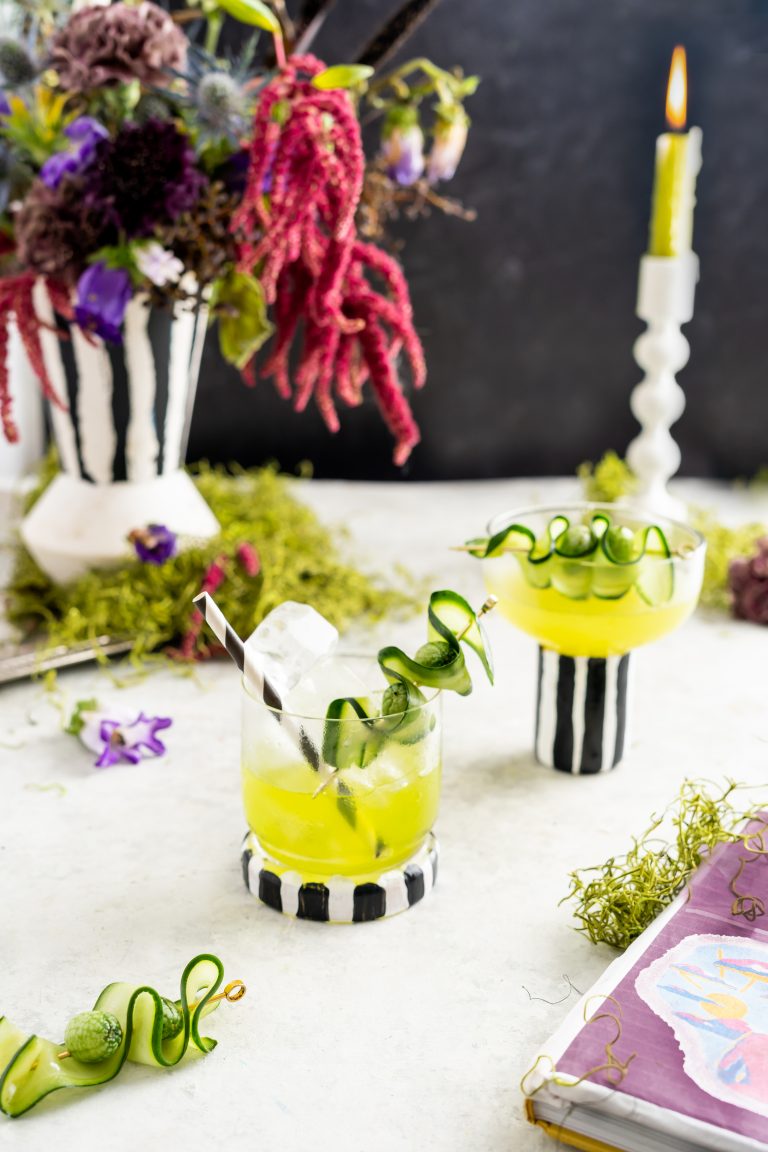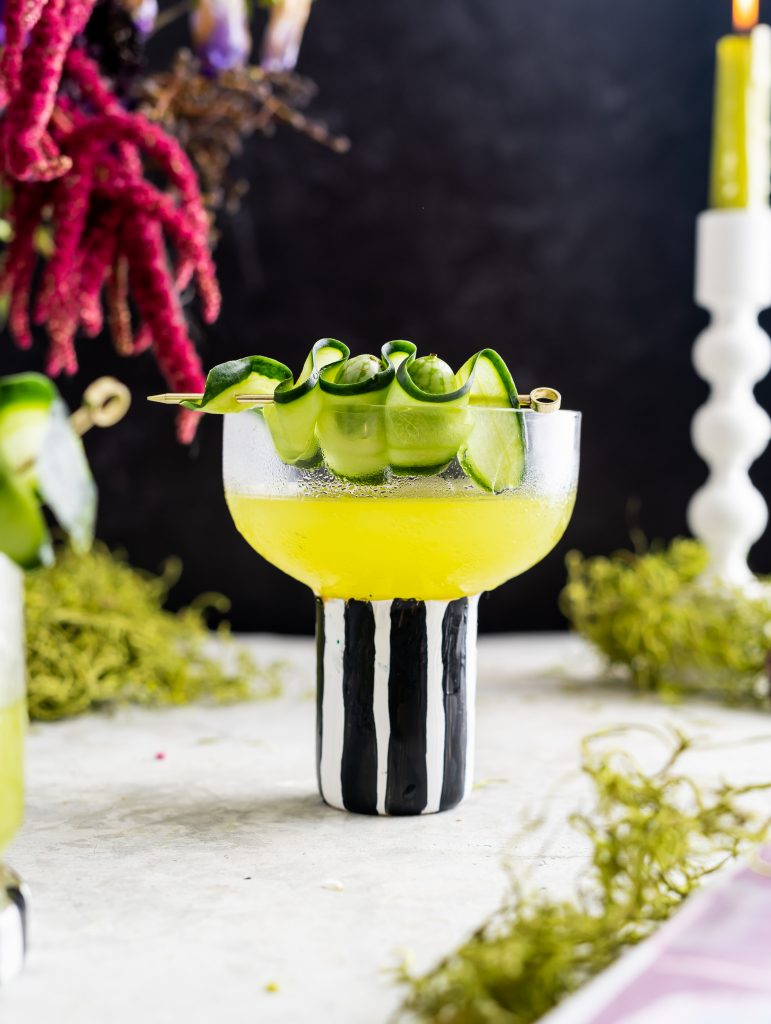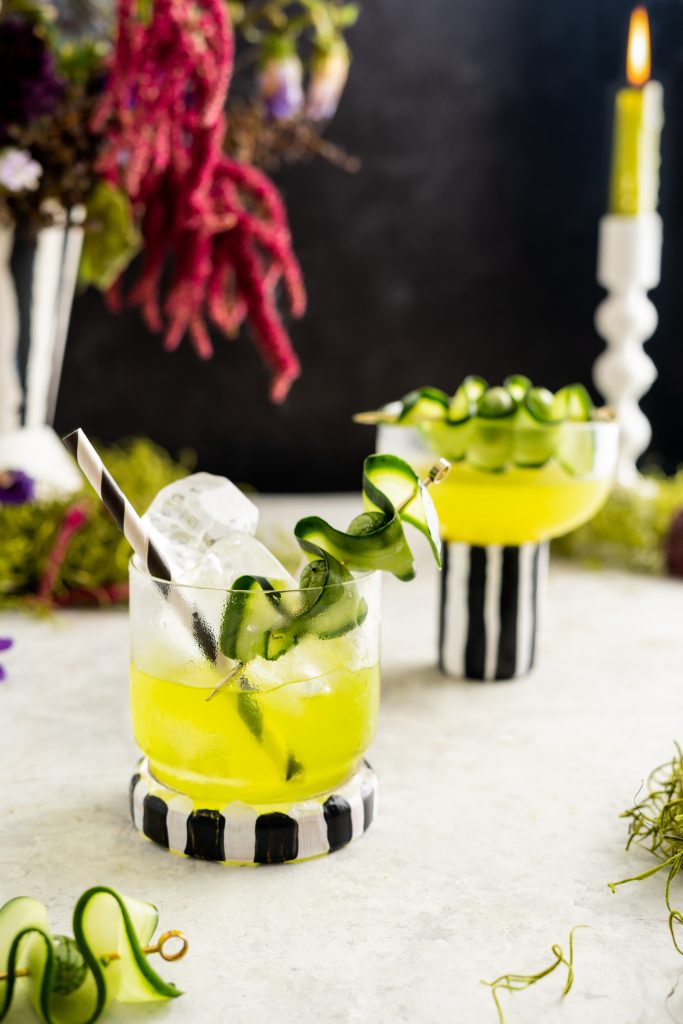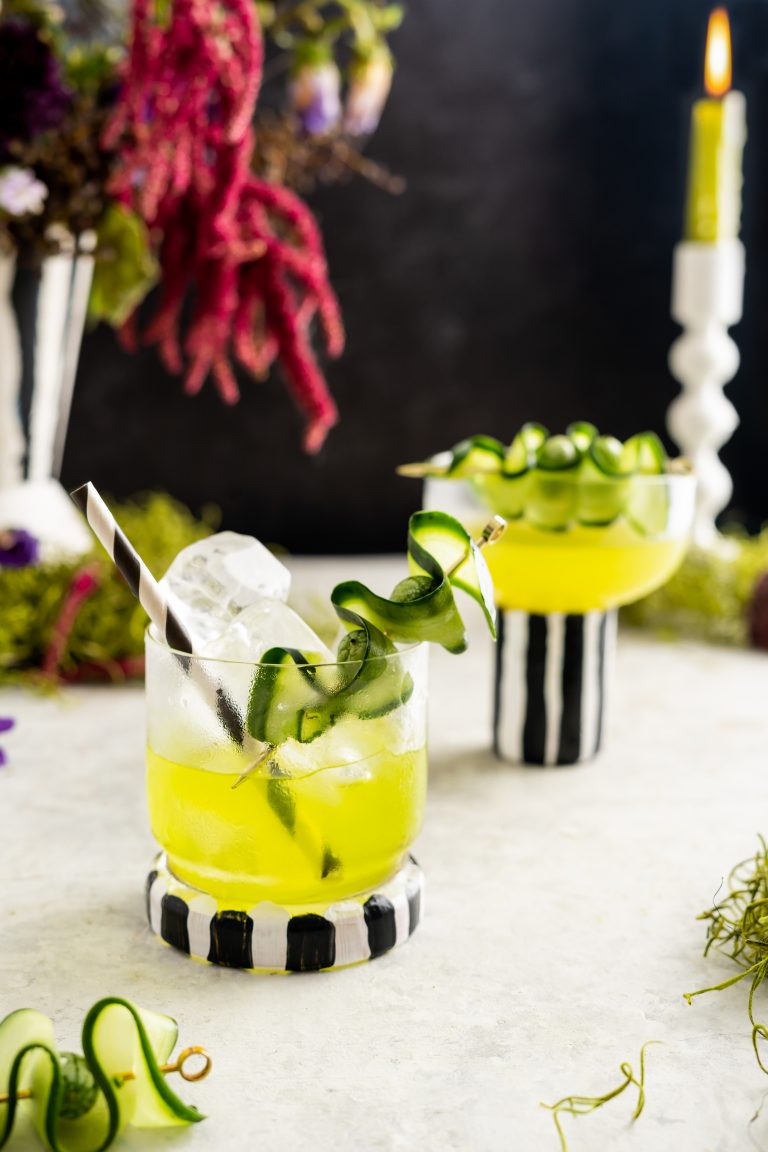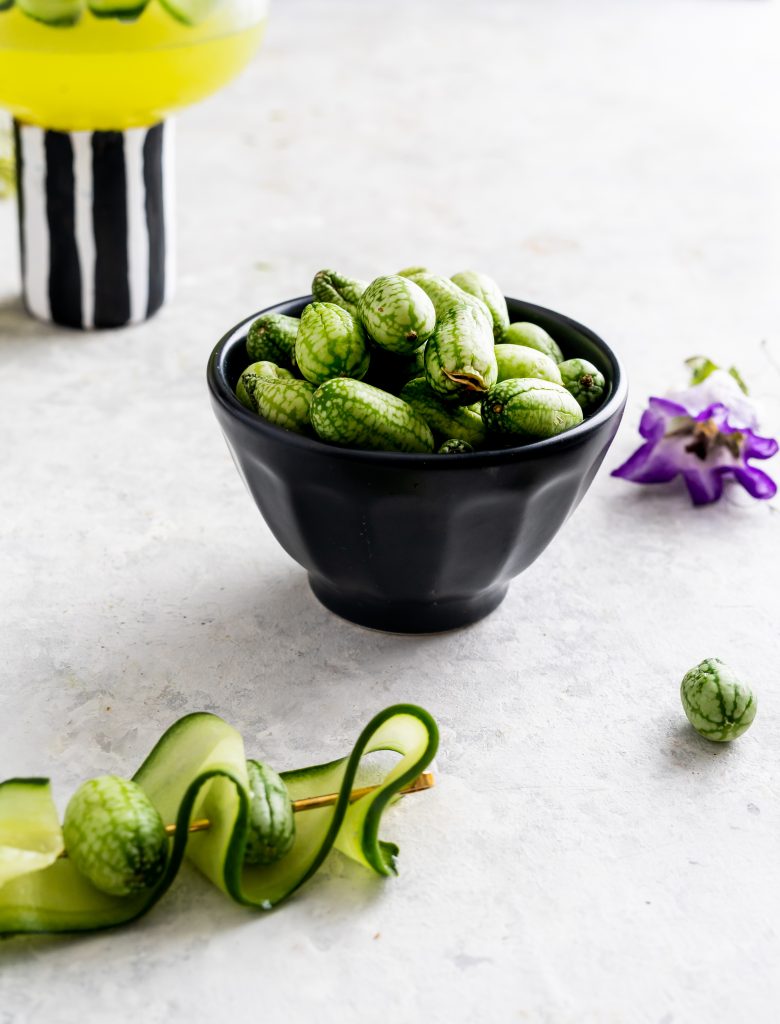 A juniper forward gin along with herbal green chartreuse cuts through and balances the sweetness from the Midori. The key with Midori is never go over 1/4 oz in a cocktail and pair it with higher proof spirits like Chartreuse or you will have a sickly sweet melon bomb. If you are into hella melon, no shame, use as much as you like!
To take it up a notch and recall the graphic patterns and saturated imagery from Tim Burton's movie Beetlejuice, I painted this coupe and this old fashioned glass with black and white stripes. A striped paper straw also drives home the movie aesthetic without having to do arts and craft for happy hour. I love a good crafts and cocktails hour though!
Jump in the line and rock your body in time and mix up this Beetlejuice cocktail!
Fun fact: did you know that the title and name of the character are spelt differently? The name of the character is Betelgeuse and the movie is Beetlejuice. It was a marketing decision for easier pronunciation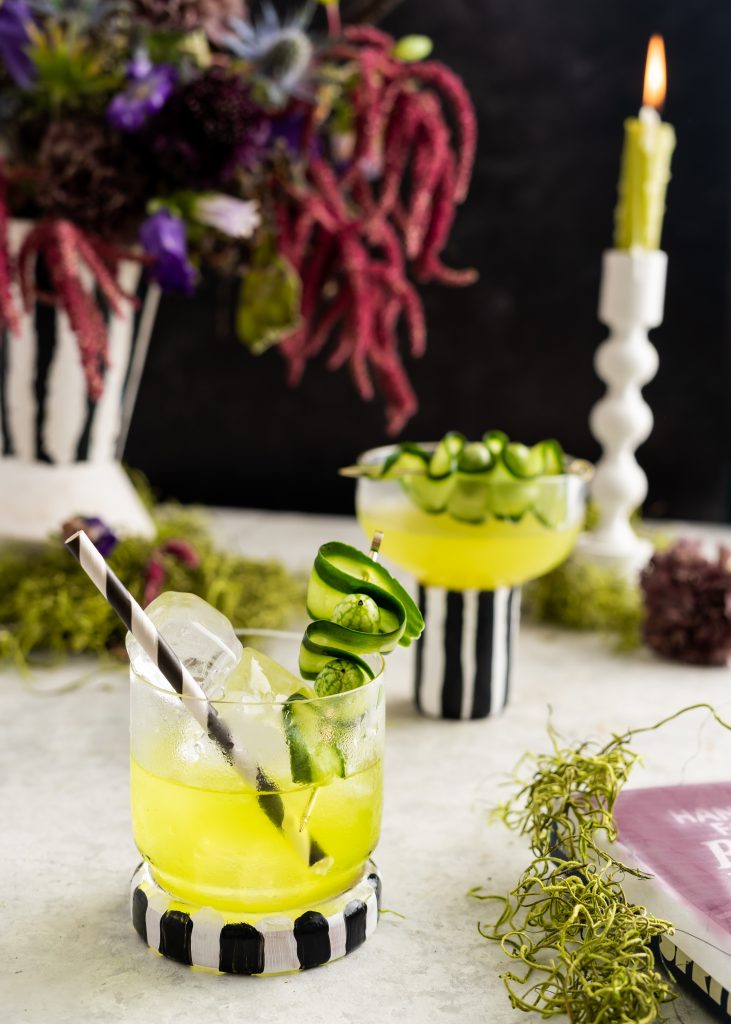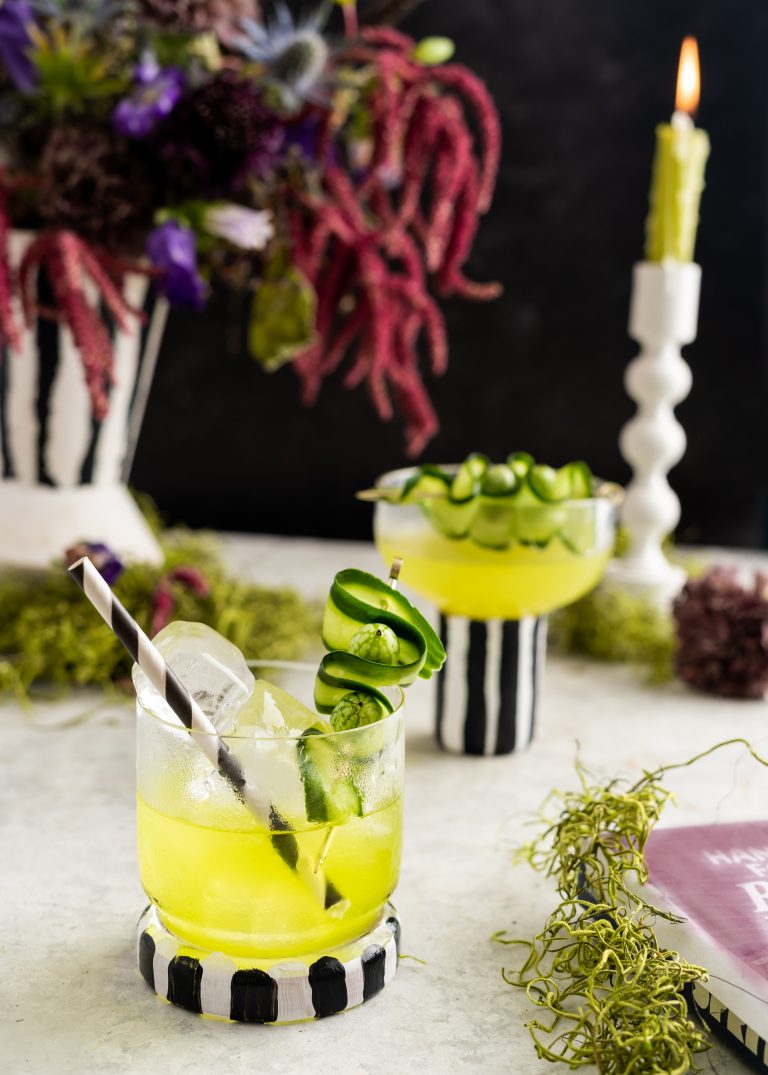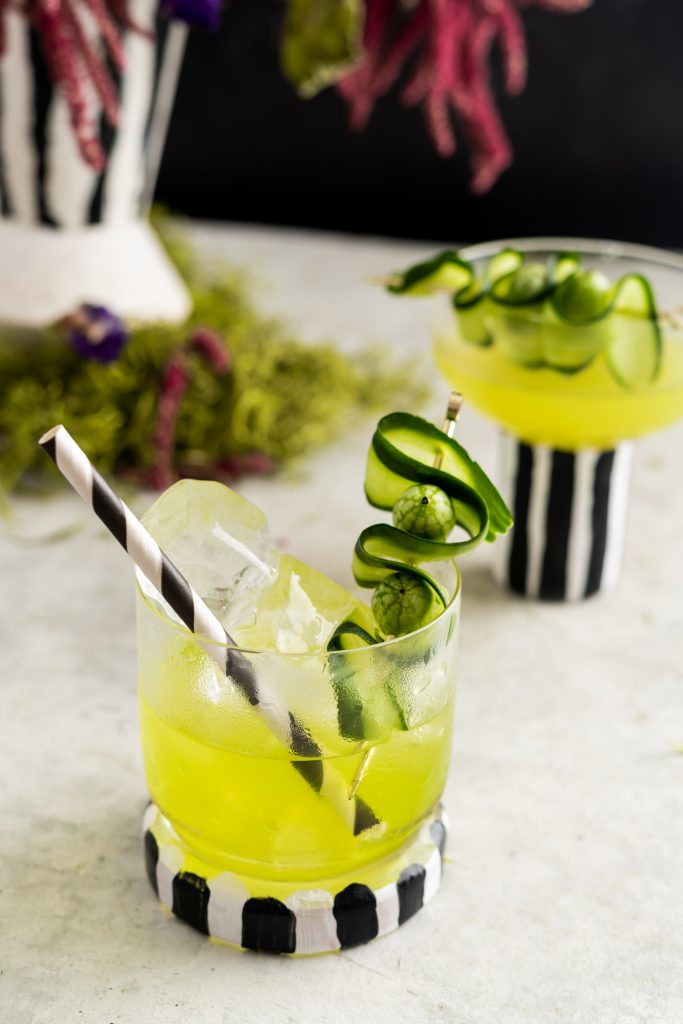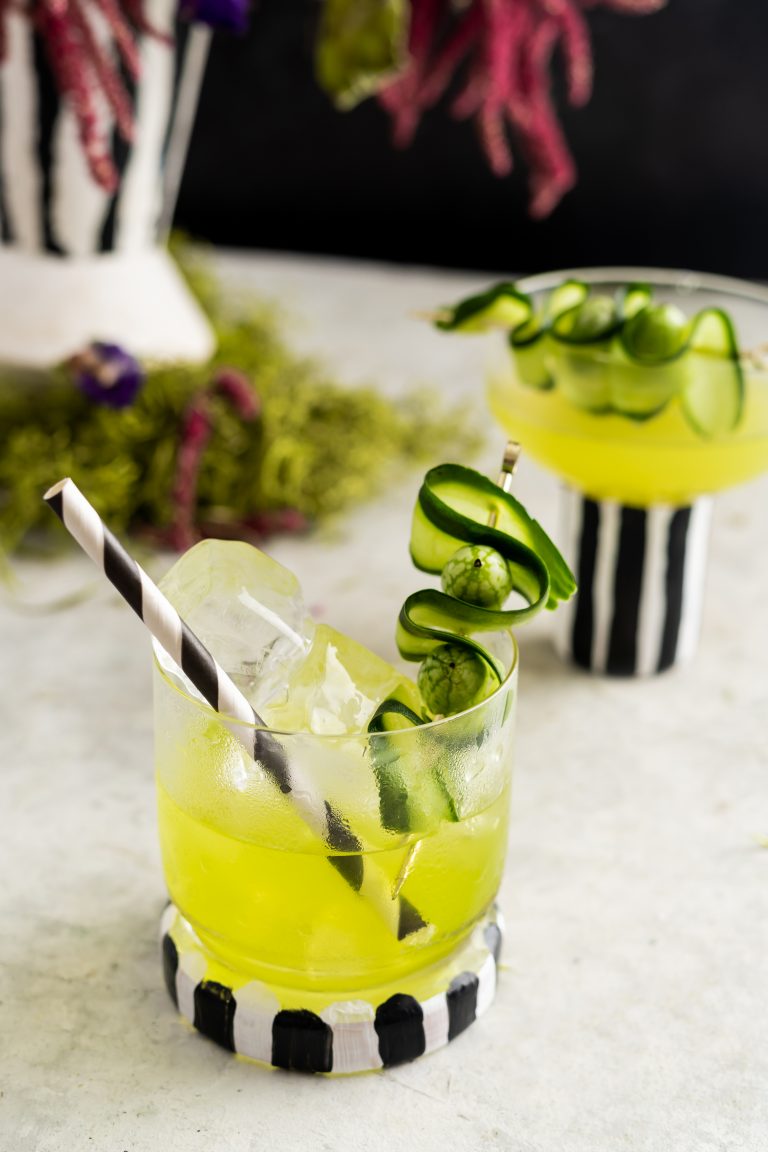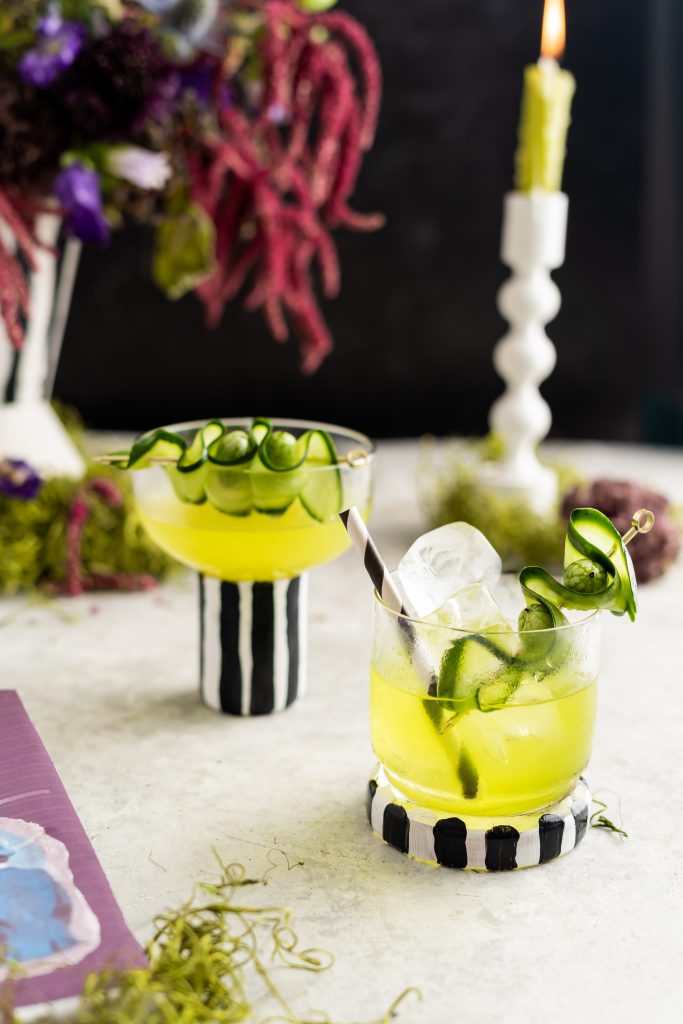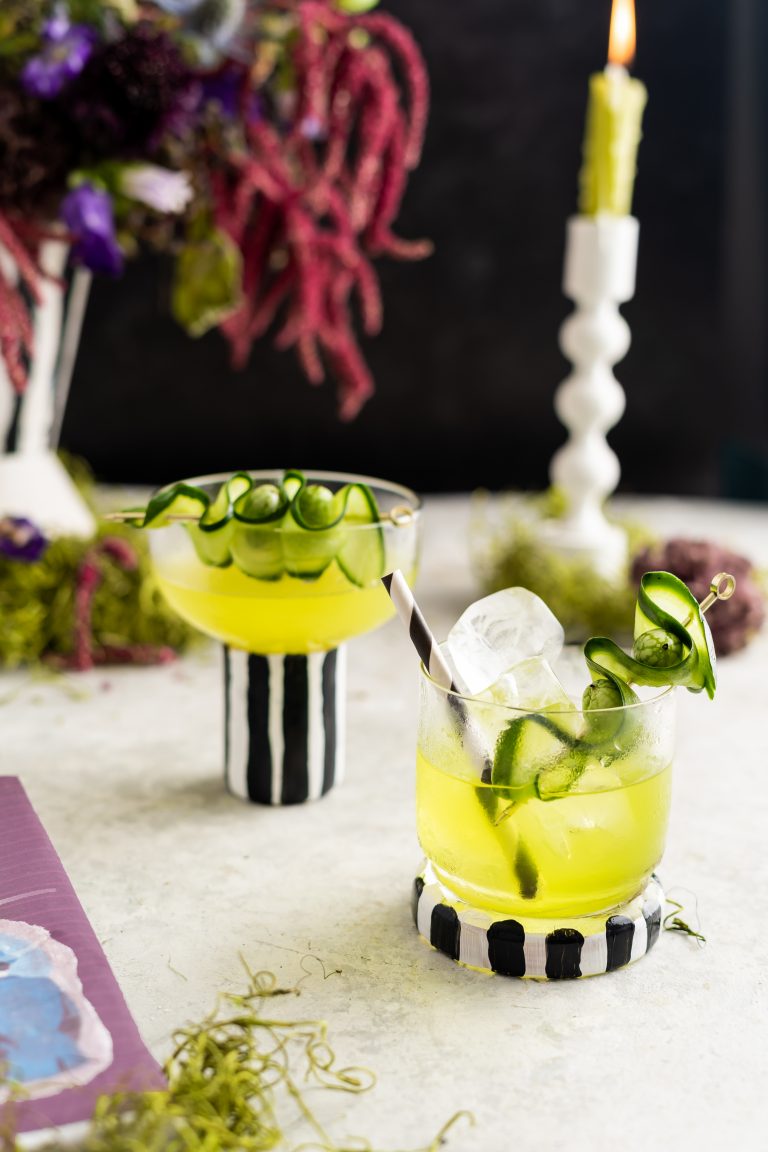 Print
---
Description
Beetlejuice, Beetlejuice, Beetlejuice! A strange and unusual cocktail, this extocooler green drink with gin, chartreuse, Midori, and cucumber is the perfect thing to mix up for Halloween. Just don't say it's name three times!
---
1 oz

Chartreuse

3/4 oz

Gin

1/4 oz

Midori

1 oz

pineapple

3/4 oz

lime

1/4 oz

simple syrup
garnish: cucumber ribbon, cucucamelons (optional)
---
Instructions
In a shaker muddle cucumber. Add the rest of the liquid ingredients and shake. Double strain with a fine mesh strainer into a glass with ice. Garnish with a cucumber ribbon with cucucamelons.
---