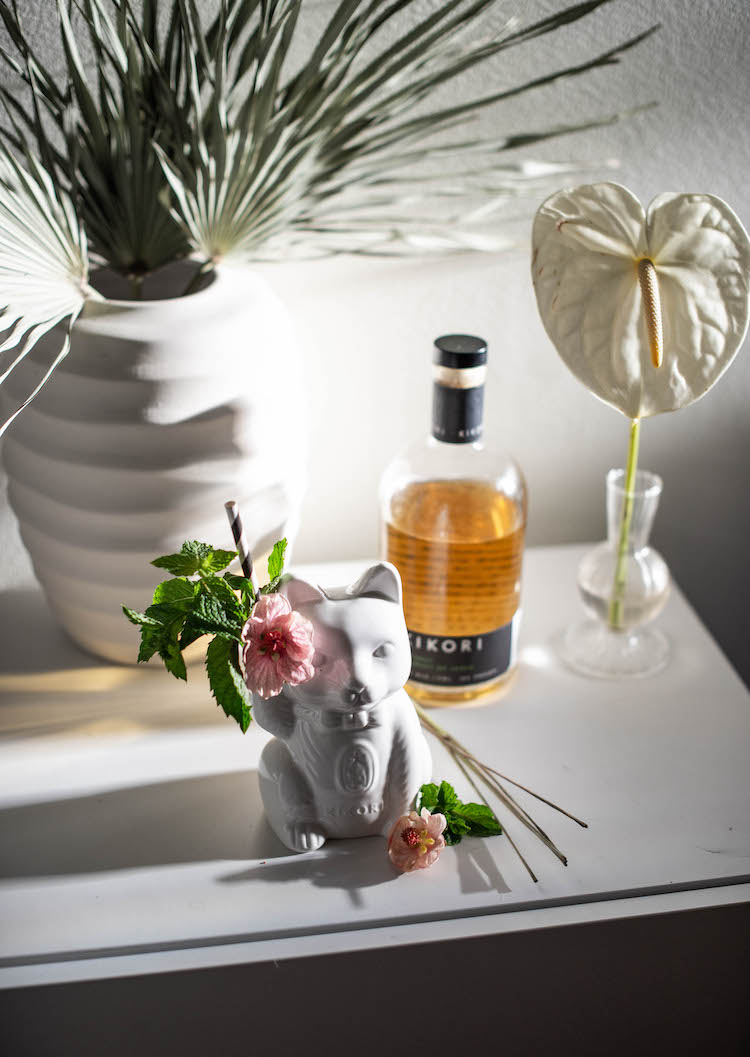 To make this whiskey lemongrass Piña Colada, I used Kikori whiskey. This is not your typical Japanese whiskey! Made from rice and aged in 3 types of barrels, it's perfect for mixing into cocktails seamlessly. It's toasty rice notes with a touch of florals on the nose blend perfectly into this Piña Colada, where a Japanese malted whiskey would have over powered the lemongrass and domineered the pineapple.
As whisk(e)y is made from grain (from corn, to malt, to barley) it's a wonder more distillers have not sought out to create more rice based whiskies. The body of Kikori is certainly lighter than a fair amount of other grain whiskies, but because of this positions itself for different applications. Delicate flavors like florals, herbs and aromatics like lemongrass do not have to compete with more robust whiskies in this quintessential summer cocktail! Kikori is produced in Kumamoto, Japan, but the founder Ann Soh Woods is based in LA, hence the "e" in whiskey (in Japan it is spelled with out the e -whisky.) It's aged for a minimum of 3 years in American oak, french oak and sherry casks. Although I recently got to attend a fantastic dinner at Angler where we got a taste of the special release of the 10 year Kikori! Aged exclusively in sherry barrels, the extra time in the barrel adds more vanilla and of course lovely nutty notes from the sherry. It still remained a light spirit, in both color and body, with a puffed rice flavor that is distinct characteristic of Kikori Whiskey.
Kikori is the perfect way to get the characteristics of a whiskey in a Piña Colada with out muddying all the the bright tropical notes. Can't wait to make a round of these and sit by the pool all day (and by pool yes I mean our recent acquisition of a blow up kiddy pool! It's too hot without AC these days!)
It can be a bit harder to find in all liquor stores, but you can check out where to buy Kikori here.
Full disclosure: the products in this post were gifted to me by Kikori, but all opinions are my own!
Lemongrass Piña Colada
serves 1
glass: tiki mug or highball glass
tools: muddler, shaker, jigger, hawthorn strainer, fine mesh strainer, reusable straw
2 inches lemongrass, muddled
3 oz pineapple juice
2 3/4 Kikori, c/o Kikori
1 1/4 oz coconut cream
1/2 oz- 3/4 oz honey syrup (2:1)
garnish: mint sprig, pineapple and edible flower
Add lemon grass to shaker and muddle well. Add the rest of the ingredients into the shaker and shake with ice. Double strain into a tiki mug or highball glass with pebble ice or crushed ice. Garnish with mint sprig, pineapple and edible flower.