This Butterfly Pea Flower Gin & Tonic is delicious as it is magical!
Spanish Gin & Tonics
I have always had a deep love for Spanish Gin & Tonics. Who can resist a big frosty glasses full of crisp gin and bitter-sweet tonic topped with botanicals and fruit? There is truly no better way to sip the time away, whether in the dog days of summer or midwinter when citrus is at it's peak, than with this classic mixed drink. This simple liquid indulgence is sipped with abandon in Spain, their answer to an after work wind down, not unlike the spritz at Apertivo hour in Italy.
The Spanish took the two ingredient drink beloved by passionate imbibers in England and ran with it. Spices like star anise, cardamom, and cinnamon find themselves nestled between ice cubes along side juniper berries, peppercorns, rosemary, basil and even olives topped with a few generous slices of fragrant citrus all dance around the glass like jewels. Ingredients can be changed to highlight the gin's own botanicals or to contrast the flavor profile of the tonic or gin.
Gin & Tonics must be on everyone's mind and lips because my most read post of all time is the Elderflower Gin & Tonic! I took this beloved cocktail and updated with a little bit of purple magic with Empress Gin 1908 to make this Empress Elderflower Spanish Gin & Tonic.
Empress Gin
British Colombia's Victoria Distillery is throwing their hat into the ring of the gin category with their own distinctive spirit that is sure to be iconic. Empress Gin 1908 is that purple gin you may have been seen flooding your Instagram feed and in posts across prominent drink websites with jaw-dropping, amethyst-hued cocktails. If you were following along on Instagram, you would have seen the adventures in Victoria as I explored the home of Empress and maybe having a little too much fun in the process.
Empress Gin 1908 is infused with classic ingredients like juniper, coriander, ginger, and rose buds and less conventional ingredients like cinnamon, tea, and the butterfly pea flower which gives it it's signature color. The butterfly pea flower hails from Thailand and has a *magical* property that can change a drink from deep bluish purple to a light purple pink. I have used it in cocktails before for it's fun color changing properties. The flower fades from dark purple to lavender when the PH level is changed. The PH level can be altered with the addition of citrus juice in the case of sours or fruit studded highballs. Infused with the flower post distillation, Empress has these same color changing effects when mixed into drinks containing an acidic ingredient. Drinkable science is my kind of science!
Empress Gin gets it's name and proprietary tea blend from the historic Empress hotel prominently situated overlooking the harbor in Victoria. The famed high-tea is the thing to do in Victoria on a sun afternoon or on a chill day, cozied up to the fire. Having indulged in the tea service myself, I can say for certain it's a can't miss when visiting Victoria. Their famed tea is blended into Empress Gin to give it it's distinct tasting notes. The collaboration of this iconic hotel and Victoria Distillers utilizes modern techniques stepped in history to create Empress Gin.
Now onto to the cocktail- let's mix up the Empress Elderflower Spanish Gin & Tonic!
OTHER GIN & TONICS YOU'LL LOVE
For more cocktails & entertaining you can find me on Instagram, Pinterest, & Twitter !
Print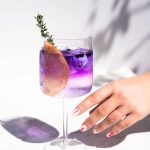 Empress Elderflower Spanish Gin & Tonic
Prep Time:

2 minutes

Total Time:

2 minutes
---
Description
A magical purple hued Spanish style Gin & Tonic featuring Empress Gin.
---
Directions
Chill the drinking glass for 15 minutes. Add ice to the glass. Squeeze one slice of grapefruit into the glass and discard. Add the other grapefruit slice, the juniper berries, and rosemary sprig to the glass. Pour gin into the glass. Add the tonic and stir before drinking.*
---
Notes
To get the gradient effect, add the tonic first and then the gin. Stir before sipping.