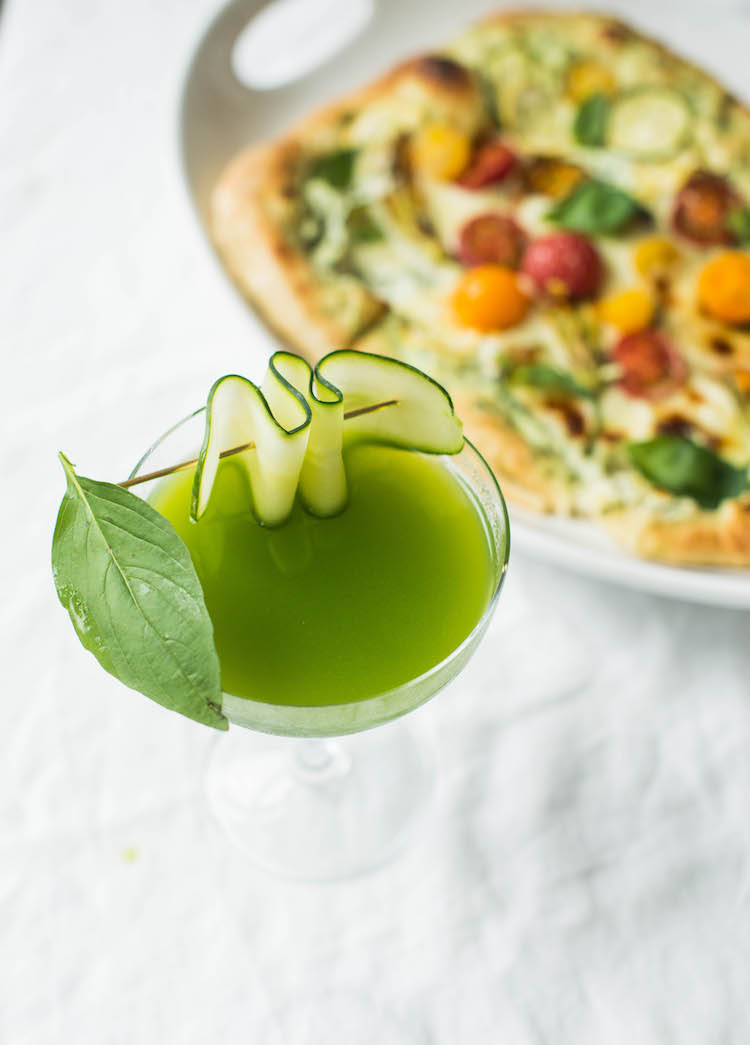 Pairing food + cocktails is not as easy as wine, but it can be done! Just as acidity + flavor profiles in wines match with certain dishes, so too can cocktails'. Take for instance a creamy vegetable flatbread with squash, squash blossoms, tomatoes, parmesan + basil. Instead of pairing a contrasting flavors, which can be more tricky, I tried to keep a similar profile with the drink. A Cucumber Basil Gimlet with gin goes really well with similar flavors + a brightness from lime juice helps cut through the creaminess the flatbread has. The flatbread recipe is from my friend Amanda Frederickson who I turn to when ever I need some recipes of food inspiration (you can find a cocktail inspired by one of her desserts here!) I used a slightly floral gin, like Hendricks, to go with the squash blossoms. There is basil in both so that created a harmony among the two. Cucumber add a vegetal note that mimicked that of the squash. Et voila, a delicious food + cocktail pairing to serve at a party or a date night home! I hope you take a whirl at pairing cocktails to food!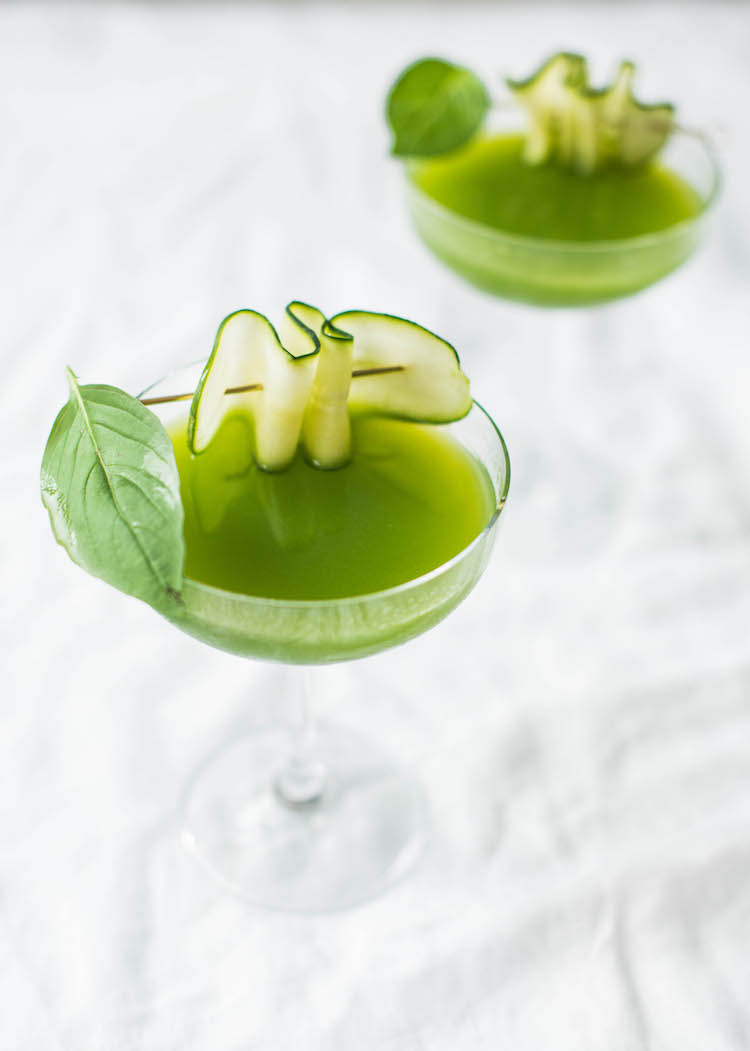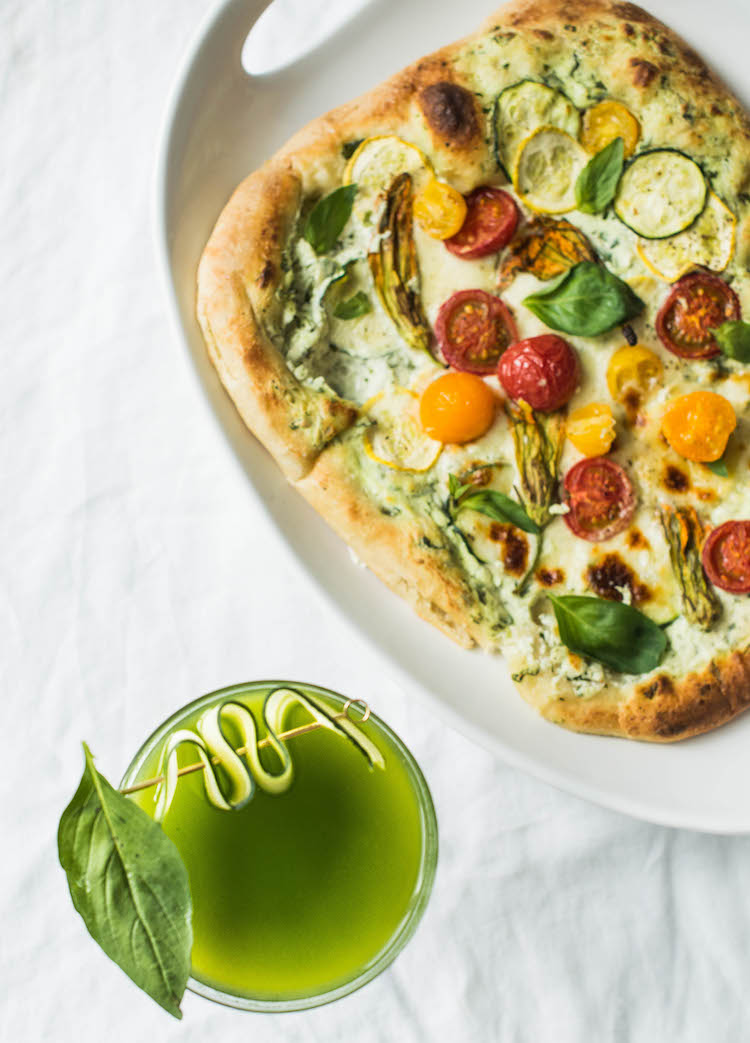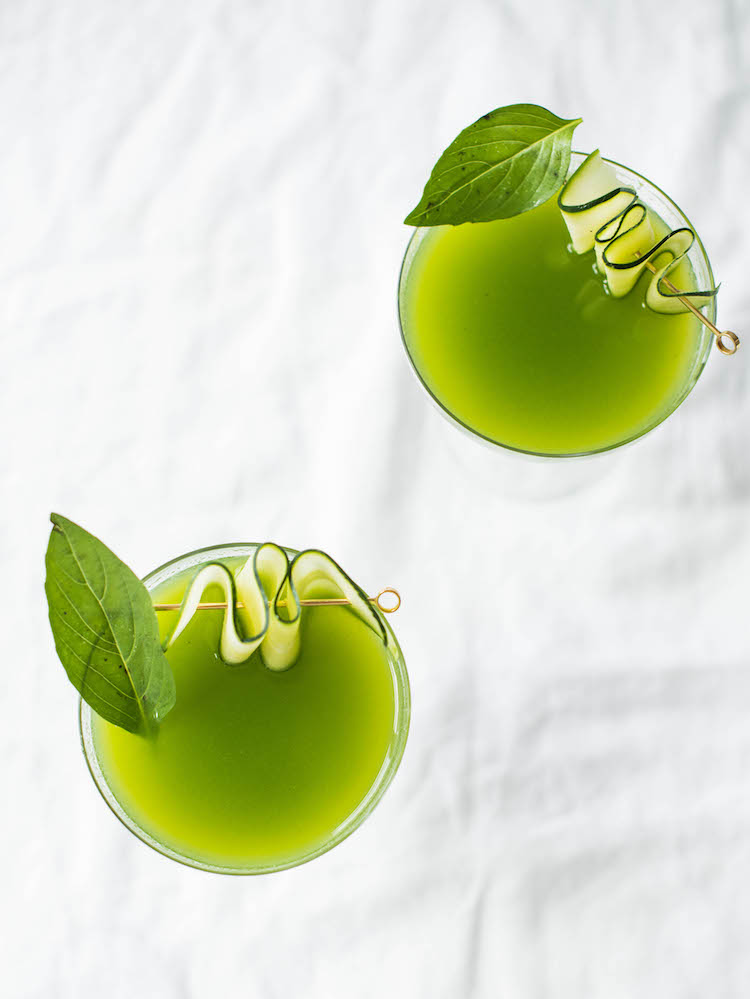 I am looking to create more cocktail + food pairings soon. What would you like to see here?!
CUCUMBER BASIL GIMLET
makes 2 drinks 
4 oz floral gin
1 oz  fresh strained lime juice
18 basil leaves
1 cup cucumber, chopped
1 oz simple syrup
Glass: coupe
Tools: blender, knife, hawthorn strainer, tea strainer, cocktail pick
Add first 3 ingredients into a Vitamix* or other blender. Blend low to incorporate + than blend on high. Add the cucumber + syrup and blend. Strain with a fine mesh strainer into a cocktail shaker with ice. Shake + strain into a coupe. Garnish with cucumber ribbon + basil leaf.
*This Gimlet uses something called blender muddling, via Dave Arnold of Liquid Intelligence (only the best nerdy science cocktail book around!) + is perfect for preserving the brightness of herbs like basil.