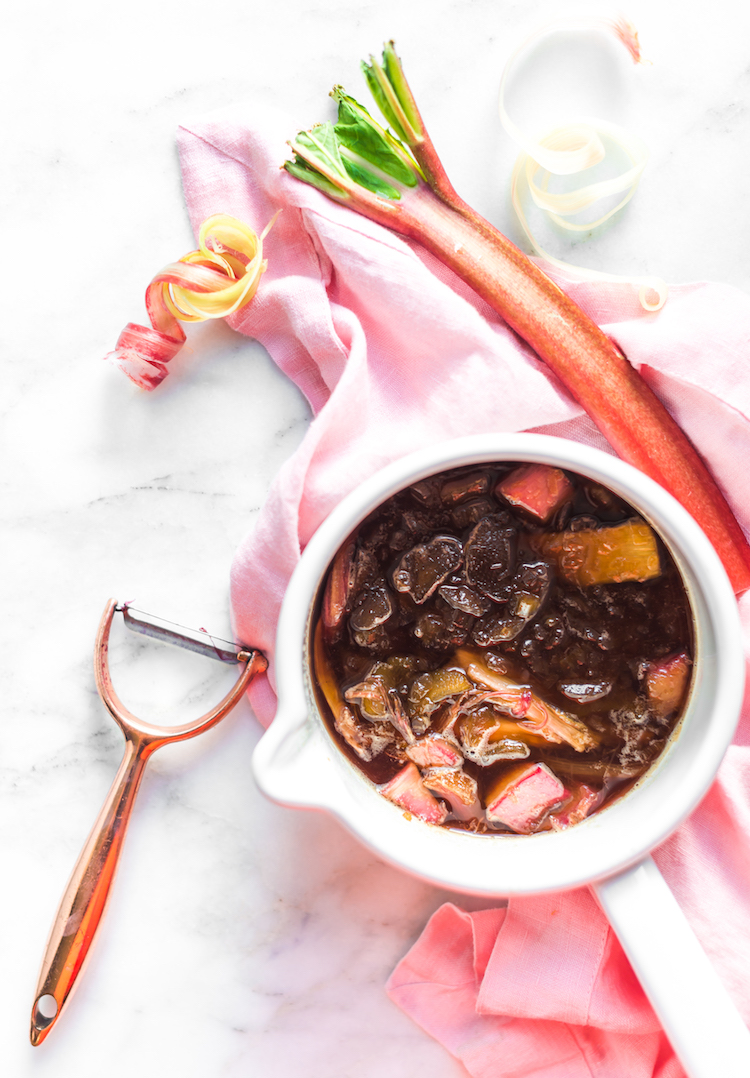 A delicious sweet-tart ruby red rhubarb syrup to use when mixing up cocktail, sodas, or for desserts.
Although the pink hue is alluring, rhubarb can be hard to work with. A vegetable, more accurately a petiole which connects the leaf to the stem much like celery, it needs to be cooked to tame it's fibrous texture and sugar added to balance the bitterness. But the effort is worth is most certainly worth the reward. The sweet tart flavor of rhubarb is of course great for pies and desserts, but it is wonderful for cocktails as well. Mix up this syrup to use this ruby hued sweetener in your next cocktail.
Strawberry Rhubarb Syrup for Cocktails, chopped
1  cup  water
3/4 cup sugar
1/2 cup rhubarb
1 cup strawberries
Directions
Remove green tops from  rhubarb & strawberry. Cut them into small pieces.
Add sugar and water to a saucepan on medium-high heat and stir in the sugar, cook until the sugar dissolves. Add in the rhubarb and bring to just before boiling. Turn to medium low and let simmer, covered for 10 mins.
Add strawberry to the pan and take off the heat. Let cool. Add a fine mesh strainer over a jar with a funnel. Pour syrup into the jar and press lightly to release juices to strain. Reserve sweetened rhubarb & strawberry  solids to put over toast or ice ream. Store in the fridge for up to a month.