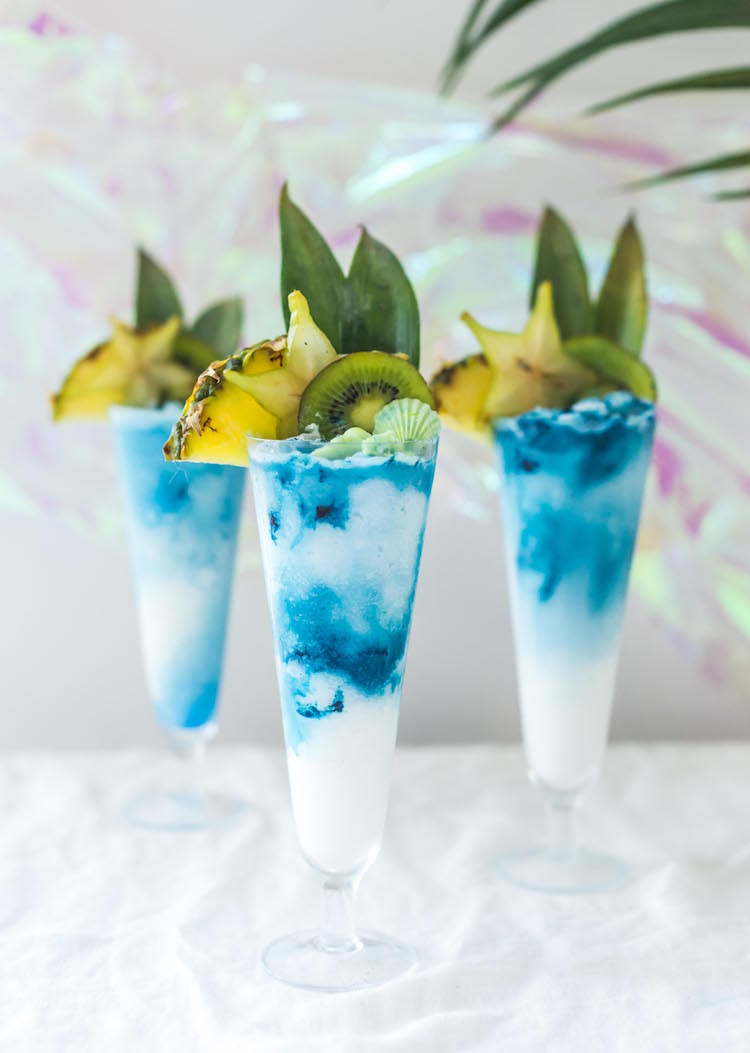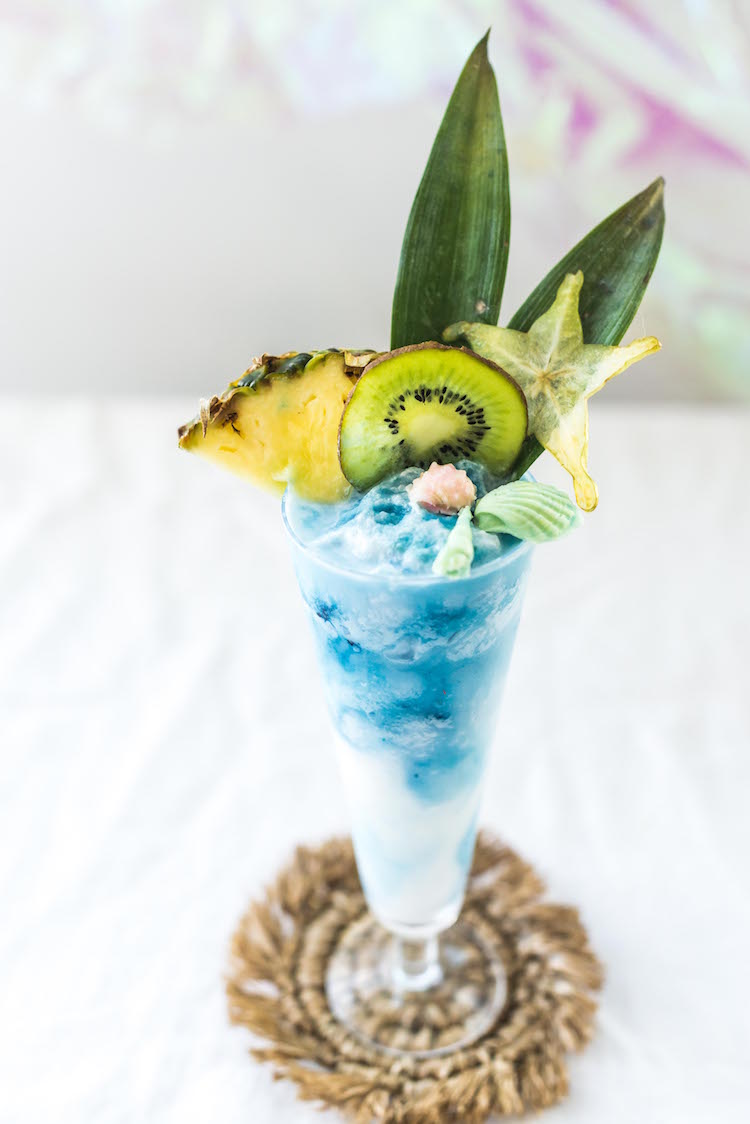 You might be able to find PSLs and cozy sweaters abound, but I am NOT ready to give into all things Fall.  I love a good tropical drink no matter what time of year it is! And this Mermaid Colada is the perfect one to sip on for some escapism the chiller days ahead, even if it's just for a few sips.
One of the most loved tropical (or loathed, depending on who you are asking) is the Piña Colada. Piña Coladas can be enjoyed anytime, which is a good thing because I crave them often! You can always find a pineapple and coconut cream (key here: don't use sweetened coconut syrup or cream of coconut here, it will make this drink much too sweet) at the grocery store and rum has no season imo! I recently whipped up this blue hued Mermaid Colada that's as whimsical as it is delicious.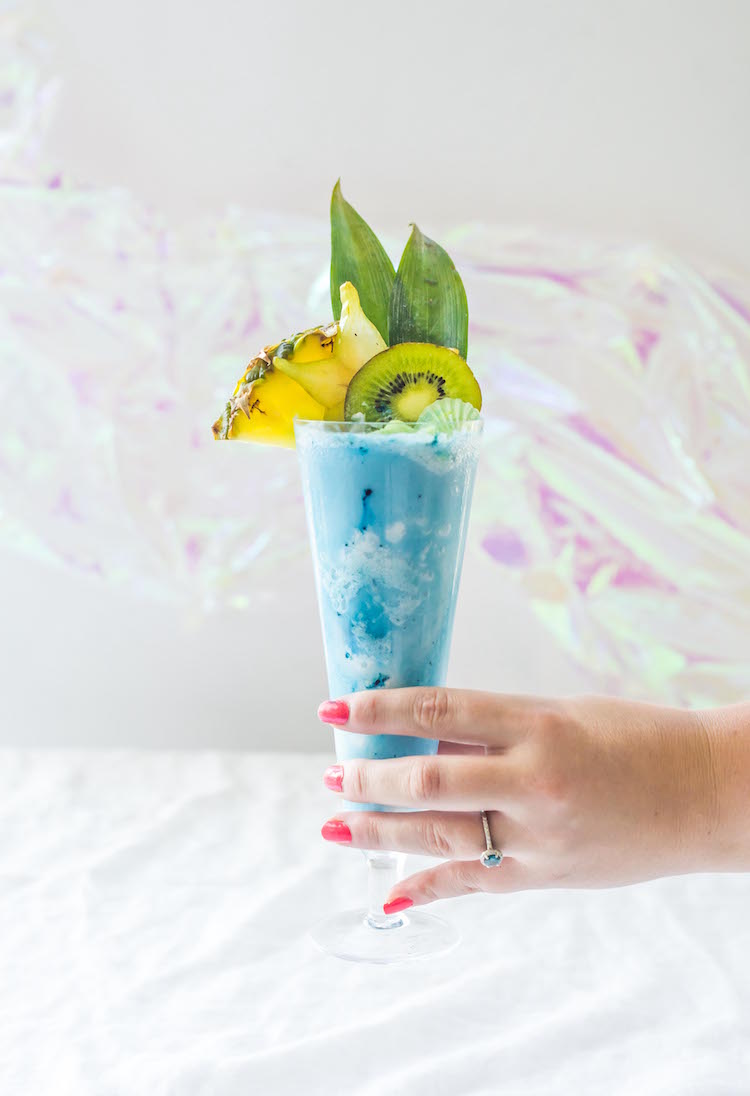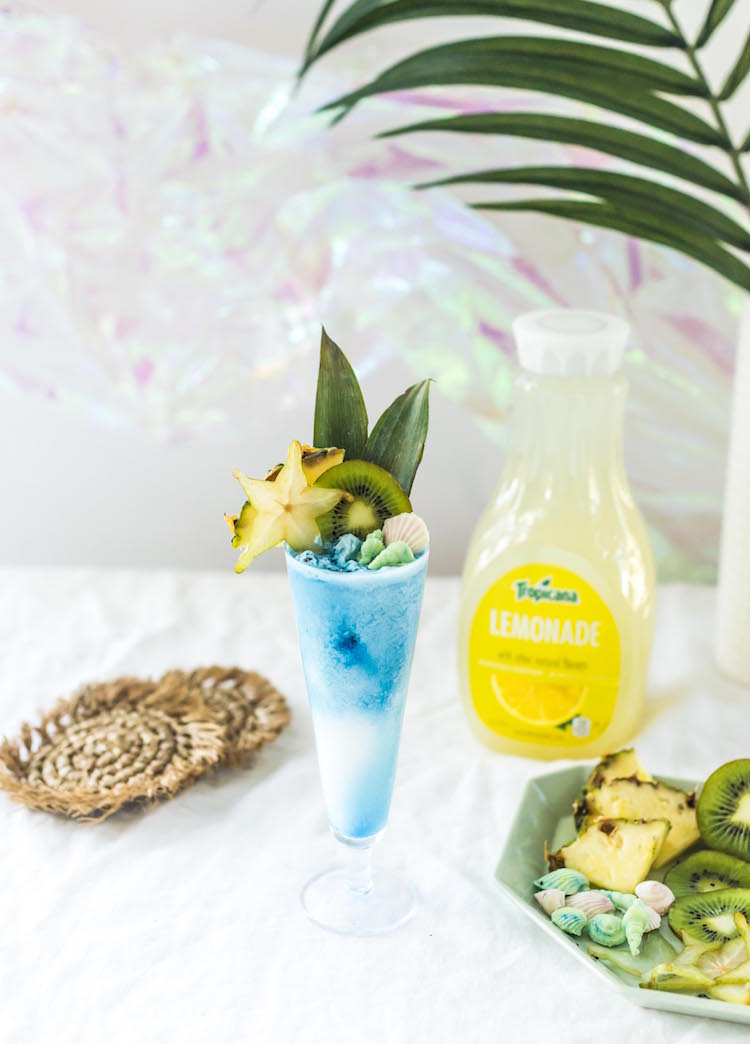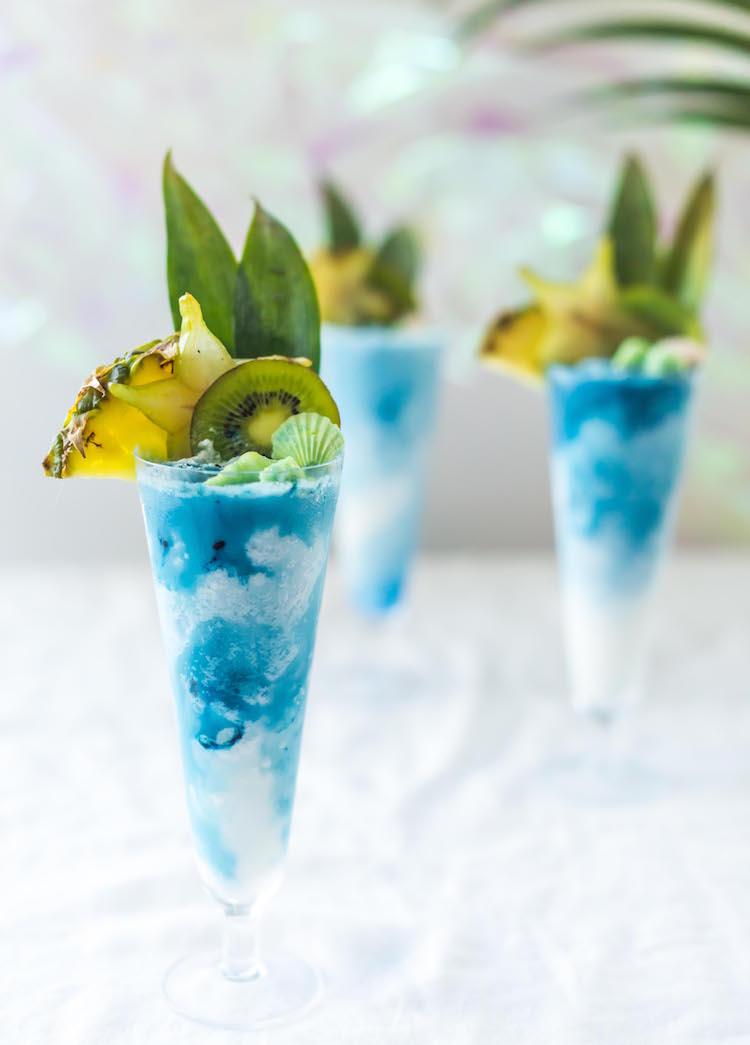 Celestial, unicorn, and mermaid smoothies have been flooding feeds for the past year or so. These brightly colored treats are eye catching and delicious. I was thinking, surely smoothies shouldn't have all of the glory, right? I decided to take the mermaid trend and make it a little more fun…by adding some rum of course!
Although the bright colors are visually appealing, I shy away from using food dyes in any of my concoctions, turning to natural alternatives for getting vibrant shades. Bright blue is often hard to obtain naturally. Though I have used Butterfly Pea Flower before, it changes to purple with added acidity so it would come out purple with the Tropicana Premium Lemonade and pineapple juice. Instead, I turned to the sea to capture the blue hue: spirulina. Spirulina is a blue green algae packed with lots of vitamins and amino acids, making it perfect for an ocean inspired Mermaid Colada cocktail!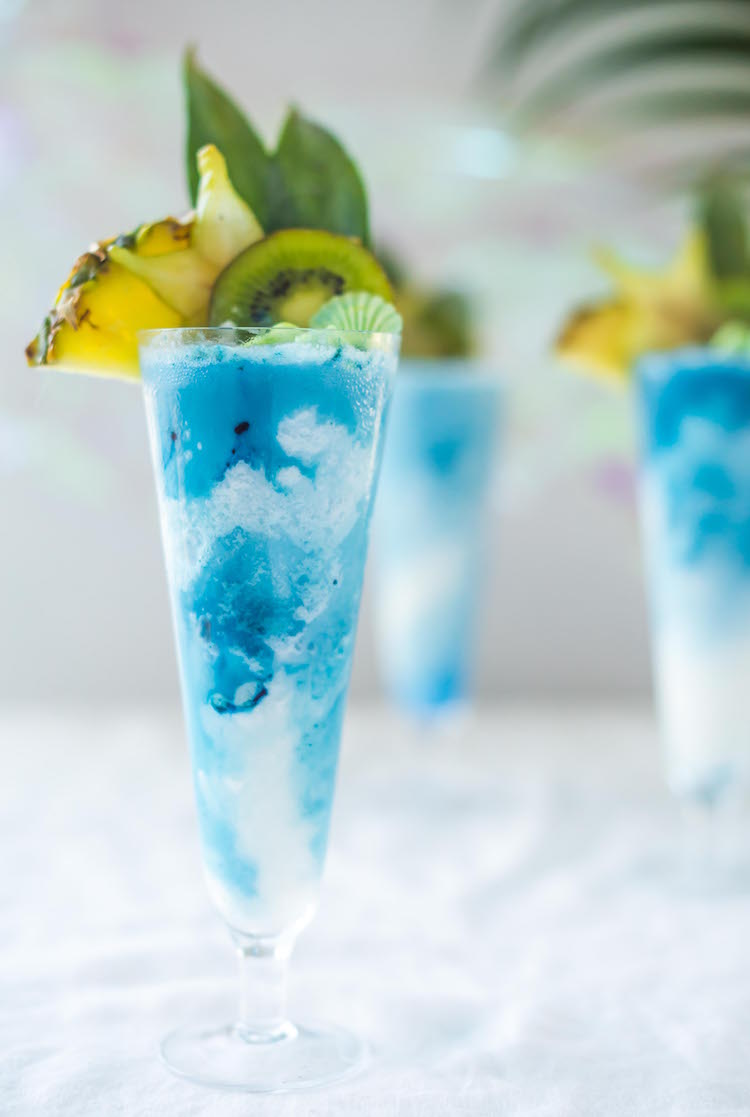 Green and blue green algae comes in powdered form or capsules and can be found online (this is the one that I used). Spirulina can be a bit tricky to work with because it does have a "sea flavor" to it, but it perfectly masked by creamy coconut, sweet pineapple juice, spicy rum, and tart lemonade. Tropical/tiki drinks always go all out when it comes to garnishes and the Mermaid Colada is no different! I topped mine with kiwi, starfruit, pineapple, coconut flakes, and pineapple leaves, two made to look like a mermaid tale of course! I also added mermaid hued white chocolate shells I made (you can find the mold for the mini shells here  and the natural food dye I used here) to top it all off. I plan to keep mixing these Mermaid Coladas as it continues to get colder, even if I have to wear a parka!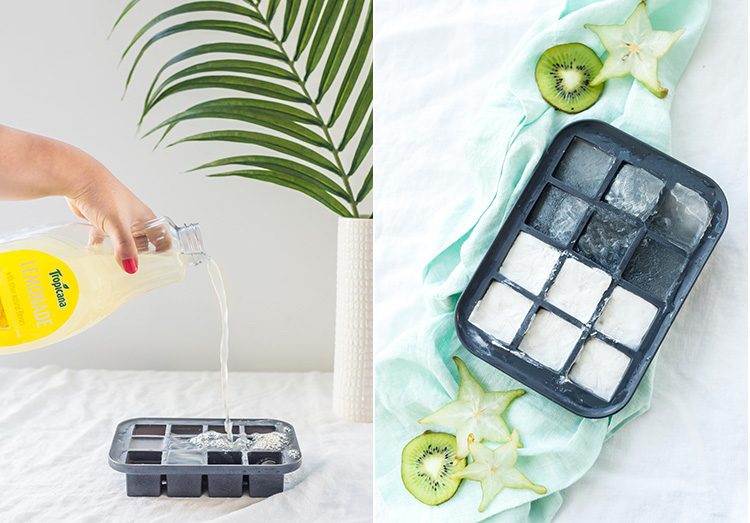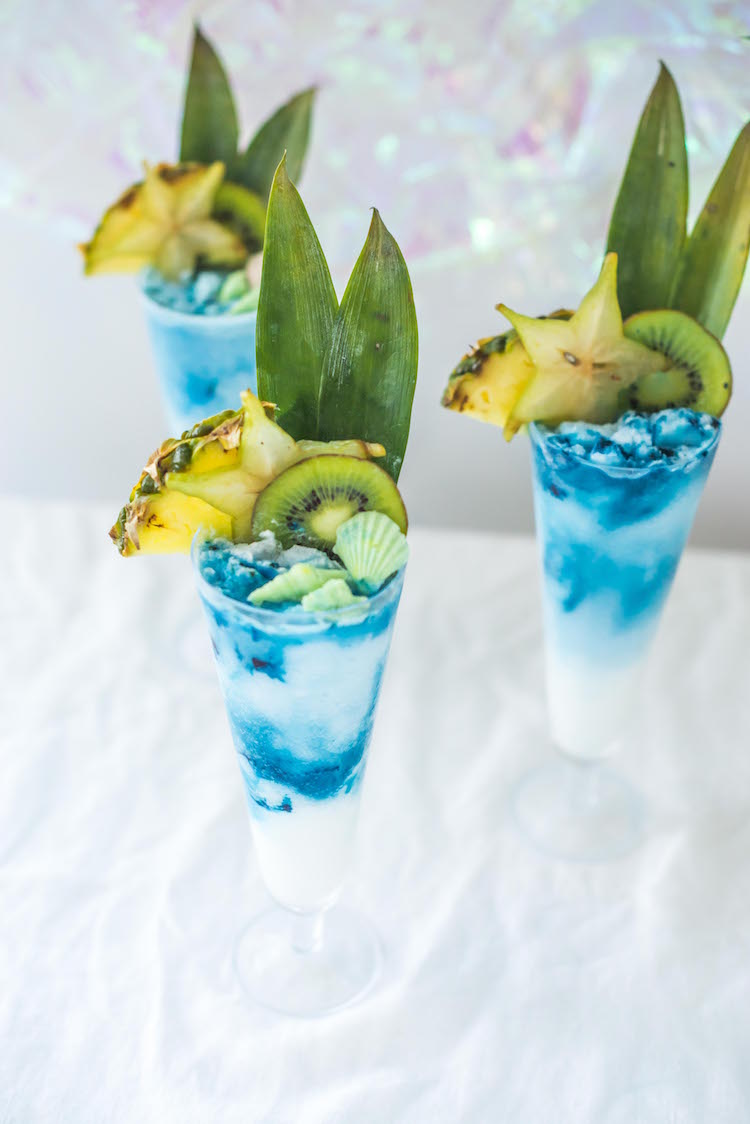 Print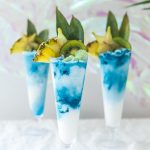 Mermaid Colada
Author:

Prep Time:

3 hours

Cook Time:

5 mins

Total Time:

3 hr 5 minutes

Category:

Cocktails
---
Description
A blue spirulina swirled frozen piña colada that the little mermaid would approve of!
---
5 oz lemonade, frozen
2 oz white rum

2 oz

coconut cream
1/2 oz

pineapple juice, frozen*

1/2

banana sliced, frozen*

2

dashes angostura bitters

1

capsules spirulina/blue green algae
garnish: pineapple leaves, starfruit, kiwi, coconut flakes
optional: white cocktail seashells
---
Instructions
Start by freezing lemonade and pineapple juice in an ice cube tray a few hours before making a cocktail. Add sliced banana into a plastic bag and freeze until frozen.

Add the first 6 ingredients into a blender and blend until smooth. Pour a quarter of the drink into a hurricane glass or tall glass. Open the capsules of spirulina over the blender to get the
powder out.

Blend 1 second, it will be swirled. Slowly pour the rest of the cocktail into the glass.

Using a chopstick or pick, swirl the two layers to create an ombré effect. Garnish with pineapple
leaves, tropical fruit, and coconut flakes.

*This is so you do not have to use ice to create the frozen drink which means more flavor and less water
---
Notes
Glass: fluted or hurricane glass