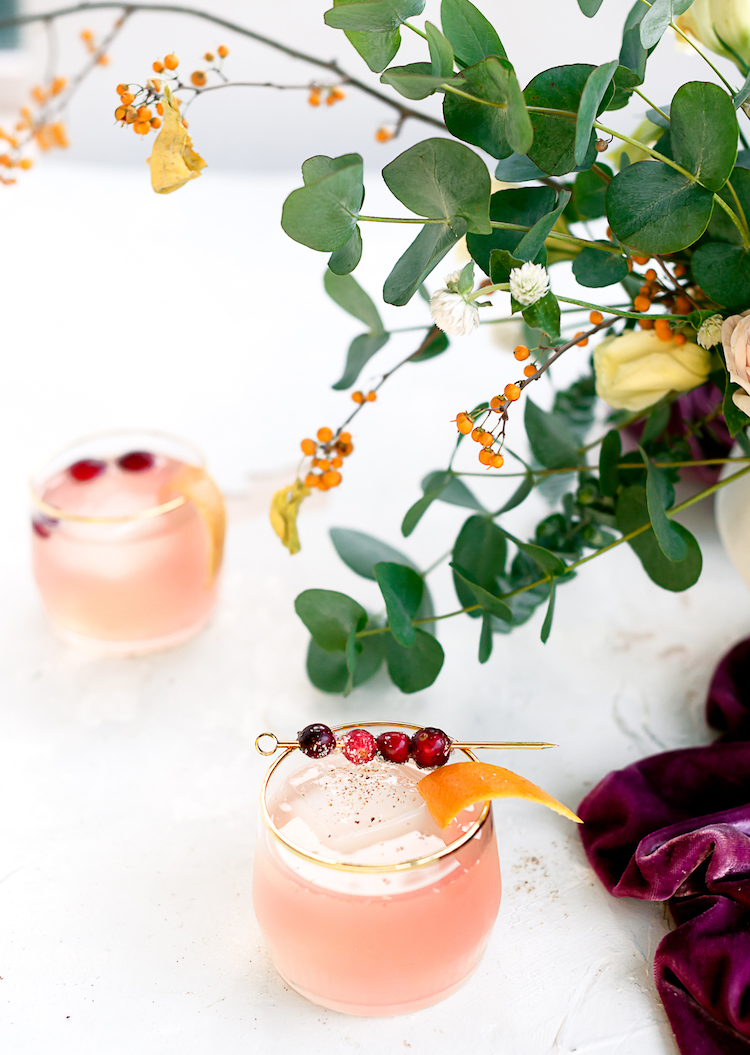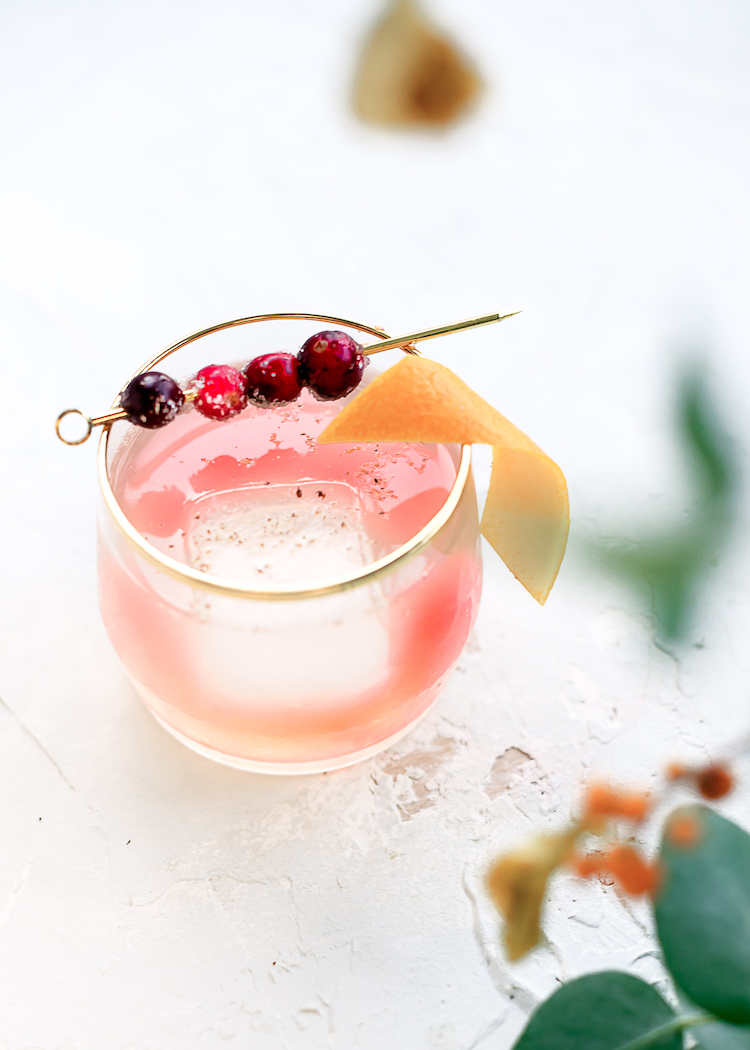 Clarifying cocktails is not new around here. Well, on Craft & Cocktails anyway. If you are new here you may not quite know what clarified cocktails are, no worries here is a break down of the science behind the magic. We are heading to my best friends families home for Thanksgiving this year and on cocktail duty, naturally. Along with cozy mulled wine, I am serving up this delicious Cranberry Spiced Clarified Milk Punch!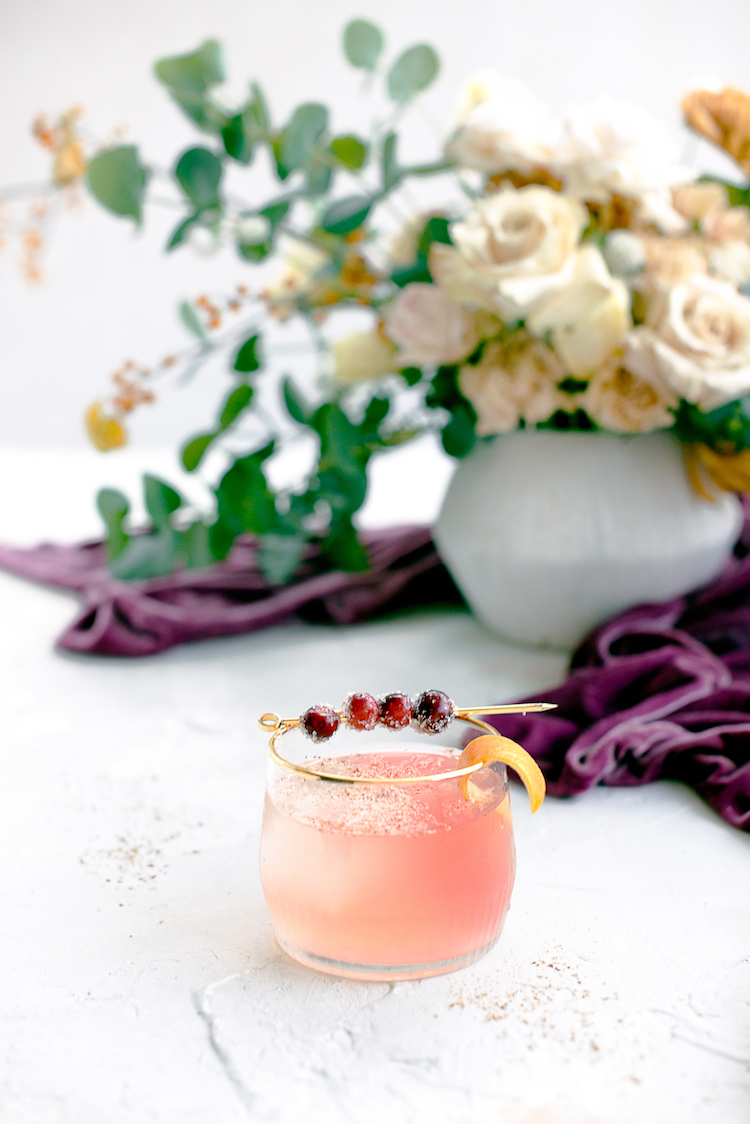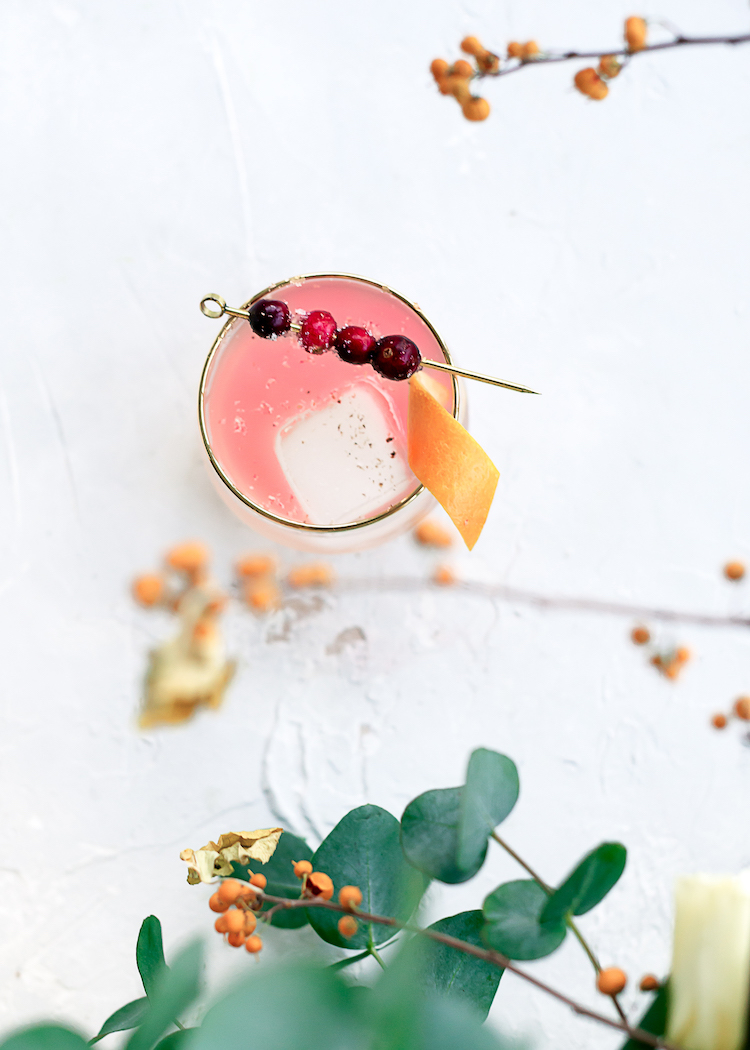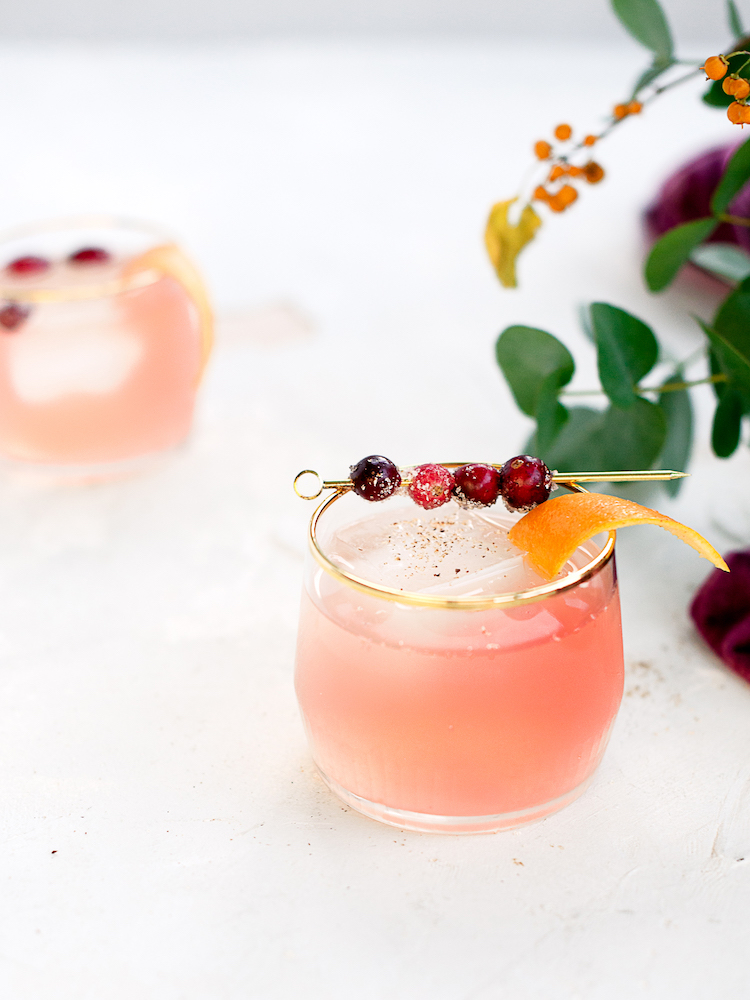 I wanted to do batched cocktails ahead of time to make things easier day of as well as not be underfoot shaking cocktails in the kitchen as the meal is being prepped. It's a mixed crowd as far as tastes go so I didn't want to bring bitter, booze forward drinks like a Boulevardier or an Old Fashioned. These are easy to batch of course because they are all booze and can actually sit around for a long time in jar in your bar. I wanted a citrus and cranberry drink which normally should be made either right before or shaken a la minute to preserve the fresh juice flavor. In these cases, I turn to clarifying, a.k.a. milk washing, the cocktail.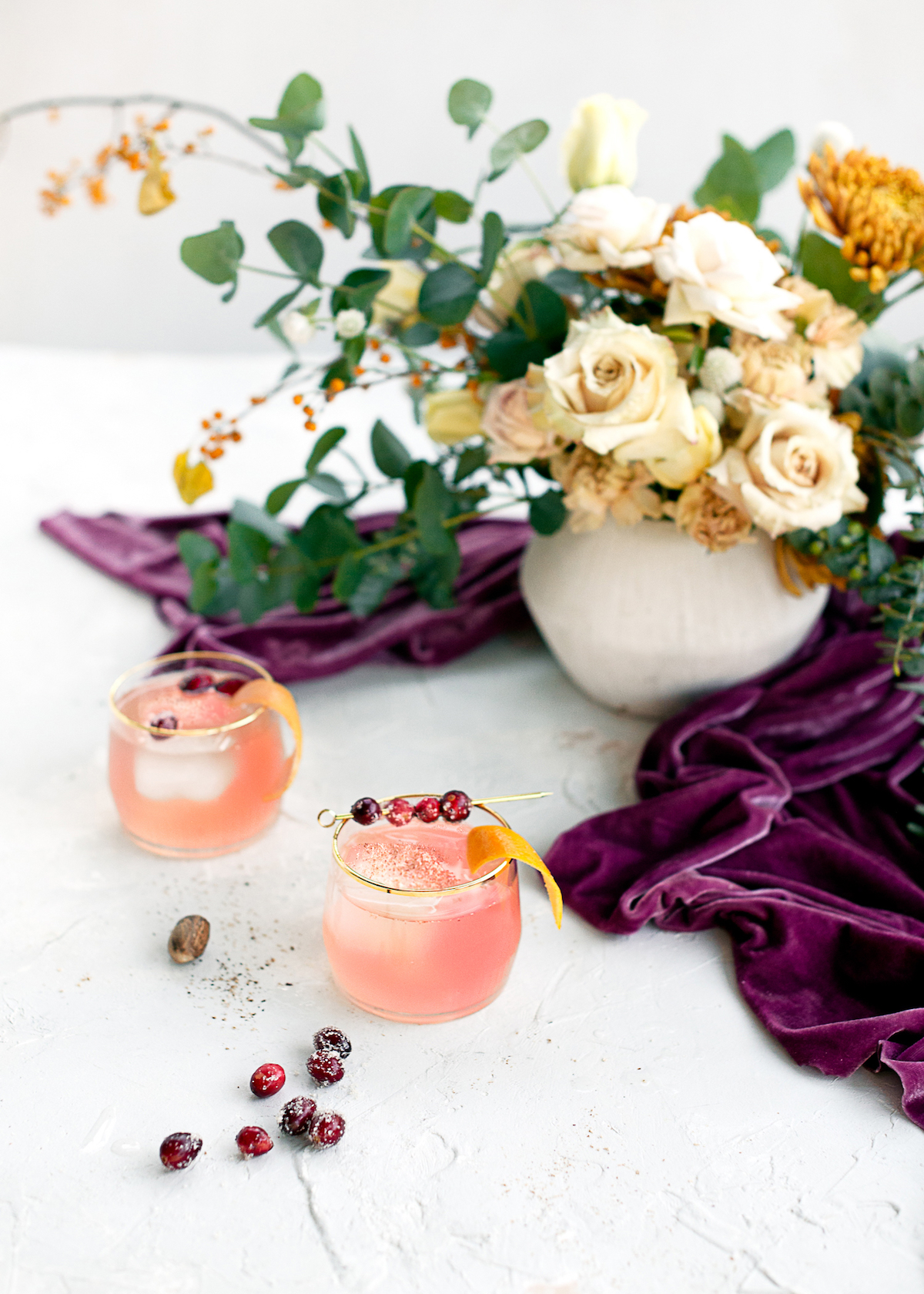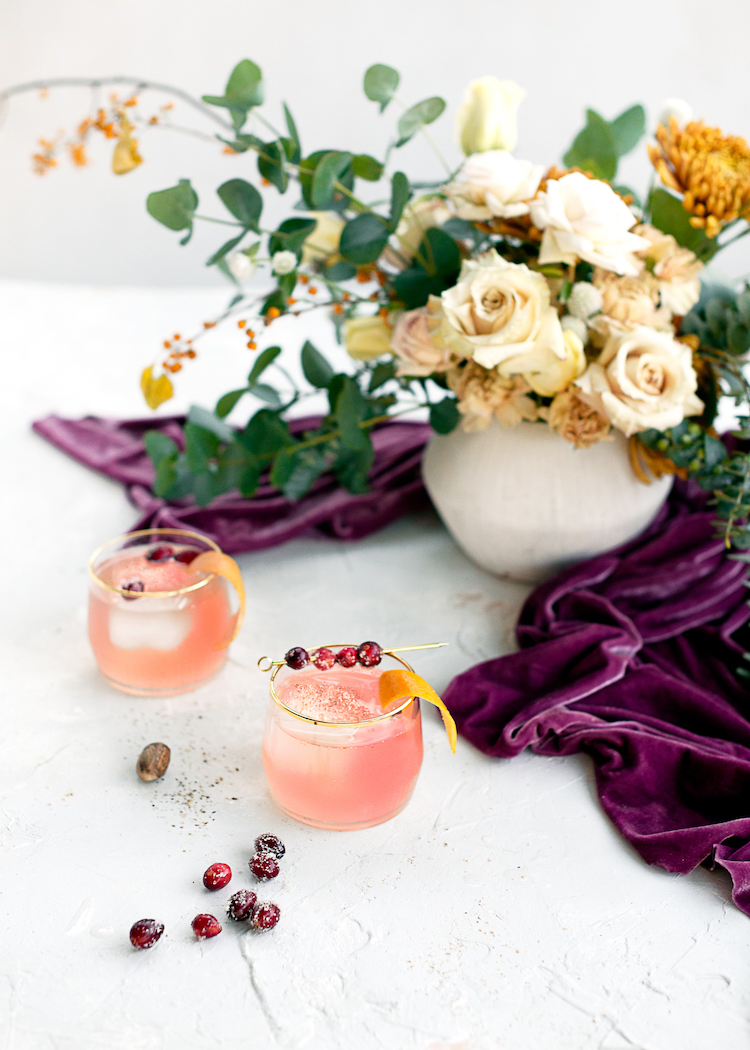 Clarifying does make a drink more clear, sometimes making it crystal clear, but it also helps preserve the cocktail. Clarifying can also be done with gelatin, agar agar and a centrifuge, but who has one just laying around (although I wouldn't mind adding this tool to my homebar…) Although they are all different methods, they have the same purpose: removing the insoluble particles. Because of this, the cocktails can be preserved for a long period of time stored in the fridge even thought they have citrus. I like the protein/milk clarification which gives the cocktails a silkier, more round mouth feel. Along with cranberry, spices, and citrus, I added  in Velvet Falernum. Classically in tiki drinks, this sugar cane based liqueur is a great fit in many drinks. Flavors of Clove, lime, ginger and occasionally almond dance through each sip of falernum. Clearly a perfect liqueur for fall and winer cocktails as it has been for summer tipples. In this Cranberry Spice Clarified Milk Punch, it is the perfect match for the baking spices and bourbon to serve at your holiday gatherings. Make big batches ahead of the holidays, and you can pull out a pitcher ready to serve for unexpected guests and impromptu merriment for you!
CRANBERRY SPICED CLARIFIED MILK PUNCH
serves 14-16
1 750ml bottle bourbon
7 oz Velvet Falernum
peels from 5 lemons
2 cinnamon sticks
1  whole nutmeg, chopped
14 oz cranberry syrup (recipe below)
7 oz lemon juice
7 oz orange juice
7 oz water
10.5 oz whole milk
garnish: grated nutmeg, orange peel and optional sugared cranberries
1. Peel 5 lemons, reserving fruit for juicing. Add bourbon, velvet, falernum, lemon peels, cinnamon sticks, and nut meg to a container. Let infuse for a few hours. Strain out solids.
2. Add cranberry syrup, juices, and water to the infused booze mixture and stir.
3. In a non-reactive container, add the cold milk. Slowly pour in the cocktail into the milk. Stir. Let set for a few hours in the fridge to let the milk (a.k.a. curdle) do not stir, let it sit.
4. When the wheys have formed into a "web" in the container and settle to the bottom, it's time to strain. You can leave it for up to 24 hours.
Put a coffee filter or cheese cloth over a container or jar with a funnel. I used a Chemex coffee maker. Slowly strain into the filter. It will take a bit to fully strain*
5. To serve: Pour into a glass with a large ice cube, grate of nutmeg on top twist of an orange peel. A a skewer of sugared cranberries is optional.
*If you want an extra clear drink, leave the milk wheys in the filter and strain the drink through this again.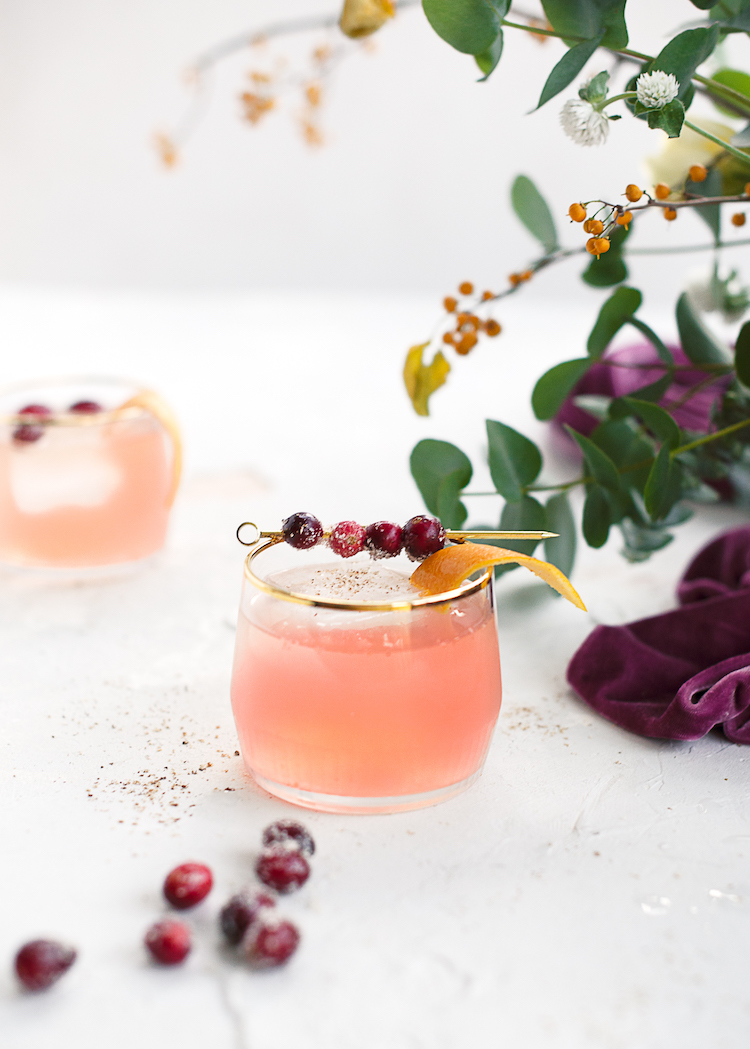 Cranberry Simple Syrup
2 cups sugar
2 cups water
1 1/2 cups fresh, or frozen whole cranberries
Add all ingredients into a sauce pan and bring to a boil. Turn to medium and let simmer for 5 minutes. You want the cranberries to pop and split to release their flavors. Take off the stove and let cool. Strain the mixture into a sealed container and place in the fridge for up to a month.