BAMBOO COCKTAIL
Hidden for decades in the pages of turn of the century cocktail books, the Bamboo cocktail lay forgotten like so many quintessential drinks of it's day. Lacking a heartier spirit, the split-base sherry and vermouth drink was most likely glanced over in favor of more booze-soaked recipes. Thankfully, the Bamboo was rediscovered because it's a banger of a cocktail that wont leave you with a banger of a headache. Coming in at much lower ABV than most stirred cocktails, the Bamboo is the perfect session drink. These lighter libations are sipped to pace oneself between boozier beverages, least one make a fool of themselves after a long evening out. Least you make a fool of yourself drinking at home, this Caramelized Banana Coconut Bamboo cocktail is just the thing to drink post Martini, Old Fashioned or Mai Tai. The addition of coconut and banana here adds a whisper of a tropical oasis to the low ABV sipper that's a great way to toast to the end of summer.
Clyde Common in Portland has a barrel aged Bamboo that is a thing of beauty. Round and bright with a sultry finish, it's arguable one of the best cocktails I have ever had. That being said, I didn't leave well enough and created my own twist on this sherry sipper, because where is the fun in leaving well enough alone? Rich caramelized banana works heavenly alongside the nutty, dry Amontillado sherry while coconut oil, via fat washing, rounds out the complex edges of the botanical vermouth. I first infused the sherry with plain bananas, and found it a starchy bland infusion. Caramelizing with brown sugar brought out the natural sugars while adding hints of brown sugar to the sherry. The banana and oil infusions add a lovely body to the drink that has me coming back sip after sip.
FAT WASHING
Fat washing to the home cocktailian or drink dabbler may seem daunting and maybe even something that happens in the laundry room and not in the kitchen, but is a simple technique that adds texture to your cocktail and mixing skills. This technique is simply infusing spirits with fat or oils. A modern method that simultaneously (and begrudgingly) sparked the bacon in every cocktail trend, fat washing adds both flavor and mouth feel and texture to drinks. Oil, in this case melted coconut oil, is added to a spirit. Leaving time for the alcohol work it's solvent magic, the flavor and body from the oil infuses into the spirit. Leaving it at this step would result in a very messy oil slick of a drink. Here is the cool part (literally cool), add your infusion into the freezer and let the oil separate and solidify. Once this has happened, either remove the solidified layer of oil or pierce the layer to create a hole to strain the infused liquid below through. Now you are ready to mix with your indulgent fat washed spirit.
There are countless twists on Bamboos, but I throwing my hat in the ring with this Caramelized Banana Coconut Bamboo uses two different infusions that are so worth the minimal effort it takes to whip these up. You can make a big batch of these a week in advance and chill in the fridge for a party or to welcome unexpected guests with a mid-afternoon sipper or a night cap. Make a large batch because they will be asking for another, because this shit is bananas B-A-N-A-N-A-S (sorry, I had to.)
CARAMELIZED BANANA COCONUT BAMBOO
notes: with infusion time of the sherry and vermouth, this drink will take 24-48 hours to be ready for mixing
glass: coupe or Nick & Nora
tools: mixing glass, bar spoon hawthorne or julep strainer
1 1/2 oz caramelized banana Amontillado sherry, recipe below
1 1/2 oz coconut fat washed dry vermouth, recipe below
2 dashes Angostura aromatic bitters
1 dash orange bitters
garnish: orange peel, pineapple leaf, 2 banana slices
In a mixing glass with ice, combine sherry, vermouth, and bitters. Stir for 30 seconds. Strain into a chilled cocktail glass. Express lemon peel over drink and discard. Garnish with pineapple leaf topped with banana slices.
Coconut Oil Fat Washed Vermouth
1 cup dry vermouth, I used Noilly Prat
1/8 cup coconut oil
Add liquid coconut oil* to a mason jar with coconut dry vermouth. Stir and let infuse for 12 hours at room temperature. Add to the freezer to let the coconut oil layer separate. After 3-4** hours or when the coconut oil layer is solid, poke a hole through the coconut oil. Using a fine mesh stained, pour vermouth out of the jar through the hole. Store in the fridge for up to a 3-4 weeks.
*Heat coconut oil to make liquid if solid. **Vermouth will freeze if left too long in the freezer. If you find it has frozen, allow an hour to thaw to strain.
Caramelized Banana Amontillado Sherry
1/2 a banana, sliced
1 tsp brown sugar
1 tsp butter
1 cup amontillado sherry
Caramelized bananas: Over medium heat, add butter to a pan. Add sliced banana and sprinkle with brown sugar. Cool for 3-5 minutes, moving the bananas around around with a spatula periodically until browned and glaze has thickened.
Infused sherry: Add cooled bananas to a mason jar with 1 cup amontillado sherry. Add lid and shake. Let infuse for 24-48 hours (if you have time, infuse for 48 hours). Using a fine mesh strainer*, strain the vermouth into a jar. Stir in the fridge for 3-4 weeks. *If particles remain from the banana infusion after straining, strain through a coffee filter or cheesecloth.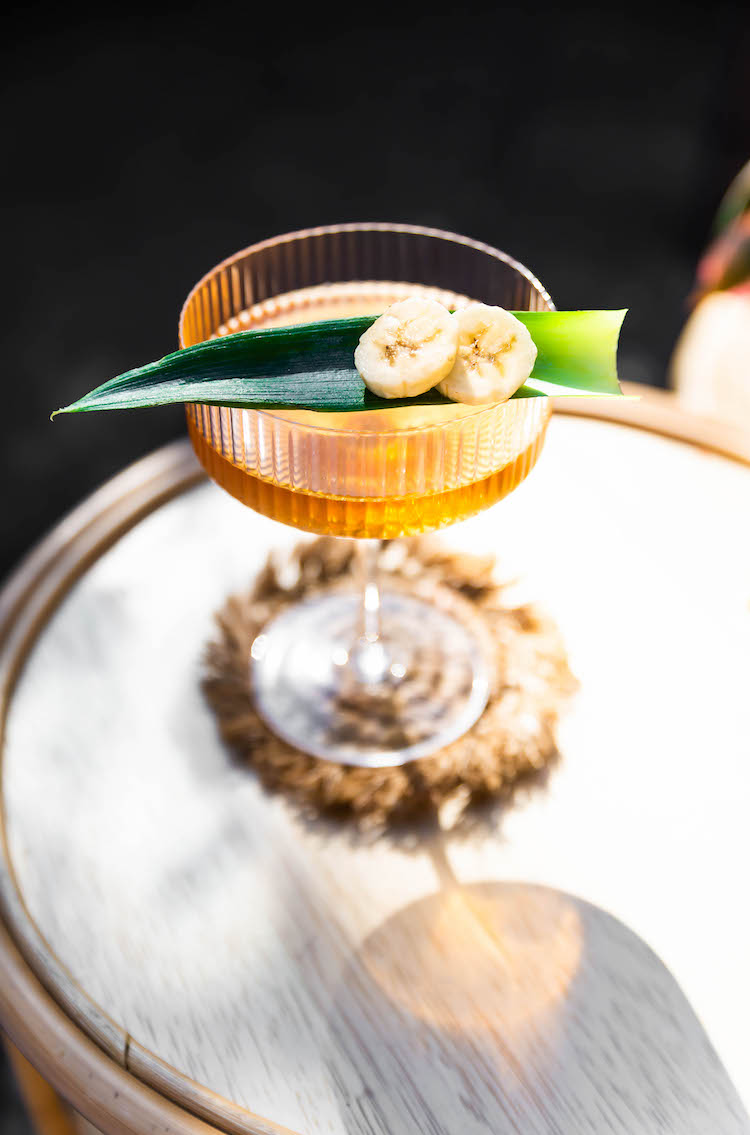 Sources
Diffords Guide The Bamboo Cocktail History  | Supercall Bamboo Cocktail | Punch Drink Bamboo | Serious Eats- The Science of Fat-Washing Cocktails  |