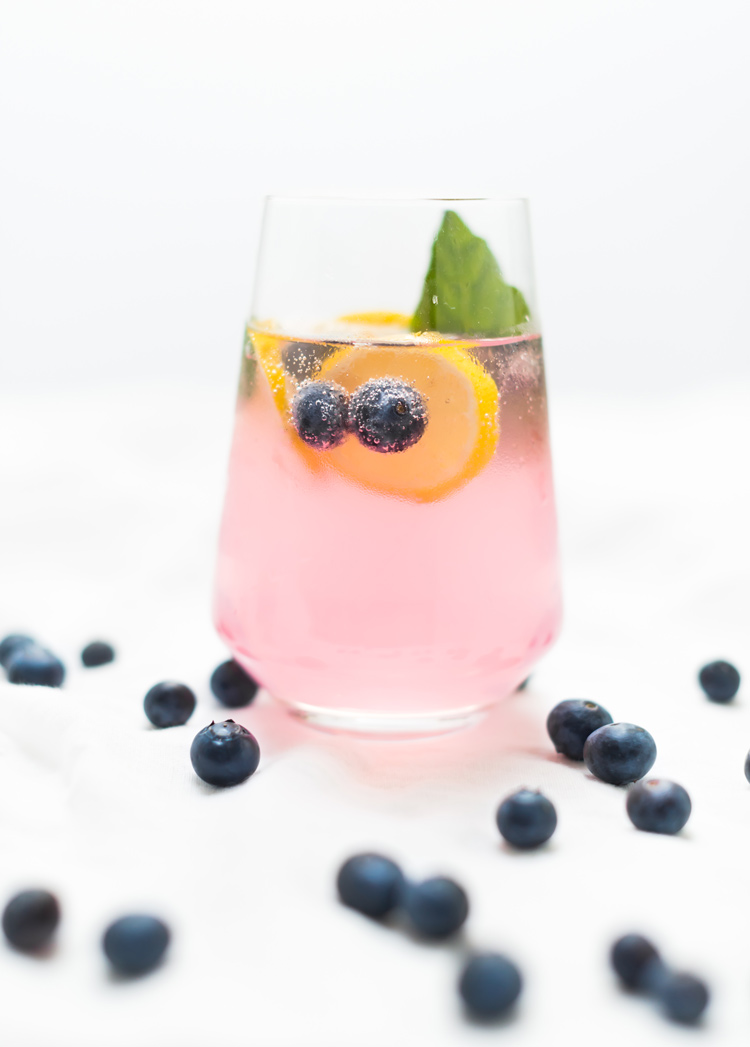 Memorial Day weekend is here which means bring out those white jeans (even though I have been wearing them all winter long), picnic season, and refreshing summer drinks! If you don't know by now, I have this think with Gin & Tonics, I blame my dad who drinks them like water (ha!) Spanish Gin & Tonics are something I more recently discovered and I am hooked! These Elderflower Grapefruit ones have been a favorite so far, but I think these Blueberry Basil Lemon Spanish Gin & Tonics just might just take 1st place! Memorial Day weekend just got way better!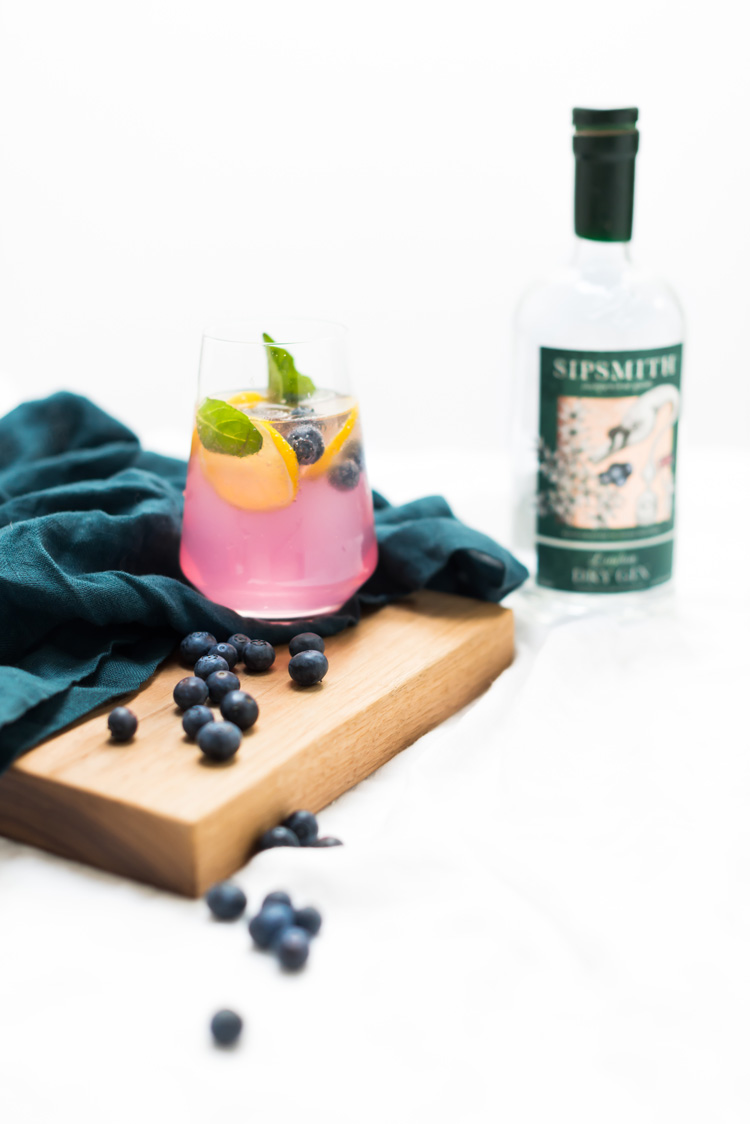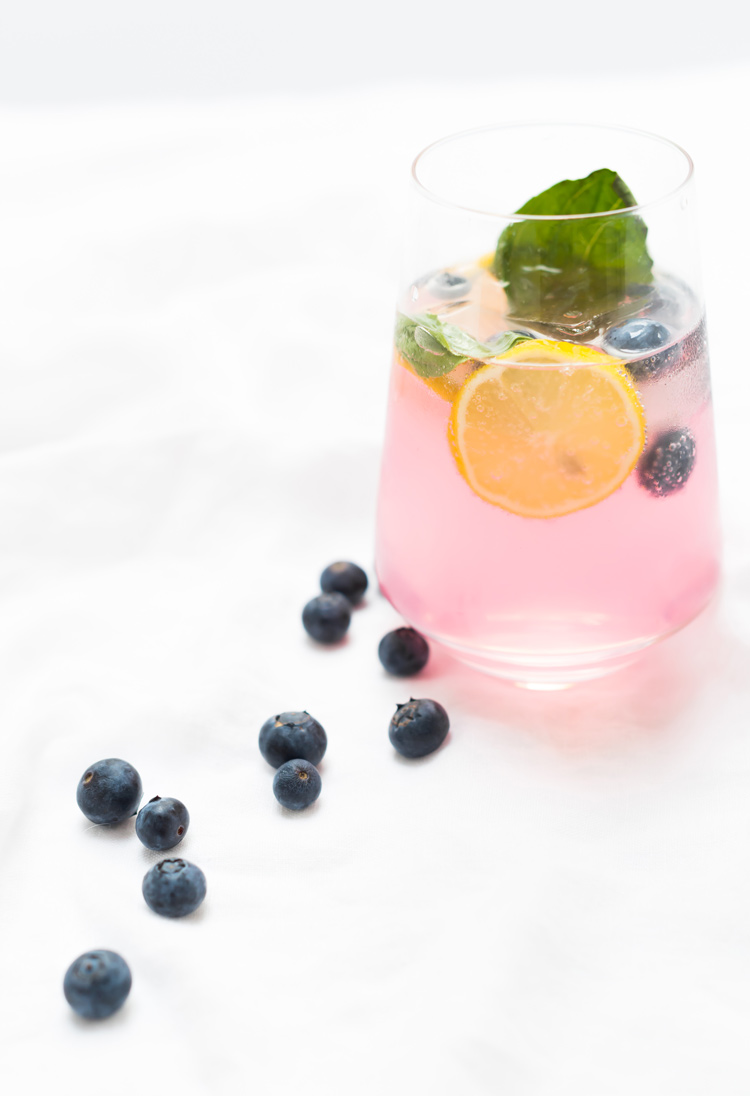 If you are unfamiliar with what a Spanish Gin & Tonic is, they are an easy peasy way to add extra flavor to your drink with out covering up the beautiful botanicals from the gin and the tonic. A variety of ingredients, usually herbs and fruit, are added to the glass before toping with gin and tonic. This allows the gin to "infuse" as it gets poured over. In this case, blueberries, basil and lemon- so bright and fresh!
Spanish style Gin & Tonics have been popping up on menus everywhere and they have changed the G&T game! England can take credit for the creation of the original, but the Spanish used their sense for flair to make this classic drink really shine! Along with gin and tonic of your choice, other ingredients are added to impart not only subtle flavors, but add a beautiful garnish to the otherwise simple drink.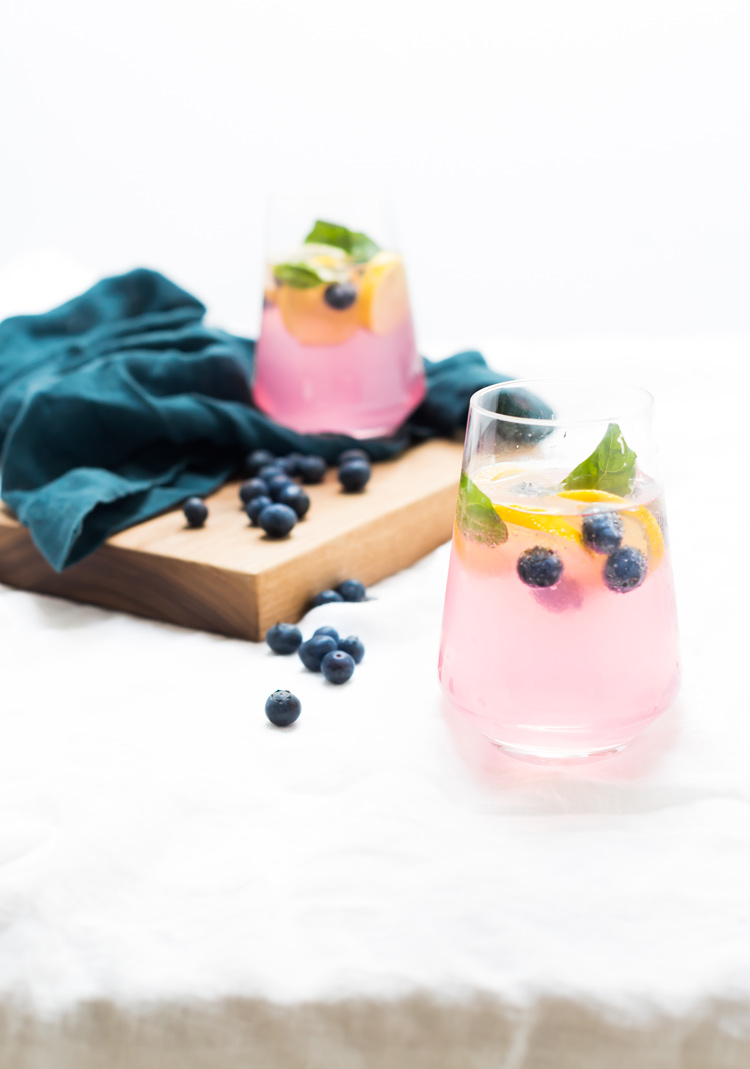 Blueberries are nice and juicy as they are coming into season finally so I knew I HAD to use them in my favorite gin and tonic. Usually I don't muddle anything into my G&T's, but I wanted to release some of the bright blueberry juice into the drink. Basil is a natural pairing with the blueberries as is lemon so this drink came together pretty easily. The hardest part was figuring out what tonic to use!
There are so many good ones on the market these days and they all have their own characteristics. I landed on Fentimans tonic which has bright citrus notes, thanks in part to lemongrass! It really adds a unique component to a regular gin and tonic, but really drives home all of the bright flavors going on in this Blueberry Basil Lemon versions.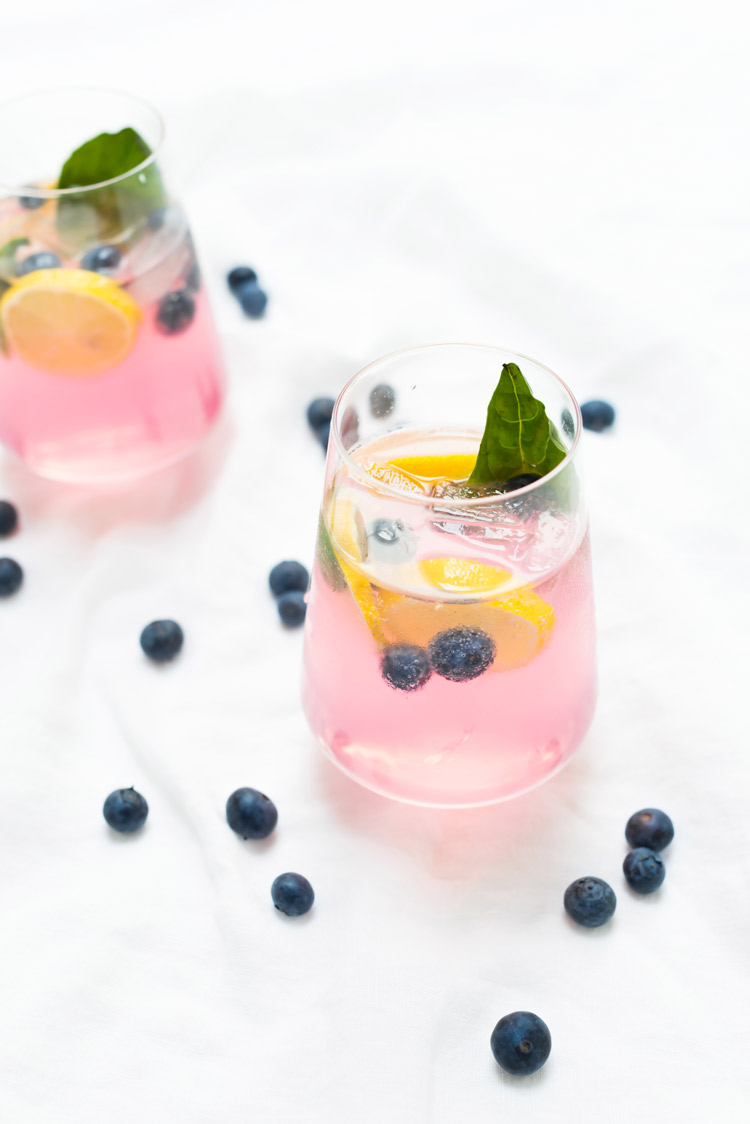 As far as proportions for the perfect G&T, I like to do 3 parts tonic to 1 part gin for this terrific tipple. If you find this too strong or like yours half and half, feel free to adjust to your tastes! It's all about preference when it comes to G&T's!
Blueberry Basil Lemon Spanish Gin & Tonics
Makes 2
Directions
Chill the drinking glasses for a 15 mins-half hour. Add ice to the glasses along with whole blueberries, lemon slices and basil. Muddle the 16 blueberries into a shaker cup and muddle top with lemon juice and gin. Double strain into the glasses to remove blueberry bits. Top with the tonic and stir before drinking.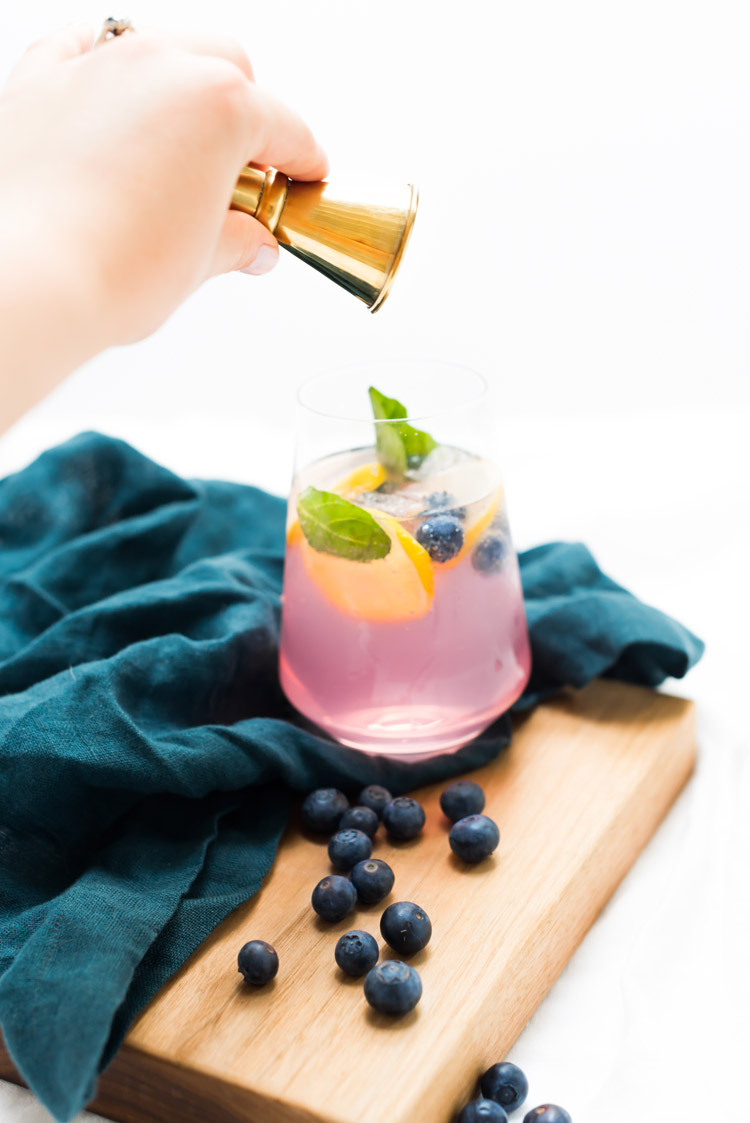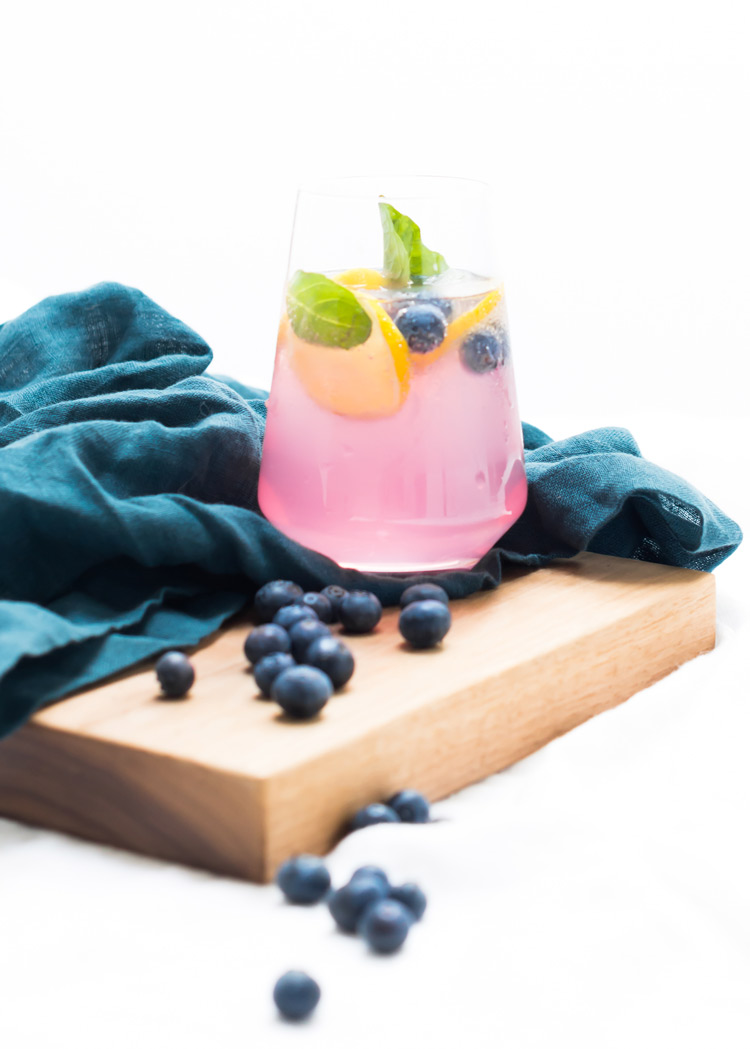 I am mixing up a few of these this Memorial Day weekend to celebrate the official start of summer! How will you be celebrating?!
Glassware similar here / Blue Napkin 
For more cocktails, you can find me on Instagram,  Pinterest,  Twitter +  Snapchat (@ashroseconway)