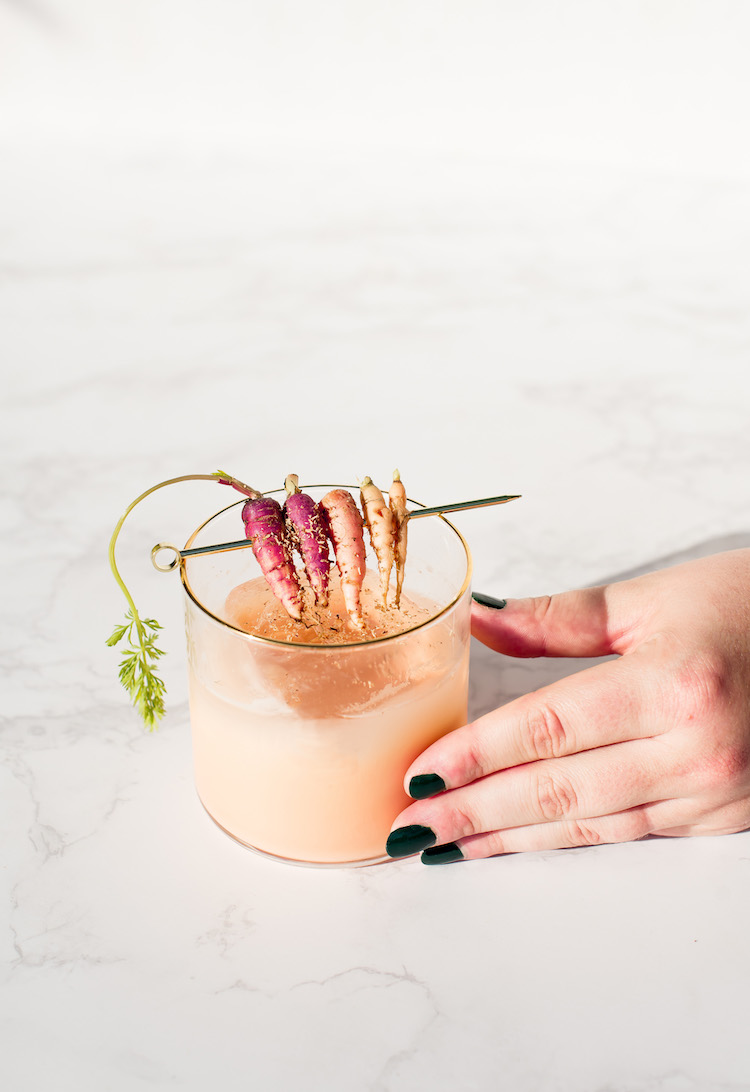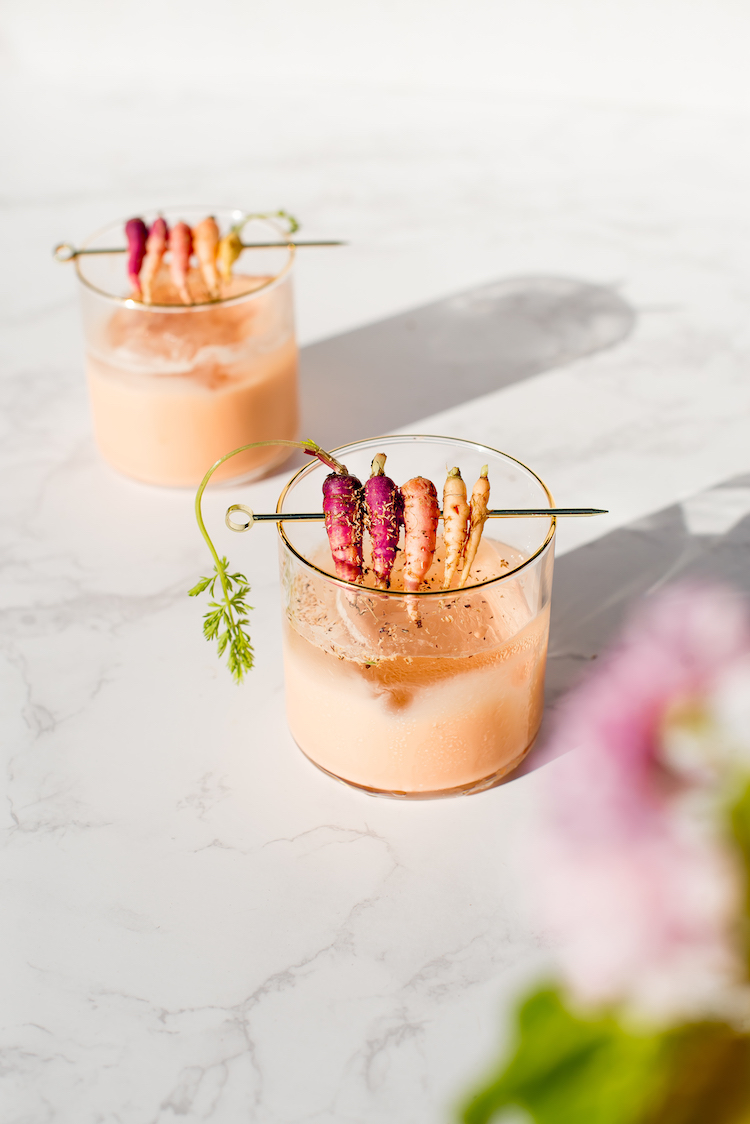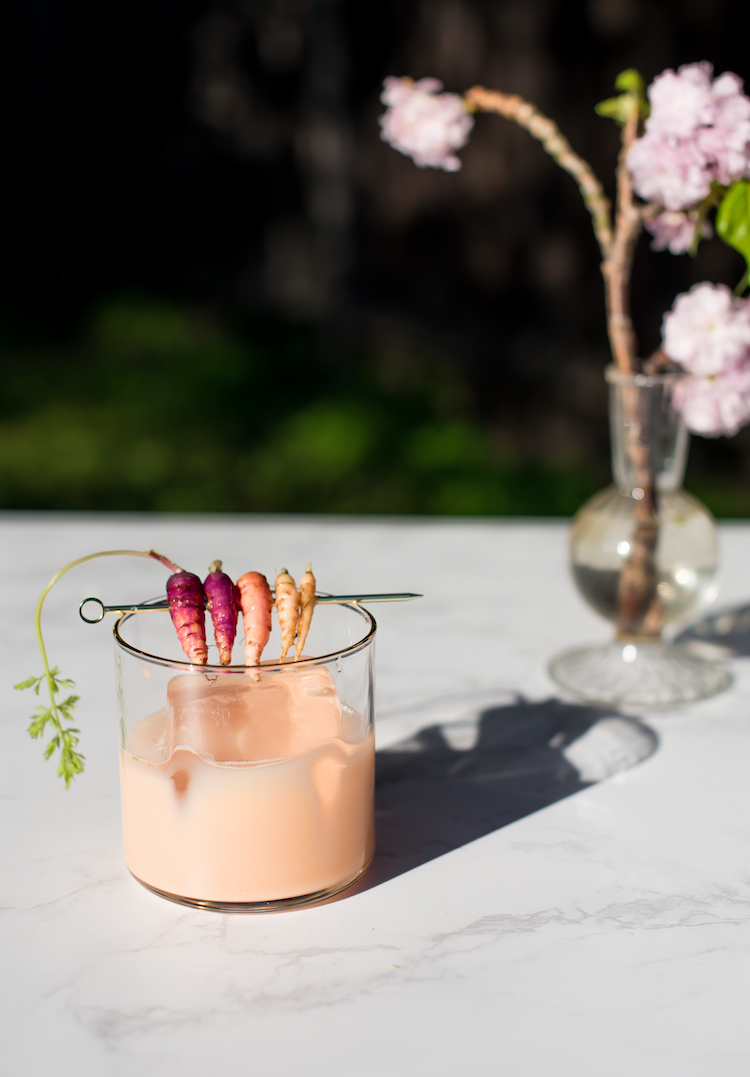 Meet the Bunny Lebowski- the dude would abide! I have had this cocktail in my head for the past couple years. I have tried a few coffee liqueurs, carrot infusions, and combinations, but never could get it right. I recently tried blending the carrots in the cream along with a cold brew coffee liqueur topped with nutmeg to tie it all together. With these additions this Carrot White Russian come to life!
The White Russian is the drink of choice of The Dude in The Big Lebowski. Unlike the movie, no powered milk in sight in this cocktail! I used a fresh cream and delicious coffee liqueur. The buzzy Mr. Black Cold Brew is used for the coffee component. It's not too sweet or syrup, which I do not like about coffee liqueurs, and it also packs a decent amount of caffeine per ounce (about 25-40% of a shot of espresso!)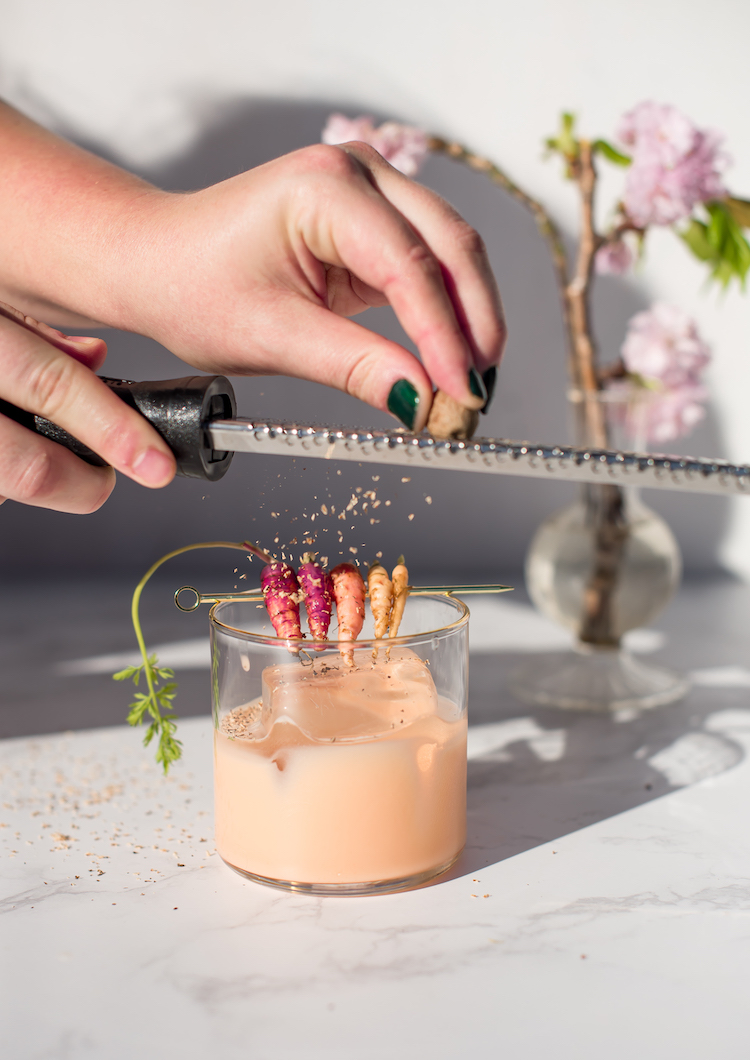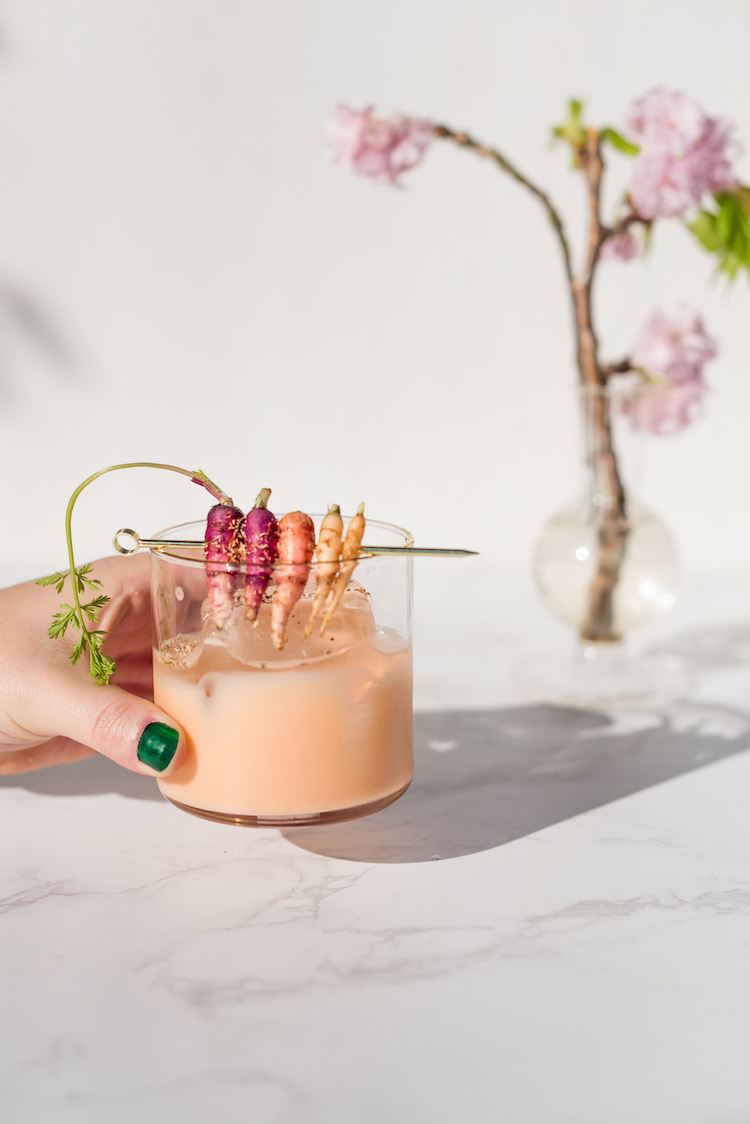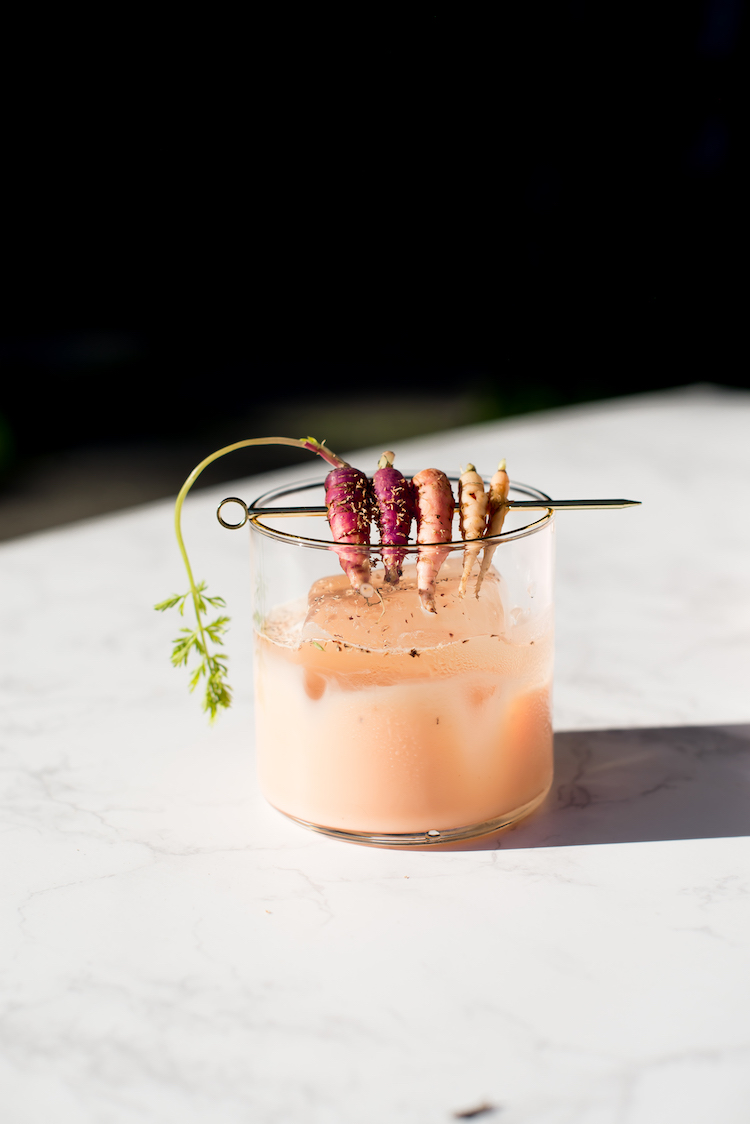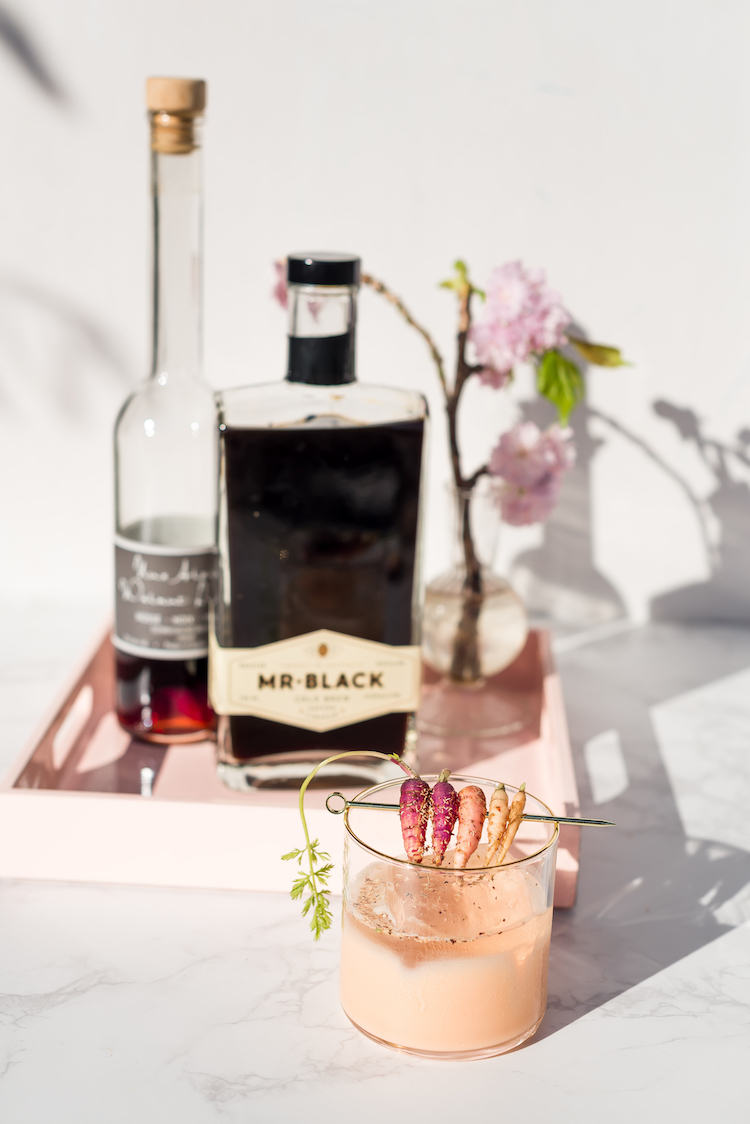 If you haven't seen The Big Lebowksi (because you have been living under a rock perhaps!) the premises is Bunny Lebowksi, the wife of a millionaire goes missing. He confides in the dude, a total burnout, who happens to share the same name in finding her and hilarity and mayhem ensues in L.A. The green nail polish she wears comes into play and  just so happened to have the same color. If you know, you know!  Whip up this Carrot White Russian this spring!
Print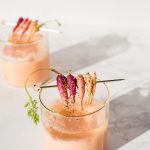 Bunny Lebowski- Carrot White Russian
---
Description
Mix top this Carrot White Russian this spring- The Dude would abide!
---
glass: rocks glass
ABV: 17%
1 1/4 oz

vodka, I used Hangar 1

1 1/4 oz

carrot cream (recipe below)

1 oz

coffee liqueur, I used Mr. Black Cold Brew (c/

0

Mr. Black)

1/2

nocino walnut liqueur or

1/4

more coffee liqueur
garnish: grated nutmeg and baby carrots, source here
---
Instructions
Make the carrot cream.

Add all ingredients into a shaker with ice. Shake for 10 seconds.

Double strain with fine mesh strainer into a rocks glass with large cube. Grate with nutmeg. Garnish with baby carrots if you have them.
---
Notes
CARROT CREAM
3 carrots- about 3 oz, chopped
1 1/2 cups cream
Add chopped carrots into a blender. Pulse to break up the carrots.
Add cream to the blender. Gently blend or you may whip the cream. If you end up with whipped cream, that's ok you can still use it in the cocktail.
Scoop into a sealed container and store in the fridge for up to 5 days.