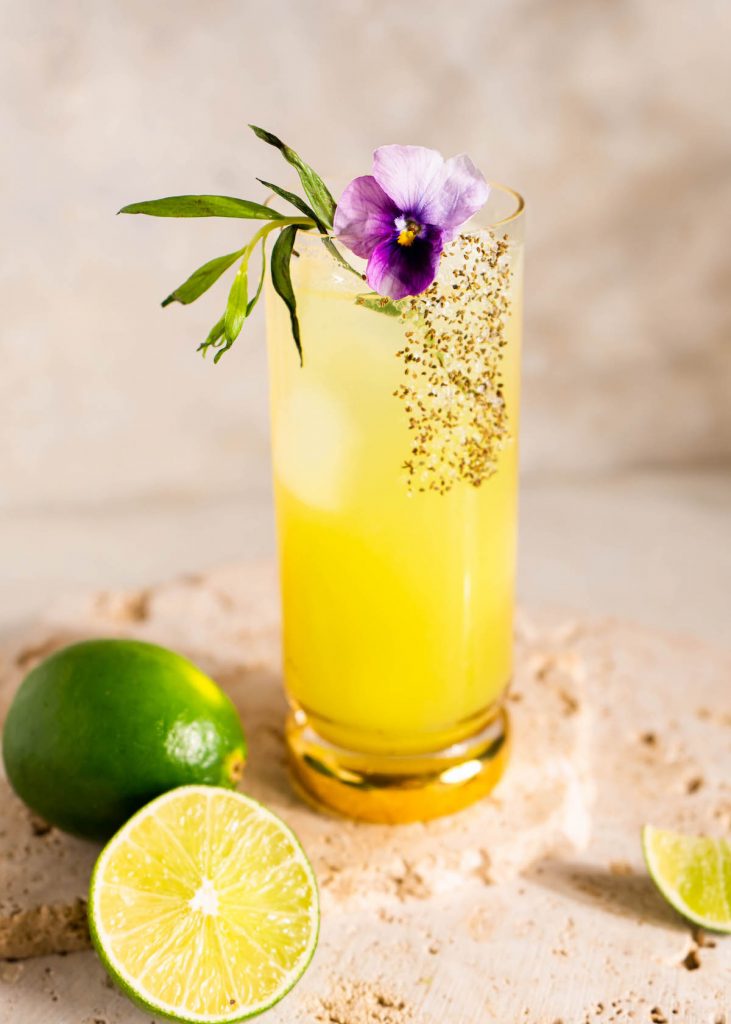 Here Today, Tarragon Tomorrow – a Spirit Free Drink
Here Today, Tarragon Tomorrow is spirit-free drink, that have whispers of spring woven through it. It's a green apple margarita mocktail that so delicious for sprig and summer. The first sip of the drink reveals the tart green apple bite that layers with the earthy agave syrup beautifully. Upon further sips, the subtle anisette in the tarragon comes through with the lime. The celery salt rim adds an unexpected, savory flavor to the cocktail that works with all of the fresh, green notes in the vibrant drink. For a spirited version you can add tequila, get the cocktail recipe here.
Spirit free options are one of the most requested type of drinks from you all. We can't drink cocktails everyday after all, we need tasty options for when we are not imbibing.
To Mocktail or not to Mocktail
There is a heated debate going on what we should call drinks without alcohol in them. Spirit-free, no ABV, zero proof, mocktail, non-alcoholic are all terms thrown around these days to describe these teetoaling beverages. Mocktail has been used for awhile and is the general public's go-to term (just do a search and you will get 1,000 of articles with recipes with this term). Ask any cocktail journalist or some bartenders what their favorite mocktail is and you might not get a not-so-pleasant reaction. The term does have a negative connotation, as if the drink is to be mocked for not having any alcohol in it, but almost every term used to describe them have a negative term attached.
As a teacher I trained myself to not use negative terms to associate with a behavior. Refraining from using no and bad for instance, rather responding with positive actions they could have been done. Non-alcoholic, no-abv and zero proof all sound as if the lacking something instead of being delicious drinks on their own. There is no perfect term for these necessary  I am in camp spirit free, but call them what you like. What matters is they have finally earned their place on a bar menus worldwide. It's important for bars, and a home bar, to serve a selection of these style of beverages for guests who still want to socialize and sip on a flavorful, crafted drink, but are simply not imbibing.
I mixed up this spirit free, green apple margarita mocktail along with a spirited version for my cocktail classes with Macy's last year and they were a hit! It was fun to demo these and server them to a crowd. I was back in my element of teaching!
Print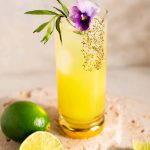 Spirit Free- Here Today, Tarragon Tomorrow
---
4 tsp

celery salt and 2 tbsp coarse salt

2 oz

green apple juice

1 oz

fresh lime juice

3/4 oz

agave syrup

1/4 tsp

rice wine vinegar

1 oz

club soda
garnish: tarragon sprig and edible flower
optional: *spritz of Green Chartreus
---
Instructions
Add 4 tsp celery salt to 2 tablespoons corse salt on a plate. Using a lime wedge, wet the rim of a collins glass.
Dip the rim of the glass into the salt mixture to coat.
Muddle tarragon in a shaker. Add  apple juice, lime juice, agave syrup in a shaker with ice. Strain into the glass.
Top with club soda and stir.
Garnish with tarragon sprig and apple slices.
*Spritz Green Chartreuse over the glass. 
---
Notes
*a spritz of Green Chartreuse will add a very, very minimal alcohol to the cocktail, but a lot of flavor.