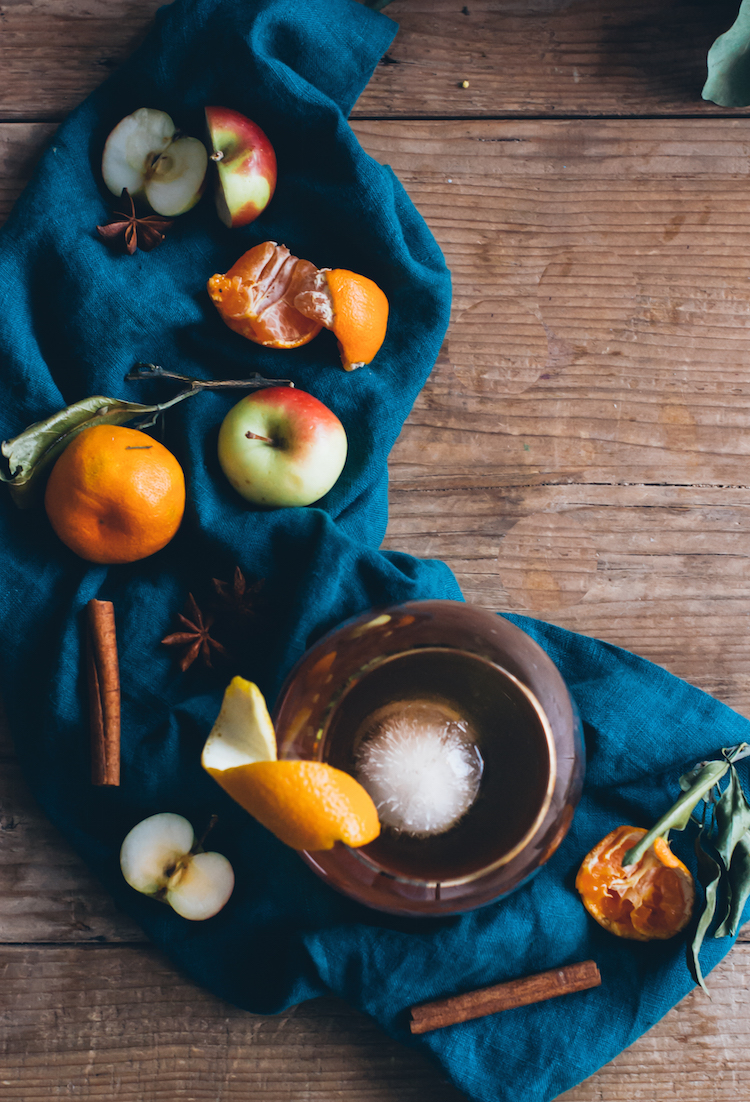 It is no secret the way to my heart is a good Old Fashioned (seen here and here), but sometimes you have to spice things up (literally in this case) to rekindle your love after you have had so many.
It is my conviction that a fruit cocktail, muddled mess does not belong in my Old Fashioned, just some whiskey, bitters, sugar and a citrus peel. Of course there is so many variations here (scotch with honey and lemon, rye with cinnamon and fig bitters), but adding an unexpected flavor profile into the mix really adds some pizzaz to the old standby.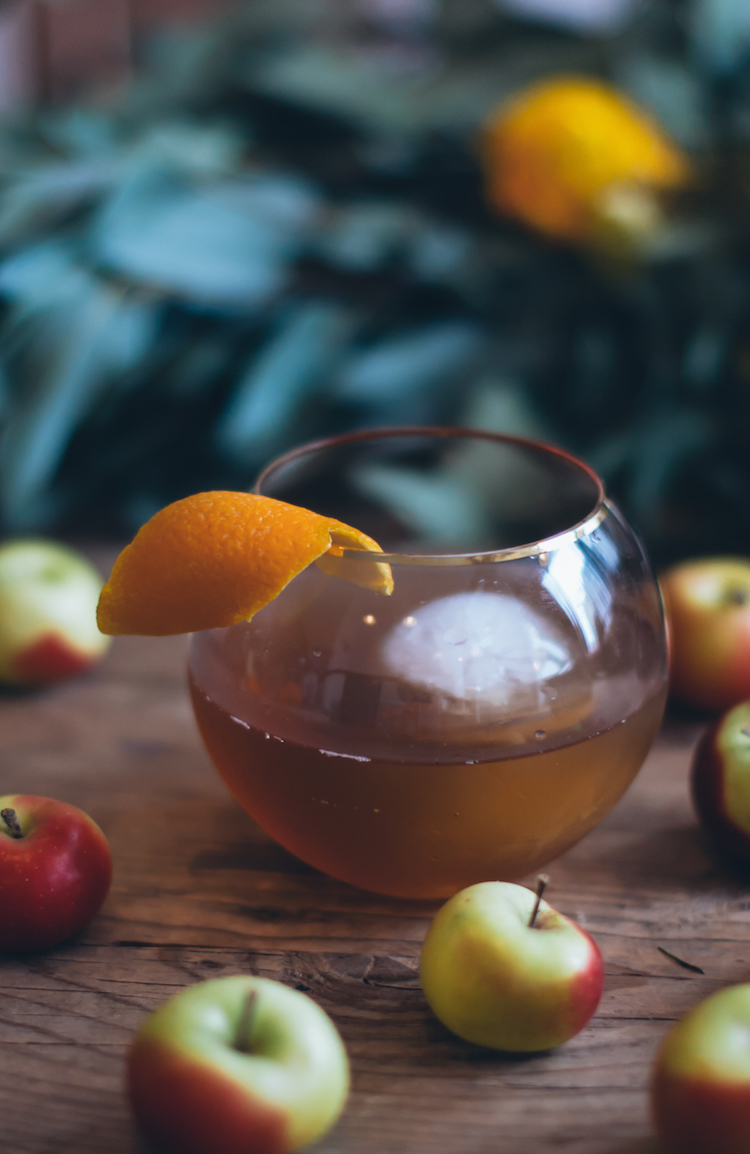 Last year I had so many apple cider cocktails, I just could not have another sip. I have laid off most apple cider drinks this fall until recently. How has apple season already come and gone?! Before the last of the Pink Ladies disappear I plan to get my fill until next year. I went a little crazy at the local grocery co-op recently with apples. There were bin after bin of all kinds of juicy varieties that I came home with an embarrassingly large amount, a bushel full if you will.
There were tarts to be had and other treats as well as being roasted with my Friendsgiving Turkey, but I still had so many apples left! For risk of having a bunch of shriveled apples on my hands, I juiced them. Nothing beats fresh apple juice! It has a different brightness and somewhat creamier texture that you just don't get from regular processed juice.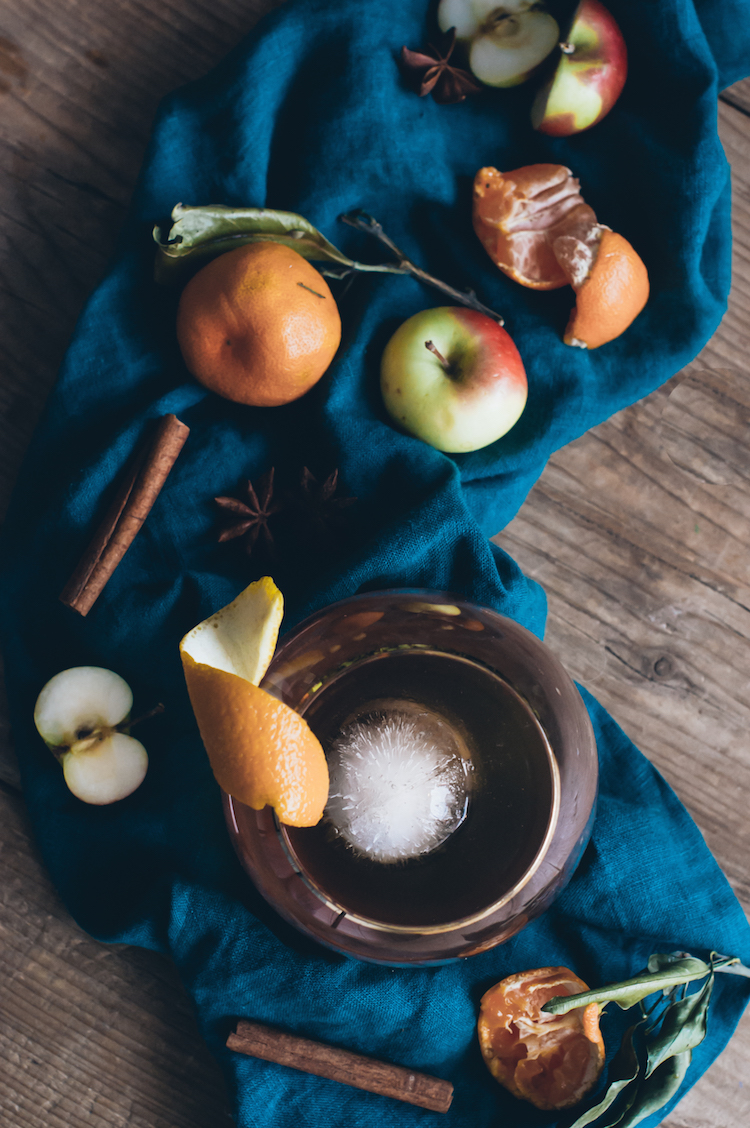 Staring at a big pitcher of fresh apple juice in the midst of autumn with out thinking about apple cider would be crazy. I split the batch and made some fresh apple cider; I gave in!
Now when I say nothing beats fresh apple juice, well then absolutely positively nothing beats fresh cider! The stuff they label at the grocery store this time of year as apple cider? You've been had! Take a peak at the ingredients list, most are just plain ol' juice with less filtering. There is no mention of spices any were and apple cider with out spices is just apple juice. Nice try!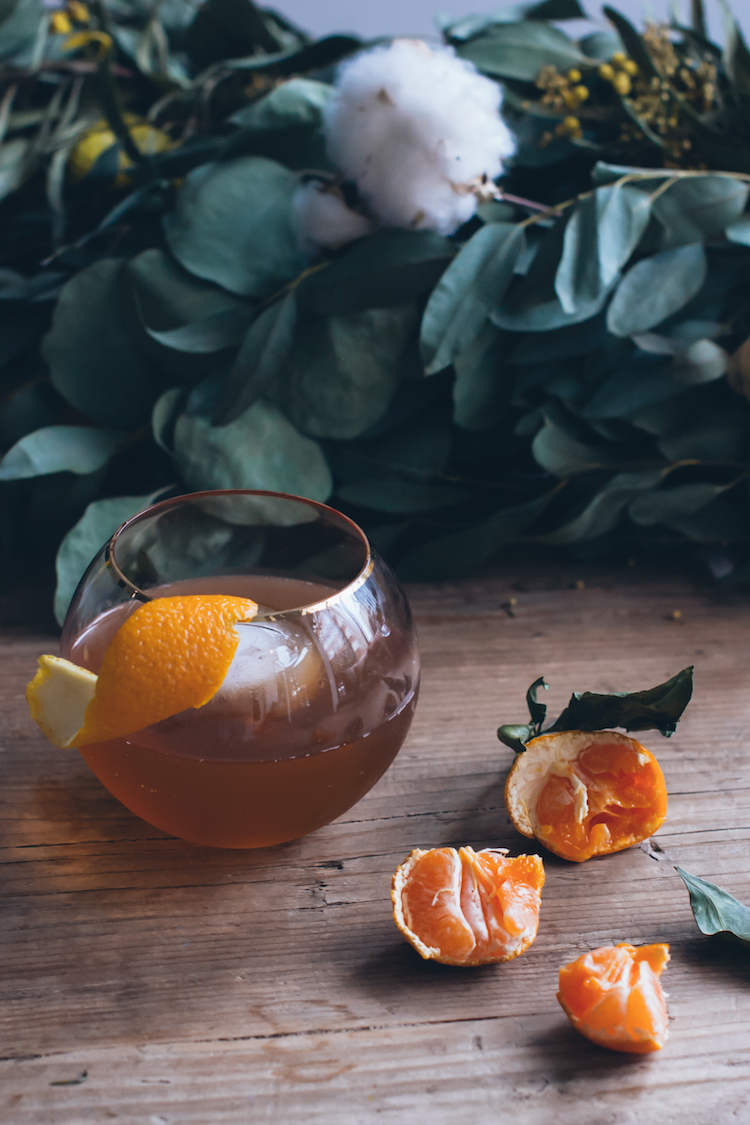 Making your own at home is easy peasy to do. Simply throwing a bunch of fragrant spices into a big pot with the juice and letting their flavors meld for a couple hours yields a golden hued cider like you've never had before (unless you have had homemade cider before, then you know what I am talking about!) Bonus: your house fills with the most beautiful autumn aromas, it straight up smells like how the fall Williams Sonoma catalog looks!
Now your think, apple cider + bourbon + bitters does not = Old Fashioned and right you are, they would just be bourbon cider! I recently took a trip down memory lane and revisited some old cocktail recipes I have done. A few years back  I created this apple spice syrup for a Bourbon flip for Apartment 34. I had thought about using it in an Old Fashioned, but wanted a more intense apple flavor for this drink.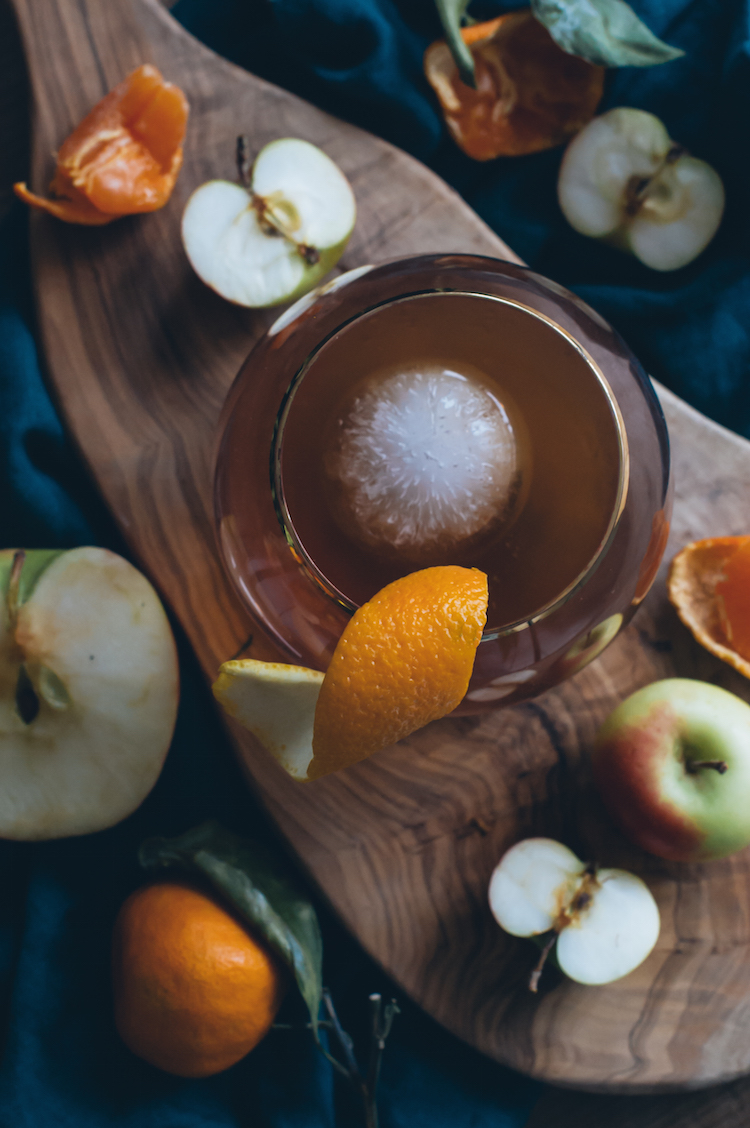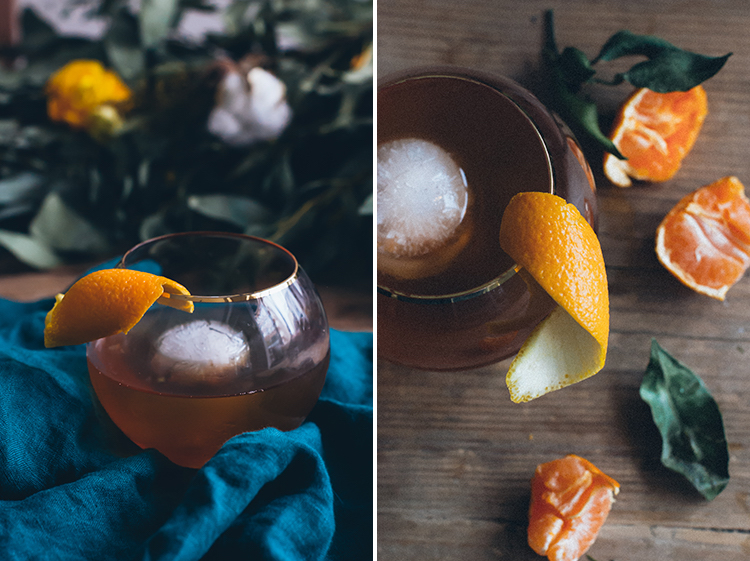 And then I got the brilliant, original idea of making an apple cider syrup (duh Ashley!), but then I discovered, not so original idea! They have been making apple cider syrup, AKA apple cider molasses, for a reaaally long time. It's simply cider that's been reduced down to a concentrated and delicious viscous syrup. So glad I did a little googling and tinkering in my kitchen because this stuff is a fall cocktail game changer! I am now plotting all of all the ways I can use this new-to-me-elixir of deliciousness: I'm imagining mountains of pancakes drizzled with this stuff, a spoonful mixed into morning granola, blended into ice cream floats, and all of the countless cocktails I can slip this syrup into… Excuse me, I have some testing to do!
Apple Cider Old Fashioned
2 1/2 oz bourbon or your favorite whiskey
1/4 ounce apple cider syrup/molasses (recipe below)
orange or other bitters
orange peel
Add bitters and apple cider syrup to a glass. Add in the bourbon and stir. Place a large ice cube in the glass. Take the orange peel run it around the glass rim, twist, and drop it in.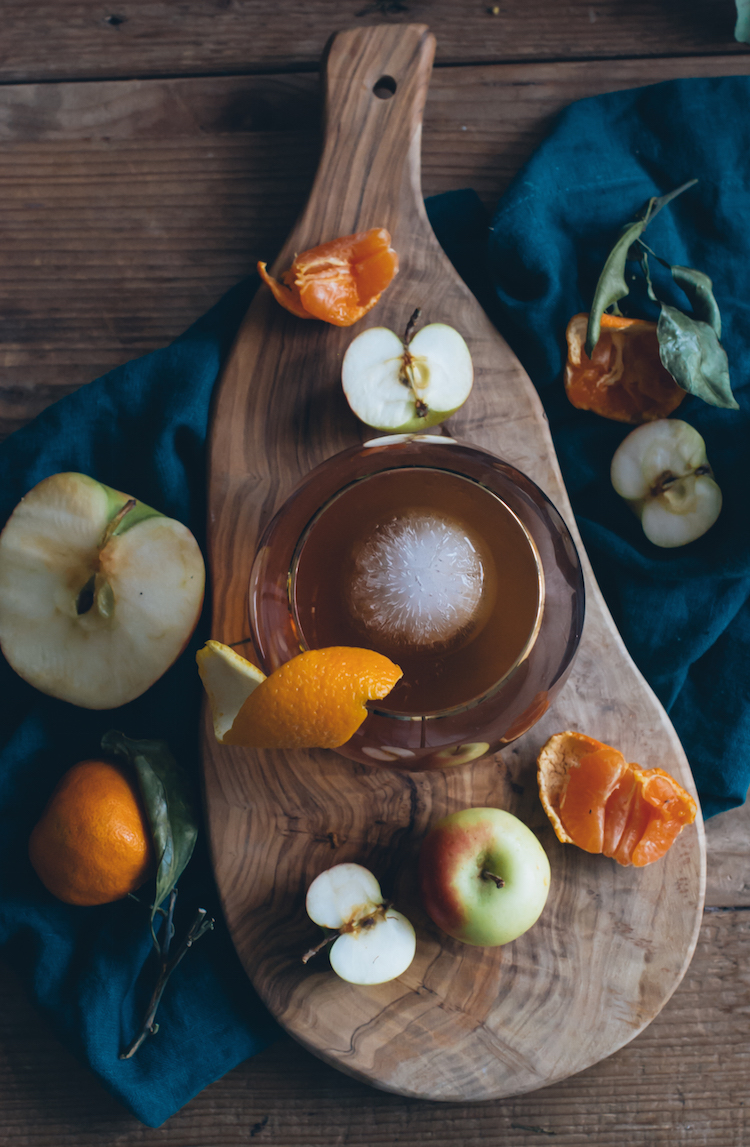 Apple Cider Syrup
2 cups real, fresh apple cider
1/4-1/2 cup brown sugar
Add all ingredients into a pot. Bring to a boil, then lower to a simmer. Let it simmer for 1 1/2- 2 hrs or until a lot of the liquid has evaporated and it is the consistency of a thick syrup.