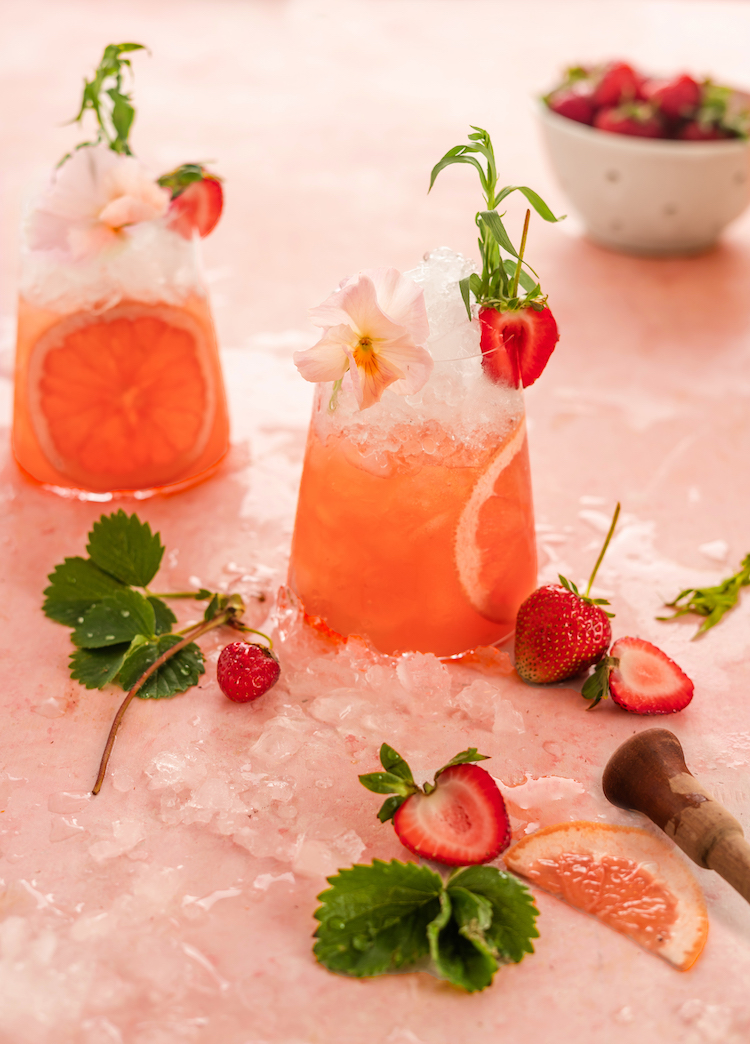 No Body Has Time for Shrubs
I am admittedly an inpatient person. Although I hold space and patience for other people, waiting for things to happen, infusions or untangle a twisted necklace, not one of my strong suits. One of those things that I dislike waiting for is shrubs to mellow. It takes about a week+ for shrubs (drinking vinegar with fruit or other produce) to be ready for enjoying. I am generally not wanting to wait to sip these delicious elixirs. I love adding shrubs to cocktails for a sour punch that makes you go back in for more sips to place the puckering ingredient. To get this same effect, but with instant gratification that I crave, I whipped up a cocktail with fruit and vinegar minus the wait time. I made this beguiling Strawberry Tarragon Smash cocktail for CA Strawberry Collective (California is the biggest producer of strawberries in the US).
The candy-like sweet fruit gets a subtle savory twist with the addition of herbs and the vinegar, in this case apple cider vinegar. Adding a tsp of mild vinegar paired with muddled in-season fruit creates a shrub-like flavor in this cocktail. I can picture sipping one of these on a warm evening at dusk as a contrast to alongside these decadent strawberry s'mores!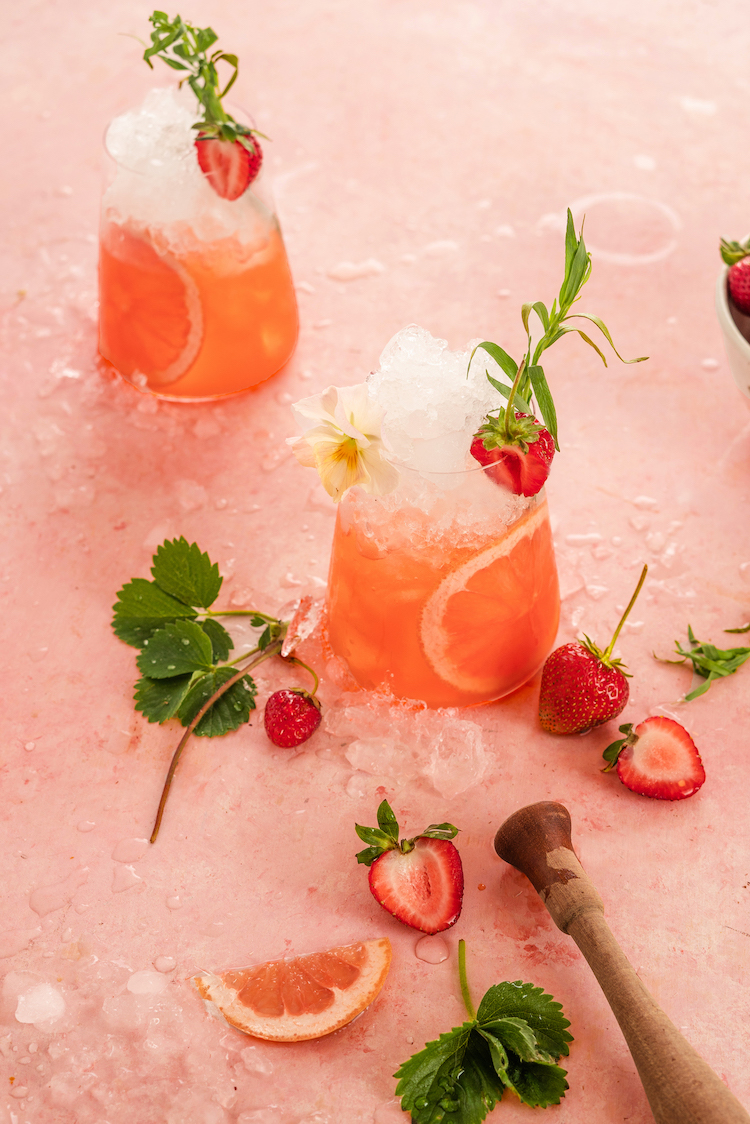 Types of Strawberries
There is almost nothing more synonymous with summer then super ripe, juicy strawberries! Although strawberries can luckily be found year round in the produce aisle and freezer section in the US, they are undoubtedly in their prime in the summer months. One of my favorite things to grow in the garden is strawberries. I have a container garden and find strawberries to be approachable and easy plants that deliver in abundance for the minimal effort put in. There are many varieties, even ones that bloom pink flowers (typical strawberry plants have white blooms.)
The categories of strawberries you will find is based on crop and growing habits. June-bearing which is one crop per season, day-neutral which produces a crop constantly through out the season, or ever-bearing which will produce fruit crops a 2-3 times from summer into fall. My favorite variety to grow is the Mara Des Bois which are petite and insanely sweet berries. They remind me of the filled strawberry candies wrapped in crinkly red mylar made to look like speckled strawberries. I was in heaven whenever I found and unattended candy dish of these at my great grandmoms! Although you can not find them often at the grocery store, you can order seeds online or starter plants from nurseries. If you don't have the capability or patience (hi, I've been there!) to grow strawberries, you can check out a farmers market or specialty grocery store. They often have heirloom and rare varieties of berries, you never know what you'll find!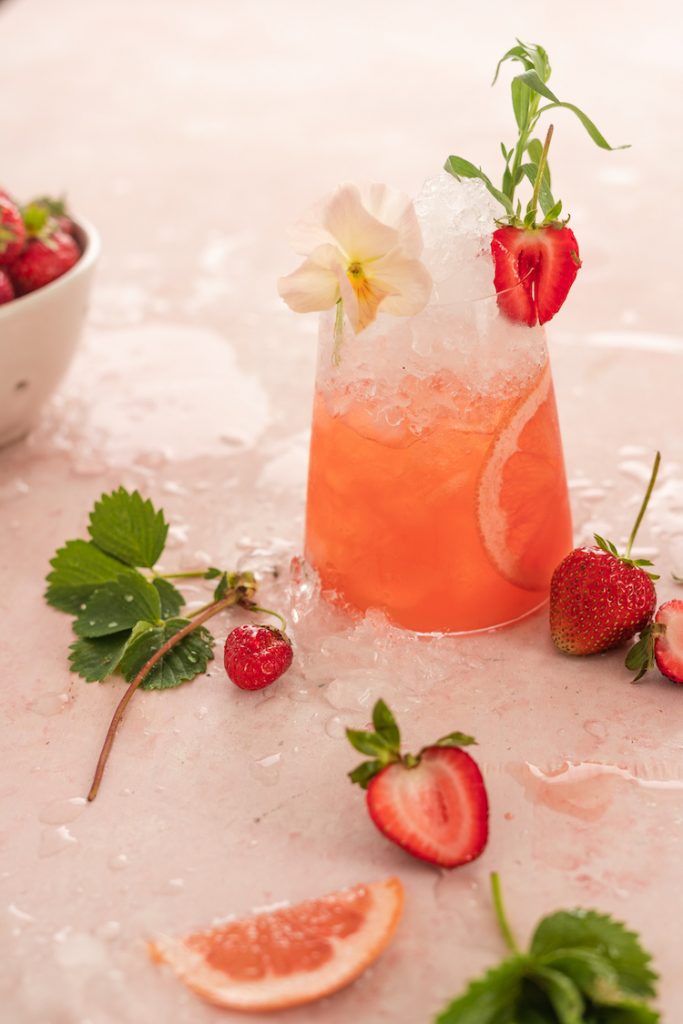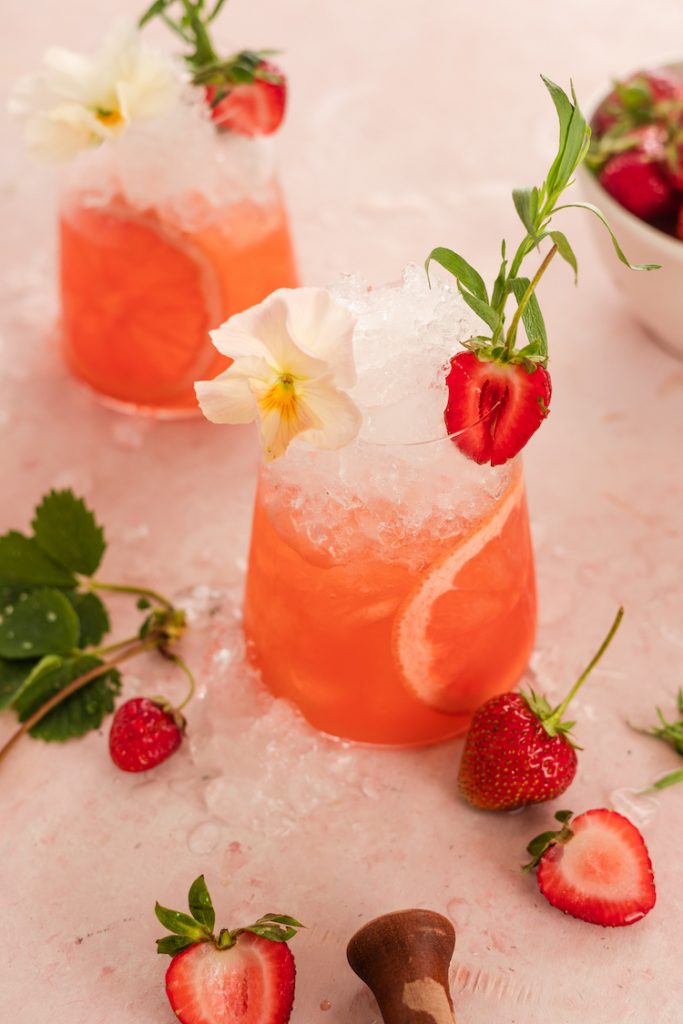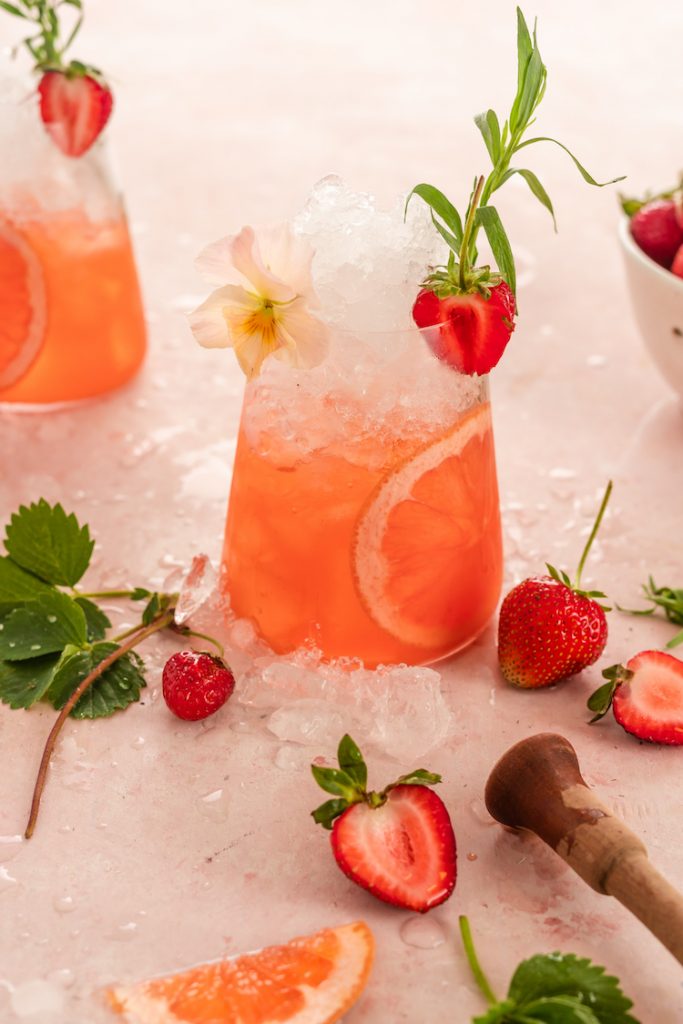 Print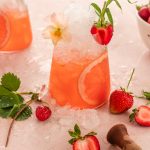 Strawberry Tarragon Smash cocktail
---
Description
The Strawberry Tarragon Smash cocktail uses juicy strawberries and tequila with the addition of tarragon and a kiss of vinegar for a sweet and savory cocktail you'll want to keep sipping!
---
4

STRAWBERRIES, MUDDLED 

1 TSP

SUGAR

1

TARRAGON SPRIG

1 1/4 OZ

TEQUILA

1 OZ

APEROL

3/4 OZ

GRAPEFRUIT JUICE

1 TSP

APPLE CIDER VINEGAR
Garnish: strawberry tarragon, grapefruit slice, edible flower,
---
Instructions
Muddle strawberries with sugar in shaker.
Add tarragon & gently muddle.
Add Tequila, Aperol, grapefruit & vinegar.
Shake with ice & double strain into a glass with crushed ice.
Garnish with strawberry, tarragon, grapefruit, edible flower.
---