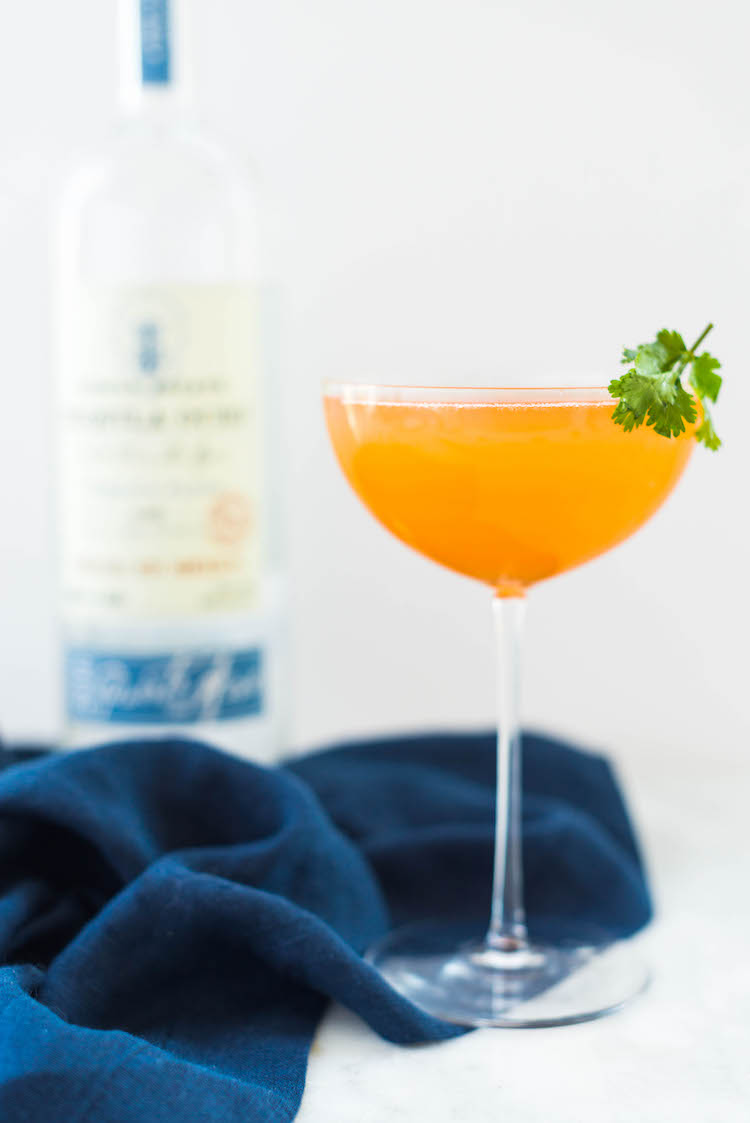 Though I tend towards the fruity or super spirit forward cocktails, I do love a good savory cocktail now and again. Never a fan of Blood Mary's (yeah yeah, I know), I like to mix in other vegetable juices, herbs, and syrups into my drinks to lend a savory component to a libation. One of my favorites? Carrot juice. Although savory, it still has some sweetness that goes well with many spirits and citrus. The Zanahoria Verde cocktail I whipped up recently is a tasty sweet and savory drink that would be perfect for Cinco de Mayo in place of margaritas or on any ol' spring or summer day.
The Zanahoria Verde is made with Ancho Reyes Verde. The new expression from bartender loved Ancho Reyes Chili Liqueur, Verde is bright and just screams green! Where Ancho Reyes is smokey and earthy, the Verde is vegetal with subtle herbaceous notes. Both use the versatile poblano chili, but instead of using anchos chilis (the term for dried poblanos), Verde leaves them undried which highlights the fresh from the garden pepper taste. There is a bit of sweetness that tempers both the vegetal notes and the hint of spiciness that creeps through on the palate.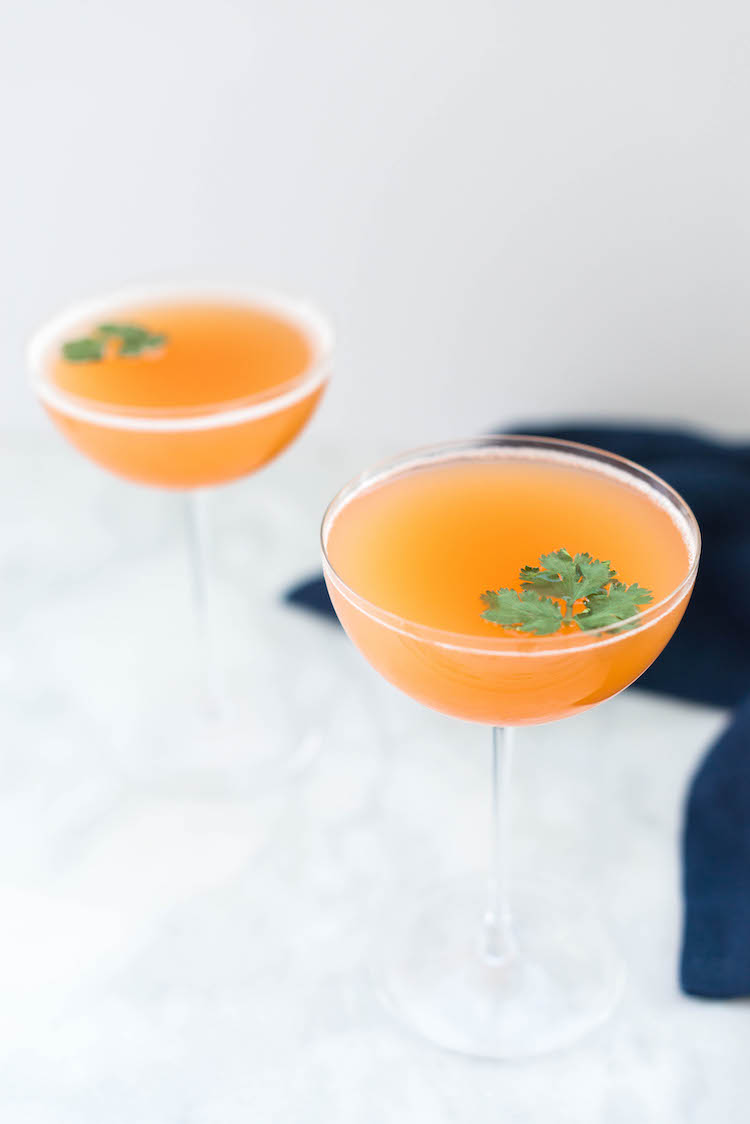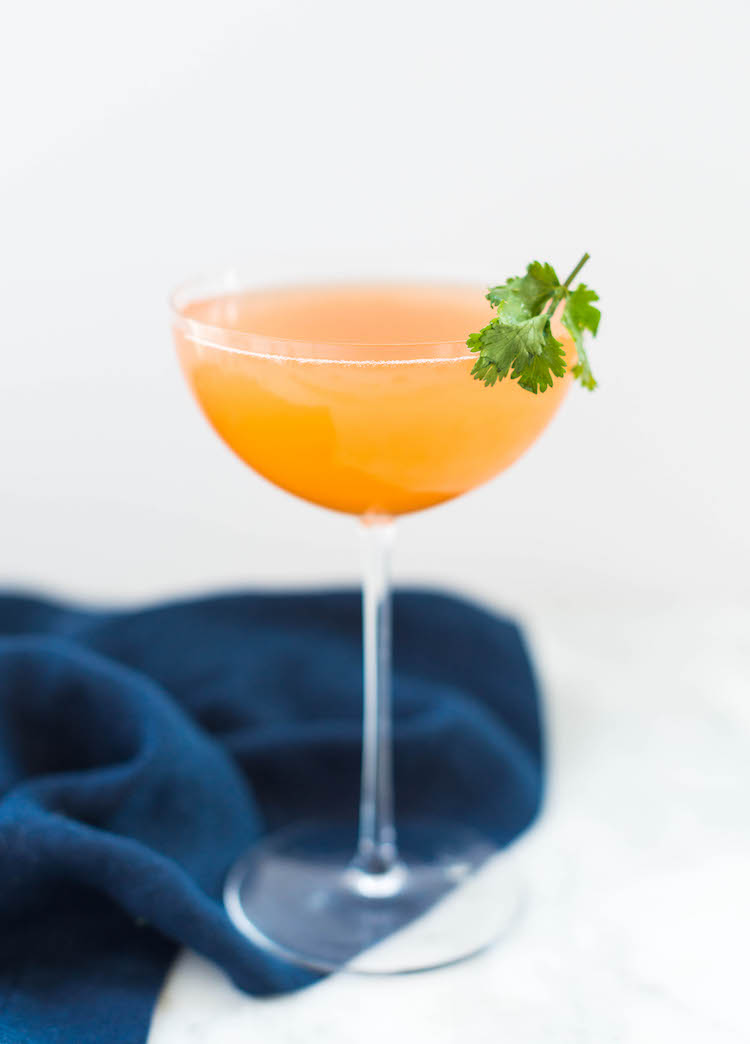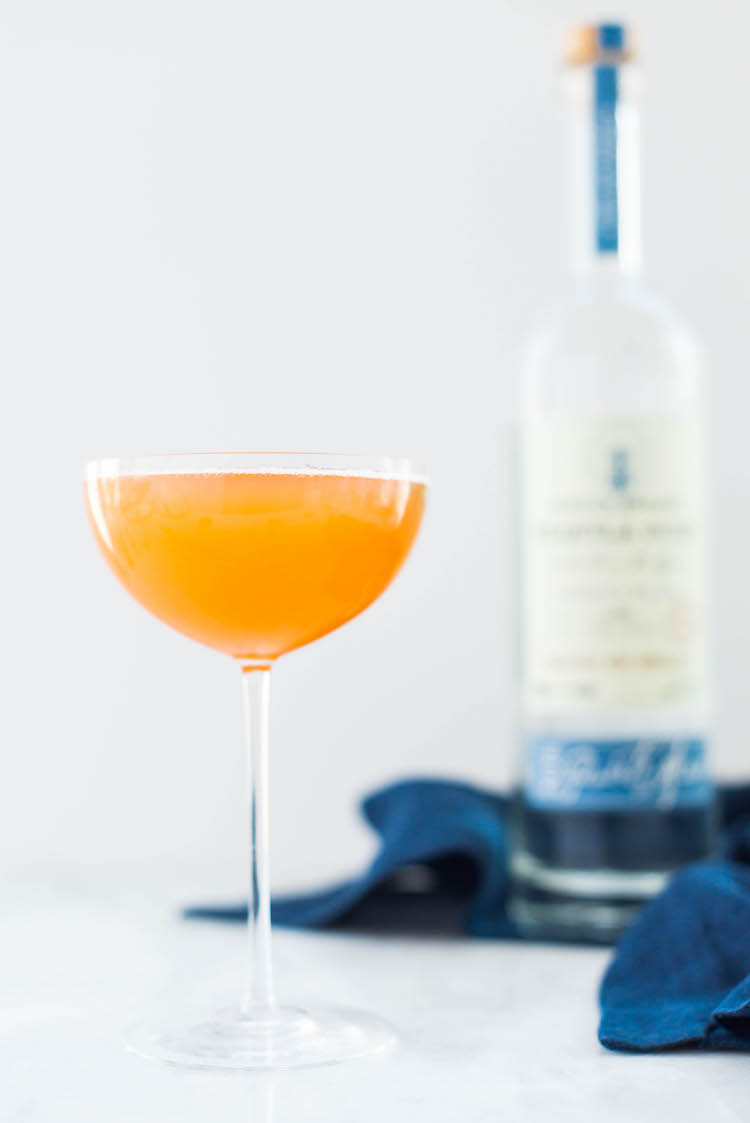 Rather than finding a contrasting flavor to pair it with, I went with complimentary vegetal ingredients. Carrot juice is slightly sweet with a crisp subtly flavor that allows the Verde to shine yet not take over. Pineapple juice is tart, bight while adding sweetness which lands the cocktail in both the sweet and savory category. For the base spirit, tequila is a natural choice, lending earthy notes of it's own. I used Tequila Ocho. The single estate tequila is made with 100% blue agave that has some fruity, peppery notes with the characteristic vegetal notes with some salinity. Perfect here! Agave syrup is a great sweetener here, but I would like to see how honey pairs with it. Topped off with cilantro for both a pop of color and adding some herbal notes on the front of the palate as you sip.
I am flying back from Florida today after over a month of traveling and spending time with family so I am planning to make a round (or quite a few) of these tonight when I touch down. Paired with fresh guacamole, pajamas and lots of Netflix, it's exactly what I'll need!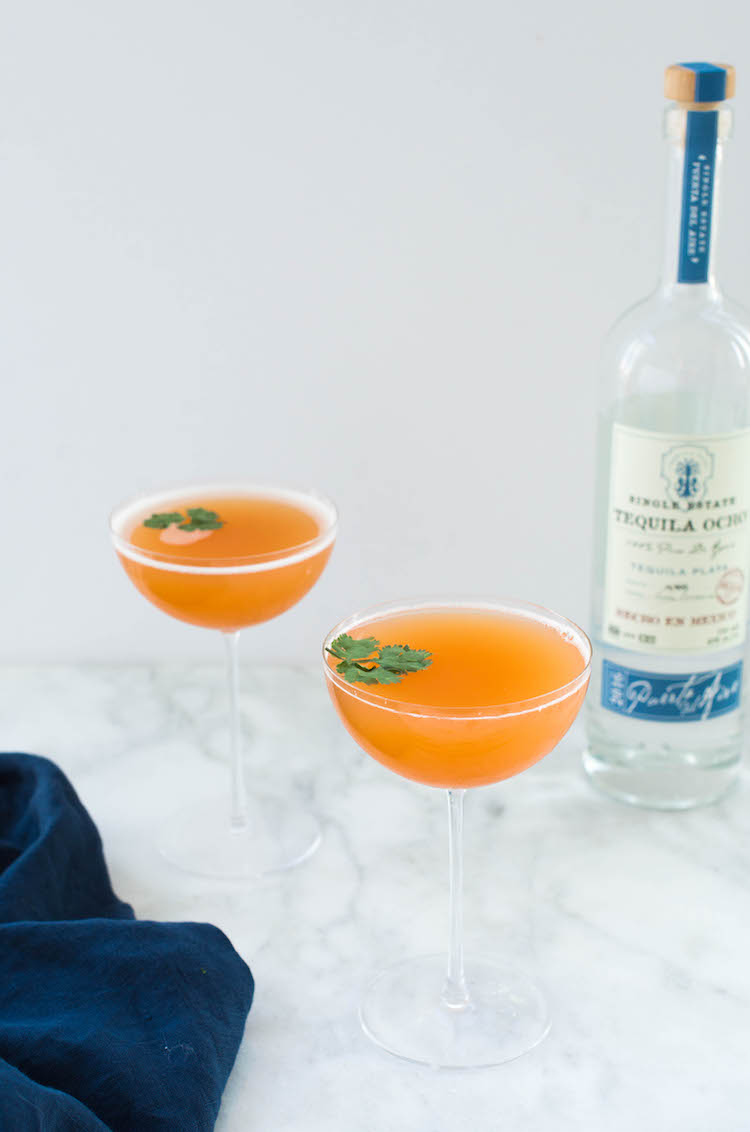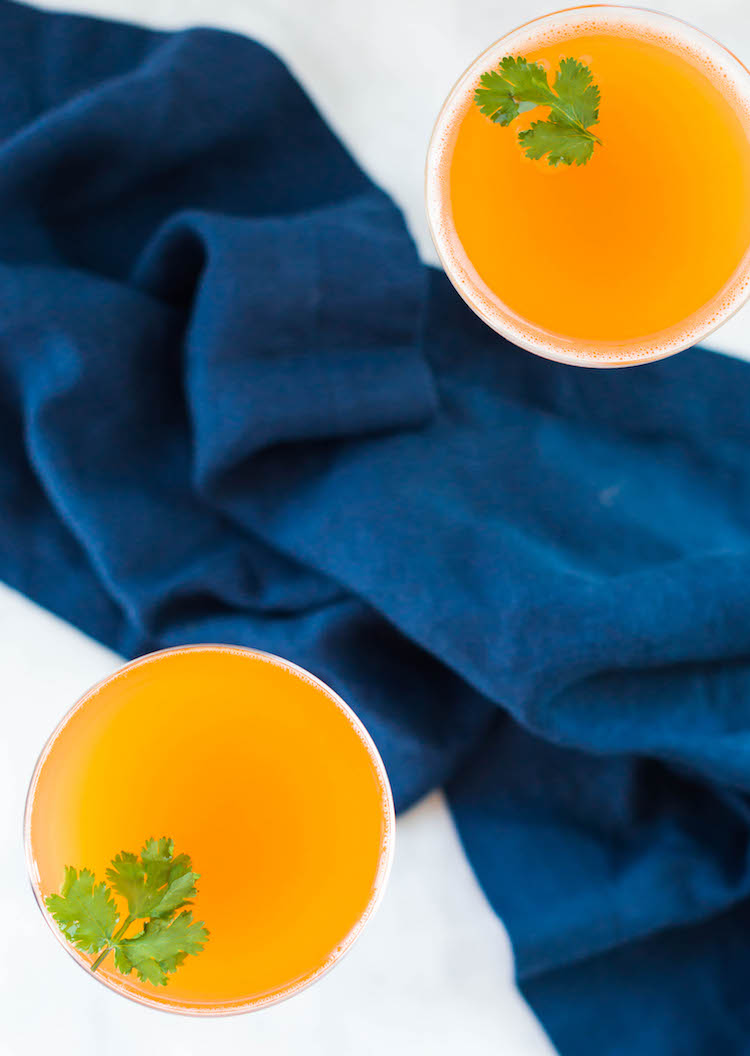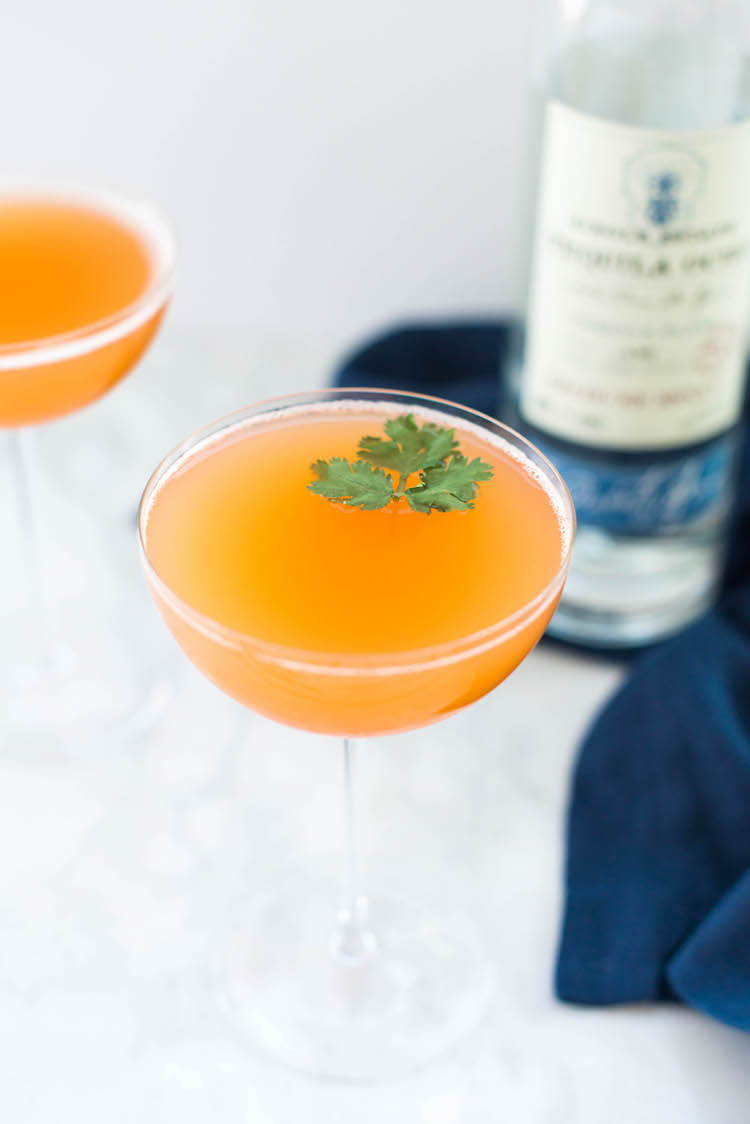 The Zanahoria Verde (The Green Carrot)
1 oz Ancho Reyes Verde
3/4 oz silver tequila, preferable Tequila Ocho Plata
2 oz fresh pineapple juice
1/2 oz carrot juice
1/4 oz agave
garnish: cilantro sprig
Add all liquid ingredients into a shaker with ice. Shake and strain into a coupe glass. Smack cilantro on the side of the glass to release oils. Garnish with the cilantro sprig.
Product was provided by Tequila Ocho, but all opinions and recipes are my own.