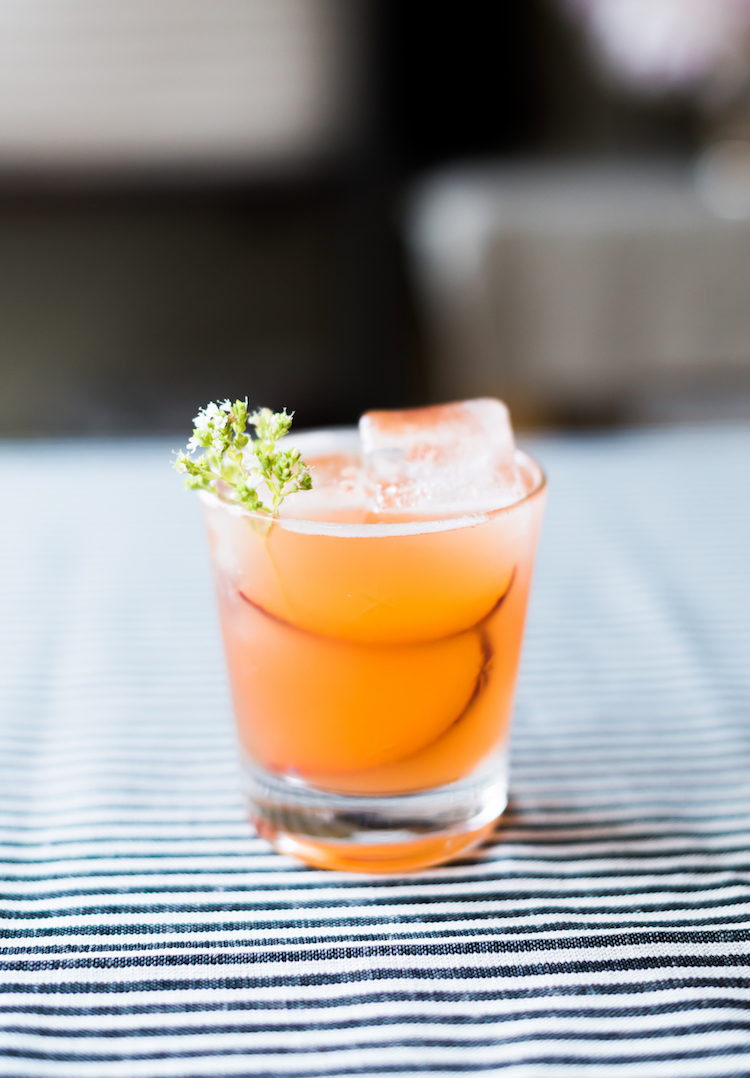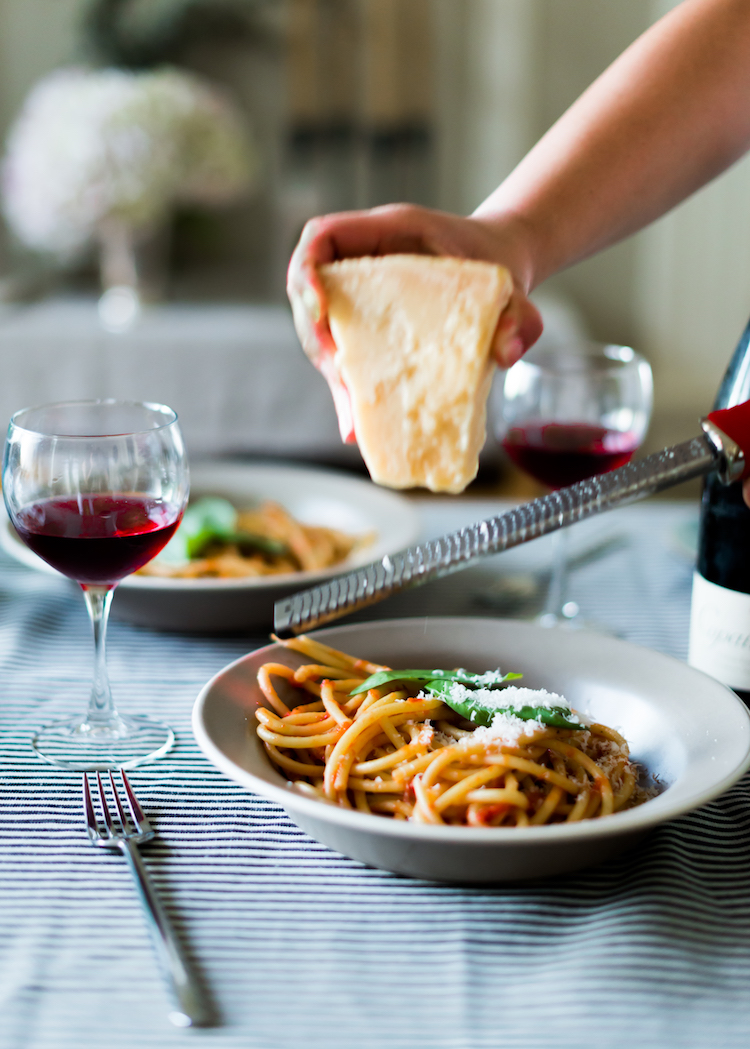 When the weather heats up, the last thing you want is complicated meals prepared for hours over a hot oven. Serving mostly non-cook dishes will cut back on the sweat and tears and leave more time for what matters most, enjoy time with friends sipping on a cold drink.I recently got together with a few of my friends to have a simple dinner party. This lovely meal was not a styled shoot in fact, I snapped some photos during a genuine meal among friends (that's right, we got to eat + drink everything in the photos, which is not always the case for blog posts. You can even spy a watchful cat in one of them.) Here are some tips for hosting your own simple summer dinner party.
When it comes to the table setting, don't make it complicated, keep it simple. Simple does not = boring in my book. Take for instance the beautiful chic table the darling Meredith of Remodelista/Gardenista put together. Earthy tones, indigo napkins, stripped muted tablecloth and neutral ceramic plates with a pop of color from a bunch of flowers in a Julep cup (I love using them as vases) keeps the meal the star of the show. It's minimalism at it's best!
We enjoyed a few bottles of wine that evening. Both of the wines served are a little more non-traditional, a semi sparkling white and a chilled red, but they really made the meal shine. Wine is a great choice for summer, its easy and you can find one to pair with just about anything. Despite being a wine lover, however, it's no surprise I have a sweet spot for cocktails so I also mixed up a shrub cocktail that we sipped on before dessert (recipe at the bottom if that is what you are looking for!)
My favorite first course for any dinner party, summer or winter, is a cheese plate. It is easily customizable with different cheeses, fruit, nuts and toppings. For the dinner party we had marcona almonds, taralli crackers from AG Ferrari, + dried apricots to accompany a soft creamy cheese with honey and a hard truffled cheese. This was paired with a white Vino Verde which has a bit of effervescence to it which helped break through the rich cheese (I said cheese 5 times in that short paragraph, I reeeeally like cheese!)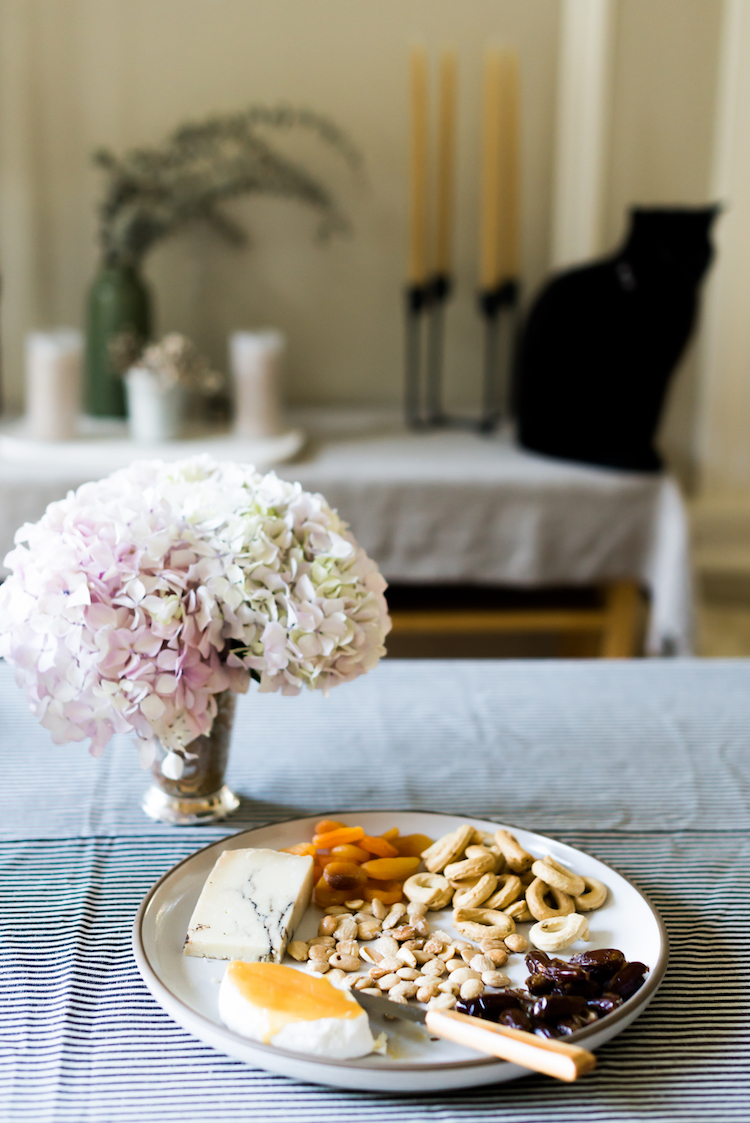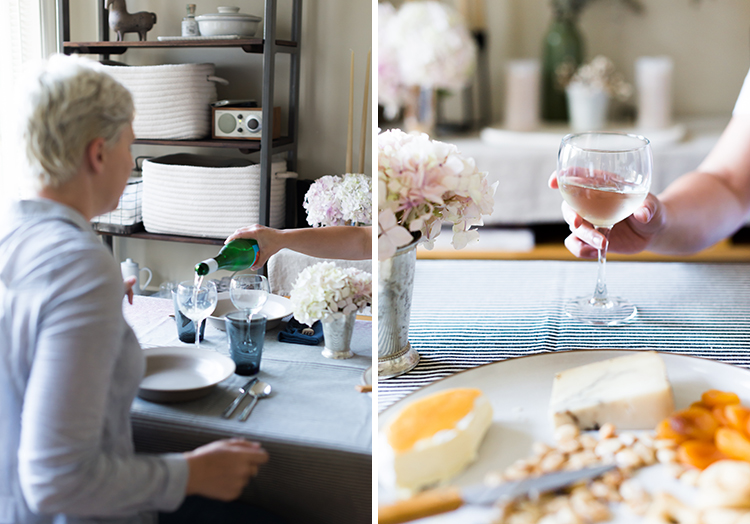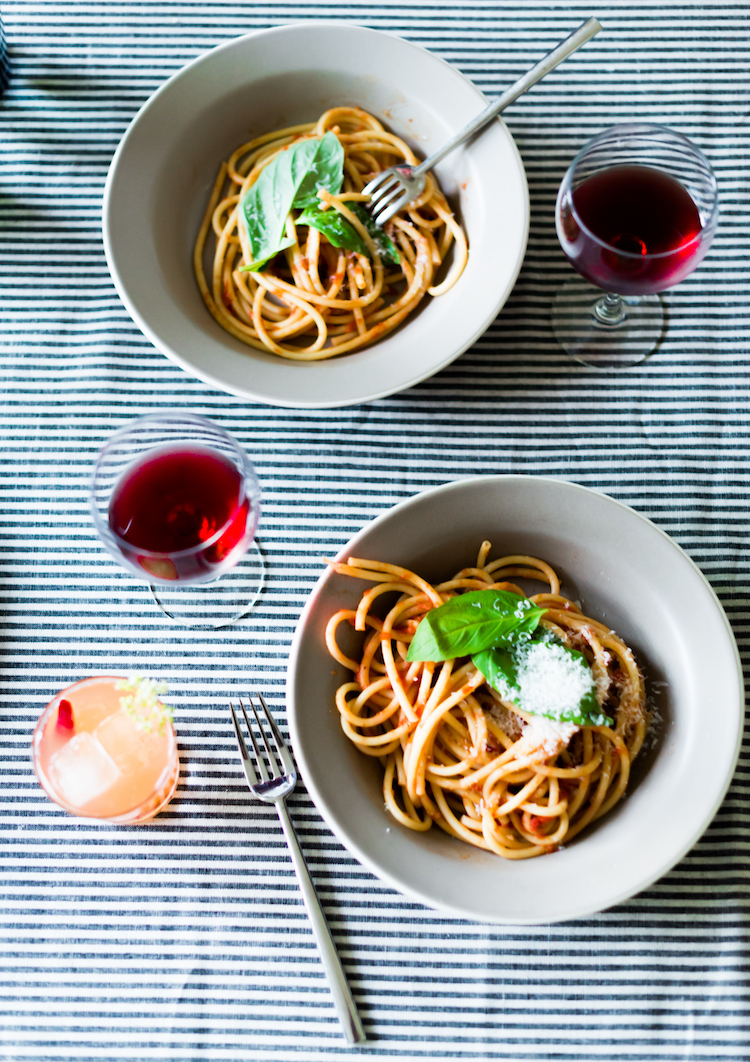 Serve a chilled appetizer to cut down on cooking, which means more time spent catching up with friends and sipping wine. We had burrata a top snap peas and green beans with micro greens and an olive oil dressing. You can stick burrata on just about anything and I'll eat it, you can't not love cheese rapped in more cheese. No shame. In this dish, the fresh, snappy summer peas and waxy beans are a nice contrast to the luxuriously creamy cheese.
For the main dish, it's ok to have something cooked, just make it ones requires little effort to reduce slaving over a stove in 90 degree weather. Pasta is often reserved for cooler weather, but it works well in summer too. It is quick and easy to set and forget. Fresh summer veggies like zucchini and tomatoes can be thrown into a sauce for a bright finish to perfectly al dente pasta.
Thick Bucatini pasta topped with plump, ripe heirloom tomato sauce was the main event for us. Fresh grated parmesan (no sprinkle cheese here) + herbal basil leaves topped the pasta to elevate the humble dish. We served my favorite wine as of late with the pasta, P2 from Copain. It's a blend of 50/50 Pinot Noir and Pinot Gris, served lightly chilled. Reds are often the choice wine to be paired with pasta, but being a rather warm day, the chilled wine was particularly inviting. It also melds beautifully with the acidity from the tomato sauce and the fresh parmesan cheese.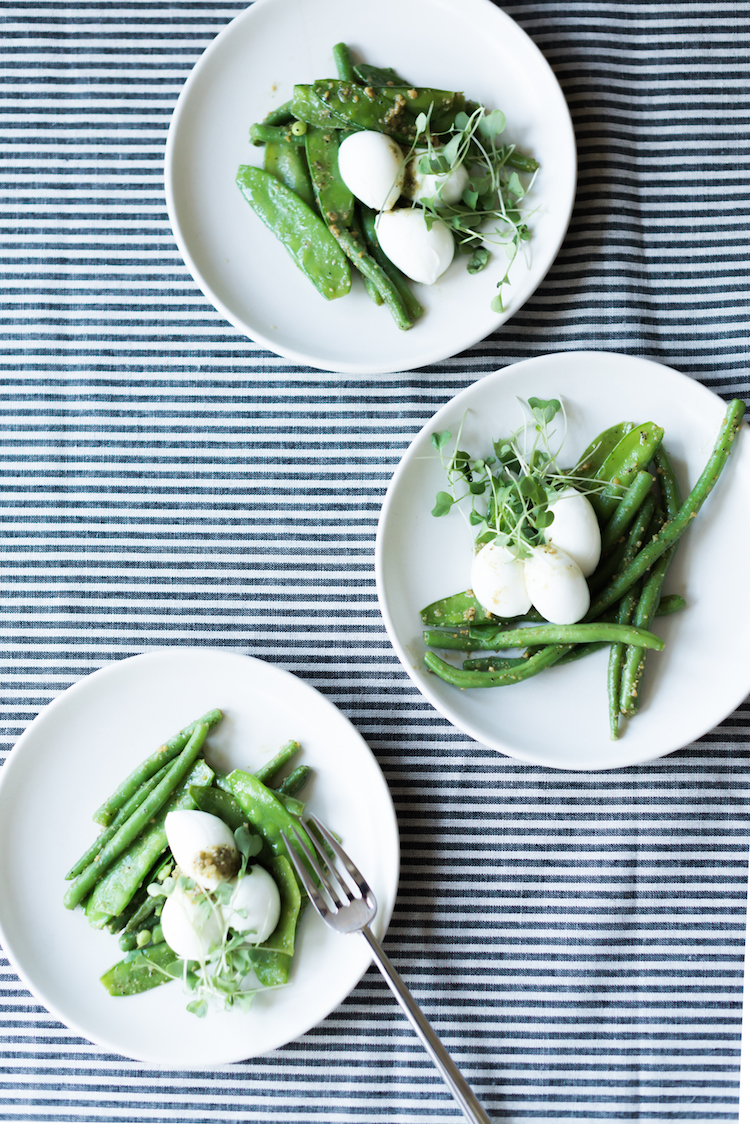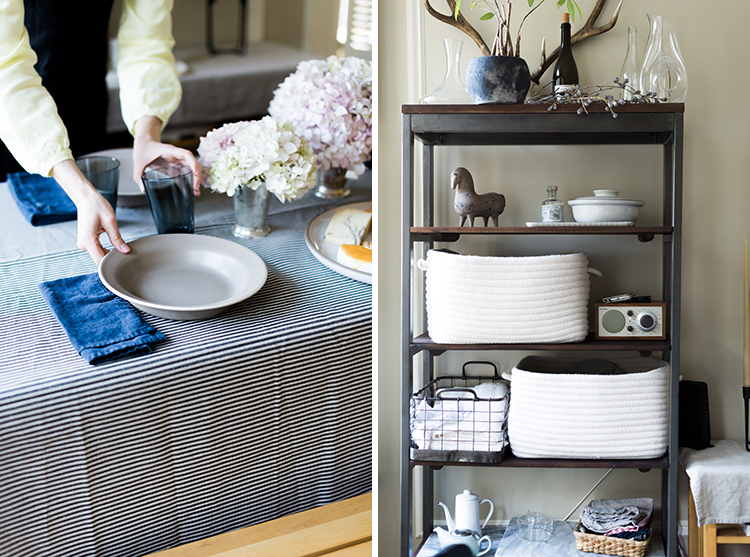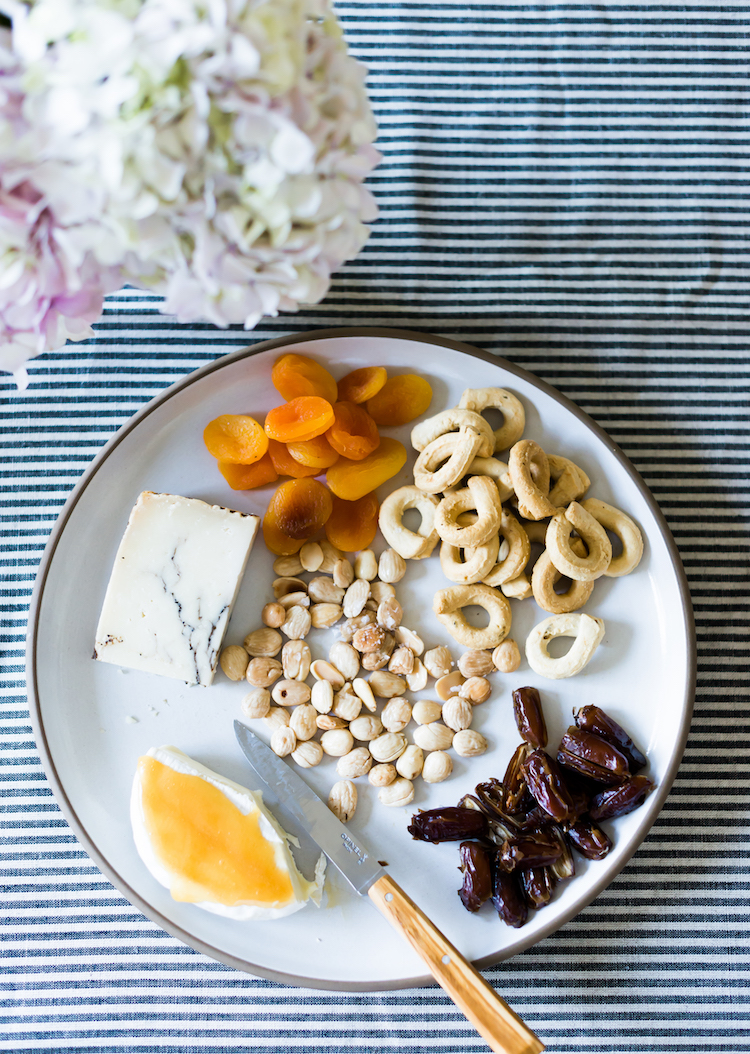 As bit of a palate cleanser and digestif between the pasta dish and our delectable dessert, I mixed up a Pluot Pineapple Shurb cocktail. If you are scratching your head wondering why I put a bush in my cocktail, let me tell you a little about the other kind of shrub. Shrubs are fruity, sweet drinking vinegars that go GREAT in cocktails. They help preserve the flavors when summer's bounty has long gone. Sharp acidity with bright fruit notes that is mellowed out with sugar. It creates a lovely balance in a cocktail and you can be making stone fruit cocktails well into fall!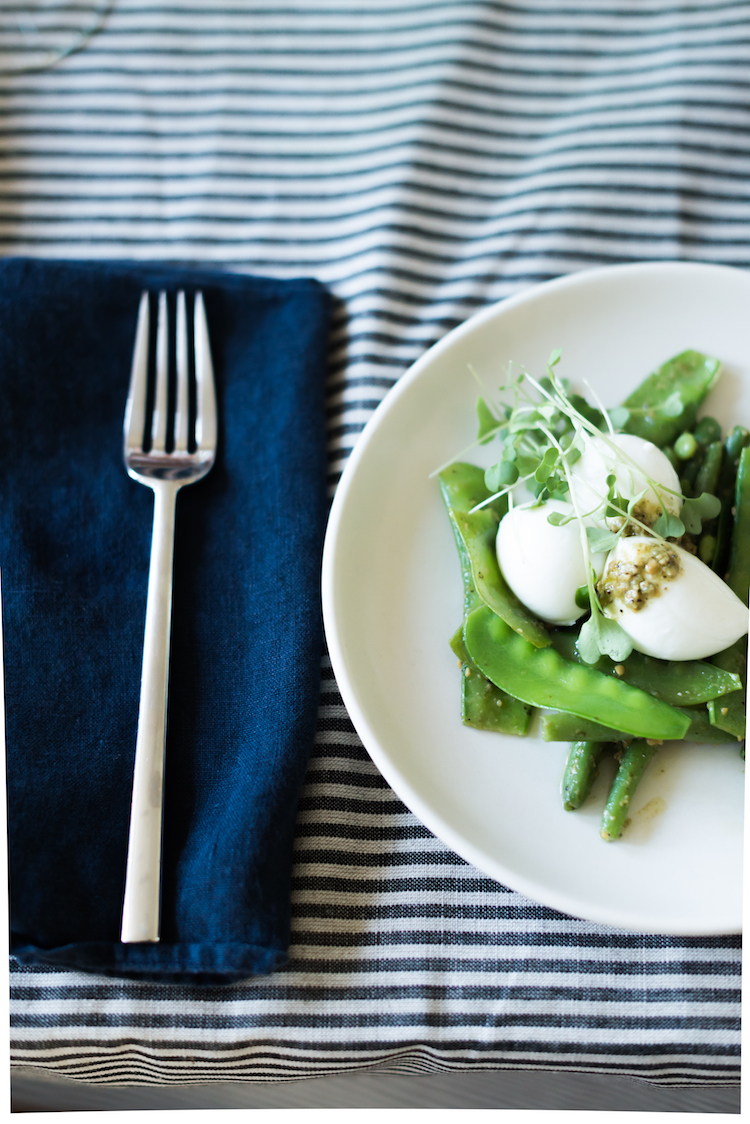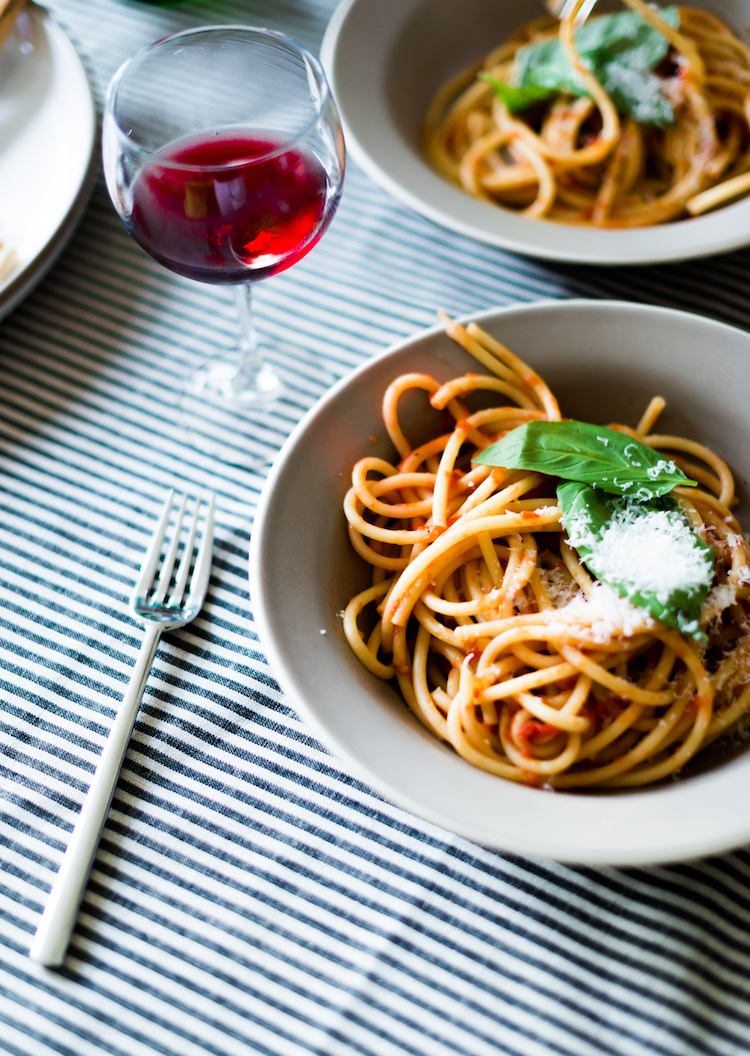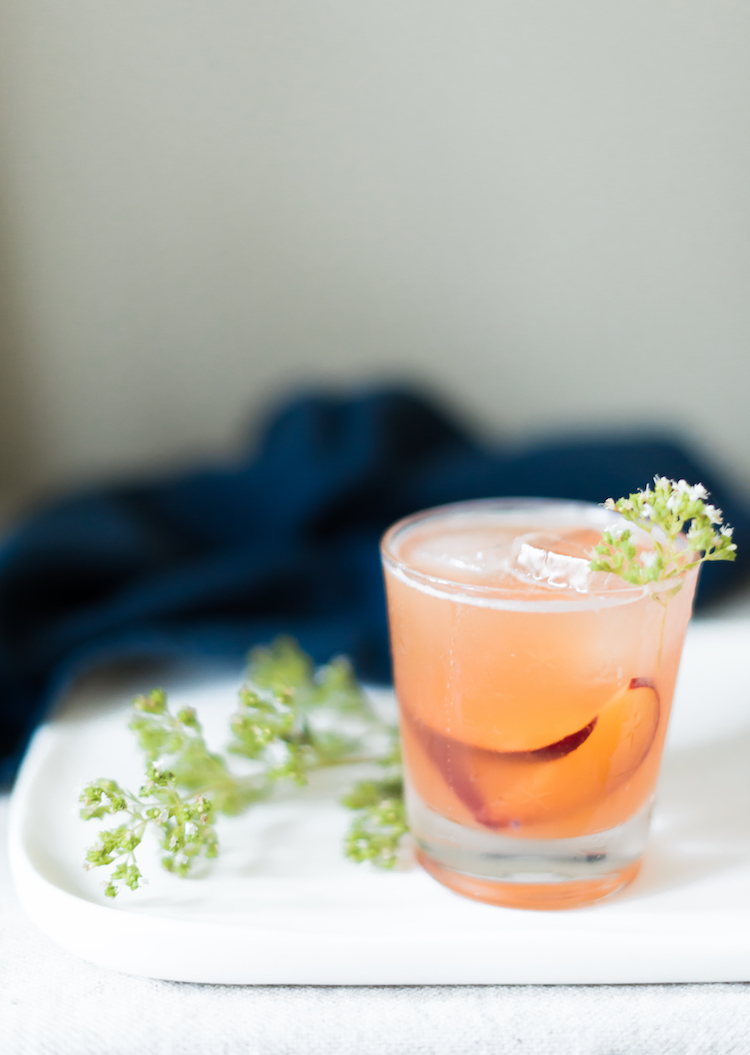 If you are not able to head to SHED for the shrubs, you can make your own or get a bottle of them. A plum, blackberry, or peach shrub would be great in this recipe too in place of the pluot, which is a delicious plum + apricot hybrid fruit.
Pineapple Pluot Shrub Cocktail
1 3/4 oz gin (I used local Anchor Distillery's Junipero Gin)
3 oz fresh pineapple juice
3/4 oz basil pluot shrub (or other stonefruit shrub)
1/3 oz lime juice
1/4 oz simple syrup
pluot or plum slices, garnish
*blooming oregano, garnish (optional)
Juice pineapple juice. Add all ingredients except garnish into a shaker with ice. Shake and strain into a rocks glass with ice. Garnish with blooming oregano and pluot slices.
*I got blooming oregano from the farmer's market which has it periodically through spring and summer. If you don't see any at your's, ask around to vendors who sell herbs, they may have it but are not selling it and might bring you some the next week.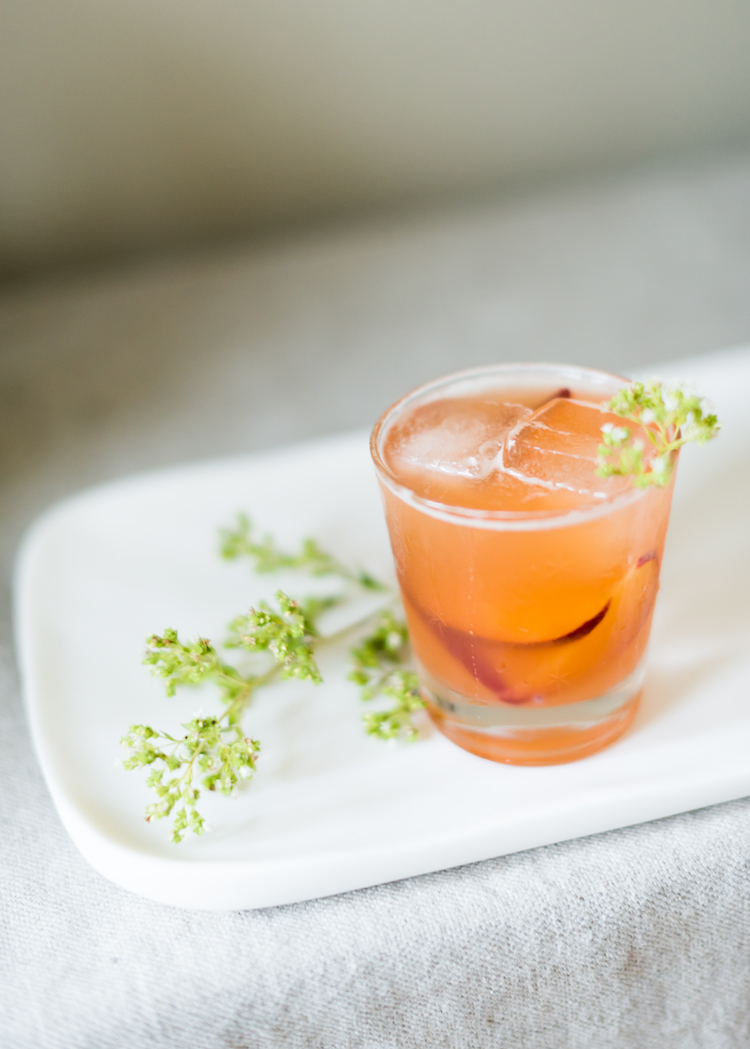 For dessert, there is no better summer treat than ice cream. Nothing. Whether homemade or store bought, a scoop or two to cap off a meal is a treat that ends everything on a cooling high note. We enjoyed a homemade strawberry ice cream with stracciatella chocolate bites through out. Strawberries are so rip and sweet this time of year and it happen to be my favorite flavor of ice cream. Drizzled in at the end of churning, liquid chocolate creates crunchy ribbons that make this ice cream a really special way to end a summer's eve meal shared with friends.
Thank you to Meredith for welcoming us into your home and Leslie of Spotted SF + Kat for a lovely evening, lets do it again soon!