DOUGNUTS
Cakey, crumbly, cinnamony Apple Cider Doughnuts are a thing of beauty. Some of my fondest memories when I was little was visiting the local farms in south Jersey in the fall. Wandering through pumpkin patches picking the right plump gourd to carve while sipping on steamy apple cider was capped off with a box of a dozen or so apple cider doughnuts. I always snuck my chubby little hand into the box to grab a bite on the way home, the drive seemed devastatingly long to wait for a bite of this seasonal delicacy after waiting a whole year.
The Apple Cider Doughnut is an elusive species of the baked goods. I have commiserated with west acoast appreciators that hail from the north east like myself, while others from the mid western states recall farm stands serving up apple cinnamon oughnuts. The south and west coast sadly seem to have not caught on.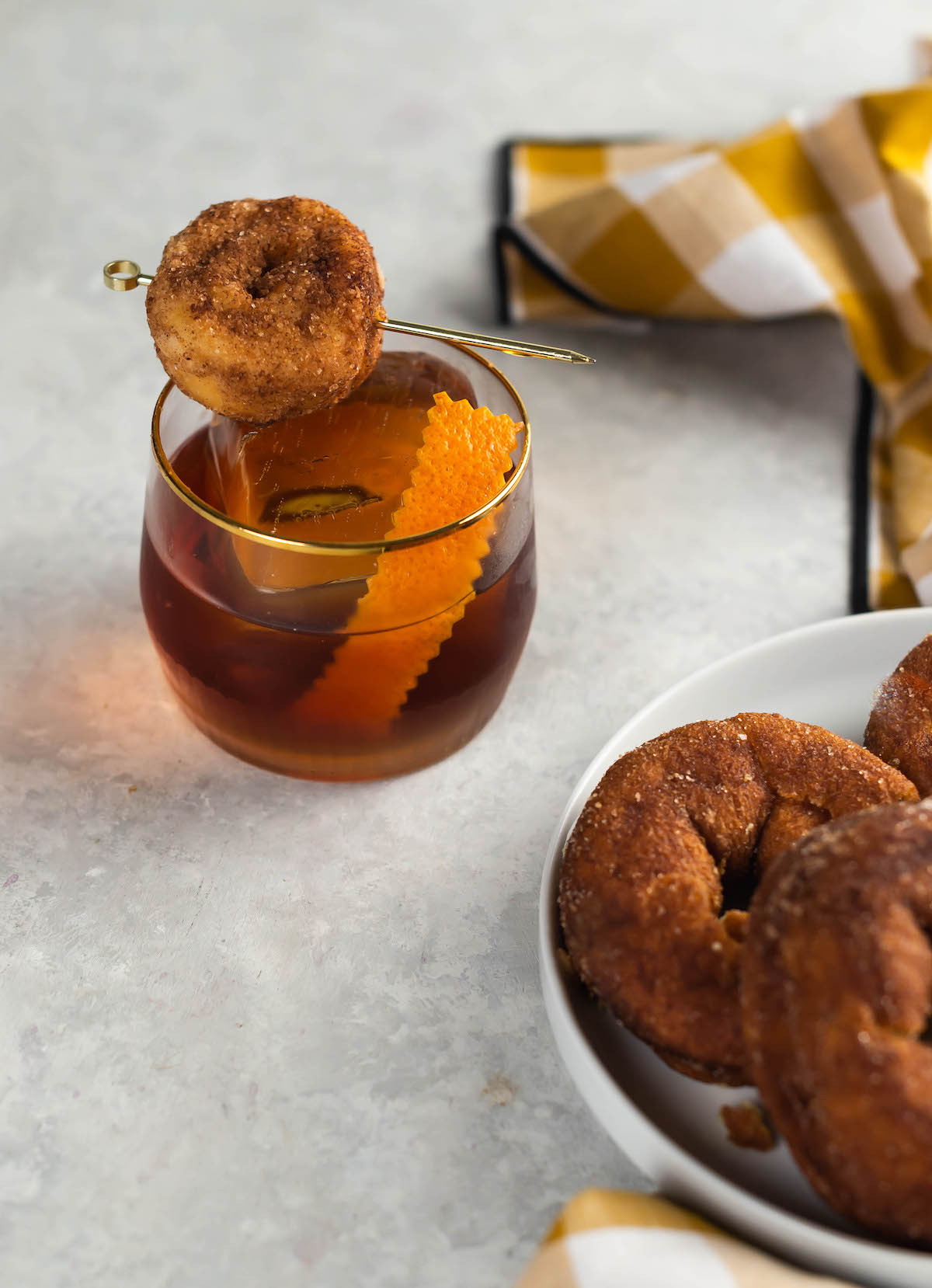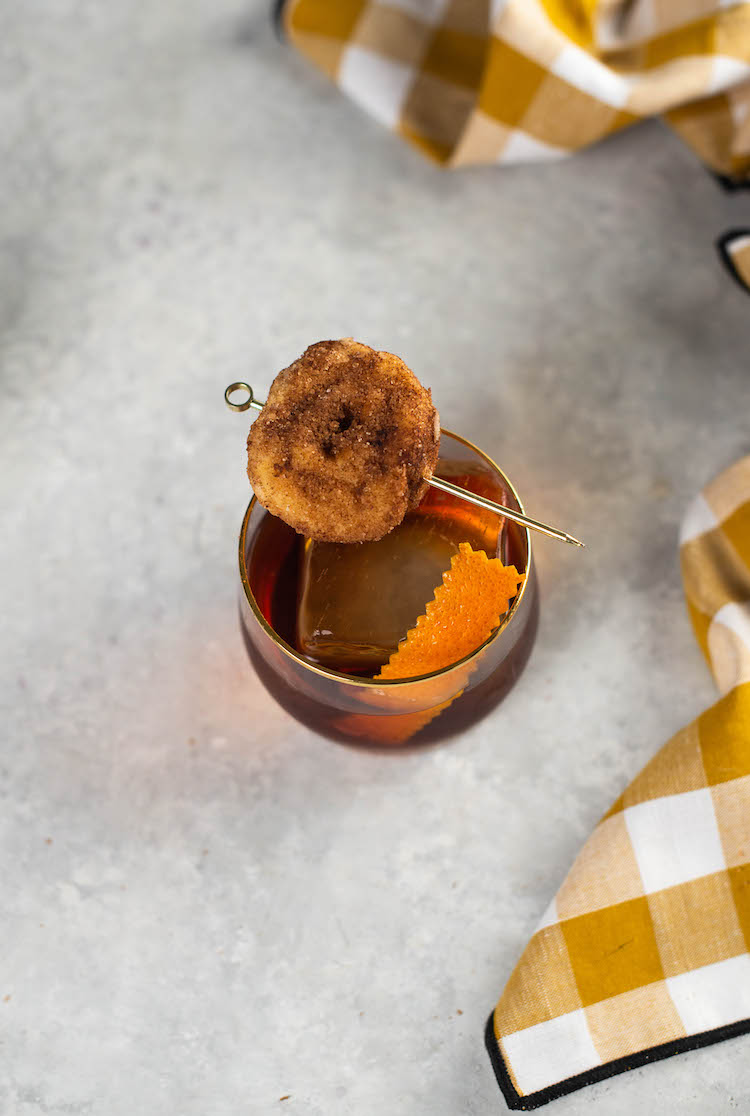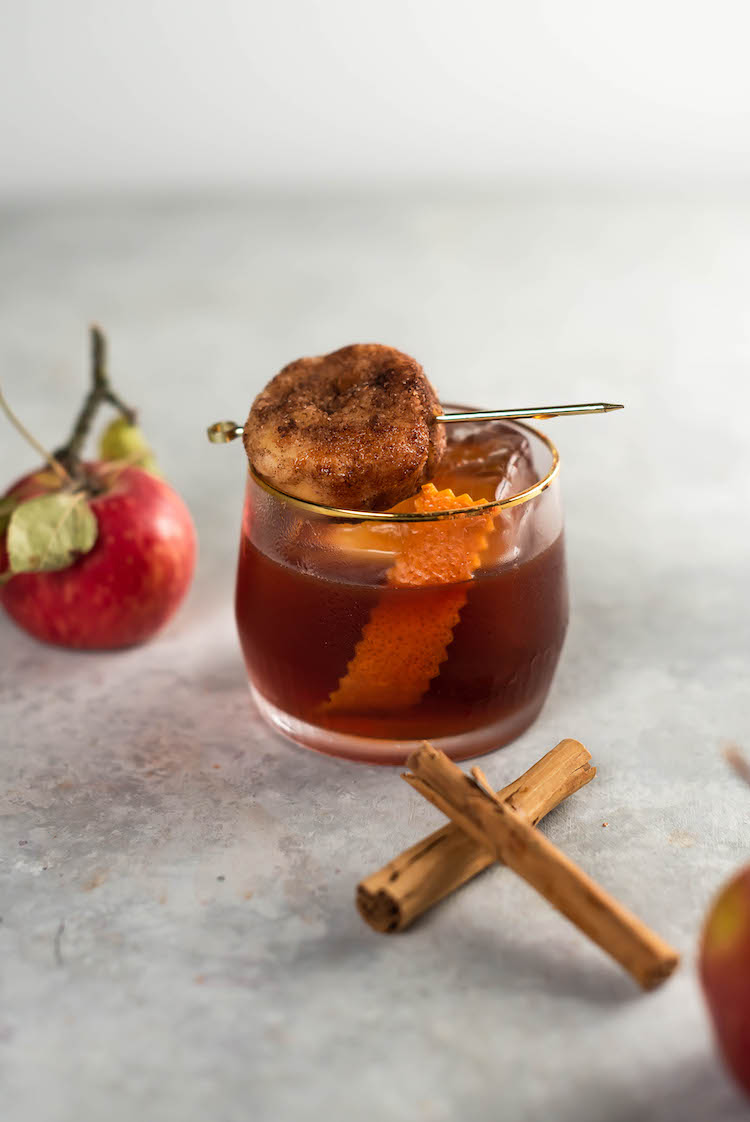 What sets the Apple Cider Doughnut apart from it's yeasty and glazed counterparts? They are baked without yeast, making them a style of cake doughnuts. There is a whisper of apple, but the ciders main purpose is to make the doughnuts unbelievably tender. Cake tend to be more dry and crumbly, but the cider really sets this style of doughnut apart. Dusted in cinnamon and sugar, Apple Cider Doughnuts are a simple pleasure. I was lucky enough to have my best friend Tierney visit from New Jersey recently and brought me some Apple Cider Doughnuts (mostly because I would not shut up about them.) They were even better than I remember!
OLD FASHIONED
Because of my intense love for these doughnuts (partially driven by the fact that I just can't get them on the west coast) I wanted to translate these flavors into a cocktail, naturally. With the doughnuts being elusive, I made this Apple Cider Doughnut Old Fashioned using regular yeast doughnuts and an apple cider syrup that can be replicated easily, no mater your proximity to an apple farm. I preferred the infusion of yeast doughnuts in the bourbon, it stood out more as a doughnuts flavor verses an infusion of cake doughnuts. The idea for the Doughnut Old Fashioned came from Matt Grippo of Black Bird here in SF, who had one on their menu and I feel in love. This Apple Cider Doughnut Old Fashioned is perfect for a fall party or cozy night in.
Print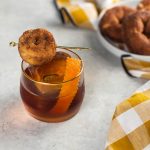 Apple Cider Doughnut Old Fashioned
Prep Time:

4 hours

Cook Time:

5 minutes

Total Time:

4 hours 5 minutes

Yield:

1

1

x
---
glass: old Fashioned glass
tools: bar spoon, skewer
2 oz

doughnut infused bourbon, recipe below

1/8 oz

apple cider syrup, recipe here

2

dashes Angostura aromatic bitters
garnish: orange peel, apple cider doughnut or cinnamon sugar doughnut
---
Instructions
In a glass with ice, add all the liquid ingredients and stir.
Strain into a glass.
Express orange peel over glass and drop in. Garnish with skewered doughnut.
Doughnut Infused Bourbon
1 cup bourbon
1 plain glazed doughnut
Cut doughnut into quarters. Add to jar and pour bourbon over the doughnuts. Let infuse for 4 hours. Use a fine mesh strainer and strain out the doughnut. Store in the fridge for a few months.
---