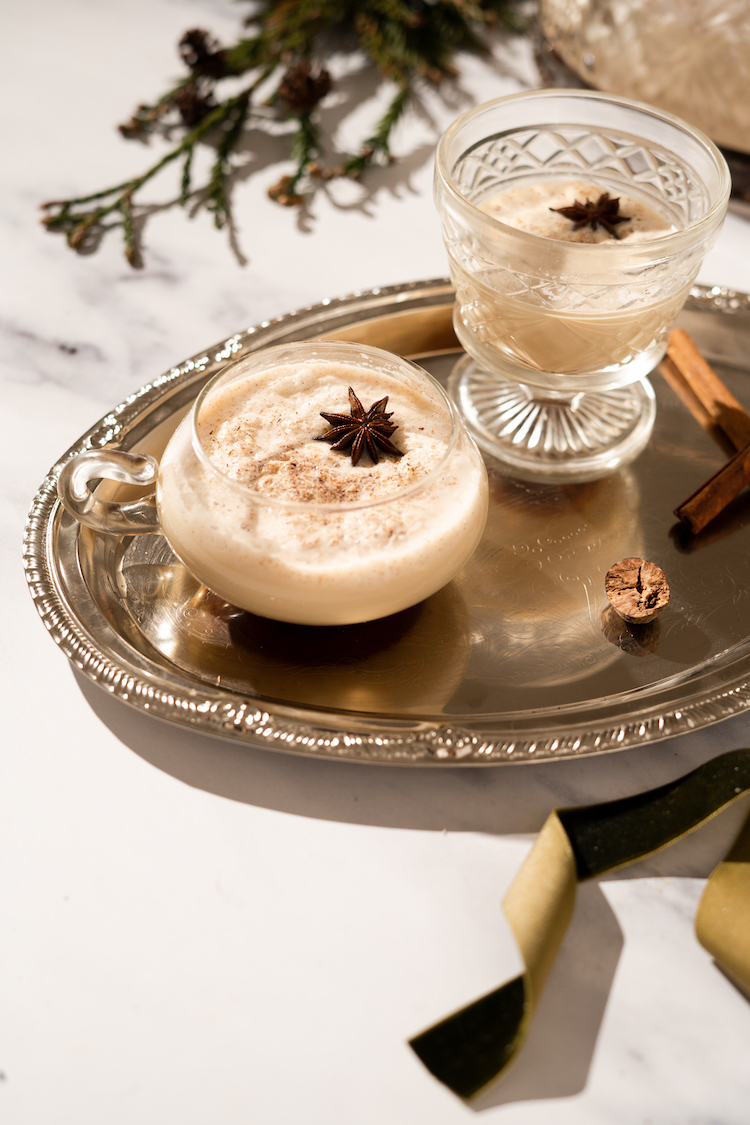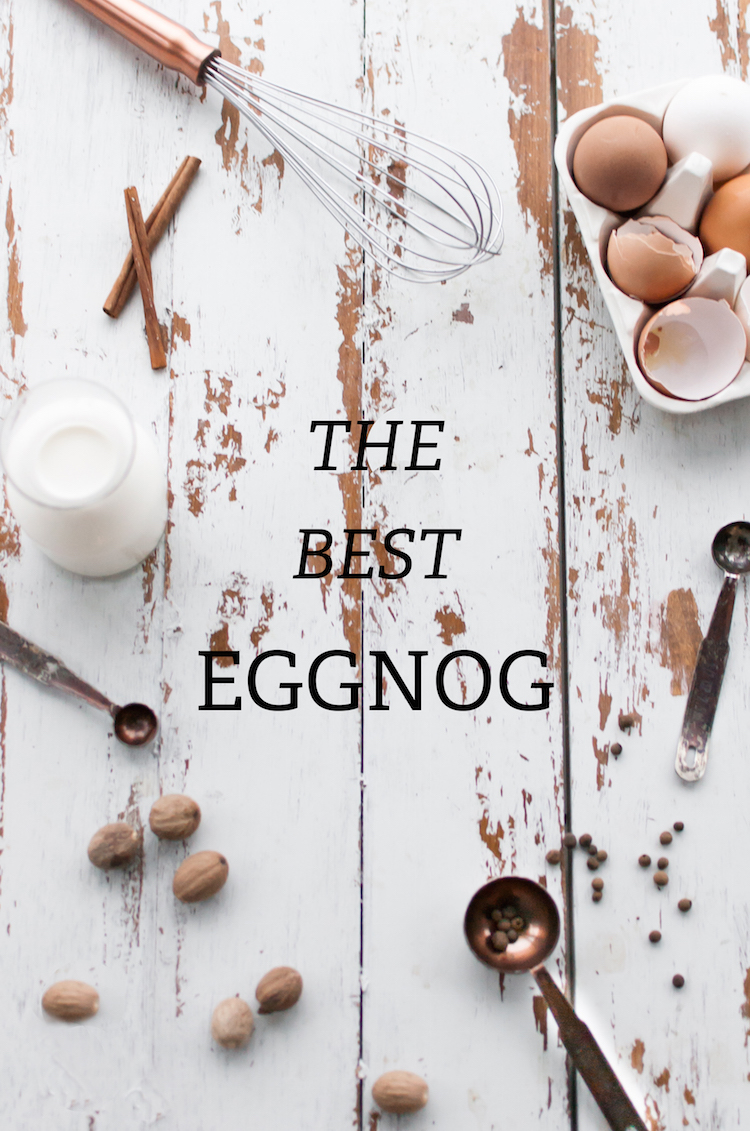 If Eggnog is not the official drink of Christmas, it should be! It's a staple this time of year and I can't imagine at least one glass of it before the holiday season is through. This year, I have had more than my fair share of glasses (all in the name of recipe testing, of course) so I am set, but I want to make sure you all get to try some delicious boozy, and dare I say it, the best eggnog you have ever had this year!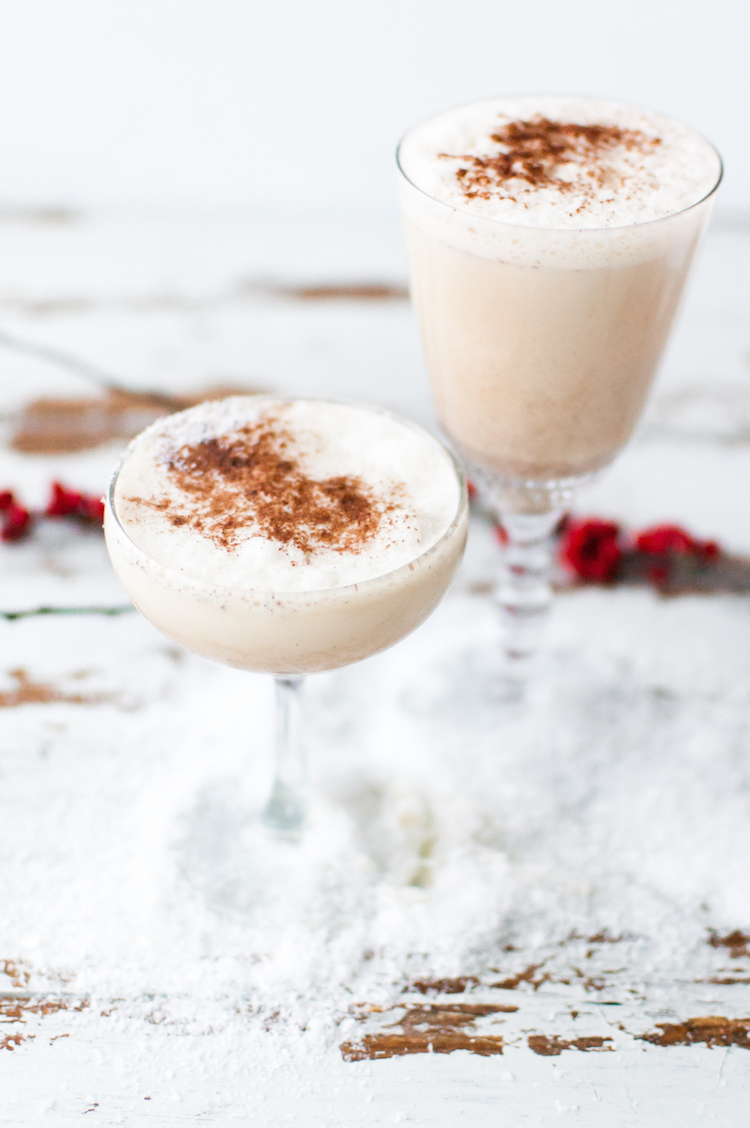 Yup, I said it! This stuff is amazing and will change your life & will convert most Eggnog hatters.
This is a traditional nog, no cartons of eggnog were harmed in the making (ick). Rum and bourbon based eggnogs date back to Colonial days, (they knew what they were doing when it came to booze, they created apple brandy and bourbon after all) and was prepare with cream, sugar, eggs and sometimes spices. It would allow fresh eggs from the summer and fall to last until winter. It was a drink for the more affluent of the time who had access to the fresh ingredients for the nog. Oh you fancy, huh?!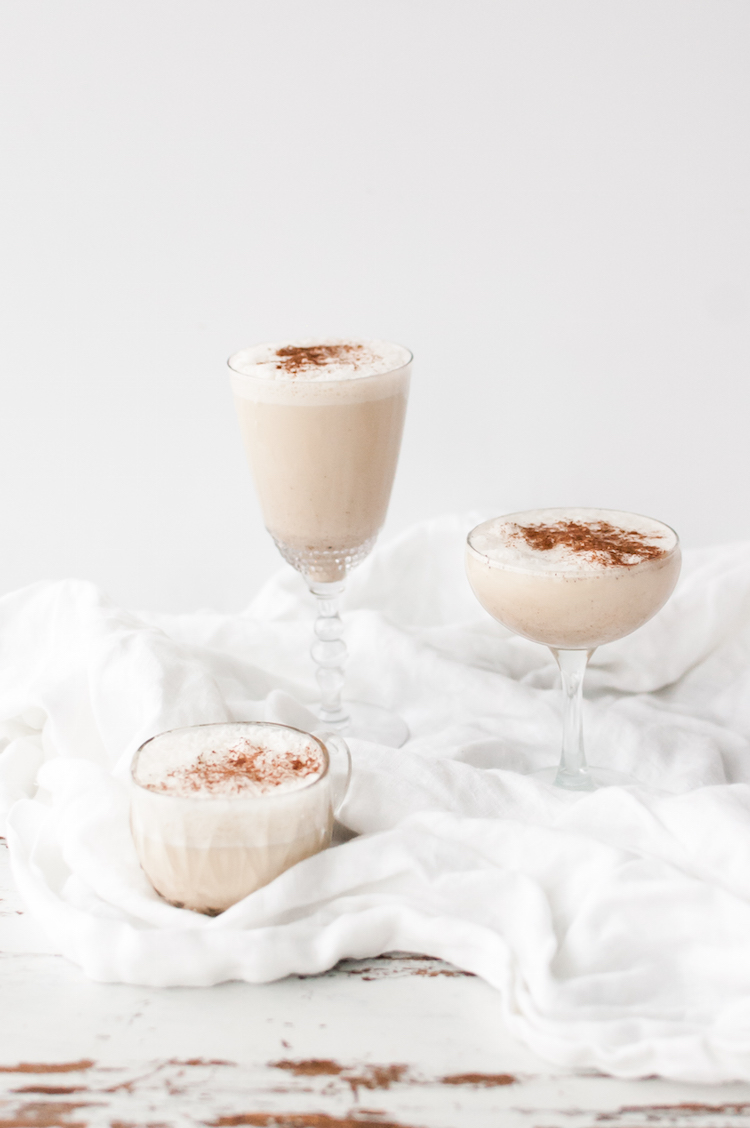 I added enough booze to this nog to knock Santa on his sack! Rum? Check. Bourbon? Check. Brandy? Check! All the staples for a delicious boozy nog. I even poured in some rye for good measure and added spice.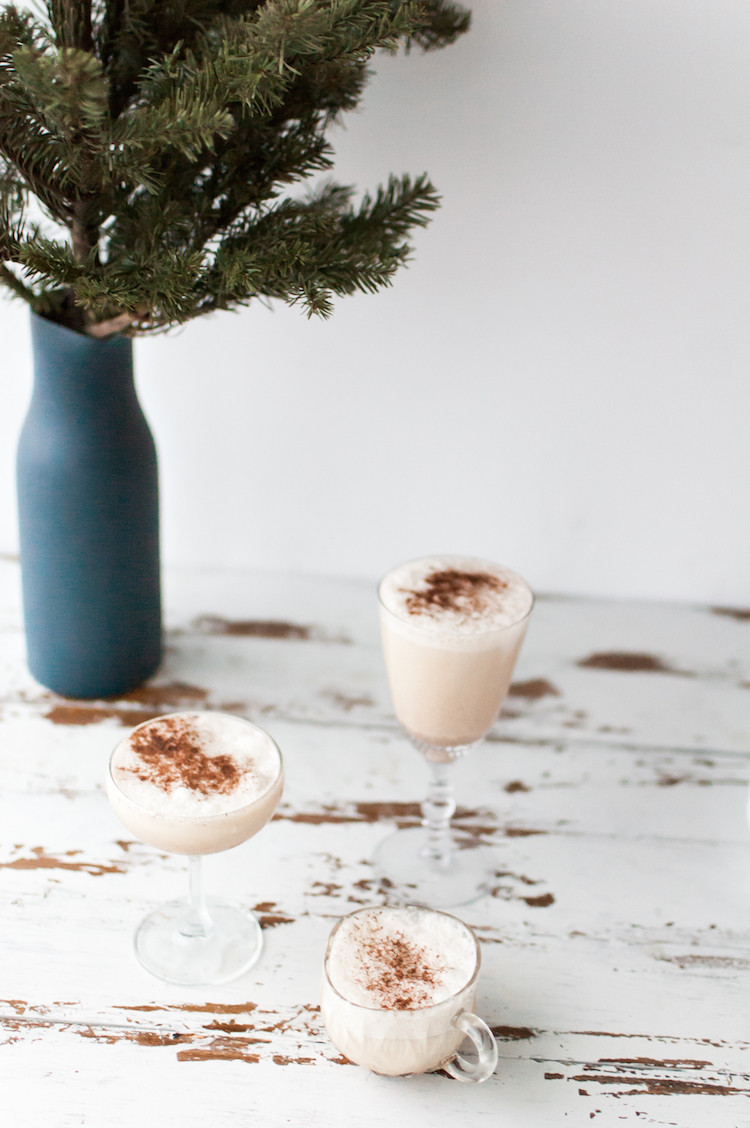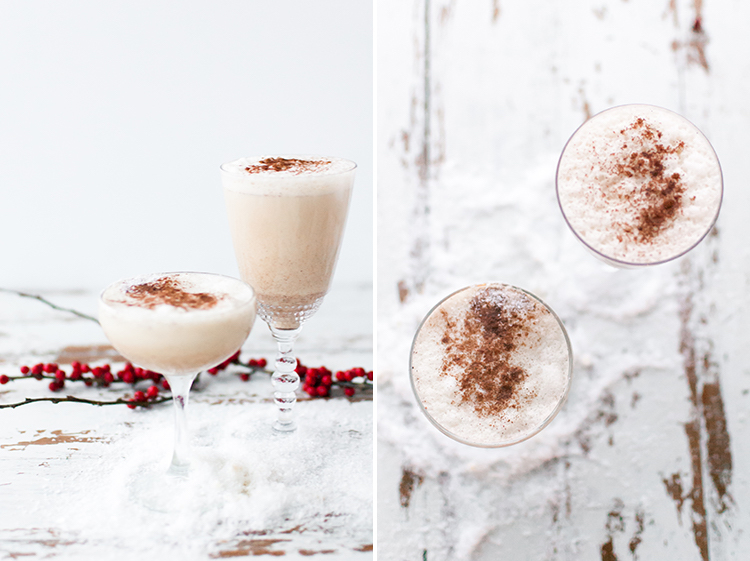 You can enjoy this recipe now OR you can age this for next Christmas! Yes, this is one thing you can make waaaay ahead to help save on holiday prep next year. If drinking raw eggs and milk that have been sitting around for a year in the fridge does not seem appealing, trust me, it's perfectly ok. Science says so. After a bit of aging, this stuff becomes pure liquid gold!
As long as the eggnog is made with 20% alcohol, it will keep it from spoiling and will even become better with time. Some magic happens when the cream, eggs, sugar, and booze are left alone together for a year. Their flavors meld and the booze mellows out and it turns into one heck of a delectable Yuletide greeting once the holidays roll around again!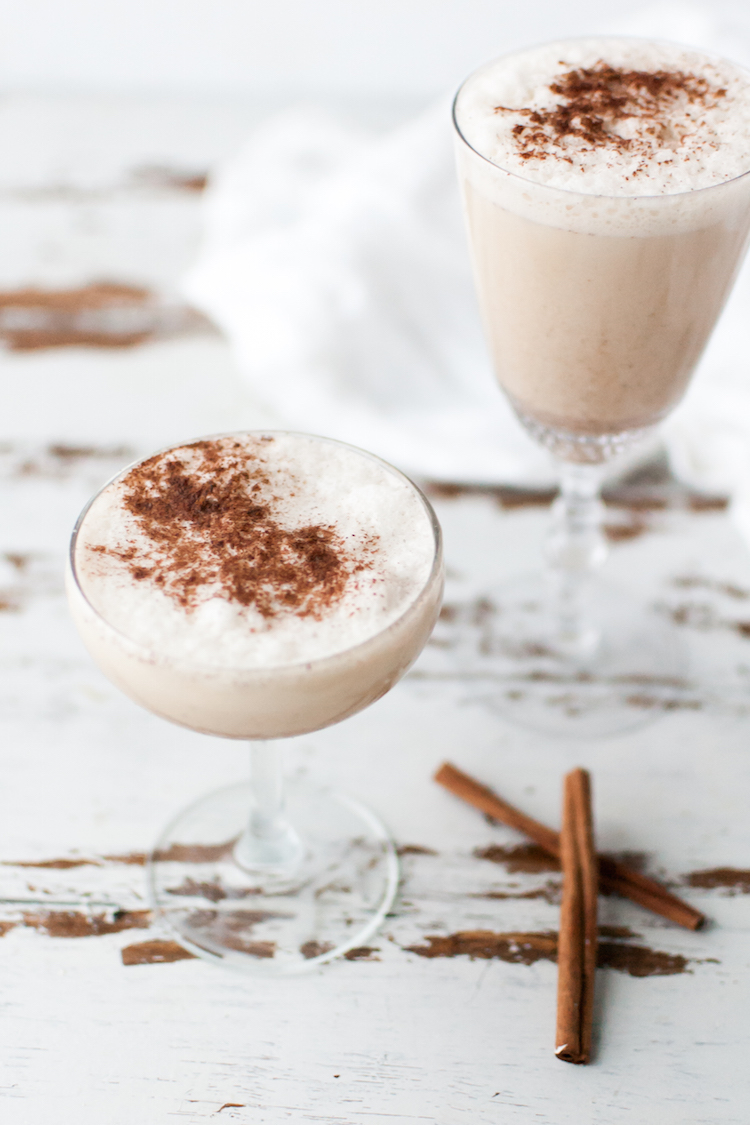 If your are making a batch of this for tomorrow and cookies and milk are more your speed than an Old Fashioned, you can decrease the booze a bit (lowering the rum and bourbon by a couple ounces should do it.) If you whip up a batch today and set it in the fridge over night, it will make for a lovely tipple to sip on while opening presents and rocking around the Christmas tree  tomorrow. Merry Christmas and happy imbibing!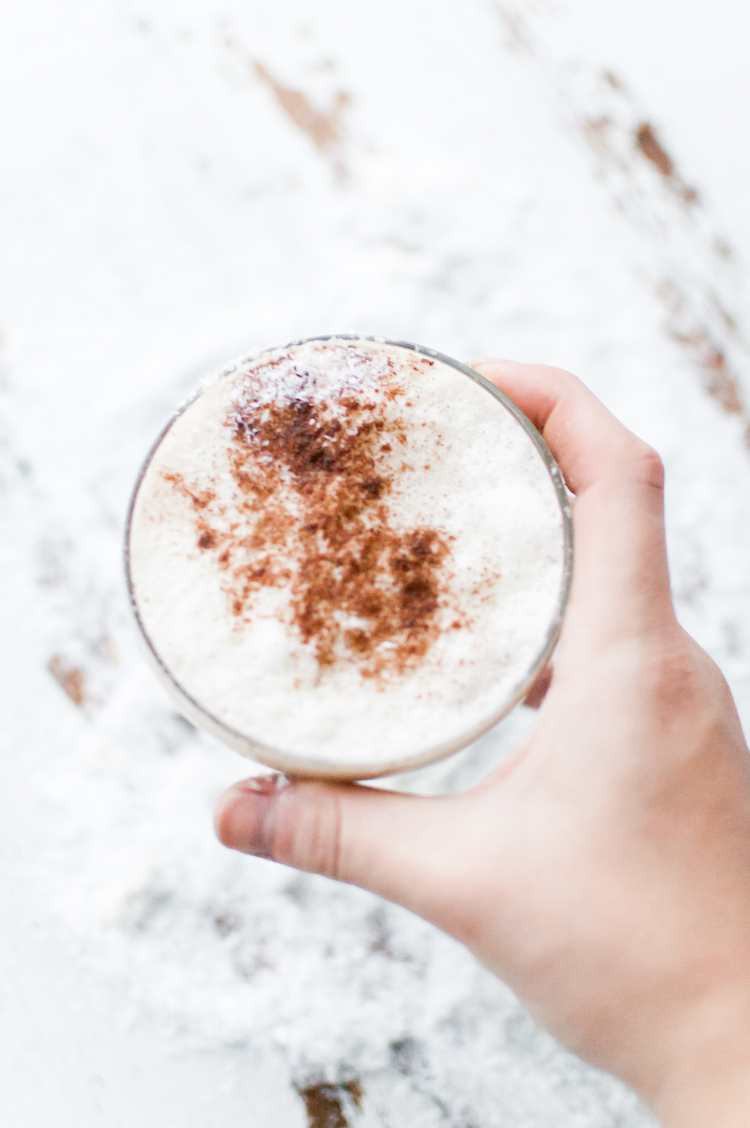 Print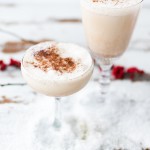 The Best Boozy Eggnog
Author:

Prep Time:

5 minutes

Total Time:

5 minutes

Yield:

15

–

6

oz servings

1

x
---
Description
This is my family's eggnog recipe we make and share every year.  Less eggy and custard like than most egg nogs, it falls somewhere between a nog and milk punch in consistency. It contains bourbon, rum and brandy for a creamy, boozy triple threat. Make this nog ahead to age to let the spirits and spices mellow for holiday parties or Christmas day or even for next years Christmas. Yes you can egg this a whole year!
If you are serving individual servings of eggnog vs a whole punch bowl: pour 6 oz eggnog from the bottle with 1/2 oz egg white and serve with fresh grated nutmeg.
recipe updated 12/1/2021
---
10

egg yolks and 10 egg whites, separated

4 cups

whole milk

2 cups

cream

2 1/2 cups

sugar

1 tablespoon

ground cinnamon

10 oz

bourbon (I used Russell's Reserve 10yr)

8 oz

rum (I used Appleton Estate Reserve)

4 oz

brandy 
grated nutmeg for serving
---
Instructions
Separate 10 eggs. Place egg whites in a freezer safe container in the freezer until a few hours before you are ready to serve the aged nog *or use fresh egg whites.
Add egg yolks to a standing mixer or bowl and beat/whisk on low.
Once they are nice and frothy, add the sugar and cream the two together on medium or mix rapidly. Add in the cinnamon and mix well.
Turn the mixer to low and mix or whisk in the milk and cream next, adding slowly to not splatter. Add in the bourbon, rum and brandy and mix in.
Pour the eggnog into a sterilized container that seals such as liquor bottles or mason jars. Set this is in the fridge for at couple days and up to 1 year.
When ready to serve, defrost egg whites or use 10 fresh egg whites if you prefer.
Add eggs to a mixer and mix until soft peaks form. Fold into the egg nog mixture.
Serve in a punch glass, rocks glass or coupe. Sprinkle with fresh grated nutmeg.
 
Individual serving of eggnog: Pour 6 oz of the chilled eggnog into a shaker and dry shake (without ice) with 1/2 oz egg white in a shaker to get a frothy foam.
---
Notes
*If you are serving fresh and un-aged, whip egg whites immediately and fold them into the punch bowl.