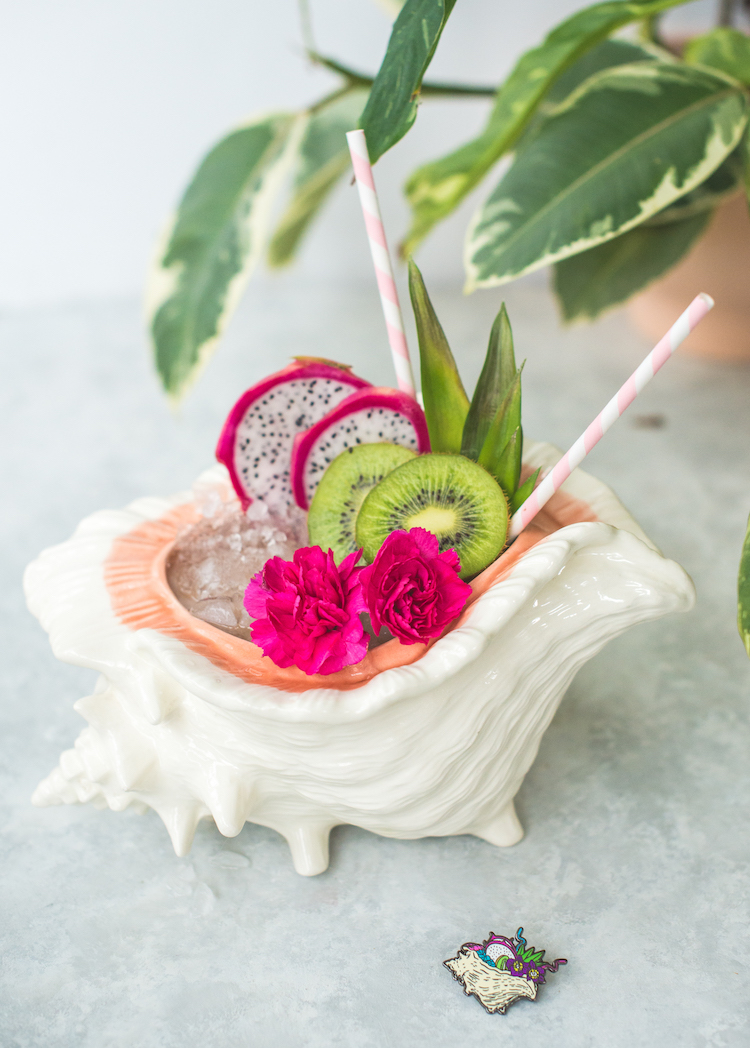 Walking down a bustling street with car horns blaring, sun glaring, and people brushing past, you stop to open an unmarked door and are instantly thrust into another world. Jungle bird calls and Exotica music float through the air. Lush plants, waterfalls, carved wooden decor, and tropical patterns come into view as you eyes adjust to the dimly lit room. You find yourself bellied up to a bar with a extensive menu of ingredients and rum. The cocktails come adorned with towering garnishes and flourished with flowers and a promise of a brief escape as you sip your drink. You have found yourself in a Tiki bar! Unassuming doorways that lead you into another world that host dizzying patterns, exotic decor, intoxicating music, and libations that will whisk you away to a remote island or jungle are staples of beloved tiki bars. This craving for escapism, and rum drinks, is what sparked the creation of Tiki Oasis a conference celebrating all things tiki!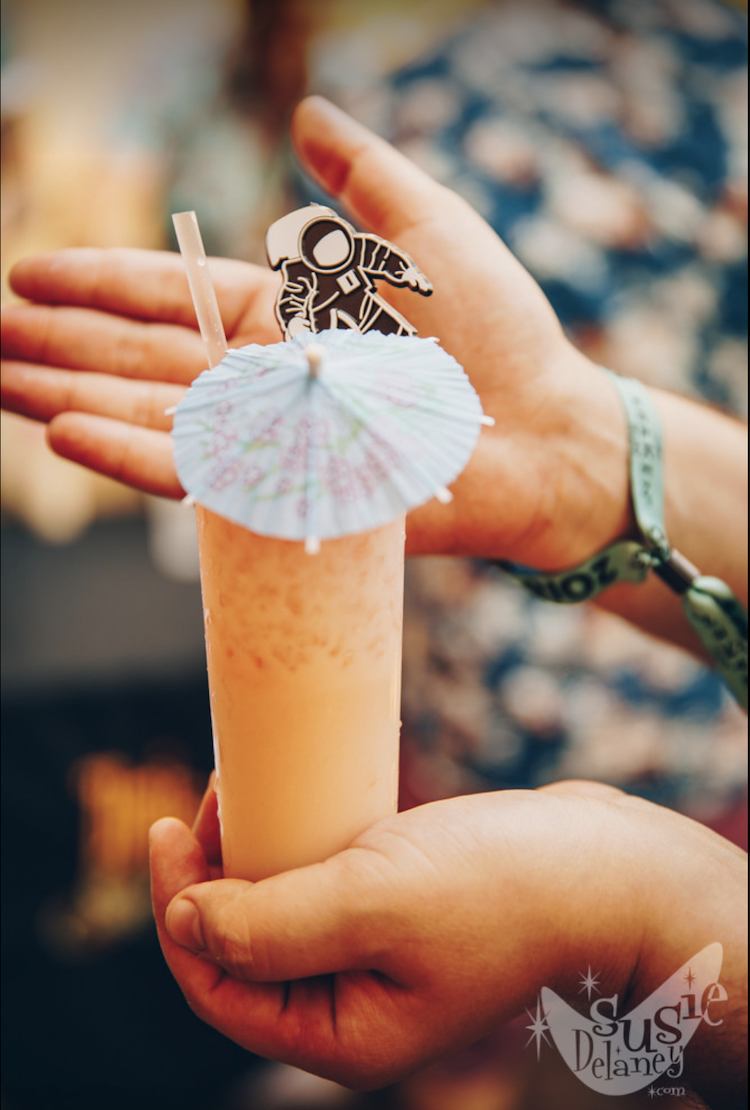 Photo via Tim Hardy Photography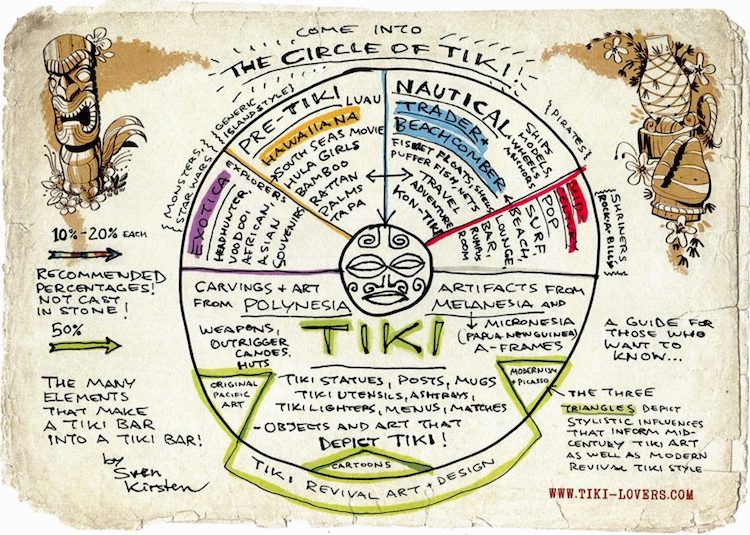 circle of tiki from Sven Kirsten
TIKI CULTURE
If you look beyond the bright tropical prints and rum drinks, you would be missing out on the beautiful community that makes up the heart of the kitsch and glamor of Tiki. It is 1 part music, 1 part fashion, 1 part decor, 1 part rum, and 1 part mahalo that all add up to a hell of a great concotion! Tiki at it's core is all about escapism and transporting one to a different time and place all together. And the need for escapism is arguable needed now more than ever.
Tiki culture pulls on the nostalgia heartstrings like a ukulele. It recalls a seemingly better time, or at least more simple (for some, not all of the population had it so simple in the 40s, 50s, and 60s, however). Don Beach, after supposed travels abroad to far flung locals, opened Don's Beachcomber in 1933 creating the first Tiki bar. With the opening of his popular tropical hideaway, more Tiki bars began to pop up to offer rum-filled libations to increasingly thirsty patrons. After World War II and the with the incorporation of Hawaii as a state, a large number of Americans got their first taste of island culture and they wanted more. Tiki bars were on an up swing, whether right place right time or some cunning forethought, and their doors were open and waiting to sate American's thirsty for a little slice of island life at home. Although many of the classic and beloved bars have shuttered, modern tiki bars have popped up in large numbers recently ushering in a new era (Smugglers Cove, Pagan Idol, Zombie Village, False Idol for example). The culture that has surrounded tiki bars has only grown in the past two decades.

photo via Albertine

photos courtesy of Tiki Oasis 
TIKI OASIS
With the prevalence of retroism and the rise of Tiki Culture in the 21st Century, a gathering of like minded tropical clad individuals came together to form the first Tiki Oasis. It has grown by leaps-and-bounds into the conference it is today. Now set at the Crowne Plaza in San Diego, it has taken on a life of it's own. Tiki Oasis is the largest annual Tiki gathering in the world held over a few day period featuring entertainment, vendor marketplace, car show, poolside entertainment, and symposiums/talks with top experts in history, mixology, music and more. There is an overwhelming sense of mahalo among the attendees as everyone comes together celebrating their love of Tiki.
The marketplace is an Exotica emporium where vendors sell their Tiki trinkets, clothing, and mugs, some you can only get at the conference! The seminars run all day and feature a range of enticing topics (they have to be to pull attendees away from the pool!) This years topics include:
Ninety Years of Classic San Diego Tiki
Ingredients Matter: Guide to Drinking Well this seminar covers the importance of choosing quality ingredients when making cocktails; examining spirits, liqueurs, syrups, juices, and ice; why we choose fresh and premium vs artificial products; how these ingredients affect the taste and presentation of cocktails. 
Walt Disney Discovers Tiki
Mai Tai Roa A'e! w/Jeff "Beachbum" Berry The world's most famous Tiki drink is 75 years old this year … and so is the war over who invented it. Trader Vic claimed he invented the Mai Tai in 1944. Bandleader Harry Owens claimed he introduced the Mai Tai to the world in 1954. And Don The Beachcomber said he invented the Mai Tai way back in 1932

Riffs & Spiffs: How to Craft Your Own Cocktail come learn what makes a Tiki drink different from a tropical drink and how to make your own spin-off the Tiki classics. Join mixologist and author Tiki Lindy on this fun exploration of what makes a balanced and Tiki-inspired cocktail

The Home Bar Guide To Tropical Cocktails Join the pros, Tom and Kelly, as they explain the creation of their latest cocktail tome, The Home Bar Guide To Tropical Cocktails, from concept to printed book.
There will also be a Wine Appreciation seminar with vintners Judd Finkelstein and Gerald Casale of Devo fame! It's perfect for this year's theme: 80s New Wave! This should create a fun crossovers of neon and tropical attire while merging the sounds of exotica with 80s music. I can not wait to escape into the Tiki Oasis world this year!
GET YOUR TICKETS HERE for Tiki Oasis and HERE for the Hanalei Luau you wont want to miss!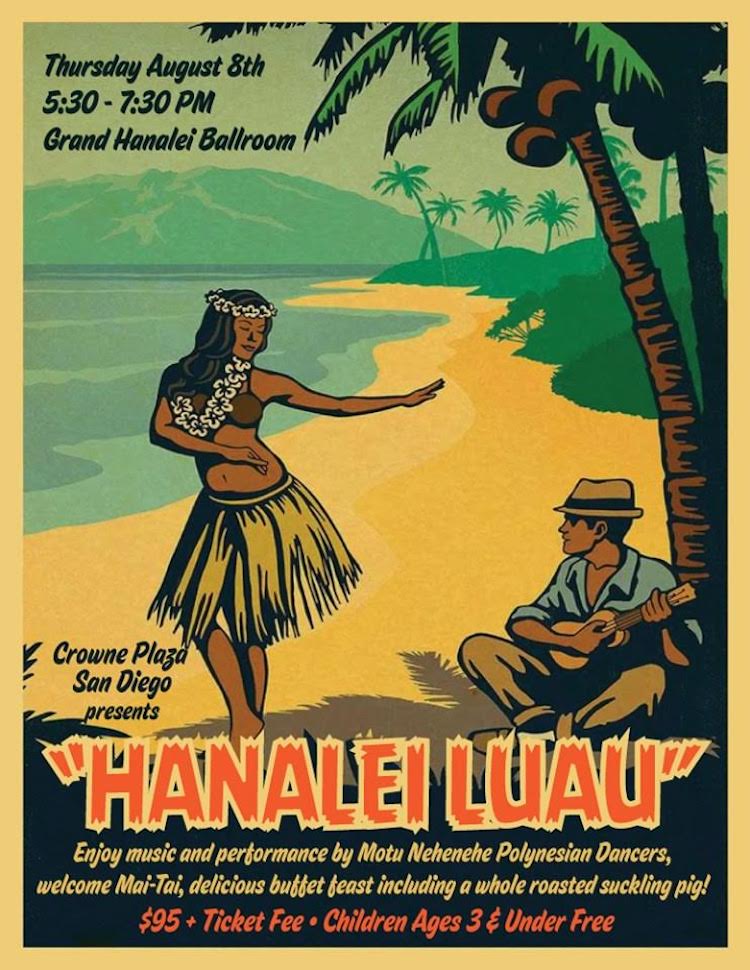 TIPS FOR TIKI OASIS
I have asked seasoned Tiki Oasis-ers and have been looking through the Tiki Oasis Facebook group to get tips for how to prepare for the Tiki marathon.
Dress Up! Bring your best tropical island attire and accessories. Everyone dresses to the nines here. Pin-up hair, vintage Hawaiian shirts, playsuits and mumus are everywhere you look! That being said, do not be too worried if you don't have a Tiki shirt or dress for everyday, every one is very friendly and you will fit in no matter what you are wearing, just bring your love of tiki and you are sure to fit right on in.
pack comfy shoes! It might be tempting to wear your favorite heels all day, but there will be lots of walking and dancing.
Pack your favorite tiki mugs! Show off your collection to those who will appreciate them most. Refrain from bring them to the pool however (no glass) and opt for a metal or plastic pineapple or tropical cup.
Bring tips for the room parties.  There are room parties through out the hotel rooms each night. Be sure to being cash money for tipping your bartender who's serving up delicious rum drinks.
Speaking of room parties, they can be very crowded and hot so wear breathable clothes (no polyester) and sensible shoes for standing in long lines for the parties
make friends with people in lines at parties! It will make the time go faster and you are likely to create lasting friendships during these times,
bring a change of clothes or shoes just in case you can not make it back to your room before the nights activities.
hydrate hydrate hydrate. It can get warm and the days are long and full of rum. Bring a reusable water bottle and fill it frequently through out the day.
MY PACKING LIST
wooden jewelry and tropical accessories
retro dresses, playsuits
hibiscus print dresses
fruit jewelry and tops
leopard print because it is my neutral!
bathing suits, I plan to live in the pool!
hair flowers, hairspray, and bobby pins for retro updos
DripDrop electrolyte powder to stay hydrated after long nights at parties and rum drinks.
vitamin b12 for energy
hand held fan and mister to keep cool by the pool
sunscreen
floppy hat for pool time hangs
ear plugs and face mask to sleep soundly at night (or for the few hours you may get!)
tiki mugs
pain reliever (very necessary )
rum drinks! Prebatching these and bringing in my suitcase. I hear the bar lines can be long and the drinks they add up. Plus, its fun to share your own concoctions with old and new friends.