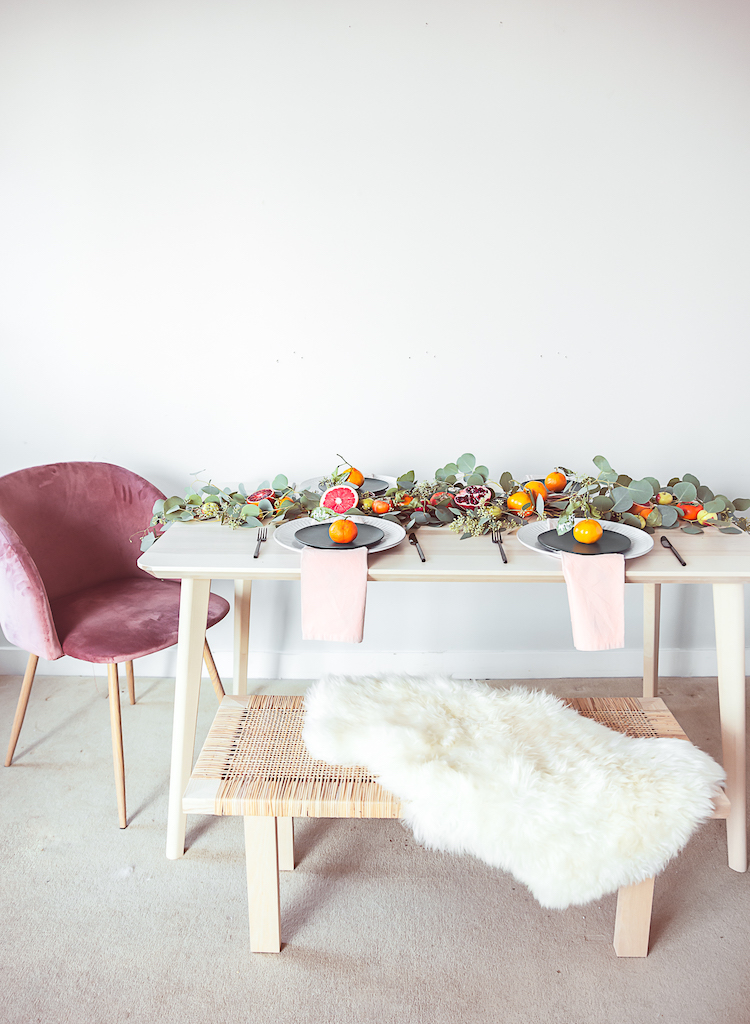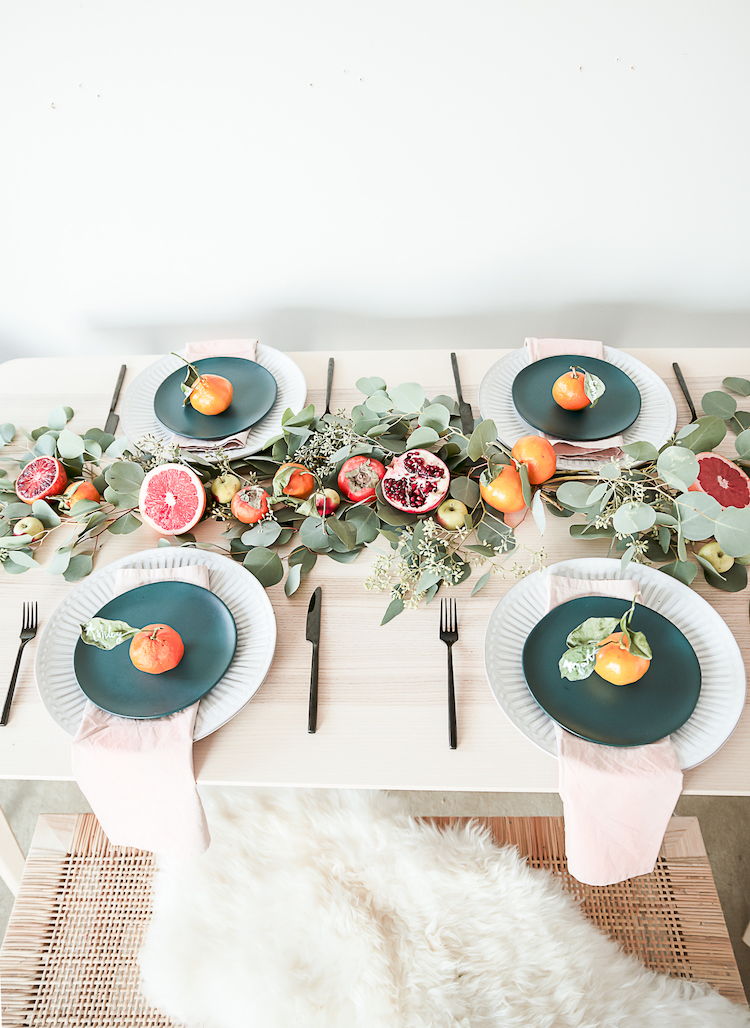 Setting the perfect table to highlight the Thanksgiving feast can be a tad stressful. Do you go formal or casual? Linens, no linens? Place cards or no? One year I hosted 16 people and along with a the turkey, sides, and drinks, I also made clay place card holders and multiple flower arrangements DAY OF. Never again! I have decided to lighten my load since then.  No one wants a stressball host. Besides, it's the conversation (and the drinks!) that matter most. If like me, some florals are still a must for your table, take a load off by having a local florist make some arrangements or if you still want a personal touch on the table, put together this easy affordable floral centerpiece!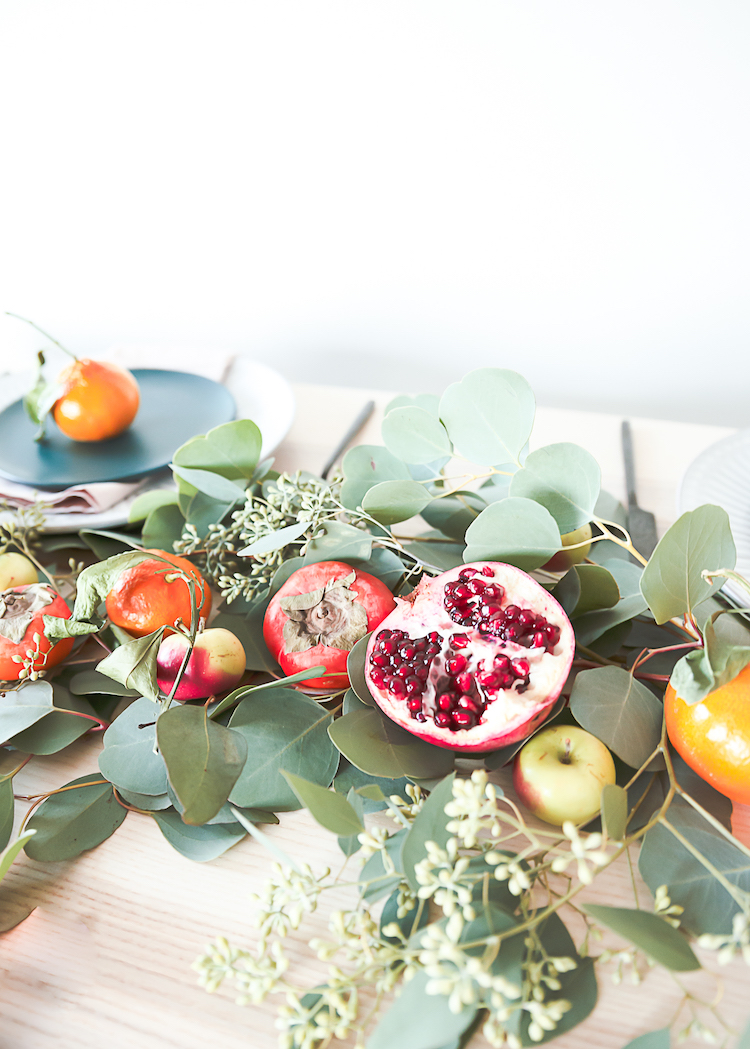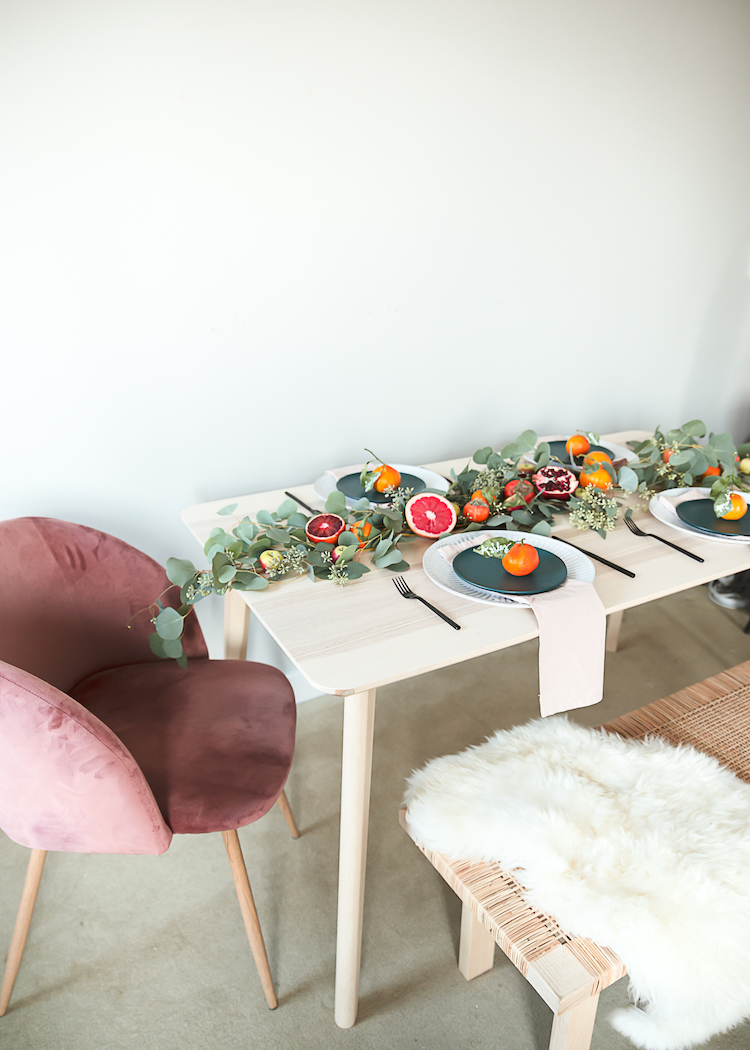 I made this centerpiece for about $20-$30 from the grocery store! AND it only took me 10 minutes to put together. Really. A few things from the floral department and produce section will give you everything you need for this. Traditional garlands are beautiful, but can be expensive or time consuming to make tying all of the stems together with wire. If you are going to be needing to move this around easily though, it's not the best route as it is laid down on the table, but if you are leaving it on the table for the whole party or meal, this will do just fine! I grabbed everything from Whole Foods, but many local grocery stores should carry these.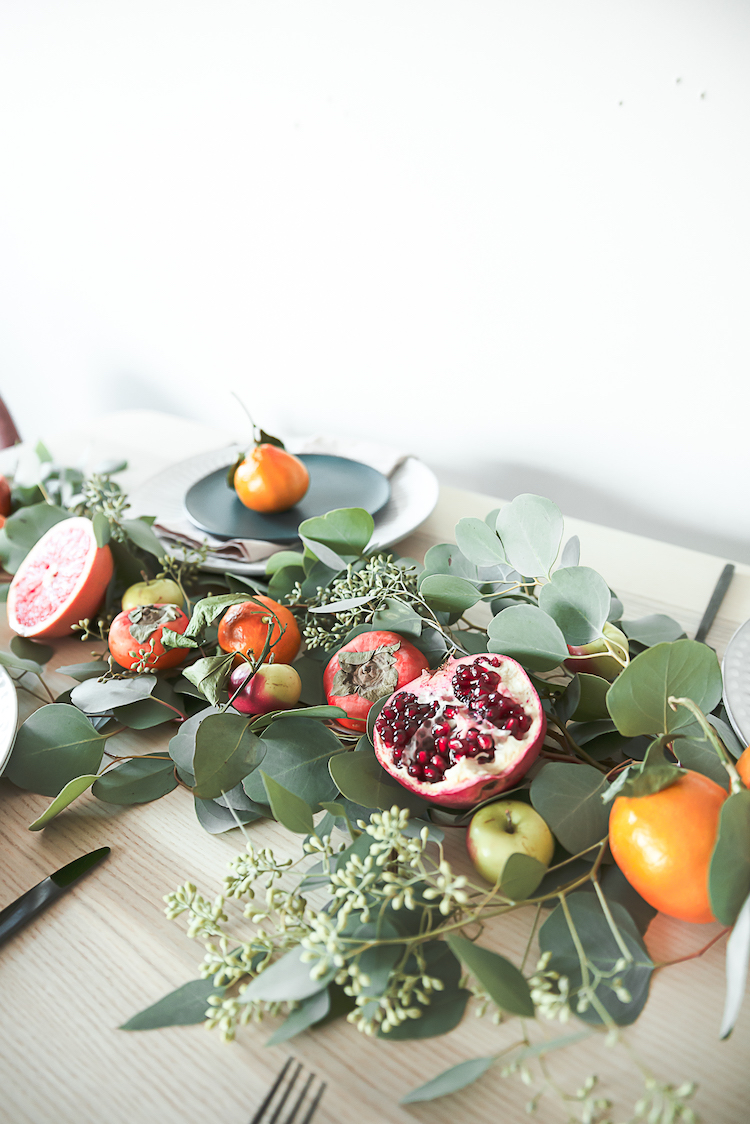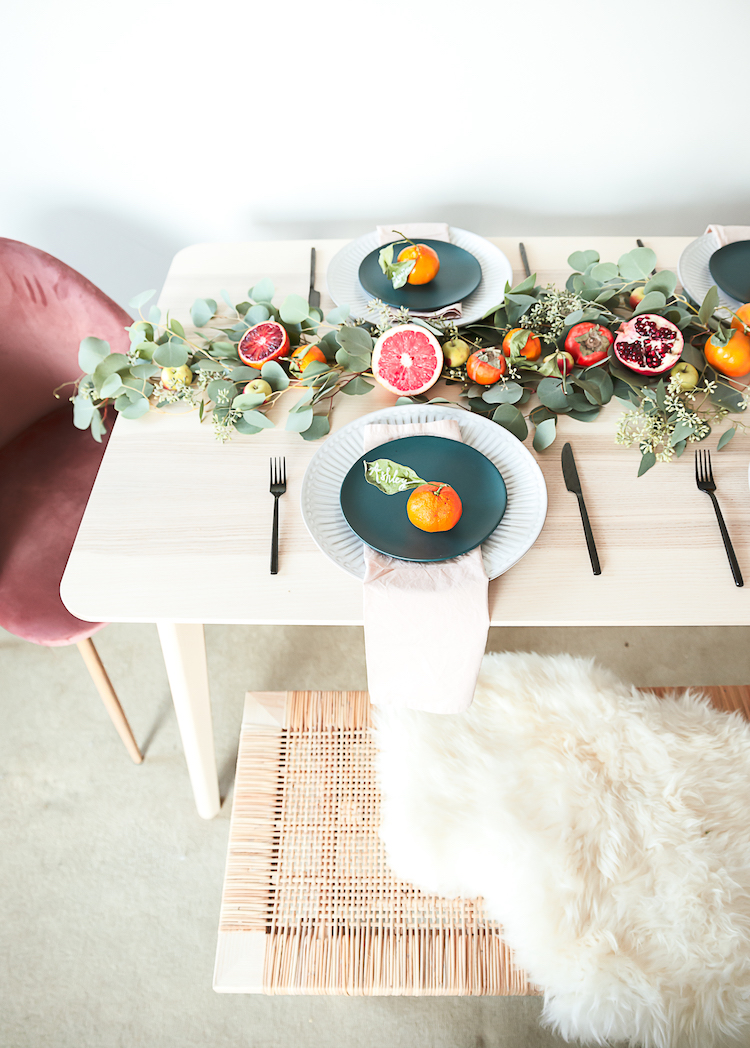 Easy Affordable Floral & Fruit Centerpiece
3-4  packs of greens like branches or eucalyptus. I picked up 2 packs of silver dollar eucalyptus and one pack of seeded eucalyptus to fill the length of the table.
8 crab apples/mini apples
4 persimmons
4 mandarins
2 blood oranges
1 pomegranate
1 grapefruit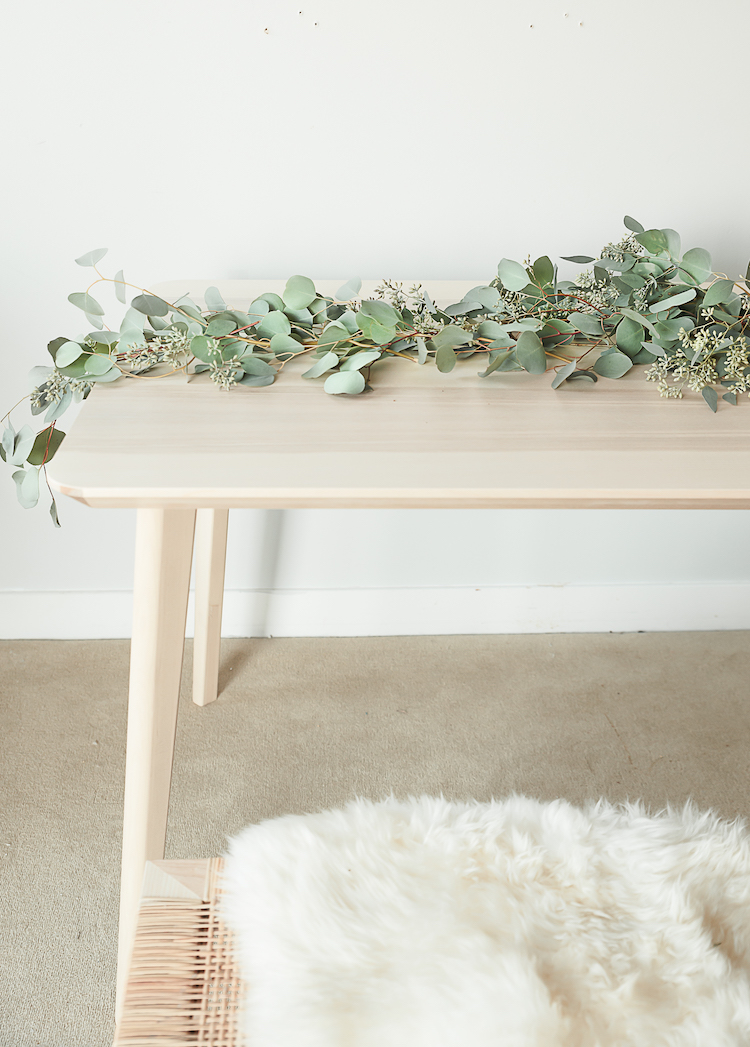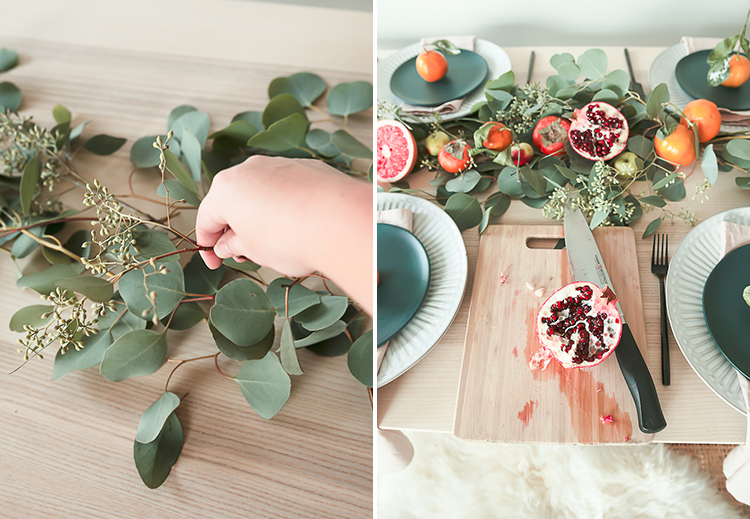 1. Starting at one end of the table lay down the first branch in the middle of the table, I started with a pointed silver dollar eucalyptus. Lay it down with the greenery facing away from the center of the table. Take the next branch and lay it down in the same direction, over lapping the first one, hiding any branch with the greens. Continue this to the middle of the table.
2. Now from the other end of the table, repeat laying down the branches, meeting the other side in the middle. I then took my seeded eucalyptus and tucked them into the other branches randomly to give it a fuller look.
3. Cut the pomegranate, grapefruit, and blood oranges in half. Leave the other fruits whole as they will brown quickly and will not look great on the table.
4. Place the fruit along the branches sporadically, spacing out the same fruit. I start with the larger fruit like the pomegranate and lay that first, then fill in with smaller fruit like persimmons and apples.