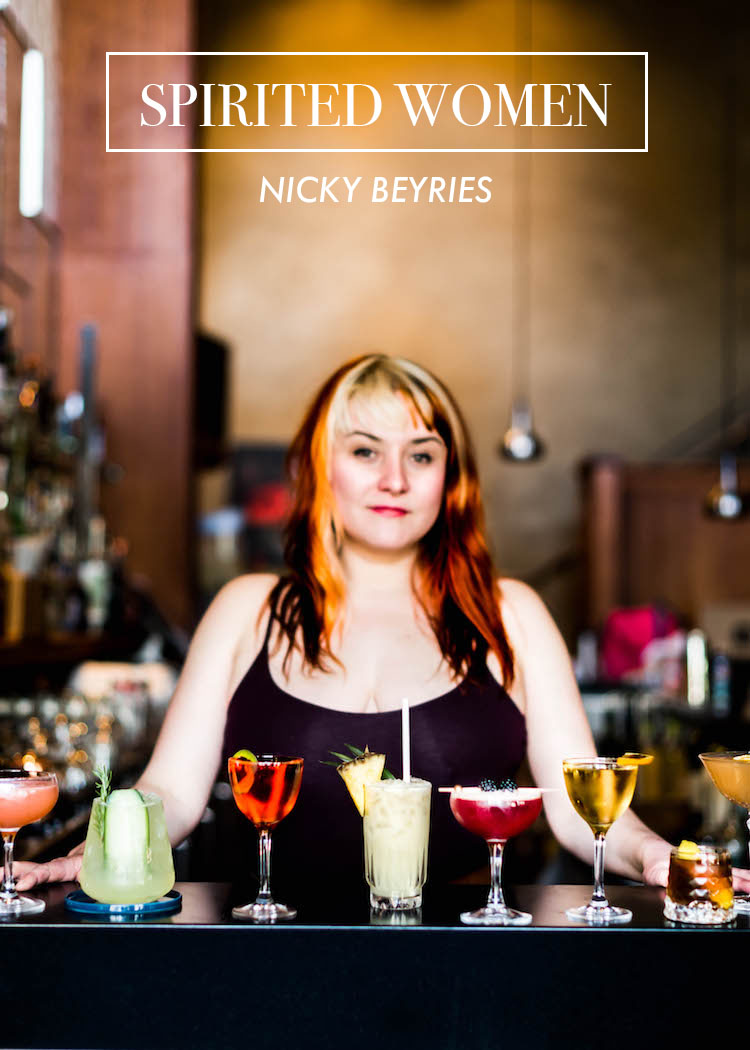 The tide is slowly turning, can you feel it? A change for good, a change that will hopefully positively impact and empower more then half of the country and world. I am talking about the growing modern women's movement. For so long women have faced immense adversities just for not being born male,  but it seems there may be a change in the air. I just hope that people aren't full of air and will continue to support, lift up, and respect women long after the "pat-on-the-back" headlines die down. Some are going as far as to say women are trending. That's ludicrous that a gender can be trending. A movement it constantly moving, not something that is a blip on the radar or a trending hashtag to be gone in a day. Finally people are taking women's stories, struggles, and successes into account and believing them, something that should have been done centuries ago. Spirited Women is my tribute to the unapologetic bad ass women in the world of spirits who have always been here, but are often behind the scenes and not heard.
Spirited Women is a column I have been wanting to start for over a year now, but seems like the perfect time on International Women's Day to launch this column that highlights the women who are helping to drive and grow the spirits industry for the better. I want to see more women in the industry chosen for interviews and selected as speakers for conferences to share their perspective and experiences. I plan to write to organizations who do not have diverse panels and talks at their conferences to urge them to do better or I will not attend (and hopefully you consider doing so too!). There are so many amazing women that have a lot to say and share, and honestly are not that hard to find. Look past the shiny headlines that heavily feature male bartenders and distillers, do a bit of research and you will find a slew of women who are perfect for your interview, event, talk, conference, etc. Trust me. Women have so much to bring to the table, we just need to have someone save us a seat. Or maybe we just need to make our own table.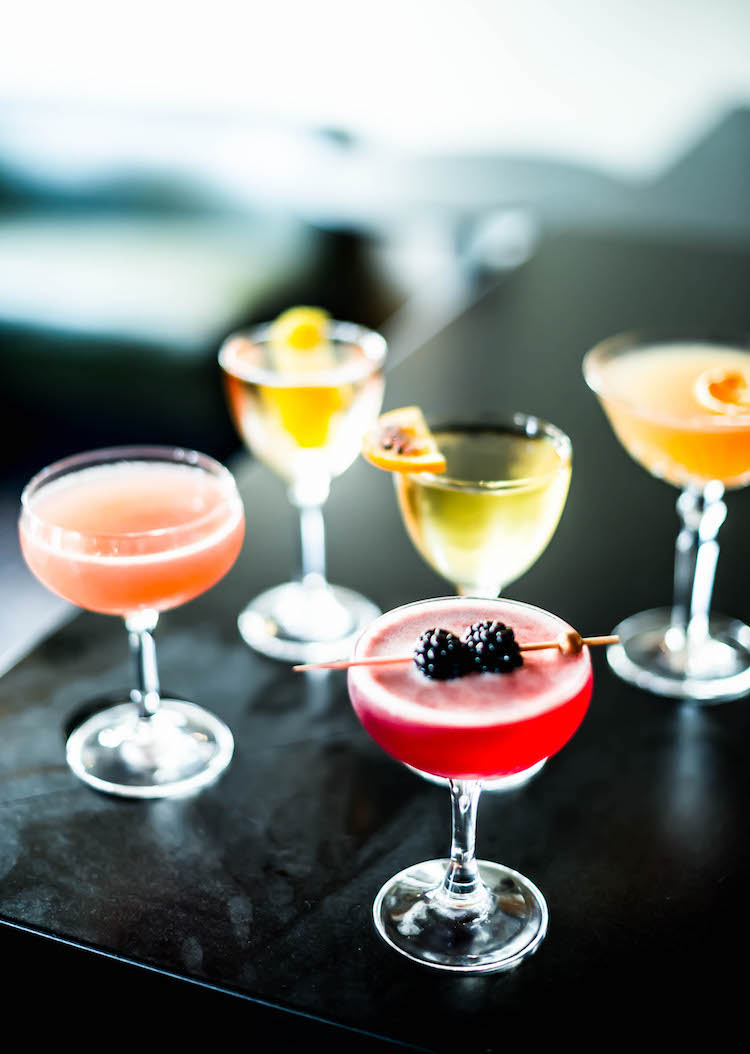 In San Francisco, I am fortunate to know some amazing female bartenders and spirits industry professionals. This city is ripe with talent and some seriously amazing, strong women. One such women is the fiery Nicky Beyries. Bar manager of not one, but two exceptional bars in the city, she knows a thing or two (or 100) about cocktails. Foreign Cinema has been a SF staple for many years in the heart of the Mission district. The hospitality and the exemplary food it dishes out keeps it on the map, but with her cocktails, Nicky is really helping to elevate the whole experience. In their sister bar, Laszlos, Nicky's creative and playful side gets to shine. Without the parameters of having to pair with food (except brunch on the weekend), the cocktails get to be the star at this stand alone bar. She focuses on community, sustainability, and social justice and it really shows throughout her cocktail programs. On the menu in Foreign Cinema you will often drinks where proceeds from each purchased will go towards charities that are close to her heart. She puts her money where her cocktail/mouth is.
Foreign Cinema is releasing a cookbook in May which will feature Nicky's drinks, so she can add book contributed to her long resumé. I recently interviewed Nicky when I came into shoot her new menu at Laszlos, entitled "What's Wrong With Hitchcock's Women." Each drink is named after a female lead in Hitchcock's Movies, who were with often despised as well as obsessed over by the director. Yikes. For the first Spirited Women I wanted to dive in to see how Nicky got her start in the spirits world and how she navigates the male dominated and often misogynistic industry.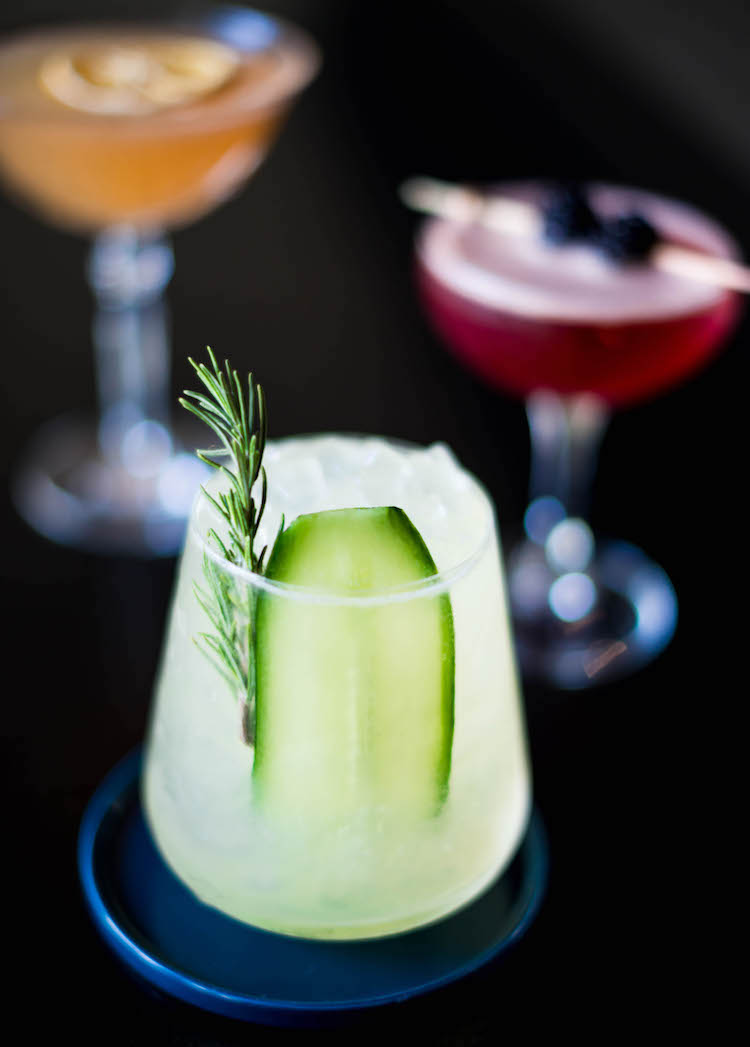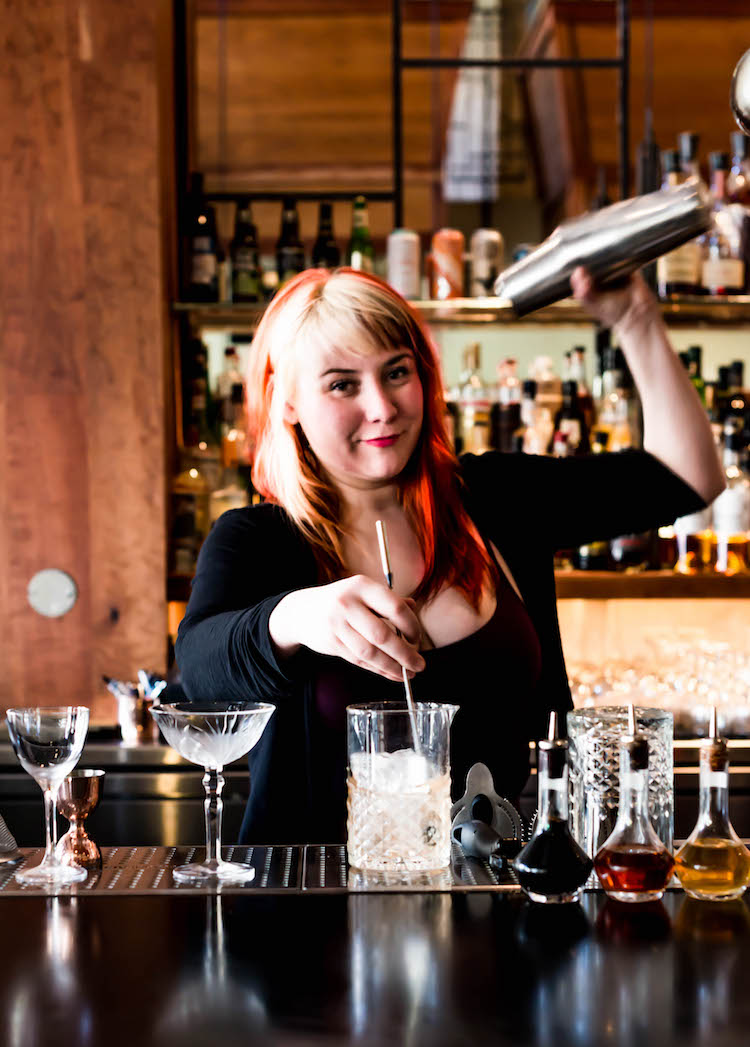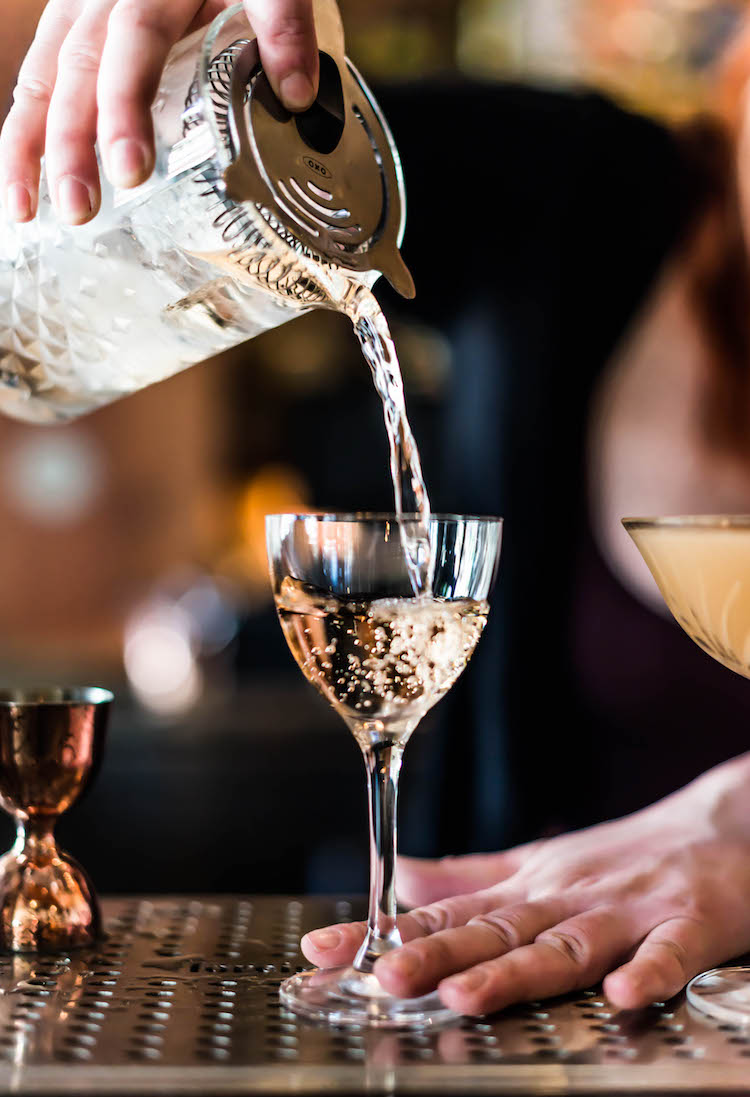 How did you get your start in the spirits world?
"I came to hospitality because I had been involved in the DIY punk/hardcore music & art scene since I was about 12/13. I started working in cafes & as a diner waitress because I needed a job that was flexible,  that I could quit at the drop of a hat to go on tour and that would keep my terrible ADHD brain stimulated. It's also genuinely part of my personality to take care of people, rather than something I was socialized to do. Bands were always excited to stay at my house because I'd make a huge meal, had fold out couches and blankets and worked to make everyone comfortable. People use to tease me that I was the "partymom" and honestly, I still am. I'll admit that I hung out in many a bar before I turned 21 and I was transfixed by the lady bartenders – they were SO COOL. They were sassy, could command the room, move fast, be the life of the party and everyone listened to them when they made demands. They could have big, loud personalities and made money doing it – no one told them to quiet down or work a certain way. I became really burnt out on music – there's a lot of sexism and in-fighting in those communities as well and I began to feel more and more alienated from what had drawn me there to begin with. I liked the camaraderie of hospitality, I liked that I got to talk to people all day. The week after I turned 21, I got a job as a cocktail waitress at a nightclub. One of the managers, Danny, saw how I worked and liked my attitude and asked me if I wanted to work his shifts because he wanted to build a cohesive team and I agreed. I asked him (he was a former flair bartender) and the other bartender Carol questions CONSTANTLY. If something needed to be cleaned, I was the first to volunteer. So I'd be scrubbing out keg coolers in hot pants and fishnets. If it was slow, I'd ask if I could take all the bottles off the back bar and clean them, asking about the brands and what drinks they went in. If someone needed to go pee or take their lunch, I'd beg to work the well for a few minutes. Within six months, I had a bartending shift. Busy shifts there had five cocktail servers and no POS – they had to call drinks to the service well bartender in a specific order and exchange money with the bartender. It was hard and it was very old school and I loved every single second of it. Then, 2008 happened and the economy crashed. We stopped making money, clubs and bars went out of business and Broadway (in SF) started to get really violent – stabbings, shootings, hospitality workers being targeted, etc. It was time to get out of there, so I moved into neighborhood bars & small restaurants & venues. The rest is history."
What do you love most about your career?
"There's a lot to be said for getting to do your art every day and be paid for it. I love that I am surrounded by interesting, intelligent people every day, that I have them to collaborate and bounce ideas off of.
On a larger scale, I love that I work for people let me be me; that I have the ability to choose whom I do business with. If I decide that I don't like a company's business model or who they invest in, or their packaging is wasteful, their marketing is sexist, I don't have to do business with them. The ability to have a voice and put my money where my mouth is is deeply satisfying to me. We have one of the "We welcome all races, all religions, all countries of origin, all sexual orientations, all genders. We stand with you, you are safe here" signs at the foyer to the restaurant and it's true, it's how we run our business. I am very, very proud of that."
Have you ever felt that you needed to prove yourself to male coworkers, peers or boss being a women? If yes, elaborate on your experience.
"This question is better asked in the opposite, as in "describe a time when you HAVEN'T had to prove yourself," unfortunately. Pretty much since day one I've had to prove myself more than the men around me and I think that's a near universal experience. Look at mine, Jen Agg, Alison Robicelli, Soleil Ho, etc.'s twitter feeds (or our conversations with one another) for specifics, but it's bad. I have salesmen who think they can walk all over me or pad my orders or tell me what works for my business, have customers thank my male assistant (who was doing nothing but washing glassware, it was his second day on the job and he didn't know the difference between a Scotch and a bourbon) after I lead them through a whiskey flight that I had designed for them, have customers say "FINALLY! Someone who knows what he's talking about!" when a male coworker tells them the exact same thing I just did, watch male bartender's solicit my date's (who'd never worked a day behind a bar) thoughts on the history of the Manhattan, etc. etc. ad nauseum. Then there's the leering and the mansplaining. There's nothing new there, but I'm willing to clap back and throw my weight around in response. Jen Agg describes herself as "Battle Ready" and I can't think of a better way to describe it. That's how you have to be, as a woman."
The really unsettling part is how egregious and blatant it is when directed at me, a fairly well-educated, well-spoken, conventionally attractive white woman. The insidious and harmful ways that women and people with much less privilege is seriously concerning, particularly in how they are treated by customers, employers, potential investors, etc. Make space to shut your mouth and listen to their stories and experiences. If all of your staff or friends or coworkers look the same – you're doing it wrong.
What is some great advice from a women you have received?
"I'm sad to say that I've never had a female mentor until very recently. I mostly came up working for men and the one woman that I worked for was a terror, an example of what not to do rather than a positive one. However, I have always had strong women to lean on, be they coworkers or friends. I describe a lot of these friendships as "battle born." When you go through a tough service, a shitty boss, sexism & denigration, you have one another to lean on, to laugh at the absurdity, to drink away the memories and to kvetch with.
Luckily, I now work for a powerhouse of women and I get to continue to grow. This is also why I try to mentor and share my experience whenever possible. Sisterhood is powerful and representation matters."
What are difficulties you and women as a whole face in your field? What has been the biggest obstacle you have faced in your career? How did you overcome it?
"There's been lots of conversations about how tipping can reinforce societal harms of racism, sexism and sexual harassment. Ensuring that customers AND employees are required to treat one another appropriately, with swift and severe consequences if they choose not to. Speaking out and up for those who rely on you. There's also an immense amount of tone policing/likeability policing levied against women. Not only must you excel at your job, everyone has to like you as well. The charge of being "a bitch" levied against a woman weighs much heavier than a man being "an asshole."
On a personal level, the largest difficulties and obstacles I've faced come from my struggles with my own brain… I operate on a pretty constant level of "complete and total maniac" so being organized, not over committing, not being a perfectionist, focusing on tasks, not getting anxious or depressed, those are all huge struggles for me. It's something we're only beginning to be bring out into the open, which is a shame because I find our industry attracts a lot of folks like me, but we all act as though we are totally alone and isolated. Perhaps because it's creative, perhaps because it's more socially acceptable to self-medicate, whatever it is, it's something we've gotta talk about."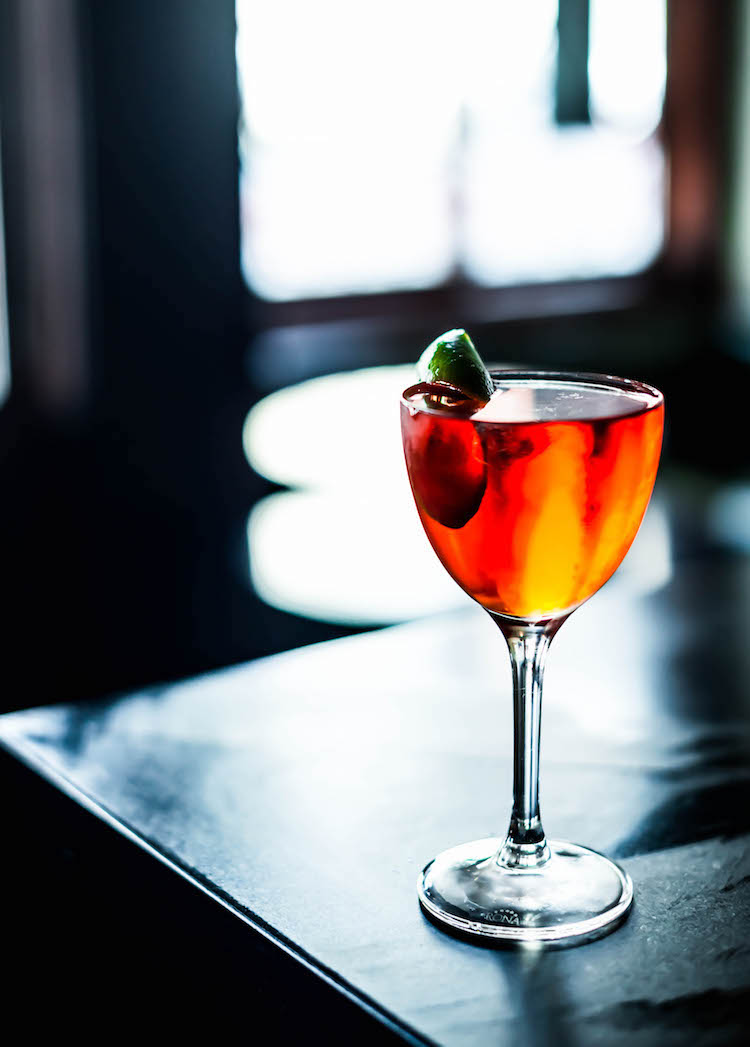 Is there any particular male in the industry or organization that you find to be a great advocate of women equality in the workplace?
To be honest, I don't find a lot of value in men being advocates for women in the industry, I want to hear from the women themselves. I think it's well summed up in my reaction to Pete Wells' article where I said "@pete_wells says the industry hasn't come up with a solution but my timeline is full of women who are chefs, restaurateurs, managers, etc. offering solutions and experiences. Do their voices not matter? Why are we facing erasure from a conversation largely about us?"
I would like to see more of the "awards" groups and crowds address sexism and racism in a meaningful way. I would like for us to agree collectively to stop worshipping at the altar of the egomaniacal, shitty male chef . I want to see more representation everywhere. I'm looking forward to seeing how many articles in the new year will try to attribute my success and skills to men I've worked with in the past. The fact that I've been doing it a decade longer and put in the work never seems to be as popular a headline…
What improvements did you think your industry can make for inclusivity of women and to ward against sexual harassment in the work place?
"I would like to see more policing of behavior of customers; there is so much harassment and unwanted touching/talking that happens to women in bars. Existing in a public space does not mean that one is required to talk to, be touched, be hit on by or entertain anyone else."
What encouragement or advice would you give a women starting out in your field?
"Be aggressive. You will have to earn every ounce of your success and you will work three times harder to do so – you will be given no quarter, so expect none and give none. Be curious. Be observant. Ask for more money. Learn how to say no. Take up space. Have a big ego. Call out bullshit when you see it. If something doesn't feel right, say something. Don't let people be creeps in your bar, no matter who they are."
What women in the industry are you watching or look up to?
"One of my liquor reps recently said to me in regards to myself and some of the other bar manager ladies who love one another, "you guys are like a cult!" Which I found not only hilarious but to be true – a girl cult is the only sort I'd ever want to join. I have such appreciation for Ashley Miller, Chelsea Kenrick, Areina Thomas, Laura Svec, Jessi Lorraine, Alicia Walton, Jordanne Worll, Peppi Scalisi, Claire Sprouse, lvy Mix, Katie Clas, Ruby Wilson, Laurel Sadler, Laura Brennan Bissell, Sally Kim, Karri Kiyuna, Emilie Hermann, Marguerite Regan, Colleen Quinn, Lauren Wong, Kambry Rodriguez, Jane Hurley & Rachel Dorcy – they make my days bright."
Look out for Kristin Struckmeyer, Joyce Duquette, Gianna Burns, & Lauren Ford, because they're coming for your job, boys, and they deserve it.
Personal favorite cocktail you have made?
"My first menu at FC had some of my very favorites… there was a lot of personal angst, anger, frustration and sadness that I channelled into that menu and it was themed on one of my favorite films (and one of the first that got me into film in general,) Jean Cocteau's Orpheus trology. The Eurydice springs to mind – wild cupreata mezcal, fresh lemon, Welsh mead, a spun rose sugar I made as a half rim and a spritz of rosewater over the top. The vegetal aspect of cupreata added the vegetal backbone the rosewater needed – it was like an entire rosebush in a glass. I grew up gardening with my mother and roses have a lot of personal significance for me."
What trends or resurgences in the spirits world are you into right now?
"Genuine explorations of sustainability – Trash Tiki, Tin Roof Drink, the Perennial, etc. impress and inspire me daily. Real sustainability, both environmental and economic in spirits production, especially for agave and sugarcane spirits."
olive or twist? "Twist, but mostly because bar olives can be real sketch."
dive bar order? "Vodka soda (WITH TWO LIMES, DAMMIT) or Bud Lite & shot of silver agave."
favorite classic cocktail? "Daiquiri (pinch of salt, please!) or a good Godfather. I've been known to fuck with a good Sidecar, as well."
favorite bar to grab a drink? "Whichever one my ladies are working at. Or a handsome dude. It's all about balance."
go-to hair of the dog or hangover helper? "Chile rellano super burrito, no crema from El Buen Sabor (those poor ladies only see me on my darkest mornings) and a coke, or a cheeseburger with onion rings or pho. Sometimes, I'll admit it, you've just gotta eat like, $15 worth of Taco Bell."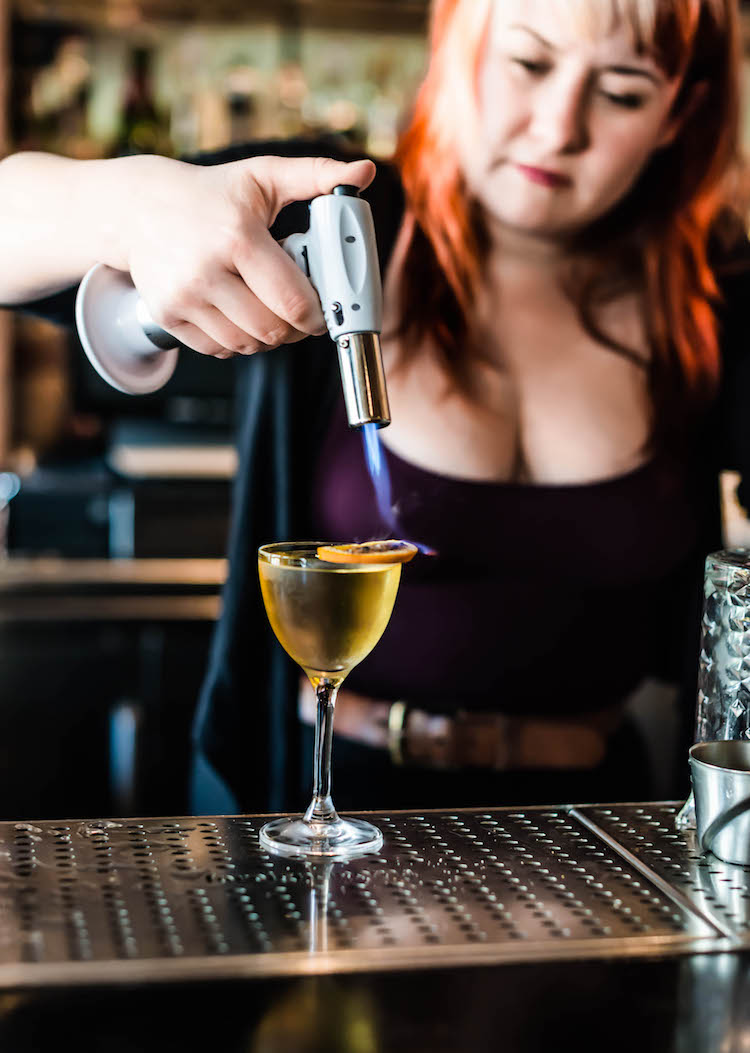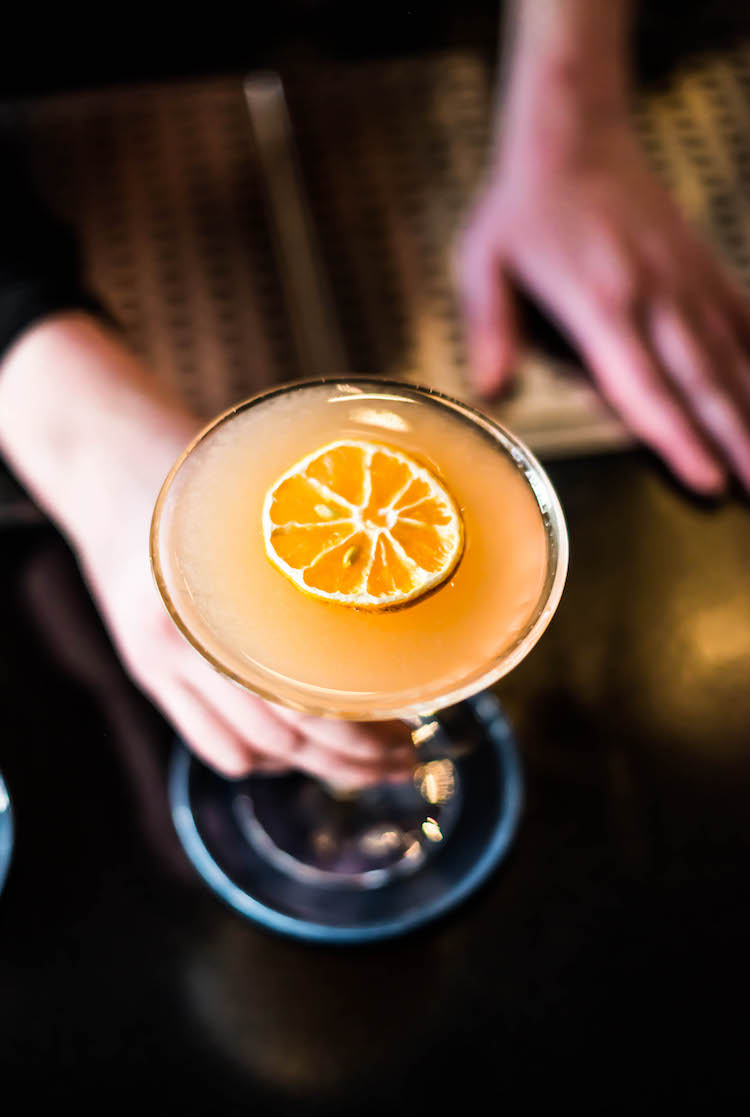 For each Spirited Woman, I wanted to create a cocktail that is inspired by them, something that speaks to their character or approach to cocktails. This cocktail represents Nicky's fiery tenacity and spirit. Using sustainable ingredients and reusing fruit for infusions, the Fiery & Zesty is a citrusy, spicy drink with a bit of fire.
Fiery & Zesty
1 1/2 oz grapefruit infused reposado tequila, preferably Partida tequila
2 oz grapefruit juice
1/2 honey syrup (2:1 honey to water)
dash Hellfire Bitters
flamed grapefruit peel
fennel sprig
Directions:
Juice the grapefruit, saving the fruit. Add 1/2 of the grapefruit husk into a jar with 12 oz tequila. Let infuse for 4-6 hours, shaking occasionally. Strain through a fine mesh strainer into a jar or an empty bottle. Add infused tequila, grapefruit juice, honey syrup, and bitters into a shaker. Shake and strain into a coupe. Flame the grapefruit peel over the drink. Roll the grapefruit peel into a rose and skewer. Garnish with peel and fennel.