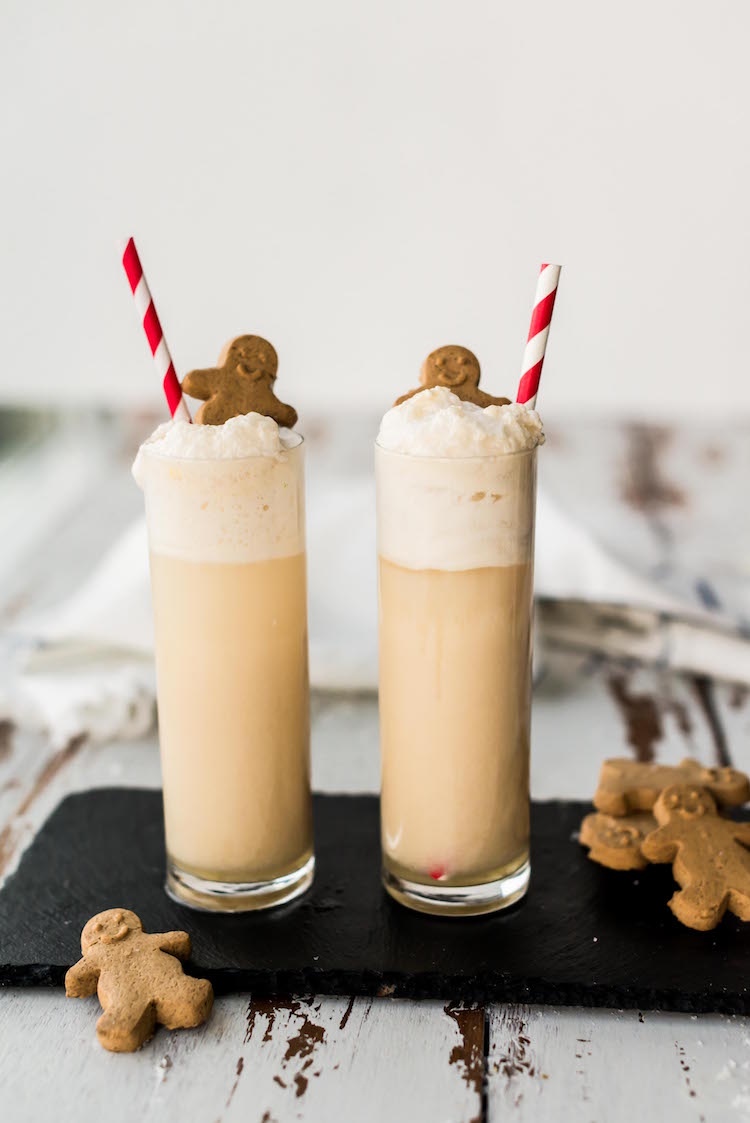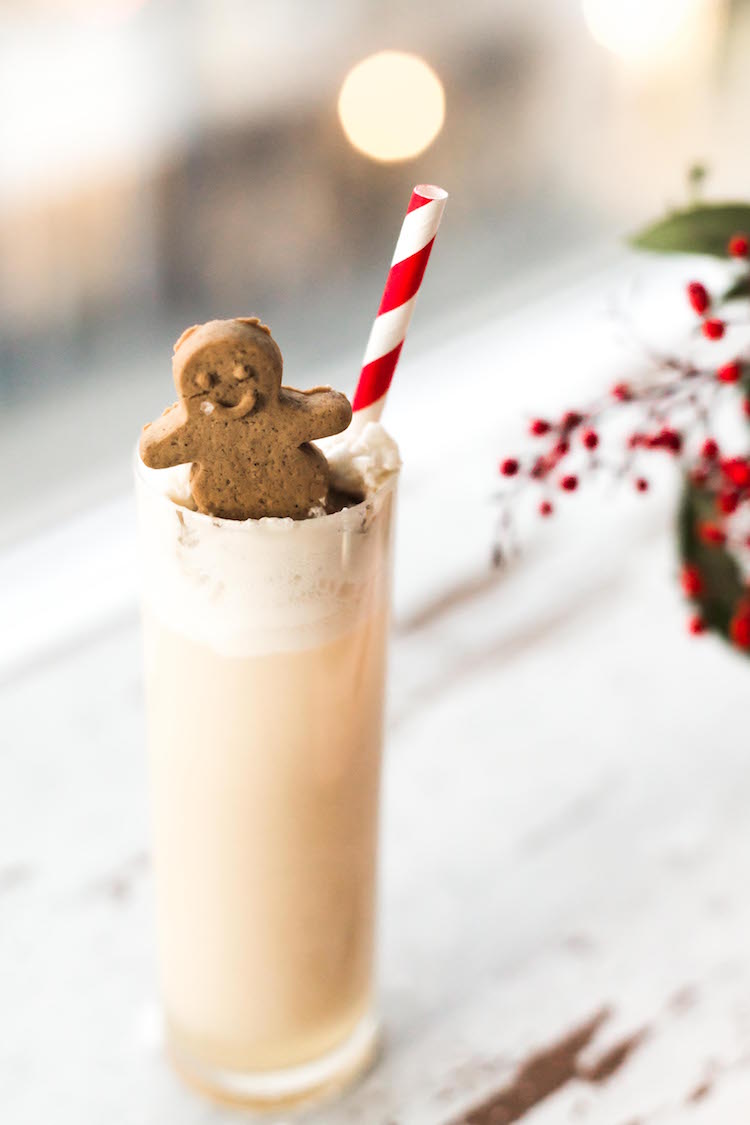 Happy holidays! Or in my case, happy stressfull-days. Oi. I'll take 3 of these Gingerbread Ramos Gin Fizzes, please. I know I can not be the only in this camp, the holidays are always having me pulling my hair out by the time New Years rolls around, when I find myself completely drained, running on empty. Anyone else? As a freelancer in the lifestyle/cocktail area, this is the busiest time of year for me with content for my own site, client work, events, and sponsored posts. I took a step backward this year and didn't do as many sponsored posts or events to allow for my creativity to roam free to create content. Last year I had all these ideas I could not execute since I was too busy creating content for other people. This year, I allotted time for this and when it came to the holidays, I got nothin'! Get your shit together, brain!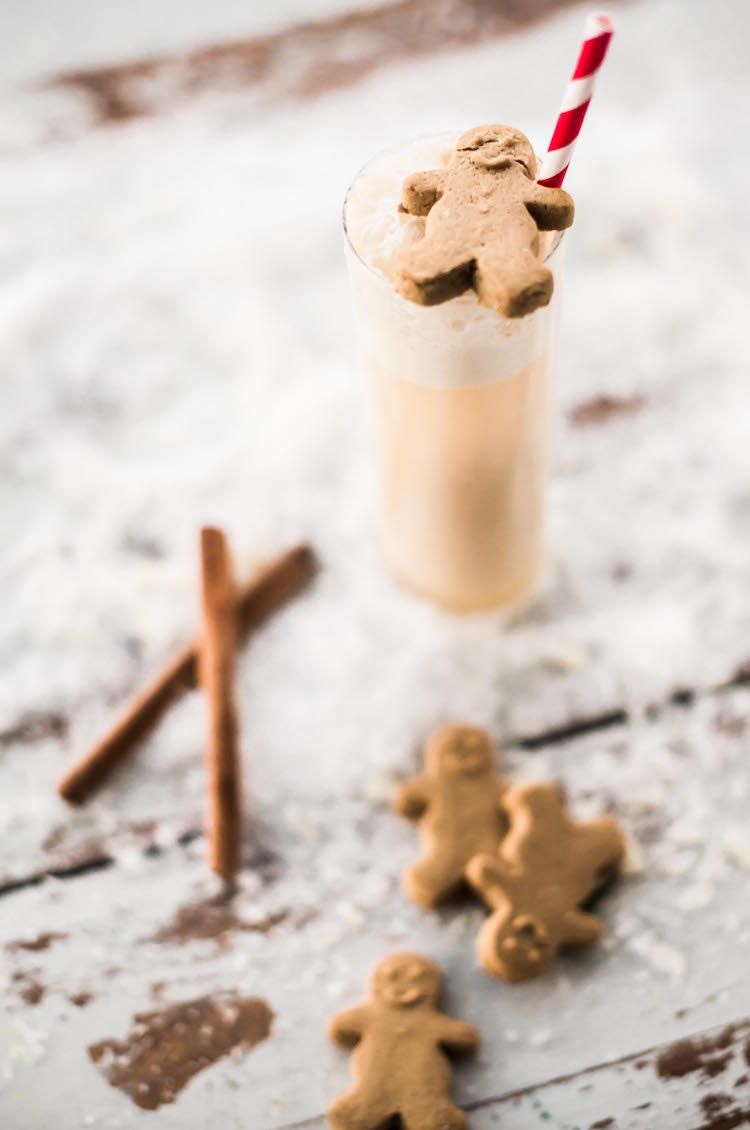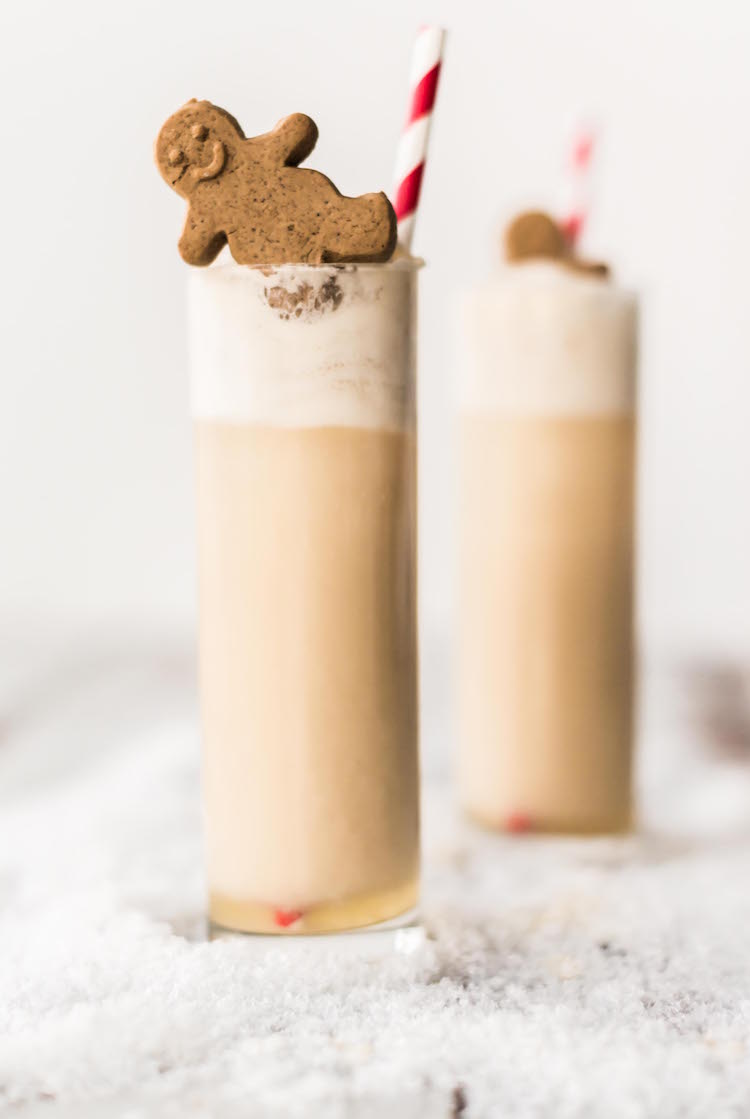 I recently had a creative streak and trying to execute them now… a couple weeks before Christmas, go figure. I can't win. But I know I also need to give myself a break, easier said then done. Me entire business is creative based and creativity is not something you can turn on or off, it has it's own mind. Which has it's pros and cons. It's been an extremely tough year (the passing of my father-in-law, my father having a stroke on top of his illness, and the current political climate) so I try to step back and to allow my self some time, self care, and to not be my worst critic. Again, easier said then done. The creativity and ideas will come in time, I know this. It's when I give my brain a break- taking walks, mini-vacations, taking time to wander and find inspiration, hanging out with other creatives- that I find so many ideas come to me. But I am usually always so busy these days for that to happen. I don't really do New Years Resolutions, but for 2018, I am going to work at not working so hard so that I can work better and more creatively. Hope that makes sense! I actually have a TON of new columns, a site redesign, and ideas in the works for the new year that I am looking forward to get crackin' on. Can't wait to share everything with you!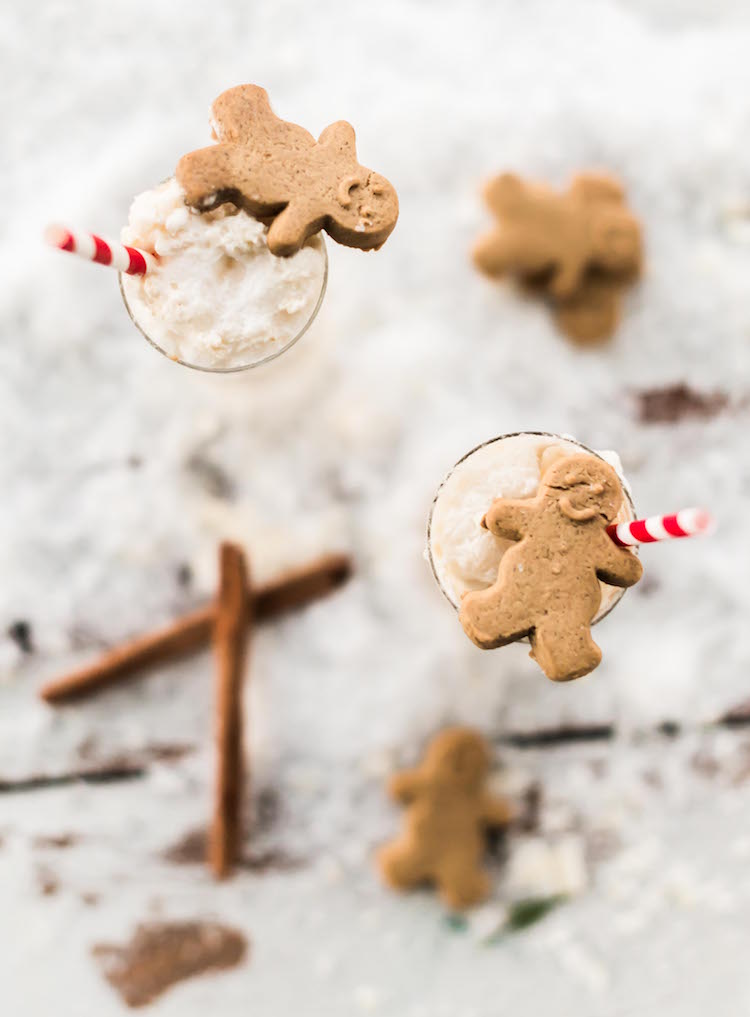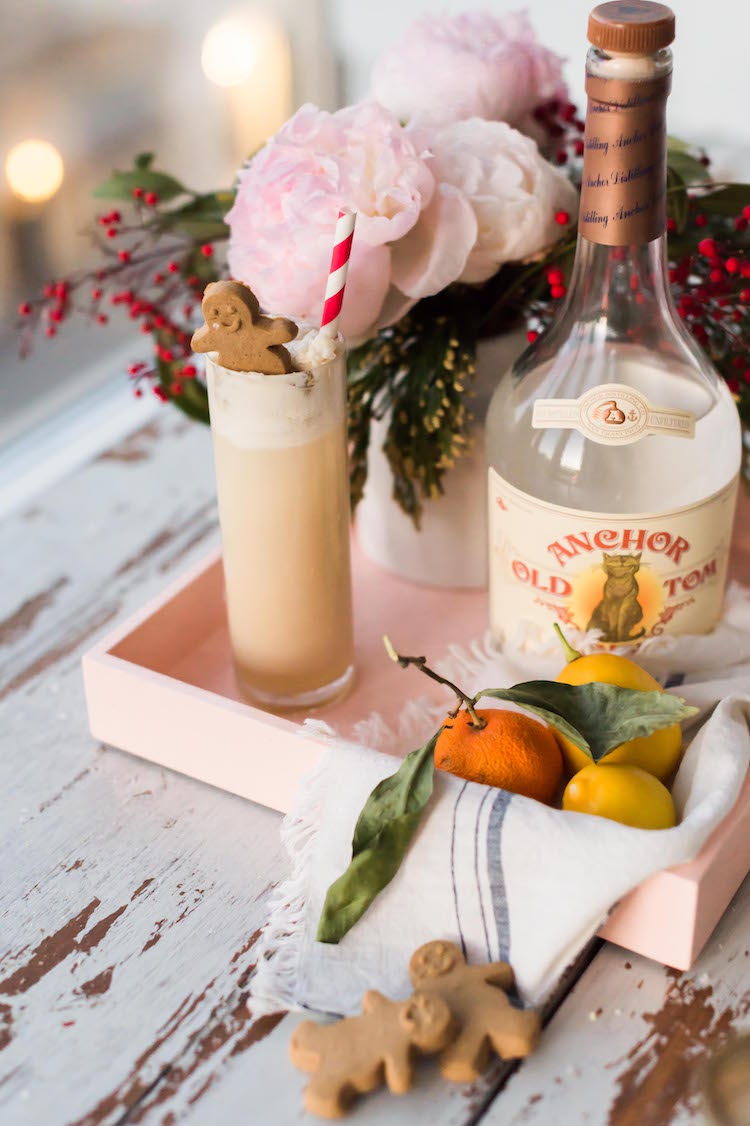 Thanks for sticking around to listen. Your reward? A delicious Gingerbread Ramos Gin Fizz recipe! If you are not familiar with the Ramos Fizz, here is a little about this famous New Orleans work out, I mean cocktail! We won't be shaking the drink for 12 minutes like they used to, only 3-4 is necessary. *I like to do the no strain method I learned about here. I have also found my foam to come out better this way since the strainer doesn't deflate the egg white you worked so hard for. But if you want to do it the classic way, shake with ice for 15 seconds and strain with a hawthorn into the glass.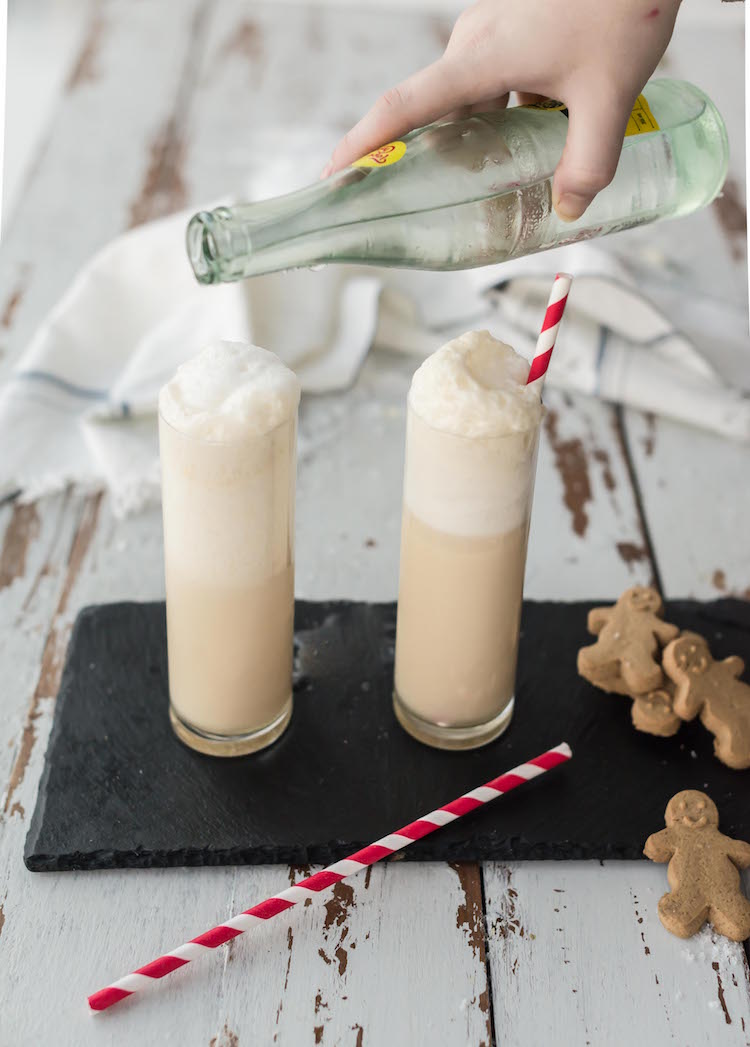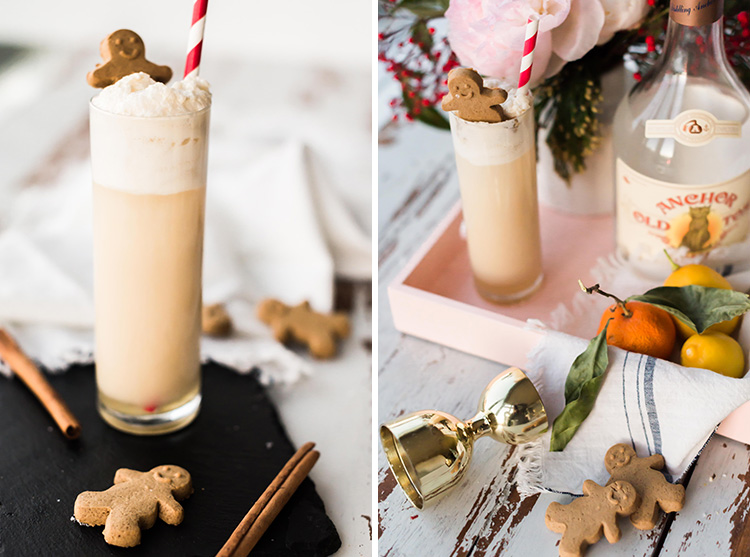 I got the idea for this Christmasy Ramos Fizz needing to use up some ginger. I love how warming ginger is and although goes so well in summer drinks, it also makes for fantastic winter beverages. Syrups are an easy way to add flavor to any cocktail especially since most call for some form of sugar. I made a brown sugar syrup with the ginger and added in some baking spices to the mix. When I tasted it, I immediately thought GINGERBREAD! I knew I had to add the gingerbread syrup it to a Ramos Gin Fizz, as you may know I am a huge Ramos Fizz fan. And that is how this cozy, decadent drink came to be- pure delicious accident! I replaced the lime in the original recipe for orange juice, although not as tart as lime, it pairs so much better with the gingerbread syrup. I topped it off with cute gingerbread cookies and this drink is ready for holiday sipping by the fire (or in my case, in shorts under a palm tree in Florida, ha!)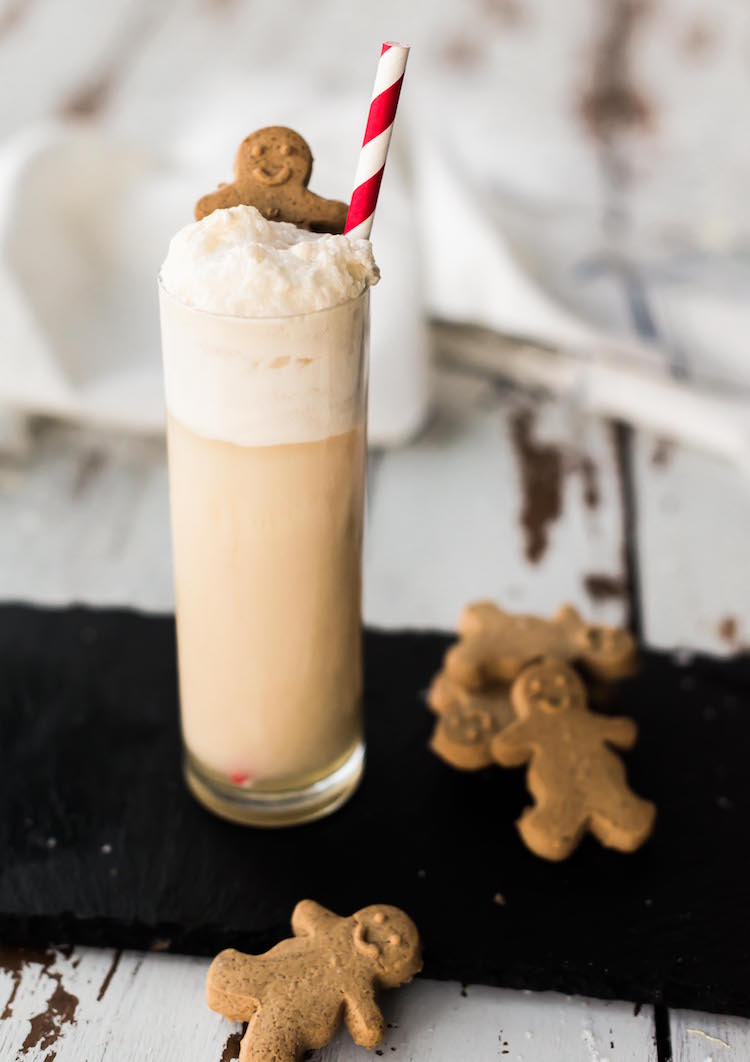 Gingerbread Ramos Gin Fizz
serves 1
tools: shaker
glass: collins glass
2 oz Old Tom Gin, or other gin if you can not find an Old Tom style
3/4 oz gingerbread syrup
1/2 oz lemon juice
1/2 oz orange juic1 egg white
1/2 oz heavy cream
1 oz-2 oz soda water, chilled
garnish: mini gingerbread man, dash of cinnamon
Directions
Make the gingerbread syrup. Add the gin, gingerbread syrup, lemon, egg white and orange into a shaker with out ice and shake for 3-4 minutes. I check at 3 minutes and if I feel I need more foam, I shake for another minute. You'll want to shake hard to get the egg white whipped, you'll need all the foam you can get! Once you have done this add in the cream and 2 regular ice cubes and shake until you don't hear any rattling which means the ice has melted.* Without straining, pour the cocktail into a collins glass. Slowly pour in the soda water until the foam begins to rise above the glass. You'll want to make sure the glass isn't too big otherwise you'll be pouring in too much soda water which will dilute the flavors. Top with a dash of cinnamon and a gingerbread man.