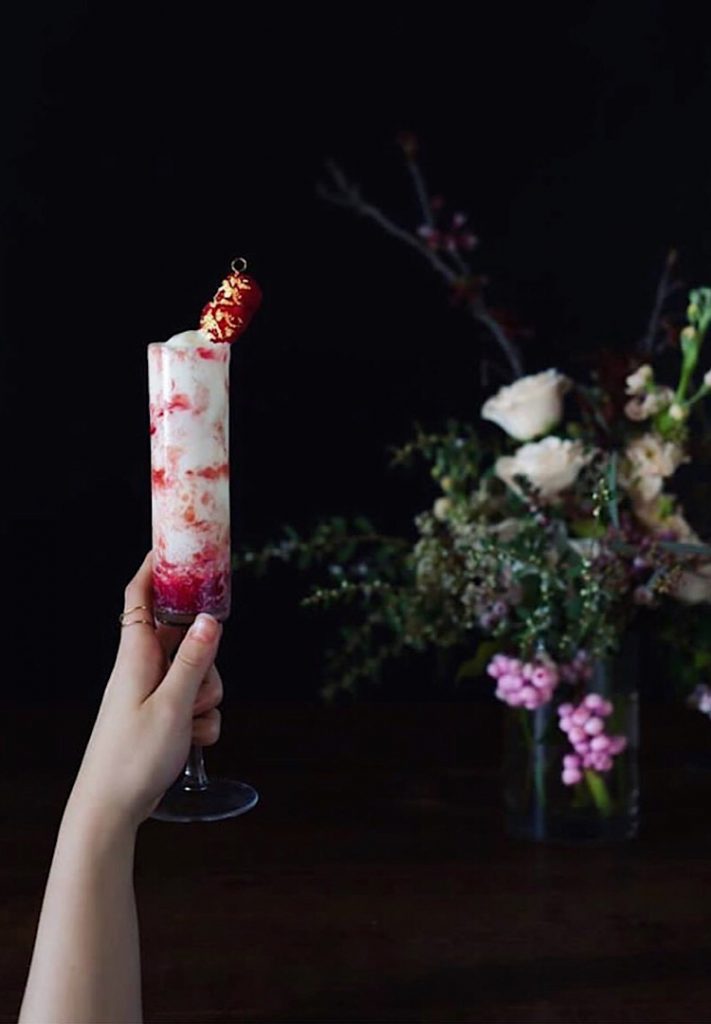 The Raspberry Rose Champagne Float is a shimmering and indulgent drink that's perfect for sipping to celebrate life's little and big moments. Champagne is often reserved for birthday's, NYE, and other holidays, but life is too damn short to just drink the good stuff then. Plus, there are so many delicious, affordable champagnes and sparkling wines that are on the market these days. I originally created this Raspberry Rose Champagne Float for an Oscars viewing party, but have since made it for after a long week of work, sipping on one in my pajamas. I premade the syrup so the boozy float came together really easily, as in easy as just pouring everything in a glass, no shaker involved. Boom!
The Raspberry Rose Champagne Float reminds me of a fiery sunset. Puffy clouds intermingled with vibrant red streaks from the setting sun and a few golden rays peaking their way through. Although instead of being fiery, this treat is cooling. It has creamy ice cream laced with a homemade raspberry rose syrup that is divine, creme de mure bursting with berry flavor, and topped all off with some beautiful bubbly. You don't want to use a really good bubbly for this because you will lose a lot of the subtle differences a really nice bottle brings to the palate. I would search for one in the $20 range. Creme de Mure is a blackberry liqueur hat makes the raspberry in the syrup really pop. You'll want to try to find a good quality one, there are some in the market that are mostly sugar and use extracts and artificial flavoring versus the real fruit. Briottet and Gifford make great versions of this spirit.
To really amp up the glam for this drink, top with edible gold leaf! I rolled the raspberries on a sheet of gold leaf and used them to garnish the cocktail. Edible gold leaf can be very fickle so work with it carefully. If you blow hard near it it can cause the sheet to lift off and stick to your cabinets..or cat. Not that I am speaking from experience or anything. Also, it will stick to anything moist, I prefer to touch the glass or fruit I am working with to the gold directly or use a clean, dry paint brush to paint it on.
RASPBERRY ROSE CHAMPAGNE FLOAT
serves 1
1/2 cup vanilla ice cream, such as Tillamook
4 oz champagne
2 oz raspberry rose honey syrup (recipe below)
1/2 oz good quality creme de mure, blackberry liqueur
Garnish: edible gold leaf coated raspberry
Directions:
Coat raspberries with edible gold leaf by rolling them on or carefully painting on a sheet of the gold leaf with a clean brush. Scoop ice cream into large champagne flute or tall glass. Pour raspberry rose syrup in. Mix the blackberry liqueur and champagne in glass with a bar spoon. Pour into the glass & top with gold raspberries.
RASPBERRY ROSE SYRUP
3/4 cup organic raw honey
1/2 cup water
1 cup/ 6 oz container raspberries
1/4 cup organic dried rose buds (found in the tea section of my local co-op or on amazon)
Directions:
Add honey & water to a pot over high heat. Bring to almost a boil. Take off heat & add in the raspberries & rose buds. Gently muddle the raspberries & let cool. Strain through a fine mesh strainer into a container & store in the fridge for a month.