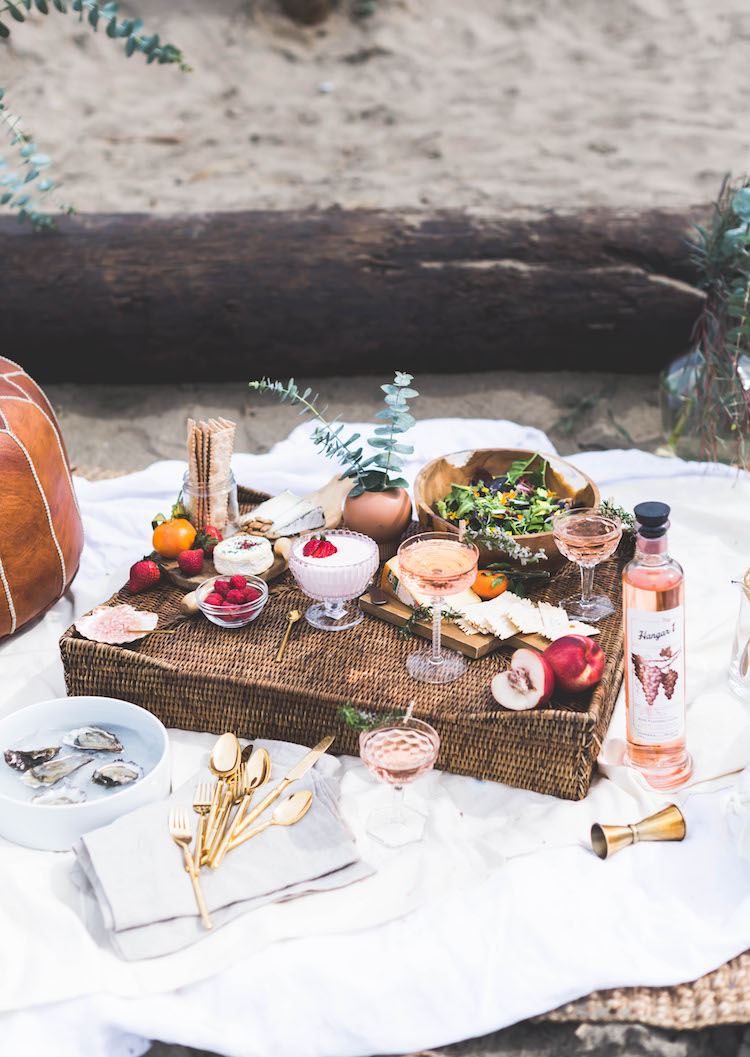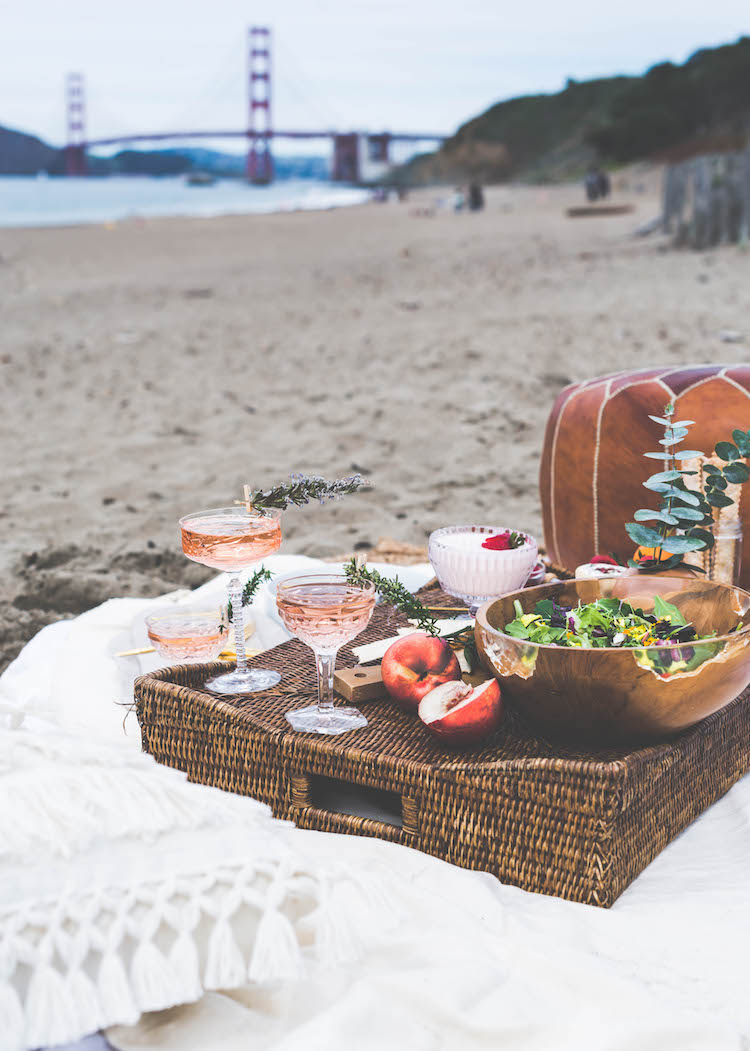 Rosé has gone beyond just being a drink, rosé has become a lifestyle. Leisurely sunny days, pretty picnics, patios, long shadows, sunset views, pink hues, and living your best life. Bay Area local distillery Hangar 1 has created a way to extend this rosé lifestyle into higher proof sipping: enter their Rosé Vodka!
Hangar 1  couldn't have released their new Rosé Vodka at a better time. The days are getting longer and warmer which means it is time to mix up refreshing drinks to sip al fresco whether roof, park, or beach. When I go to the beach, I tend to stay for two seconds before wanting to leave. It's better of an idea in my head then reality. Maybe it's my fair skin, sand aversion, or a long-standing grudge with a sandwich stealing seagull, but a full day at the beach has never appealed to me, until now. I recently hosted a beach picnic that had a few added special touches that turned it into a day of fun.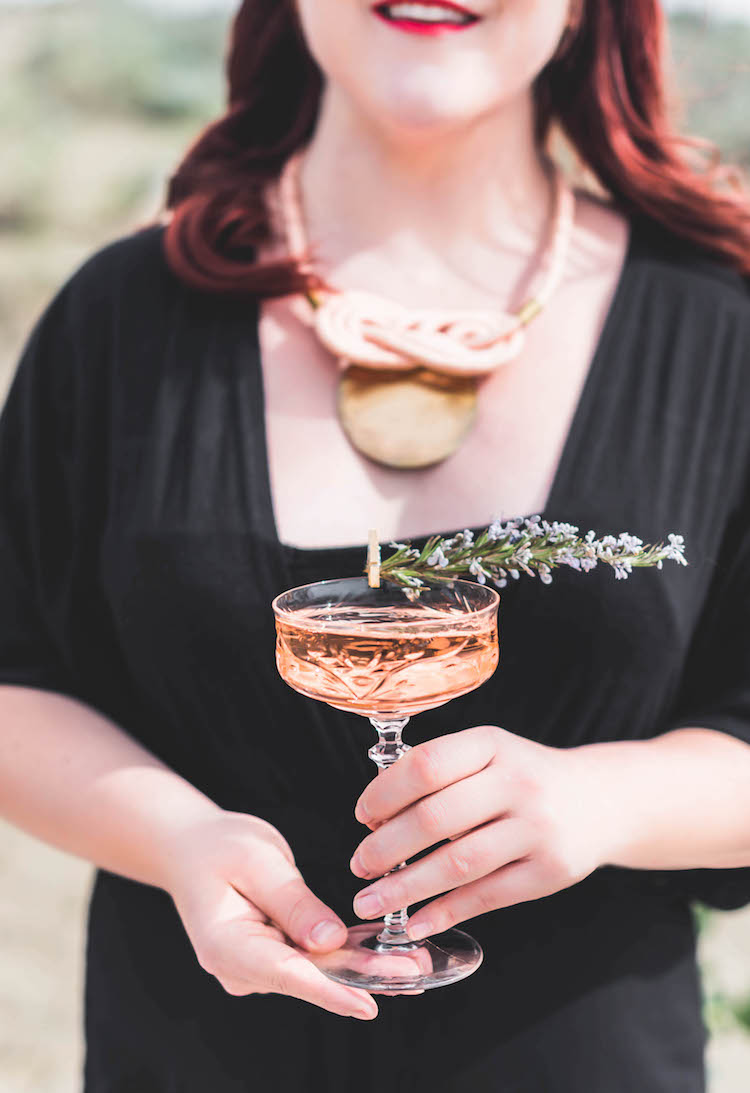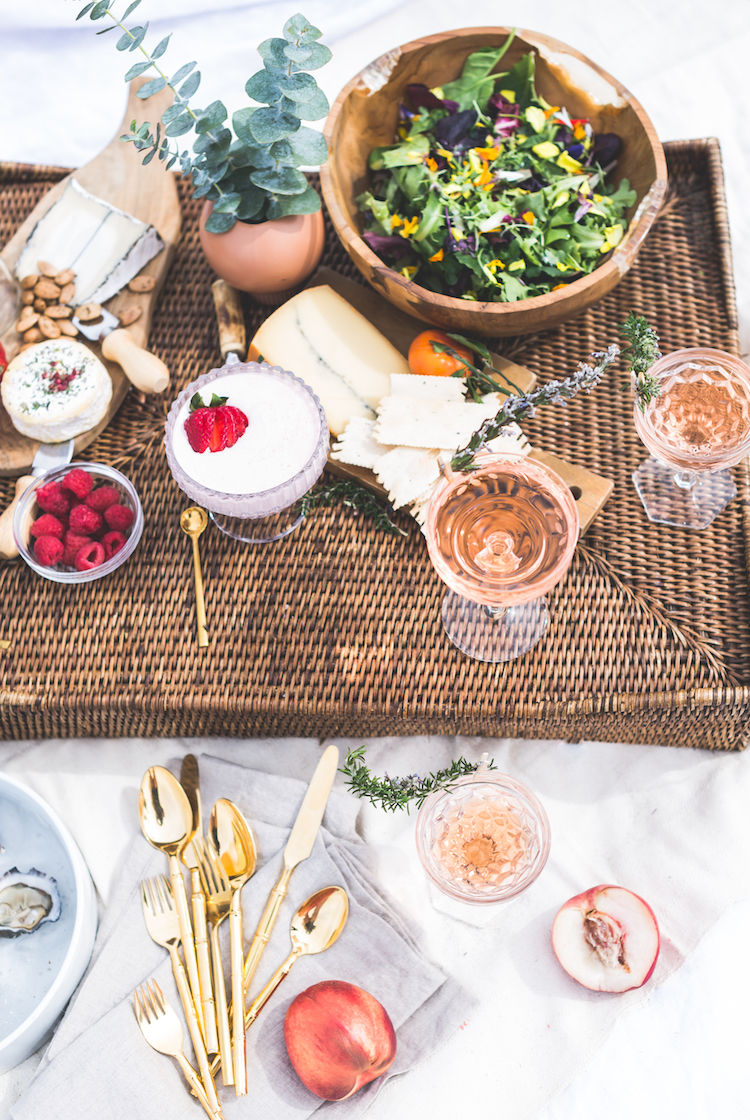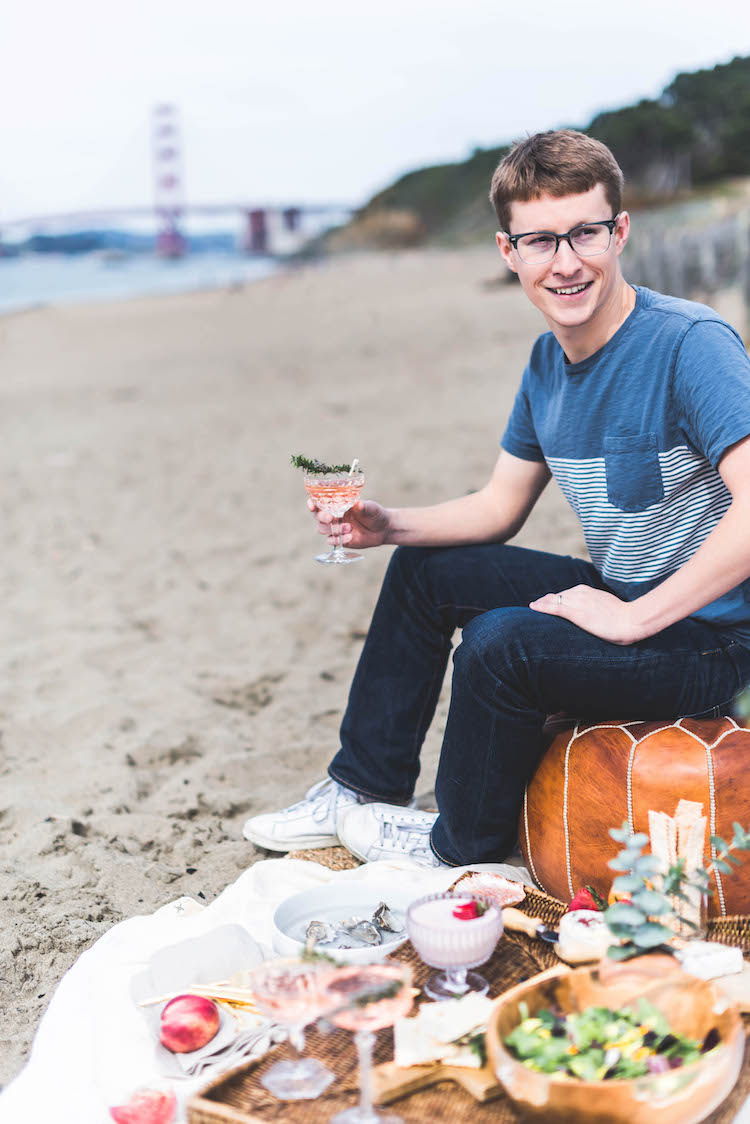 My menu for the beach picnic included oysters, cheese plates, citrus flower salad, dips and the Rosé Disposition, a peach and Rosé Vodka cocktail. For the oysters, I shucked them at the beach so that they were super fresh. To really drive home the rosé theme, I whipped up a rosé and apple cider mignonette for the oysters which paired beautifully with the cocktail. I didn't want to haul a lot of ingredients to the beach to make the cocktail, so I kept it simple. You can mix these Rosé Dispositions at the beach with a
mixing glass and spoon for a presentation or you can make these days in advanced. Because there are no citrus or perishable items in the drinks, you do not have to make these rosé cocktails à la minute. Mix these up before the party and chill them in the
freezer to get them to the perfect temperature and pour them in a thermos to keep them icy cold at the beach, no one likes a warm cocktail. Just twist the lemon peels over each glass before serving for a fresh hint of citrus oil and everyone will be sipping pretty!
Ultimately, all you really need is a beach blanket, snacks, maybe some oysters and of course a custom rosé hued cocktail to make for a special day at the beach. This is definitely an over-the- top beach party and required a lot of trips from the car to the beach but was so worth it (no really!) to create this cozy "lounge" to spend the day in the sun. Here is how to you recreate it for your own beach party.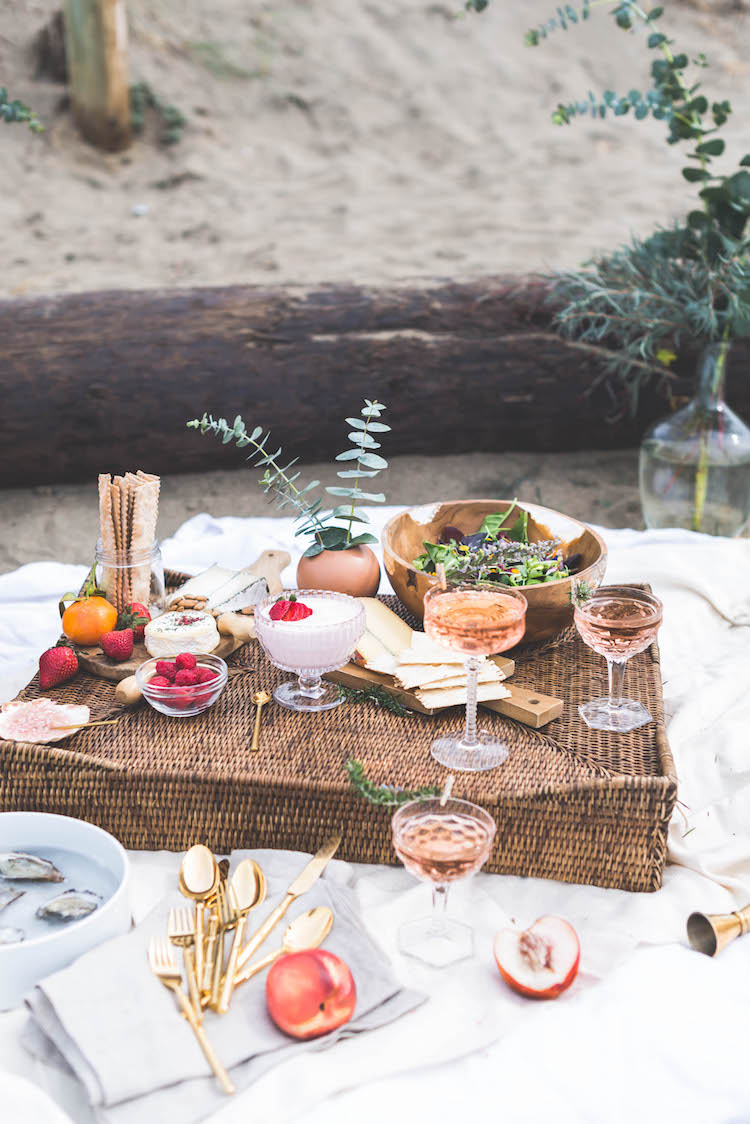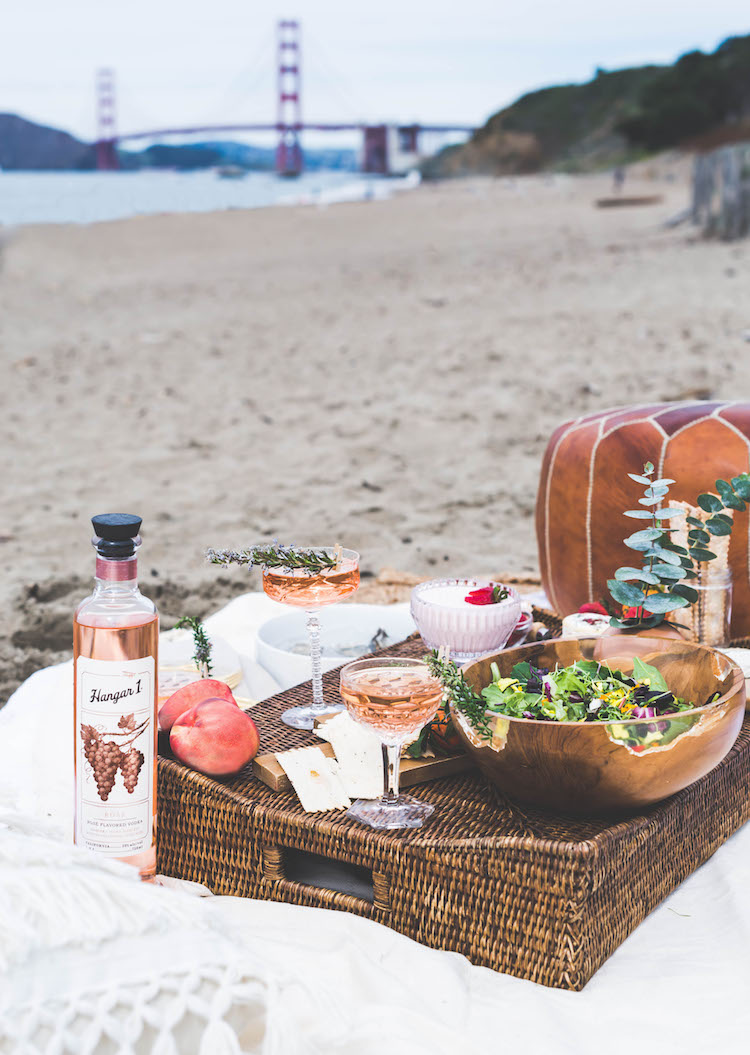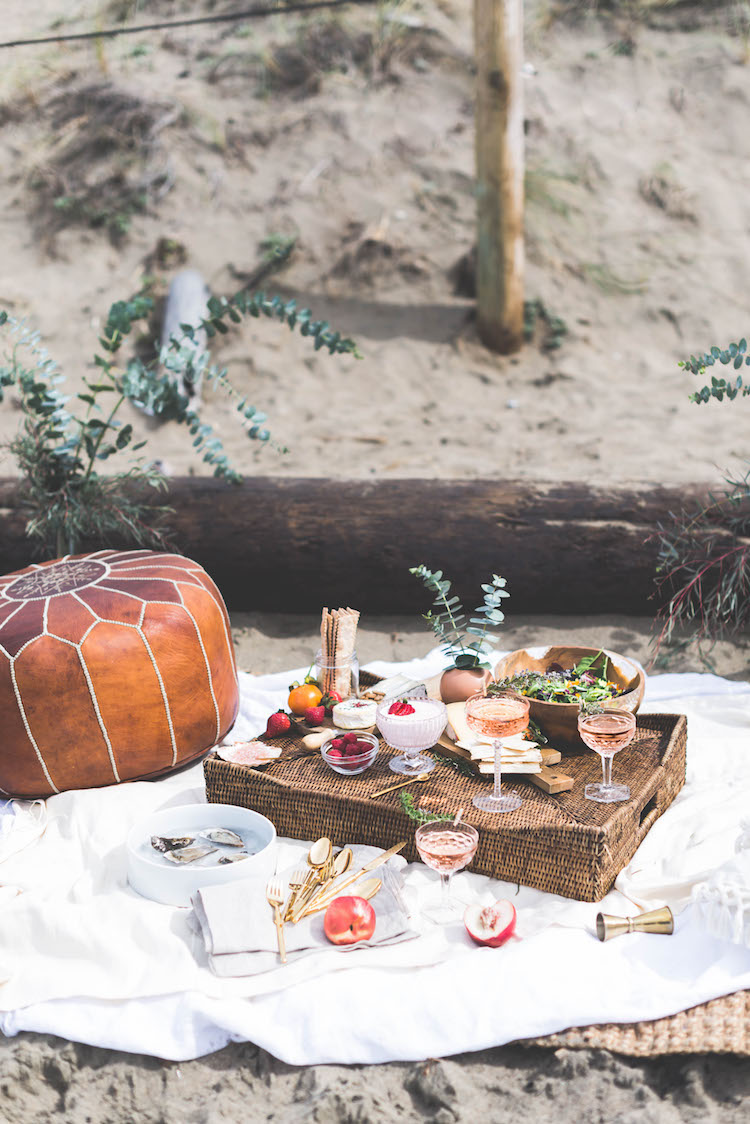 "Ingredients" and Tips For The Ultimate Beach Party
Roll out a few grass or rattan mats and lay your blankets on top of these. It will keep a lot of sand from transferring onto the blankets where you are sitting and eating. Sandy sandwiches are a buzzkill!
Beach chairs or poufs provide cushy options for people to sit on. Poufs can also act as impromptu tables/surfaces.
Trays help corral food and provide an extra barrier from sand. I even used a large rattan tray flipped upside down for an elevated surface.
Prepare simple hand-held foods or dips so you don't have to pack a bunch of plates.
Take inspiration from the location for the cuisine. The ocean is full of tasty treats prepare items like crab rolls, fresh shucked oysters, and smoked fish dips, it will feel appropriate snacking on these as you watch the tide roll in.
Pack metal or non-breakable reusable cups for a casual beach day, or for an elevated beach party, bring your sturdy cocktail glasses. I used some of my coupes which have thicker bases that won't blow over in the wind. The last thing you want is a spilled cocktail (now that is worth crying over!).
If you have any lightweight garnishes for your drink (like herbs) use mini clothespins to secure them to the glass so they don't blow away.
Although it is not pictured, we had an umbrella to cover the beach picnic. Warm cheese and sun burns are never a good thing.
Pack a trash bag for anything that needs to be tossed. It's key to leave no trace at the beach, not a stitch of trash or food for wild animals to eat.
Bonus: a small vase of a few blooms or greenery adds a natural pop of color to the beach party.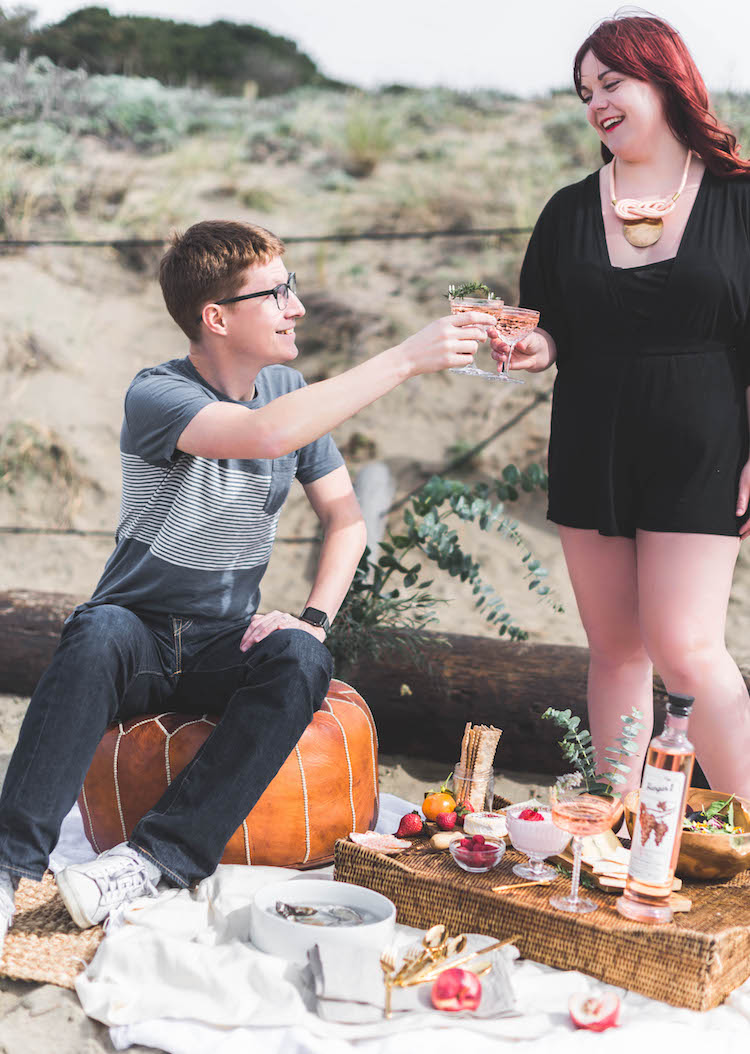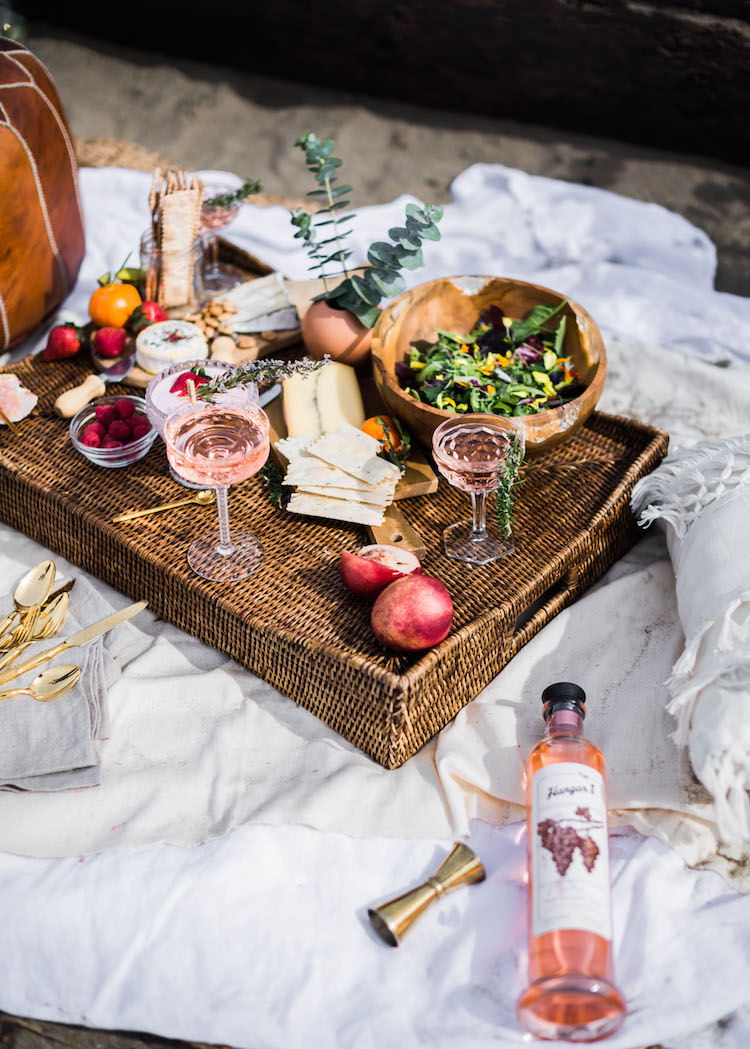 I created this boozy, stirred drink that still feels light and fruit-forward using the Hangar 1 Rosé Vodka. Before you think no way rosé, Hangar 1's Rosé Vodka is not flavored or dyed to appear rose colored, it is blended with rosé wine to create this delicious pretty pink spirit served up in a rose gold bottle. Perfection! Under the watchful eye of female head distiller Caley Shoemaker the vodka is distilled with grains as well as grapes followed up with a blending comprised of rosé wine. It's an easy way to incorporate the lovely nuances of rosé into your cocktails. The Hangar 1 Rosé went beautifully with the peach infused aperitif wine and citrus oil and rosemary. That's it. You only need four ingredients to make this beautiful beverage for the beach. Of course, be sure to drink Hangar 1 Rosé Vodka responsibly, it has a much higher proof than rosé wine does!
serves 1
tools: mixing glass, mixing spoon, julep strainer, vegetable peeler, clothespin
glass: coupe or Nick & Nora
2 oz Hangar 1 Rosé Vodka
1 oz peach infused aperitif wine, recipe below
lemon peel, expressed and discarded
garnish: rosemary sprig
Directions
Stir all ingredients in a mixing glass for 30 seconds. Strain with a julep strainer into a coupe glass, served up. Twist lemon peel over the class to release the oils and discard peel. Smack rosemary sprig on the glass to and garnish, I used a mini clothespins to attach the rosemary to the glass.
*Pre-freezing your cocktail: If making in advanced, multiply the ingredients by how many drinks you want to serve. Mix the liquid ingredients in batches with ice for 30 seconds. Strain into a container and store in the freezer sealed for up to a week. When ready to serve, pour into a glass, express lemon peel over the drink and garnish with rosemary sprig.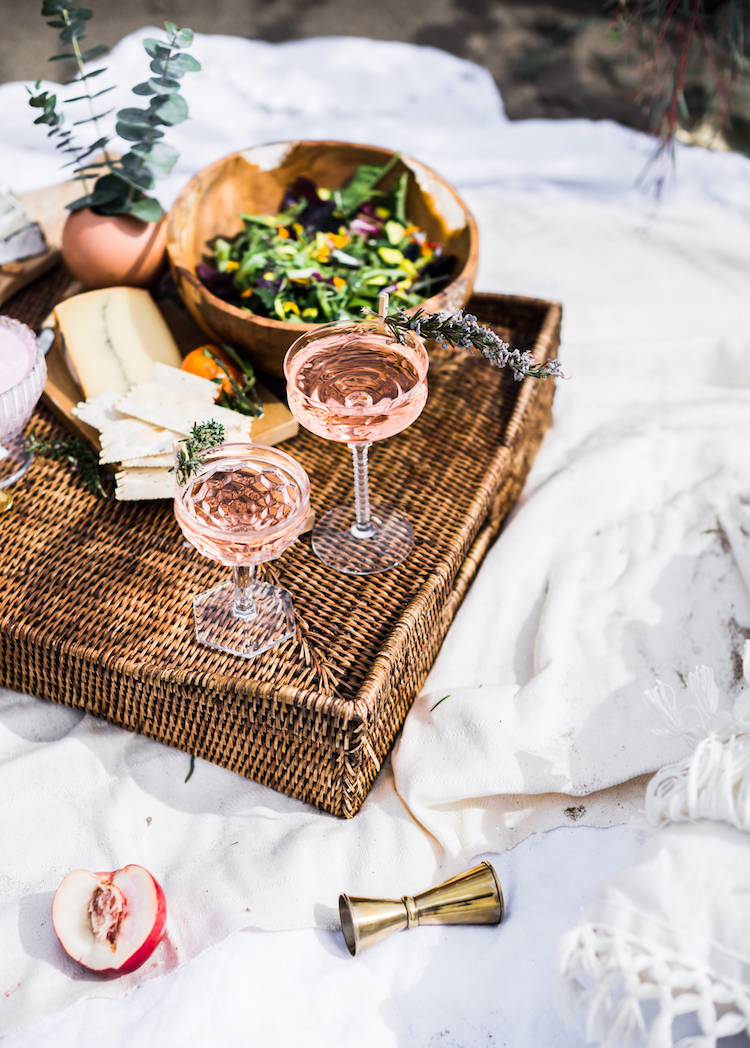 Peach Infused Aperitif Wine
make 1 cup
tools: knife, jar, fine mesh strainer
1 cup quinine aperitif wine
1/2 a medium sized peach, sliced
Directions
Add slices of peach into a jar with quinine-based aperitif wine and lightly muddle. Seal and let infused in the fridge for 1 day. Once infused, strain through a fine mesh strainer into a clean container and seal. Store in the fridge up to 1 month.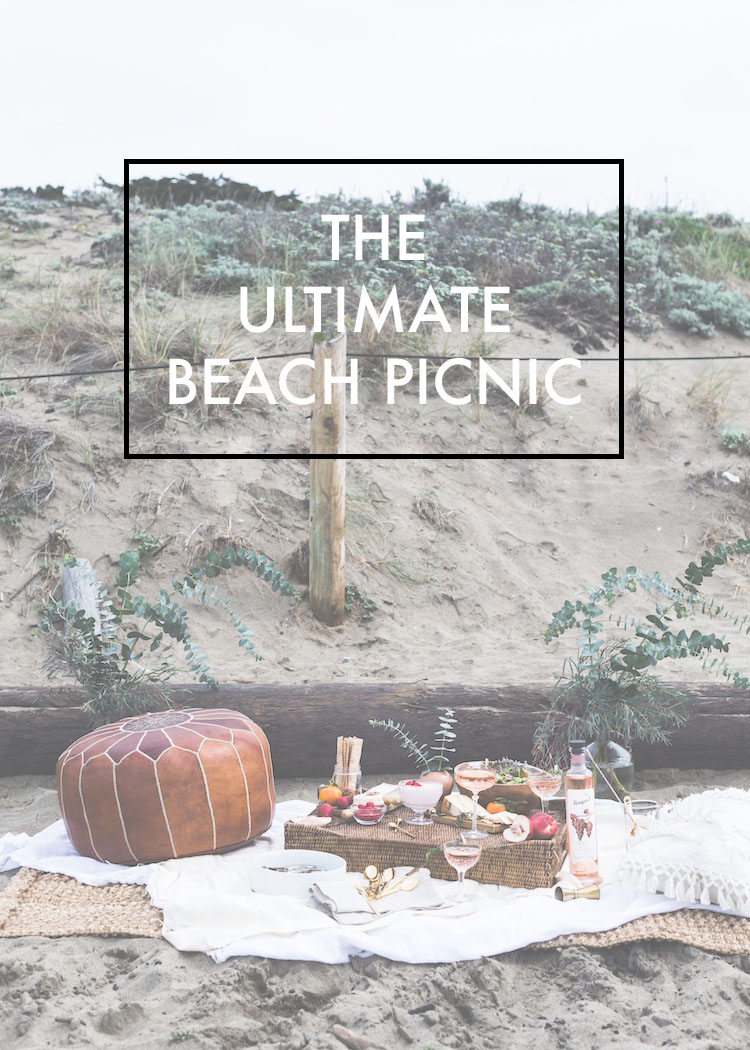 This post is sponsored by Hangar 1 Vodka All opinions are my own. Thank you for reading and supporting the partnerships that keep the cocktails flowing on Craft + Cocktails!