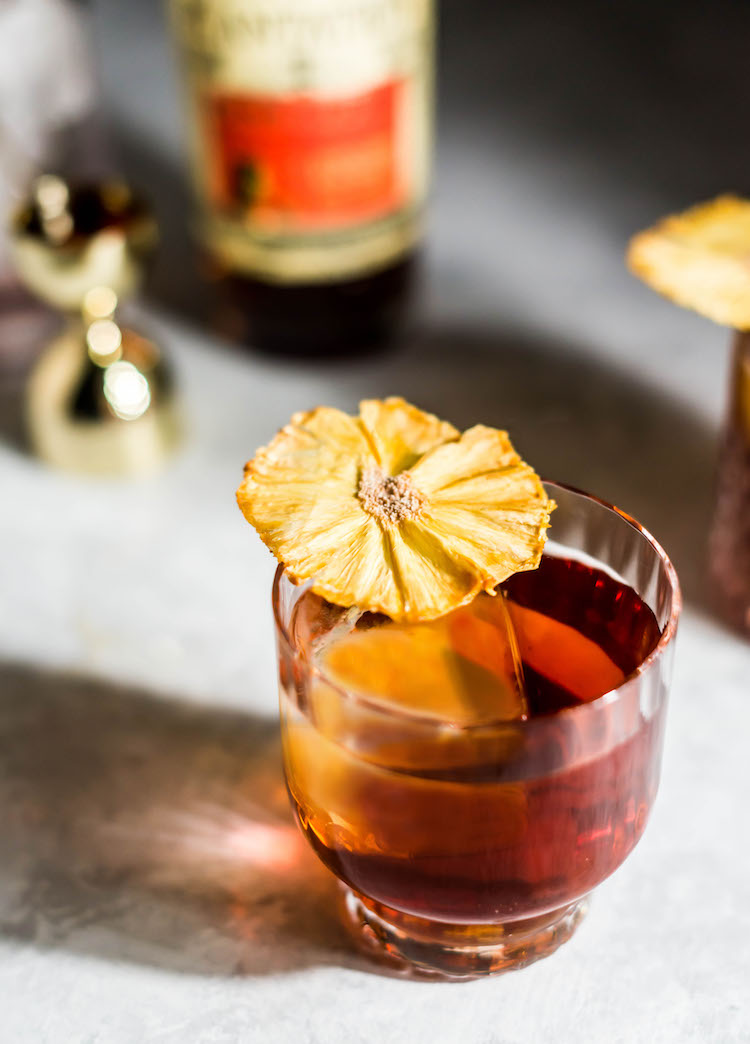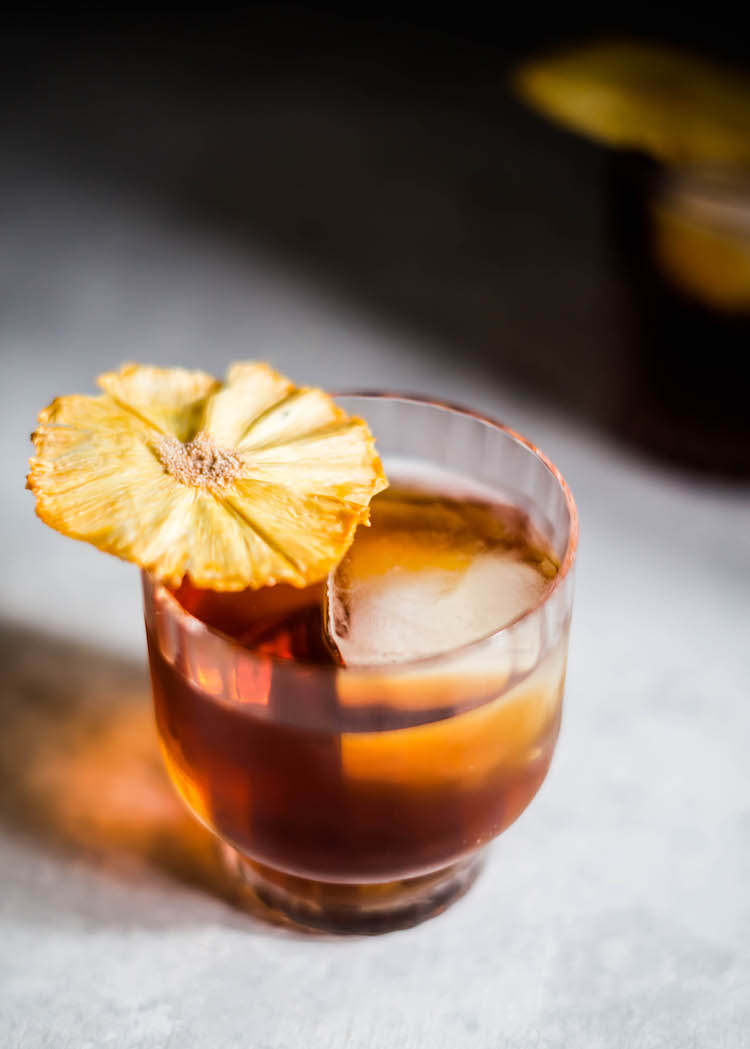 I would like to admit one of my first loves of cocktails was an Old Fashioned, but that would be a down right lie. A more accurate answer would be something with Hypnotic. Guilty! But to be fare, it was a tasty drink at the time. My dad mixed it up on my 21st birthday because blue was my favorite color, although I am sure it pained him to mix with the blue shiz in a drink, thanks Dad! But back to the Old Fashioned. Although it is not my favorite at the time, it is now! The best part of the Old Fashioned is it is the perfect stand by, a cocktail in it's most basic form- spirit, sugar, bitters, ice. It's also perfect for riffing. I am craving summer and tropical drinks, but not looking to suck down lots of crushed ice when it's below 40 degrees. The Coco Banana Pineapple Rum Old Fashioned is the answer to this quandary!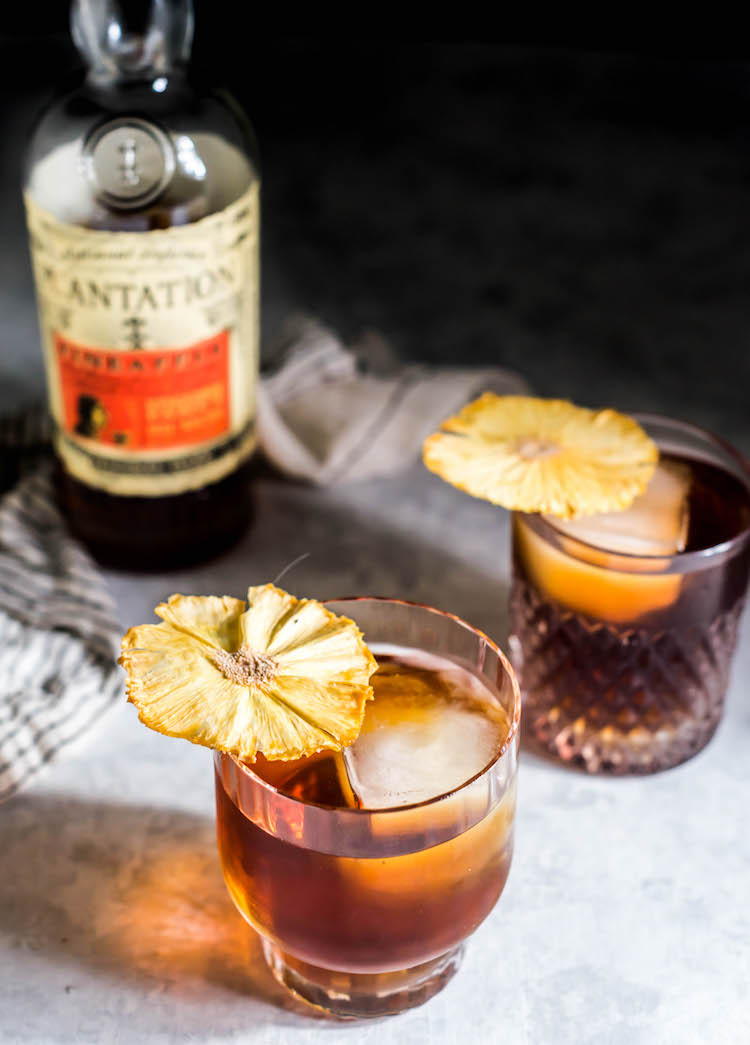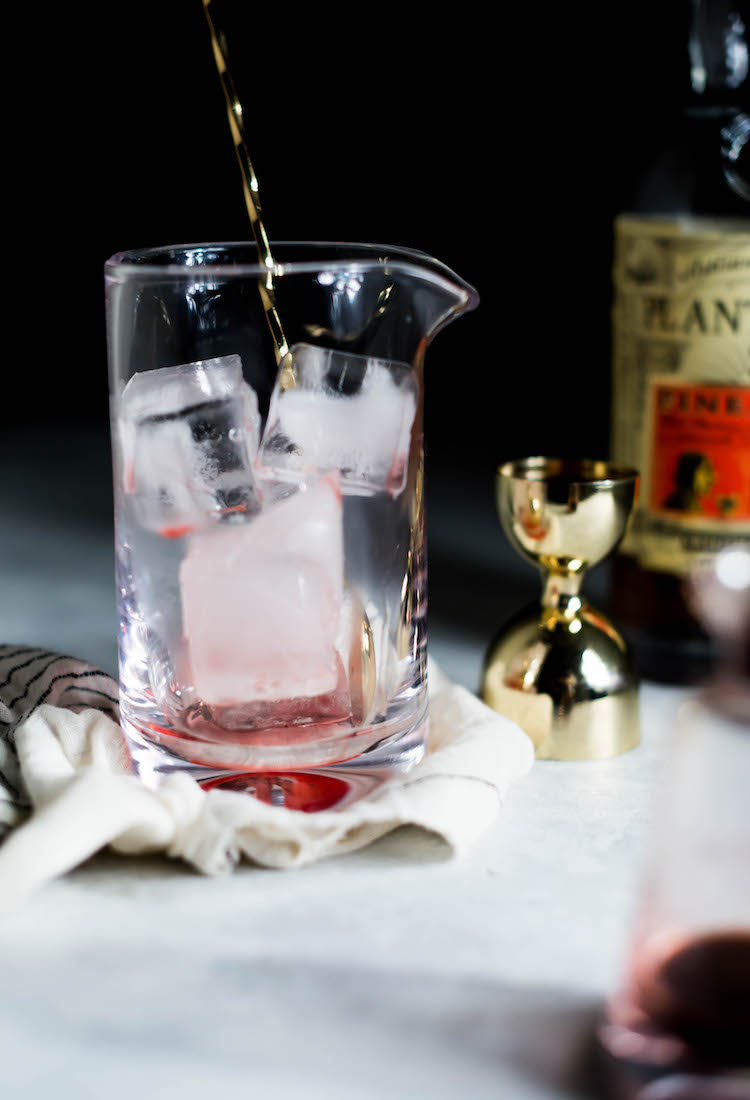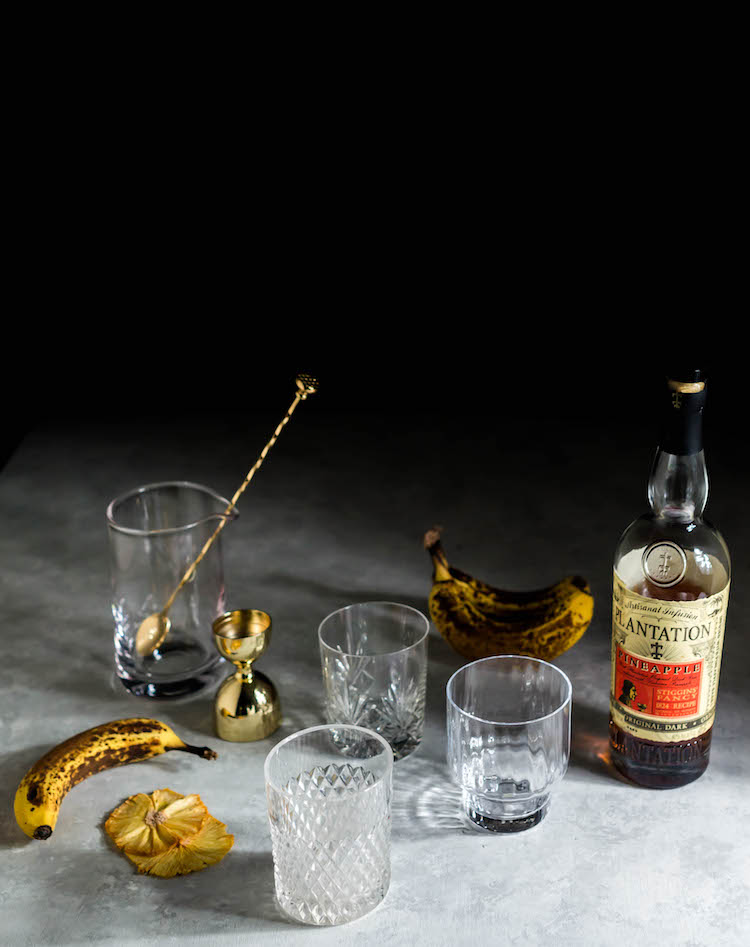 The name is a mouthful, but a damn tasty mouthful! It has all of the delicious flavors of tropical drinks- coconut, pineapple, banana- presented in a booze forward drink. It features a homemade brûléed banana coconut syrup, tiki bitters and my ride or die/desert island spirit Plantation Stiggens' Fancy Pineapple Rum. I think we go through a bottle ever couple weeks in my house. If you have never had it before GO GET IT RIGHT NOW. You can thank me later. Perhaps with a pineapple rum cocktail ; ) This pineapple rum is aged and steeped with real pineapple vs. "essence" of pineapple or what ever artificial garbage they put in a lot of flavored spirits. It's a well balanced rum that tastes like rum with a big pineapple hug at the end. It makes for a great Daiquiri or Old Fashioned like this Coco Banana Pineapple Rum Old Fashioned.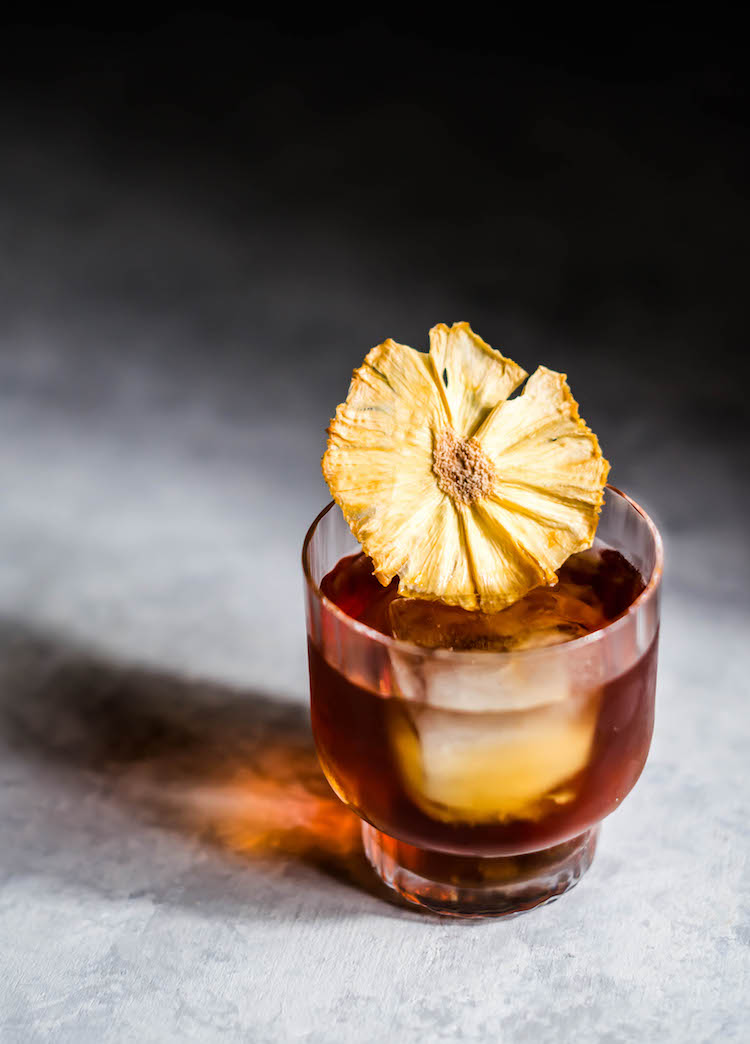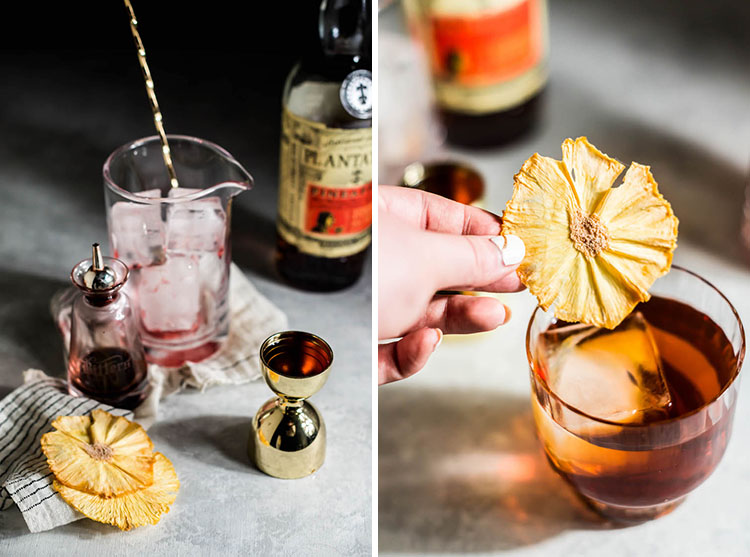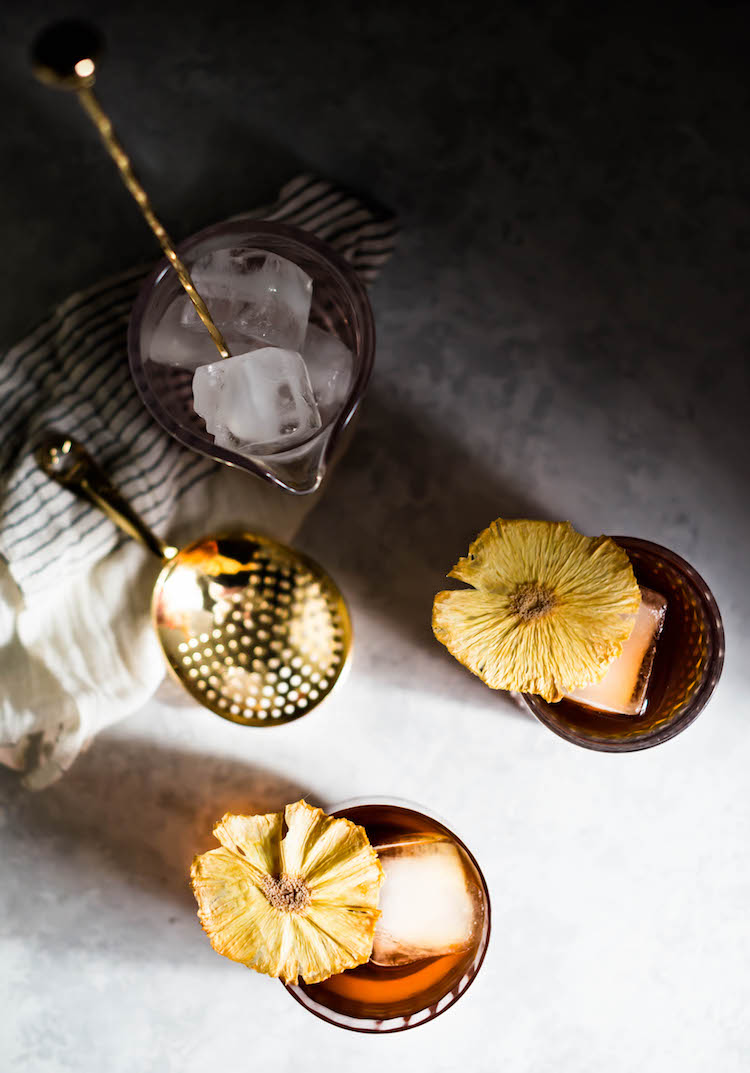 The coconut banana syrup is brûléed! Don't let the brûlée part turn you off! If you can work an oven or kitchen torch, you can make broil them with sugar in the oven or omit this step all together, but there will be a slight difference in flavor for the syrup. I wrote all about brûléeing citrus here if you want to know more. I love the combination of coconut and banana in unexpected cocktails (remember this Coconut Banana Margarita?)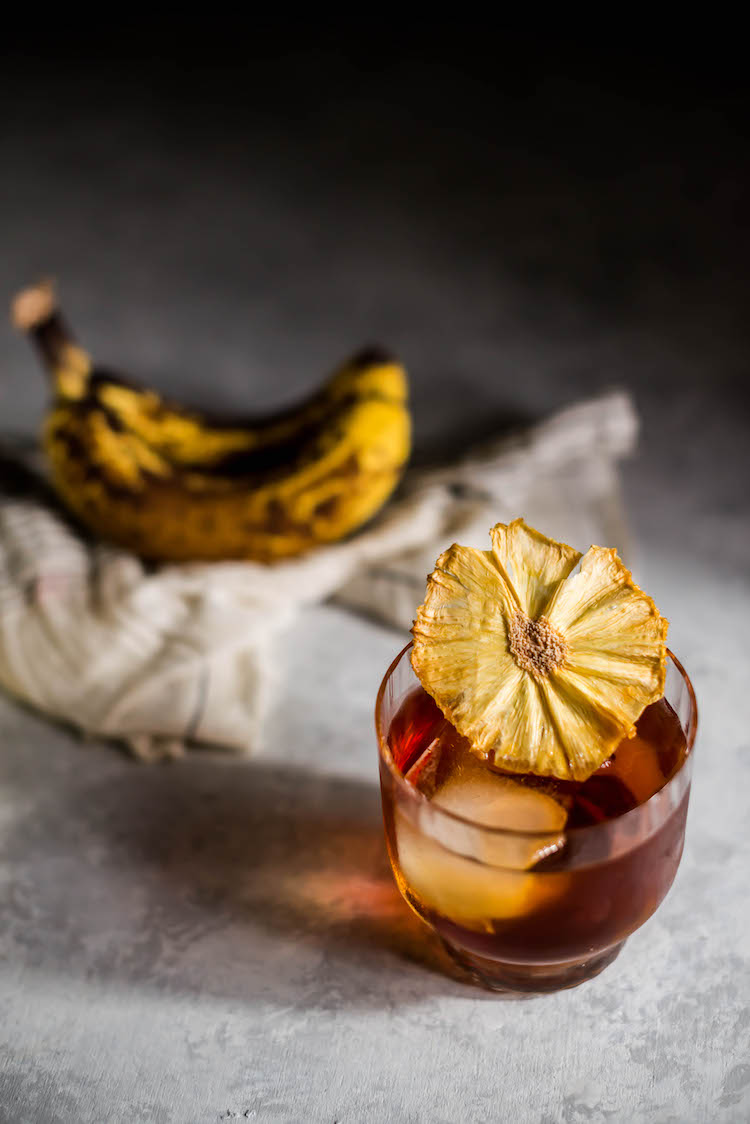 Coco Banana Pineapple Rum Old Fashioned
serves 1
glassware: old fashioned or rocks
tools: mixing glass, spoon, julep strainer
1/4 oz banana coconut syrup, recipe below
two dashes tiki bitters or other bitters
orange peel, expressed and discarded
garnish: dried pineapple slice or fresh pineapple wedge.
Make the syrup. Add all liquid ingredients into a mixing glass with ice. Mix for 30 seconds. Using a julep strainer, strain into a rocks glass with a large ice cube. Express orange peel over the drink and discard. Garnish with pineapple chip or fresh pineapple slice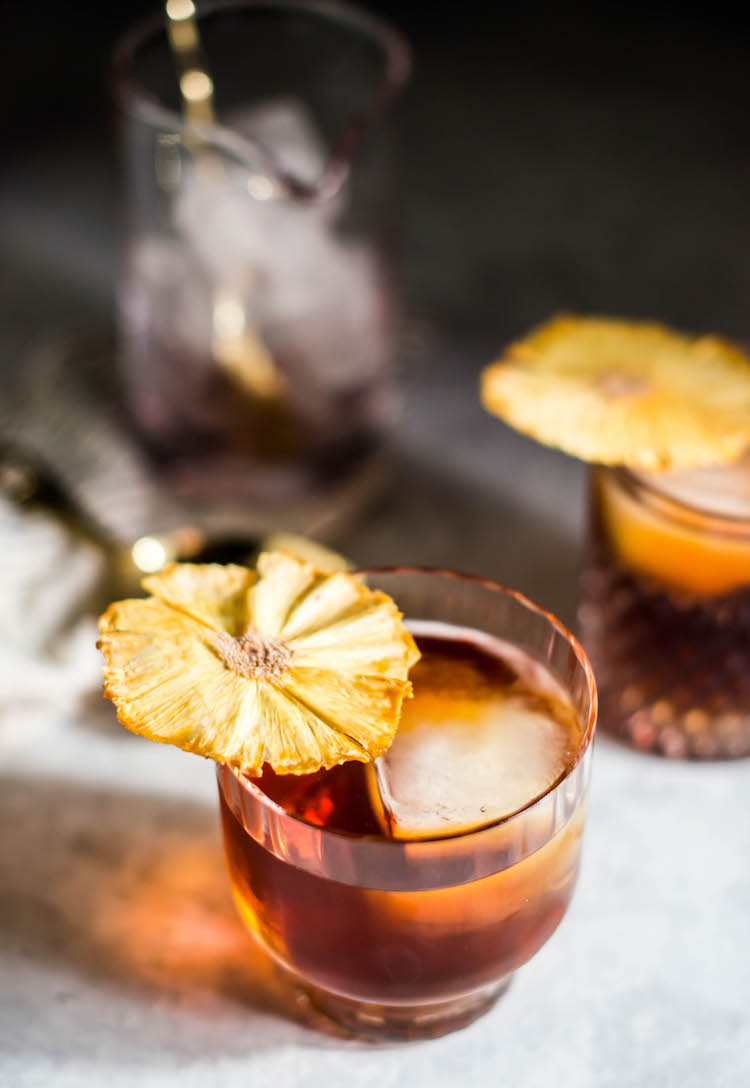 Coconut Banana Syrup
1 1/2 cups sugar (I tried Demerara, brown sugar and white sugar. Demerara was the best, but brown sugar and white sugar still had a great flavor)
1 cup water
3/4 banana large banana, sliced thinly
1/2 cups unsweetened coconut chips
If you do not want to brûlée the banana, skip this part- add thinly sliced banana into a large mason jar or baking pan. Sprinkle a thin layer of sugar over the bananas. Using a kitchen torch, caramelize the bananas until they turn amber.
Add the sugar, water, coconut coconut chips, and bananas into a mason jar. Shake for a bit to get the sugar to begin to dissolve. Let the ingredients steep for 8 hours or over night. Shake periodically to get the sugar to fully dissolve. Strain through a fine mesh strainer. Store in a sealed container in the fridge for 2-3 weeks.
You came for the Coco Banana Pineapple Rum Old Fashioned, but you also get a cat butt! This is generally right outside the frame for most of my photos. Now you know!