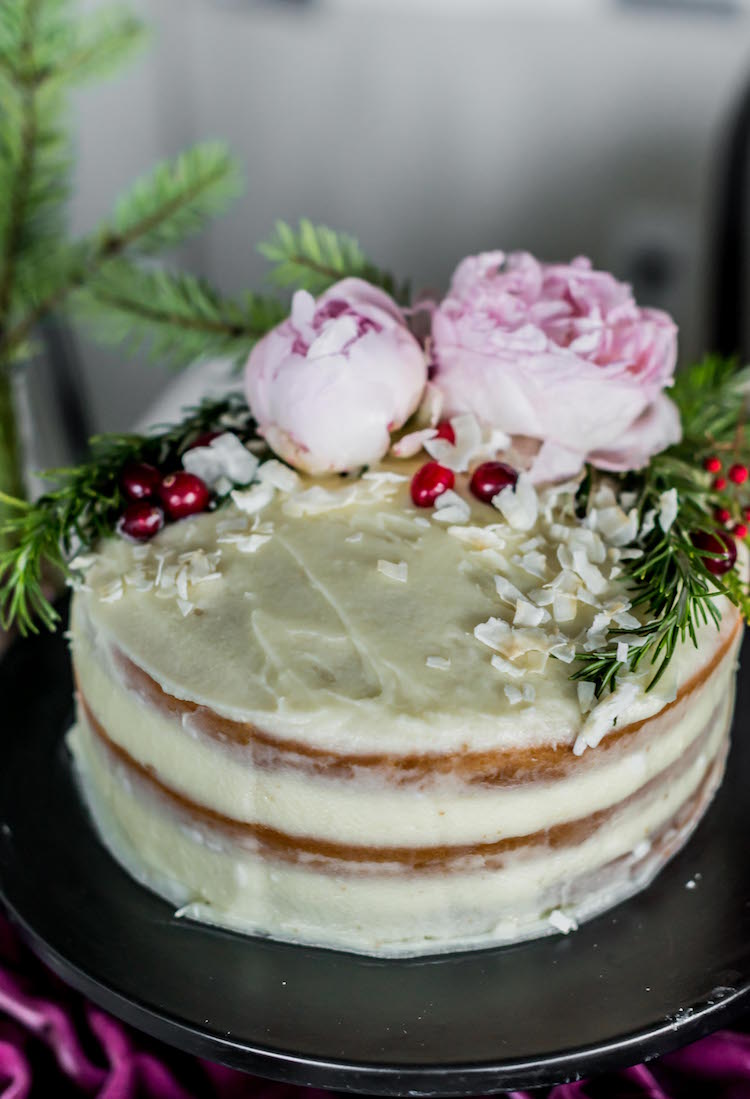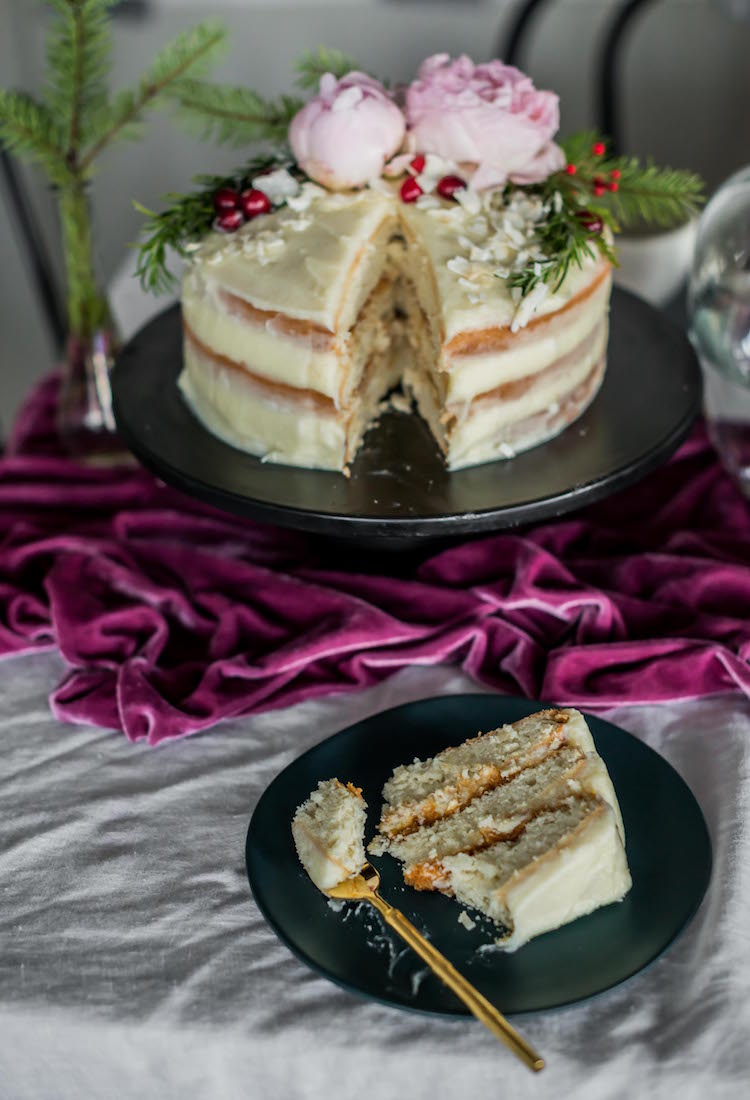 I like to host effortless holiday happy hours and open houses durning the holidays. I serve crudités and holiday cheese plates for a no cook option and limit myself to a baked dessert or two for those with sweet tooth. I am not a huge cake person, if I am being honest. I KNOW, call the dessert police. I think a lot of it is buttercream. Buttercream and I are not friends. I decided to make a holiday cake this year, however. Living outside my comfort zone. I ended up reeeeally liking this cake though, so that is saying something! So much so I decided to share the recipe and how to for this Holiday Naked Coconut Cake with Cream Cheese Frosting and Rum Salted Caramel. This cake takes the cake!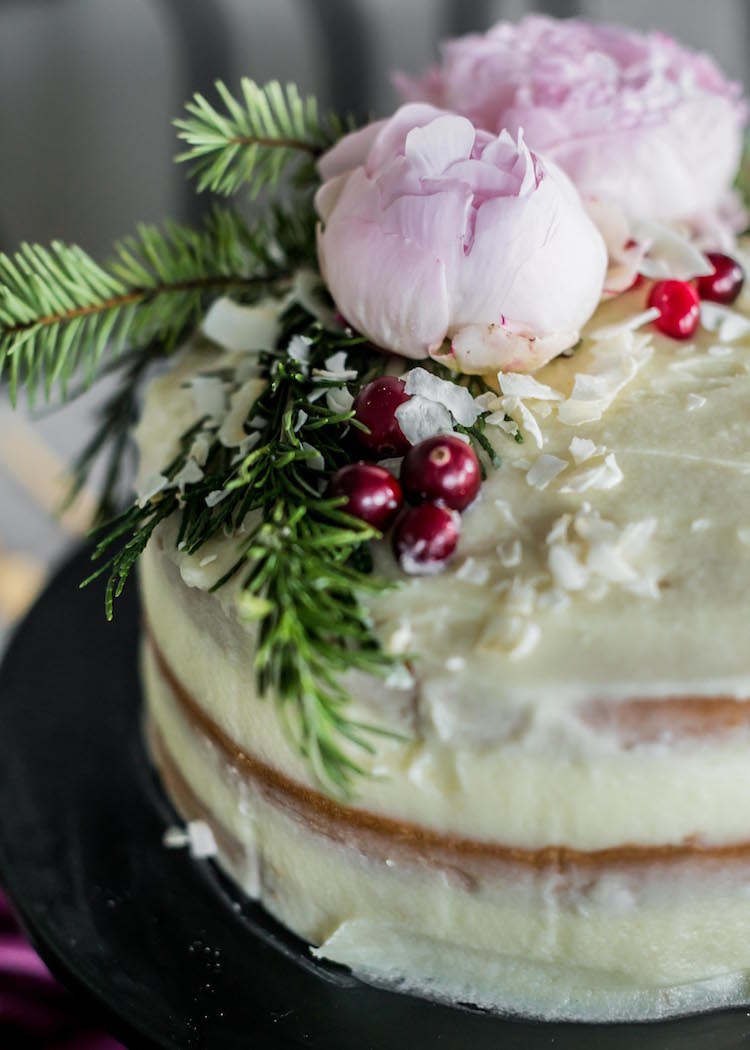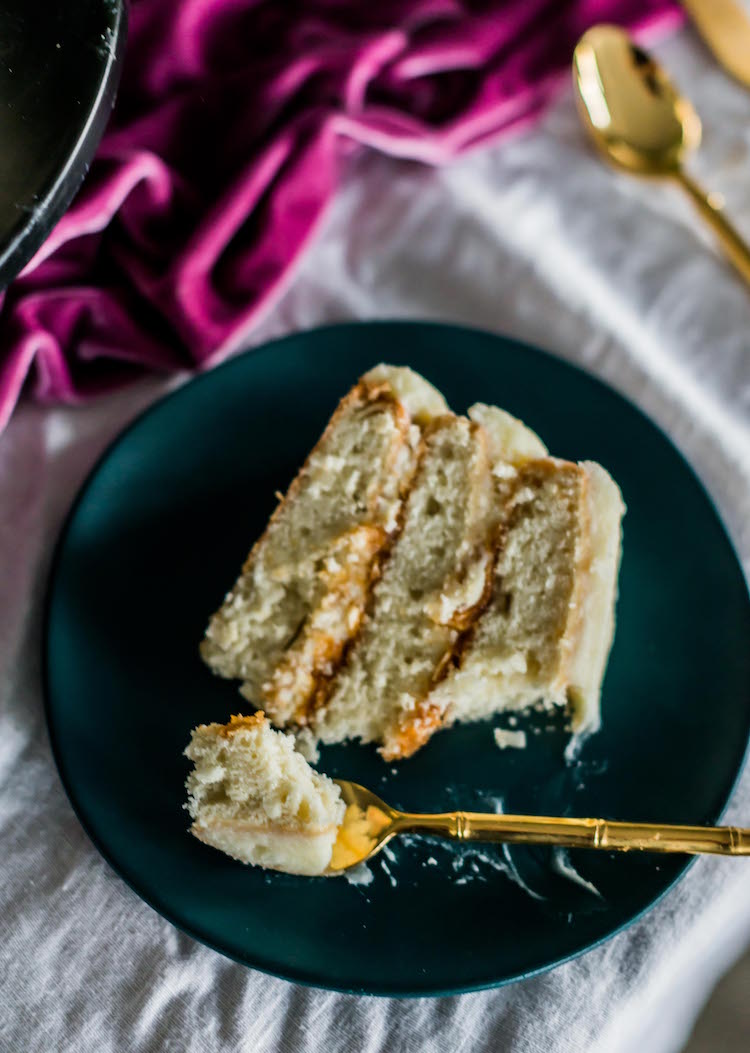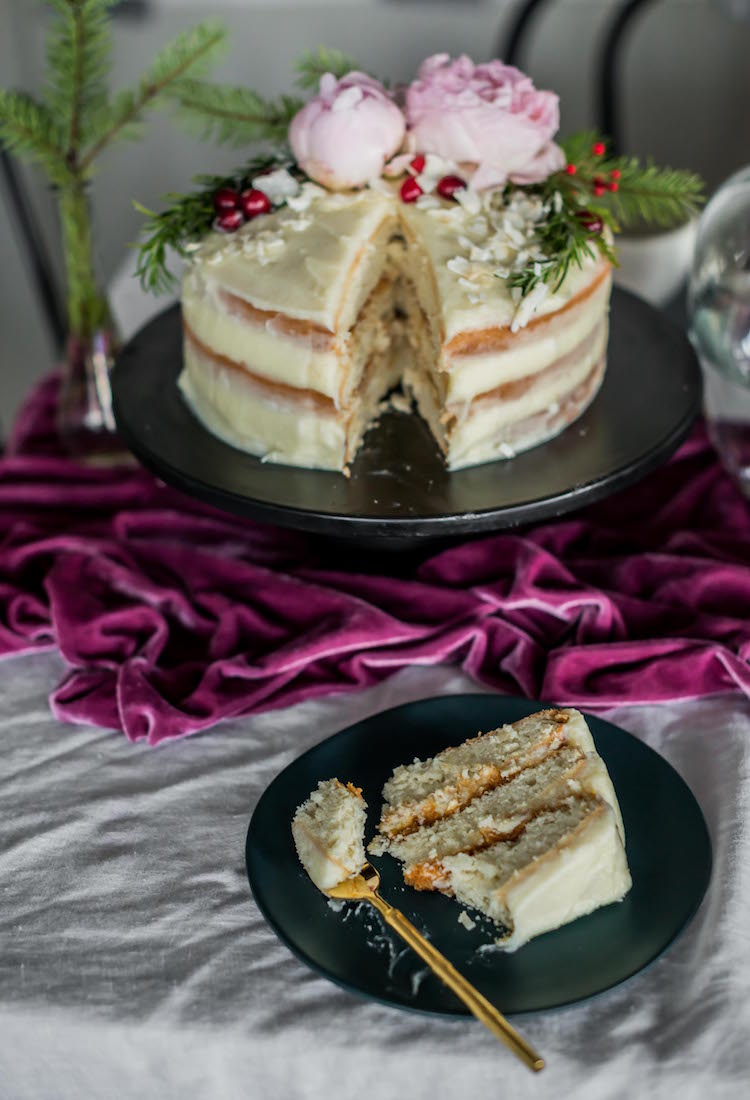 The cake has coconut cream cheese frosting that I want to lick out of the bowl. And THEN there is salted rum caramel that I could drink. I wont…but I could. So all of these things equal for one mighty delicious cake. Coconut is often reserved for summer drinks and treats, but I love it in the winter as well! My mom has a mean coconut cream pie recipe that always reminds me of the holidays. This is a highly guarded family recipe that I can not share, sorry, but I can share this layered coconut cake recipe with you! It's a fluffy cake with filling. It created a beautiful snow white base for the festive flowers and garnish. It makes a stricking centerpiece at a holiday dinner or party. I am already plotting the next time I make this Coconut Cake with Cream Cheese Frosting and Rum Salted Caramel!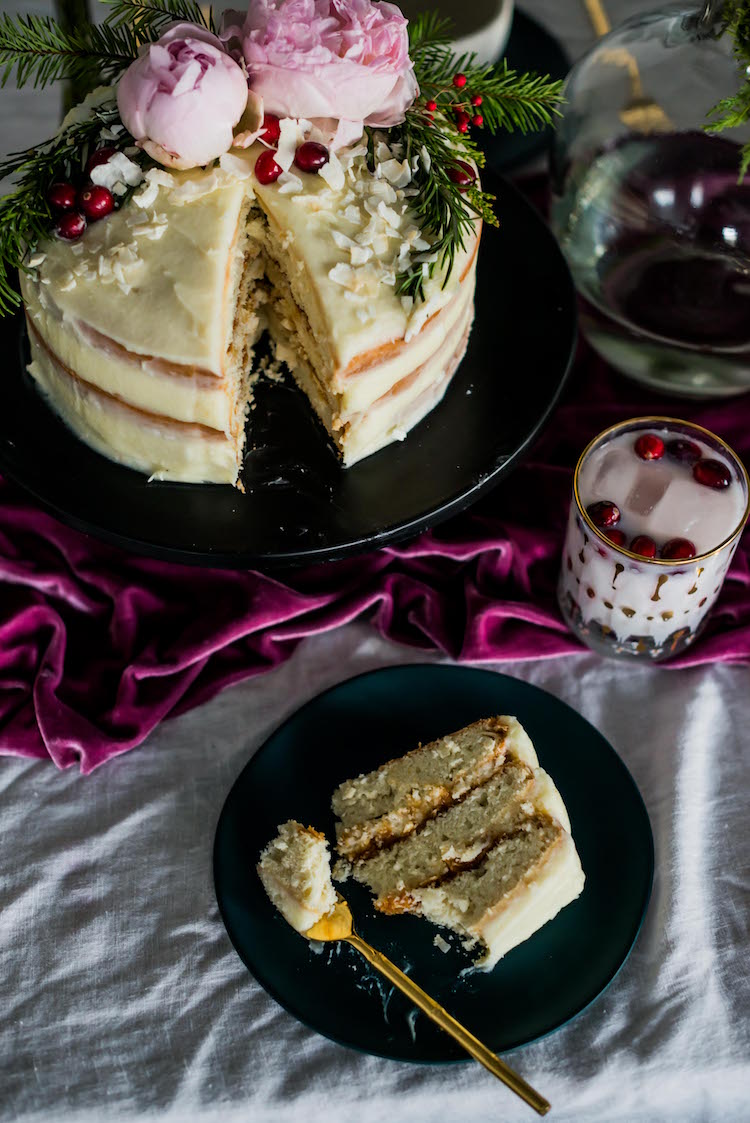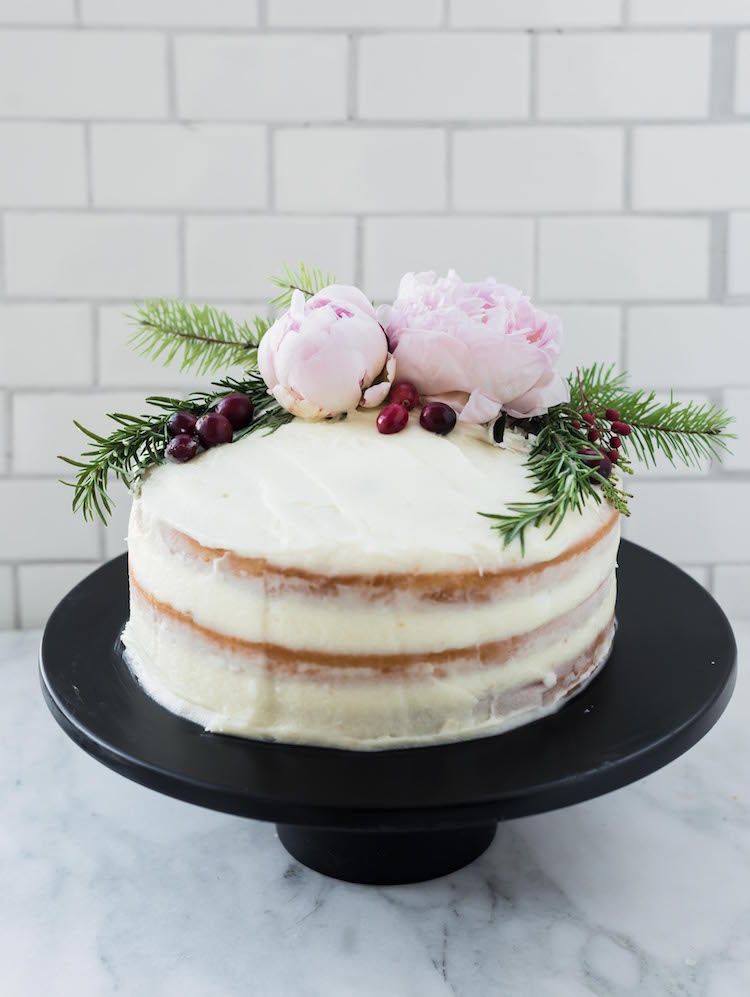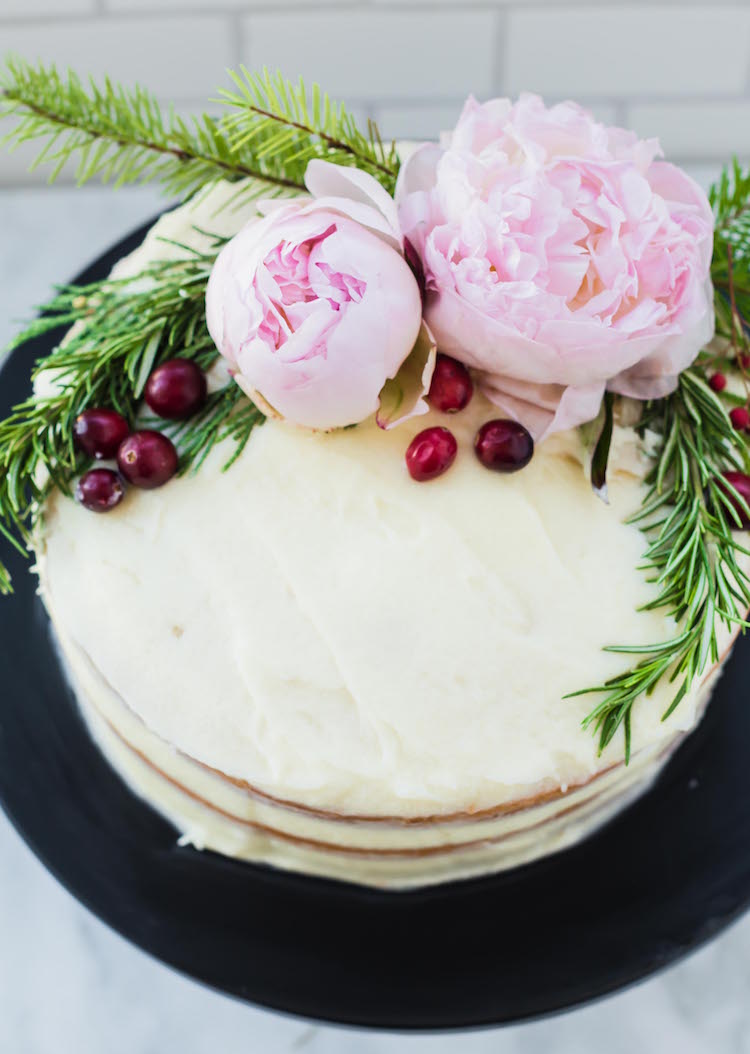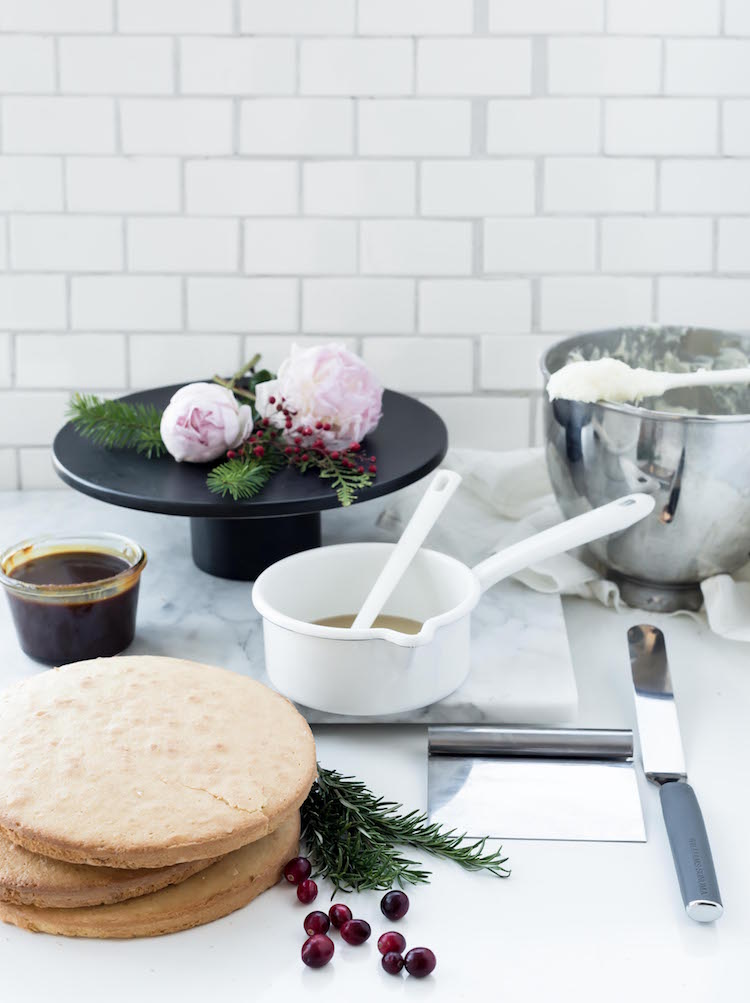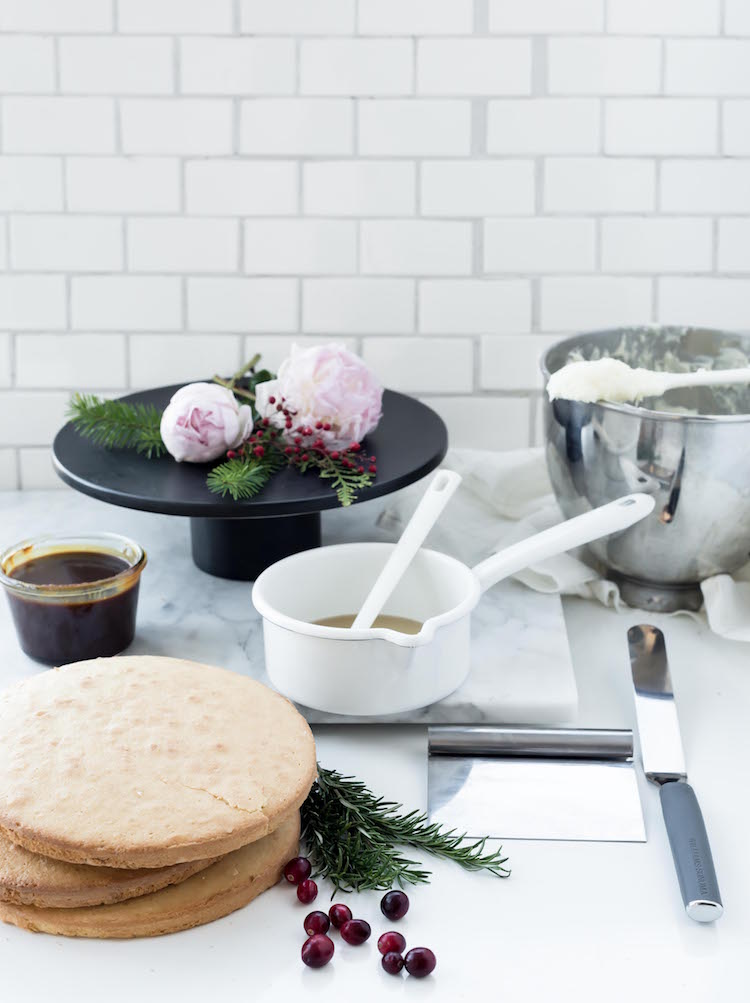 Coconut Cake with Cream Cheese Frosting and Rum Salted Caramel 
2 1/4 cups sugar
1 cup butter, softened
5 large egg whites
1 tablespoon coconut extract
1 can whole fat coconut milk
3 cups flour
4 1/2 tsp baking powder
1/2 teaspoon salt
coconut cream cheese frosting (recipe below)
rum salted caramel (recipe below)
1 cup coconut flakes
simple syrup
garnish: flowers, evergreens, cranberry, and rosemary
Directions
Preheat oven to 350 degrees. Butter and flower 2 or 3 9″ cake pans.
Cream sugar and butter in a standing mixer or with a bowl and hand mixer on medium. Add in egg whites and mix on low. Add in the coconut extract and 1/2 cup of the coconut milk and mix on low.
Whisk together flour, baking powder, and salt in a separate bowl.
Add half the dry mixture into the sugar and egg mixture and mix on low until incorporate. Next add half of the remaining coconut milk and incorporate.
Repeat step 4 using all of the dry mix and coconut milk.
Pour one third of the cake mix into the buttered and floured 9″ circle pans. Hold the pan above the counter and let it fall down a few times to get the air bubbles out. Stick the pan in the preheated oven and bake 32-38 minutes or until the cake is just done when sticking a toothpick in the center and it comes out clean. I let each layer cool before removing from the pan. Bake each layer until done.
Let each layer cool and then wrap individually with saran wrap. Stick in the fridge until chilled and ready to frost.
Make the caramel sauce while the cakes are chilling. Let cool before using.
Make the frosting.
Ready all of your ingredients and take the cakes out of the fridge. If you want this cake to be a naked cake, here is the how to.
Take one layer and put on a plate. Brush simple syrup on the layer. Add frosting and spread. Add the rum caramel sauce and spread. Sprinkle the coconut flakes over the layer
Take the next cake layer and lay on top of the other layer. Repeat step 7.
Take the top layer and spread the frosting on top. Cut out parchment paper in the shape of how you are laying down your garnish. Spread more icing on top to cover it.
Garnish with whatever flowers, greenery, and fruits you choose.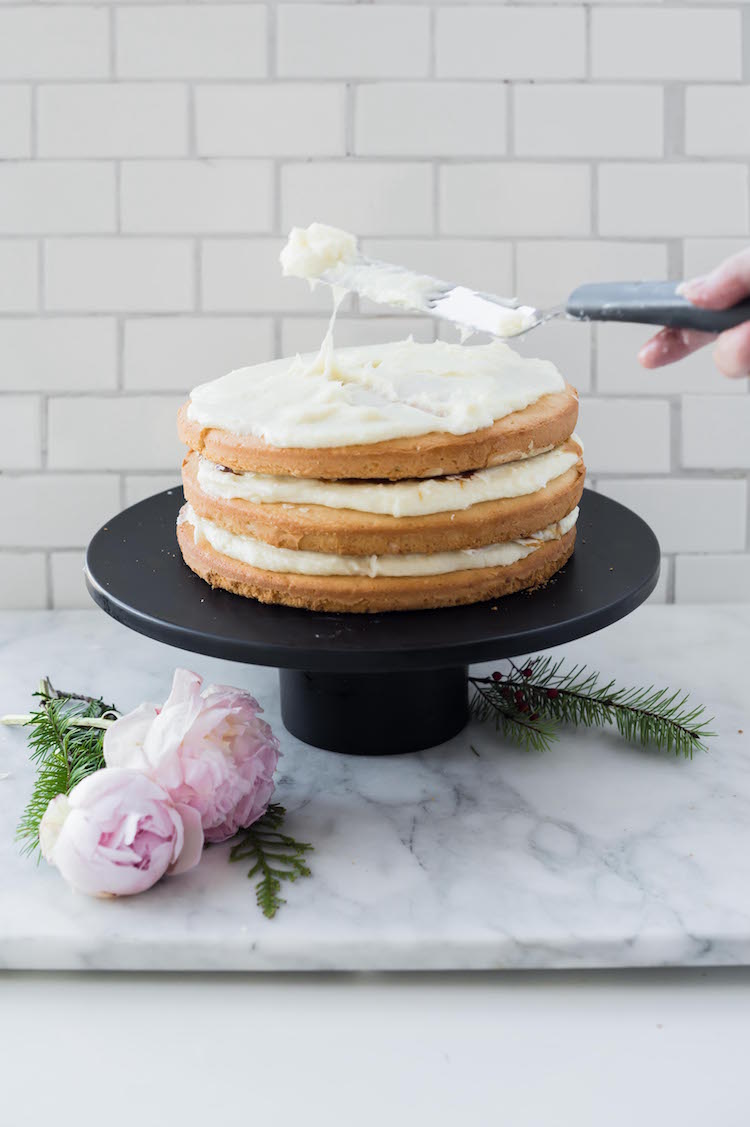 Coconut Cream Cheese Frosting
1 lb cream cheese
1 cup, 2 sticks butter
2 tsp coconut extract
1 lb package powdered sugar + 1 cup
Directions
Mix the cream cheese, butter, and extract in the mixer. Slowly add in the powdered sugar until combined, you don't want to whip it. Frost the cake at room temperature.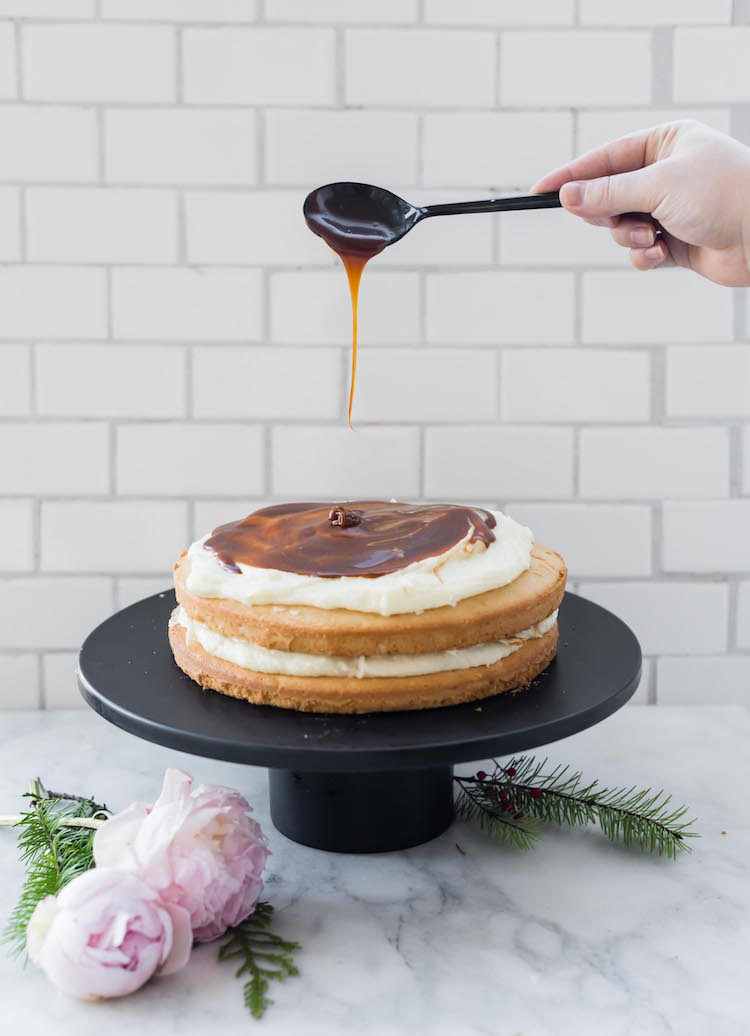 Rum Salted Caramel Sauce
1 cups granulated white sugar
6 tablespoons butter, sliced
1/2 cup heavy cream
1 tablespoon rum
1 1/2 tsp fleur de sel
Directions
Add sugar in an even layer over the bottom of a medium saucepan. Heat the sugar over medium-high heat, whisking constantly while it melts. The the sugar will begin to form clumps, just keep whisking. Stop whisking once all of the sugar has melted. Swirl the pan occasionally while the sugar cooks.
Cook the sugar until it reaches a deep amber color. It should have a slight toasted aroma and be around 350 degrees. This is when caramel can go from perfect to burnt in a matter of seconds, so keep a close eye and don't walk away.
As soon as the caramel reached the deep amber color, add the butter all at once. The caramel will bubble up when the butter is added so be careful! Whisk the butter into the caramel until it is completely melted. Remove the pan from heat and slowly pour the cream and rum into the caramel.
Whisk until all of the cream has been incorporated and you have a smooth sauce. Add the fleur de sel and whisk to incorporate.
Let sauce cool and then pour into your favorite glass jar. The sauce can be refrigerated for up to 1 month.