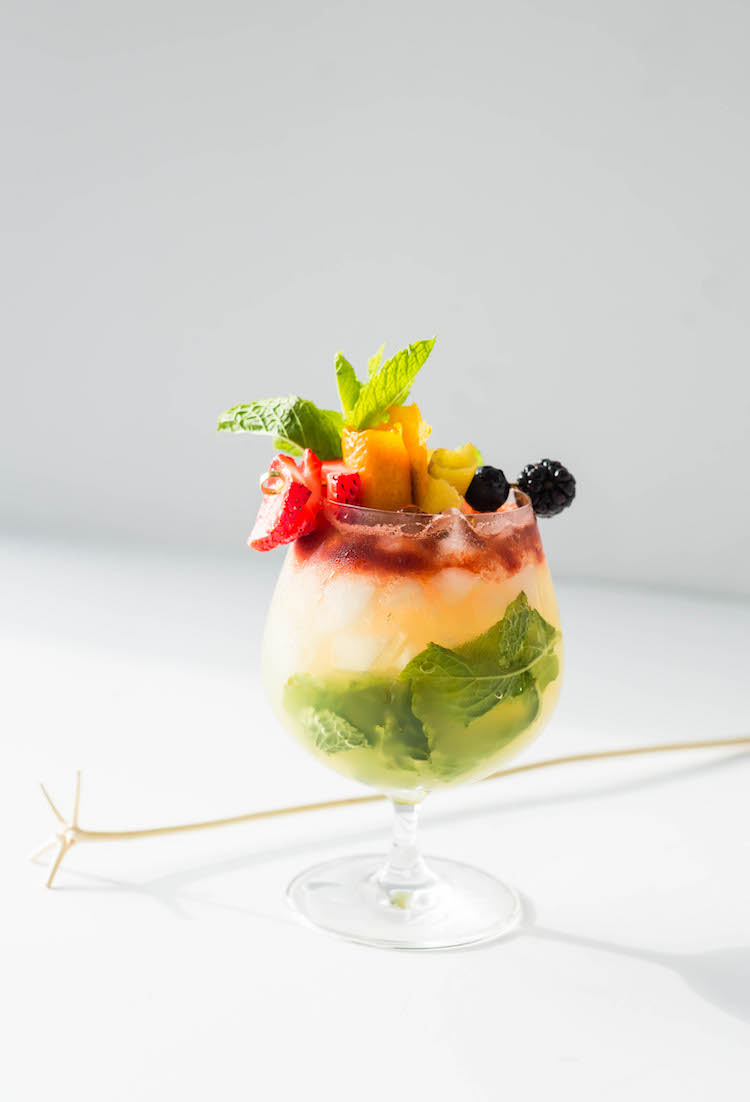 In times like these (ones in which a narcissistic, racist, sexist, and hateful man-child who happens to be our president is shredding apart what remains of American representative democracy and creating a large schism in our country) we all need a drink…or 5. Today I have just the perfect one to sip to put some swagger in your step, or at least make you forget for a bit: a rainbow swizzle. A celebration of PRIDE month and the inclusivity the rainbow flag has always represented, the cocktail also features the limited edition Smirnoff Love Wins bottles in collaboration with a dear friend of mine Sarah Deragon of the Identity Project. With each bottle purchased with the Love Wins design, $1 is donated to the Human Rights Campaign. The HRC advocates for LGBTQ+ equality by inspiring and engaging individuals and communities to end discrimination against LGBTQ+ people and realize a world that achieves fundamental fairness and equality for all. Drinking for a cause, cheers to that!
Sarah Deragon began a photography project called the Identity Project in 2014. She set out photographing individuals or couples identifying as LGBTQ+ and with the portrait they identified themselves, labeling their own gender, sexuality, and identity rather then being labeled. Identity is even more important when people are constantly trying to strip it from you. Sarah herself identifies as a lesbian and a Queer Feme. She raised $10,000 to travel across the country and was even invited to a Queer Festival in Russia to show her work in September 2015. She is currently planning two more shoot days in the Bay Area and hopes that this is a lifelong project because it is more important than ever to show the diversity of the LGBTQ community. Heck yeah!
She is also one amazing bad ass lady who with out her, may not be here writing this blog today. With strong support and encouragement from both her and other female entrepreneurs in SF, I jumped into the world of freelancing and running my own business. Thank you, Sarah, I am eternally grateful. I consulted her on the name for the rainbow cocktail I whipped up and I think it's perfect: Rainbow Queer Swagger Swizzle!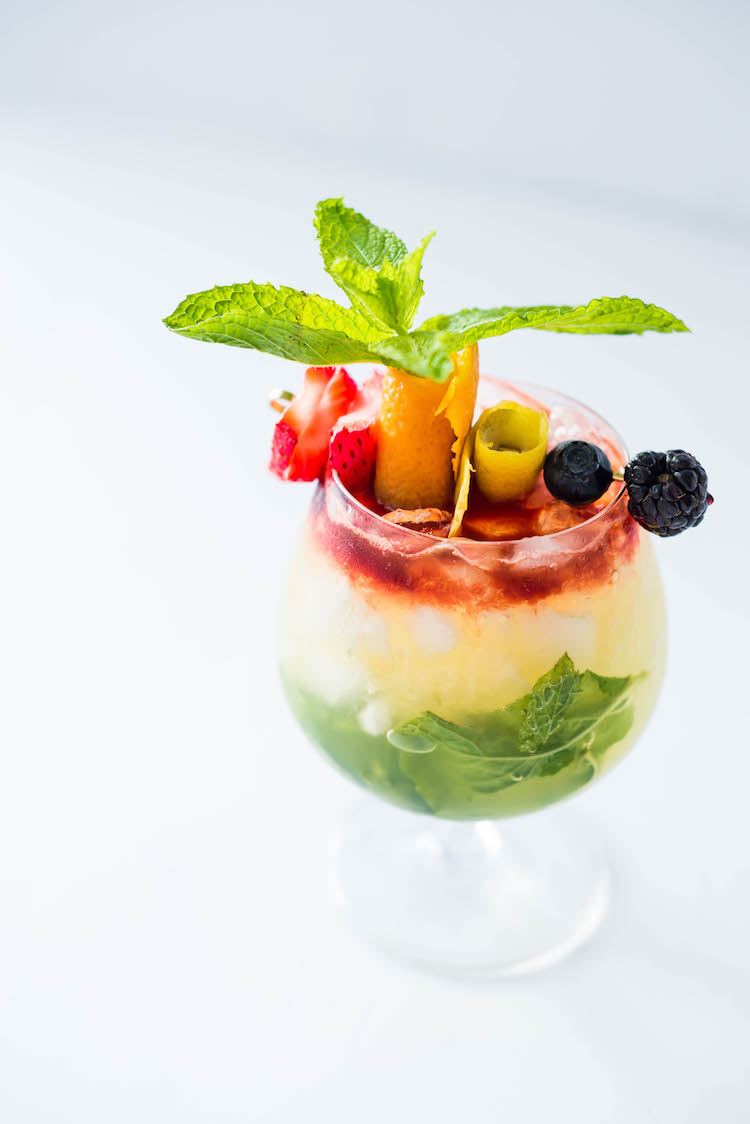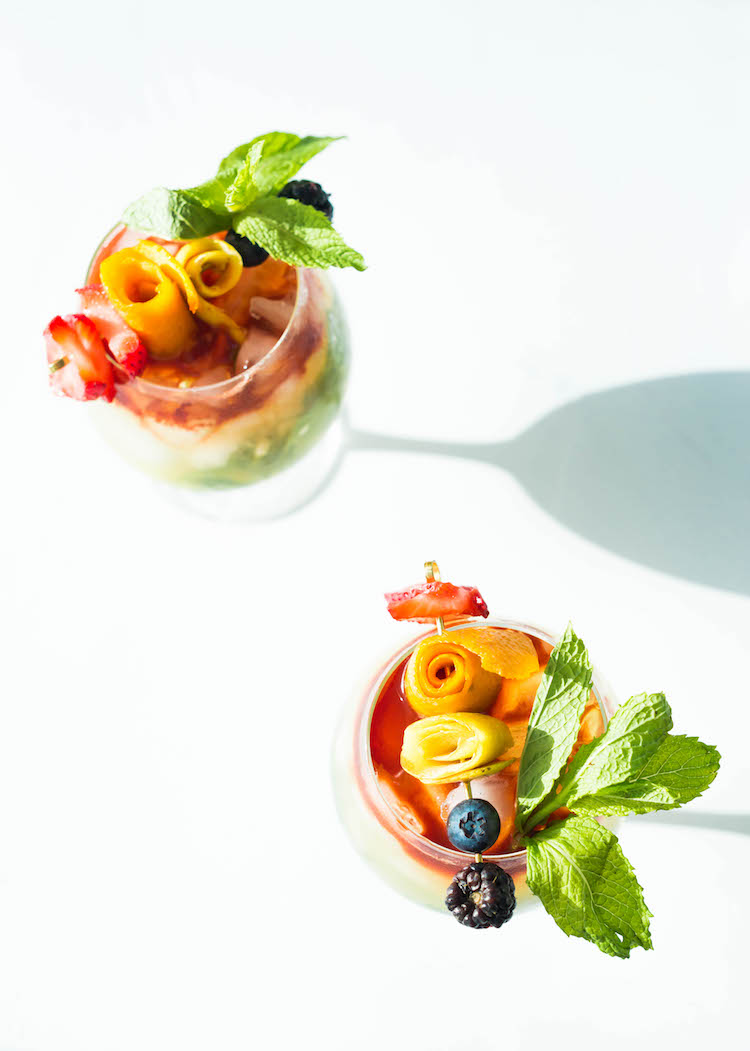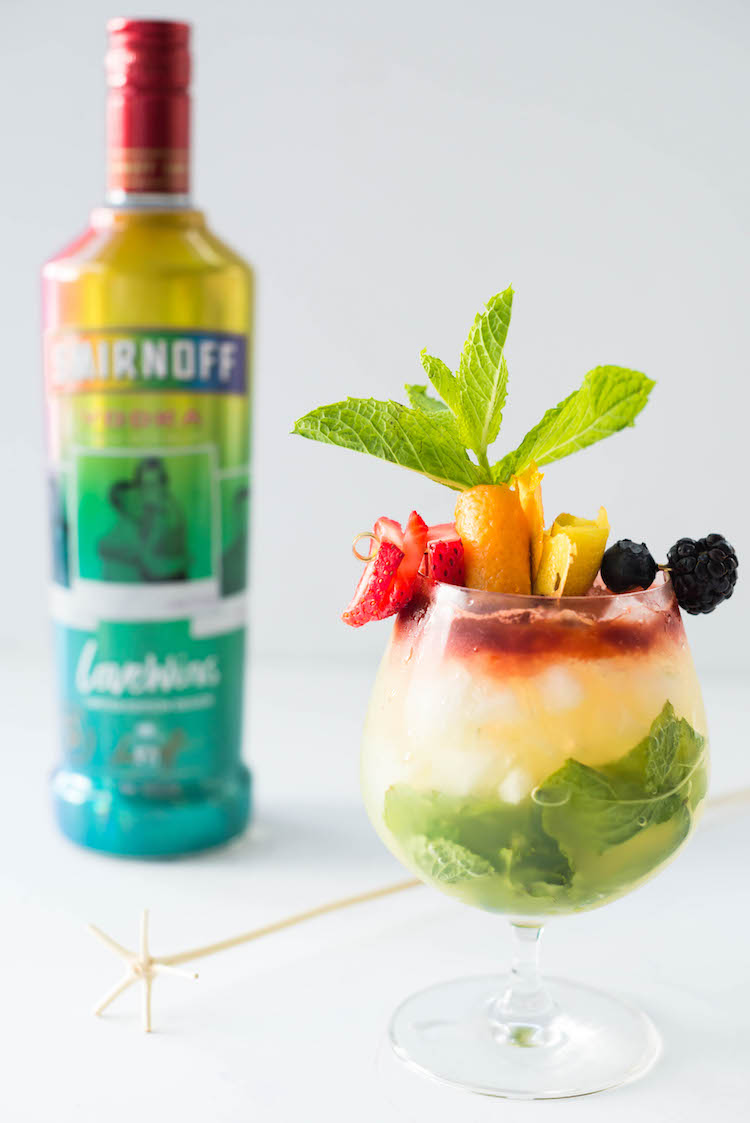 The cocktail is a take on the Queens Park Swizzle, a refreshing icy rum drink. Swizzles are drinks built in the glass (no shaker required) with fresh ice swirled around in the glass to chill the drink, while simultaneously mixing the ingredients, and then gets the glass nice and frosty. That's when you know it's good! With the Rainbow Queer Swagger Swizzle, I infused vodka with pineapple to add some tropical fruit flavors and also creating a cinnamon syrup to give some spice. With the bitters dashed on top, it created a natural rainbow effect as it fades into the yellow. I topped it with an elaborate and colorful rainbow-tastic garnish with all things. Because why not!
I have always been an ally to the LQBTQ+ community and love living in a city that has been a haven and place of acceptance for those who do not identify as heteronormal (what is normal really, any way?) Although I am not apart of the community it makes me happy to know the city I call home welcomes them with open arms and does everything they can to support them and protect their rights, you know basic human rights. It's also great to see companies finally getting involved and collaborating with the LQBTQ community. The Smirnoff Love Wins bottles features Sarah's photos of couples who are LGBTQ+ (including a friend of mine Lisa Congdon who you can see with her wife on the bottle here!). It's important for all types of people to see themselves represented and featured, which can be seen as being valued in society, whether ads, tv shows, movies, or you know a liquor bottle!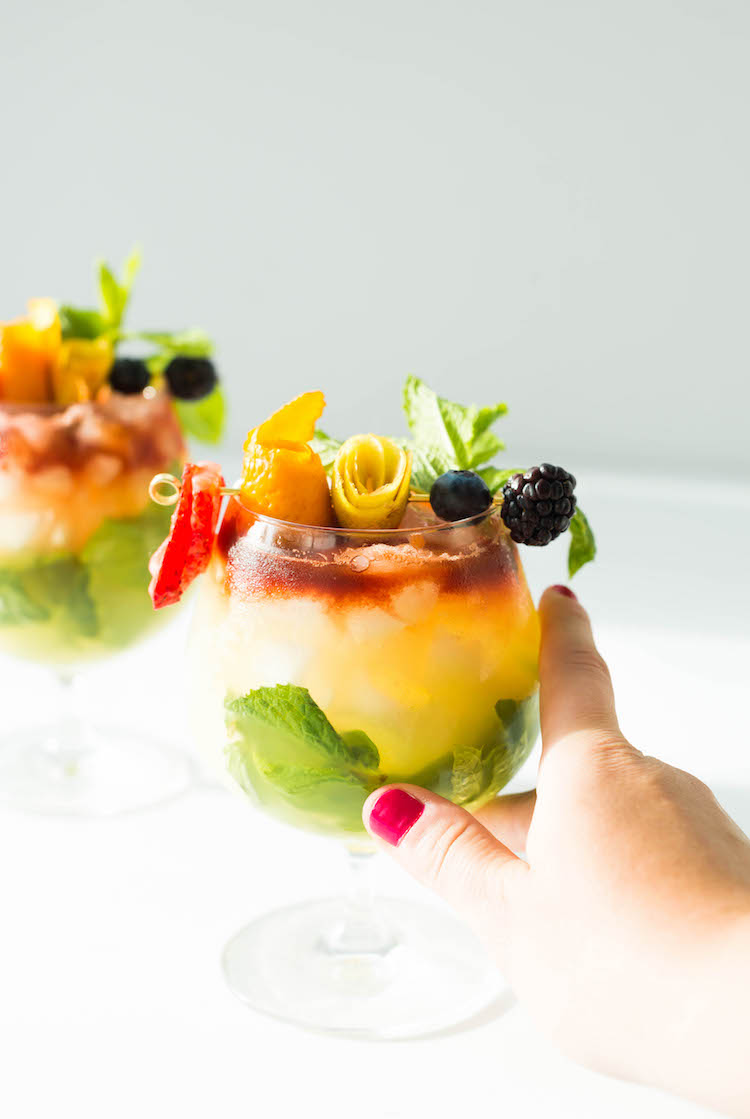 It is despicable that our current administration is doing everything they possible can to strip rights and erase LGBTQ+ culture. Literally erasing. They removed the mention of the community form the White House website and so far, the president has not once acknowledged that it is PRIDE month. I wish I had more than two middle fingers to wave up high. Queer individuals have always stood strong in the face of adversity, aggression, and hate but yet, they still have risen. With swagger intact. It's wrong and hurtful, but ultimately fuel for their fabulous fire, 45. They'll be here loooong after you've been impeached.
RAINBOW QUEER SWAGGER SWIZZLE
Serves 1
Tools: citrus knife, shaker, hawthorn strainer, muddler, swizzle stick or chopstick, skewer or pick
Glass: collins glass, footed glass, or large brandy snifter
1 oz pineapple infused Smirnoff Vodka (recipe below)
1 oz demerara or Jamaican rum
1 oz lime juice
1/2 oz cinnamon simple syrup (recipe below)
6-8 mint leaves
4 dashes Angostura bitters
garnishes: 3 slices strawberries, orange peel rolled, lemon peel rolled, blueberry, blackberry, mint sprig
hella crushed ice
Directions
Gentle muddle mint in the glass. Add crushed ice to fill the glass. Add the rum and infused pineapple vodka to the glass. Taking a swizzle stick (or chopstick) add into the glass and "swizzle" back and forth between your palms. The glass should get nice and frosty! Dash the bitters on top. Cut garnishes. Add the ingredients in rainbow order (ROYGBV). Smack the mint sprig to release the oils and add to the glass.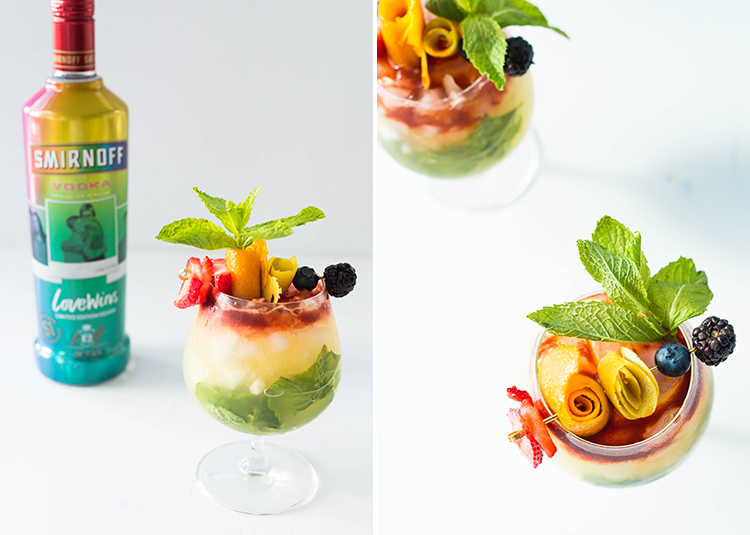 PINEAPPLE INFUSED VODKA
1 cup vodka
1 cup chopped pineapple
Add vodka and pineapple to a sealed jar and shake. Place in the fridge for 7-10 days. Remove from the fridge and strain into another jar to remove solids. Store in the fridge for up to 1 month.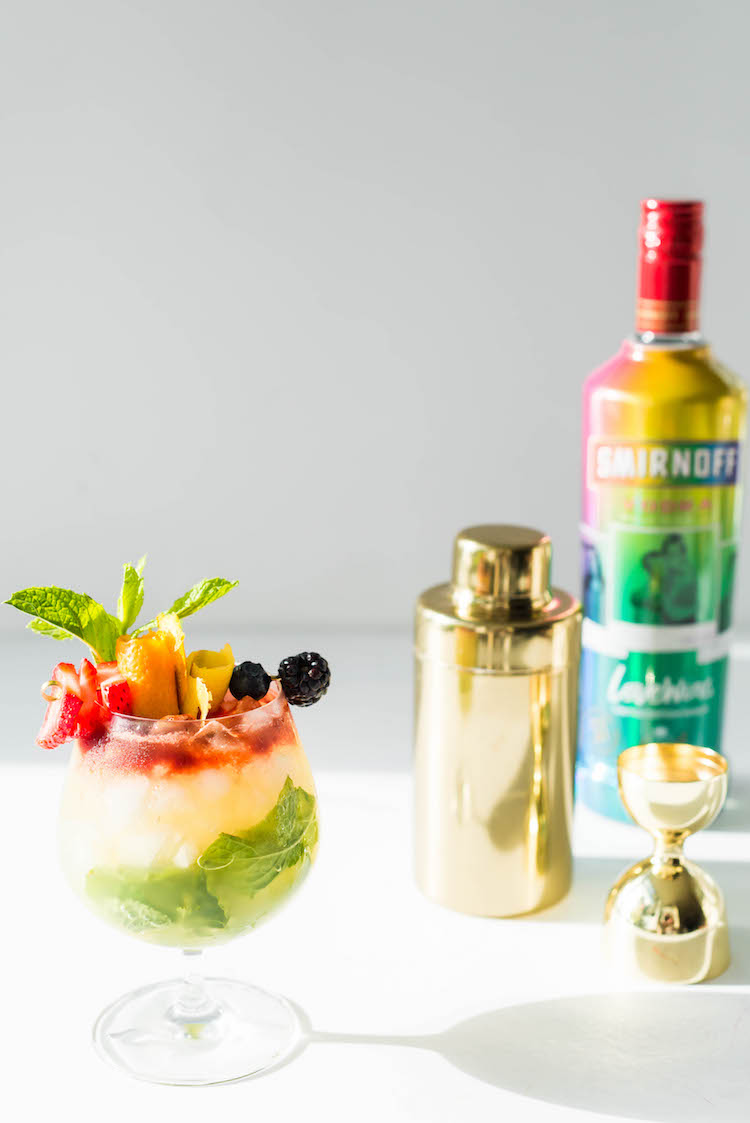 CINNAMON SYRUP
1 cup sugar
1 cup water
2 cinnamon sticks
Tools: saucepan, fine mesh strainer
Add all ingredients into a sauce pan on high. Bring to a boil and take off the heat. Let cool for 1 hour. Strain through a fine mesh strainer into a sealable jar. Store in the fridge for up to one month.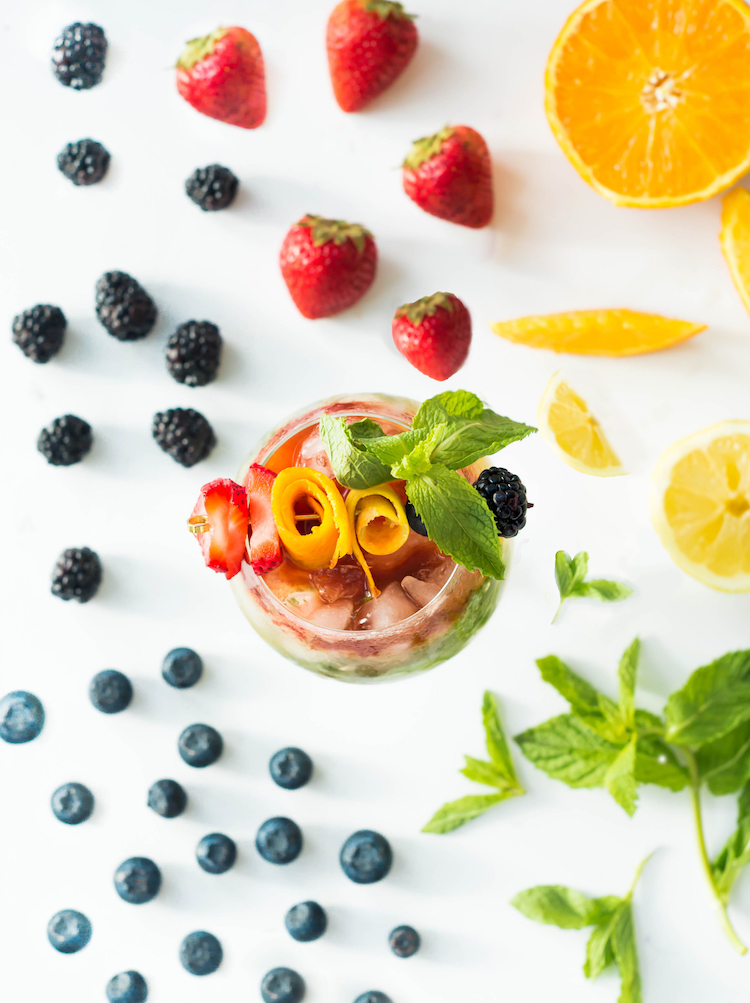 Find the Love Wins vodka bottles in your area with the locator here.
I received product from Smirnoff, but all opinions (political or otherwise) are my own!