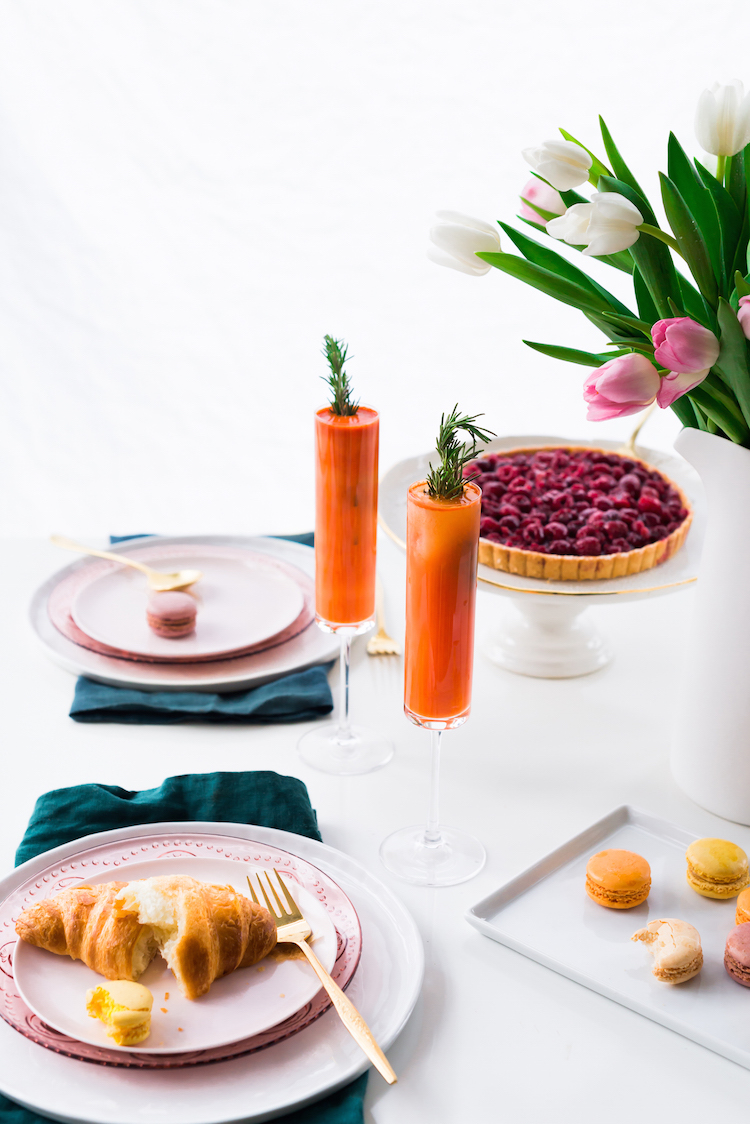 This weekend is Easter which means brunch! I posted this brunch and Carrot Ginger Mimosa last year on Rue Magazine, but realized I never posted on here about this bright Spring soiree so I needed to share this year (better that then never?) I might be biased, but I think this is THE perfect cocktail for an Easter brunch. I mean, it looks like a dang carrot!
You may already know carrot + ginger make a great juice combo, but it's even more perfect in a cocktail. Add in some grapefruit + bitter sweet Aperol topped off with effervescent champagne + it makes for one pretty potent potable!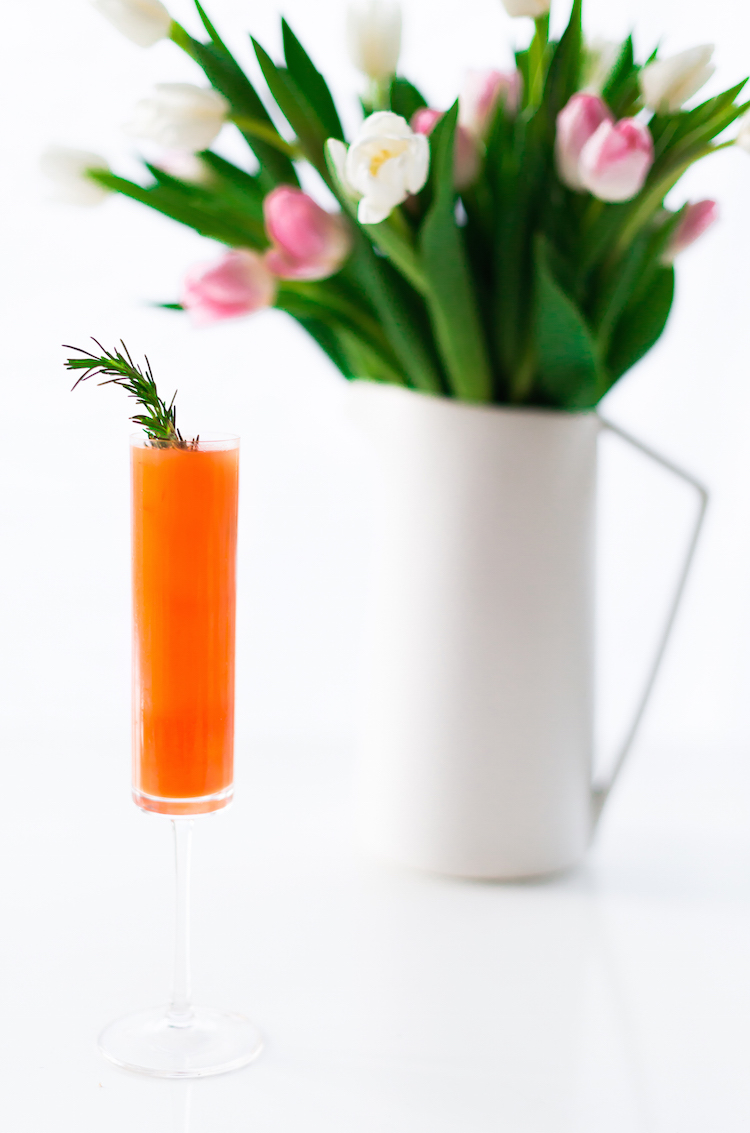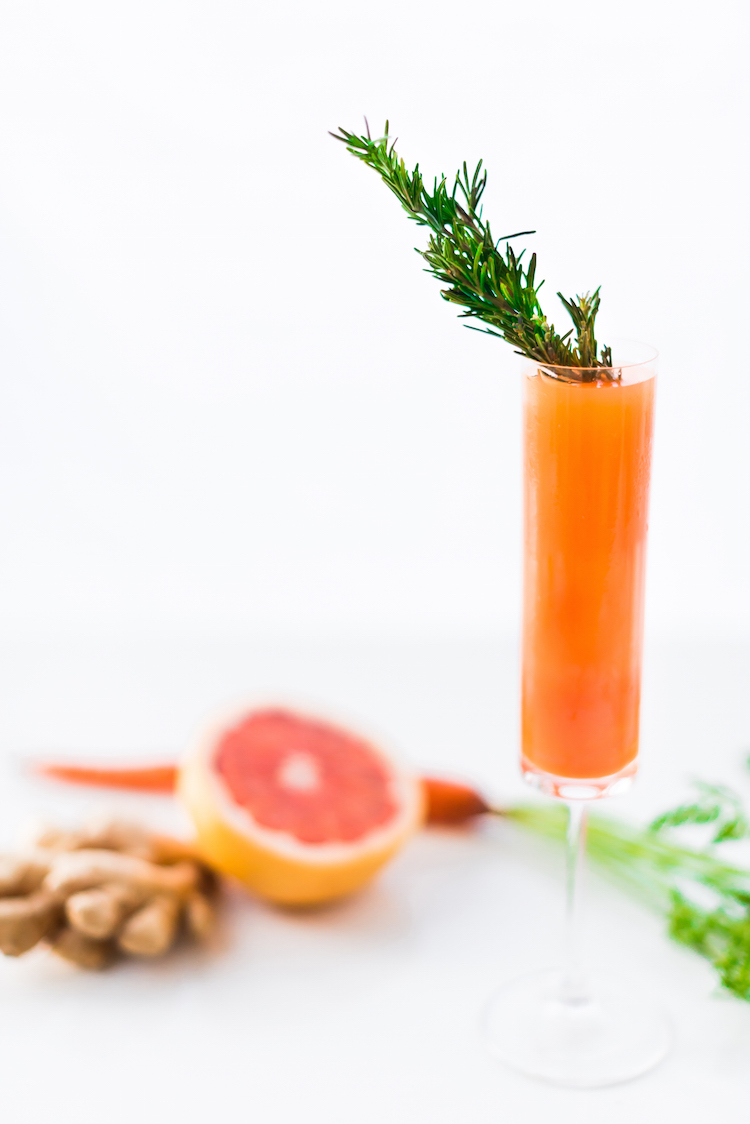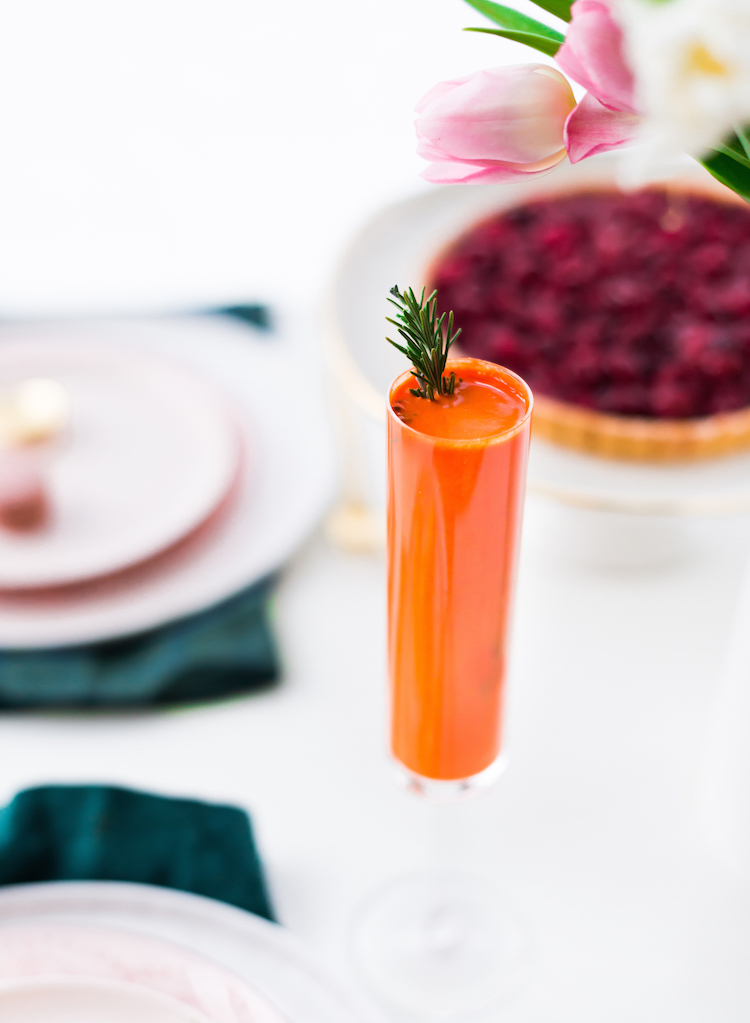 For Easter, or any spring brunch, think easy dishes like french toast or egg casserole paired with a fruit salad topped with chopped nuts + herbs (got to have something healthy!), pastries like macarons, and a pretty seasonal tart that steals the show. You can purchase the pastries + tart at a local bakery which cuts down your work load. And of course don't forget to make a brunch cocktail. Mandatory! Bonus points if it fits the theme like this carrot mimosa ; )
One of my tips for making a brunch shine is investing in linens like napkins, ceramics, and other serve ware to elevate even store bought pastries and dishes. Get a white linen tablecloth for spring and summer + a grey for winter and fall. It will great a neutral backdrop for your meal. Choose plates in either white or pale colors to let the food take center stage. I keep most of my serve ware white for this reason too. You can always add a bright colored charger underneath the plates to create layers + a pop of color without over whelming the food + table.
I like to think of the color scheme of the food and drinks before selecting the napkins. In this case, I contrasted the vibrant orange of the cocktail with teal napkins. I do tend to go for a monochromatic color scheme, but orange and teal work so well together here next to touches of pink + red. Last but not least by any means, flowers. I have a floral obsession as you can see here on Pinterest or by checking out my hastag #cocktailsandflowers on Insta. I have lucky enough a local flower shop where I can go in + create my own bouquets, but you can go to your local Whole Foods or Trader Joes + find a great selection. If you are not the type to tempt your hand at flower arranging, grab a bunch of the same type of flower + plop them in a pretty vase. DONE! Tulips and peonies are perfect for this because their textures petals stand on their own + look beautiful with no effort at all. I put my tulips in a white ceramic pitcher for a fun spring touch.
You can find the ingredients for the Carrot Ginger Mimosa below + the full recipe on Rue Magazine. Now that you have some tips for an easy yet chic brunch + what drink to whip up tomorow, what are you waiting for, hop to it! Hoppy Brunching!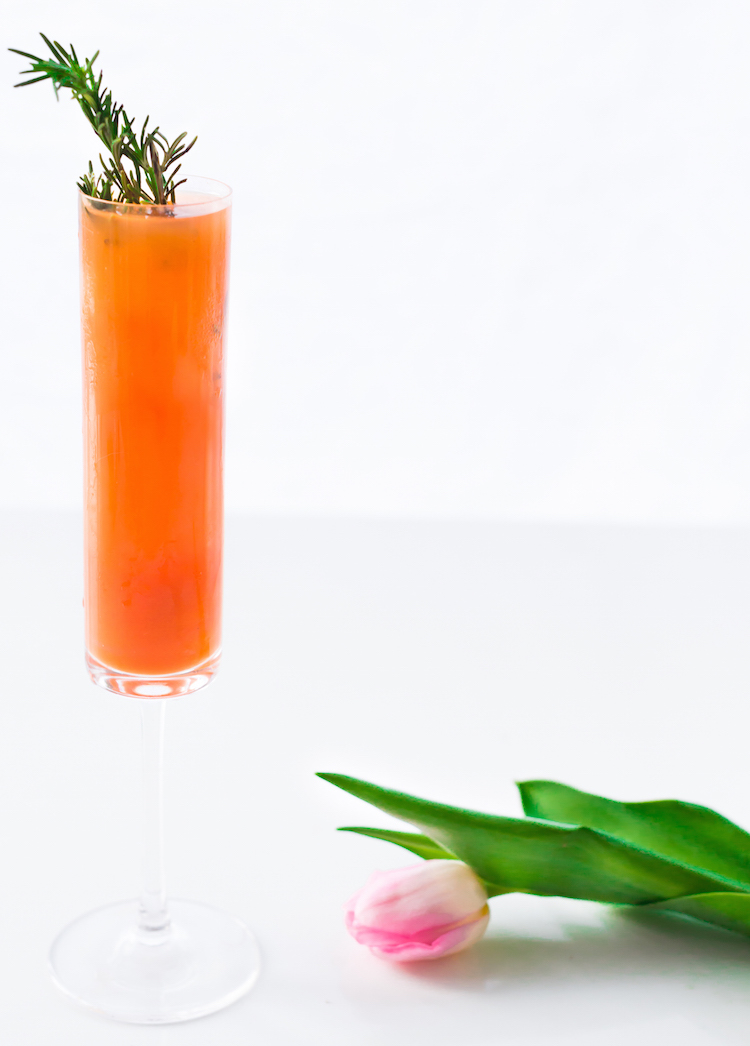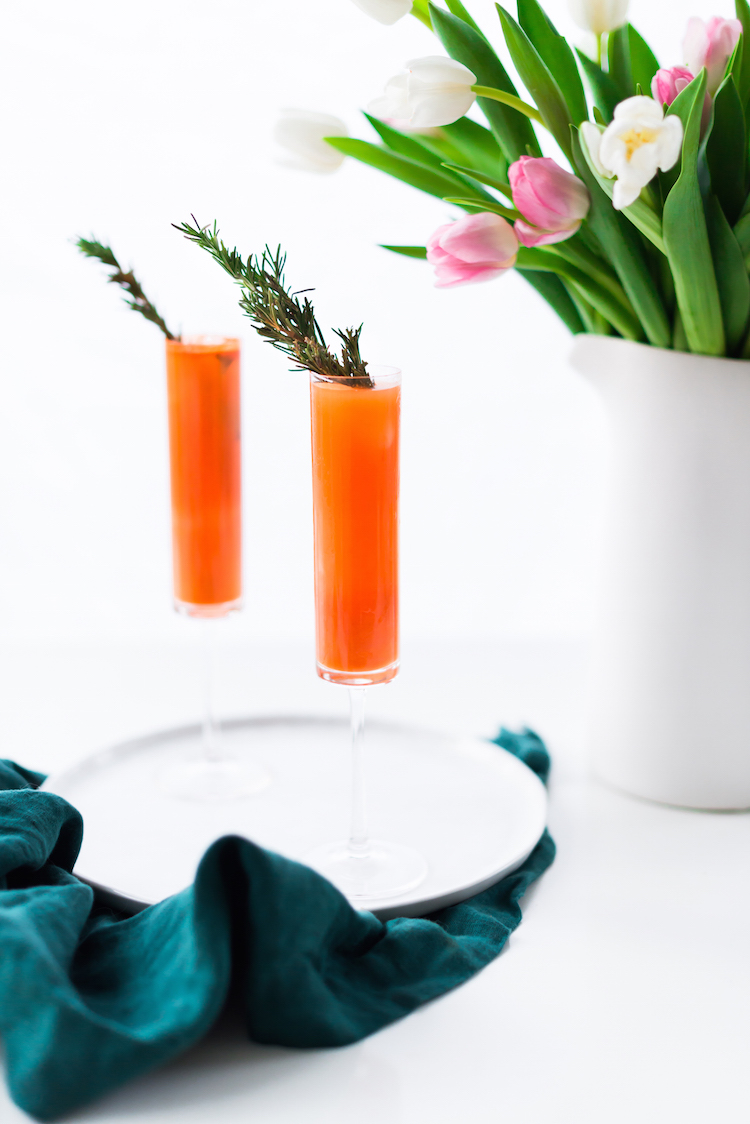 Carrot Ginger Grapefruit Mimosa
3 oz brut champagne
1 oz Aperol
2 oz fresh grapefruit juice
2 oz fresh carrot juice
1/2 oz ginger syrup
rosemary garnish
Get the full recipe here on Rue Magazine.