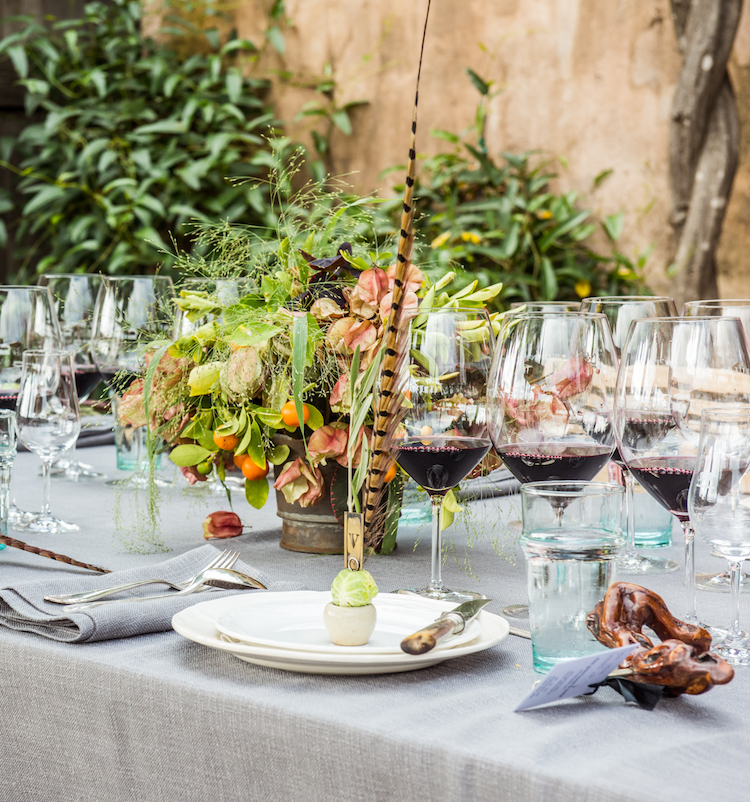 Now that the weather is warming up, my mind keeps wandering to wine country (and currently is as I write this!) One of my New Years resolutions was to learn more about wine and I plan to really stick to this one, I made obtainable, fun resolutions this year! One of my favorite places to not only learn about wine, but to enjoy it in the prettiest setting is Turnbull Winery.
A couple month's ago, I took a trip with some friends, including Kassie, up to Turnbull in Napa. I love how some of the worlds best wines are just a short car ride away. I had heard glowing things about their winery, but had not been myself yet. I was in for a treat!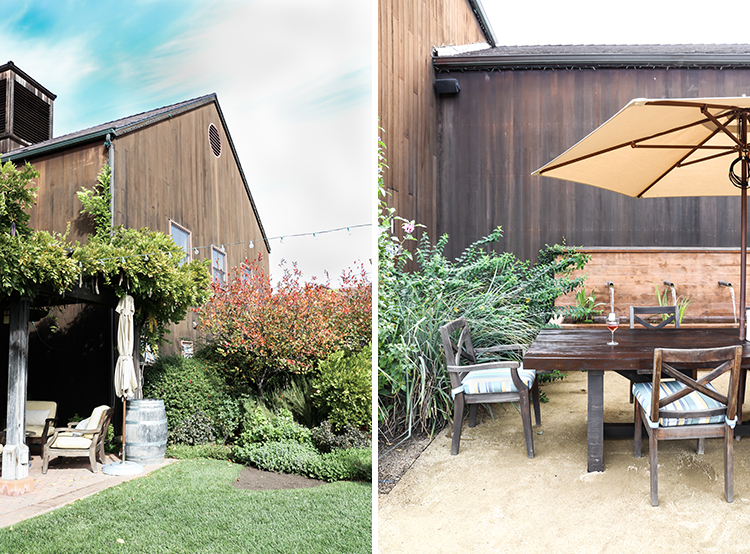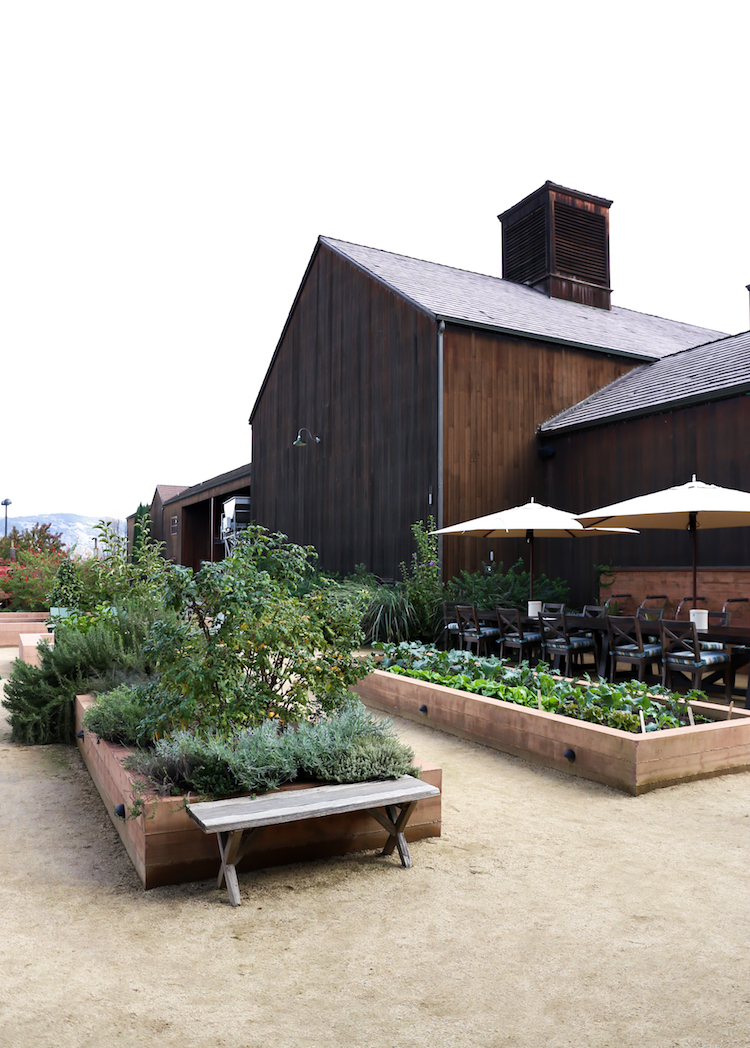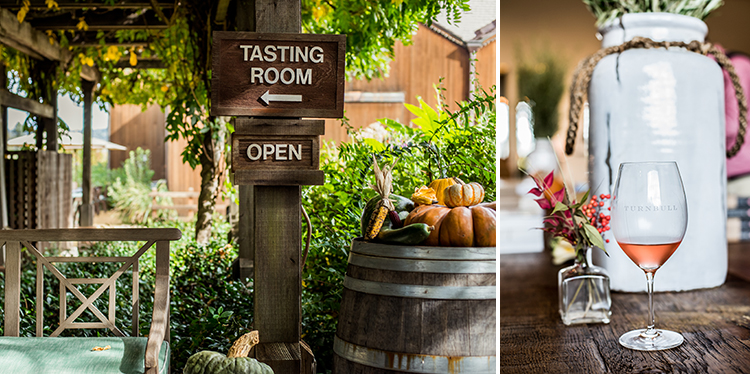 The winery is family run lead by president and second generation vintner Zoe Johns who clearly has a passion for the trade. She joined us for the tour of the property and stunning meal. She was super knowledgeable, yet totally approachable. Which was the feeling all through out Turnbull. It's there that wine aficionados and the casual vine imbibers a can intersect among gardens and stunning tasting rooms. Turnbull's wines are for sipping and savoring at a dinner with some of your most loved ones and for celebrating. There wines are for moments that you'll cherish forever, they are definitley not for a Netfix and chill kind of nights (there are plenty dime a dozen bottles for that.) I am saving my bottle of Turnbull Cab Sauv for when my first book comes out this fall! Moments like those deserve an equally amazing wine, I think.
They curate tasting experiences to fit your mood. If you are popping in for a quick tasting or glass of wine, their main Gallery tasting room with a bar is spacious. The walls are lined with Ansel Adam photos. They actually have the largest collection of his work on display! It overlooks the pairing garden so come spring, you will have scents of herbs and flowers wafting in while sipping Sav Blanc. The garden is planted with herbs and botanicals that will purposefully change the tastes of the wines as you taste. How awesome is that?! For a more intimate experience, there are two other tasting rooms. The Private Estate Tasting that feels more like a gorgeous living room and dinning room in your stylish best friends house then your usual conference room like tastings. Cozy up with top selections of their Cabernet Sauvs, guided by your own personal wine educator. You get the chance to experience their highest rated bottlings, small production wines, and occasionally library wines, as well as a behind-the-scenes tour of the estate winery and vineyard. It's wine tasting on a whole other level! The final option is the Clubhouse for members to have an attentive tasting through their portfolio. It is an absolutely chic room modeled after Zoe's childhood living room.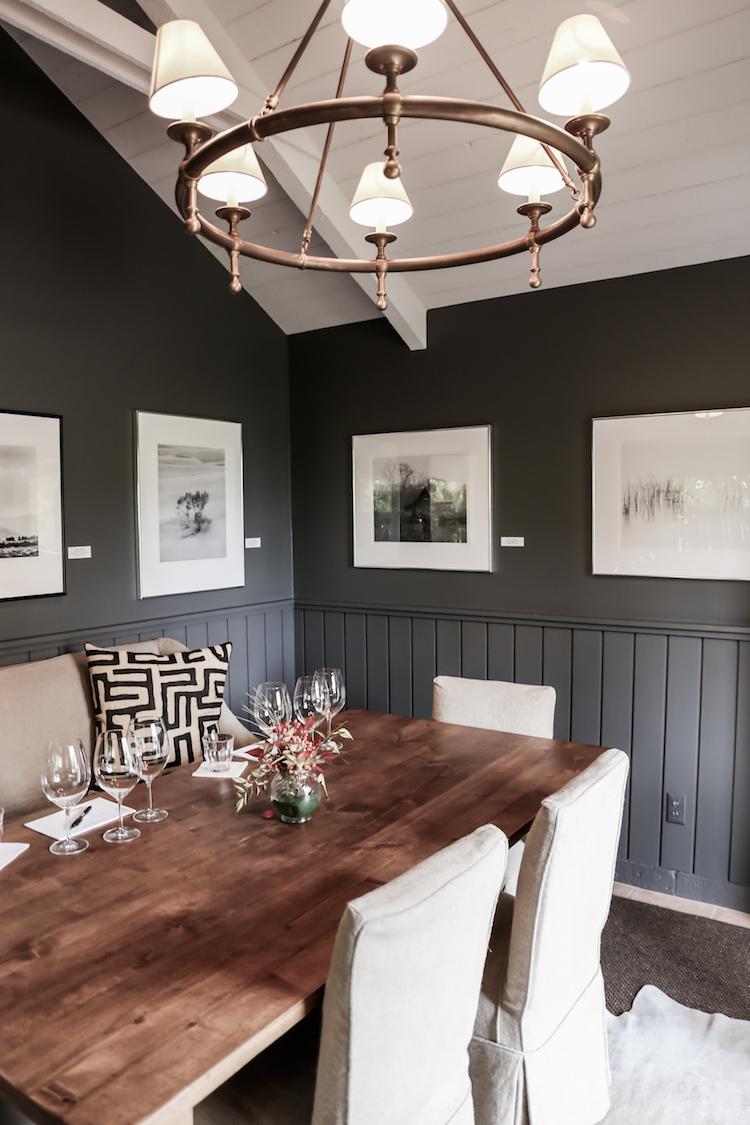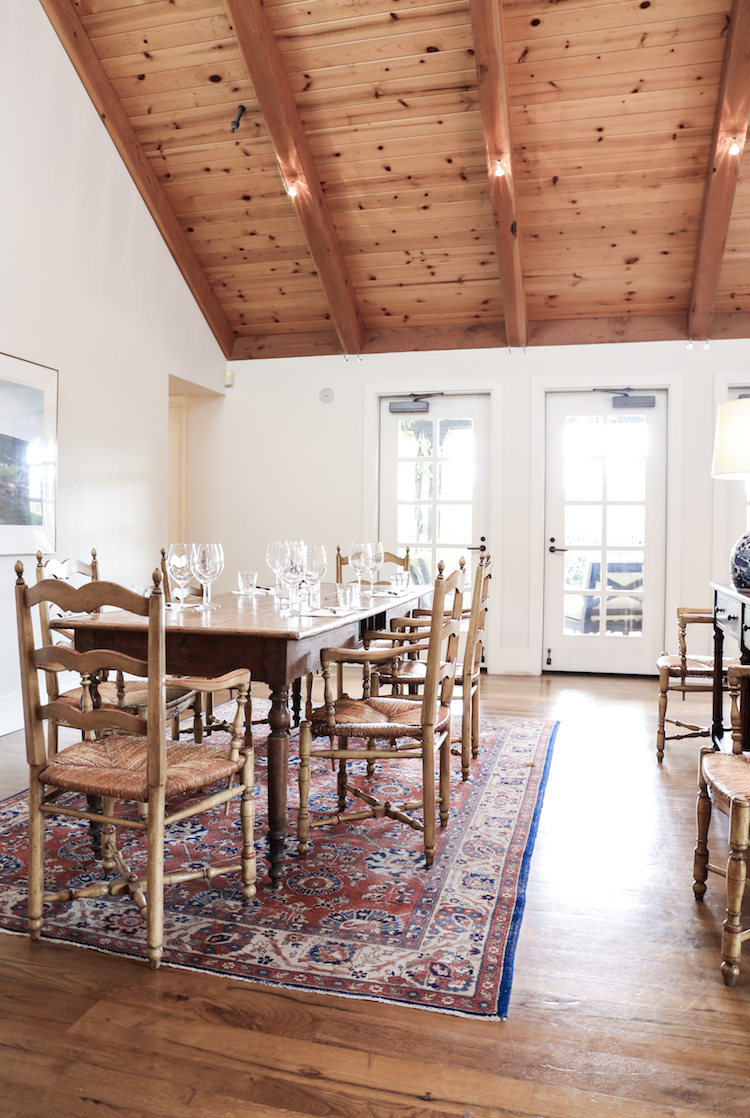 Known for their Cabernet Sauvignons, The area that they reside in Oakville is in a micro climate, the number of heat hours is the highest in the Napa Valley paired with cool evenings from ocean breezes equals perfect growing conditions to produce the most luscious Cabs. That is one thing that's so intriguing in wine, the soil and the the exact location the of a vineyard can effect the resulting flavor and body greatly. You don't get this with distilled spirits. You can produce them just about anywhere with the same result (given your equipment is the same of course.) Their rosé of cab franc is picked young and then pressed like champagne using the whole cluster, as is their Sauv Blanc. The gorgeous label and redesign was recently done by owner Zoe. It still reflects the prior label and brand, but is paired down and more modern. It's a good correlation to the winery, steeped in classic methods of wine making and hospitality while keeping an eye towards the future.  Turnbull's attention to detail is evident everywhere, but it comes though most with each sip of their wines.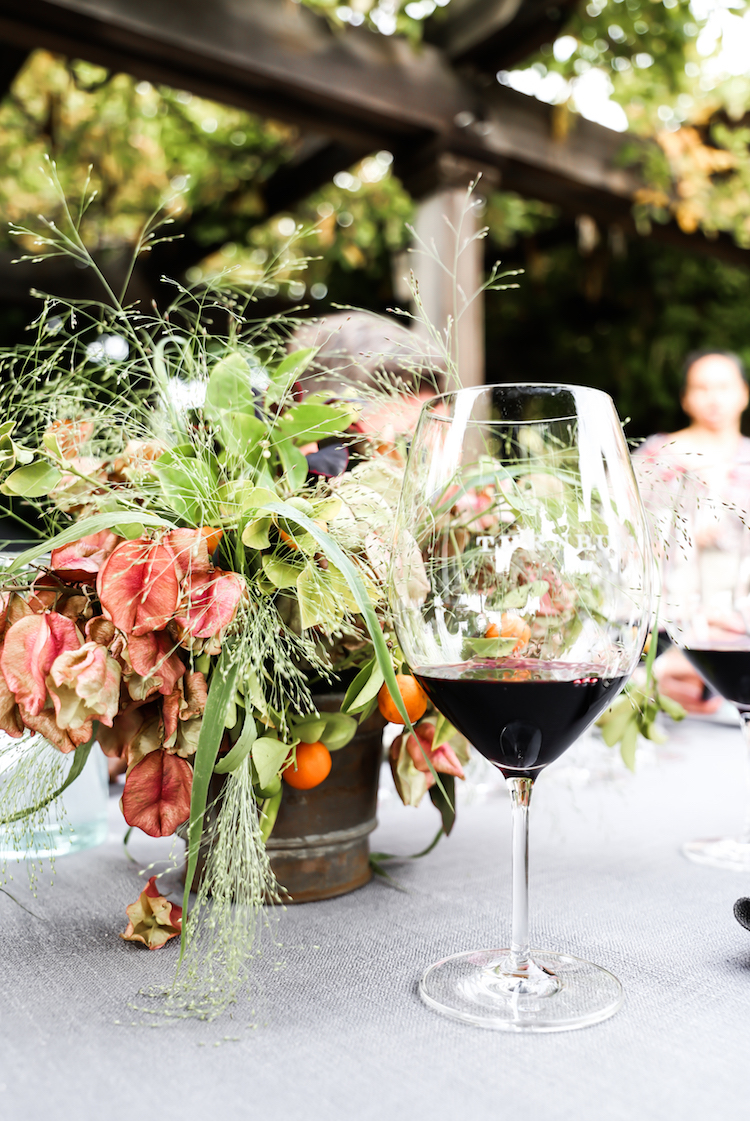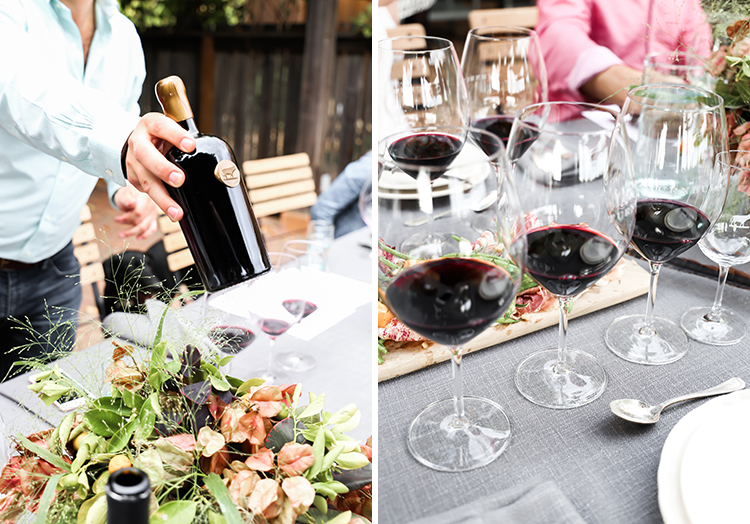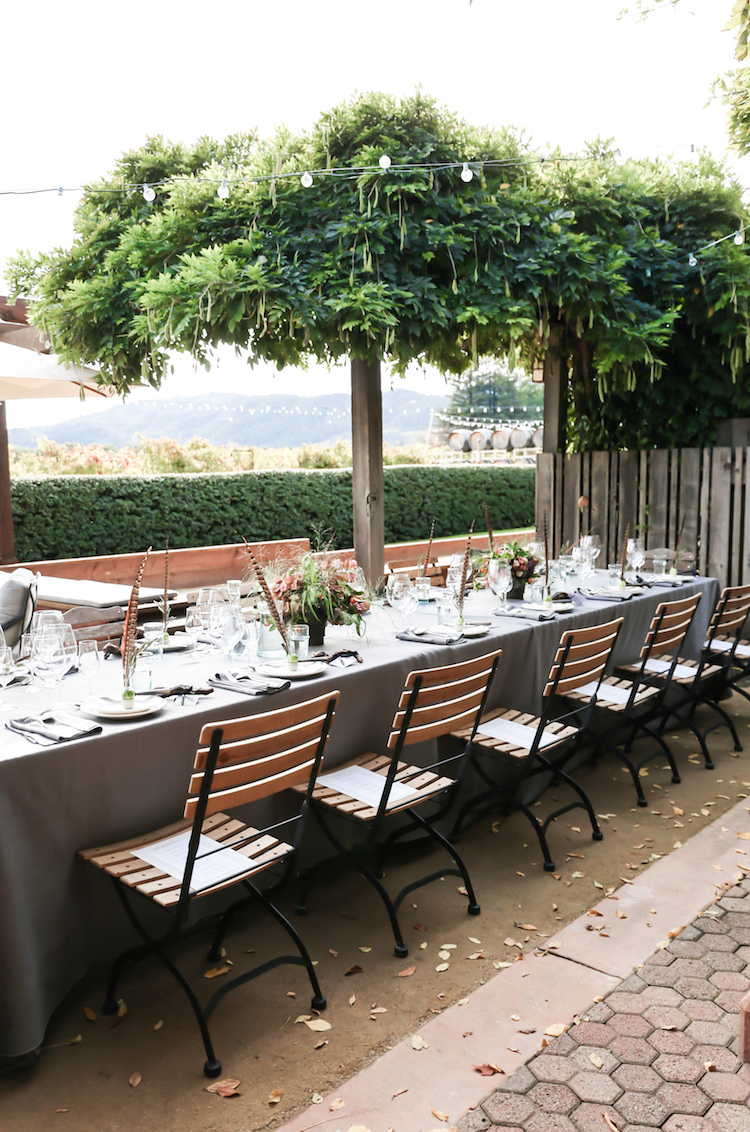 After our tour of the gorgeous property, we had a treat waiting for us. A stunning fall/winter spread prepared by the uber talented chef Jessica Laskey. We started with a Thanksgiving inspired charcuterie and appetizer board to get us ready for the meal and equally stunning wine to come. The table setting was neither understated or over the top and perfect to compliment the rustic brick oven, barn, and vineyards. Elise Green (only the most perfect vintage home decor store, located in the East Bay) helped with the decor and even sent us home with a vintage bottle openers. We eat family style, which was fitting as we left feeling like part of the family. Alongside a creamy, roasted squash dish, Turnbull's Pierre 2013 was served, which got a stunning 100 points and the head wine maker's desert island #1. And I can see why, it was fresh, but dark with a prominent back bone. A humble yet decadent polenta topped with chestnuts, mushrooms, and greens with generous shavings of parmesan was paired with their Merlot that had hints of luscious berries, followed by baking spices and black tea tannis. Merlots had a bad rep for the past decade or so, but if Turnbull's is any indicator they are going to make one big stunning comeback. And the perfect ending to the day? Speculoos S'mores from the oven paired with their sweet, luscious Port. Their was of course other glasses of their Cab Sav flowing through out the meal which were all lovely, but I still can not get the Pierre Cab out of my head! forget desert island wine, this is my desert island winery!
Photos 1,5,6,15,18 are from Kassie Borreson of Fotographie. All other photos are by Craft & Cocktails