I don't know about you, but when my friends text me that they are coming over unexpectedly, I go into full on panic mode! I instantly wonder if I have cleaned the kitchen, put away the laundry or if I've tidied up after the last photoshoot (my living room is my photo studio after all). Then my mind wanders to the most important matter at hand: what am I going to serve?!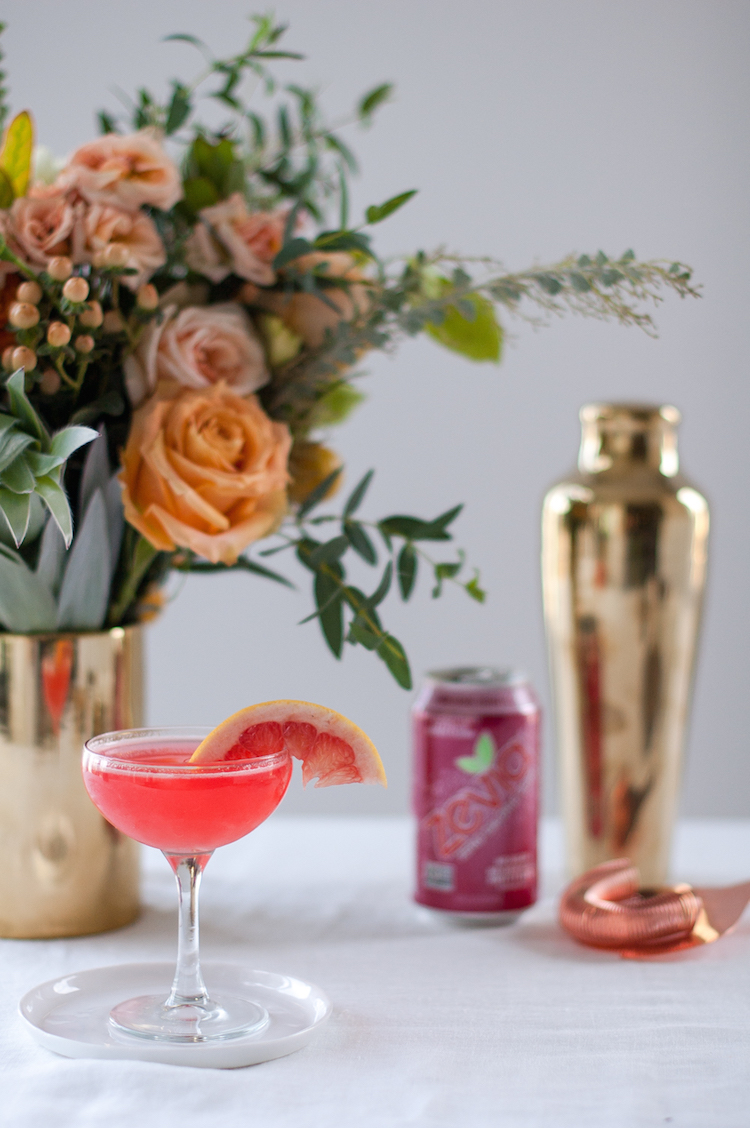 I don't have a solution for cleaning my apartment at the snap of my fingers (anyone with advice ?!), but luckily I have a few tricks up my sleeve for easy entertaining.
I like to keep simple items on hand that I use to put together a gorgeous spread with minimal effort. From top-notch ingredients, to entertaining pieces you should keep on hand, to what to keep in stock to make cocktails at the drop of a hat- you are going to want to bookmark this post for your last minute fêtes!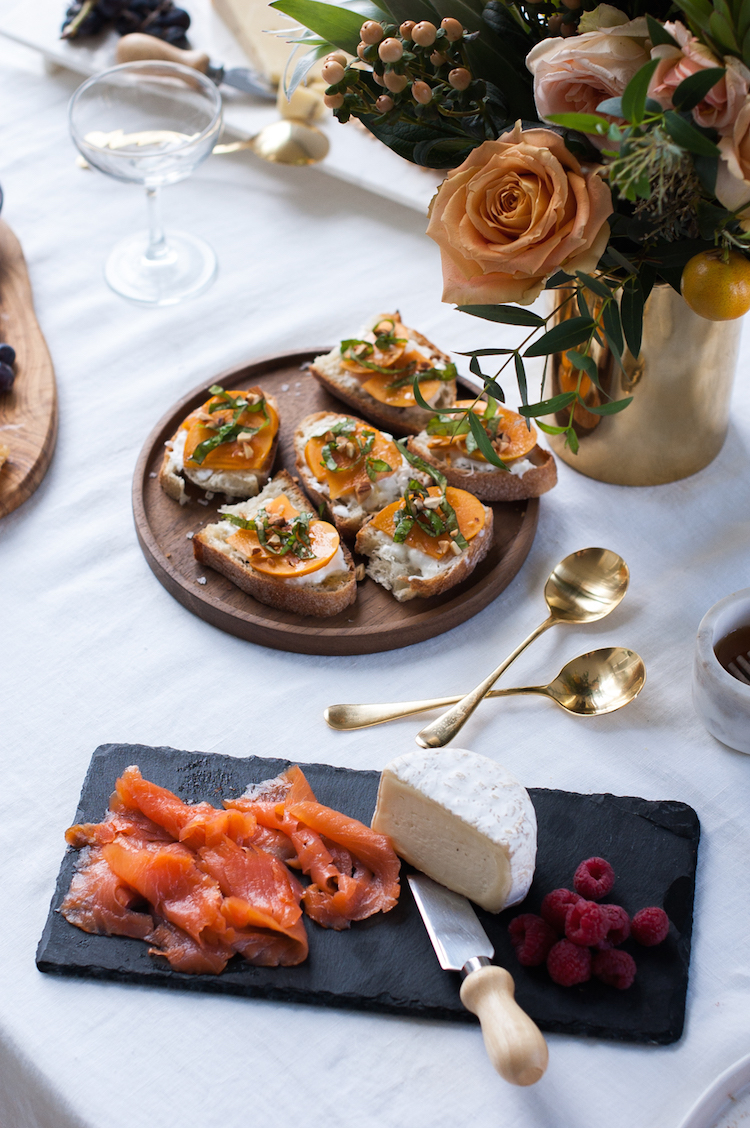 My key trick to a great get-together at a moments notice is selecting the right ingredients for my appetizers and cocktails. I choose non-GMO, organic, and in season items whenever possible. The difference is night and day. They truly take your cocktail party apps to the next level!
The makings of a cheese plate are always in my fridge. And let's face it, who DOESN'T like a cheese plate?! You can't go wrong with having some melt-in-you-mouth options out when guests arrive.
I like to buy organic cheeses from my local market each week just incase some friends happen to drop by. Blue can be hard to pair and not everyone is a fan of the stinky varieties, so I tend to stick to creamy, mild and sharp cheeses when gathering some for unanticipated guests. My favorites are a local triple cream (so amazing) and Hombolt Fog, a delicious and unique goat cheese. Oh, and let's not forget, any cheese peppered with truffle earns a place on my table!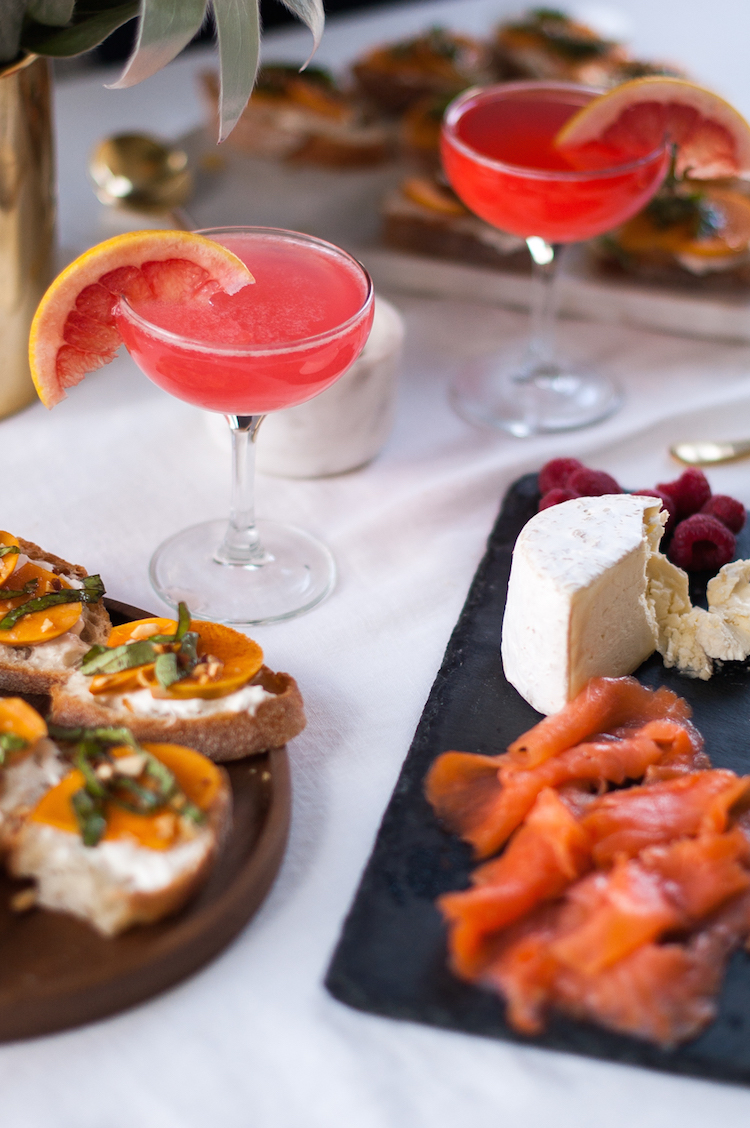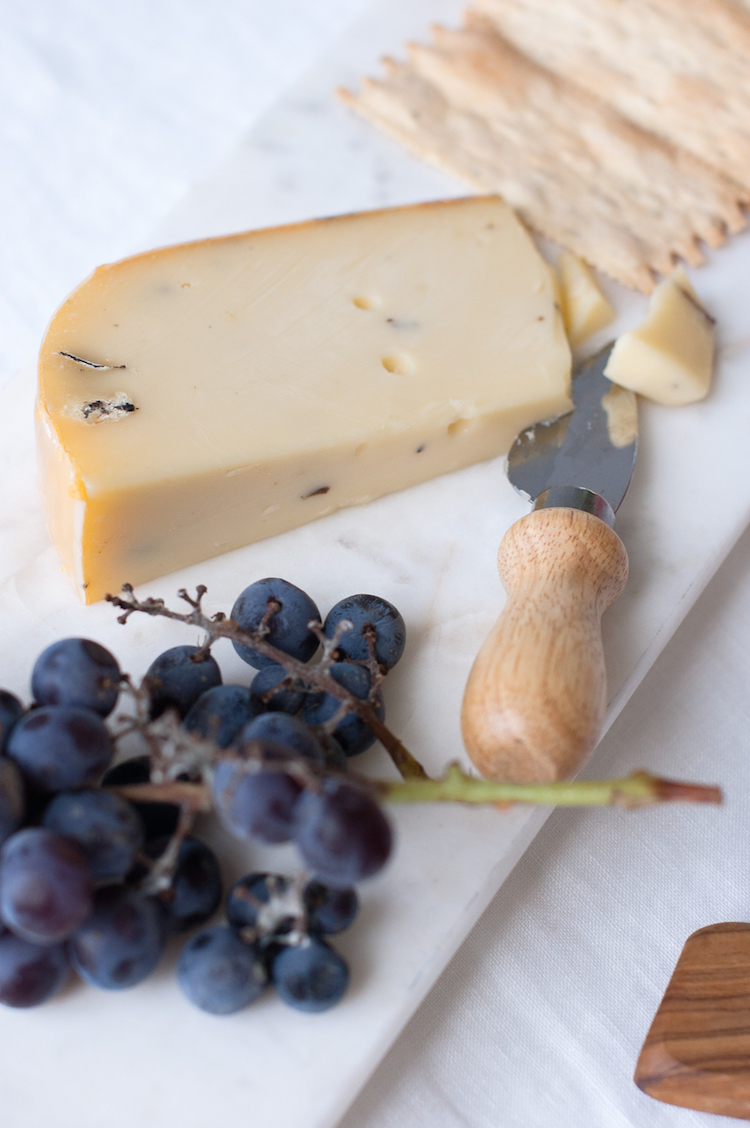 To my cheese plate I add in season fruit, crackers, olives a variety of nuts and organic smoked salmon and prosciutto. They add lovely texture, color and flavor when pared with the cheeses
Even if my friends don't stop by during the week, come Sunday, my husband and I can open a bottle of wine and feast on the cheese. There's never a complaint over what's for dinner on those nights! I am either prepared for guests to drop in or I am off the hook for cooking for a night (and get rewarded with a cheese plate). It's a win-win situation!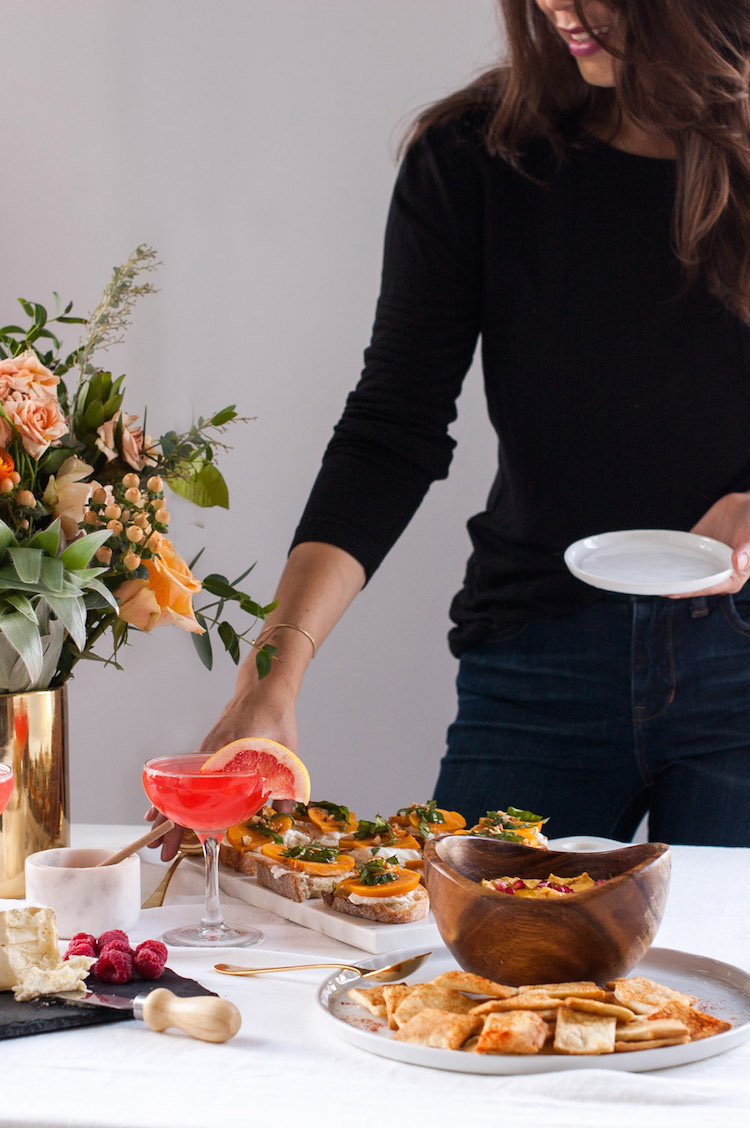 Another thing I keep on hand for quick and easy entertaining is Zevia soda. As much as I would like to, I don't have time to make simple syrups and infusions on top of whipping up appetizers when my guests are on their way in T-minus 1 (!!) hour. Zevia allows me to make delicious, naturally sweetened cocktails in a jiffy. There are so many great flavors (like Ginger Root Beer) that make for the perfect mixers for cocktails and mocktails. They are also zero (as in nadda, zilch) calories so I can indulge in a few extra appetizers!
There is nothing I enjoy more than a beautiful, delicious cocktail, but what I do not enjoy, is when they are mixed with ingredients containing artificial colors. No thank you! Luckily, Zevia is clear in color so I don't have to worry about additives interfering with the color or taste of my drinks. That gorgeous pink color of this cocktail? It comes purely from muddled raspberries! Now that's something I can cheers to!
Ingredients
3 1/2 oz Grapefruit Citrus Zevia Non-GMO Project Verified Soda
2 oz white rum
1/2 marashino liqueur
3/4 oz fresh, organic lime juice
4 organic raspberries, muddled
grapefruit garnish
Directions
Muddle raspberries in a cocktail shaker. Add all ingredients, except for Zevia soda, into the shaker with ice, and shake for 30 seconds. Double strain into coupe glass. Top with Zevia soda and garnish with grapefruit slice.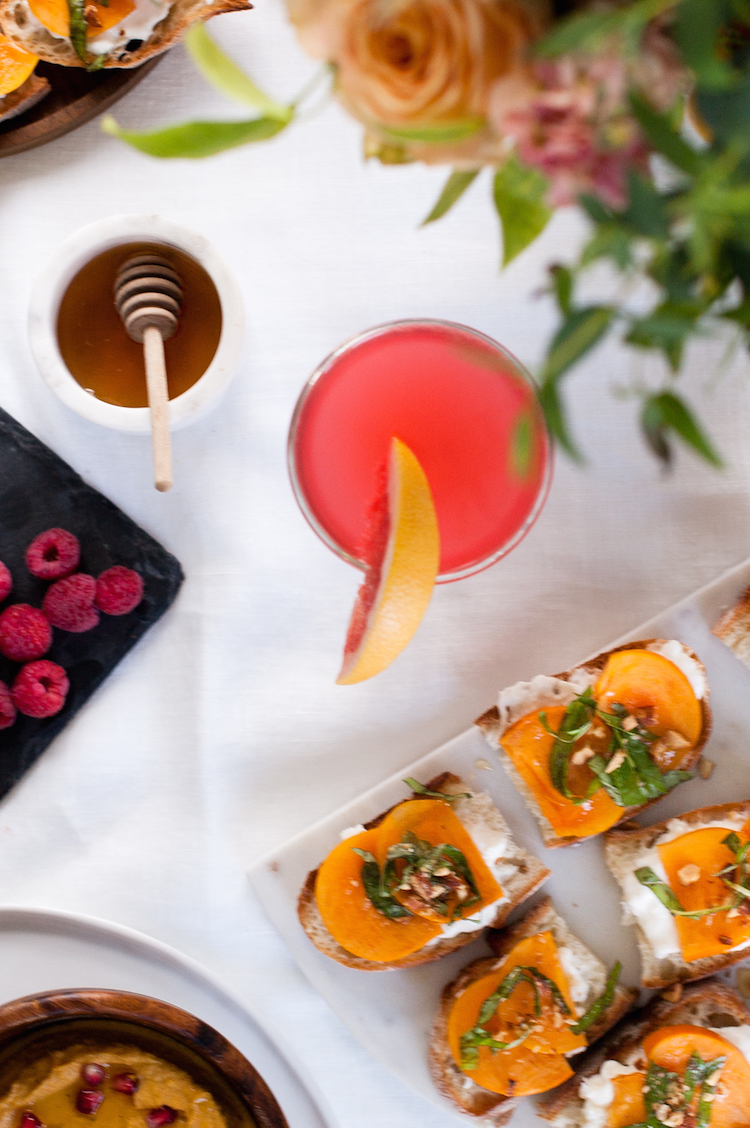 Another secret ingredient I keep on hand, are you ready for this: burratta! If you have never heard of this lovely cheese, go out and get some now! You'll thank me later even after the late night trek to the grocery store, I promise. A center made of luscious cream and mozzarella and then surrounded by a harder mozzarella outside, burrata is essential cheese encased in cheese. So in other words, DELICIOUS!
Adding burrata instantly jazzes up a quick salad or appetizer. I make sure to stock my fridge with ingredients to make fancy toasts. They take just a few minutes to put together leaving you more time to straighten up your place before guests arrive. I keep burrata and organic bread on hand, but change out the other toast toppings based on what is in season.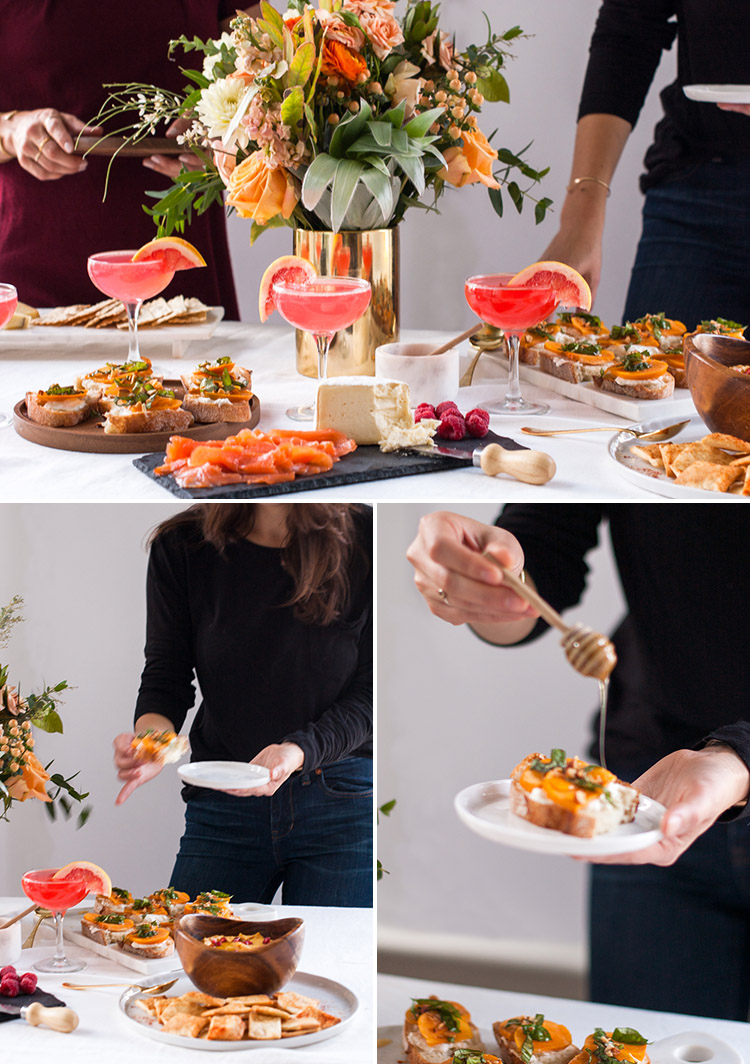 Persimmons are overflowing at the farmers market right now, so for my most recent get-together, I whipped up a burrata persimmon toast that might just be my new favorite thing to eat (and all my friends were raving about them). I will be sharing the recipe for this out-of-this-world toast later this week so be sure to check back!
Another last-minute go-to is hummus. I prefer to cook my own chickpeas, but I always keep a few cans of them in my pantry to mix up a batch quickly. Just toss in all the ingredients in a blender and BAM, you have fresh hummus that's sure to be a crowd pleaser. To pair with the persimmon toasts, I blended in some pumpkin pureé and dashed in some cumin and cayenne to the give the hummus a tasty autumn twist. I also keep a bag of pita chips at the ready to serve with the hummus and simply toss on some spices to give them a little home-made touch (shhh don't tell!).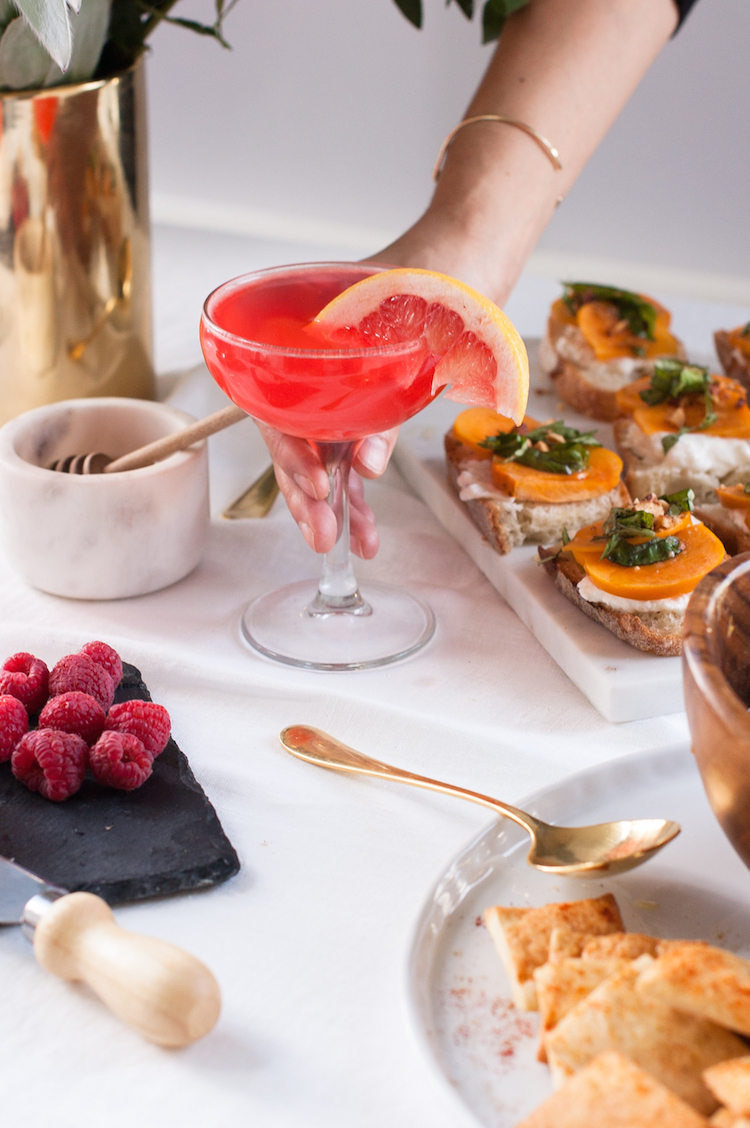 To keep things simple, I tend to purchase neutral colored serving pieces. That way, I don't have to think about whether my tablescape is cohesive. It instantly makes everything seem well thought out, intentional and put together, when all I did was grab random trays and platters from my cabinet!
You can not go wrong with collecting some marble pieces for parties. Not only is marble having a serious moment, but it provides a beautiful backdrop for food. White plates always make your food really pop and marble just gives a little more oomph to your appetizers. I also love to mix in some slate and wood pieces. They add an organic touch to the table and gives it a little more intrigue.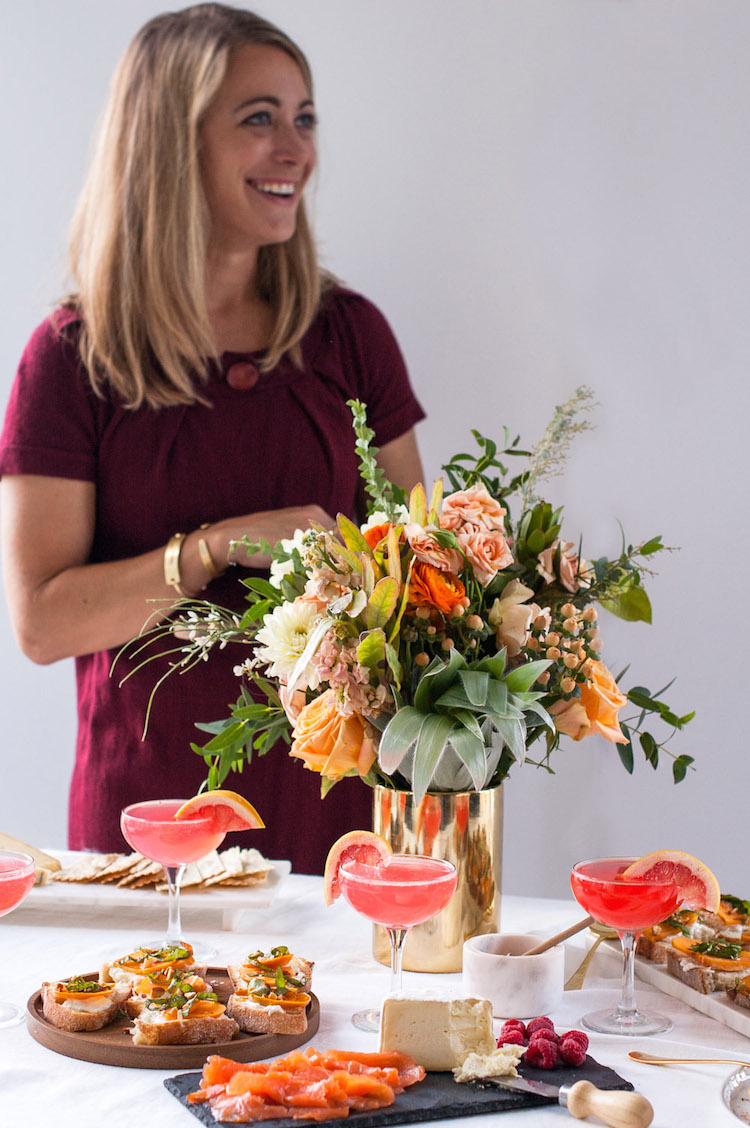 And let's not forget the pièce de résistance: flowers! A simple bouquet instantly transforms the table and gives it that wow factor. Either a show stopper bouquet like this one or simply gathering some flowers and greenery from your yard and adding to bud vases will pull the whole table together.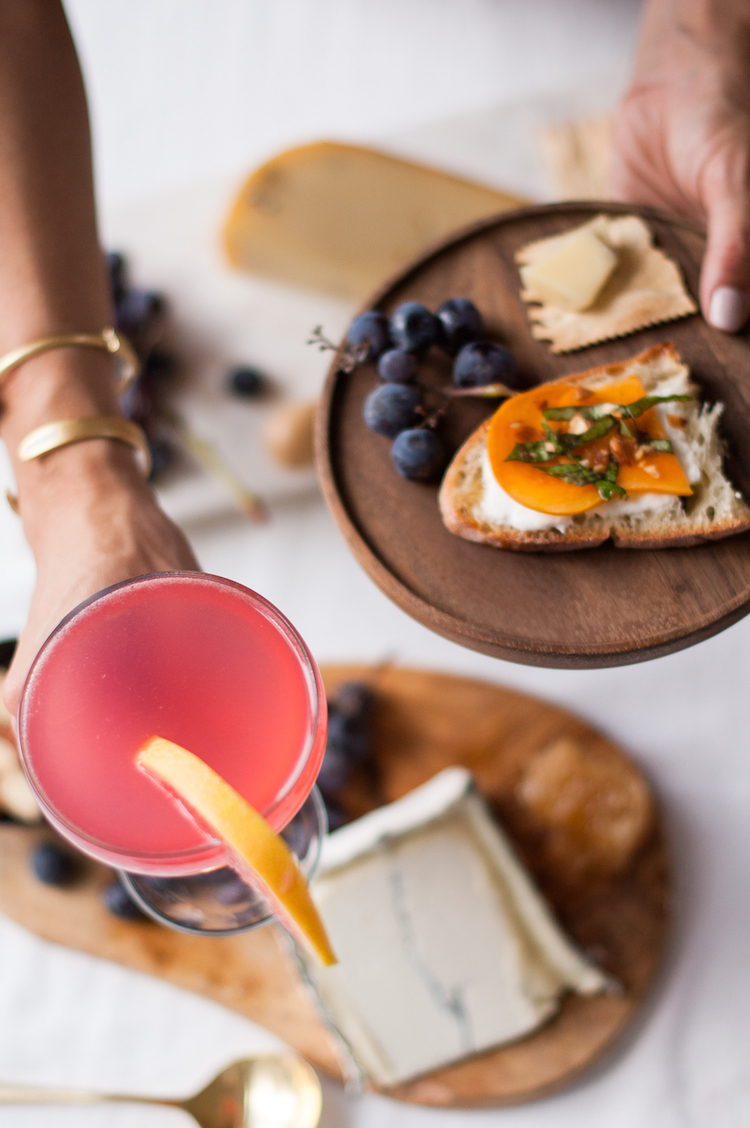 To up your entertaining game even more, right now Zeiva is having a Hostest with The Mostest giveaway. You can get the chance to win one of my favorite things: a bar cart! And they are giving away not just any bar cart, but a GOLD one! Bar carts have so many uses and take your homebar to the next level (oh you fancy huh?!). Head over here for a chance to win a bar cart, party accoutrement and oodles of Zevia soda.
Keep these tips and tricks in your back pocket and you'll be ready for the next time your friends decided to pop on by!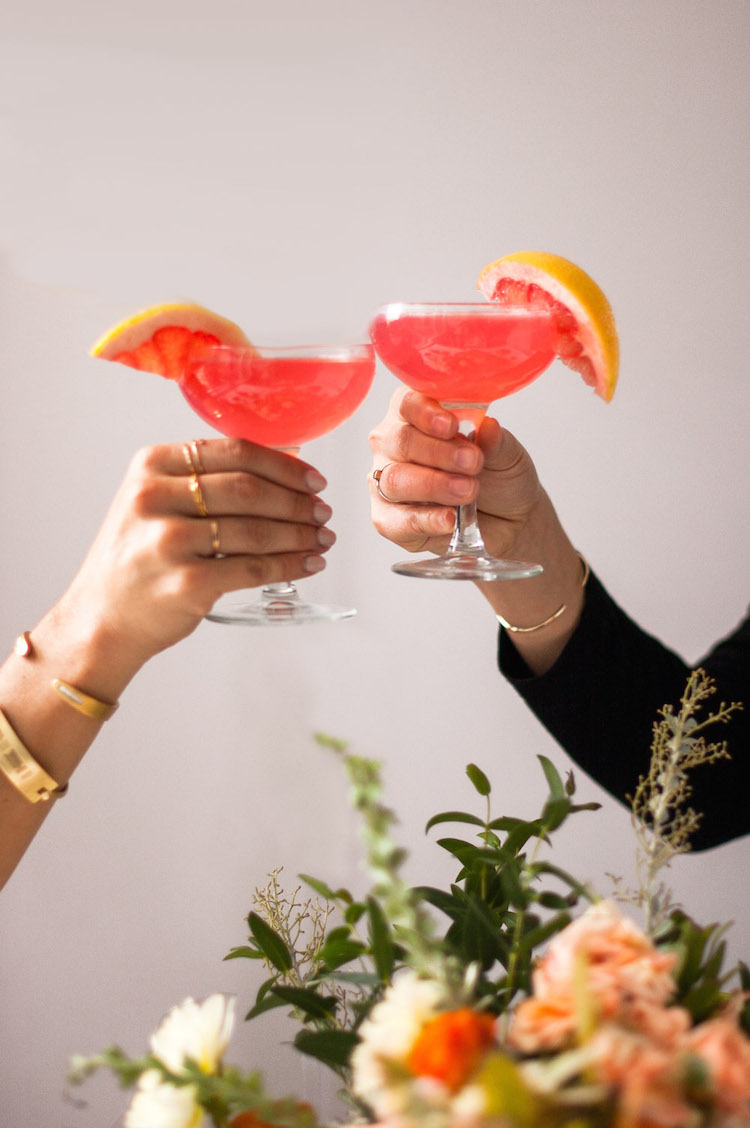 Do you have any easy entertaining advice? I'd love to know your secrets!
A big thank you to Mady & Kelly for helping me polish off this delicious spread and cocktails. It was hard work, but someone had to do it!
This post is a paid collaboration with Zevia. All opinions and recipes are my own. Thank you for reading and supporting the partnerships that keep the cocktails flowing on Craft & Cocktails.