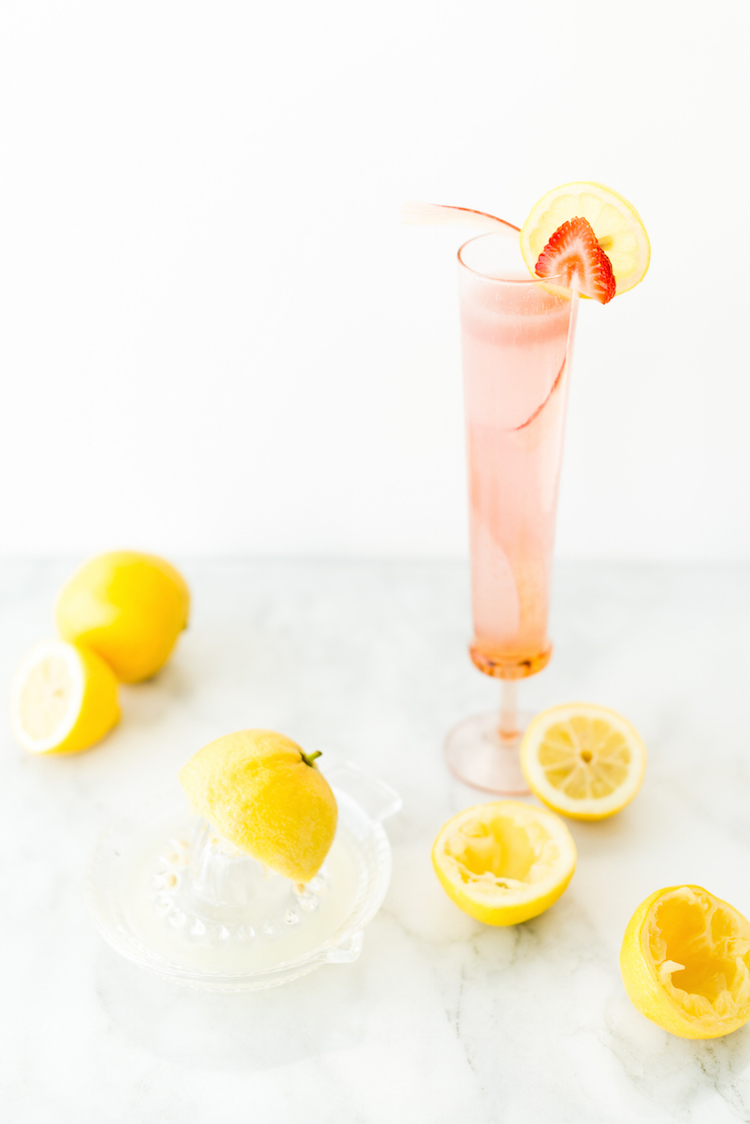 Mother's Day is this Sunday. Rather than going out, why not treat M-O-M to a homemade brunch (or some pastries from her favorite bakery) paired with this pink hued Strawberry Rhubarb Rosé Lemonade! With Beyonce making Lemonade the hottest, or coolest rather, beverage to sip at the moment this is the perfect au currant cocktail toquench your thirst this weekend (or while watching Lemonade for the  100th time!).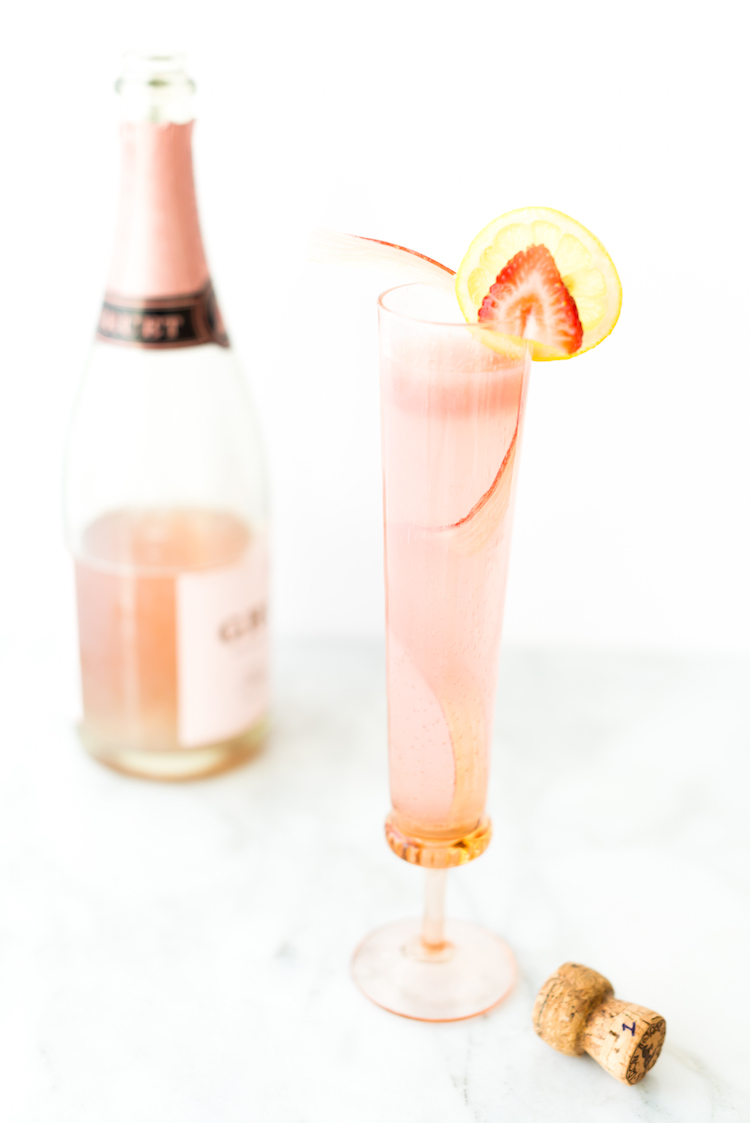 Besides, who can say no to rosé? The pink tinted wine sparked the use of the now popular #yeswayrosé hashtag after all- the internet can't be wrong! Rosé has received a bad rap for awhile, often associated with those sickly-sweet White Zinfandel (you know the type, either from a box or bottle that rhymes with Bafoons Arm. Ick!) White Zinfandel grapes are rarely of good quality so the product itself is lack luster and flat. "Real"rosé is bright, dry with a touch of sweetness that compliments the beautiful acidity and complex fruity notes.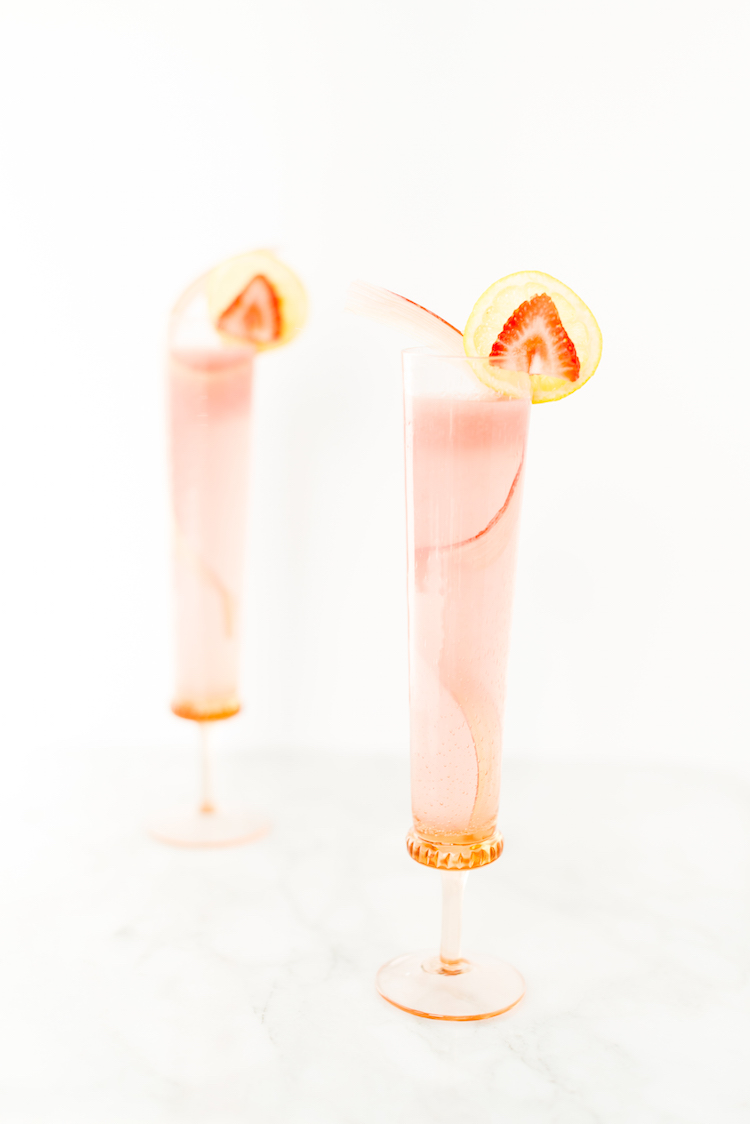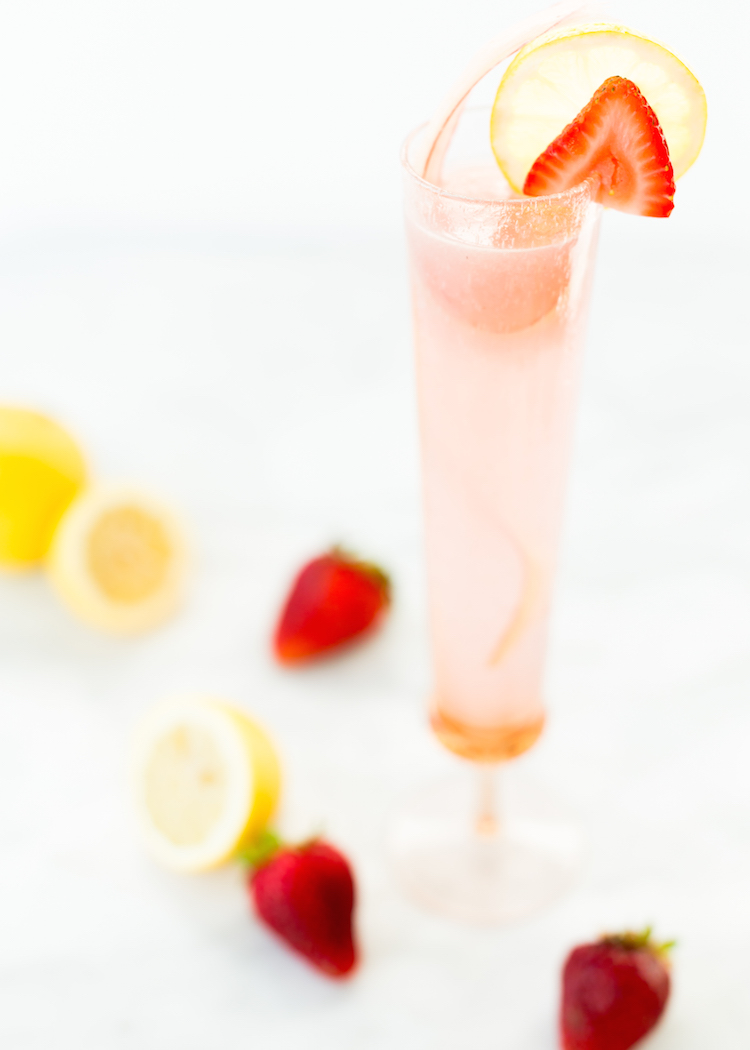 Drinking rosé immediately and frequently is promoted versus stowing away for later like many reds. Not complaining over here! It's best enjoy fresh so I always have a bottle ready chilled each week, ready to crack open come Friday with a cheese plate. No better, low maintenance way to celebrate the week being over if you ask me. My favorite is Rosé of Pinot Noir (pinot noir grape skins macerated with other white wine grapes, the skins are where rosé gets it's color), but any affordable dry type will work for this rhubarb rosé lemonade.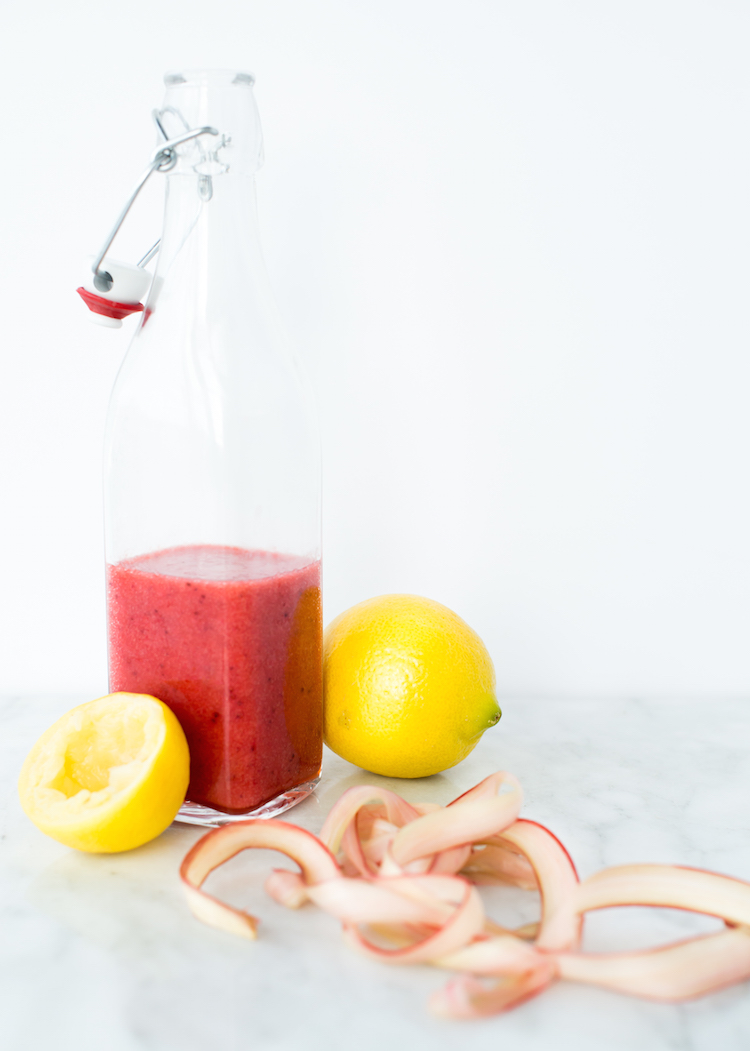 Speaking of rhubarb, I have been patiently waiting for it to hit the markets and got lucky last week! This tart, scantly sweet veggie/fruit appears every spring, but then quickly disappears. Usually reserved for tarts and pies, I like to incorporate this tangy produce into cocktails. Bitter flavors have become staples on cocktails menus across the country and rhubarb is a great way to achieve this.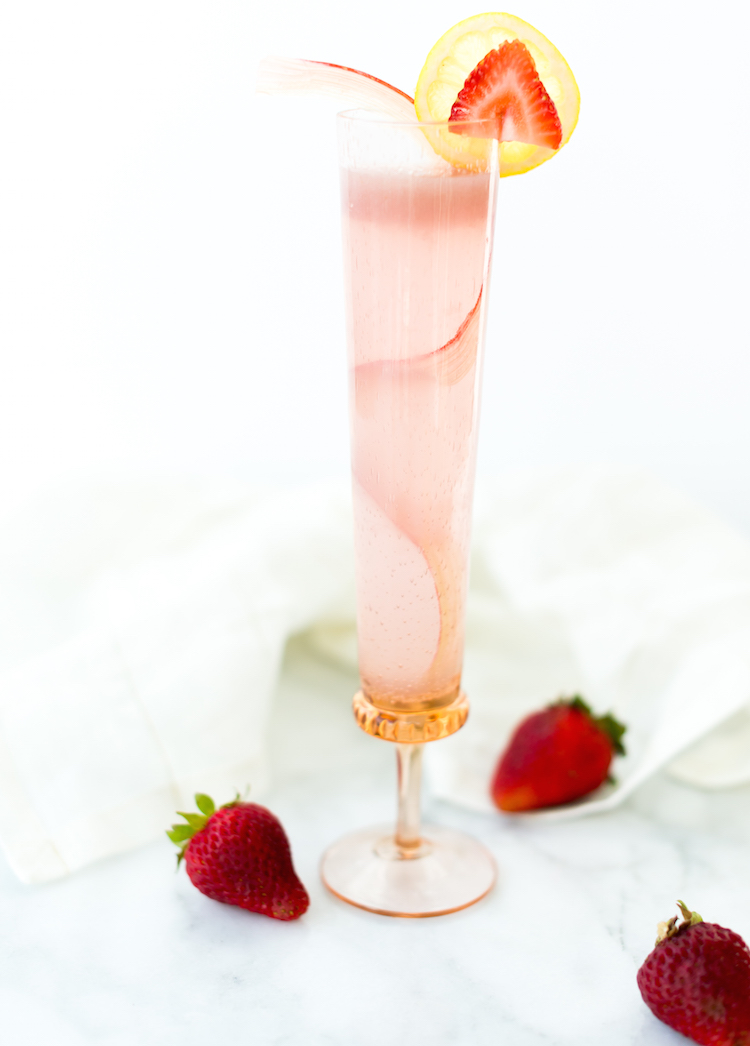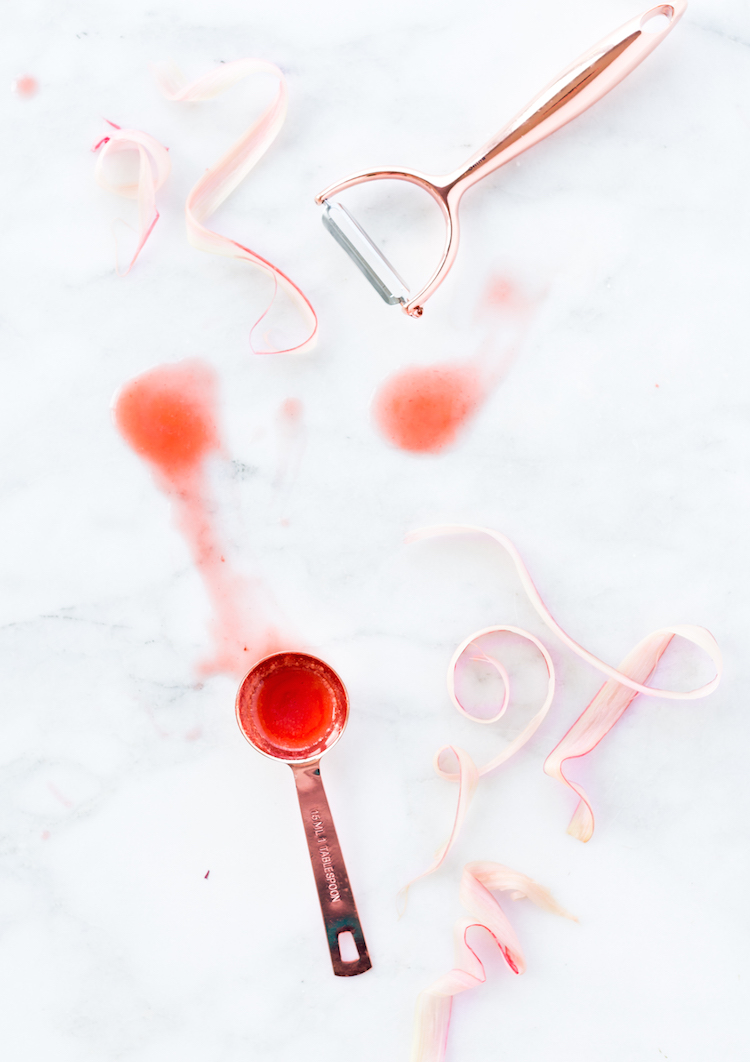 Strawberry rhubarb is a classic combo and for good reason. Not only do they create a vibrant hued product, but when paired with strawberries, rhubarb's tart taste balances out and compliments the succulent sweet spring fruit. This cocktail would be great for brunch, a warm evening spent with friends on a patio, or treating the #1 lady in your life (aka Mom) to this Sunday!
Strawberry Rhubarb Rosé Lemonade
3 oz sparkling or regular dry rosé
1/2 oz vodka*
1 1/4 oz sweetened strawberry rhubarb puree (recipe below)
3/4 oz fresh lemon juice
garnish: lemon wheel and strawberry
Make puree. Add all ingredients except rosé into a shaker with ice. Shake and strain into a flute. Top with rosé and stir. Garnish.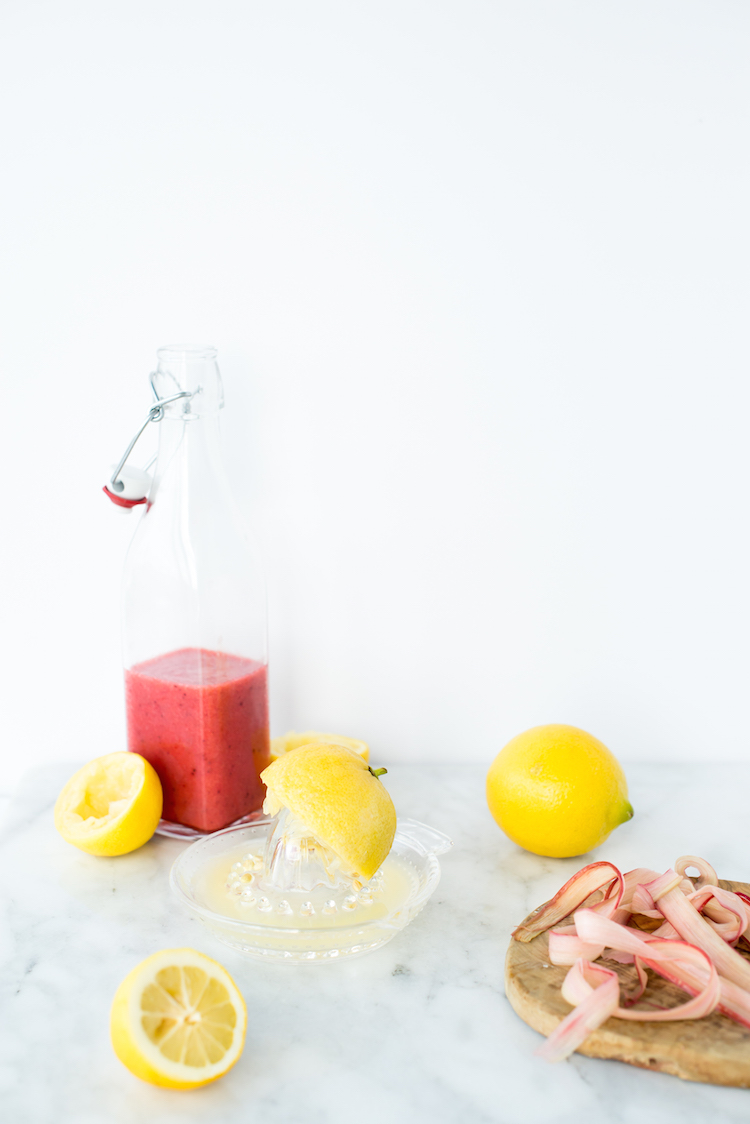 Strawberry Rhubarb pureé
2 cups strawberries, sliced
1.5 large stalks of rhubarb, sliced
8 oz sugar
8 oz water
Add water and sugar to saucepan. Once sugar has melted, add strawberries and rhubarb. Bring to a boil. Turn to low to simmer for 20 minutes or until the rhubarb is very soft. Once it has cooled some, add to a blender and blend until smooth. Strain through a fine mesh strainer, pushing with a spoon to encourage it through.
*You can replace the vodka with 1 oz more of the rosé if you want a less potent sipper before noon.