Hummus is probably one of my favorite foods. There, I said it!  It's creaminess and wonderfully smooth texture make it great for spreading on pita chips, veggies, sandwiches, wraps… there are so many great ways to use it. It is a multipurpose wonder in the kitchen!
How could one make something already so perfect even better you ask? Pumpkin!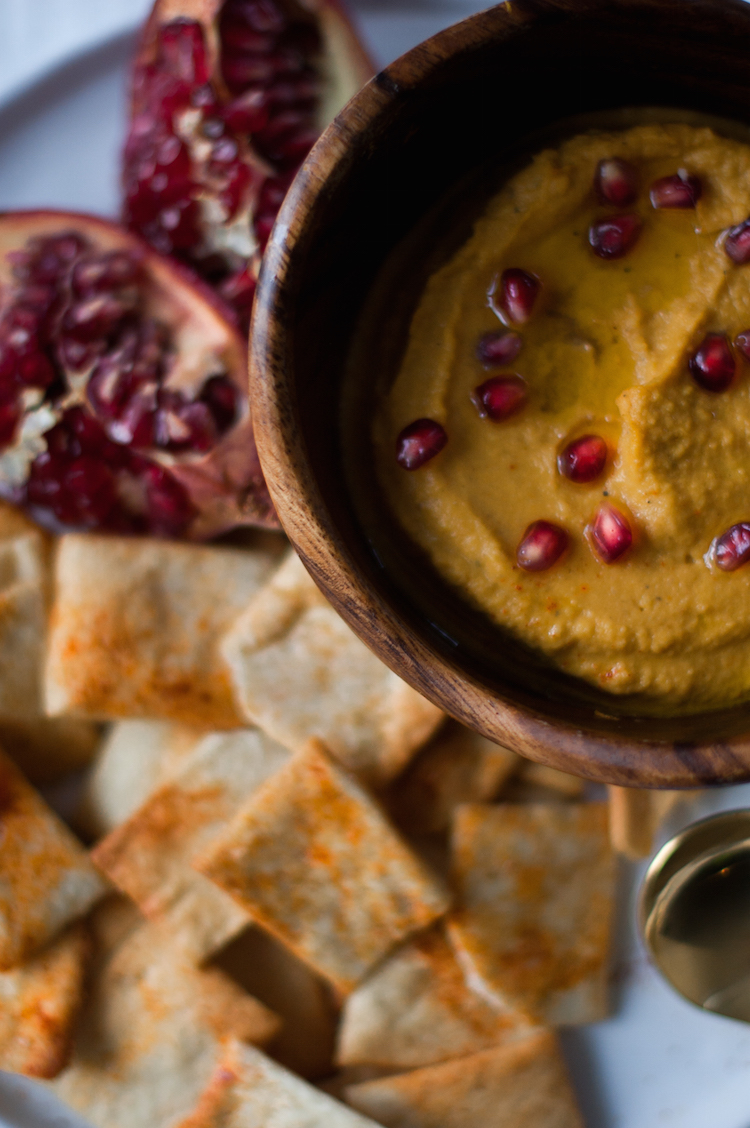 Now before you dismiss this scrumptious treat, hear me out. You've probably already have had more than enough pumpkin spiced something-or-other in your life (or in your Instagram feed), but I am throwing another one in the mix that I promise you will devour in two seconds flat upon making!
This pumpkin hummus is a great departure from those overly sugary, pumpkin spiced concoctions. Peppered with cumin, and paprika, it plays to the savory rather then the sweet side of this versatile autumn produce. A touch of cayenne is added for heat, just enough to not overwhelm the other flavors.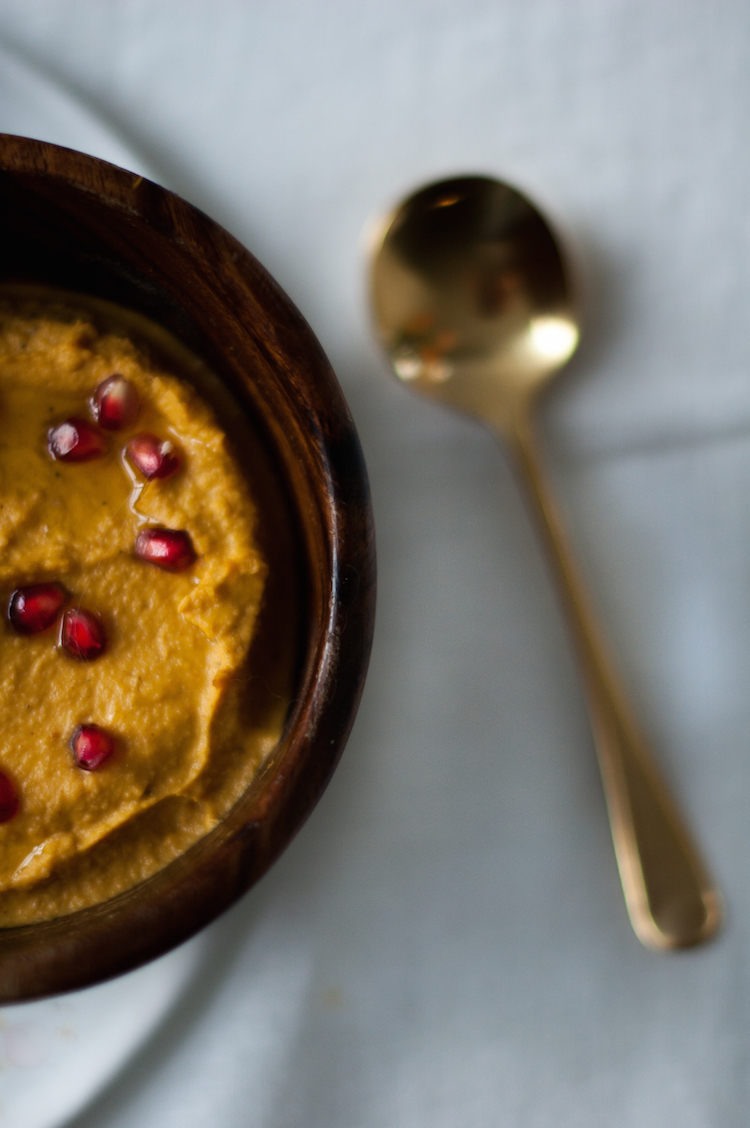 Hummus just isn't hummus to me with out Tahini. The sesame seed paste adds a wonderfully creaminess with a hint of nutty goodness that enhances all of the other flavors in the spread. So don't be lazy and grab a jar at the store next time your there and prepare for infinitely better hummus. You're welcome!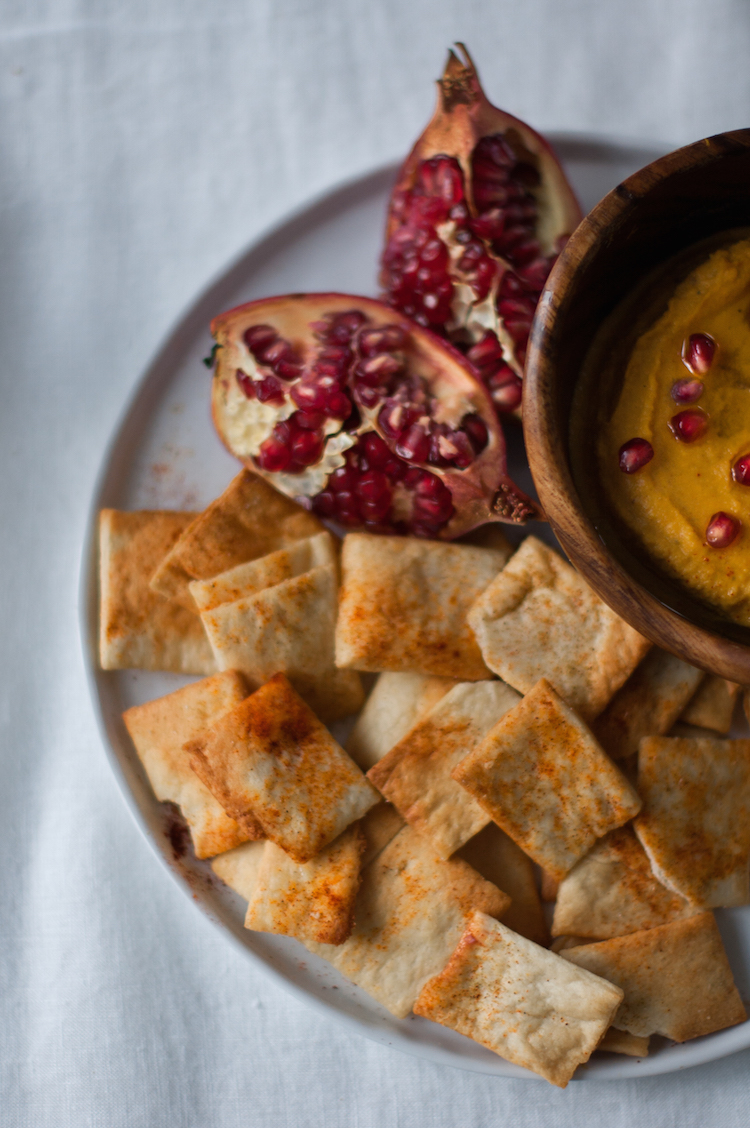 Spiced Pumpkin Hummus with Pomegranate
Ingredients
1 can chickpeas (or fresh equivalent)
1 1/4 cup pumpkin pureé
2 1/2 tablespoons tahini
1 tablespoon olive oil
2 teaspoons cumin
3 teaspoons lemon juice
1/4 tsp cayenne
1/2 teaspoon salt
1/2 teaspoon paprika
2 cloves roasted garlic
pinch of pepper
pinch of cinnamon
1/2 pomegranate, seeded for garnish
Directions
Blend chickpeas, tahini, lemon juice and olive oil together in a blender. Add the rest of the ingredients, minus the pomegranate sees, and blend. Serve in a bowl and top with pom seeds and a drizzle of olive oil paired with smoked paprika and cumin pita chips.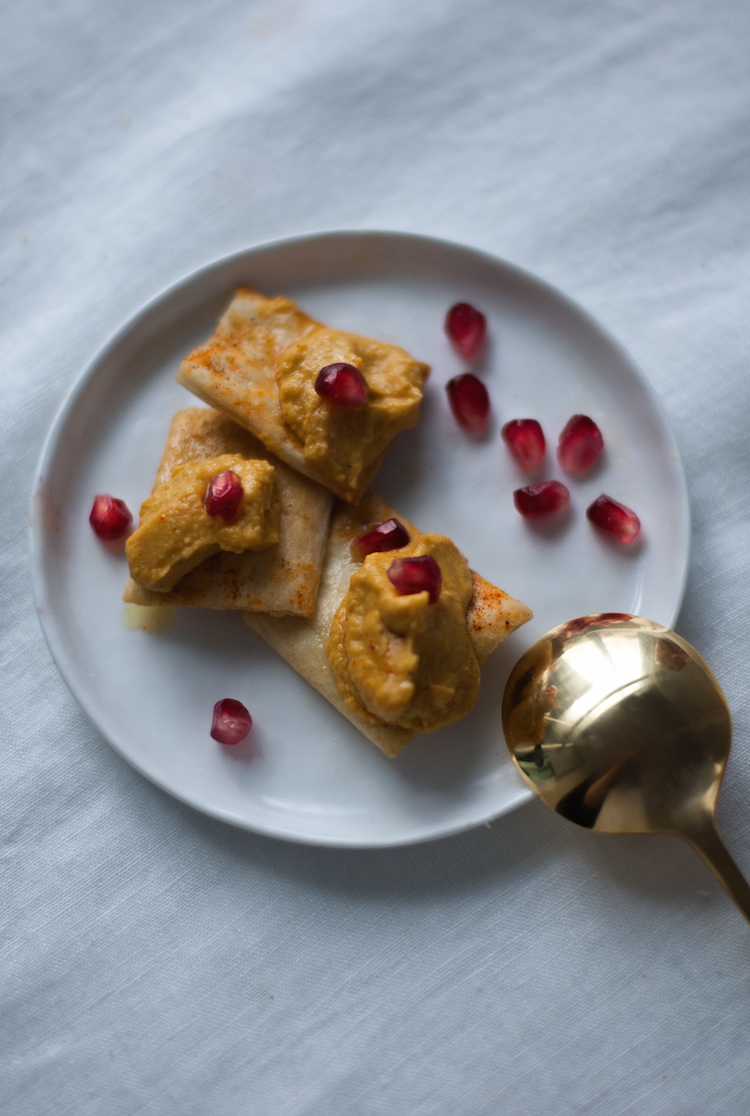 Raw garlic can over power the flavors in this spread if you are not careful, so I like to make it with roasted garlic. You can sneak in extra this way with out throwing off the whole recipe. Rather then turning on the stove to roast up my garlic when I am crunched for time before a party, I roast it in a pan on the stove. It also cuts down on the likely hood of over roasting. No one likes burnt garlic. 
Simply add whole garlic cloves to a pan with a half cup or so of oil over medium low heat and let cook simmer in the oil for 10-15 mins. Give it a stir every couple minutes and keep a close eye oh it towards the end of the roasting time for doneness. You can then chop the garlic, blend it, or what I like to do, enjoy them whole!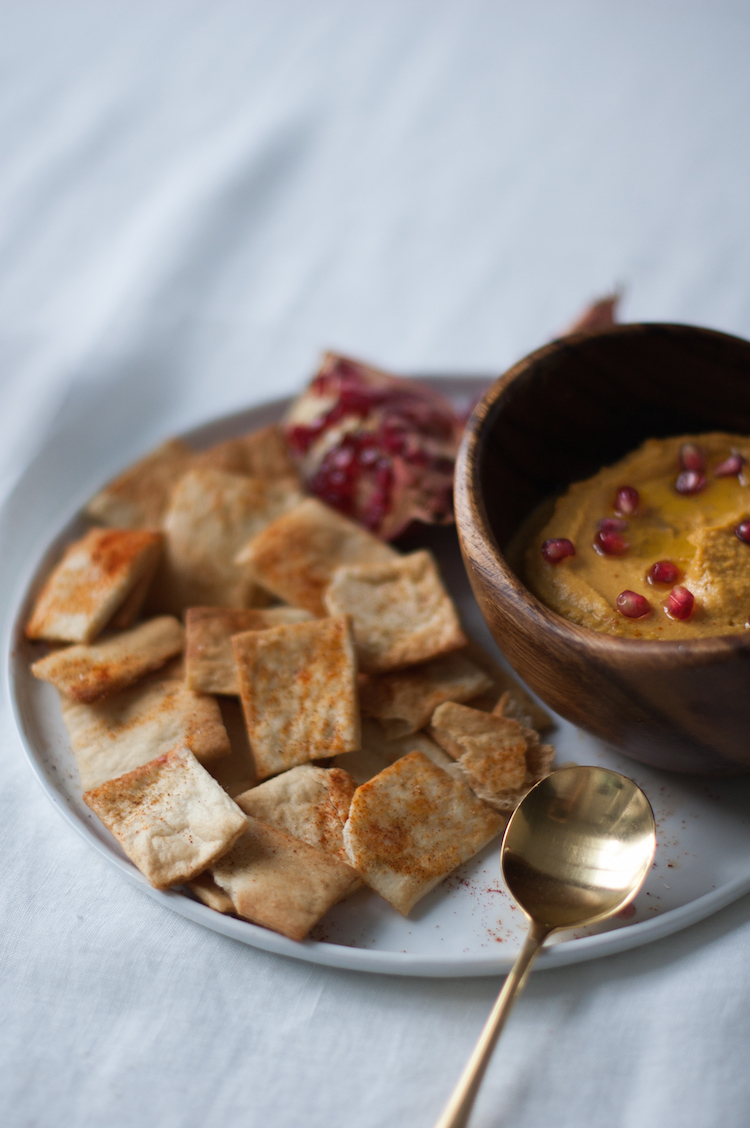 You could eat a whole darn bowl of this stuff and you'd be free from walking around with intense garlic breath. Although, you might want to share some with the other people (or maybe not!)
Serve alongside buratta persimmon toast, delicious cheese plates, and Raspberry Daiquiris and you'll have the makings of a perfect autumnal cocktail party!