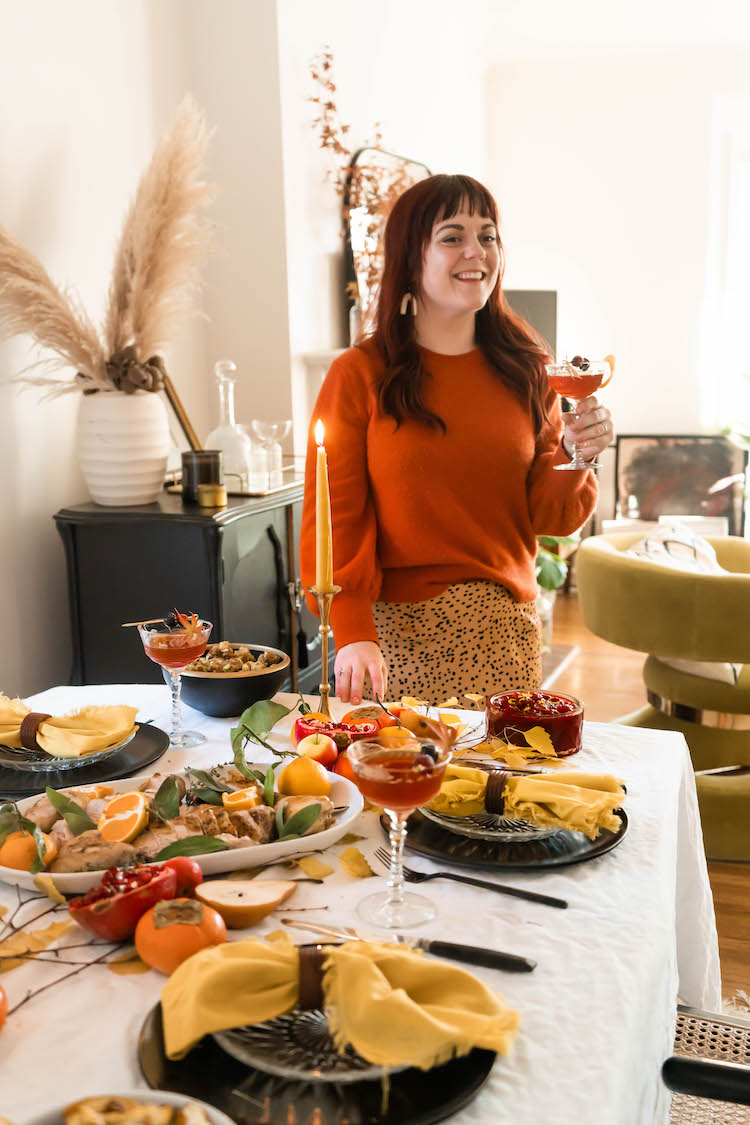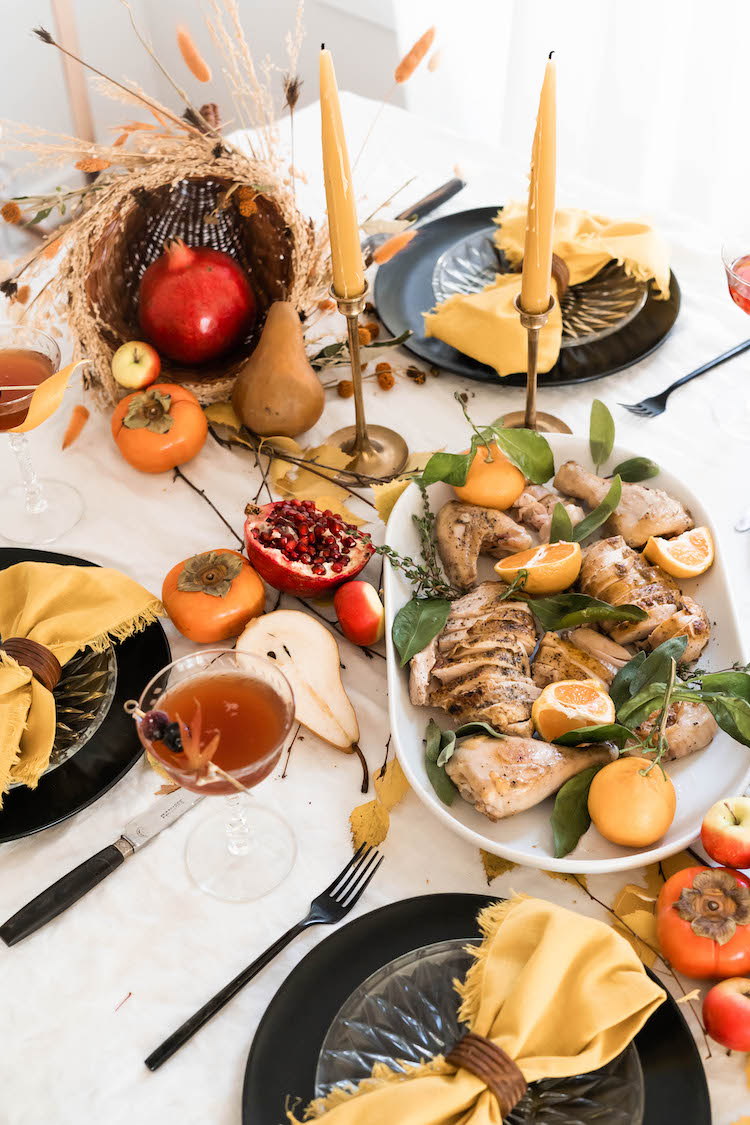 This post is in partnership with eBay and  ShopStyle. Thank you for supporting the brands that keep the cocktails flowing.
Although it is only a table for two this year as we are spending Thanksgiving at home, I am still creating a beautiful spread to celebrate and spend time being thankful and reflecting on this year with my partner. There is a lot I am thankful for this year, even amongst the chaos that has been 2020! I plan to keep this Thanksgiving tablescape up for at least a week post-turkey day since those pretty vintage coupes shouldn't be reserved just for special occasions. Why not make Monday night dinner fancy too?! I recently partnered with eBay & ShopStyle for the holidays, I was excited to show how I use my go-to new and vintage entertaining pieces to create a lovely environment for a special meal, long conversations, and tasty drinks with close loved ones. eBay also has a great selection of refurbished appliances to elevate the cooking experience, so the process from oven to table is easy-as-pie. Since I have been cooking 99% of the meals we eat these days, and Thanksgiving is around the corner, I have been investing in kitchen gadgets that I have put off getting over the years. I also don't want to spend $$$ on super pricey appliances. Luckily, eBay also has a variety of refurbished appliances that are wallet-friendly and can help make those Thanksgiving and holiday meals easier.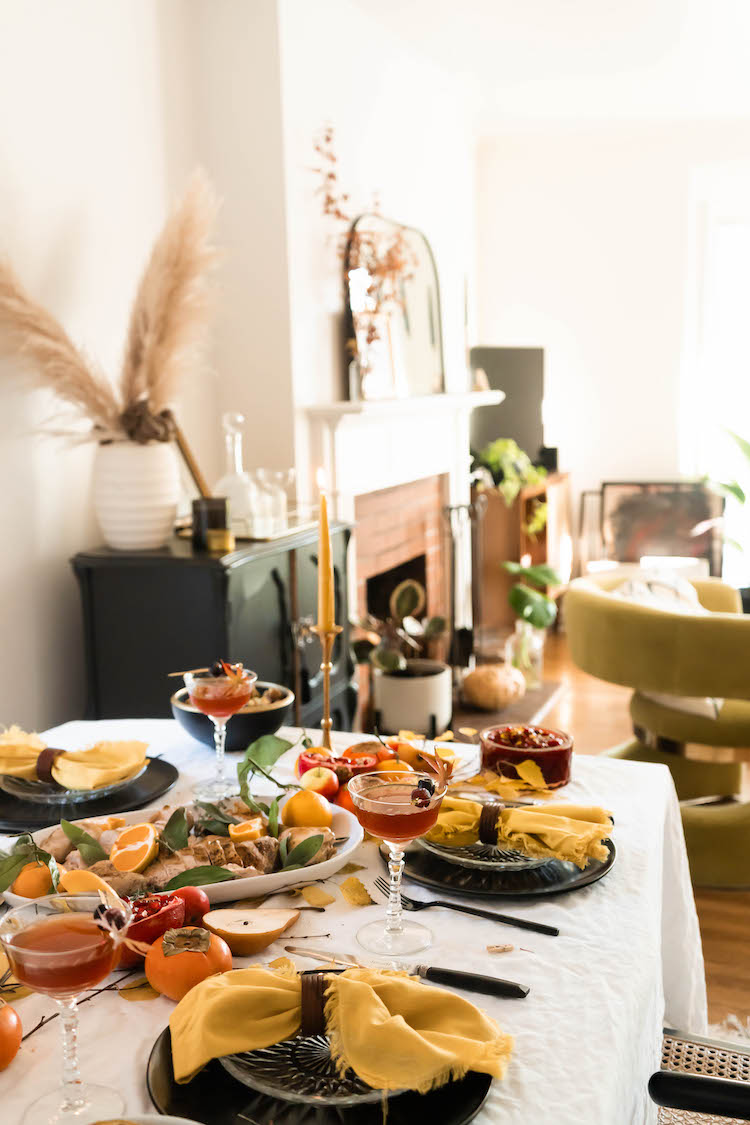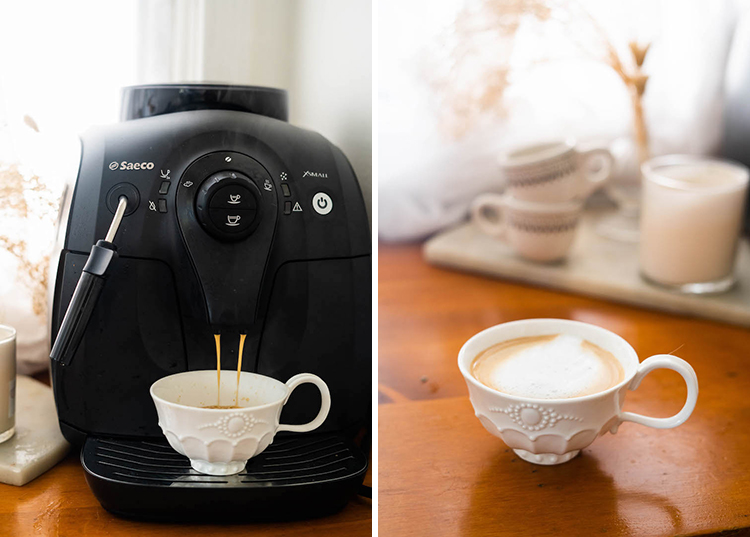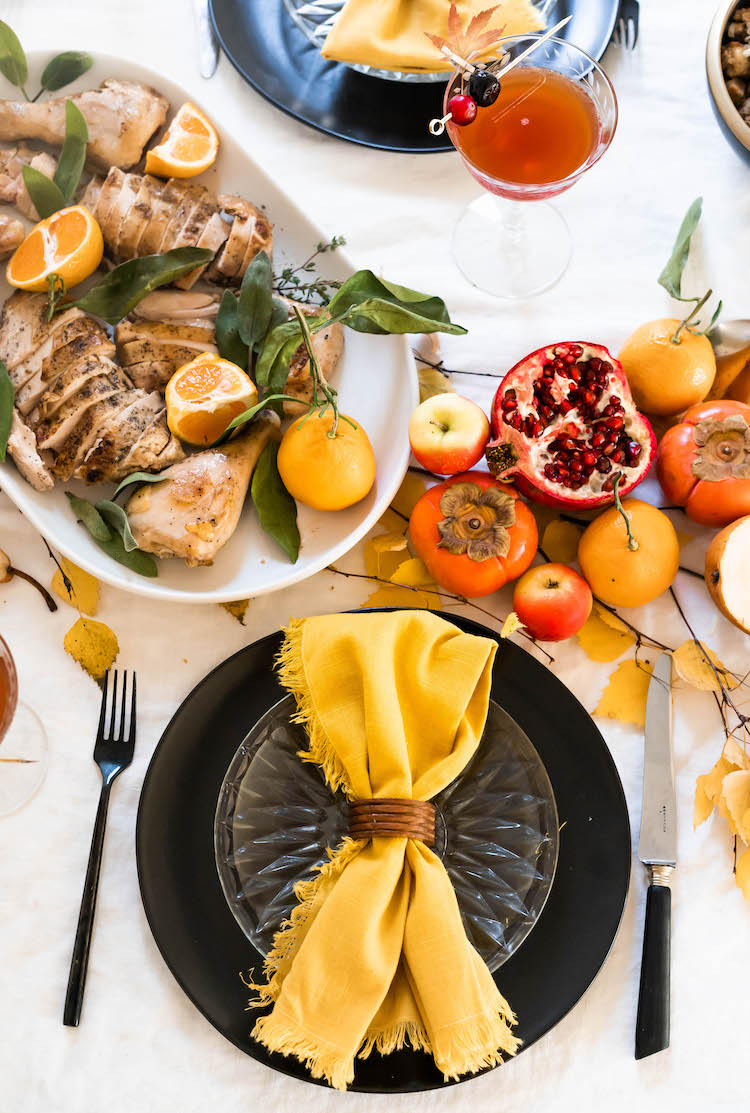 We have been making A LOT of coffee this year at home; I don't even remember that last time I took a sip or even caught a whiff of espresso from a coffee shop. While prepping for big photoshoots and holiday meals, I always love to have an espresso drink to sip while buzzing about. Everything is more enjoyable with a latte in hand. We have ruminated on adding an espresso machine to mix up the morning routine but never got around to it until now. I found a petite Saeco espresso machine that's perfect. It doesn't take up too much room, and you know there will be espresso cocktails in the near future (hello Espresso Martinis!)  There are a variety of refurbed espresso machines here based on what bells and whistles you are looking for. I love ours and getting to sip a cappuccino that I made in my pajamas! 
For the Thanksgiving tablescape, I wanted to DIY the centerpiece and put together this dried floral cornacopia that is like a wreath for the table. I found vintage cornucopias on eBay that reminded me of decorations my family had for autumn growing up, but I wanted to give a modern edge to the wicker decoration. I used dried flowers I gathered from online and a local flower mart and, along with trusty some hot glue, created a spiral, wispy, wreath-like effect that's elegant and rustic. Dried flowers are a must for me to have on hand for long-lasting flower arrangements and crafts like this centerpiece and tend to can more affordable than fresh flowers. On the table, I used the cornucopia as an anchor piece and laid chartreuse branches, that I pruned from a tree in the yard, down the table radiating from it. Cornucopias represent abundance and harvest, so I scattered my favorite fall fruits down the table to create movement and add pops of nature's best colors.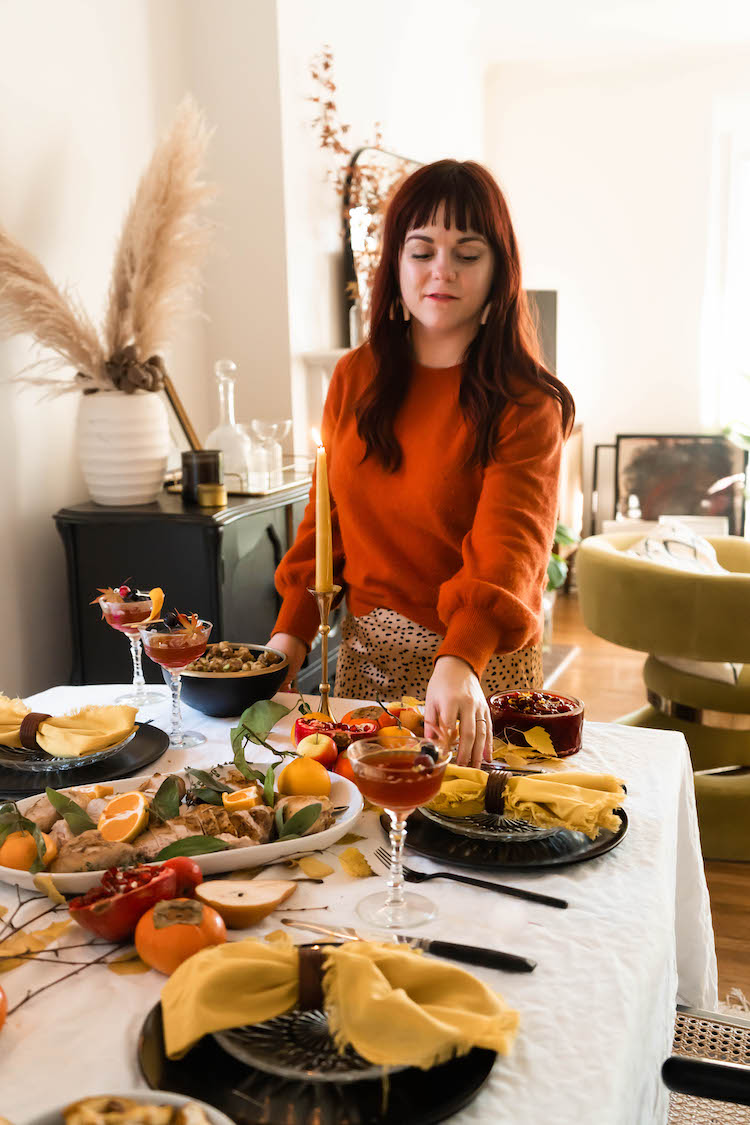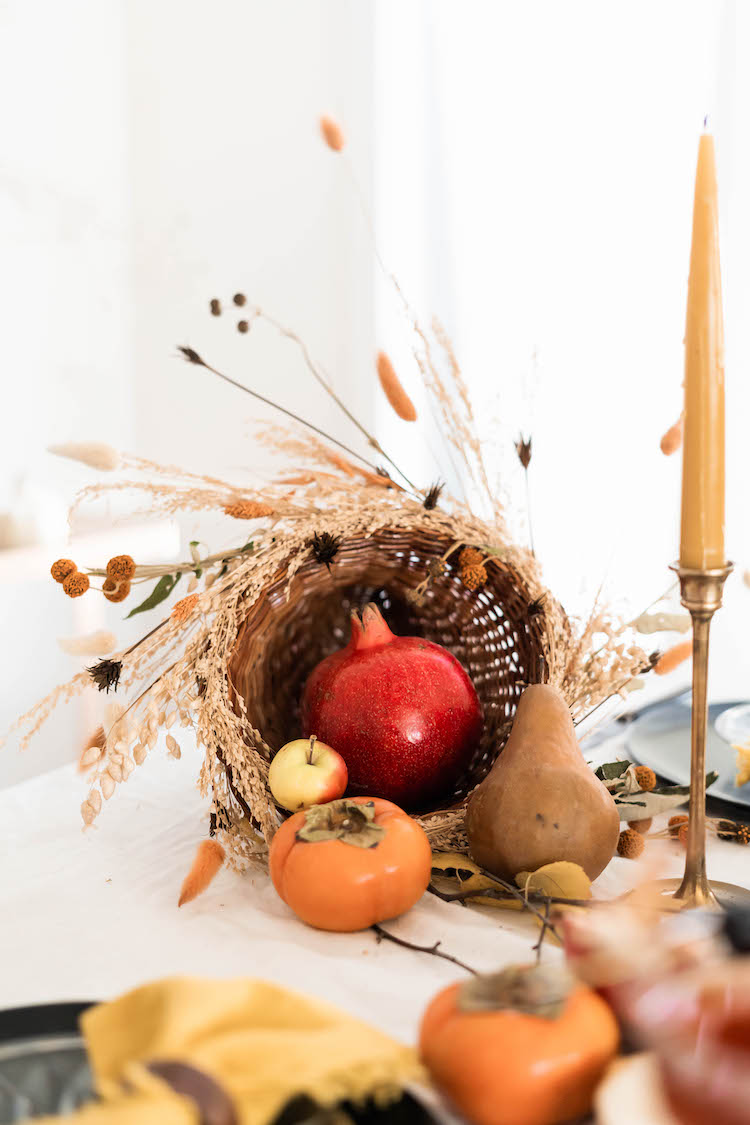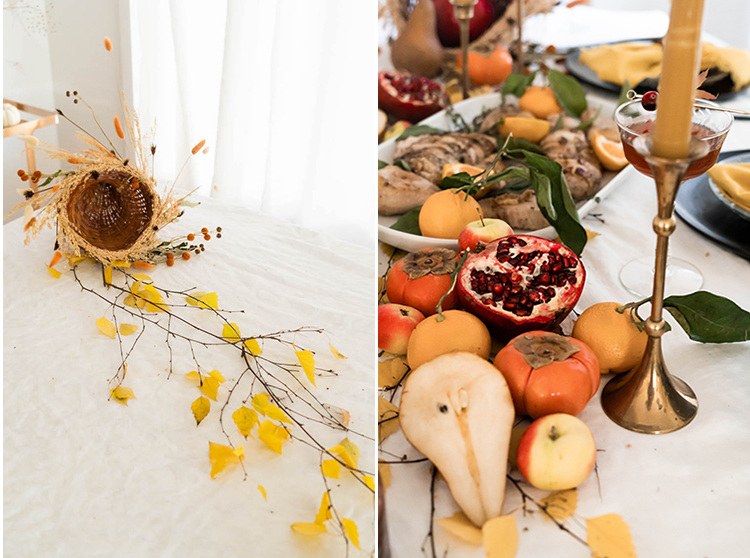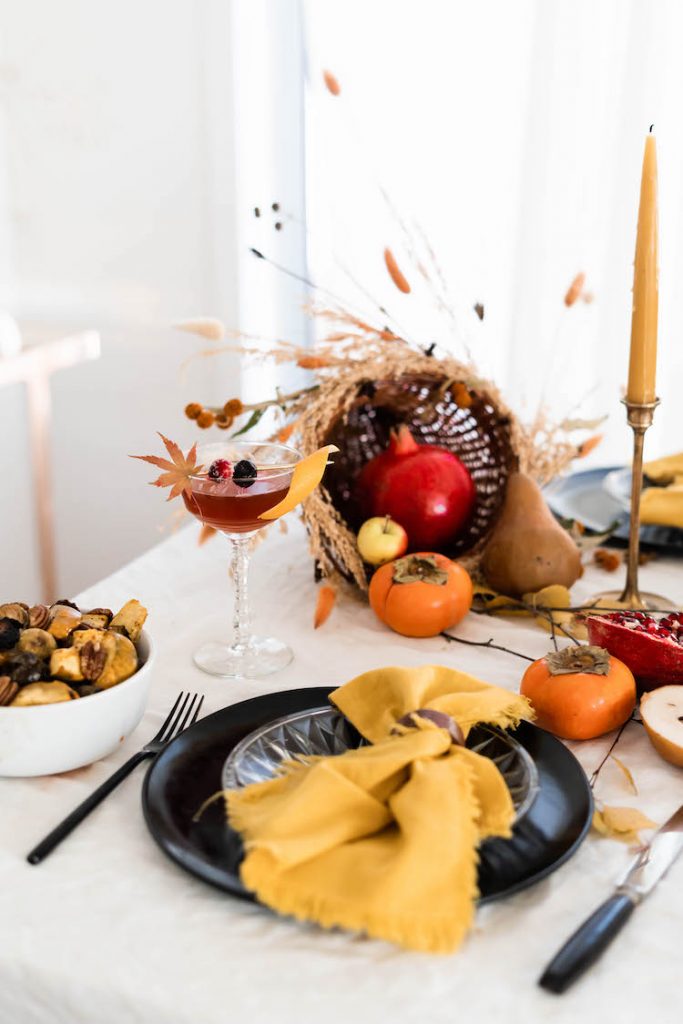 I tend to stick with more muted, soft colors for decorating, but have been embracing the vibrancy saturated colors bring! We need all the embers of joy we can find these days, and punchy colors have a way of putting me in a good mood. To echo the jewels of fruit from the center piece, I used mustard linen napkins with crystal salad plates grounded with black dinner plates and vintage silverware. Vintage brass candle sticks hold honey colored taper candles that add a pleasant warm glow in the long nights. You can shop all my favorite Thanksgiving table pieces and look here. 
The meal this year will be just for me and my husband, but I don't plan to compromise on the dishes. I look forward to leftover sandwiches the next day almost as much as the main event! Because I have the tendency to miscalculate when things need to go in the oven, I often have to reheat things because a dish inevitably gets cold waiting for everything else to finish. I was trying to figure out how to make strategical without compromising my favorite dishes- how can one choose between mashed potatoes, green bean casserole, and stuffing… Another appliance that I have had on my list forever is a sous vide machine. I was at first intimidated by them but found this one and loved how approachable it is, plus it has an app for tips and recipes if you're not sure where to start. We are skipping turkey this year in favor of a smaller chicken.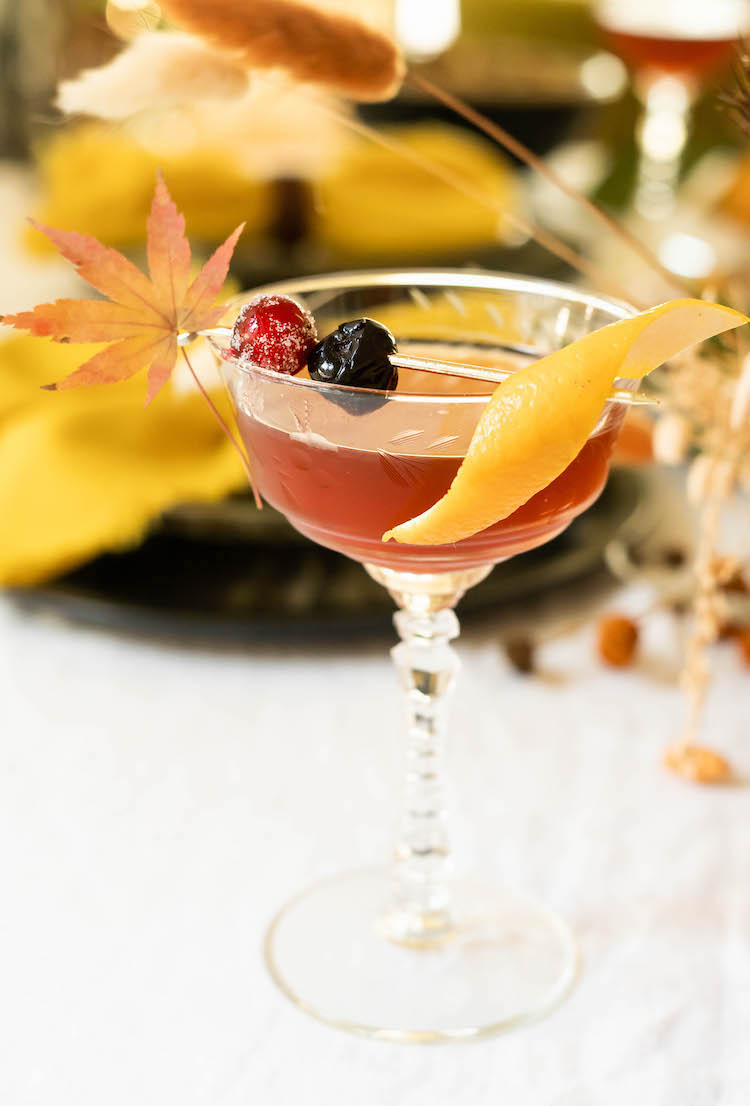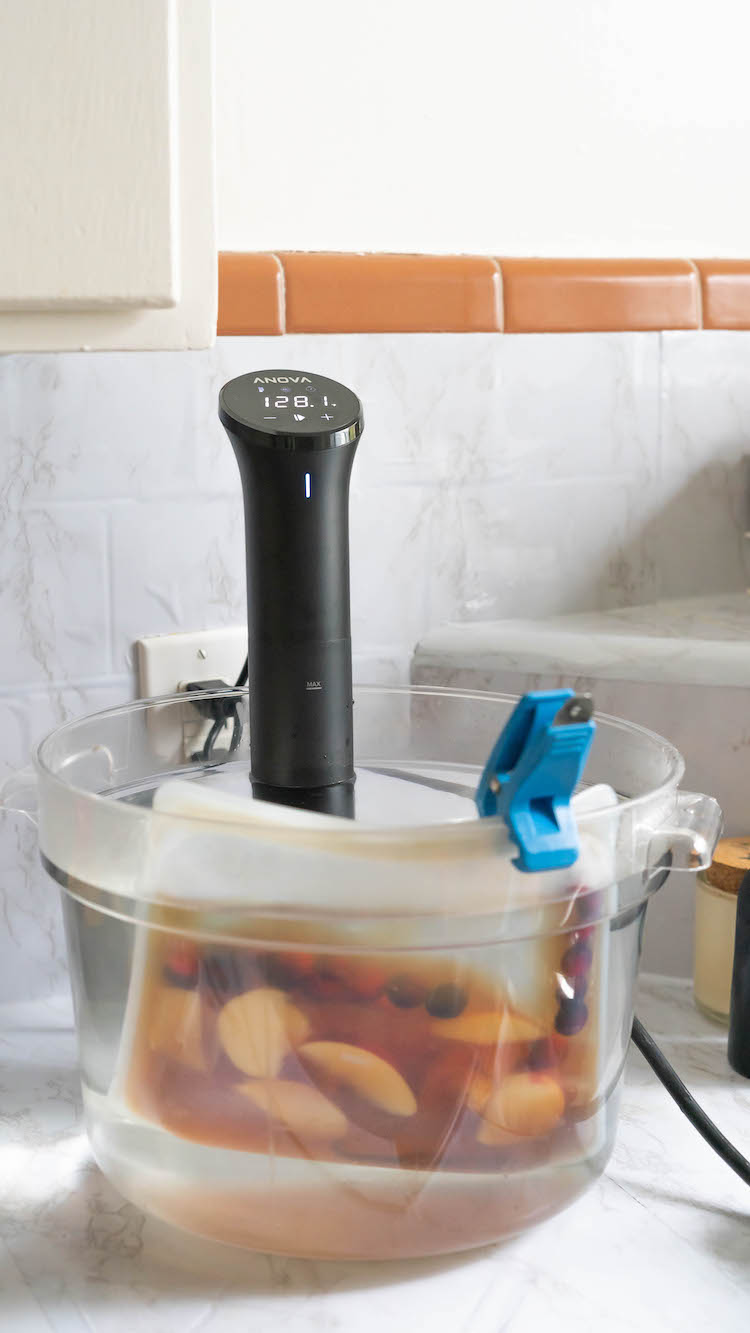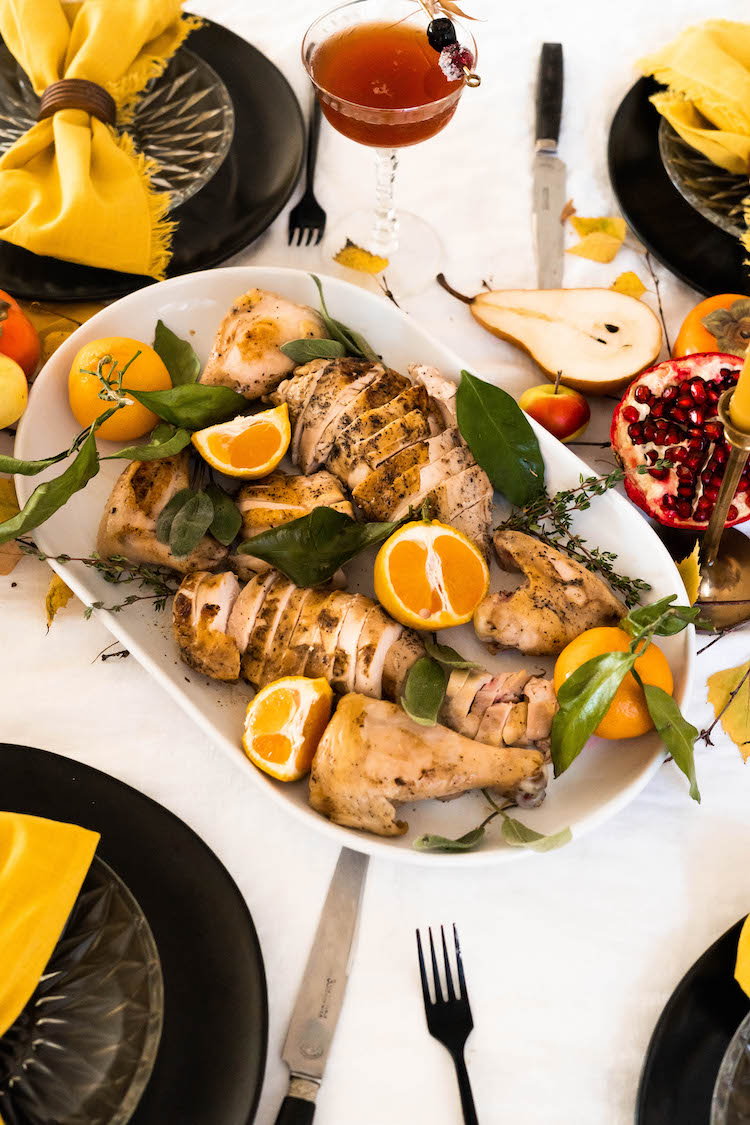 To save room in the oven, I used the sous vide to perfectly cook a broken-down chicken for 4-5 hours and then finished it in a pan for 1-2 mins for a perfect crispy skin. This left the oven prime oven real estate open for all the sides to cook. Sous vides are also amazing for making infusions to use in cocktails and drinks. The low, constant temperature maintains the integrity of the flavor from fresh fruits and doesn't over extract unwanted flavors. I used the Anova Sous Vide to make a Spiced Cranberry Apple Manhattan to sip on for the holiday. I made a big batch of Manhattans and added in whole cranberries, apples, and spices. Cranberries can be tricky to work with for infusions, they have a thick skin that doesn't impart much flavor but heating them too high to break the skin releases the pectin, which can cause the infusion to become jelly-like. Not looking for a jello shot Manhattan here…although that does sounds kind of good now?! The sous vide keeps the infusion at a low enough temperature that it doesn't thicken, but still gets the tart fruity flavor from the cranberries. Get the recipe for the Spiced Cranberry Apple Manhattan here. The spirited cocktail can be batched in large amounts and kept in a bottle, either in the freezer or bar and stirred in a mixing glass à la minute with ice right before serving. Sous Vides have so many purposes to help fine-tune dishes and cocktails.
No hard pants were harmed in the making of this dinner! I am opting for a stretchy, leopard skirt (my favorite pattern, or rather, neutral!) and a perfectly cozy, autumn-colored sweater for our Thanksgiving this year. I will be changing out of pajamas, but no buttons here, thank you. Looking forward to a day of cooking and enjoying a celebratory meal with my favorite person, and of course Miso! What are you planning to make for one of the tastiest days of the year?
In reflection and thankfulness, I realize the privilege I have and the land I currently live on was originally occupied by the Ohlone people.10% of what I made for this post will be donated to the Native American Rights Fund