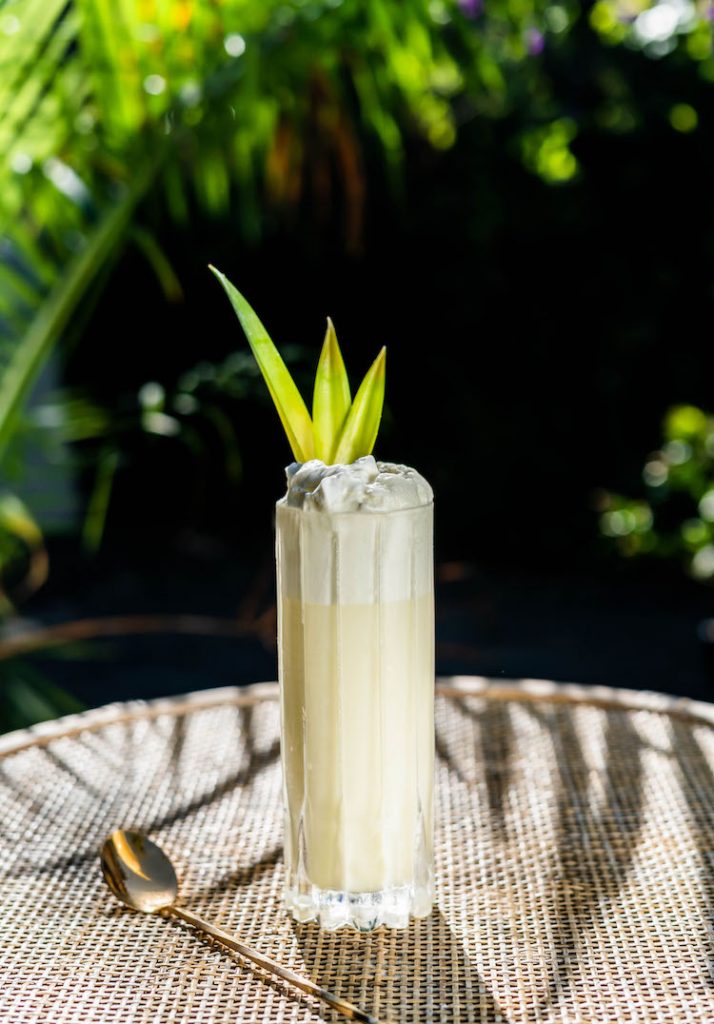 I am feeling all the tropical cocktails this week nice it has been in the 80's in Oakland! Can't get enough of those pineapple and crushed ice drinkies. This beauty right here contains no crushed ice, but is essentially a pillowy, boozy milk shake! It's pillow I would not mind resting my head on, or at least my lips. It's a brilliant mash up of two cocktails I love dearly, a Ramos Fizz & Piña Verde. This is I know I am going to keep coming back to time and time again. Meet your new favorite cocktail the Piña Verde Ramos Fizz!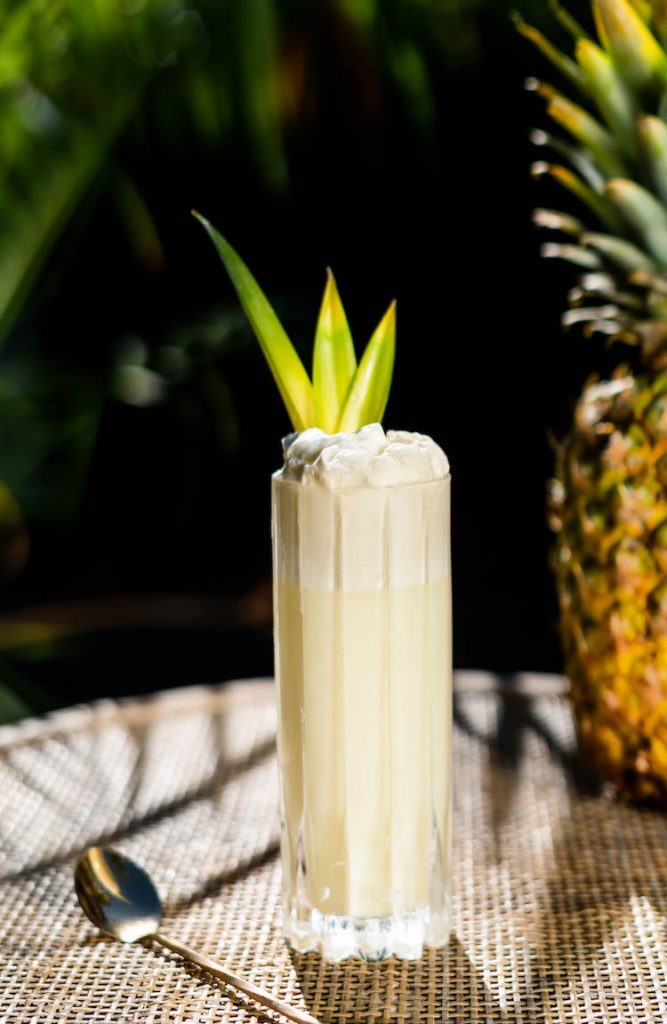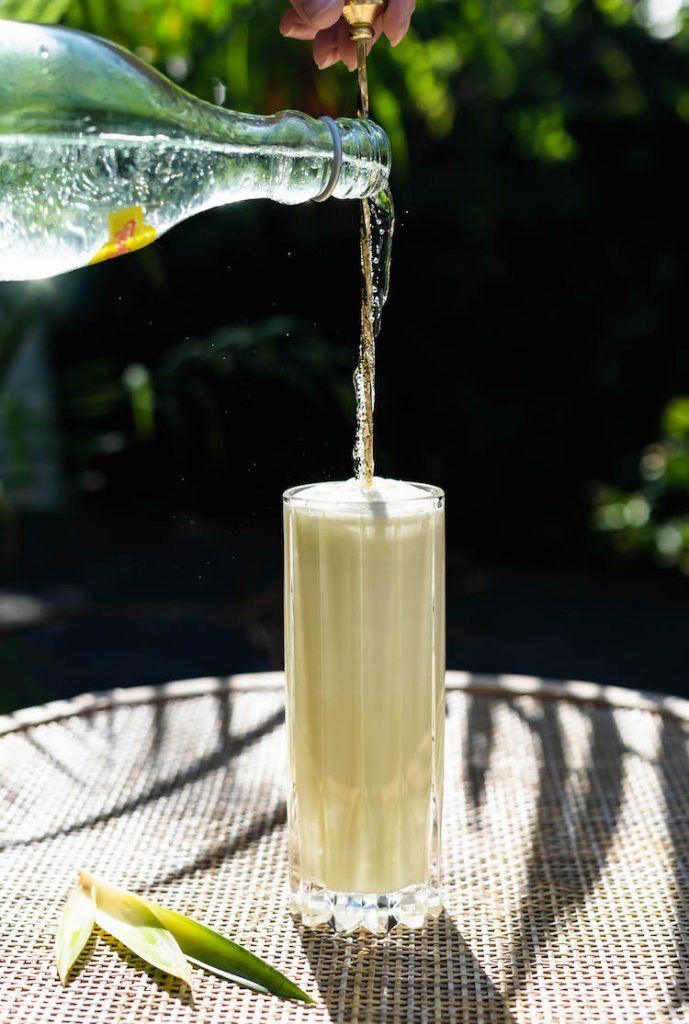 The Ramos Fizz needs no introduction, the infamous cocktail bartenders begrudgingly shake for 5-10 minutes, but knowing and ordering a Piña Verde is that is a nod of sorts in the spirits industry. If you know you know and your taste buds have never been the same since. Created by my buddy Eric Castro at Polite Provisions in San Diego, the Piña Verde is an herbal Piña Colada variation. Omitting the classic rum, the spirit of choice paired with cooling coconut and pineapple is Green Chartreuse. Mixed with gin, lime, egg white, and soda water it gets a fizzy mash up with the Ramos Fizz.
I had just a bit of green chartreuse left (RIP my herbal loving soul.. until I can get another bottle) and have had this drink idea swirling in my head for awhile. I figured might as well finish off the bottle with a bang! Don't let the 3 minute shake time deter you from enjoying one of these Piña Verde Ramos Fizzes.⠀⠀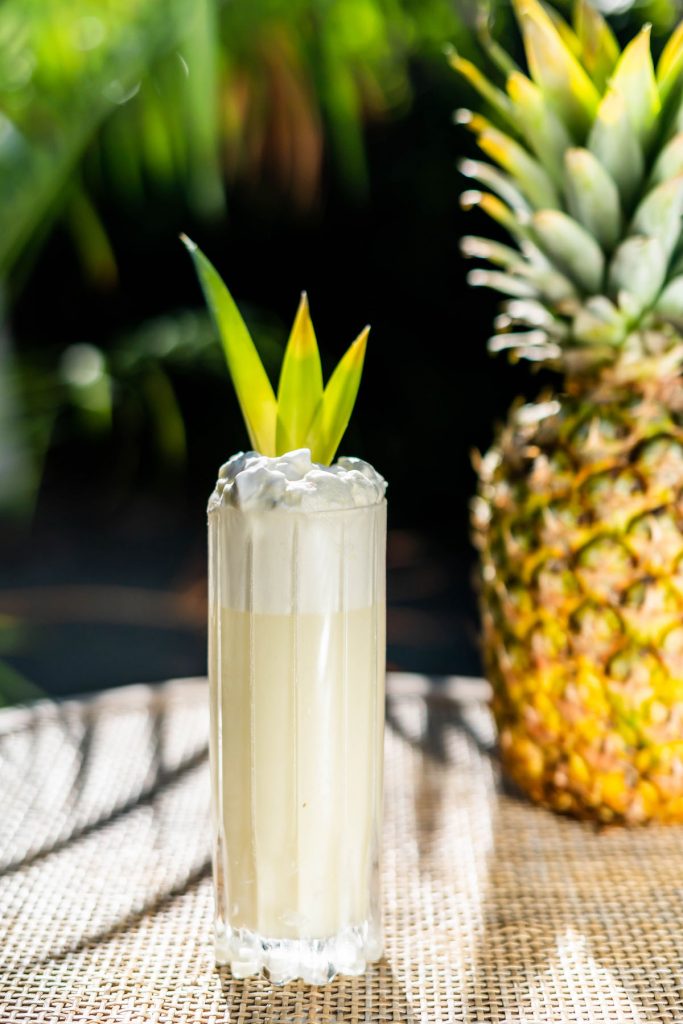 Print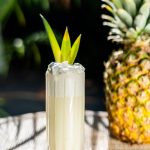 Piña Verde Ramos Fizz
---
Description
This Piña Verde Ramos Fizz is the perfect mash-up of two cocktails- the Piña Verde & Ramos Gin Fizz! It's a tropical, creamy cocktail you'll be coming back for sip-after-sip.
---
⠀⠀⠀⠀⠀⠀⠀
•1 1/4 oz gin, I used Sipsmith   ⠀⠀⠀⠀⠀⠀⠀⠀⠀
•1/2 oz Green Chartreuse   ⠀⠀⠀⠀⠀⠀⠀⠀⠀
•3/4 oz pineapple juice   ⠀⠀⠀⠀⠀⠀⠀⠀⠀
•1/2 oz lime   ⠀⠀⠀⠀⠀⠀⠀⠀⠀  ⠀⠀⠀⠀⠀⠀⠀⠀⠀
•1 egg white   ⠀⠀⠀⠀⠀⠀⠀⠀⠀
•1  oz coconut cream mixed with 1/2 oz simple syrup
•1 oz club soda   ⠀⠀⠀⠀⠀⠀⠀⠀⠀
⠀⠀⠀⠀⠀⠀⠀⠀⠀
---
Instructions
 Add all ingredients except coconut cream and soda to a shaker and shake without ice for 3 minutes.
Add ice and coconut cream with simple syrup to the shaker and shake for 15 seconds. Strain into Collins glass.
Let sit for 30 seconds and top with soda water slowly. Garnish with pineapple leaves.
---
Notes
Mixing the coconut cream with simple syrup will loosen the cream up to help incorporate it better.
Dry shaking, shaking with out ice, whips the egg whites giving them their fluffy, pillow like texture.