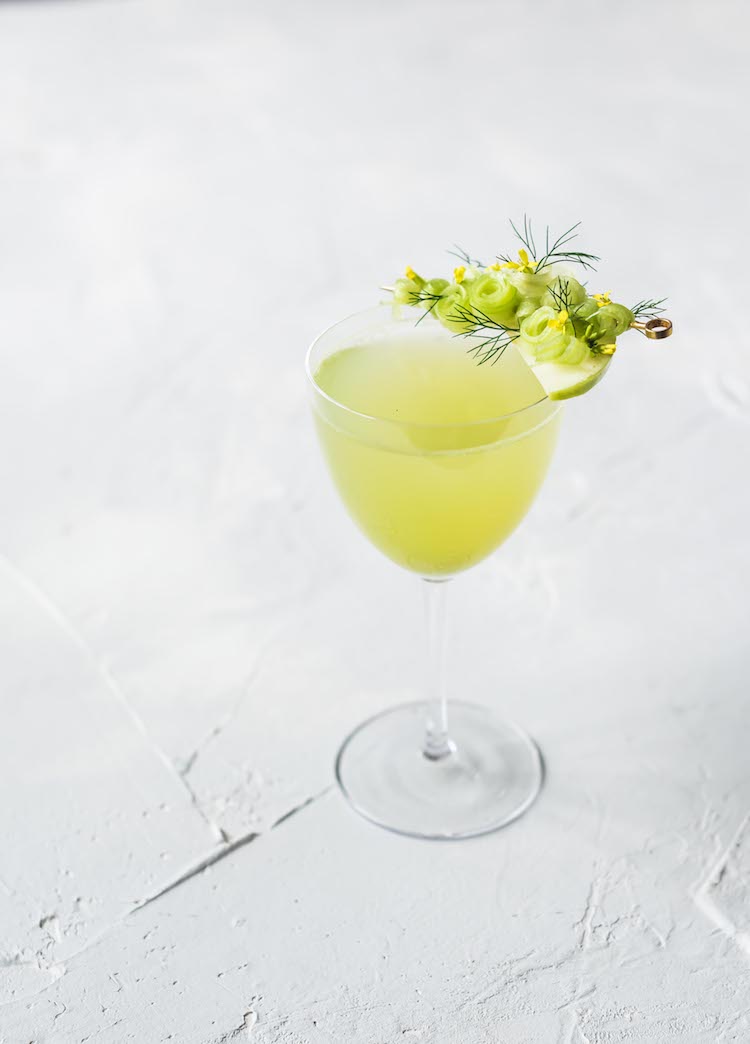 The weather is warming up and everyone seems to have a spring in their step and the herbs are blooming with their purple, pink, and yellow jewels, a good sign to roll out the picnic blankets from their winter hibernation. I look forward to picnics every year (Hanami to celebrate the cherry blossoms might be my favorite!). I often bring a premade cocktail ready to pour, because when you do this for a living, people kinda expect you to bring cocktails to every shindig! I also pack garnishes to top of the picnic potent portables, a solo cup drink still deserves a garnish! The garnish for this cocktail here is essential a well balanced salad in every sense of the term; it's a cocktail AND a side. This Scandinavian Picnic cocktail that would be perfect for sipping on in the park in Stockholm or Oslo.
The Scandinavian Picnic features Aquavit. Aquavit is a spirit hailing from Scandinavia and has a long history in this region. Distilled much like gin, Aquavit's dominate and required ingredient is caraway or dill, as apposed to gin's juniper. The anise flavored ingredients lends a crisp and bright herbal flavor to the clear spirit. I have been finding myself drinking more and more of this spirit whether ordering it at bars or mixing with it at home. I wanted to use it in a spring ready drink and found this combination of ingredients perfect for a proper welcome to snow/sleat/rain free days. Tart lime, vegitle celery juice, crisp green apples, spicy cardamom, and caraway spiked Aquavit with a pinch of salt blend together for a tasty tipple.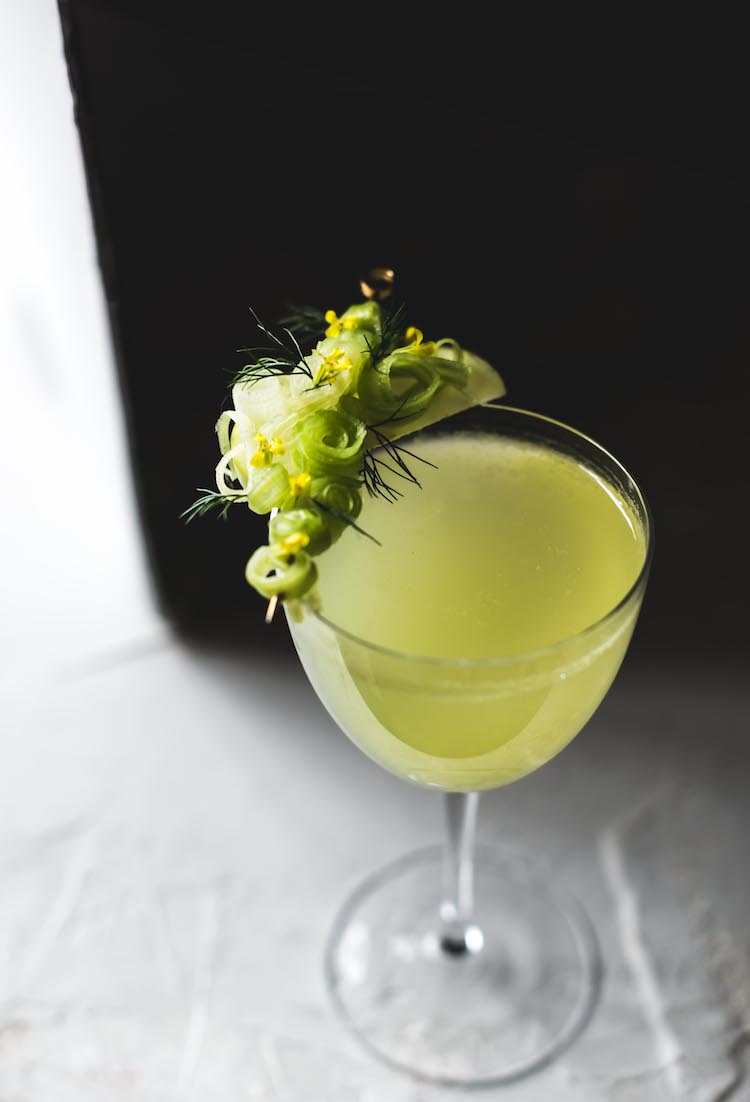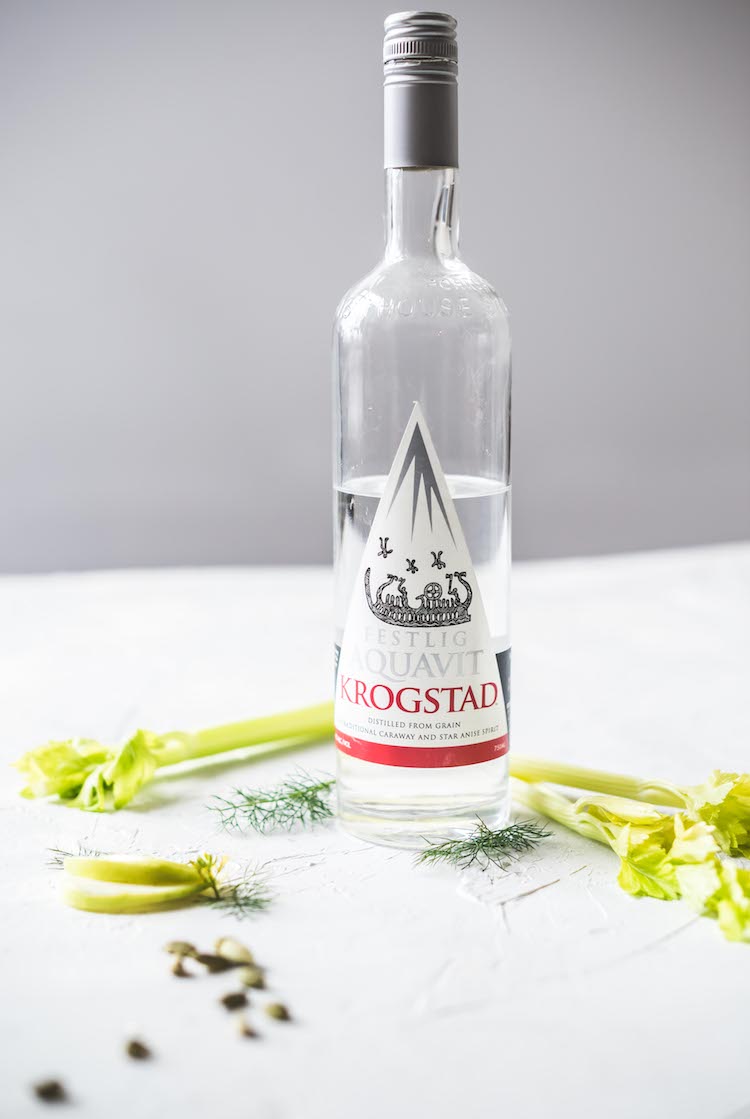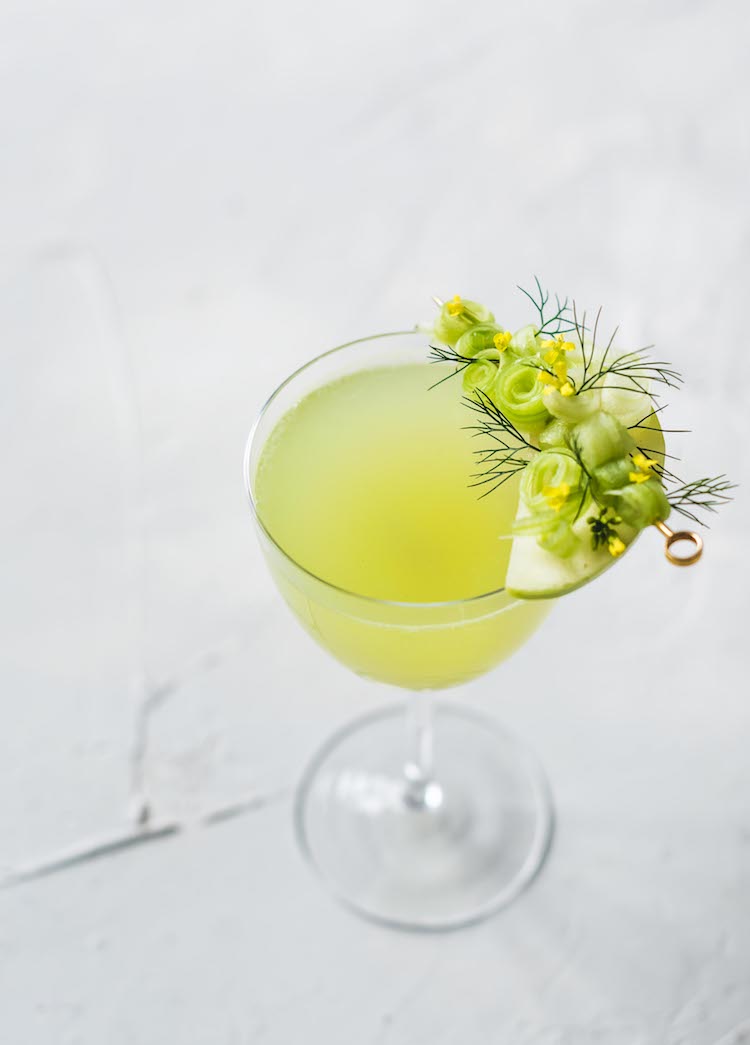 I wanted to give this up drink a fancy garnish often reserved for cocktails with ice. It can be hard for drinks in a coupe or Nick & Nora glass because ingredients sink to the bottom of the glass versus being able to balance on top of ice. I was inspired by recent dishes I have eaten that were garnished intricately, lots of knife work, precision, and tweezers needed. I was also inspired after coming acros this page Veermasterberlin on Instagram that applies simialar techniques, but to cocktail garnishes. I have always treated my cocktails as art and am heavily influnced by food garnishes, I have used rosette garnishes pleanty of times before and have been know to go over the top with edible flowers, but I am often thinking macro verses micro, the whole picture of the garnish verses each tiny placement and space a sprig or petal takes up. I try to constantly push myself in my work be it styling, writing, recipe developing, or drinking (kidding, kidding about that last one!). I used a green apple slice to create the foundation for the garnish and then did a skewer of celery curls followed by a few extra curls placed organically on the apple. And I mean organically, they had a mind of their own, uncurling as they pleased which made for a more alluring presentation over all. The anise flavor of the Aquavit is mimicked through the delicate fennel fronds tucked into the celery curls. It all topped off with few teensy, yellow edible blooms nestled into the salad…I mean garnish!
I couldn't quite figure out a name for this cocktail. I was totally stumped. I know adding cocktail ingredients in the name is better for SEO, but I'd rather not be ruled by the internet gods all the time (*ahem* google). I wanted a fun name that really gave the cocktail more character… if that's even possible with this facinator of a garnish, so I turned to my insanely amazing followers on Instagram to help me give this sweet and savory concoction a name. There were so many good ones, it was definitely hard to choose! I whipped up this cocktail for my husband to help me pick the winning name, also so that I wasn't drinking all by my lonesome which is never as fun, ha! He felt the Scandinavian Picnic name suggested by Architectangie was the perfect fit. So, meet the Scandinavian Picnic! It's sweet, savory, tart, and most importantly boozy. This cocktail is perfect night or day thanks to its's bright notes. I personally would serve it for alongside a picnic Smörgåsbord. Happy imbibing, Skål!
2 oz Aquavit, I used Krogstad from Portland
2 oz green apple juice*
1 1/2 oz celery juice
3/4 oz lime
1/4 oz + 1 tsp cardamom syrup, recipe here
pinch of salt
garnish: green apple slice, celery ribbons from 1 stalk, fennel sprigs, edible flowers (optional)
Directions
Juice the green apple* and celery. Using a vegetable peeler, create thin ribbons of celery. Roll them up and skewer them in a line, twisting every other to be to the side. Add all liquid ingredients and salt into a shaker with ice and shake. Strain into a coupe or Nick & Nora glass. Add green apple slice to the rim of the glass. Add the celery skewer and balance on the apple slice. I added a few extra celery curls to the apple slice to make it look more organic. Garnish with fennel fronds and edible flowers on top of the celery curls.
*How to keep green apple juice green: I strained my green apple juice through a nut bag used for making nut milks ( you could possible also use a pour over coffee filter).  It helped remove a lot of sediment/pulp which often turns brown very quickly thanks to oxidization. The juice ended up a light, clearing green which helps give this cocktail its vibrant color. I saved some overnight and it was still green the next day. I know people use lemon, citric acid, and vitamin C sometimes to keep apples from turning brown, I prefer the straining method then having to add another ingredient into the mix.