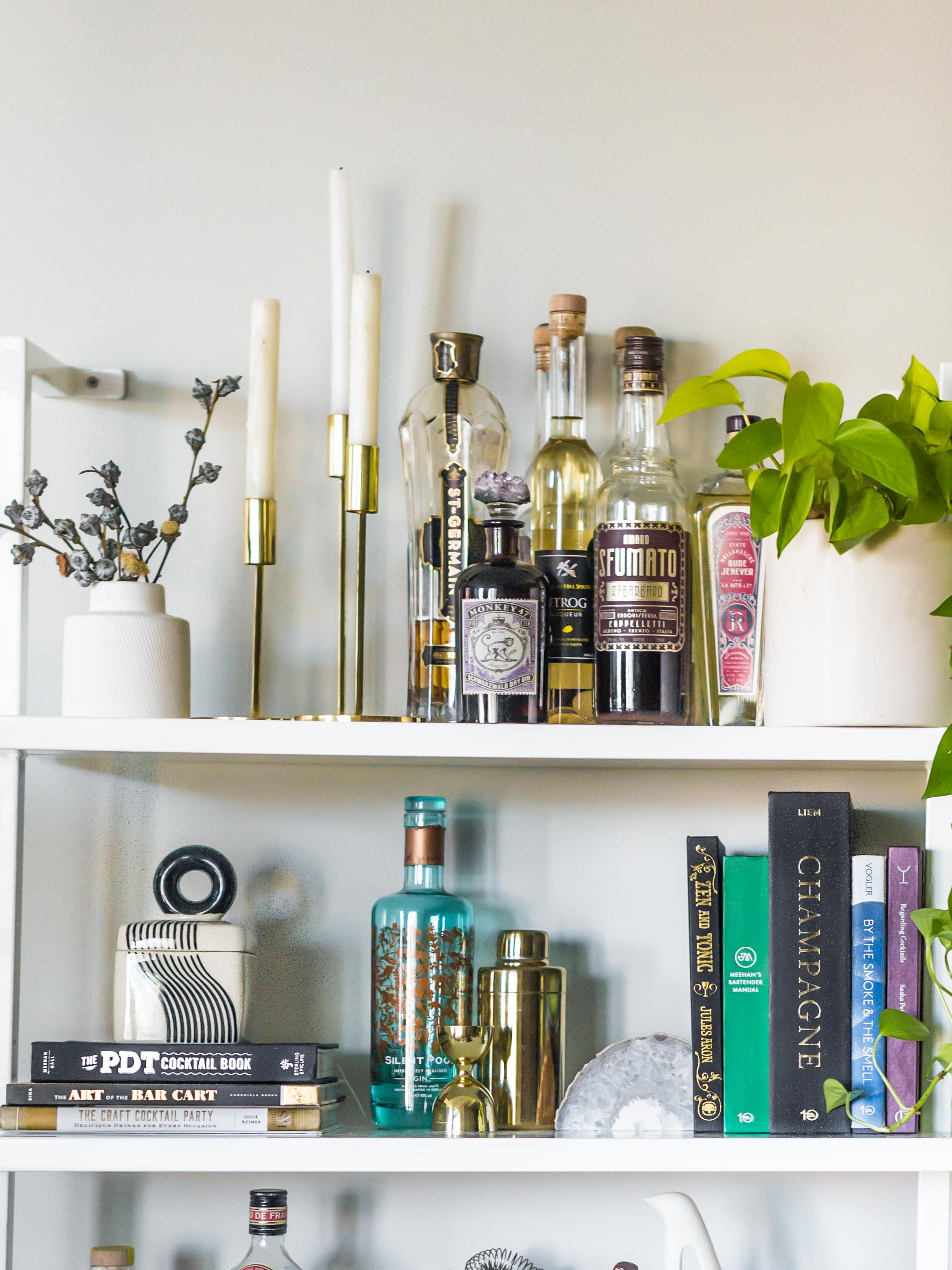 When looking to give the perfect present, the gift of knowledge is a good bet. As interest in making cocktails have grown in the past few years, so too have books on the boozy topic. There are many great titles on the market these days, there are so many to choose from. This Gift Guide of Cocktail Books are some of my favorites that belong on any bartender's, enthusiast's, and home bartender's bookshelves. I included a mix of new cocktail books and classics that are the foundation for so many recent titles. I included narrative books like By The Smoke and the Smell, Cooking with Cocktails for those who like to cook ad well as imbibe, single subject like Wine All The Time, and even one that helps you spiffy up your bar cart based on your style. I own all of these tittles so I can vouch for their content and delicious recipes with in their pages!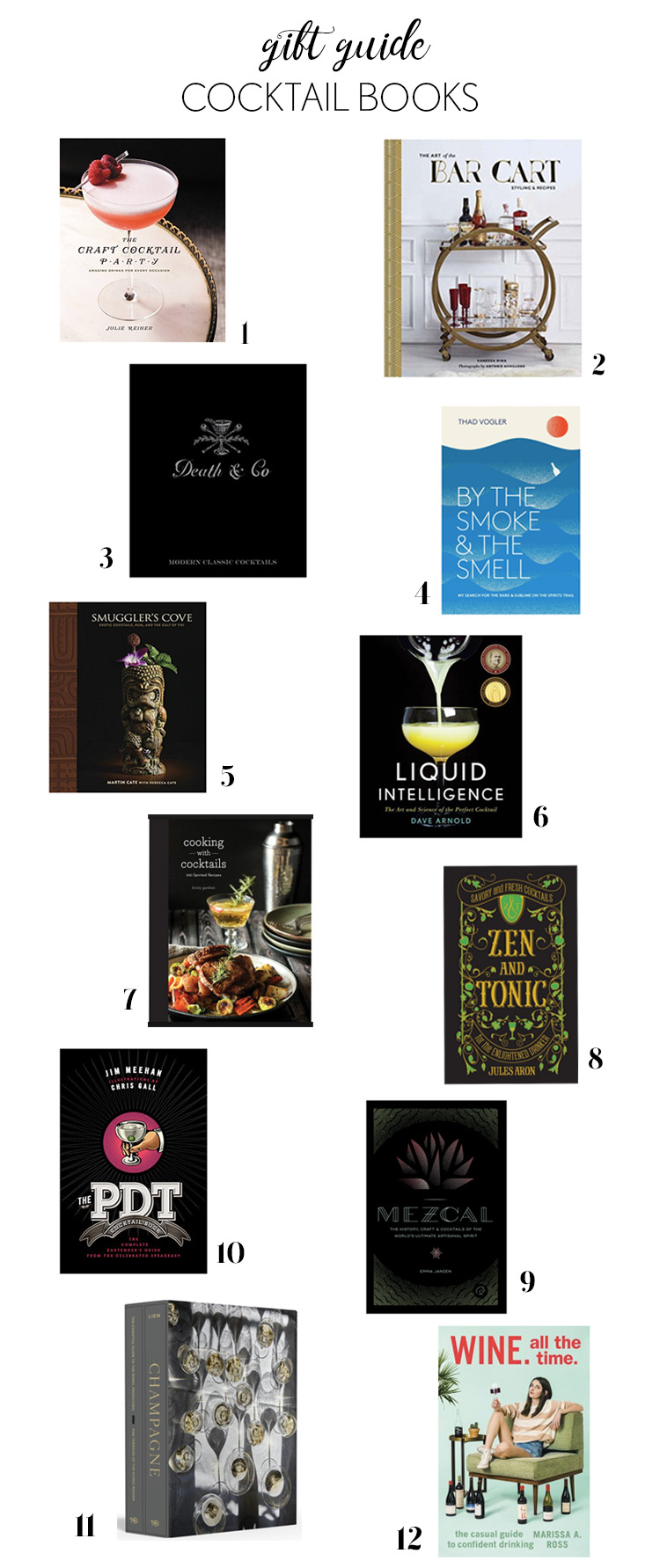 Classic Cocktail Books
Death & Co. (3) This is a classic and should be on every enthusiast and bartender's shelf. The book features more than 500 of the bar's most innovative and sought-after cocktails. But more than just a collection of recipes, Death & Co is also a complete cocktail education, with information on the theory and philosophy of drink making, a complete guide to buying and using spirits, and step-by-step instructions for mastering key bartending techniques.
PDT (10) So many new classic cocktails were born from this NYC institution. PDT covers the bar design, tools, and equipment as well as many of their recipes, techniques, food, and spirits you'll fine at this OG neo-speakeasy.
Smuggler's Cove (5) You'll be transported to a far flung island reading the history of tiki and the modern resurgence of this mid-century tropical movement. Smuggler's Cove, an outstanding tiki bar in San Francisco, revels some of their renowned recipes that have people flocking to their bar along with an a resource for rum.
Liquid Intelligence (6) This is the "bible" in the spirits world. A detailed, science focused approach to how cocktails are made and how to make your drinks taste the very best they can.
New Cocktail Books
Meehan's Bartender's Book (pictured in first photo) This is an a brand new and extremely detailed book on the inner-workings of running and maintaining a bar. Non-bartenders can also find this book enthralling and full of knowledge that can be translated in their home bar and cocktail making. Meehan's deep dive covers the essential topics, including the history of cocktails and bartending, service, hospitality, menu development, bar design, spirits production, drink mixing technique, and the tools you'll need to create a well-stocked bar. The book also includes recipes for 100 cocktail classics–including Meehan originals–plus insights as to why he makes them the way he does, offering unprecedented access to a top bartender's creative process.
Regarding Cocktails (pictured in first photo) From the person who arguably should be credited for paving the way for the cocktail renaissance, the late Sasha Petraske's book is a tribute to his life and passion. There are 85 cocktail recipes from his repertoire—the beloved classics and modern variations—with stories from the bartenders he personally trained. Ingredients, measurements, and preparations are beautifully illustrated so that readers can make professional cocktails at home. Sasha's advice for keeping the home bar, as well as his musings, are collected here to inspire a new generation of bartenders and cocktail enthusiasts.
By The Smoke and The Smell (4) We care so much about the food we eat: how it is made, by whom, and where. Yet we are far less careful about the spirits we drink. It celebrates the vivid characters who produce hand-made spirits like rum, scotch, cognac, and mezcal. From the mountains of Mexico and the forbidden distilleries of Havana, to the wilds of Scotland and the pastoral corners of France and beyond, this adventure will change how you think about your drink.
The Art of The Bar Cart(2) This is the book I worked on! Simple, approachable cocktail recipes and inspiration for making your bar cart chic and stylish. The Art of the Bar Cart features 20 different styled bar setups—from tricked-out vintage carts to a collection of bottles tucked into a cabinet—themed around favorite libations, personal style, or upcoming occasions. Readers can choose from the warm and inviting Whiskey Cart, the fun and fresh Punch Cart, or mix and match to suit any style. You can read more about it here.
The Craft Cocktail Party (1) Recipes are organized around seasonality and occasion, with different events and themes appropriate to the specific time of the year. Tricks, tips, and techniques–such as batching and infusions, tools of the trade, notes on spirit types, and easy substitutions to utilize what you already have on hand–will round out the amazing amount of information in Reiner's book.
Mezcal: The History, Craft & Cocktails of the World's Ultimate Artisanal Spirit (9) Although a popular, emerging spirit in the US, agave is still misunderstood here. This book has an in-depth look into this smokey, earthy spirit and the region in which it is produced. It's an engaging primer on all things related to the spirit; its long history, the craft of distilling it, and a thorough guide to many of the most common agaves used in production and how they shape the resulting spirit. In addition, top mezcal bars across the United States and Mexico contribute a selection of nearly fifty cocktails that accentuate its distinguishing qualities.
Zen & Tonic (8) A healthier approach to cocktails, Zen and Tonic lets you infuse your life and drinks with wholesome, revitalizing ingredients. Create your own delicious cocktails using ingredients you can find in your own backyard, windowsill, or local farmer's market. Learn to make your own simple syrups and infusions with immune boosting fruits, herbs and veggies that will leave you feeling refreshed and energized.
Cooking with Cocktails (7)– Brimming with boozy food recipes and cocktails to whip up WHILE you are cooking your boozy feast. Every recipe is touched with alcohol; the result is a punchy visual adventure with roots in Italian and French cuisine that demands enjoying meals with passion, with friends, and with alcohol, of course!
Champagne (11) Follow along as Peter Liem, an expert on the bubbly, guides you through the modern wines of Champagne–a region that in recent years has undergone one of the most dramatic transformations in the wine-growing world. This luxurious box set includes a pullout tray with a complete set of seven vintage vineyard maps by Louis Larmat, a rare and indispensable resource that beautifully documents the region's terroirs.
Wine All The Time (12) I don't think I laughed harder reading a book! This is a non-stuffy, insanely hilarious look at how wine is made, varietales, and the regions they grow in from the wine columnist at Bon Appétit. It's intended for those looking to break into the wine world or to learn how to drink better, but even seasoned wine drinkers would find this entertaining with wit and snark peppered thorough out like a good Syrah.