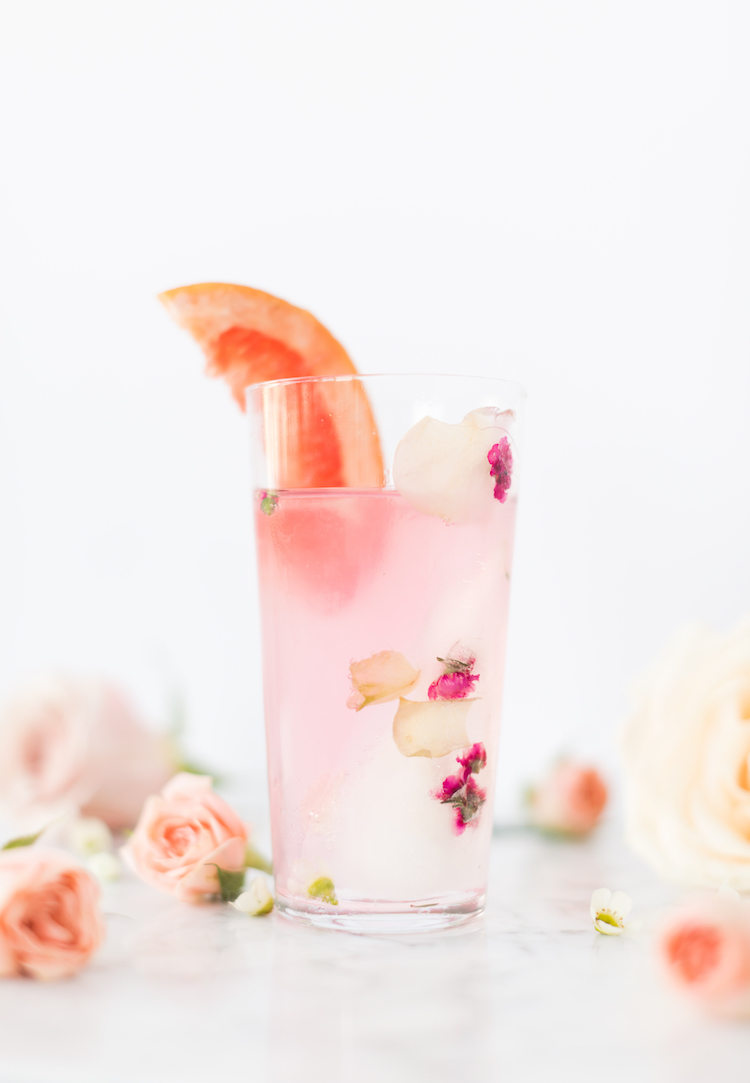 Ever look at your home bar and have no clue what to make? Me too! No seriously, sometimes I can't come up with a single cocktail to mix up. Thank goodness for great cocktail mixers! Gone are the days of oversized plastic bottles of flat soda water + tonic, I mean they are still there, but who wants to use those when their are far better options now. You can take your favorite spirit, topped with a premium mixer and a squeeze of fresh juice + you have a cocktail in one minute or less. Less time spent figuring out what to make, more time for you to binge watch your favorite show! My go to binge watch shows these days? Rewatching Stranger Things and You're The Worst. My go to mixer? Q Drinks! I love making an easy peazy spritz and Paloma with their sodas. Speaking of Palomas, I recently whipped up this Smoking Rose Paloma with Q's Grapefruit Soda + it has been in heavy rotation in my house. SO GOOD!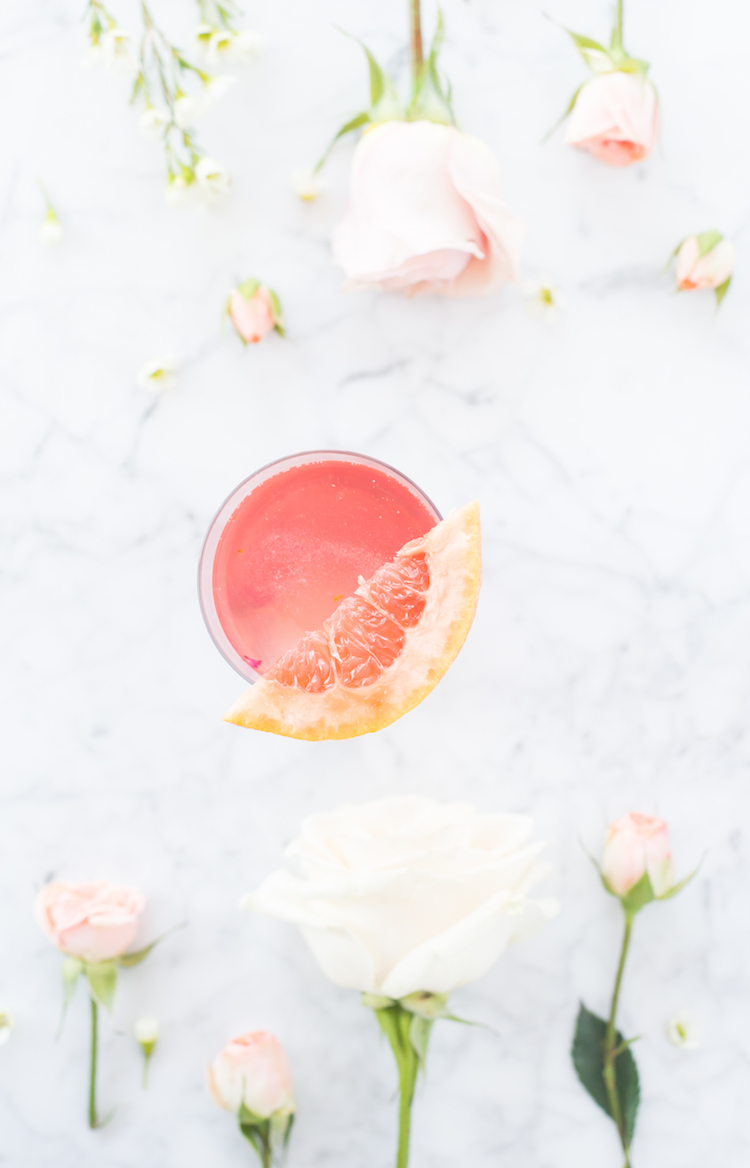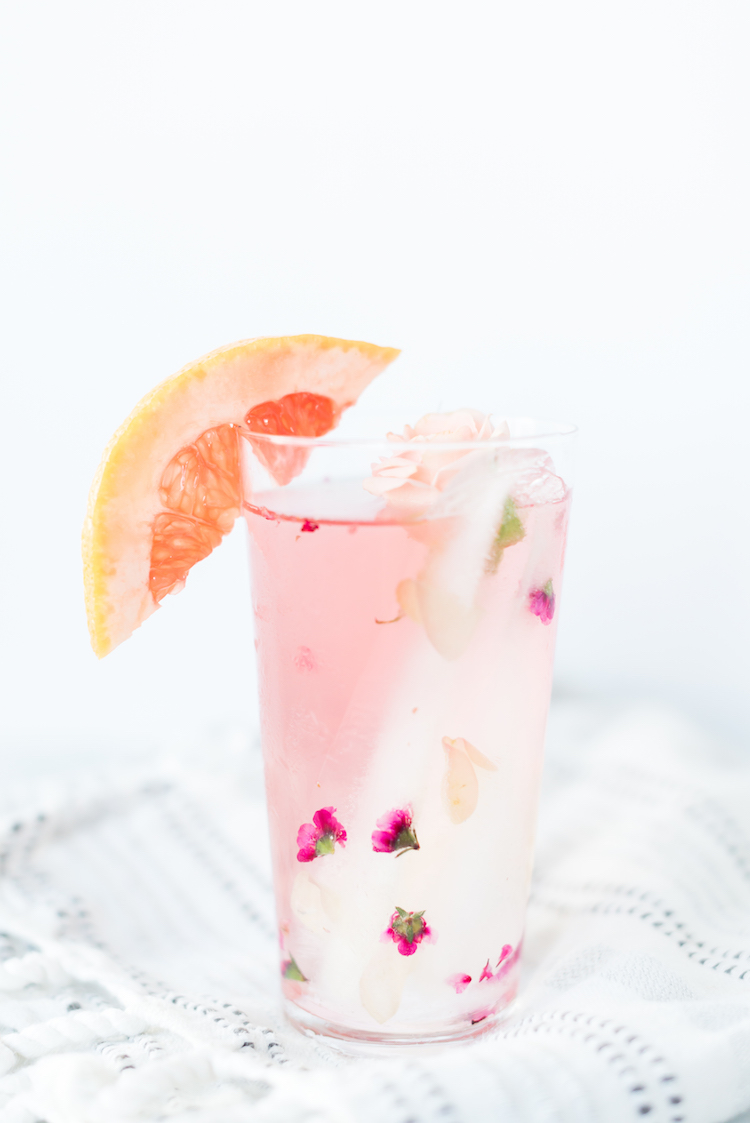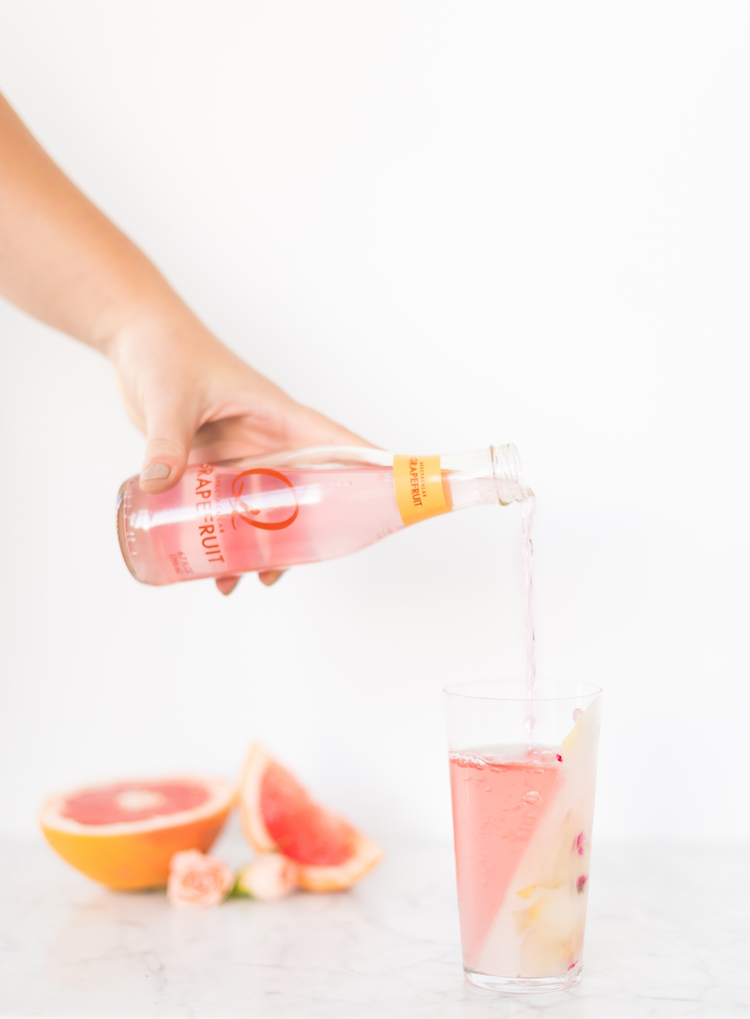 Their spectacular sodas can stand on their own, but I tend to use them as excellent cocktail mixers (head over here for more creative cocktails using their mixers). No surprise there! There are so many mixers on the market these days, but not many seem to measure up. People may see the cocktail mixer as an afterthought, but when the mixer is half the drink, attention to detail can make or break your cocktail. No pressure! Great cocktails require great mixers, but what they don't require is complication.
When it comes to simple cocktails, I like to have a little fun with the garnish to give it some flair. For this Paloma, I froze organic edible flowers in the glass before hand. Not only does it make a show stopper presentation, it helps keep you cocktail chilled. Win-win!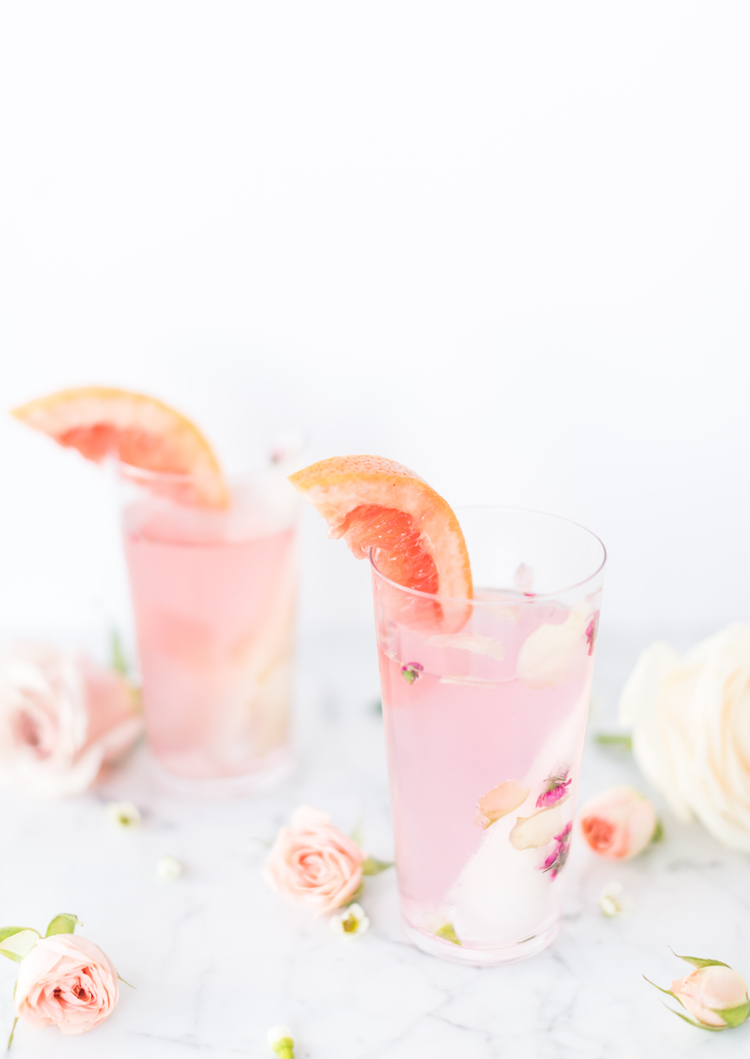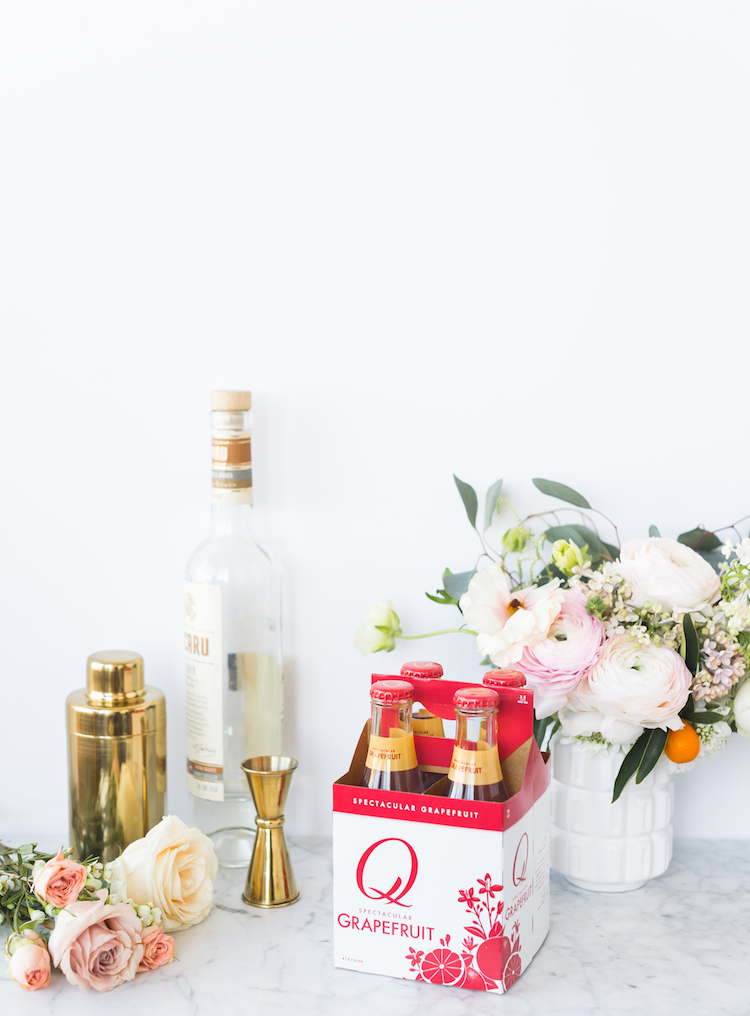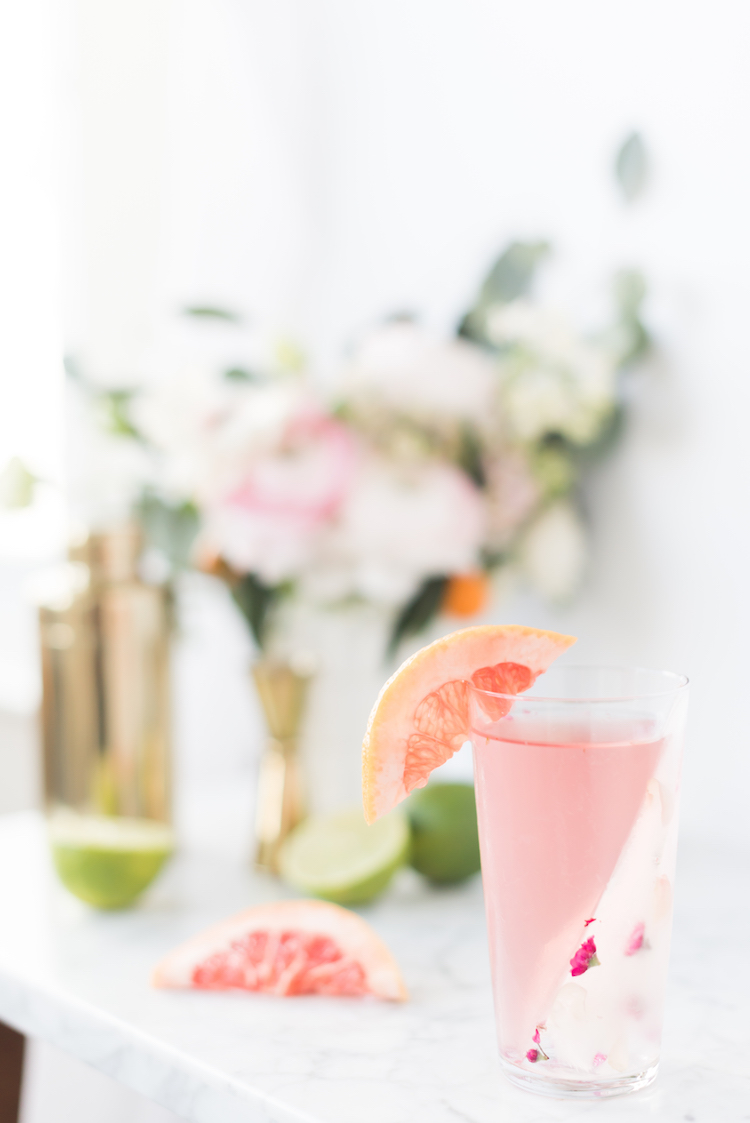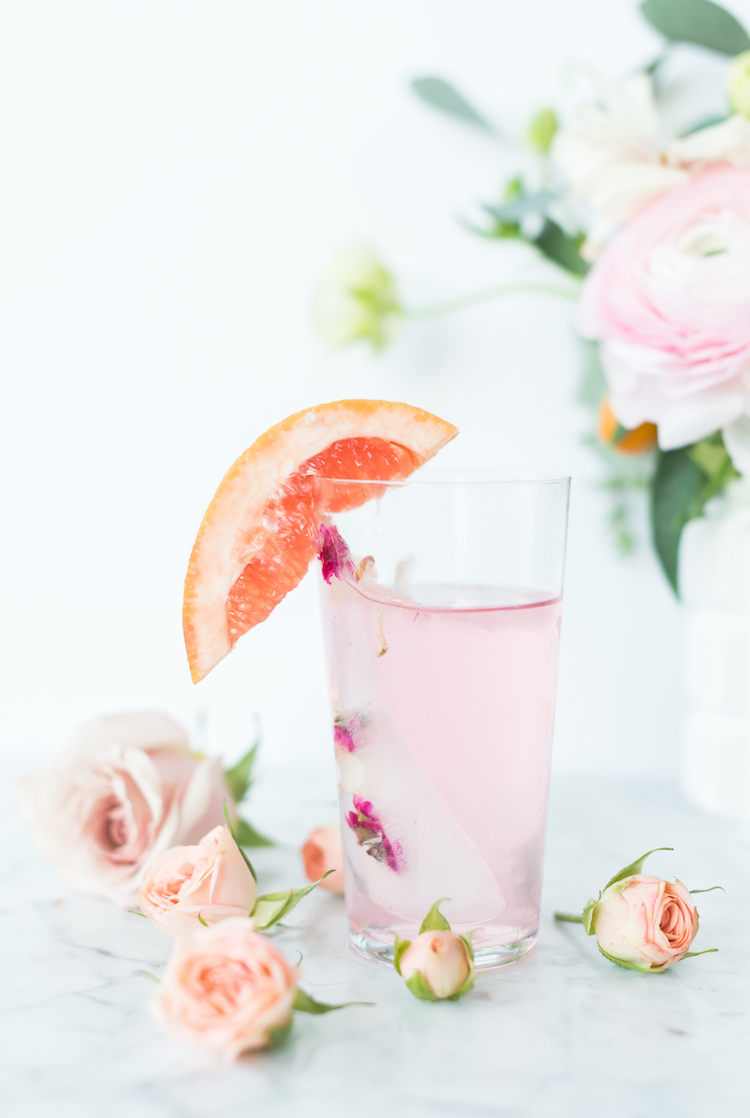 One thing you may have noticed with my recipes, I am adamant about using fresh, in season + lots of organic ingredients. I run away quickly from anything with HFCS or food dye. Q uses neither of those four letter words in their sodas. Everything they put into their mixers (like agave, organic sugar) is designed to enhance the spirits they're combined with instead of masking them, which makes me love them all the more! They even add extra carbonation to their sodas which helps bring more aromas forward to intensify the flavors of the cocktail or drink. Genius! I used their natural grapefruit soda to whip up this smokey, rose filled Paloma. If you have never had a Paloma, it is a cocktail hailing from Mexico + a cousin to the Margarita. In fact, the Paloma is more popular amongst our southern neighbors. Who knew! I can see why though.
Grapefruit soda paired with lime and tequila is simple, but so dang refreshing! I give the beloved tipple a little twist with some smokey mezcal + some floral rose syrup to make this Smoking Rose Paloma. Did you know it's national grapefruit month in February? Unlike those dime a dozen foodie holi-days, the grapefruit has a whole month! I'll cheers to that! I'll use any excuse to throw in this tangy fruit into a cocktail (evidence here, here + here) It's recognition is well deserved. It's the perfect time to mix up a round or two of these Smoking Rose Palomas!
SMOKING ROSE PALOMA
2 oz mezcal
.75 oz fresh lime juice
.5 rose simple syrup (recipe below)*
garnish: grapefruit slice, rose petals
For the flower ice: Fill a glass 1/4 the way full with water. Add rose petals. Prop on it's side in the freezer, making sure it doesn't spill. Let freeze completely before using. This is an optional step, if you are looking to make a drink ASAP (we all have those days), just add regular ice to the glass. But if you do take the time for this step, it makes one pretty cocktail!
 Add all liquid ingredients except Q Drinks Grapefruit Soda into a shaker. Shake well to help dilute the cocktail a bit since the ice in the glass won't melt as fast. Remove the glass from the freezer. Strain into the glass. Top with the Grapefruit Soda and stir. Garnish with grapefruit slice.
*If you are unable to get rose petals, or frankly don't want to wait, a few drops of rose water and a 1/2 tbsp of sugar will do nicely in place of. Rose water also really good for keeping your skin hydrated 😉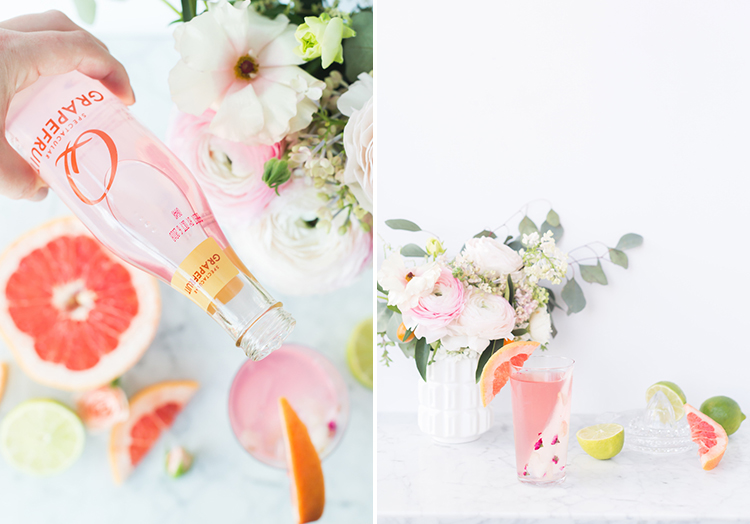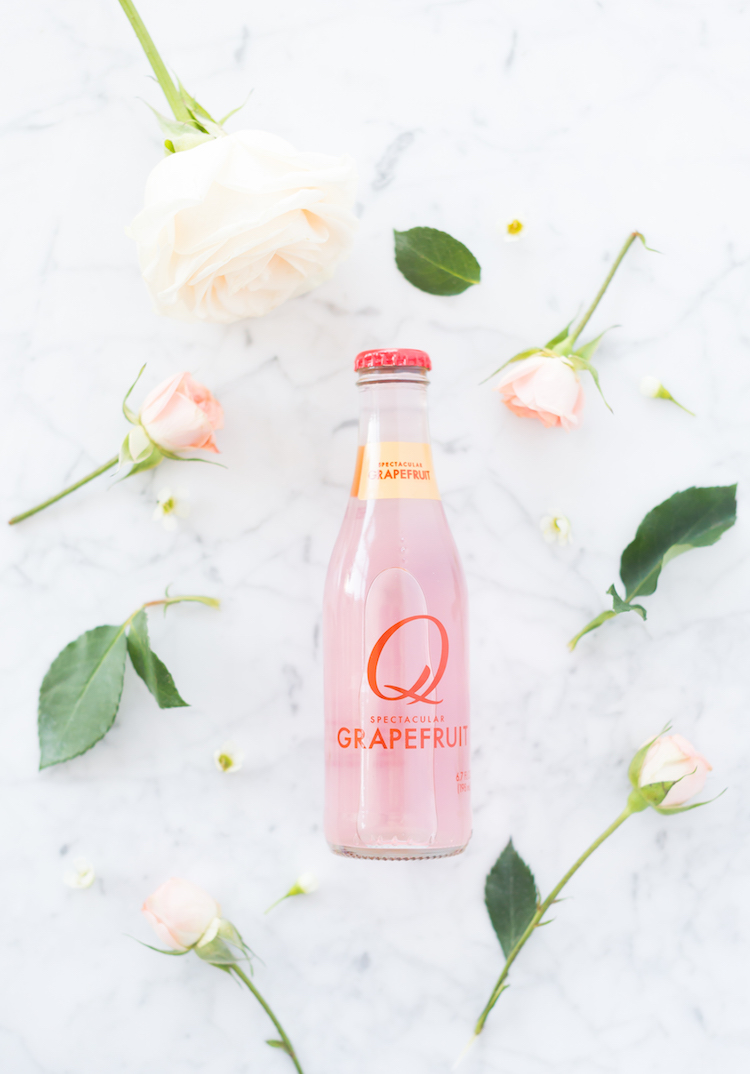 Rose Simple Syrup
1 cup sugar
1 cup water
1/2 cup dried rose petals (found here or at your spice or health foods store in the tea aisle)
Add all ingredients into a sauce pan on high. Bring to a boil and take off the heat. Let cool covered. Double strain into a sealed jar. Store in the fridge for up to one month.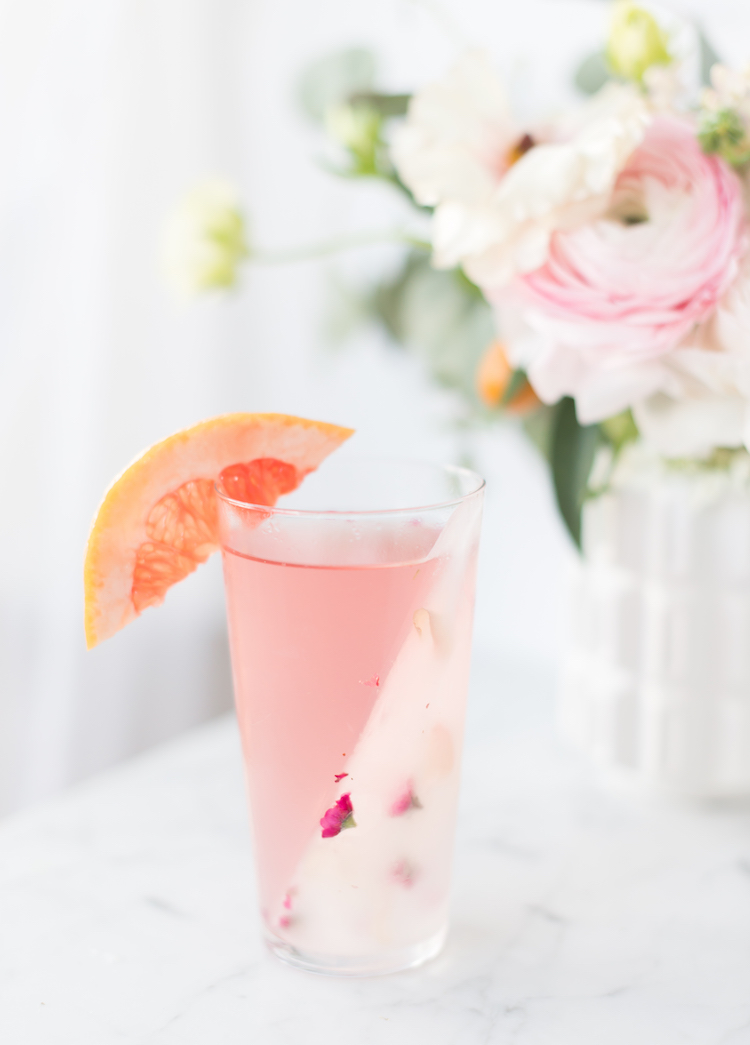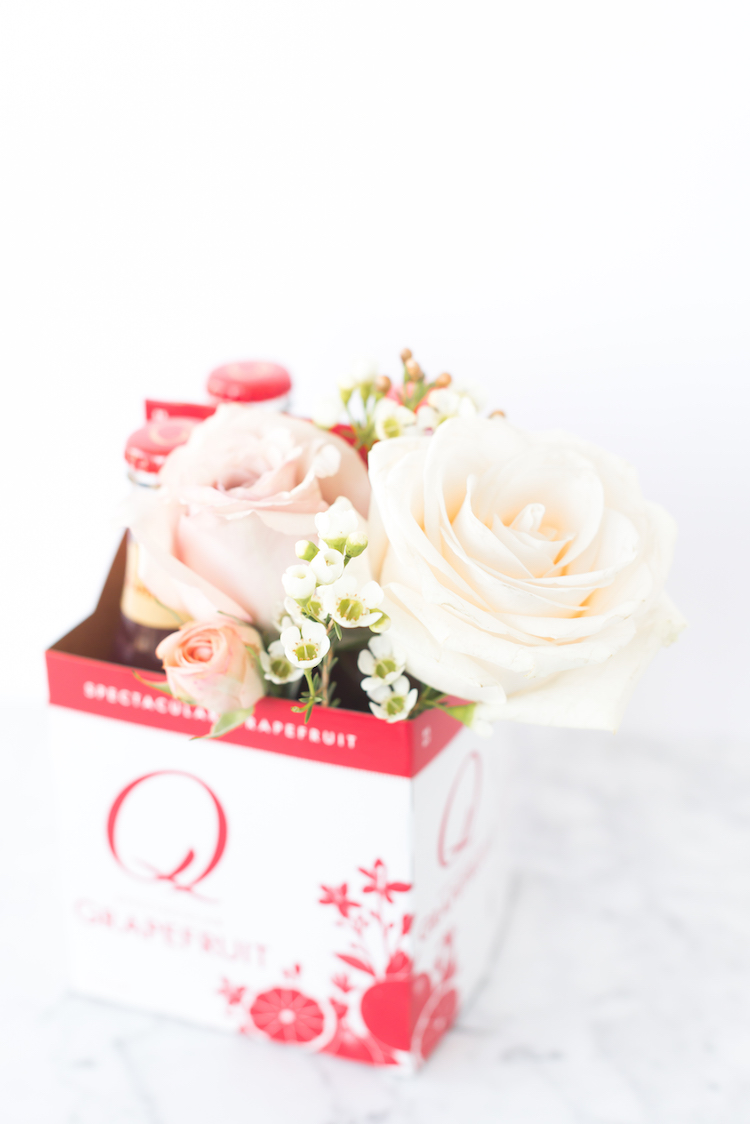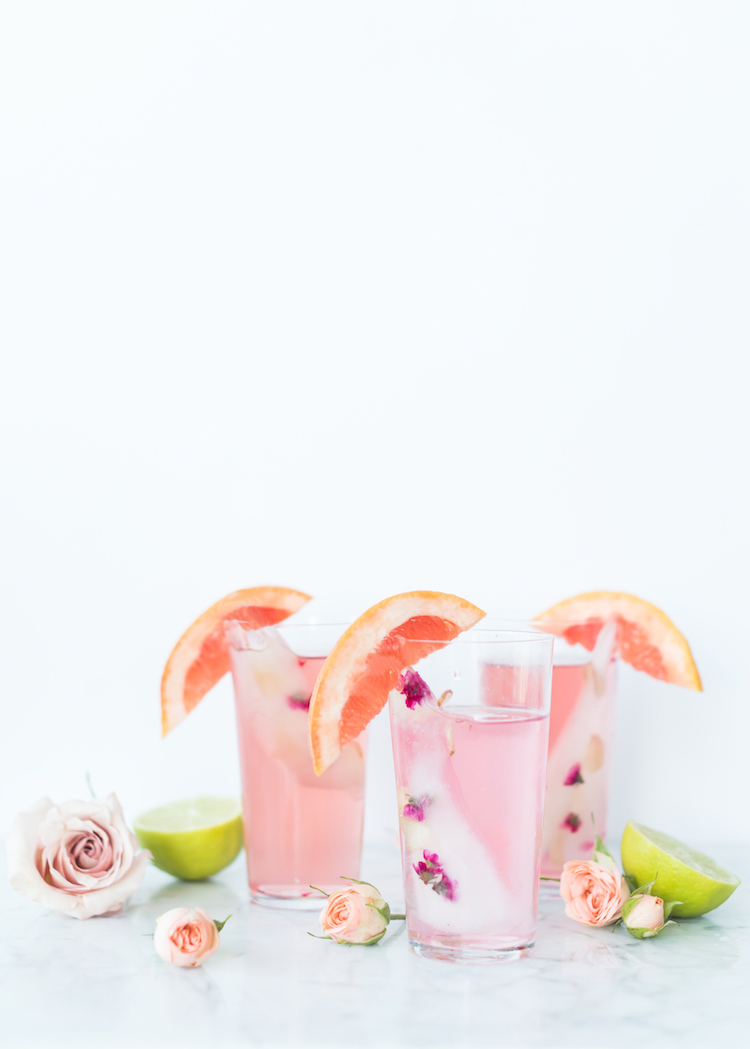 This post is a paid collaboration with Q Drinks. All opinions and recipes are my own. Thank you for reading and supporting the partnerships that keep the cocktails flowing on Craft & Cocktails.
For more cocktails, you can find me on Instagram,  Pinterest,  Twitter