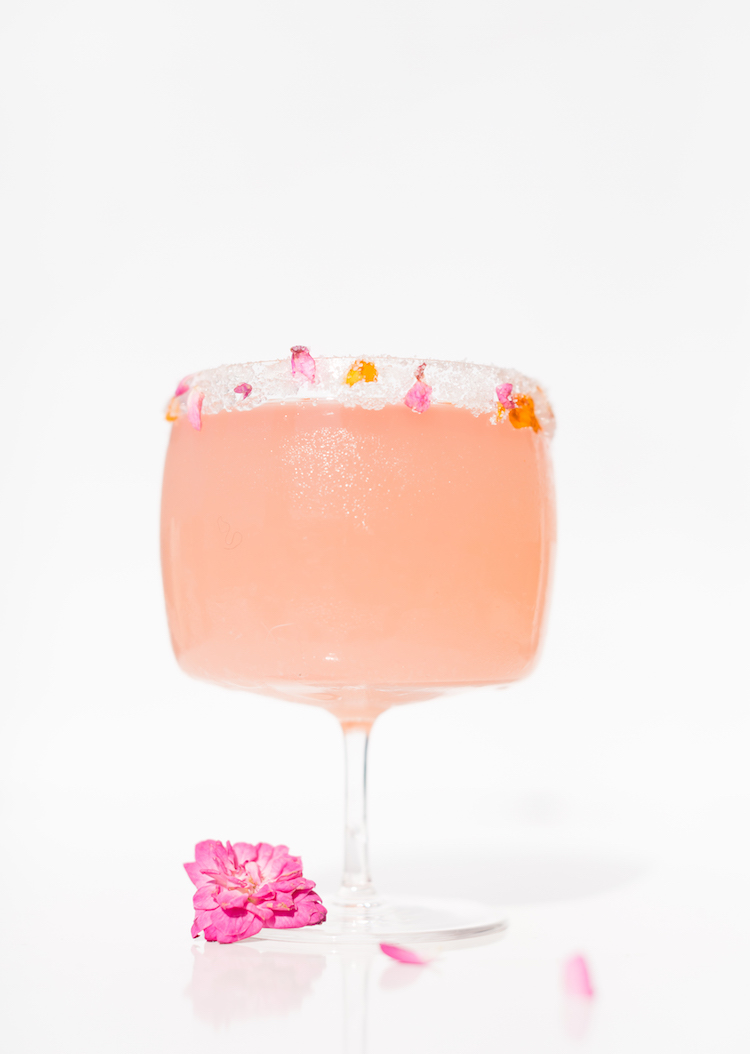 Inspired by one of my favorite comedy duos that I happen to be seeing tonight here in the Bay Area, Flight of The Concords, here is the A Kiss Is Not A Contract with and edible flower sugar rim. The reference is from one of their episodes exploring the woes of blind dating + not quite meshing with your date. It presents a role reversal where the girl is more aggressive + asking for "more sugar", hence the kiss not being a contract for other things, what makes it even more funny and at the same time super poignant.
The cocktail is perfect for a date night, that I hope goes better then Bret  + Jemaine's! It is bubbly, a little sweet, enough booze to pack a punch, and topped with some flower sugar. Even if you don't snag a kiss, you at least be getting some sugah tonight!
A Kiss Is Not A Contract
1/2 oz gin
1/2 oz honey liqueur, I used Koval's (honey syrup can be used in place if you do not have any liqueur)
2 oz fresh pink grapefruit juice
3/4 oz passion fruit syrup (I used Small Hand Foods)
4 oz champagne
flower sugar rim (recipe below)
Run a grapefruit wedge around the rim of a flute or glass. Dip in flower sugar.  Add first 4 ingredients into a shaker with ice. Shake and strain into the glass. Top with champagne and stir.
Flower Sugar
1 tablespoon edible flower petals, chopped
2 tablespoons sugar
Finally chop edible flower petals. Add to a bowl or plate with sugar and mix.