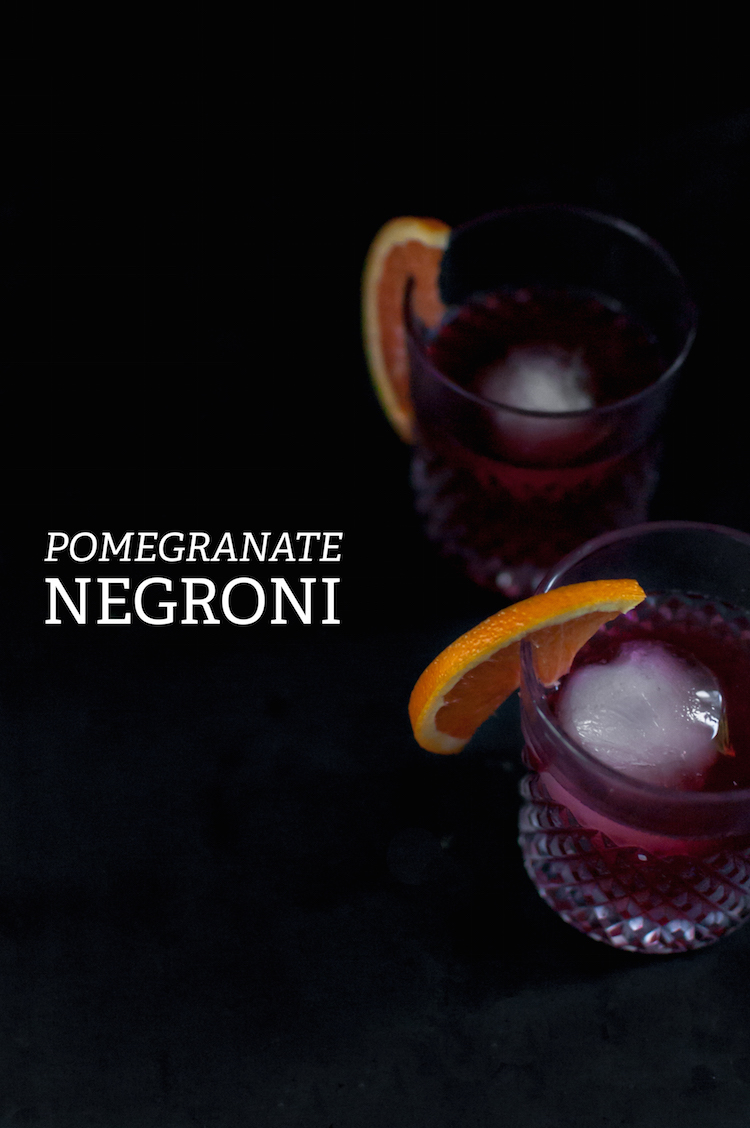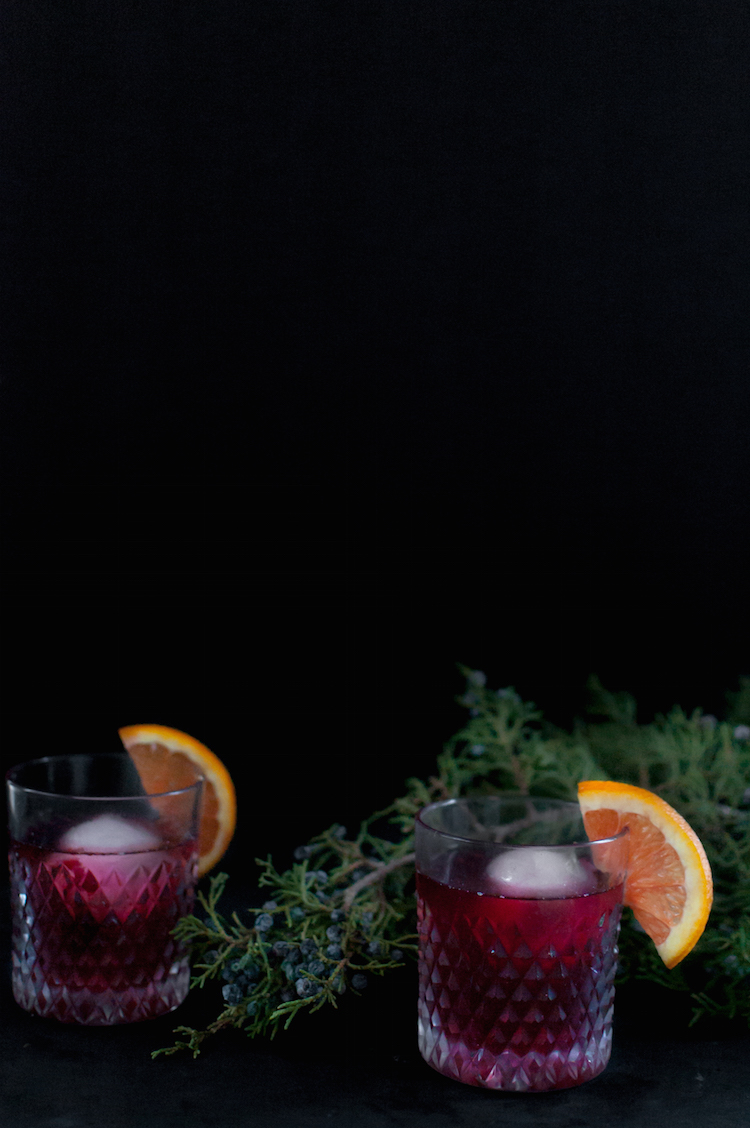 No doubt about it, 2015 was the year of the Negroni. Whether it's the perfectly balanced ingredients, the beautiful red color, or that they are one strong drink, the Negroni is the little darling of the cocktail world at the moment. I wanted to add a little seasonal flavor to the classic equal parts drink with this Pomegranate Negroni!
This crimson-hued sipper was featured on just about every respectable bar menu. New types of Negronis even popped up, including a White Negroni (a Negroni without Campari, imagine that!). We can thank them for the current love affair with all-things-bitter in the cocktail world—they are a gateway to bitter drinks and aperitifs.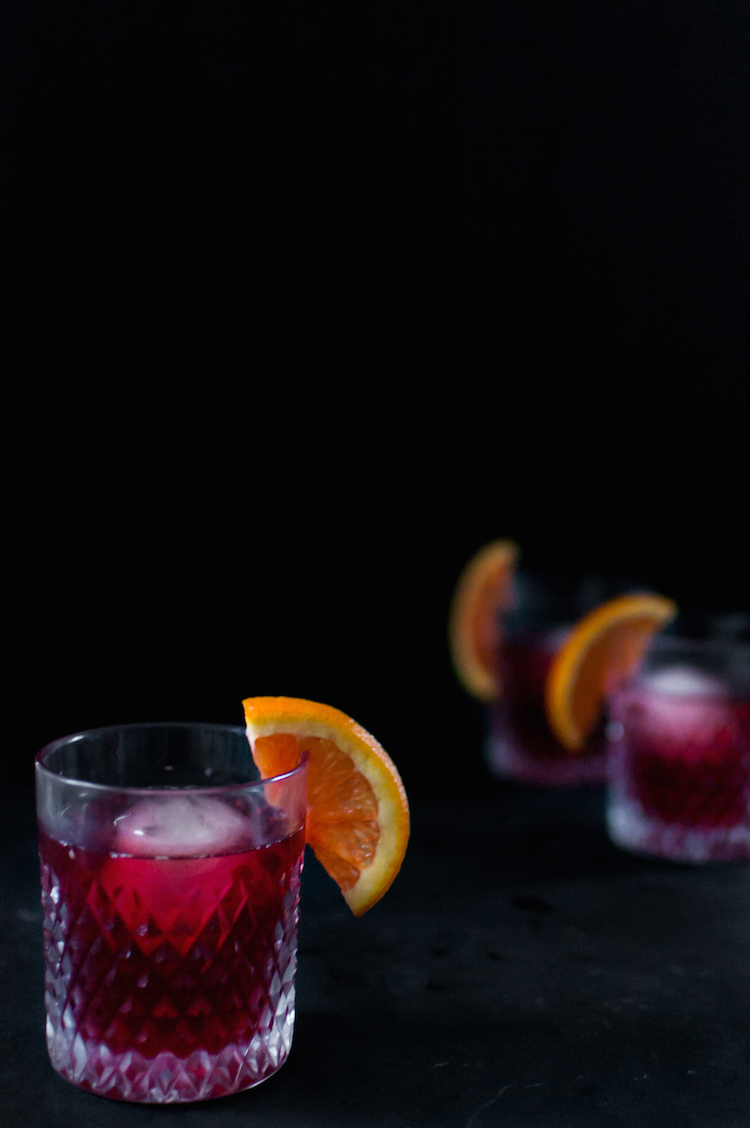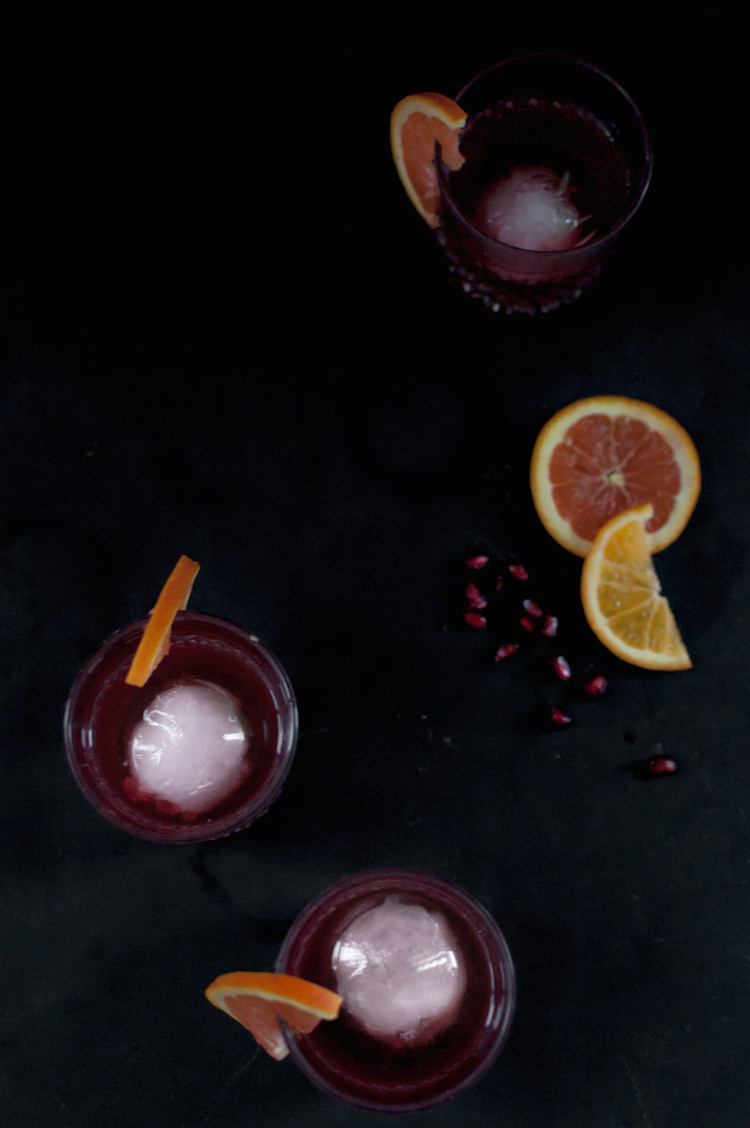 Although some people feel you shouldn't mess with a classic, I figured rules are meant to be broken! I wanted to give the Negroni a seasonal update, but doing so without throwing off the balance that helps make them so delicious was a tad tricky. Cranberry was much too tart while apple seemed too sweet and didn't work well. I eventually found the perfect solution and cocktail with pomegranate juice. The Pomegranate Negroni was the perfect solution.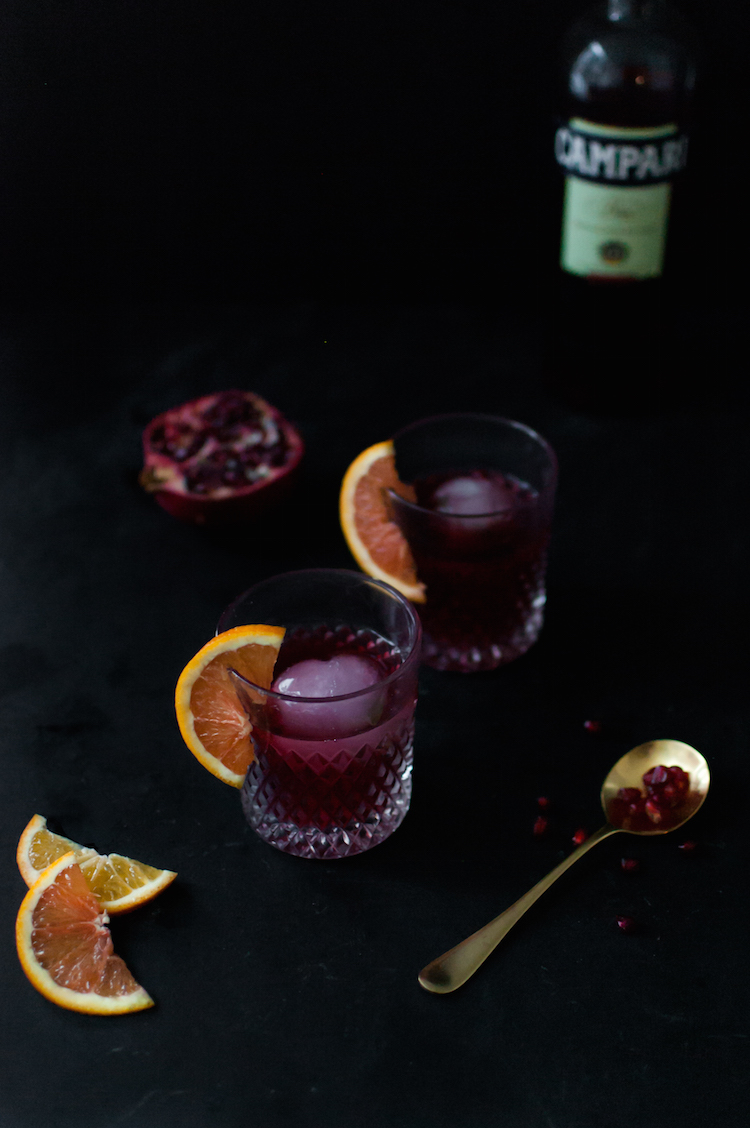 Tart yet sweet, the pomegranate juice kept the balance of the drink while adding a different and delightful flavor profile. Taking the place of most of the usual vermouth, it brings in sweetness that ties together both the bitter Campari and the juniper and herbs in the gin.
serves 1
1 1/2 oz gin
1 1/2 oz Campari
1 oz fresh pomegranate juice
1/2 oz sweet vermouth
1 orange peel
orange slice, garnish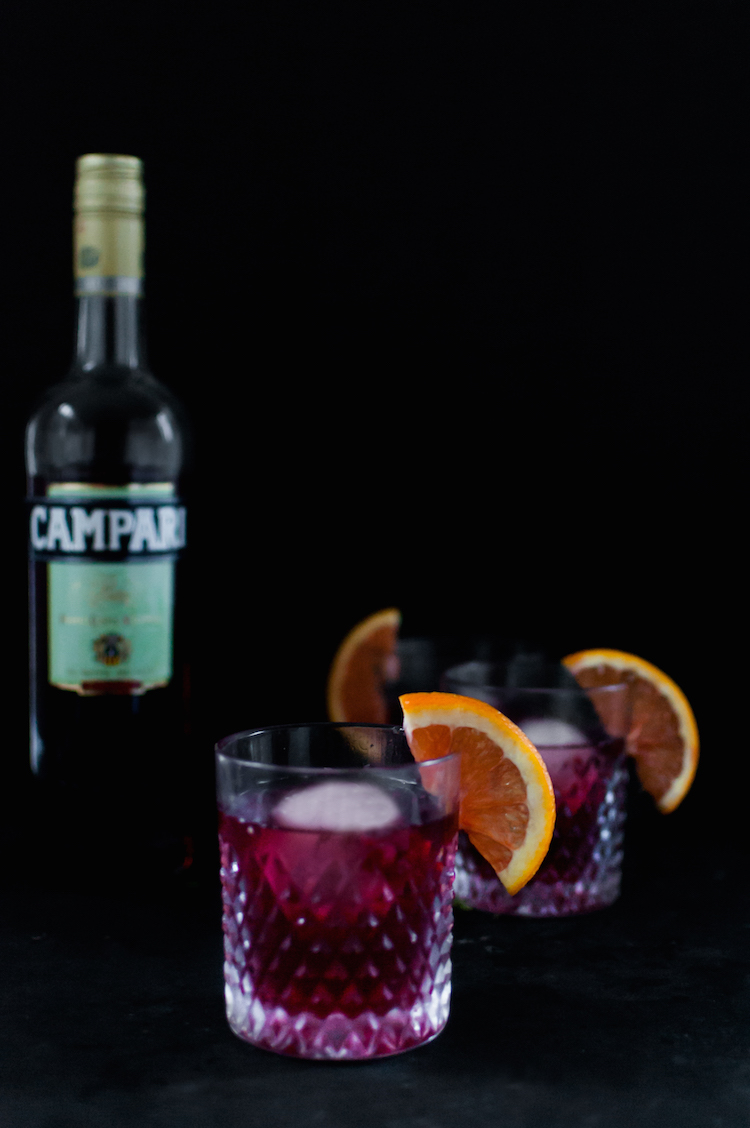 Directions
In a mixing glass add all ingredients except for oranges. Fill with ice and stir for 20-seconds. Strain into a rocks glass with large ice cube. Run orange peel around the rim and twist over glass and discard. Garnish with orange slice.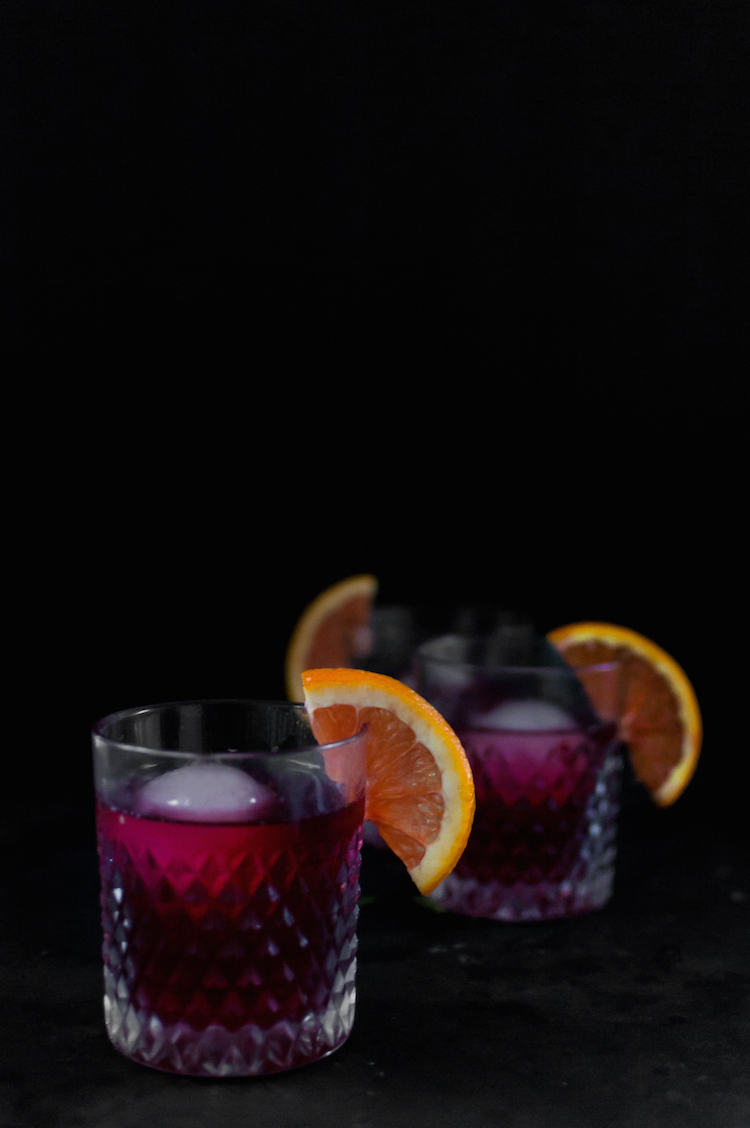 It's looking like the Negroni will still be a bartender and cocktail enthusiast's go-to drink, but I am looking forward to seeing what new (or old) drink will reign supreme in 2016. What cocktail trends do you see for the new year? I'd love to know!
For more cocktails, you can find me on Instagram, Pinterest, and Twitter