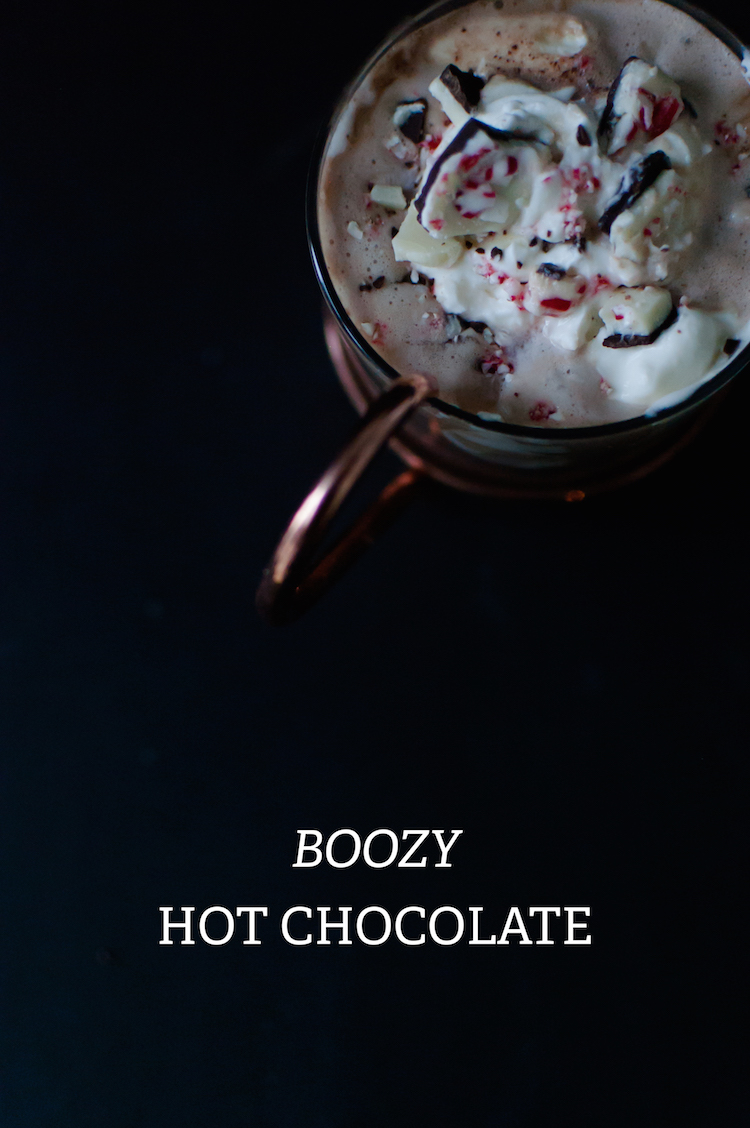 One of my fondest memories and traditions with my mom was to make up a couple cups of hot cocoa, wrap up in warm blankets, and watch meteor showers when ever they would pass by no matter how late at night. I had an affinity with astronomy when I was younger- I was the only girl in my elementary school in the astronomy club and I even have a star named after me. Every time I have some hot cocoa, I go back to these moments starring up at the stars on a crisp night with my madre.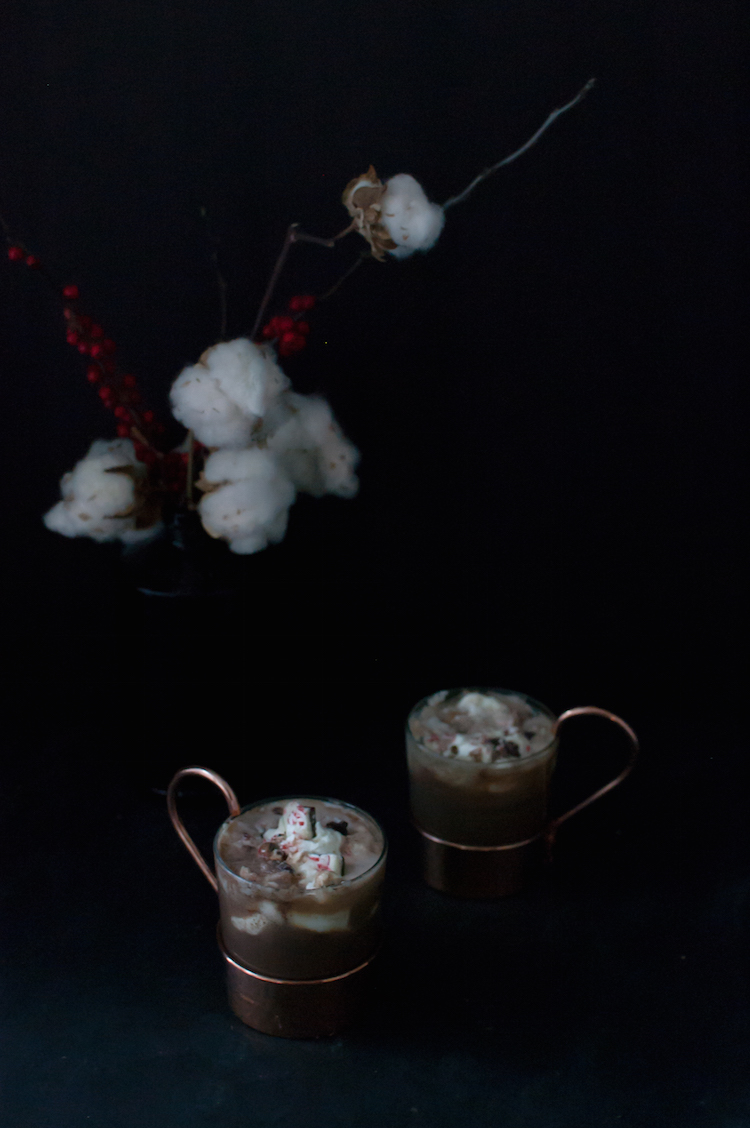 These days, I am drinking the real stuff, none of those powdery mixes. You've never expired hot cocoa, or hot chocolate rather, until you make it at home. Decadent milk and cream, rich chocolate and smooth vanilla melted together in a liquid so thick you could almost eat it with a spoon! Oh baby!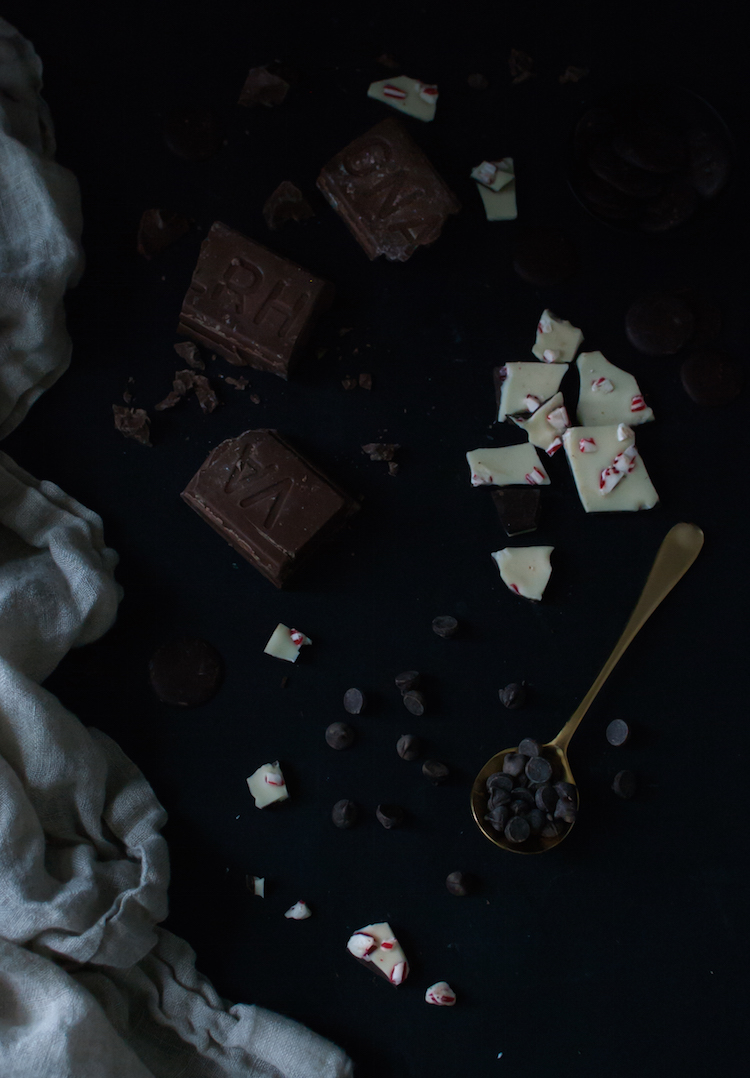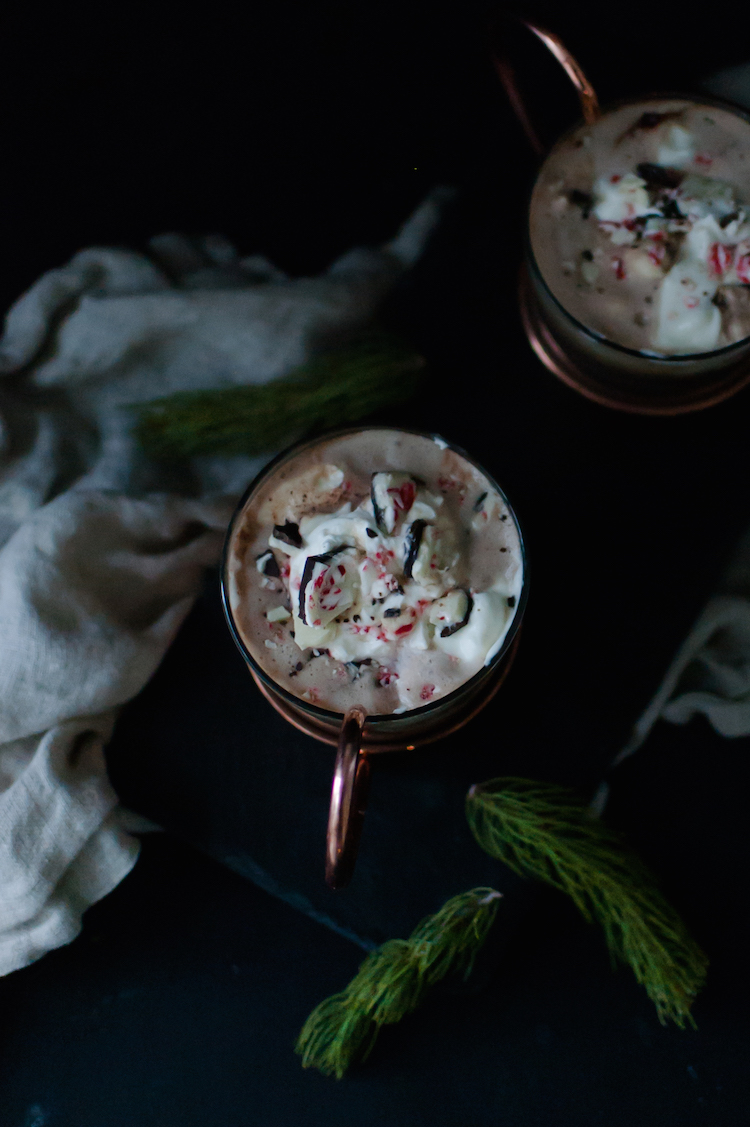 One thing I couldn't do stargazing when I was little was add a skosh of booze to keep me warm. Spiked hot chocolate is one of the most decadent desserts that is perfect for this time of year, if you can't have it during the holidays, then when can you? Go big or go home I say!
This boozy hot chocolate is made with 3 types of alcohol to pack a punch. I recently heard of green chartreuse hot chocolate, they call it Green Chaude in France where they serve it in ski lodges post slopes, and knew I had to try it!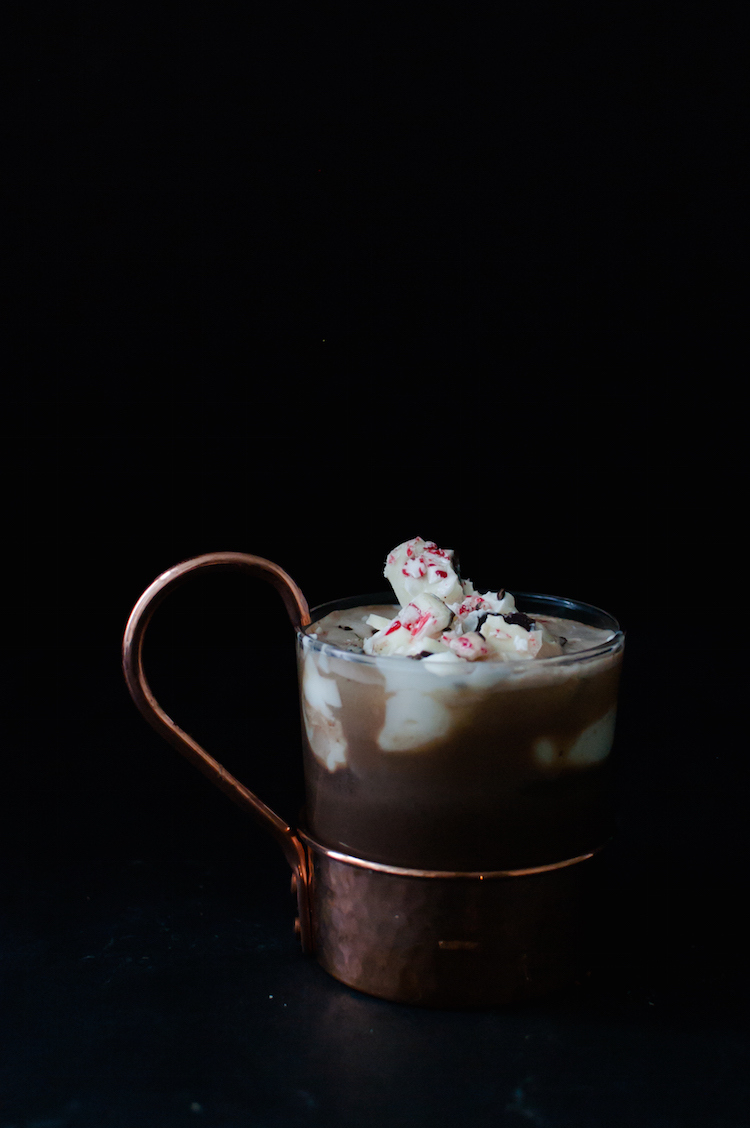 I whisked up a batch of hot chocolate and blended in some green chartreuse. The first sip was intriguing and delightful. The herbal notes of the green chartreuse cut through the richness of chocolate and leaves a herbal sweet yet creamy aftertaste. I loved the combination of the two!
Because I can't leave well enough alone, I started tinkering and came up with my own concoction. Still featuring green chartreuse, I accompanied it with bourbon, Frangelcio whipped cream, and topped with crushed peppermint bark. Yeah, I stuck all of those things in one drink. No shame! It's a seemingly unlikely combo that ends up being one delicious sip. Bourbon was an obvious choice, chocolate and bourbon go together nicely and bourbon and green chartreuse have proven to be a cocktail match made in heaven, but the real wild cards were the Frangelico whipped cream and peppermint bark.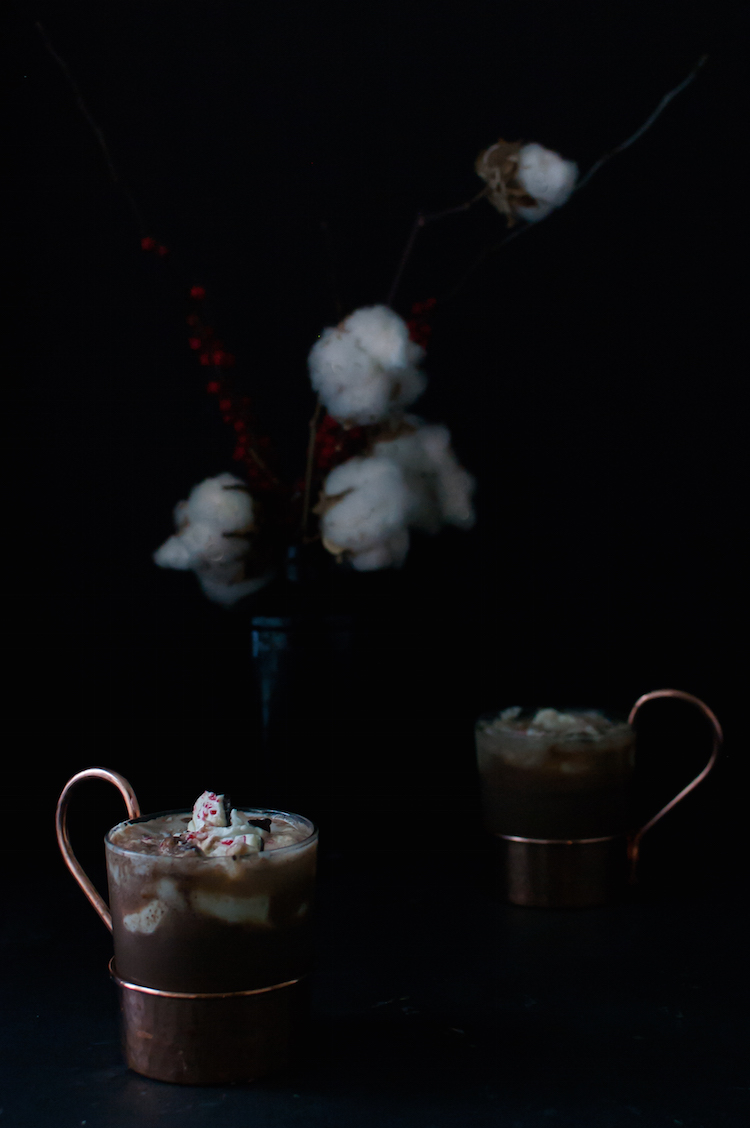 One of the few known ingredients out of 130 in green chartreuse is peppermint. I felt that the minty bark would tie in nicely with the similar notes in the liqueur. As for the whipped cream? That was more "I had just received a bottle and it was sitting at the front of my bar so I used it" kinda situation. Sometimes that's just how it goes! I have made Frangelico whipped cream before and loved the nutty, creamy combo and it works here.
Yesterday was the Winter Solstice and the shortest day of the year. You need hearty warming drinks to get you through the long nights so mix up a batch of these boozy hot chocolate tonight and cozy up by the fire or head outside do some stargazing!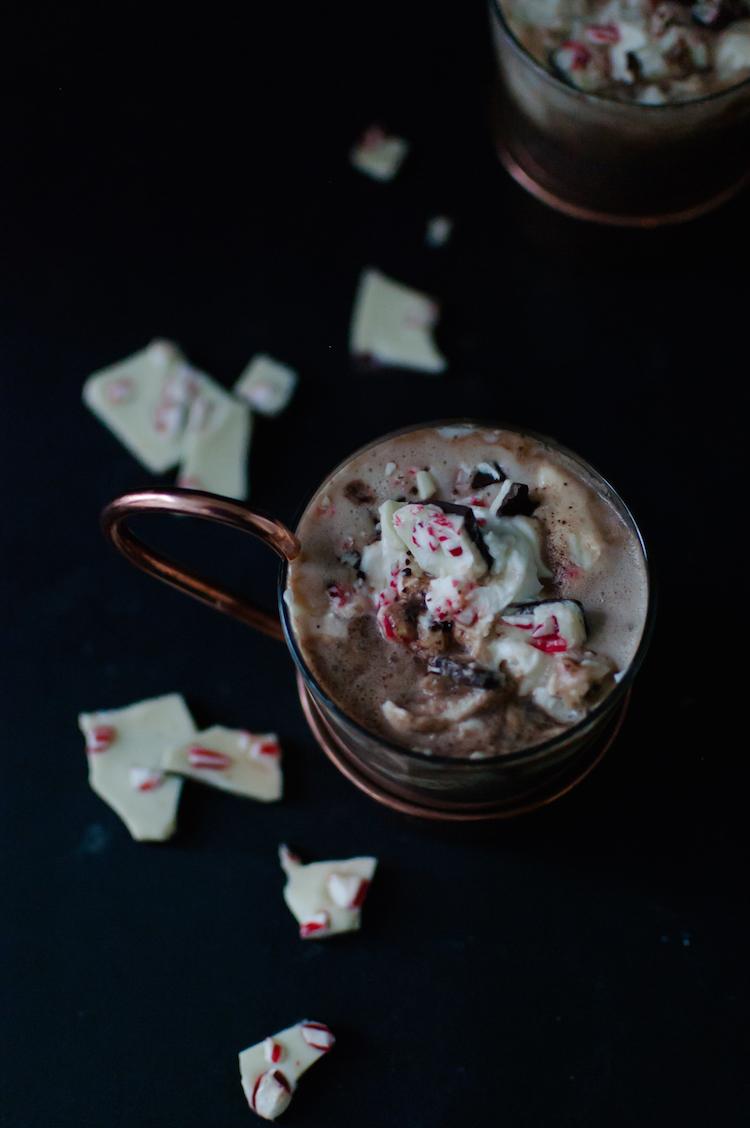 Green Chartreuse + Bourbon Spiked Hot Chocolate with Peppermint bark
Makes about 6 8oz servings
Directions
Heat milk and cream in saucepan over medium-medium high heat, whisking constantly to keep milk from scalding. Once it reaches a high enough temperature to melt the chocolate, take off the heat add the dark and semi-sweet chocolate and whisk in until fully incorporated. Add in the vanilla, salt, green chartreuse and bourbon into the pot and whisk in. Divide into cups and dollop the whipped cream on top and sprinkle with crushed peppermint bark to serve.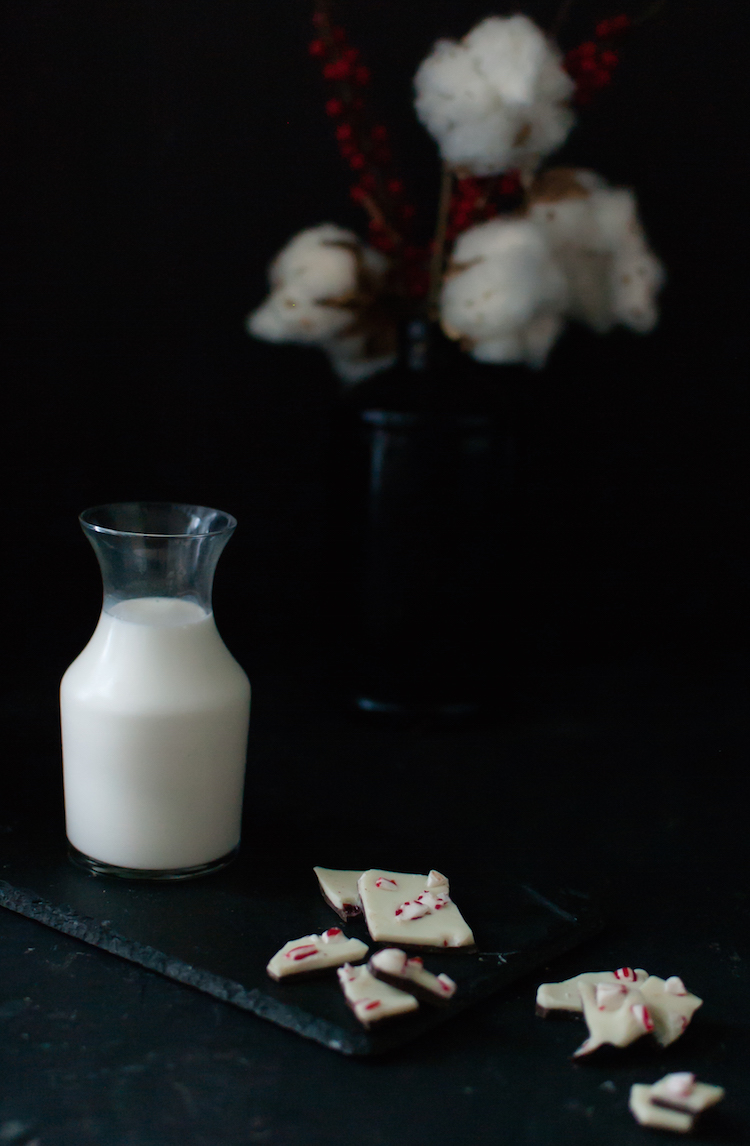 Frangelico Whipped Cream
2 cups heavy whipping cream
1/4 oz Frangelico (c/o Campari America)
3 tablespoons sugar
Whip the heavy whipping cream until soft peaks form. Add sugar and whip until stiffer peaks form. Fold in the Frangelico. Refrigerate any unused whipped cream.
For more cocktails, you can find me on Instagram, Pinterest, Twitter, and Snapchat (@ashroseconway)