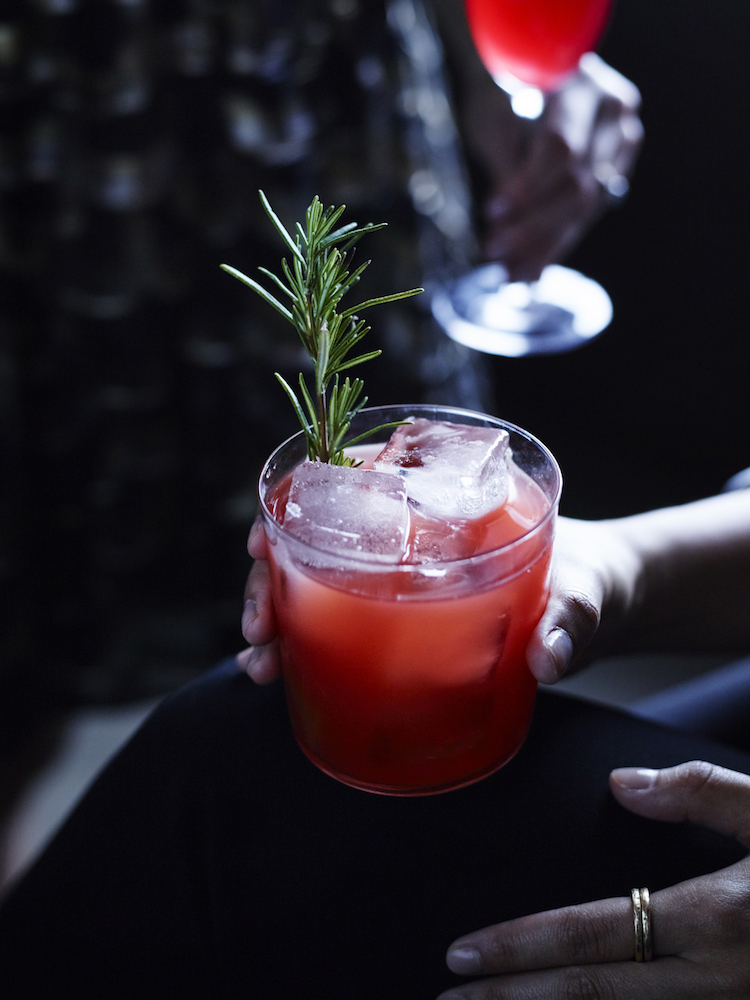 When the first pomegranate sighting happens each year, you'd think I'd have spotted Santa I get so giddy! I love a fresh pomegranate- they are like a present with little jewels of goodness wrapped inside!
As you may know, I recently collaborated with Williams Sonoma (dream come true I tell you!) One of the cocktails I created for our Cocktail + Crostini party, the Pomegranate In A Pear Tree, features fresh pomegranate combined with other delicious, seasonal ingredients like spiced pear liquor, rosemary, and oranges for the perfect winter sipper! I think this one was my favorite (can I actually say that? It's basically like choosing my own kid!)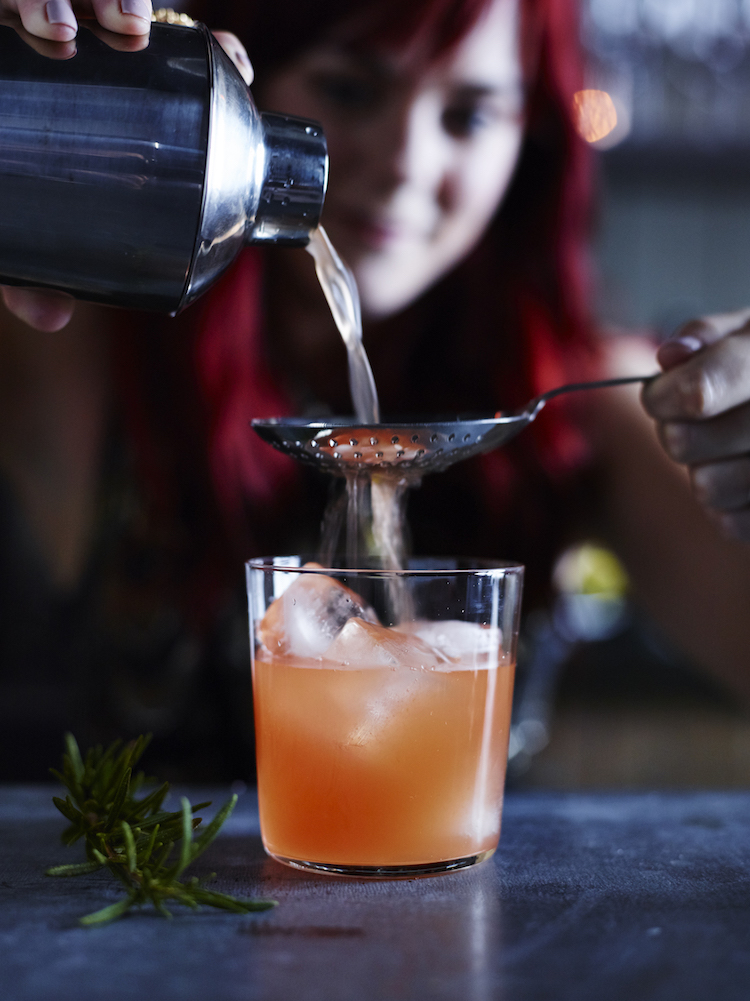 Despite advocating to always use fresh juice, BUT suggesting to use store bought when that's your only option, just don't substitute here folks! Store bought pales in comparison to fresh pomegranate juice. The store bought stuff is oxidized which compromises not only the flavor, but the color. For the Pomegranate in Pear Tree here, I muddled fresh pomegranate seeds in the shaker to give the drink the bright flavors and color a holiday drinks deserves. *In Elf voice* I mean, doesn't this drink just scream Christmas?
Pomegrante In A Pear Tree
•1/4 cup pomegranate seeds
•1 1/2 oz. gin
•1/2 oz. pear liqueur, preferably St. George Spiced Pear
•1 1/2 oz. fresh orange juice
•1/2 oz fresh lemon juice
•rosemary sprig for garnish
Put the pomegranate seeds in a cocktail shaker and use a muddler to muddle and release their juice. Add the gin, pear liqueur, orange juice, 1/2 oz. of the rosemary syrup and lemon juice to the shaker. Fill the shaker with ice and shake until well chilled, about 12 seconds. Strain into a tumbler filled with ice, garnish with the rosemary sprig and serve.
Rosemary Simple Syrup
1 cup sugar
1 cup water
4 fresh rosemary sprigs
In a saucepan over high heat, combine the sugar and rosemary sprigs with 1 cup (8 fl. oz./250 ml) water. Bring to a boil, then reduce the heat to low and simmer for 10 minutes. Remove from the heat and let cool. Strain through a fine-mesh sieve into a jar and discard the rosemary sprigs. You will need 1/2 oz. (15 ml) of the rosemary syrup for the drink; refrigerate the rest for making more cocktails. The syrup will keep, covered, in the refrigerator for up to 3 weeks.
Get the recipe here for the Pomegranate In A Pear Tree!
For more recipes for the holidays check out my Cocktails + Crostini party with Williams Sonoma.