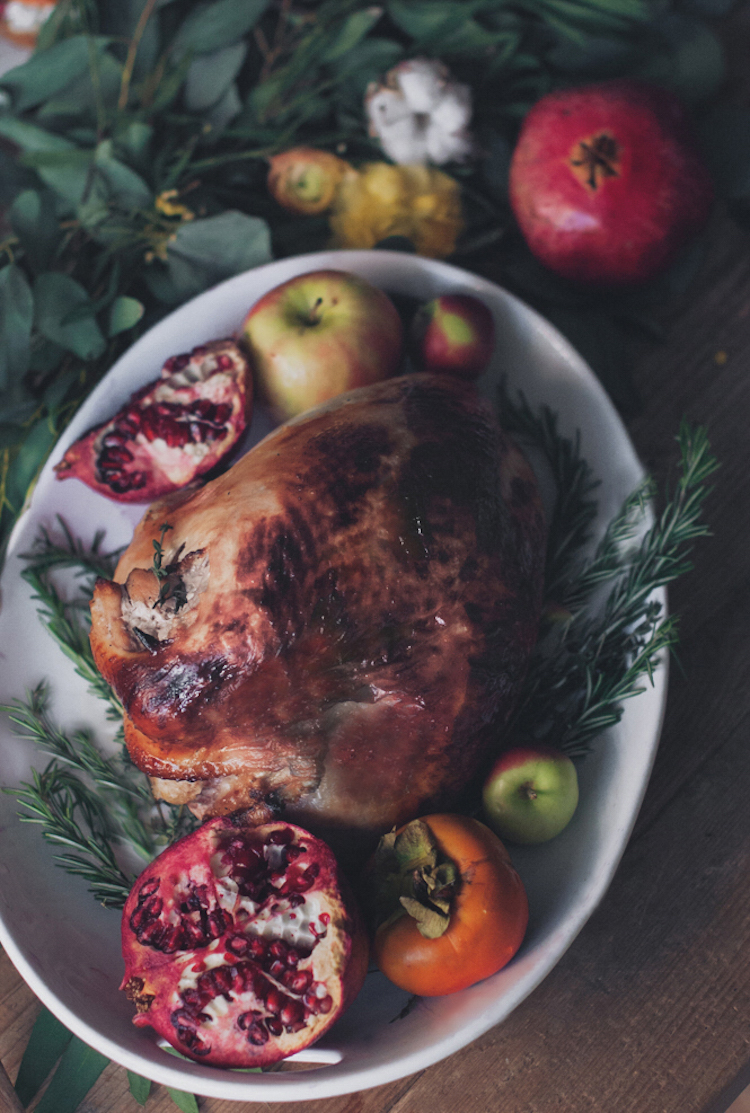 Last weekend I hosted a Friendsgiving full of laughter, cocktails and of course food and lots of it! I am jet setting to Bora Bora for the Thanksgiving break, my husband and I are taking our long awaited Honeymoon, and won't be around to stuff our faces with all the turkey and trimmings so we put together a fest for our friends (and us!) for an early T-day celebration. Now I am usually with "Aunt Mary" on this one, that "it's just a turkey…put the f*ckin turkey in the oven" (if you haven't seen this video, it's a must watch for Thanksgiving!) this Hkney Bourbon glazed turkey blew me away!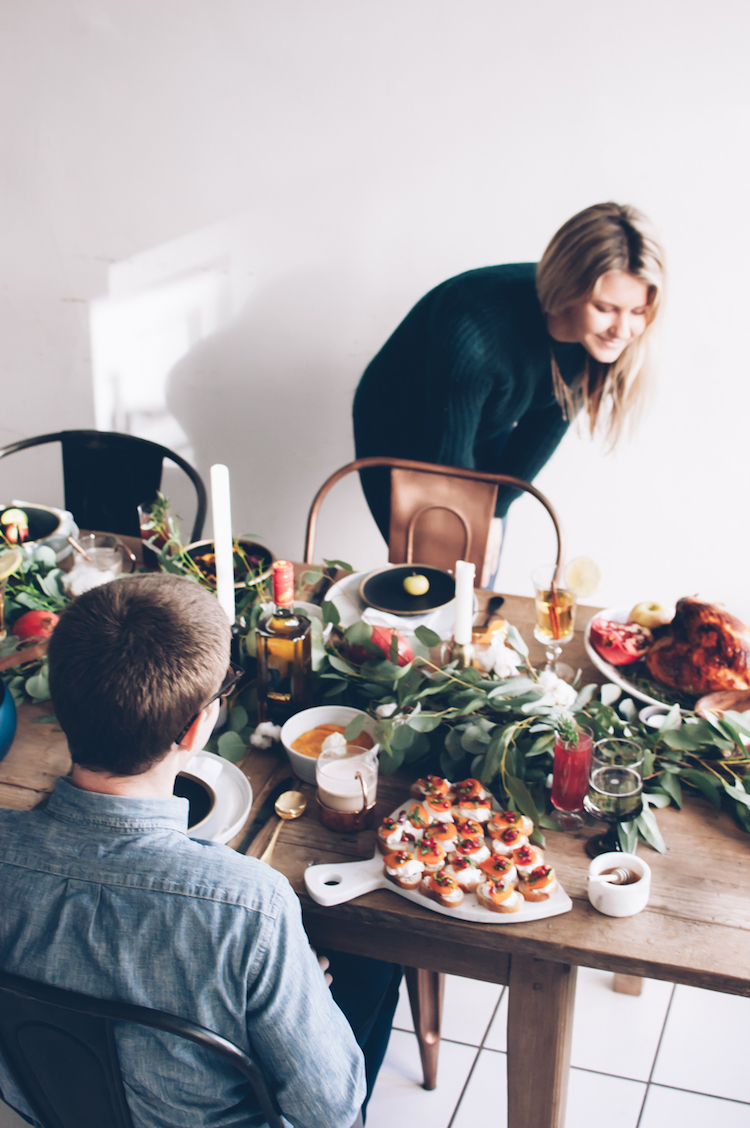 Stuffing is by far my favorite part of Thanksgiving dish, but we can not talk turkey about Thanksgiving with out talking about, well the turkey! The star of the show can make the meal shine or it can be the deal breaker. They are not always the easiest to manage or cook (as we have seen cringingly watching those videos of turkeys fully ablaze), but let's face it, it's just not Thanksgiving without the bird!
I knew I wanted to add a sweet, yet rich glaze to the turkey I was serving at my Friendsgiving, but wasn't quite sure what to use right off the bat. I was testing cocktail recipes for the dinner and realized the honey whiskey I was mixing with would be perfect for giving the turkey a flavorful, sweet skin. I add it to some melted butter (because that makes everything better) and some brown sugar for a bit of molasses richness and voilà, a perfect glaze for topping a turkey!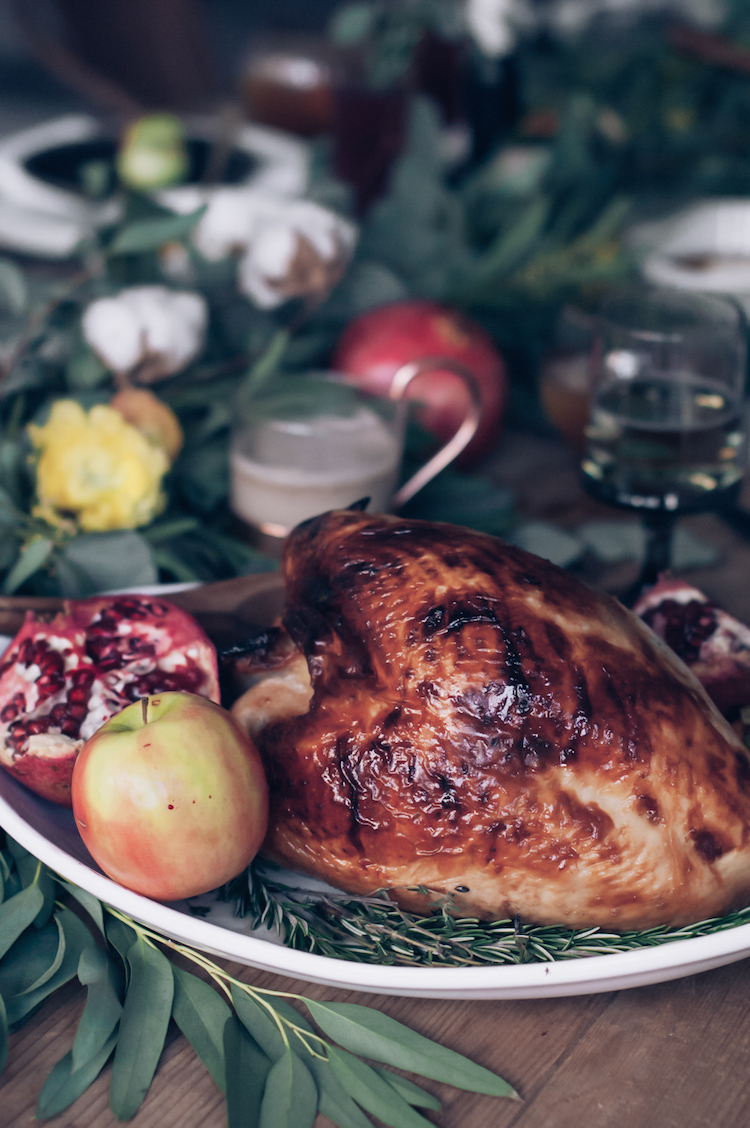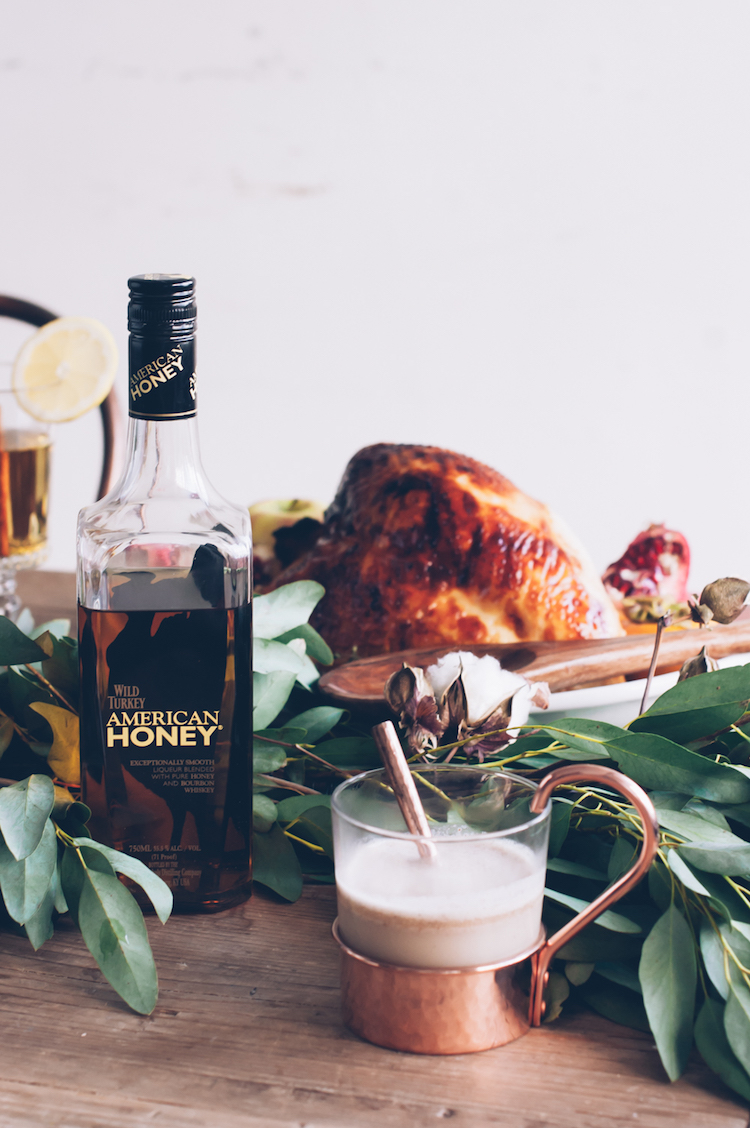 Now, I am not a turkey master by any means. This was actually only my third time ever attempting making one and was happily surprised with a perfectly plump, juicy, and flavorful bird the first go round! I recently saw this tip via Eva from Adventures in Cooking for turkey roasting and it worked like a charm! Perhaps I can chalk it up to beginners luck, but I think it was the honey bourbon glaze that really made it sing. So dang delicious!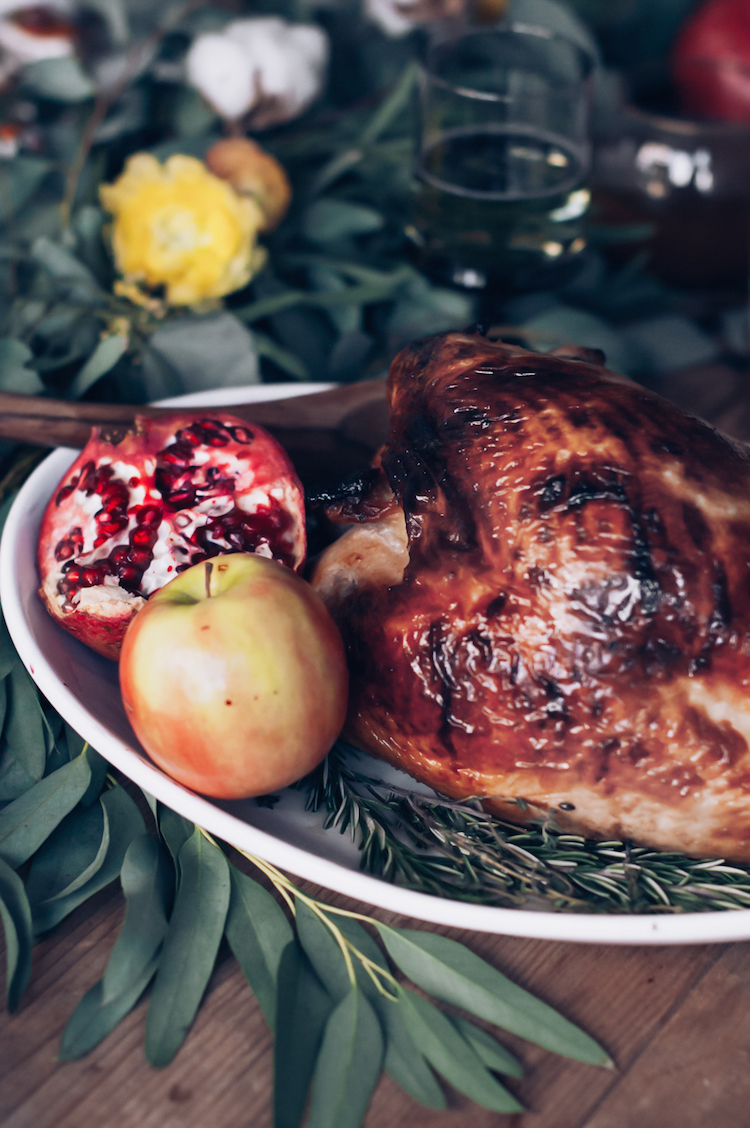 When cooking, I love a good shortcut! Prepping the turkey and a full feast, I don't have time to deal with a wet brine, nor do I have room in my fridge to store it, it's too full of boozy experiments. I recently learned about the oh-so-simple dry brine method and oh lordy does it save time and space! Dry brining is simply taking a lot of salt along with other spices and rubbing it all over the turkey and under it's skin. It tenderizes it and gives it lots of flavor and you don't have to make room for a large bucket like you do with wet brining. I simply brined the turkey with salt the day before roasting and it made for a perfectly moist turkey with out all the fuss. It gets my stamp of approval!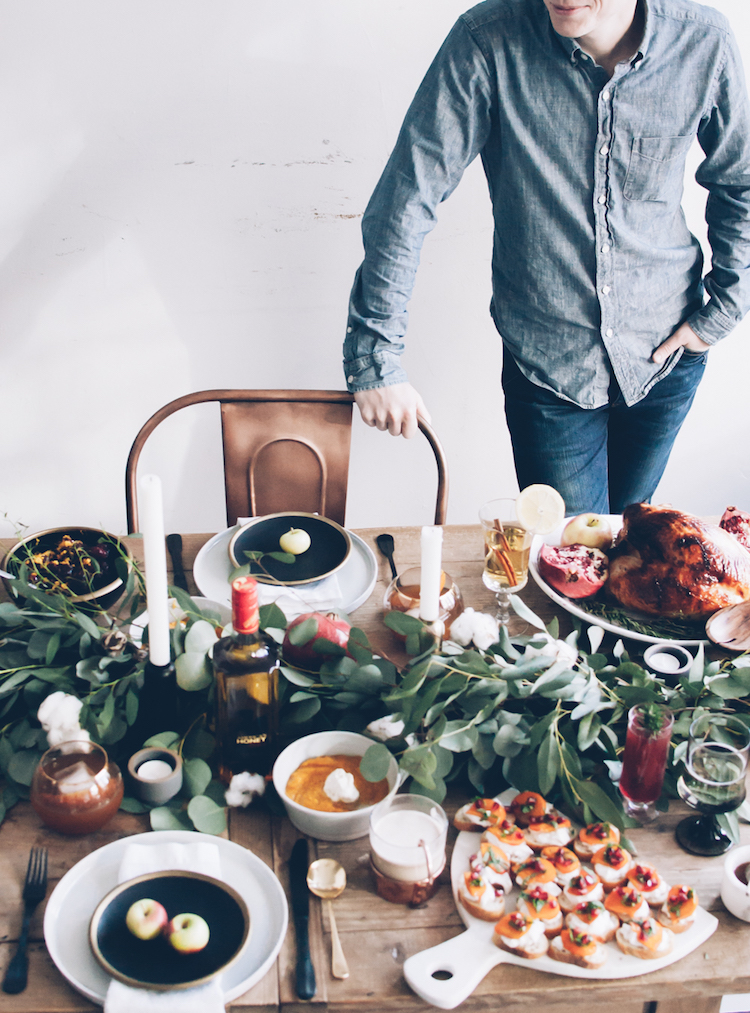 Now, when it comes down to what side to cook a turkey on, there are all kinds of debates on what method is best, but for me, I am a breast-side-up kind of gal! They idea of flipping a hot lava of a turkey just to roast both sides just does not sound fun to me (soooo many things can go wrong!). I simple tent the bird with foil if the breasts reach peak browning to keep them moist and from burning. If you have the perfect roasting method down pat, a secret family trick passed down through the ages, by all means use it! This is a simple, no frills kinda recipe that can be used as a general guideline. Add in a bit of this here, a bit of that there to your hearts content!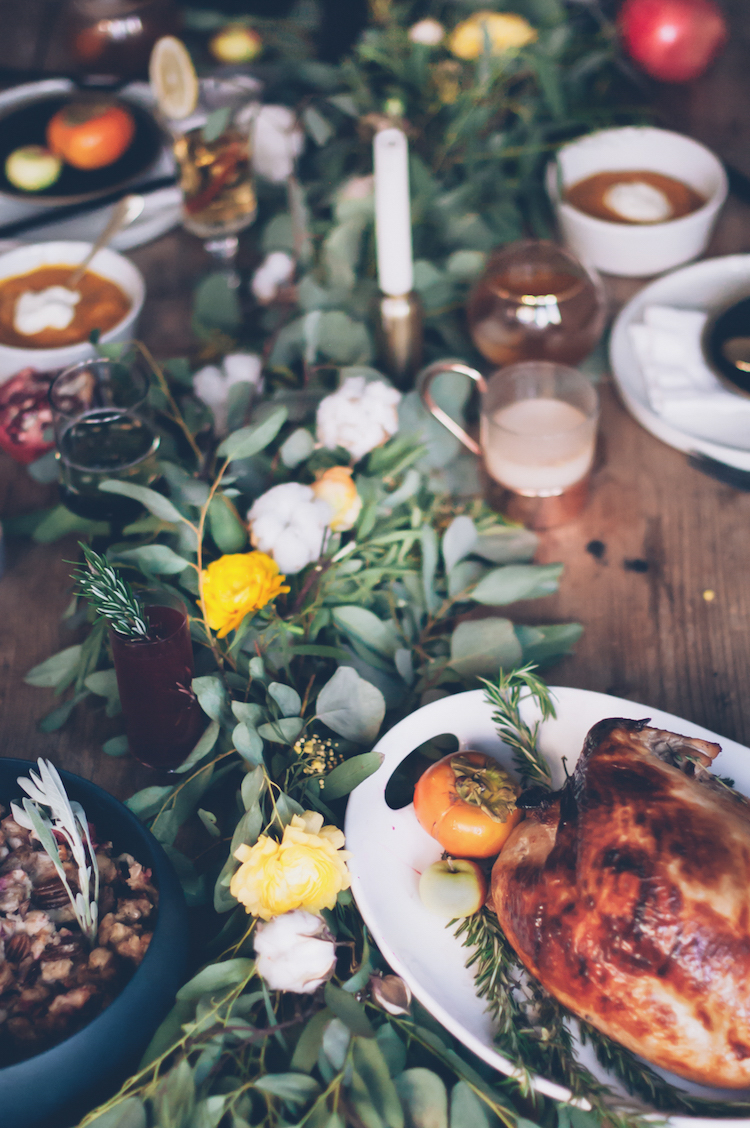 Honey Bourbon Glazed Turkey
1 thawed turkey
honey bourbon brown sugar glaze (recipe below)
3 apples
3 celery stalks
3 carrots
1/2 white onion
12 garlic cloves
10 thyme sprigs
salt
pepper
Let turkey thaw in the fridge. Pat dry with paper towel. Dry brine with coarse salt, 1 teaspoon per pound is a good rule. Being sure to coat the whole turkey, in the cavity and under the skin. Let set over night or a few days to tenderize.
Turn the oven to 425 degrees. Slice apples, celery, and carrots. Place 3/4 of them along with 8 of the garlic cloves in the bottom of the roasting pan. Remove turkey from fridge. Place in roasting pan breast side up. Add remaining vegetables and fruit to the turkey cavity. Sprinkle the thyme sprigs in the bottom of the roasting pan and in the cavity. Pepper the turkey well. Tuck wing tips underneath body of turkey. Tie legs together with kitchen twine. Pour the honey bourbon glaze over the turkey.
Place in the oven and cook for 30 minutes at 425. Turn oven to 350 degrees for the rest of the roasting time. Bast the turkey with the juices every 20 minutes. Once turkey has reached perfect browning levels, tent the turkey with foil, being careful to avoid the skin. The turkey is finished when the internal temperatures taking from a thick piece reaches 165, usually taking 15-20 mins per pound. Remove and tent with foil and let rest for 30 mins before carving. Serve the bourbon and butter smothered apples and veggies from the roasting pan as a side.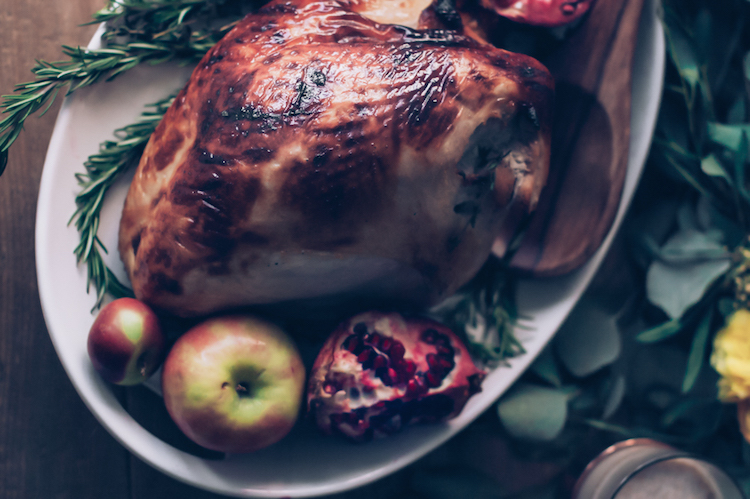 Honey Bourbon Brown Sugar Glaze
1 stick butter
1/2 cup brown sugar
1/2 cup Bourbon
1/2 cup honey
Melt the stick of butter in a saucepan. Whiskey in the bourbon, honey, and brown sugar until combined. Keep warm to glaze the turkey.