THE GIFT OF CHEERS
I always love finding and giving the perfect gifts. I spend a lot of time every year getting each person I love just the right present that suits their style and taste. But sometimes there are people that are hard to buy for (ummm guilty!) or acquaintance and neighbor who's tastes you are not sure of. For these scenarios, I gift a bottle or two of wine or spirits with a little personalized touch to make it feel extra special. Giving bottles of the good stuff is a classic gift- you can never go wrong. And one thing is for sure, there is no chance of it being regifted! This year I am giving bottles of Croft Tawny Port adorned with hand-lettered ornaments tied with care and flair!
TAWNY PORT COCKTAIL
I recently spent a night making hand-lettered ornaments to tie on the neck of the Croft Tawny Port to give as presents. I made a Coconut Tawny Port Steamer with the Port to sip while in my little elf workshop making the ornaments. I almost didn't share with my husband because this cocktail was so darn delicious! Croft Tawny Port has notes of raisin and spice along with the deep red fruit notes with subtle nutty undertones. To compliment these, I mixed in coconut for a creamy decadent texture that mingles with the fruit notes of the Port elongating them on the palate. Cinnamon and nutmeg add a warming touch, while vanilla makes it taste like a boozy custard. Brandy is added in to compliment the Tawny Port while bringing up the ABV a bit and it's all finished off with a healthy grate of fragrant nutmeg. The cocktail is heated to make a cozy sipper to enjoy while wrapping presents, spending time with loved ones, or while snuggling on the couch dodging all holiday party invites!
HAND-LETTERED ORNAMENTS
For the handmade ornaments, I went neutral and minimal which can be far from boring! Paint splatters and simple script lettering add a graphic touch that feels classic with a modern spin. I painted the ornaments black, white, and gray with details in teal and copper which beautiful compliment the Croft Tawny Port label. I painted the inside of clear ornaments so the paint wouldn't chip. To do this I took thinned out acrylic paint mixed with water and poured them into the bulbs with a funnel. I then swirled the paint around to cover the whole bulb and turned it upside down over cardboard to let any paint drain. Taking a dry paint brush, I flicked paint splatters around the bulb. Once dry, I took thin paint markers  (these are my favorite!) to hand-letter each friends last names or simple holiday sayings to personalize it. To seal the lettering from chipping, I use a matte sealing spray, but feel free to use a regular sealing spray for shiny ornaments. Once dry, add the top back on. To give it some flair, I added luxe ribbons in velvet, metallic, and satin accompanied with varying tassels to tie it all off.
I can not wait to gift these personalized ornaments and Port this year to spread some holiday cheer! Here's where to purchase the bottle for $19.99.
Print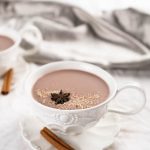 Coconut Tawny Port Steamer
Prep Time:

5

Cook Time:

25

Total Time:

30 minutes

Yield:

7

-8

1

x
---
COCONUT TAWNY PORT STEAMER
Serves 7-8
glass: mug or teacup
tools: medium saucepan, whisk, ladle, microplane or grater
2

cans of coconut milk

12 oz

Croft Tawny Port

4 oz

brandy

1/4 cup

turbinado sugar

3

cinnamon sticks

1

nutmeg, chopped into

two

1

vanilla bean, split
---
Instructions
Add coconut milk, sugar, cinnamon, nutmeg & vanilla bean into a medium saucepan on medium low. Whisk to break up any coconut cream. Bring to just below a simmer*. Heat for 15 mins to infuse the spices, whisking periodically. Add Croft Tawny Port & brandy to the pan. Simmer for 5-10 mins to warm. Remove vanilla bean pod and nutmeg before serving. Use a ladle to sever into mugs or teacups. Grate nutmeg on top and garnish with whole star anise.
---
Notes
Do not let the mixture boil. It will cook off the alcohol as well as burn the coconut milk.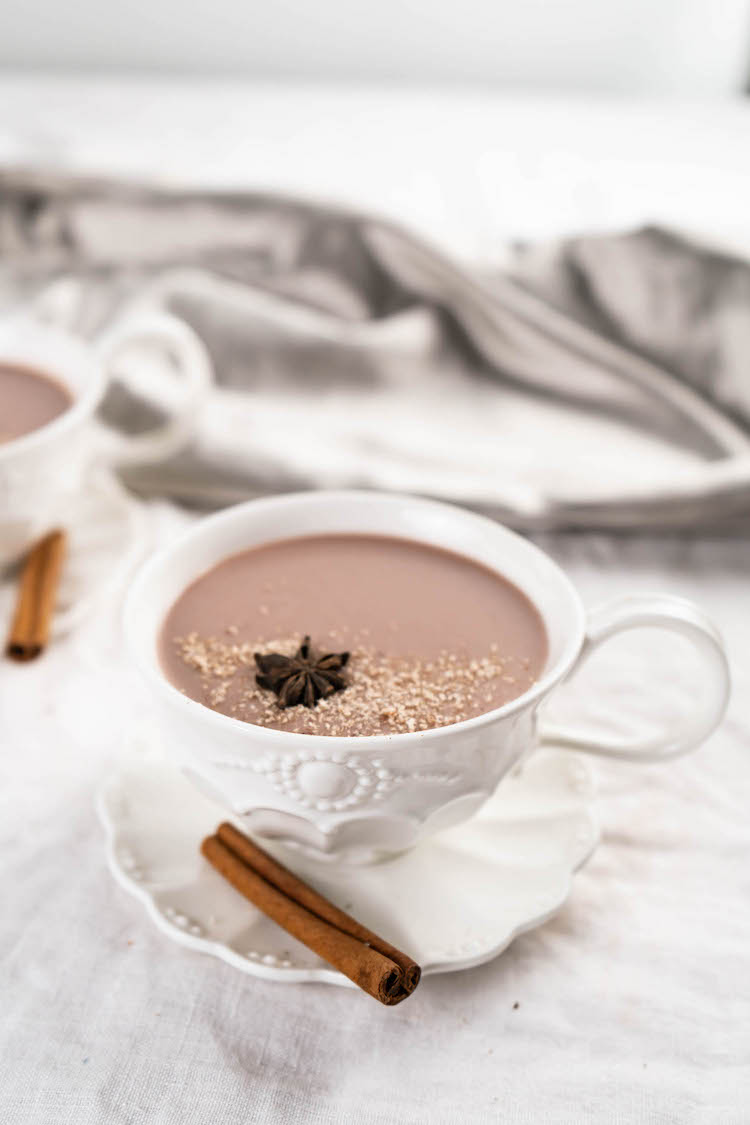 This post is sponsored by Croft Port. All opinions are my own. Thank you for reading and supporting the partnerships that keep the cocktails flowing on Craft + Cocktails!