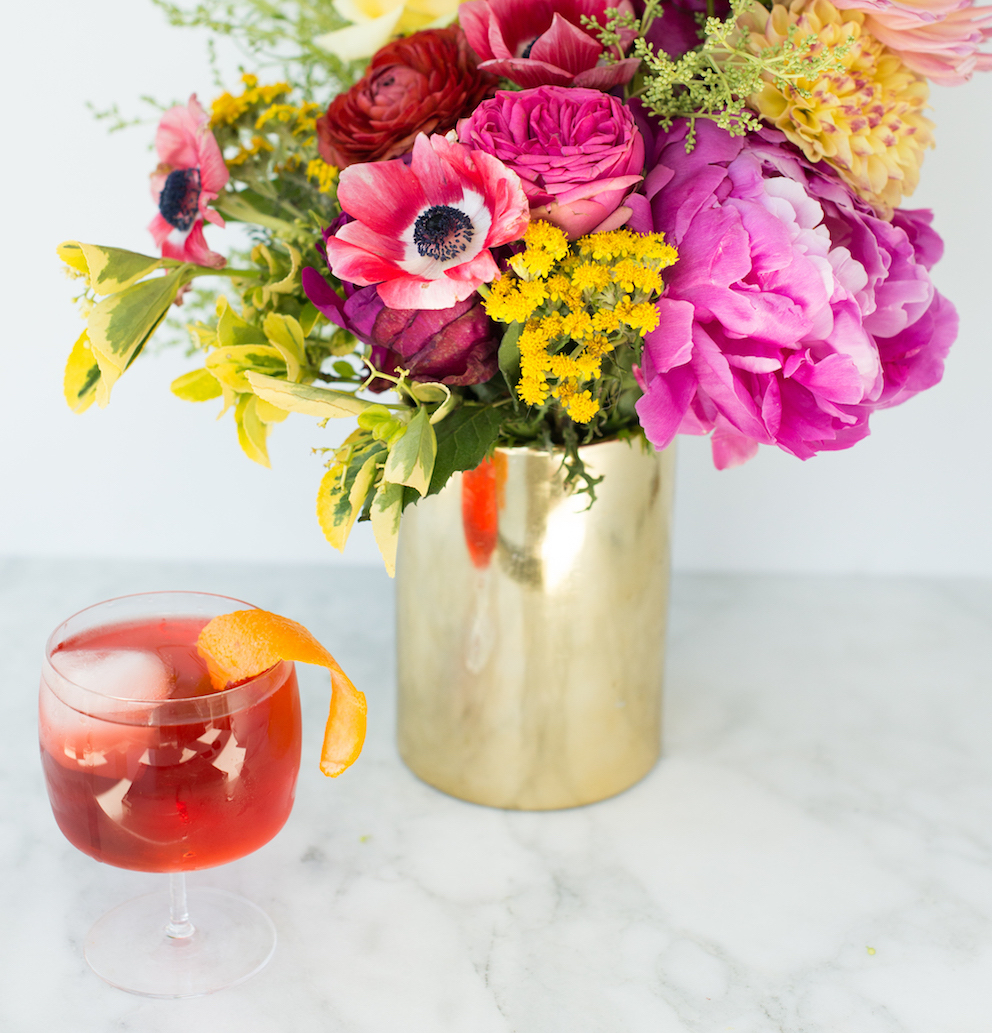 It's that time of year that all bartenders and cocktails enthusiasts look forward to with thirsty anticipation- Negroni Week 2017!
This sacred week in the cocktail world celebrates the beauty that is the Negroni. Equal parts Campari, vermouth and gin, it is a classic cocktail that has sparked a week long celebration for a good cause. Negroni Week was started by Campari (makers of the lovely bitter Negroni ingredient) teaming up with beverage and liquid culture magazine Imbibe.  It's a week where bars around the country (and world!) offer Negronis and Negroni riffs while restaurants and bakeries create dishes and treats using Negroni components. The participating locals donate portions of the purchases of these specials to their charity of their choosing. Drinking for a cause,  I'll drink to that! It has been growing the past few years with 7,000 participating locations this year! Donations from last years Negroni Week reached 400,000! here's hoping we can double it this year. I have faith in us 😉
If you live in the Bay Area your options to participate, and give back, are almost endless! I have pulled together all the events and Negroni special happening through out the city to make it easy for you to get your Negroni Week 2017 on. Cheers and happy bittering!
*Don't worry if you don't live in the Bay Area, here is a link to help you find all the bars and places in your area participating. With over 7,000 this year, there is bound to be one near you!
NEGRONI WEEK 2017 Bars Participating
From One Lover to Another. Ah-Ah (Campari, Appleton Estate Signature Blend, Gin, Bianco Vermouth, Grapefruit, Cinnamon Syrup, Lime, Falernum Bitters)
For Nergroni Week, Trick Dog is giving us "island vibes" with their tropical variation of the classic cocktail served over crushed ice with torched "tiki" (or cinnamon) sticks. $13 Charity: SHARE
Pagan Idol Jungle Bird (Campari, Wray & Nephew Jamaican Rum, Pineapple, Lime, Passionfruit, Saline)
Pagan Idol, San Francisco's newest tiki palace from the Future Bars team fully commits to its tropical theme with their special version of the classic Campari and rum tiki cocktail. Bartender Doc Park's improved Jungle Bird (basically a Negroni on "Island Time") support's  SHARE, and is made with Campari, Wray & Nephew Jamaican Rum, Pineapple, Lime, Passionfruit, and Saline. $12  Charity: SHARE
Frozen Negroni (Campari, Gin, Sweet Vermouth, Grapefruit)
Laszlo and Foreign Cinema Bar Manager Nicky Beyries San Francisco's chills out the traditional Negroni for a summertime sipper sure to cool you down and rev you up. Laszlo's Frozen Negroni is an icy concoction of Campari, gin, sweet vermouth, fresh grapefruit juice, and topped with dehydrated grapefruit suns. $13  Charity: SHARE
Breakfast Negroni (Cocoa Puff-infused Negroni, Campari, Gin, Cinzano 1757, Chocolate Salt Bitters)
Wildhawk's ingenious marriage of Cocoa Puffs, the classic, chocolatey breakfast cereal, and Italy's iconic cocktail import has been making guests go cuckoo since they opened their doors in 2016. For Negroni Week, word has it that these might actually be served in a breakfast cereal bowl for two, which makes happy hour a new contender for most important meal of the day. $12  Chairty: WILD Foundation
Pacific Cocktail Haven
Leeward Negroni (coconut-washed Campari, Pandan Cordial, Sipsmith VJOP Gin, Mai-Tai bitters)
Passion of the Negroni (Campari, gin, Small Hand Food passion fruit syrup, Dolin Blanc, Aperitivo).
DOSA
The Bicycle Thief (Averall Damson gin, Campari, Aperol, Ancho Reyes chile liqueur, Chinotto Italian soda, garnished with a Chinotto Soda Popsicle, $13). Charity: No Kid Hungry.
Horsefeather

Campari short cake (macerated berries, Campari syrup, whipped cream)
"Cookie Inspired Negronis" paired with their cookie on the side
Lemon Bar Negroni.
Ginger Snap Negroni.
Coconut Macaroon Negroni. Charity: SF-Marin Food Bank
Rusted Mule
Espolon reposado, Campari, and dark chocolate infused Becherovka and  Genever, galangal infused Cocchi Rosa. Also a classic Negroni. Charity: SF-Marin Food Bank
CULINARY OFFERINGS
Negroni Glazed Raspberry Madeleines
San Francisco's rock and roll pastry prince, William Werner of CAW, adds a bittersweet surprise to his contemporary patisserie's popular madeleine recipe. This Negroni Week Craftsman and Wolves is offering a 4-pack of Negroni Glazed Raspberry Madeleines. A classic French cake meets a classic cocktail. Balanced and simplistic, with just the right amount of sweet and bitter flavors. $7 per 4-pack Charity: SF-Marin Food Bank
Deconstructed Negroni Sundae
Elisabeth Prueitt, co-owner and Executive Pastry Chef of San Francisco's seminal Tartine and Tartine Manufactory, thinks outside the bowl with her Negroni Week bent on the traditional sundae featuring Orange Blossom Ice Cream, Strawberry, Campari Pate de Fruit and Juniper Meringue  Charity: XXX.
"Italian-ish Sandwich" of House-made Soppressata, Capicola, Pig Fries, and Campari Chili-Aioli
Award-winning chef and restaurateur, Stuart Brioza, takes his Negroni offering back to its Italian roots with his contemporary twist on the traditional panino. Stuart's "Italian-ish Sandwich" will be available for order off menu in The Progress' bar area throughout Negroni Week. Kick it up a notch by pairing the sandwich with their Thyme Roasted Cherry Negroni – a classic Negroni accented with local roasted cherries and aromatic thyme from Bar Manager Ryan Simpson. $10 (Italian-ish Sandwich), $13 (cocktail) Charity: James Beard Foundation
Barrel-Aged, Negroni-Glazed Old-Fashioned Doughnut with Foie Gras "Sprinkles" 
The Saratoga, the Spruce team's new two-story cocktail bar and restaurant located in San Francisco's historic Tenderloin district, takes an exciting and decadent turn with a "buzz-worthy" dessert offering. The Saratoga's house-made old-fashioned doughnuts are deep fried then dipped in a barrel-aged Negroni glaze, and finished with a generous dusting of Foie Gras sprinkles. These confectionary creations support the SF-Marin Food Banks and are a collaboration between Chef de Cuisine Jason Wittek and Lead Barman Brandon Clements. $6 Charity  SF-Marin Food Bank 
Humphry Slocombe
Campari ice cream scoops and Negroni sundaes
Tradition
Yuh Nun Ready Fi Dis Yet (Appleton Signature Blend Rum, Campari, sweet vermouth, coconut, pineapple lime)
Stargazey Fizz (Tradition Negroni mix, coffee syrup, cream, egg white, soda water)
Ice Cream Love (Wild Turkey ice cream, Campari syrup, cherry soda, sweet vermouth whipped cream)
Snacks
Negroni lollipops
Negroni Popcorn
Caramelized Campari Grapefruits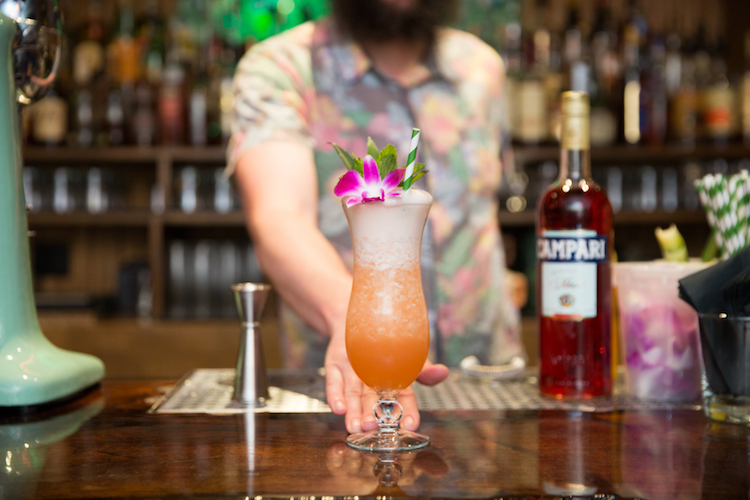 PUBLIC EVENTS
There is an event for just about everyday of the week so I hope you are thirsty!
Monday June 5th- Team Negroni Bike Ride 
On Monday, June 5th from 9am-4pm, iconic bar star and personality, Tony Abou-Ganim's Team Negroni will gear up for the third annual Team Negroni Ride from SF to Tiburon and back in support of the The Helen David Relief Fund. Spanning a total of 40 miles, the scenic fundraiser will start at Campari America's HQ at Levi's Plaza in San Francisco, and cross the legendary Golden Gate through the beautiful landscapes of Marin County, and back, ending with a celebratory Negroni Happy Hour in honor Tony's aunt, Helen David and the HDRF (which assists women in the bar industry who are fighting breast cancer with the same dignity and courage that Helen exemplified throughout her battle and life as a business owner in the bar industry).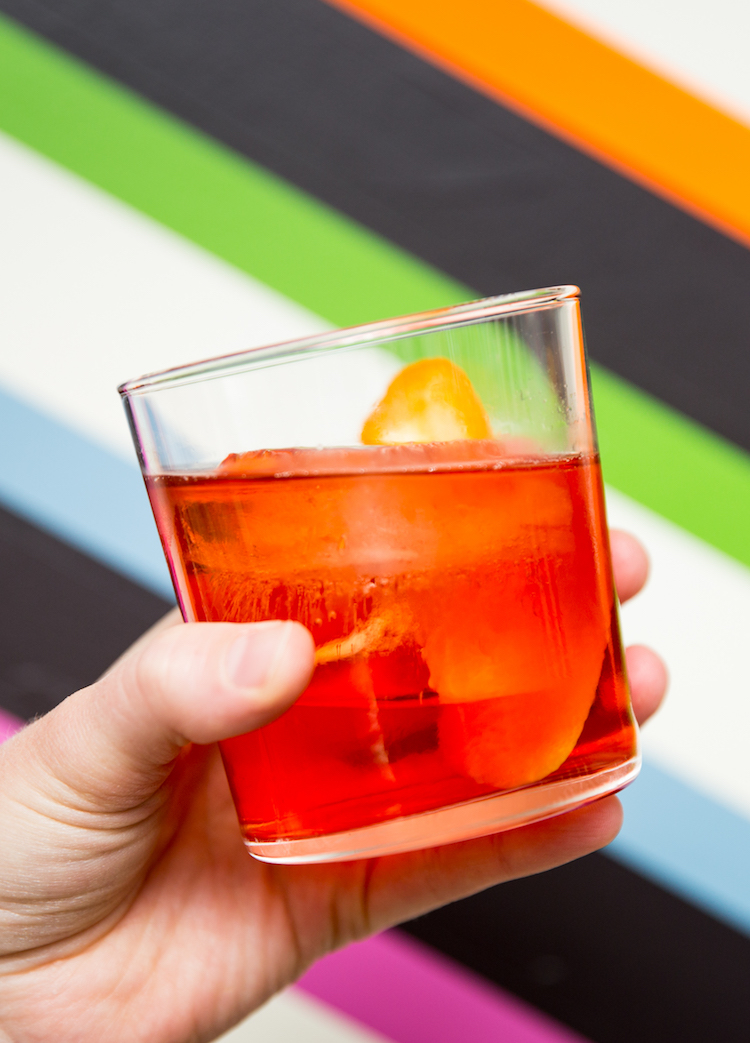 Tuesday, June 6th–Women & Whiskies Negroni Week Happy Hour 
From 6pm-8pm, San Francisco's Women & Whiskies will be hosting a special Negroni Week happy hour in partnership with Locanda, that will feature some of San Francisco's top bartenders creating a selection of new, inspired Negroni variations made with brown spirits. In addition, a selection of playful bites will be offered, including Negroni Coppiete, Negroni Italian Ice, Campari Lollipops, Gin Gum Drops, Vermouth Marshmallows! Tickets available through Eventbrite.
Wednesday, June 7th– Noble Grand Negroni Pilgrimage  
On Wednesday, June 7th, 2017 from 7pm to 9pm, San Francisco's beloved shrine to gin, Whitechapel will be celebrating its 1st Annual Nobel Grand Negroni Pilgrimage hosted by the Ancient Independent Order of Juniper to find the most creative and delicious Negroni of the year.
Searching all Bay Area bars who have submitted a least one Negroni variation to the official Negroni Week website, the Noble Grand Negroni Committee of The Ancient Independent Order of Juniper will be selecting the top qualifiers and judging them on their overall appeal and creativi
The winner will also have their champion Negroni featured on the Whitechapel menu for one month. $1 from each of the winning Negroni sold in that month will be donated to the charity of the winner's choice.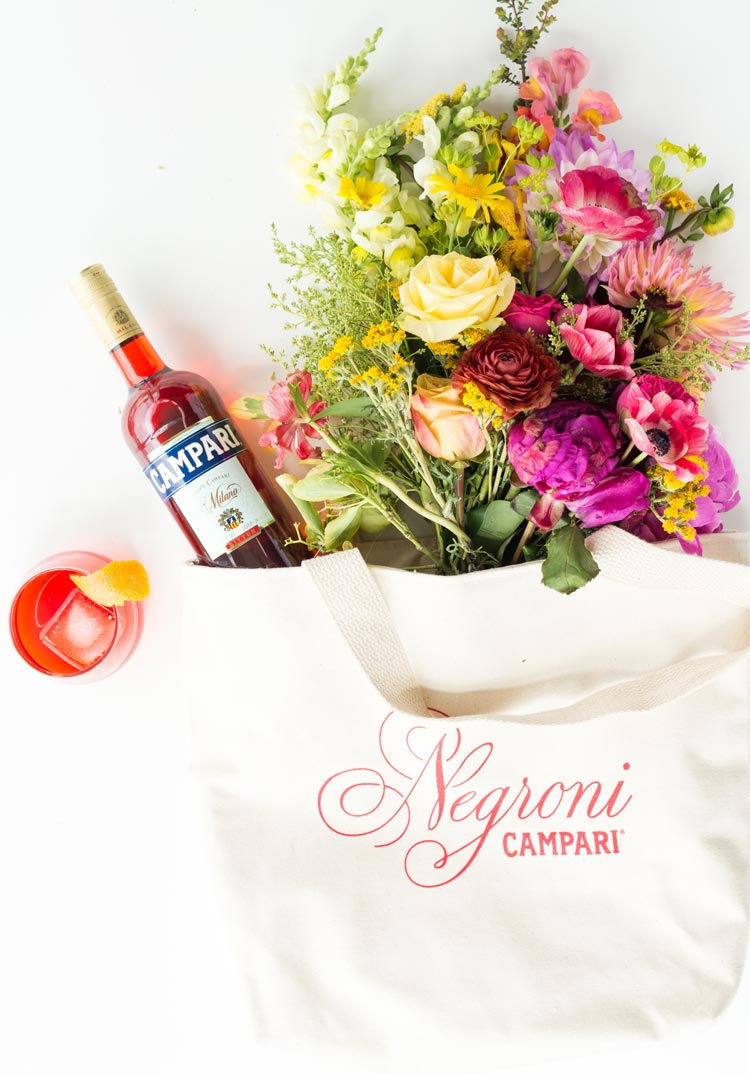 Wednesday, June 7th– BAGGU Negroni Week Happy Hour (FREE RSVP HERE!)
From 5:30pm – 7:30pm, BAGGU, the design driven manufacturer of quality bags and accessories, known for its clean designs, pop colors, and cheeky prints will be hosting an in-store happy hour for fans of the brand, media and influencers featuring Negroni-inspired bites and cocktails from Rye on the Road. During Negroni Week, BAGGU will be donating 20% of all Red Standard BAGGU bags sold to the Surfrider Foundation to help support their mission to protect the world's oceans, waves and beaches from plastic pollution.
Thursday, June 8th -PUBLIC Negroni Week Happy Hour  (FREE RSVP HERE!)
On Thursday, June 8 from 5:30pm – 7:30pm, PUBLIC will be hosting a Negroni Week Happy Hour at their Hayes Valley location for fans of the brand, media and influencers featuring Negroni-inspired bites and cocktails from Rye on the Road. During Negroni Week, PUBLIC will be donating 15% of sales of their Red C7 bike to Muttville Senior Dog Rescue (Campari-branded bikes will also be available by special order).
Saturday, June 10th-   ABV Afternoon Negroni Week Industry Celebration + 
Count Negroni's Spaghetti Western at Over Proof
On Saturday, June 10th from 12pm-4pm, SF's top industry hangout and cocktail bar, ABV will be hosting an afternoon Negroni Week industry celebration for bartenders, friends, media and influencers. Throughout the afternoon, ABV bartenders will be mixing up classic Negronis and Negroni Amontillado's for $11(Campari, Sherry, Sweet Vermouth), as well as the Lamborghroni for $20 (Campari, Old Raj 110, Matthiasson Sweet Vermouth) in support of SHARE, which provides support, information and resources to women affected by breast and ovarian cancers. (private event)
In addition, at 2pm sharp, Over Proof – ABV's new quarterly pop-up experience built around a single spirit category – will be hosting the first annual Count Negroni's Spaghetti Western featuring a three-course family-style meal with spaghetti and meatballs and finishing with a Negroni cheese cake and three Negroni variations for $50. All proceeds will be donated to SHARE. Only 20 seats will be available and guests can purchase tickets through Eventbrite. (public portion of the event)
Tradition's Closing Disco Party Sunday, June 11th
On Sunday, June 11th from 4pm-8pm, the Tenderloin's popular American cocktail bar, Tradition, will be closing the book on another successful week of raising awareness for charitable causes with Divine, Disco and Decadently RED, a disco and Campari-infused celebration featuring themed-out Negroni variations, Negroni-inspired bites, and of course, disco. Negroni lollipops, Negroni Popcorn, Caramelized Campari Grapefruits, Italian (not Swedish) Negroni Fish, Negroni Push-Pops and Negroni Shaved Ice will all be available for those who need a break from the dance floor.
Get a stamp from each bar participating to fill your Negroni Week Passport! Can you collect them all?!
If you are out and about and posting on social, be sure to use the #NegroniWeek hashtag. And follow along on the boozy adventures on Campari America's & Imbibe's Instagram and Twitter feeds @imbibe @campariamerica
Lead photo and last image by Craft & Cocktails all other photos credited to Grace Sager