The days are getting shorter and the nights longer, but I'm learning to embrace it. I always thought spring should follow summer, at least it would be a good let down post pool & tropical drink season, but fall, you're growing on me! Especially after living in Florida where it was sunshine, summer and looots of rain year round, I started to enjoy it when ever I got to experience the changing of the leaves, go apple picking, and staying warm by the fire with a cozy beverage.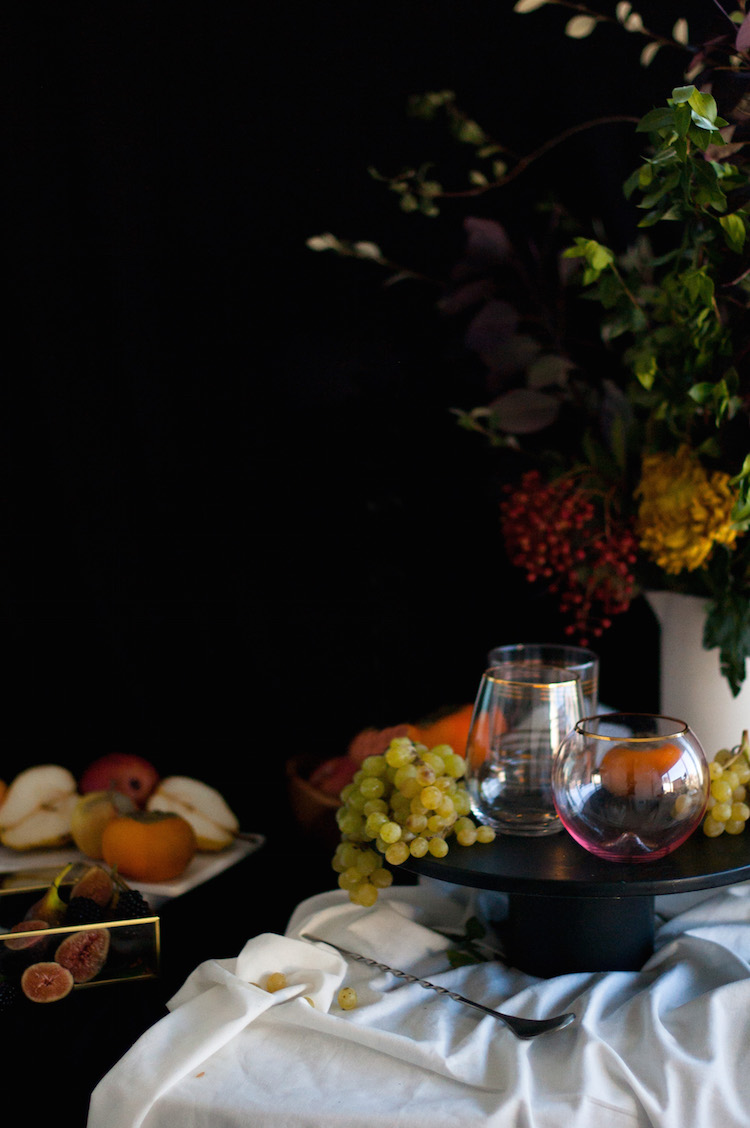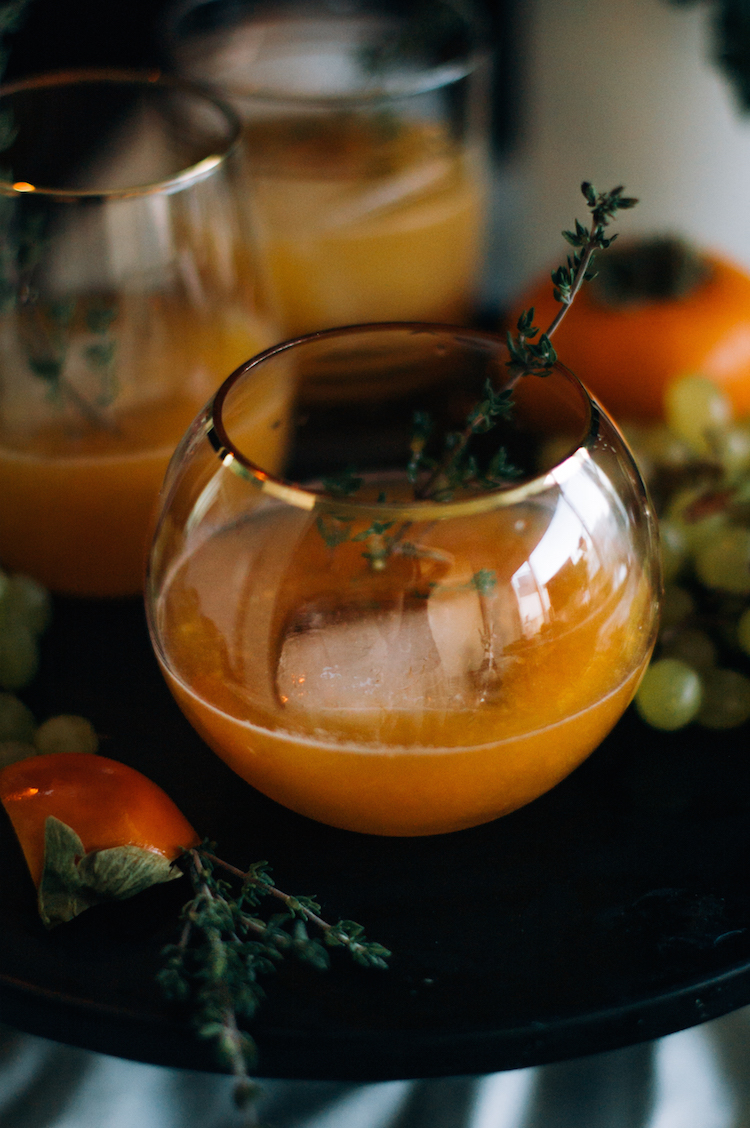 I have always been inspired by the moody, dark, and existential paintings of the Dutch Masters. I have studied art for a lot of my life so their work has been touched on often. Their rich, distinctive paintings inspired my most recent post over on Sfgirlbybay. Rather than a painting, I created a fall still life scene rife with themes and inspiration from the Baroque period and a cocktail that would have been worthy enough to paint in one of their masterpieces!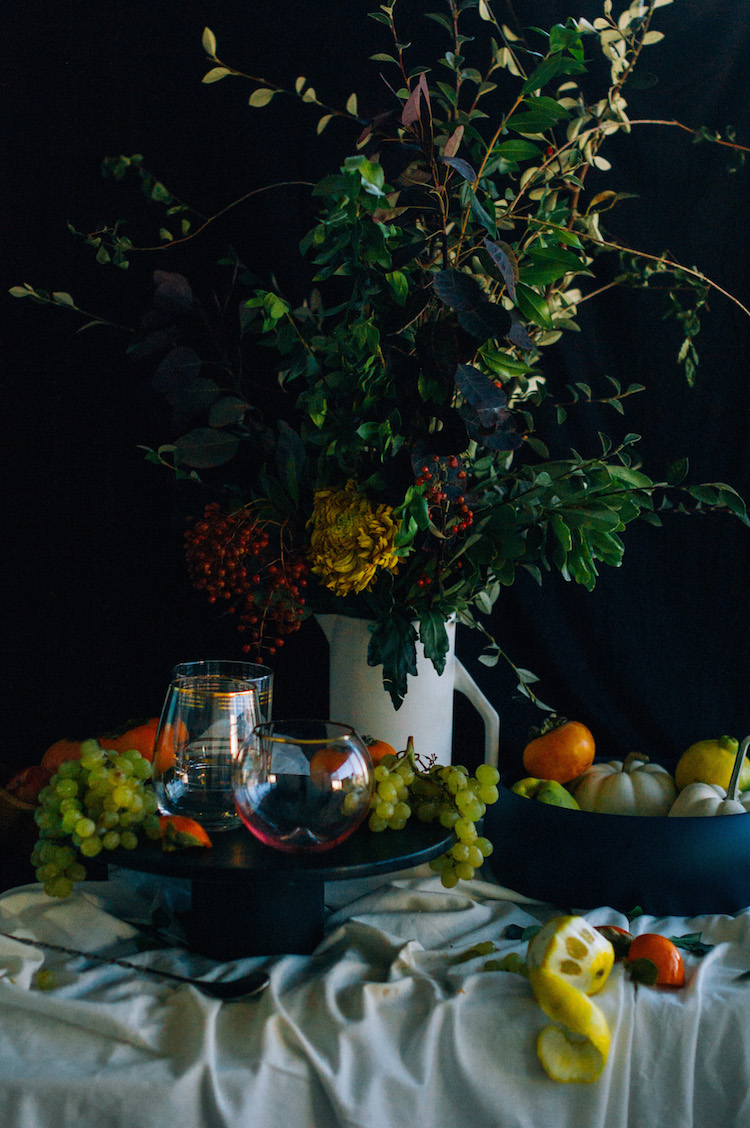 The peeled lemon carelessly dangling from the edge is a representation often found in their paintings- life is sweet and delightful in appearance, yet bitter to taste. Another message, if not the most important one, the Dutch Masters tried to depict, was the brevity of life.
The smoking thyme in the Smoked Thyme Fall Rye Sour is emblematic of this brevity- intensely burning one moment and then quickly extinguished the next. Smoked herbs in a cocktail are delicious, by the way. They act almost as an incense stick, bringing lots of beautiful aromatics to the cocktail- just be sure to blow it out our before taking a sip!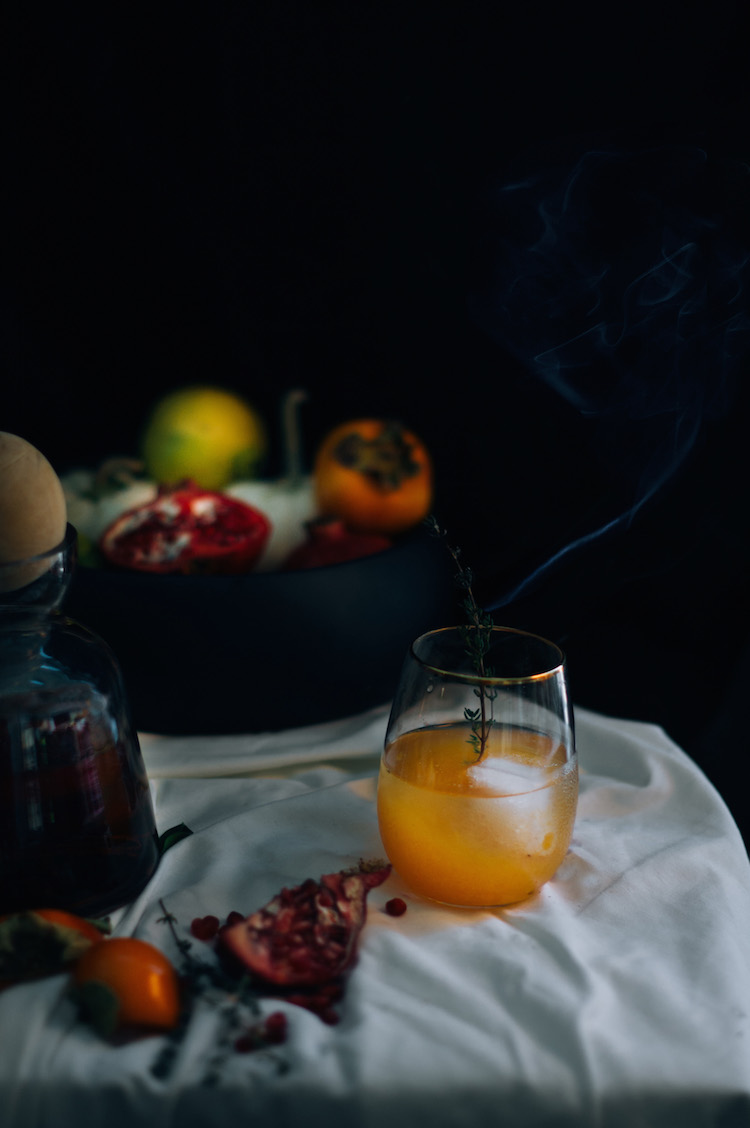 Their still lives are no doubt opulent, over flowing with decadent foods, fruit, and flowers. These particular works are termed vanitas and represent the vanity of earthly possessions and the "meaninglessness of life and the transient nature of all goods and pursuits." That's some pretty heavy stuff for such beautiful painting.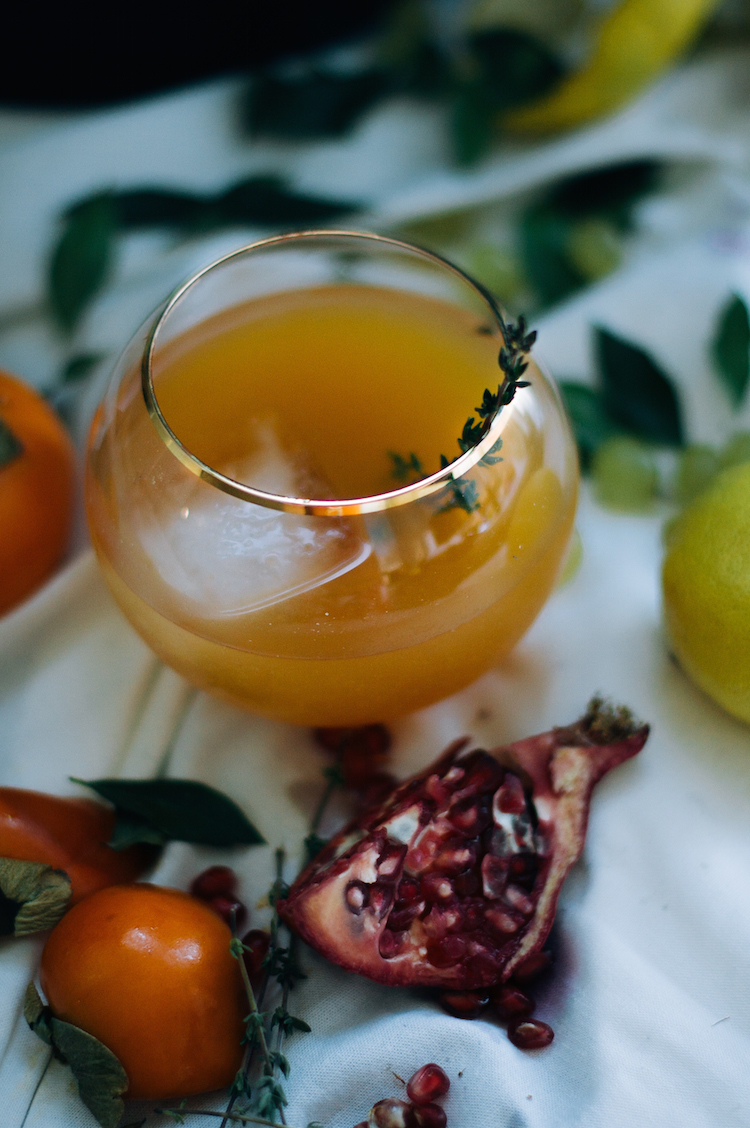 The Flemish & Dutch painters began introducing flowers as a focal point in their still lives, which was a first time in painting history that this was done. We can thank them for the flower obsession on Instagram, folks! It was sad to think, that although they focused on scenes with cascading bouquets, most people did not have them on their tables. I am fortunate enough to have a local flower shop that makes it all to easy to have bouquets in the house every week. I couldn't imagine not having fresh flowers to brighten my house!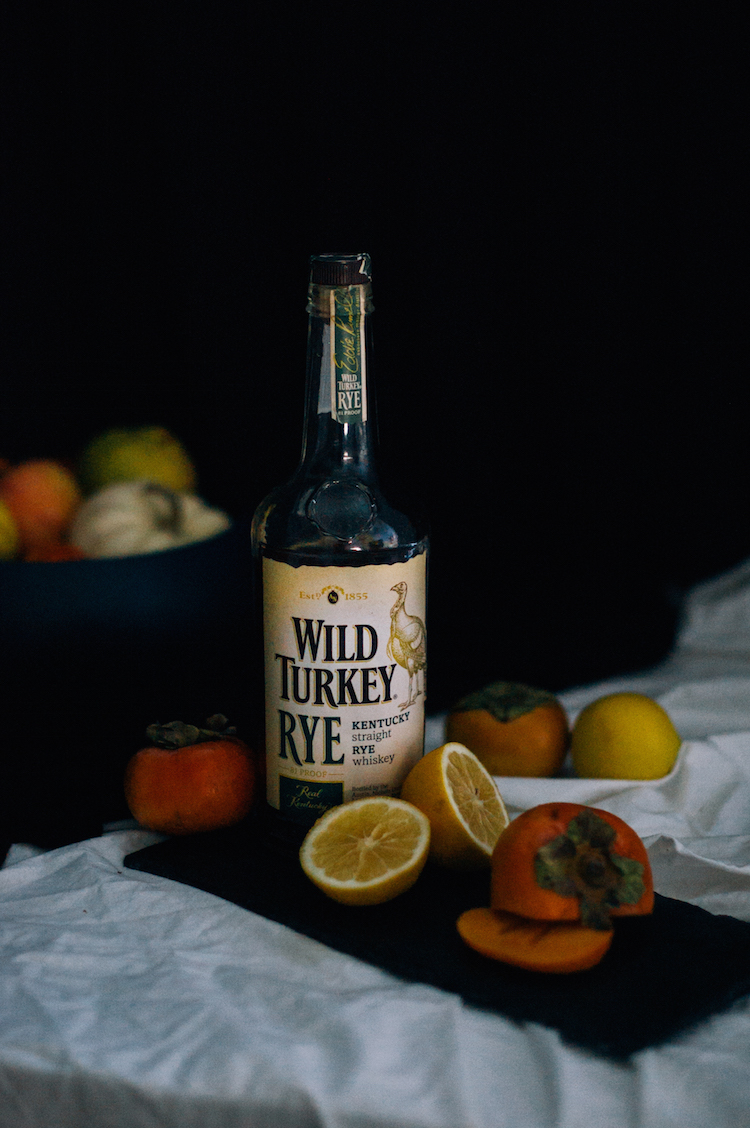 With spooky smoke and morbid, creepy undertones, this cocktail recipe is here just in time for All Hallows Eve celebrations.
Thank you Victoria for letting me run a little wild (and moody) with the post! I really had fun with this one! Be sure to get the recipe for the Smoked Thyme Fall Rye Sour over on her blog Sfgirlbybay!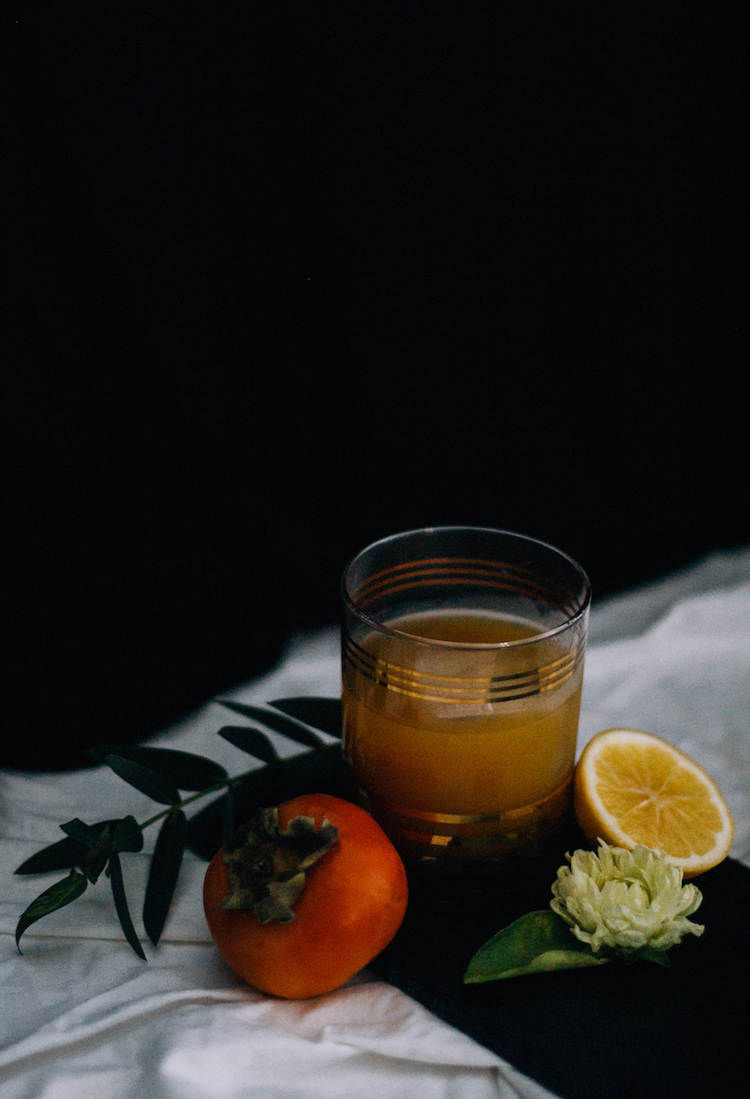 Original cocktails recipe, styling and photography by Craft + Cocktails for Sfgirlbybay and Women & Whiskies